The garage: it means a lot of things to different people. Do you use your garage primarily for your vehicles or for storage? Is it your workshop or a place for entertaining guests in warmer weather? Maybe it's your tool barn where you keep all of your outdoor equipment.
Whatever you use your garage for, you can always optimize the space. And whether you're building new or remodeling, a garage design software can help you visualize and plan your project.
In this post, we're highlighting the eight best garage design software programs you can use. Some are free, and others are paid. Read through the benefits of each to see which one you want to try. Most won't require you to have any special technical skills.
Just estimate your measurements to get an idea of what you want your garage to look like. Others will allow you to get as detailed as you want and even render fully complete building plans to work from.
Free Garage Design Software Programs
These are the best free programs we've found. If you're not a professional builder or designer, we recommend starting here, then moving on to the paid programs once you're comfortable using these simpler options. There's nothing as frustrating as starting a project and immediately hitting a snag because you don't know how to use the software. Start off on the right foot with these free, easy-to-use design programs.
The second option in this category toes the line between DIY and pro. It's a simple program that offers a lot of features. Depending on your project, you might be able to use these two free programs to plan your entire project.
1) EasyGarage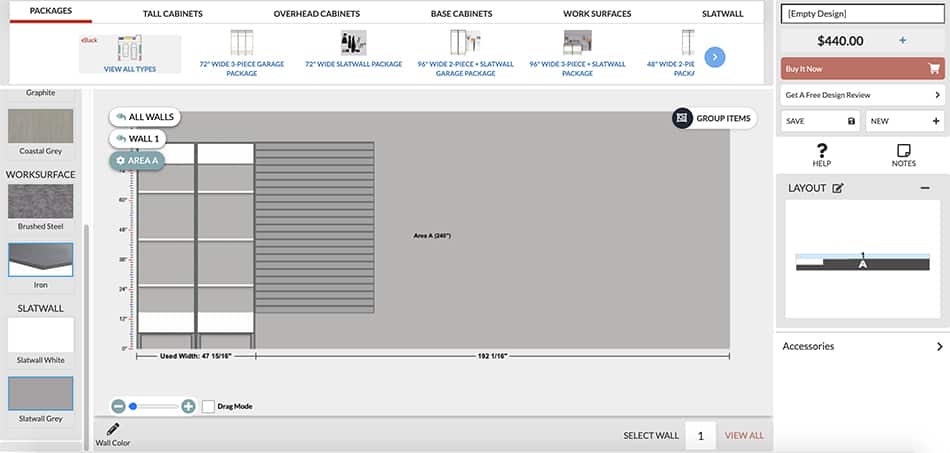 https://www.easygaragestorage.com/designing/
This is a simple site to design and purchase storage options for an existing garage. It's not for planning the construction of a whole new garage. If you're just looking to maximize your existing garage or looking for what to use in your garage once you do build it, this can be a good site to visit.
The software is easy to use because all you do is enter the measurements of your garage, then drag and drop the dimensions of different storage options the company has for sale. This includes cabinets and countertops, closed and open shelving units, and walls for hanging hooks.
From there, you can choose the color and some other style features of your chosen items. If you do order from Easy Garage, you'll get free shipping on orders totaling $400 or more. They also have detailed instructions on the site to help you install the different components.
If you need some ideas to get you started or to help you make sure of your plans, you can browse through their blog. You can also get with a staff member and have them layout the garage plan based on your input. This is a free service offered in the hopes that you'll purchase your storage solutions from them.
I like this site because it is so simple and offers you a great visualization of what your garage can look like when it's finished will all your storage options.
2) Bighammer Do-It-Yourself Garage Designer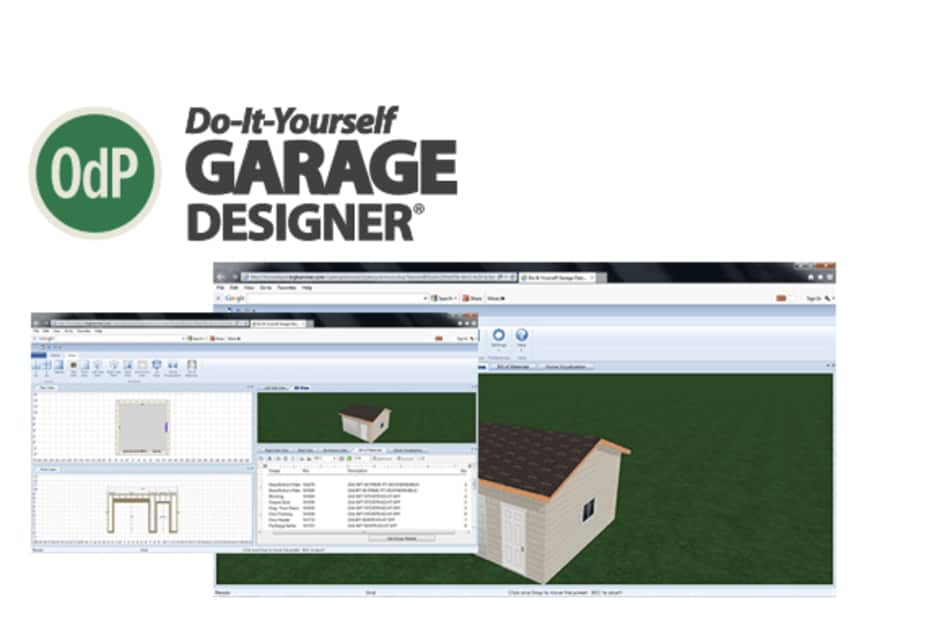 https://www.bighammer.com/CqDesignStartNeo/#garage
This is a program sponsored by The Home Depot. Download the free program, and you can plan your entire garage project. This is a good, free program for DIY and pro users alike.
You can choose and lay out everything from the dimensions of your garage to the roof design to your building materials to everything you might want to include outside your garage, such as a grilling area or seating.
Change your view 360 degrees and even see what your design in 3D. You'll be adding materials available at Home Depot and can even order the materials right from the program when you sign in with your account. It's great for budgeting your project. Even if you don't ultimately buy from Home Depot, it will still give you an idea of what your materials might cost.
When you're finished, or even just to share your progress, you can share your design with another user, which is convenient for business designers to send to the construction crew.
There isn't a tutorial for using this program, so my best advice is to start with the Design Wizard. It will walk you through all the choices you need to make to form a complete project.
If you like this program, you can also use Edgenet's similar tools for designing a deck, fence, or pole barn. I recommend this program for its completeness. It's totally free, and it can help you design your garage from the ground up. You will, however, need an account with Home Depot to use all the program's features.
Paid Garage Design Software Programs
A few of the more advanced programs are ones that need you to invest a little additional time and money in to use. These are generally for the pro and semi-professional, but anyone can learn to use them.
After reading our reviews, if you're still not sure of which one to use, you can try a couple of them for free. They might not give you all the features in a free trial, and you may not be able to save your project, but you'll at least get a feel for the program works and whether or not you'd like to continue with it.
1) Elecosoft 3D Architect Home Designer
https://www.3darchitect.co.uk/project/design-garage.html
This is a company based in the UK. You can purchase the software for around $150, depending on the currency conversion rate. You start by laying out your floor plan, then drawing your walls exactly how you want them, including depth, popouts, joints, etc. It can even manage working with a garage floor meant to slope for drainage.
Once you have your floor plan and walls drawn (you can always come back and edit), you can design your roof and garage door styles. For everything, you can customize the materials and textures for your garage. You can even select the color.
Finally, it renders the entire project in 3D. If you want, you can include your house in the plans so that you can see what the garage will look like connected to your house.
Overall, this is an easy software to use for a fairly low price. You don't need any technical knowledge to plan out your garage with this program.
2) RoomSketcher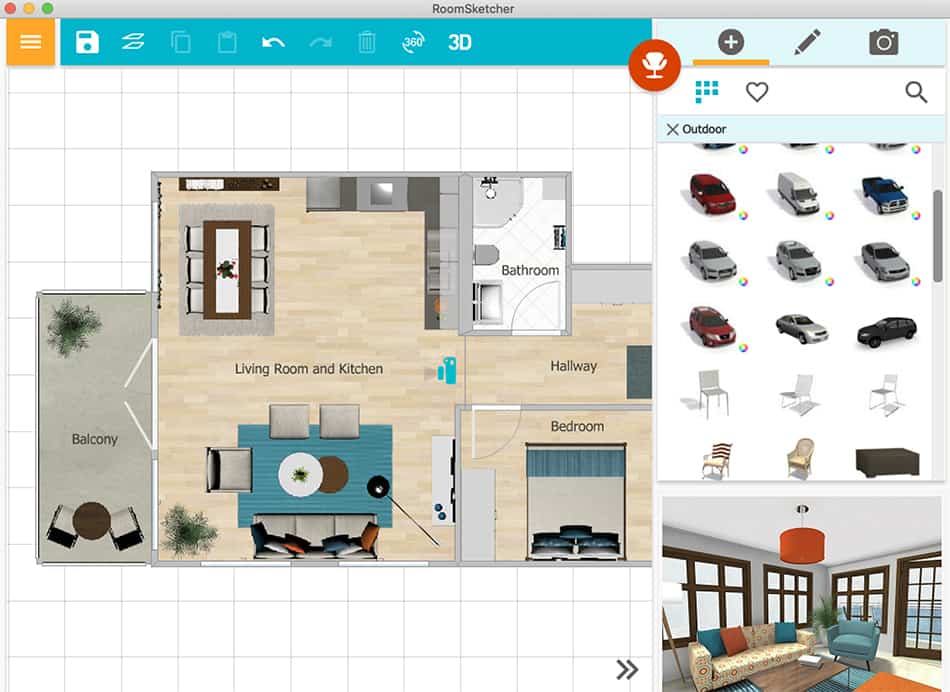 I like this program because you can use it to design any room in your house. Unfortunately, it's only for laying out the floor plan. It won't help you choose building materials or set a budget. It won't show you the exterior of your garage. It will show you high-quality floor plans and 3D renderings of your floor plans.
Once you draw your basic floor plan, you can add a variety of furnishings to see how you might want to finish your garage for storage, use it as a workshop, etc. Then take your work and see a full-color graphic in 2D. Finally, see it all in 3D.
You can start using the program for free, but then if you want to save your work, you need to have an account and a paid subscription. The lowest price for membership is $49 a year, which allows you to save up to 20-floor plans. You can always buy more credits or upgrade your membership if you need to create and save more projects.
3) Virtual Architect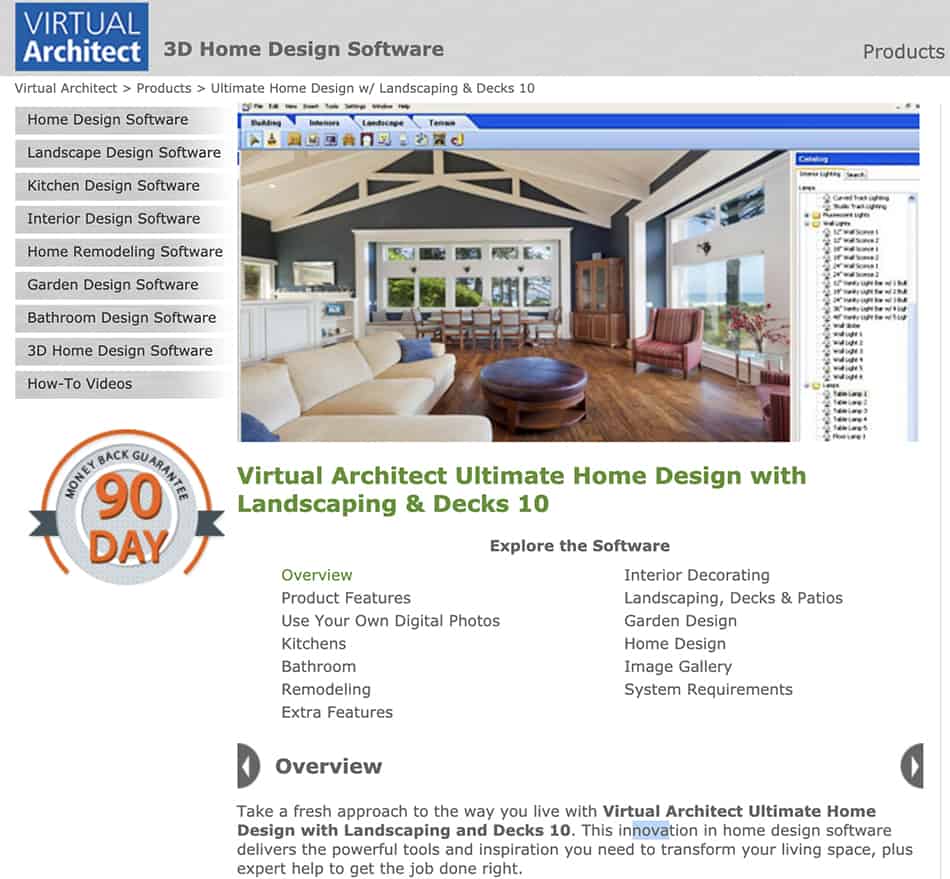 https://www.homedesignsoftware.tv/
This is another software you can use for your whole home. For a one-time purchase of $80, you can design the floorplan and building materials. You can even upload a photo of your current garage to do a makeover project.
The software comes with a lot of drag-and-drop items to add to your rooms, and you can see everything in 3D, including the exterior. Like all of the above, this software is fairly easy to use. You don't need any technical architectural skills or know-how. There are also video tutorials included helping you answer any questions you might have about using Virtual Architect.
4) Chief Architect Home Designer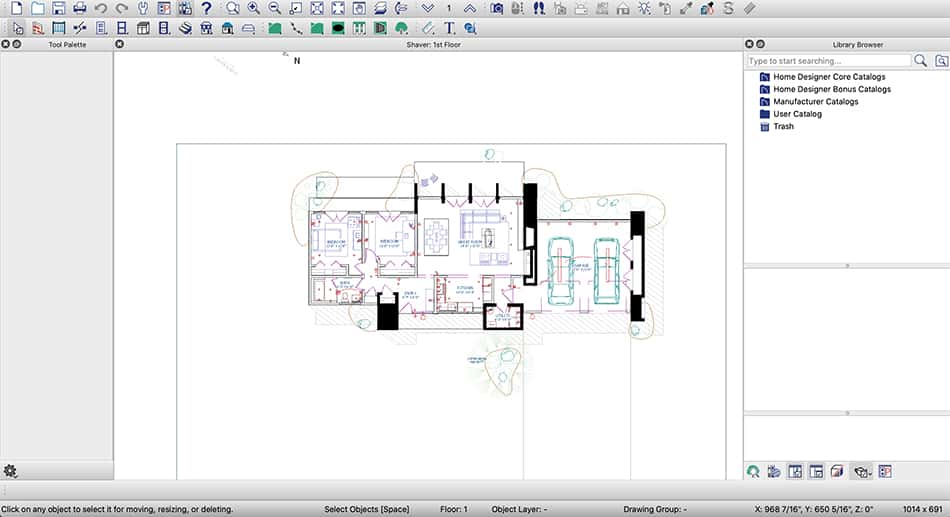 https://www.homedesignersoftware.com/
Chief Architect offers software programs for both DIY and pro users. You can create your floor plan with all materials and estimate the cost of your project.
If you don't want to start from scratch, you can edit a template however you'd like. The roof, foundation, and framing all move appropriately when you move a wall or make any other changes. You choose the roofing style and everything else about your project, including the materials. Once you have your floorplan in place, the program will automatically figure and draw the framing. Whether you're building yourself or hiring a contractor, the program will give you everything you need in terms of plans.
It also comes with app compatibility for you to view your project in virtual reality or as a 360-degree panorama.
Home Designer is a robust program that does everything need for a great price.
5) SmartDraw Building Design Software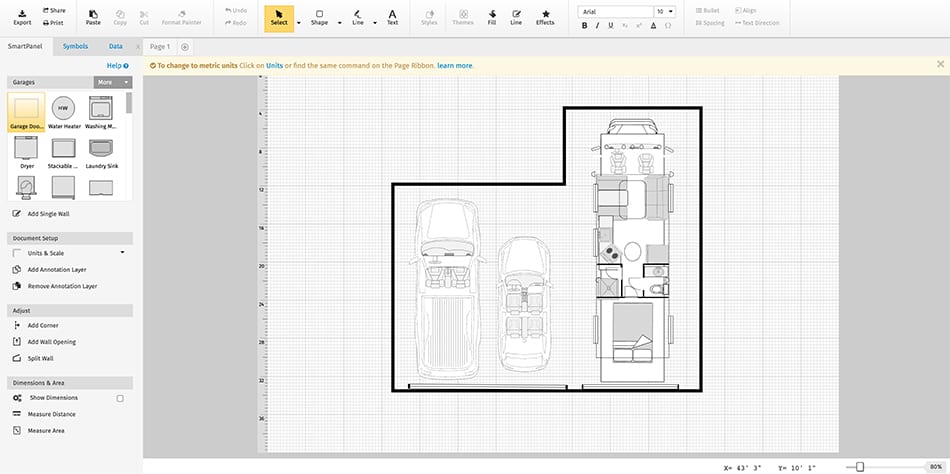 https://www.smartdraw.com/floor-plan/building-design-software.htm
SmartDraw is an easy-to-use program that allows you to create floor plans for homes and commercial buildings. You can also draw all sorts of flowcharts, family trees, maps, Venn diagrams, and more. It's really a great all-in-one planning software that you can purchase access to for $10 per month. It won't give you detailed building plans, but a floorplan and all these extra capabilities might be all you need.
When you're working with SmartDraw, you can either draw your plan from scratch or edit an existing template. Add just about anything you can think of to the drawing, and save it. It won't give you a 3D rendering or anything, but it's great for brainstorming.
6) CAD Pro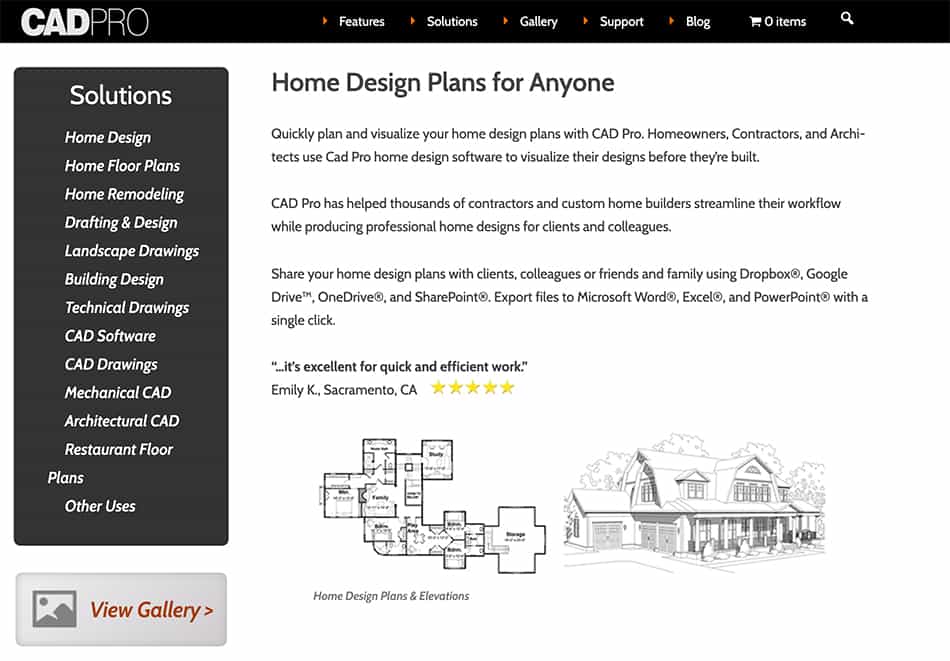 https://www.cadpro.com/home-design-plans/
CAD Pro is the only software on our list that will require some technical expertise to use all the functions. It's also one of the only programs that you can use to create all the building plans you need.
Like the other programs, you can layout a floor plan from scratch or edit a template. This program requires you to know what you're doing, though, because it won't automatically update the other parts if you edit one piece.
If you're a pro, you may also like the fact that you can add notes or recordings to the plans to give more details about what you envision. You can also add photos to show your existing room or examples of what you'd like to build.
After you create the floor plan, you won't see a 3D rendering, but you will be able to see a 2D drawing of what you've created.
You can pay $100 for the software and also add $19 to be able to back up your projects online. That way, you never lose your progress laying out a project.
Which Garage Design Software Should You Choose?
Our best advice is to try out the free programs to get an idea of what's possible. You'll see some features you like in each and can then look for those features in a paid program if you want to upgrade. You'll also get the hang of using design software for free before you have to invest in it.
When it comes to paid software, check the system requirements to make sure it's compatible with your computer. It'll be super frustrating if you buy software that won't load, crash, or lags on your computer.
If you're planning other building or remodeling projects, invest in design software that can plan out more than just the garage or a single room at a time. A more robust program will allow you to design any room in your house, a full home, or even design a commercial building.
Those programs meant for professionals will allow you to not only see the floorplan you have in mind but also estimate building materials and render blueprints. If you're not a pro, do consult with a builder and your local authorities before starting new construction.