Are you looking for an easier way to design kitchen cabinets? Check out these free software programs. We're running down the features of each one to give you an idea of the best one to use for your purposes.
Some of the choices below will be simpler in function, allowing you to easily drag and drop in your room's dimensions to see how your floorplan would look after adding cabinets. Others will give you more tools to customize your cabinets and plan your project.
After the free programs, we've also included a few paid programs you can try with a free trial. This is in case you don't find what you're looking for in the totally free options.
Free Cabinet Design Software Programs
Browse through the possibilities of what you can do with these free software programs. Some are simple floor planners, while others allow you to print plans for building custom cabinets.
Some give you the option of using basic cabinet shapes and styles, while others allow you to populate the room with real products you can buy now with no cutting, building, or assembly needed – just install them on your walls.
The choice of which to use will depend on what stage of planning you're at and whether you plan to build custom cabinets or buy prefabricated cabinets to fit your space.
1) Homestyler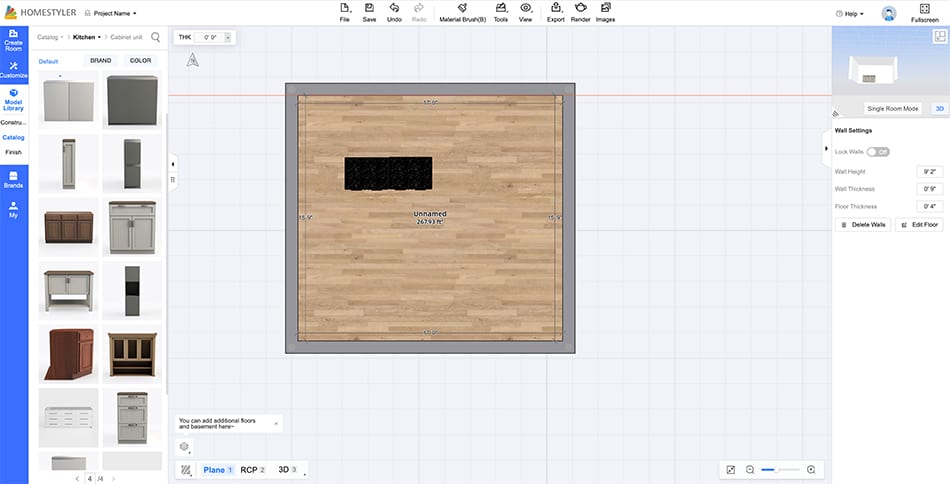 Homestyler is a full free floorplan kitchen design software, so you can do more than just your cabinets. Easily draw the dimensions and shape of your room, then use the drag and drop furnishings to complete your room.
When you're finished, you can view your room as a full-color floor plan from any angle or as an HD panoramic rendering. With this program, you'll be able to plan out and visualize how your cabinets will look. It's a great tool to use in the brainstorming phase as you decide exactly what you want your final product to be.
It's free to use this program, but if you want to use it for business purposes, you might want to pay for it because the free version gives you a limited number of HD renderings per month and leaves a watermark on the output. This may be fine for your needs because you can still use the unlimited number of standard renderings, and the 100-limit of 3D model uploads per month should be plenty.
If you do want to pay for the Pro version, it costs between $15 and $20 per month, depending on if you pay monthly or yearly.
2) Wooddesigner CabinetFile

https://wooddesigner.org/cabinet-design-software/
This is the software you want to use for instructions on how to build your cabinets, so it's more for pro users than those who simply want to design a new layout for their cabinetry. Still, if you're a DIY woodworker, the free version of this program may be exactly what you're looking for.
Like the Homestyler software, you can start by laying out your room's floor plan. Or you can start by designing a cabinet by itself. Either way, you'll get the same level of 3D rendering. But with this software, you can customize every aspect of your cabinetry and room design – from sizes and dimensions to colors and angles. Plus, it gives you a diagram of how to build the cabinet. You can even add in decorative elements.
Don't forget to check out the Wooddesigner blog for ideas on how to design your cabinets and helpful tutorials on how to build them.
This is free software, but if you're looking to get the most useful specs and drawing plans (such as your cut list and CNC manifest), you'll want to pay the $2600 for the full version.
If you're building and installing cabinets professionally, this is a wise investment because it really does give you everything you need. DIY cabinetmakers can make do with the diagrams and plans provided in the free version.
3) SketchUp Free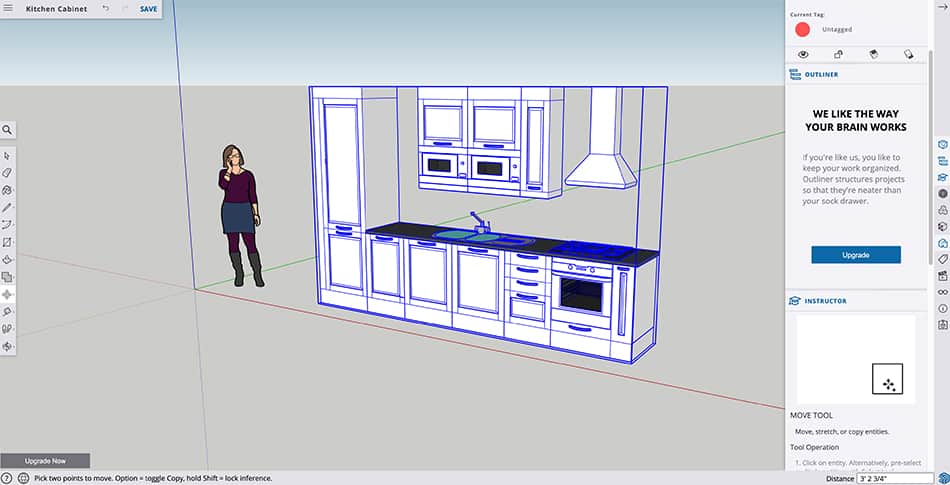 https://www.sketchup.com/plans-and-pricing/sketchup-free
You don't create a floorplan with SketchUp, just the object you want to create, and you can get as detailed as you like with the dimensions. You can customize the look and shape, and you can import other people's drawings for inspiration or to use as a template.
One feature that sets SketchUp apart is you don't have to download it. You can use the program right in your web browser and save your work. But if you want to download the full version on your desktop, you can. There's a mobile version, so however you want to work, SketchUp has you covered.
The SketchUp site also features a blog with ideas and tutorials and a forum, Help Center, and multiple training resources to help you get started or answer any questions.
SketchUp is free to use and comes with 10GB of cloud storage. The perks you get with the paid version ($120 per year) is the ability to see your design in 3D via augmented reality. You'll also get the 2D drawing plans you need to build your cabinet, though these plans are not nearly as detailed as what you get with Wooddesigner.
4) IKEA Kitchen Planner
https://kitchenplanner.ikea.com/ca/UI/Pages/VPUI.htm?Lang=en-CA
Here's another free floor planner with 3D rendering. You can create your room according to your dimensions, then add in any furnishings you want.
Of course, all the choices are items sold by IKEA. This is good if you're planning on buying from the store because it gives you a shopping list and prices. But even if you're not planning on buying IKEA furniture, you can use this program to get ideas and the dimensions you want.
When you log in, you can save your project to come back to and edit later.
5) Blophome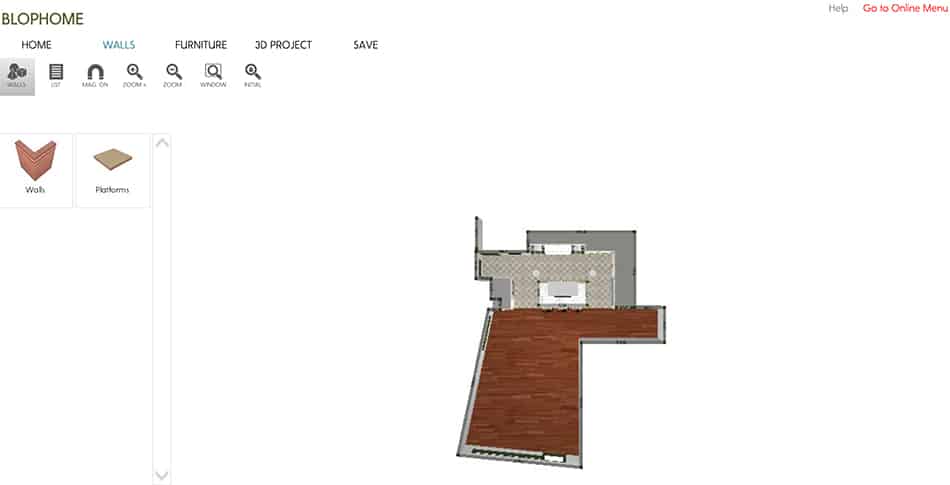 This software will give you the most beautiful 3D renderings of your space. That's because it has an extensive and growing library of real objects you can place in your floorplan. You're basically creating a picture and including any object you want, then rendering it in 3D.
Paying between 5 and 38 euros per month (USD pricing based on currency conversion rate) allows you to access more graphic collections (called catalogs) and render your drawing in HD, 360 panoramic views, and VR with added textures. This software is so impressive, it's worth paying the full price per month just to play with and see what you can create.
You can also view the blog and the Drafts section for ideas. The Drafts are user creations. There's also a forum where you can ask any questions.
6) Roomeon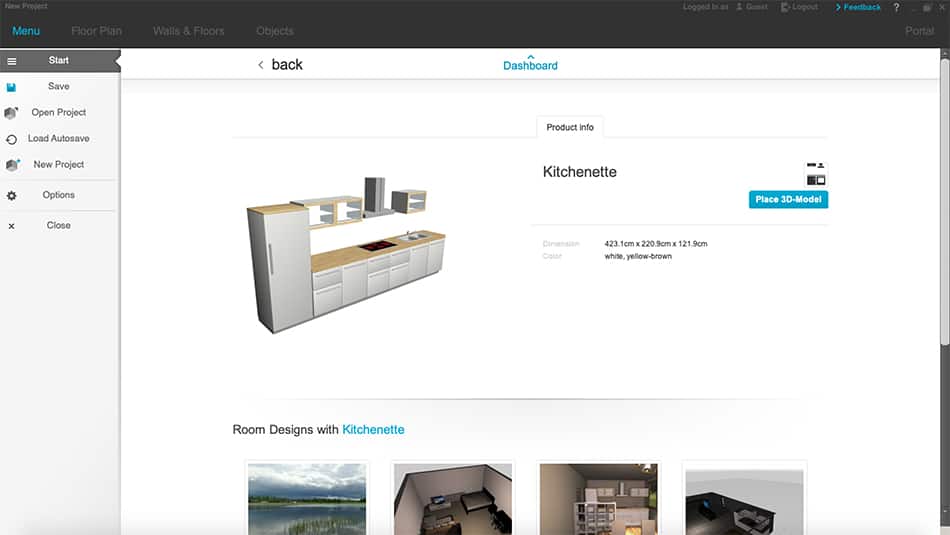 Roomeon is similar to Blophome, except you don't start with a 2D model. You simply drag and drop into your 3D, photorealistic picture. You can even adjust the angle and amount of lighting in your project.
While the result is the same as Blophome, there are few graphics catalogs to use. This might be a good thing, though, as too many choices can sometimes bog you down with indecision. There's also nothing to buy on Roomeon. As far as I can tell, the site is sponsored by the brands whose products appear in the catalog. They pay for the program in hopes you'll choose their products for your stylized room and buy them for your real home.
The only downside to Roomeon, besides the limited graphics, is that you can only save 10 projects at a time.
7) Prodboard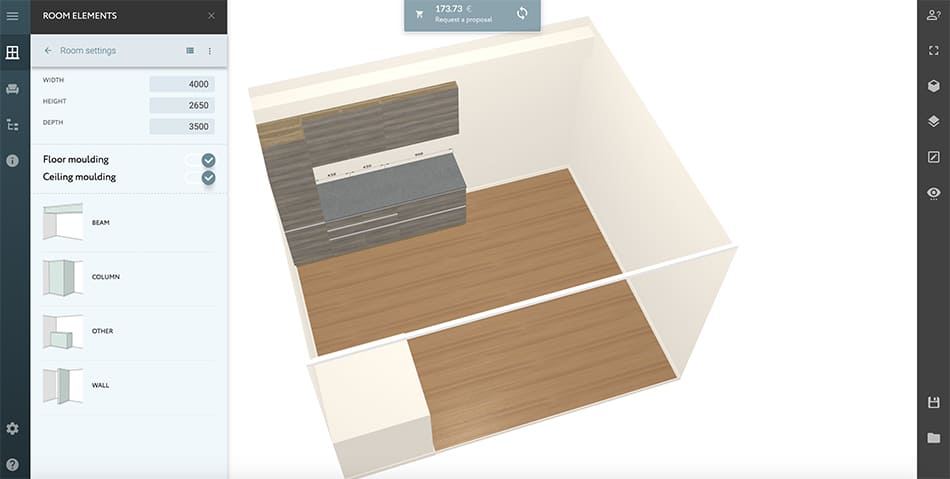 https://prodboard.com/online_kitchen_planner/
Similar to the above, you can use Prodboard to populate your room with furnishings you place in your catalog, then show a 3D rendering of the room. The idea is that builders would place only the products they want to work with in the catalog, then have customers drag and drop what they like into place. The project automatically updates with the prices of the pieces they pick, making it easy for you to give an estimate of the job cost to your client.
Prodboard is free to use, though your selection of what products can go in your catalog may be limited to sponsoring companies. Also, Prodboard is a Russian company, and some of the English translations don't use the most natural phrasing.
Check the Gallery for ideas of what you can do with Prodboard. If you're looking for completely free software to use with your customers, this is it. If you're a DIY user, you'll also benefit from trying Prodboard, though some of the other free software options will serve you even better.
Free Trial Paid Cabinet Design Software
Try these paid software programs free to see if they'll give you any more of the functionality you're looking for compared to the free options.
1) SmartDraw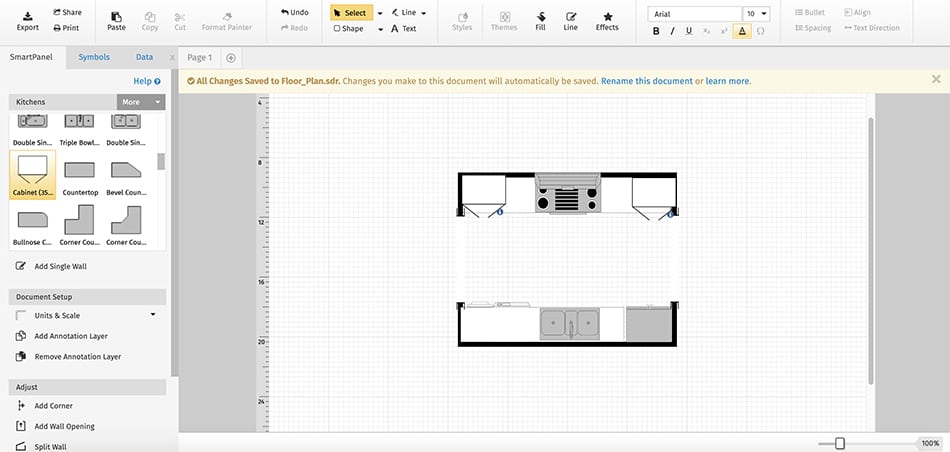 https://www.smartdraw.com/cad/cabinet-design-software.htm
This is really an all-in-one drawing and charting program. You can create everything from flowcharts to floorplans, so it's a handy program to have access to if you're doing a lot of planning for home or work.
In the cabinet design section, you start with a template of a room that you can then customize according to your needs. You can even pop in an avatar with your height to see how easily you'll be able to reach into your cabinets. Like Homestyler, it's mostly for layout purposes, and you won't get any 3D or panoramic renderings. What you do get is all the different things you can draw with the program.
I like SmartDraw for its simplicity and all the other included drawing functions, but it's not the best for seeing exactly what your cabinets would look like.
You can try SmartDraw for free, but if you want to keep it, it costs $10 per month.
2) Cabinet Planner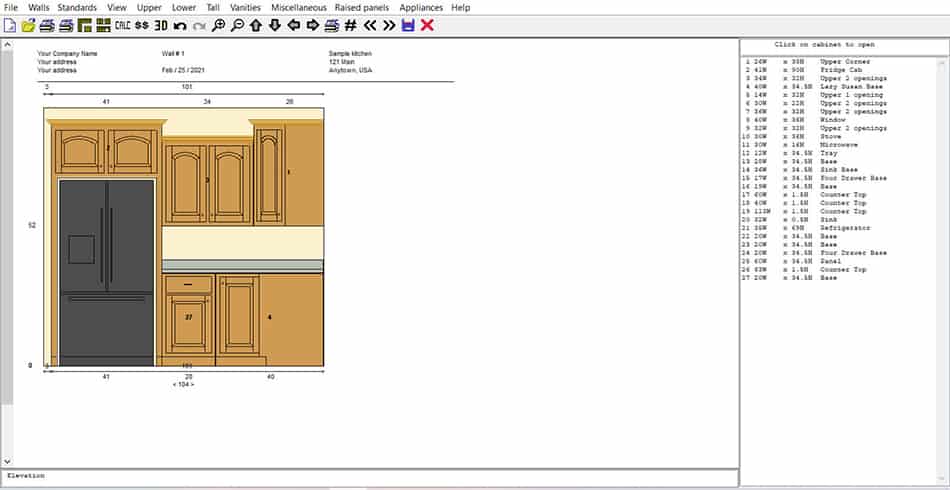 https://www.cabinetplanner.com/
This is another cabinet design software that is quite easy to use. You layout your cabinets with any dimensions, shelving, look you want, then view it all in a 3D rendering. You even layout your whole house with this program and see how it all fits together.
When you're ready to finalize your plans, you can print your cut list and plans, include CNC DXF files. On the website, you can access tutorials, a gallery for ideas, a user forum, and suggestions for further reading.
You can try Cabinet Planner for free. After your trial is over, the cost is $70, and you get free updates without ever having to pay again. Mostly, I'd say this is a good resource for DIY builders if you plan on redoing a lot of cabinets and shelves in your house. You'll find the software super helpful, and the cost of $70 is minimal compared to the assistance it provides.
3) ProKitchen Software
https://www.prokitchensoftware.com/
This is a software program designed to help builders create plans for their clients. And it's costly enough that the average homeowner isn't going to want to purchase it. After a 14-day trial, professionals will want to take full advantage of its graphic capability by paying $1600 per year.
It works much the same way as Blophome does. You create your floorplan, then drop in real objects to create a photo-realistic 3D rendering. The idea is that you would then buy and install those exact cabinets. It won't give you plans to build custom cabinetry.
If you're looking for ideas, you can view the Gallery section on the website. There are also Training articles and Video Tutorials available online.
Which Software Should You Choose to Design Your Cabinets?
It depends on what depth of planning you want to do. Are you looking for a simple layout tool to help you visualize what you want to change, or do you need woodworking blueprints to build your cabinets yourselves?
Do you want to buy the specific cabinets you place in your floorplan, or are you simply looking to fill in the model with approximate sizes and dimensions?
Are you a professional wanting to create 3D renderings for your clients, or are you a home user who doesn't need great graphics to plan your project?
Your answer to all of these questions will determine the right software for you. Our advice is to try each of the free versions to see what level of functionality you like, then upgrade to a paid program based on your preferences.