Glass front doors are an alternative to traditional wooden exterior doors that we see on most homes. Glass doors are widely used as patio doors in modern homes, but more and more homeowners are choosing them for their exterior doors. Due to the unique qualities of glass, it offers distinctive advantages and disadvantages for exterior doors, which I will mention a little later along with some great examples of glass types. You can then decide whether or not a glass front door is the right option for you.  
Are Glass Front Doors Safe?
When it comes to choosing a glass door, the biggest concern of homeowners is security. Since burglars almost always try to enter the house through the front door, the strength of the glass is vital to protect your home. But it's not just break-ins that make people think twice about glass doors; the last thing you want is for the glass to shatter or crack when the door is slammed shut by accident.
The good news is, there are many different types of safety, tempered or reinforced glass that are almost impossible to break. In fact, a high-quality double-glazed door will increase your home's energy efficiency as well as protect your home from burglars.
From transparent glass that allows maximum light to enter in your hallway to frosted glass that promises utmost privacy for your family. A solid glass front door that's sealed tightly will be good for both your home security as well as your energy bill so it makes sense to opt for such doors.
Need further convincing? Then take a look at the following advantages of glass front doors: 
Why Choose a Glass Front Door
Enjoy Uninterrupted Views
Most home buyers are willing to pay a premium for a home with views. A traditional wooden or metal door can block the view of the mountains, the beach, or even a lake, whereas a large glass entry door can help bring the outside into your home. 
Maximize Natural Light
Glass doors allow plenty of natural light to enter the home. This helps you reduce your energy bill as you'll require less artificial light during the day. 
Increase Your Home's Aesthetic Appeal 
Another major benefit of a glass front door is its aesthetic appeal. A simple wooden or metal door doesn't provide quite the same visual interest as a multi-paned glass door, don't you agree? Glass exterior doors can have special designs or patterns that further add to their appeal. What's more, you can customize your glass front door to match it with your home's exteriors.  
Glass is Easy to Maintain
There is no denying the fact that glass is low maintenance and easy to clean. With a simple wipe down using clean water and glass cleaner, your front door will look gleaming. When compared to metal, which can rust, or wood, which is susceptible to rot, glass is incredibly strong and won't deteriorate over time. Opting for a glass front door will, therefore, cut down your long-term maintenance costs. 
Add a Modern Look to Your Home
One last reason to love glass front doors is the way they bring a sleek, modern look to your home. Contemporary style or even traditional Arts and Crafts style homes can look beautiful with decorative glass front doors. 
Customization Possibilities
To maximize your home's curb appeal, you'll be pleased to know there are numerous varieties of glass design options, with clear bevels and ornate patterns to name some of the few. 
Any Drawbacks?
Lack of Privacy 
While glass front doors provide great views of your home's surroundings and are easy to clean, they don't score very high in terms of privacy. My advice? Choose frosted or decorative glass if you live in a high traffic area. 
From decorative glass to simple, clear designs, the choice is yours. Here are some examples with pictures to get started!
9 Types of Glass Front Doors 
1. Textured Glass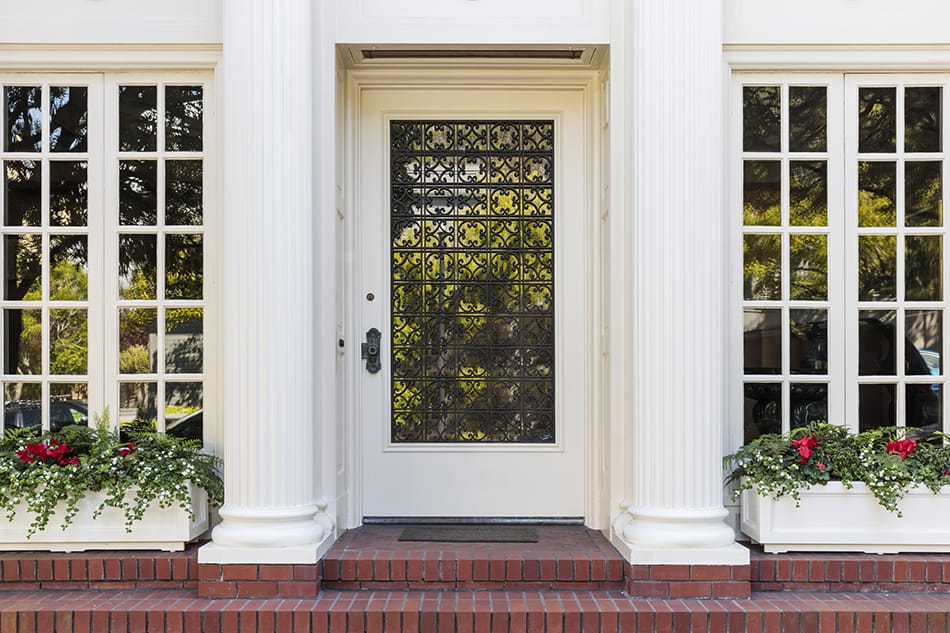 Textured glass obscures views and diffuses light, especially if it includes decorative details. You can choose from a wide variety of styles, such as geometric designs or glowy pearlescent panes for a naturally inspiring look. In addition to featuring a stylish design, another advantage of textured glass is the privacy it offers you whilst you're inside your home. This type of glass comes in different varieties, including glazed and ripple. 
2. Decorative Glass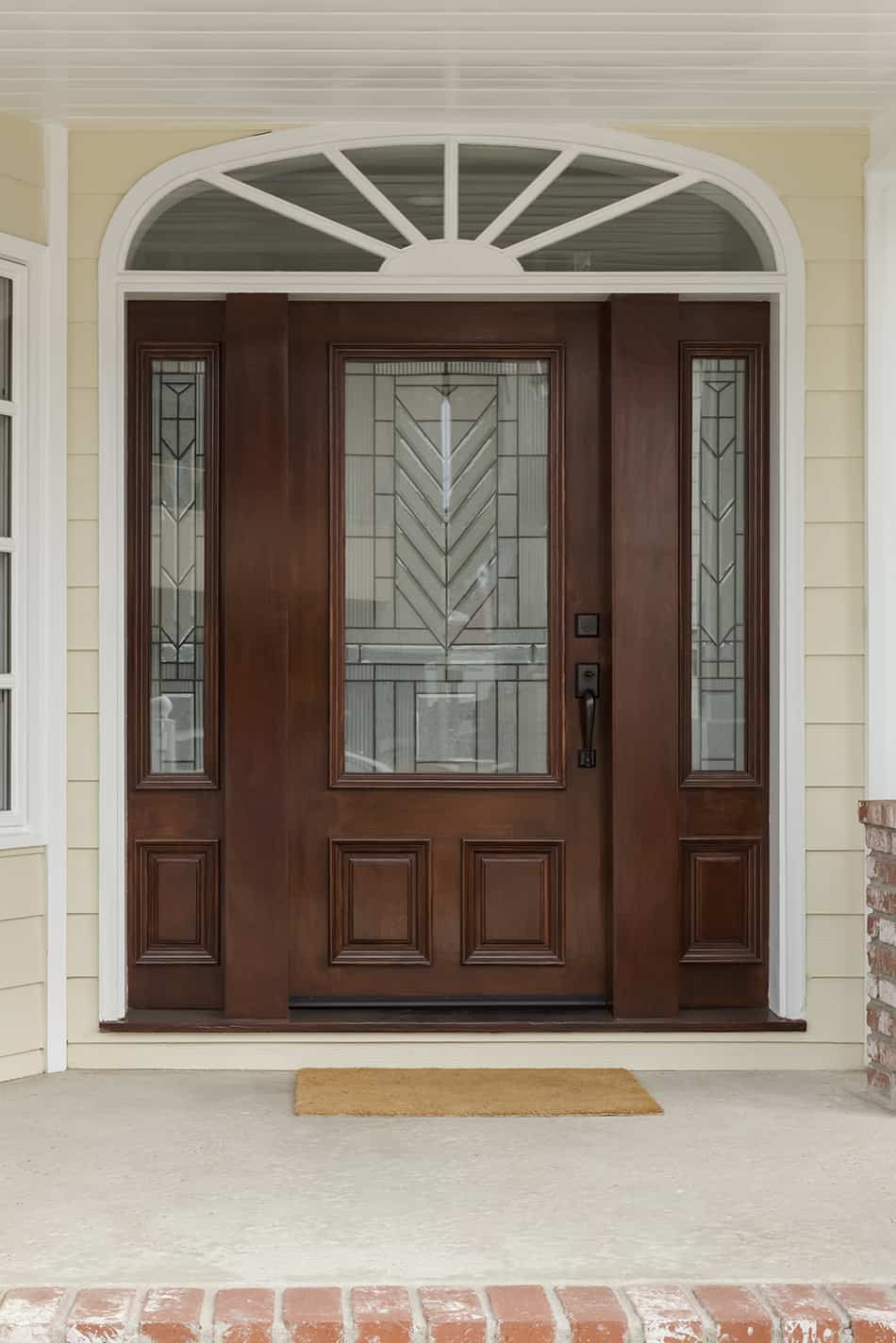 Decorative glass is similar to the textured type as it provides you with the same degree of privacy. The different patterns created with this elaborate glass make it ideal for modern, art deco homes, as shown in this image.   
3.
Insulated Glass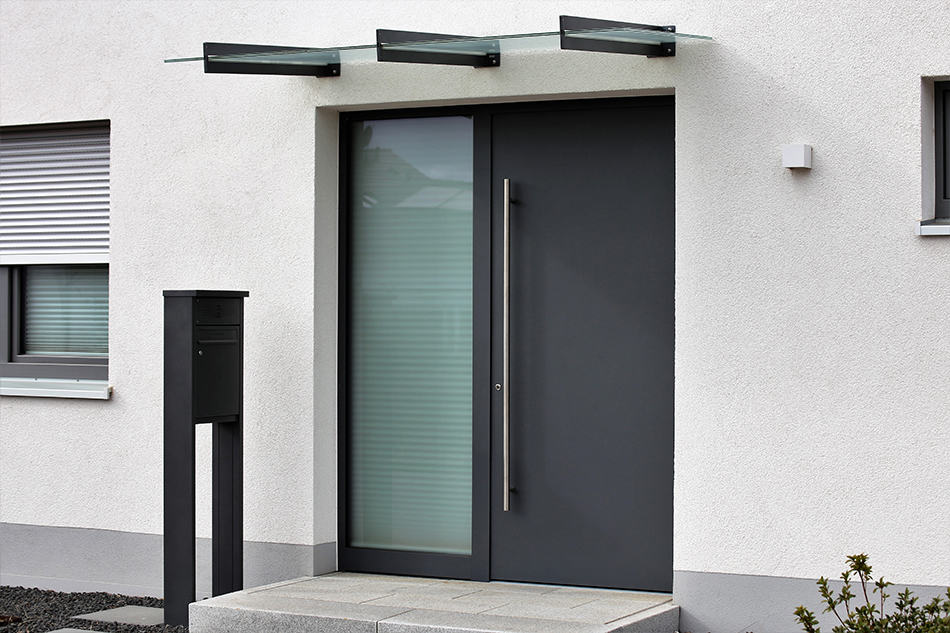 If your home is located in an area with extreme weather conditions, you'll want to consider insulated glass for your front door. With a tightly sealed glass of two more layers, your home will be better protected against the cold weather outside as this type of glass retains more heat, thus saving you energy. 
4.
Stained Glass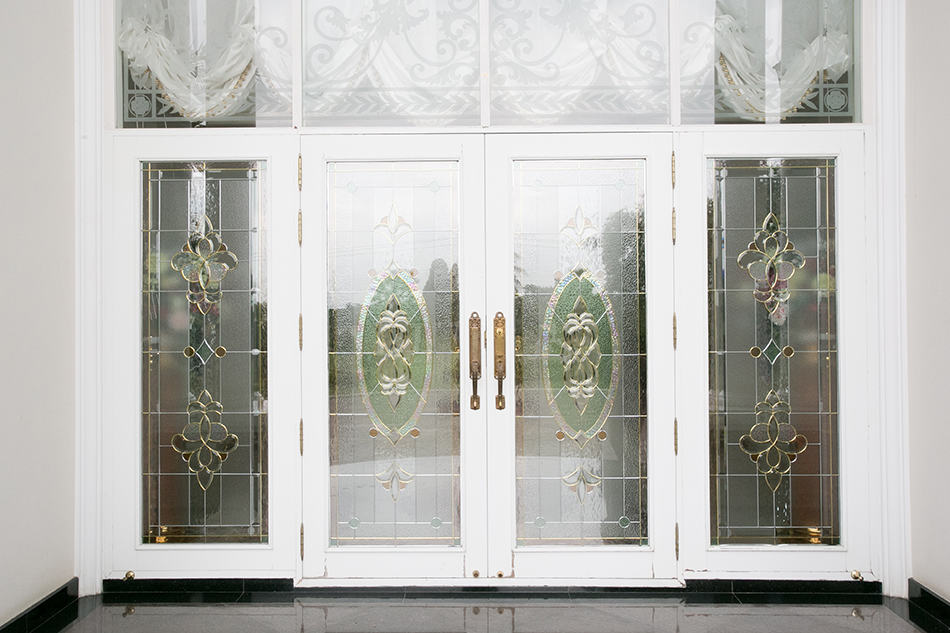 There is no denying the elegant beauty of stained glass. This type of glass was originally used in Medieval Europe from the 10th century and often seen in churches. When added to a front door, it will turn heads in your neighborhood and make guests feel welcome. Double-paned stained glass has energy benefits and can be customized to match your home. This type of glass offers more privacy protection than transparent glass because of its textured design. See how beautiful this white-framed double door looks with its elaborate stained glass. It's certainly a head turner!  
5. Frosted or Etched Glass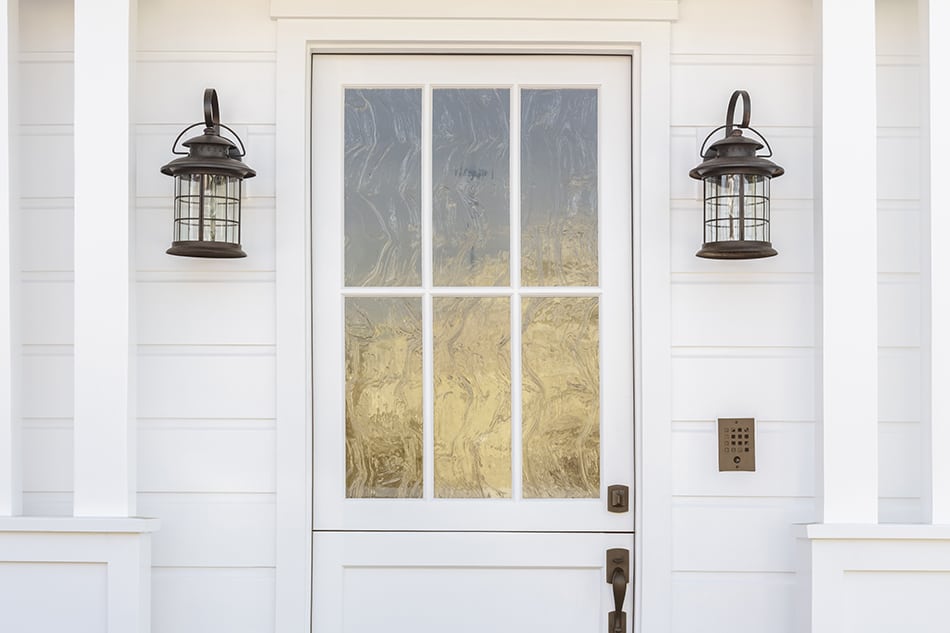 Frosted glass offers the most privacy, hence the reason it's also called privacy glass. But just because they are frosted, it doesn't mean you'll get less natural light entering your home. Etched or frosted glass front doors are an excellent alternative to wooden doors as they make you feel less claustrophobic. This type of glass looks stunning on Midcentury homes as it gives them a modern look with a lot of privacy. 
6. Clear Glass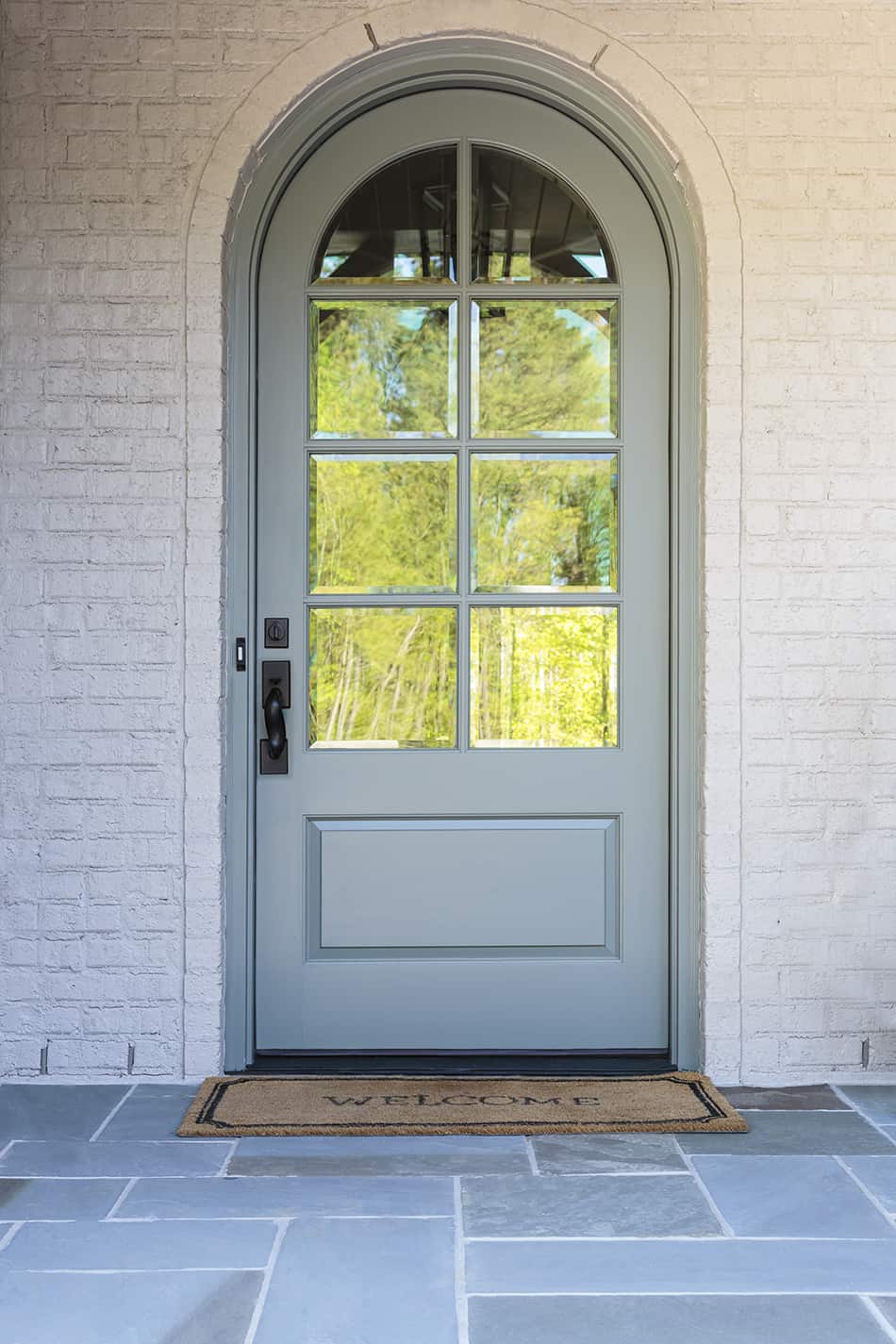 The panels of clear glass doors allow plenty of natural light to flow. This type of glass door is by far the most common in both traditional and modern homes. Clear glass front doors are more inviting than frosted or decorative designs because of their transparent glass. This feature allows the homeowner to instantly see who's at their doorstep before greeting them. People who enjoy having larger windows will especially like clear glass. But who said you should opt for a plain looking clear glass front door. Take a look at this beautiful arched exterior door with transparent glass, which is doing a great job of standing out against the neutral background.    
7. Single Glass Door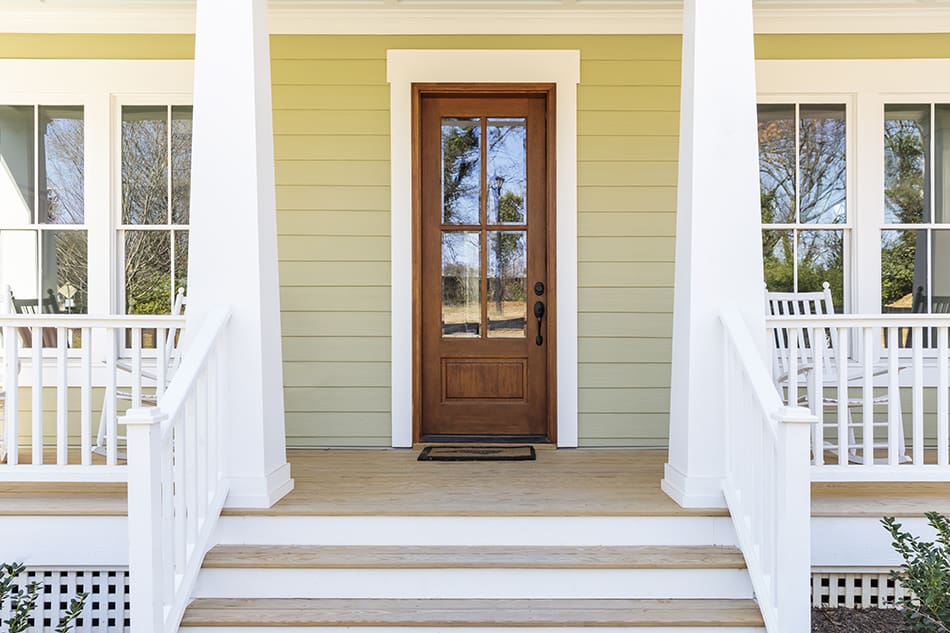 Single glass doors are one of the most popular options, and since they are so common, you can find any style you want just about anywhere. In addition to being highly popular, single glass doors are also the most affordable. These types of glass doors are ideal for small entryways as they take up less space, and I think you'll agree that they look very inviting indeed. To prove my point, check out this stunning single glass door in dark brown wood and white framing. 
8. Double Glass Doors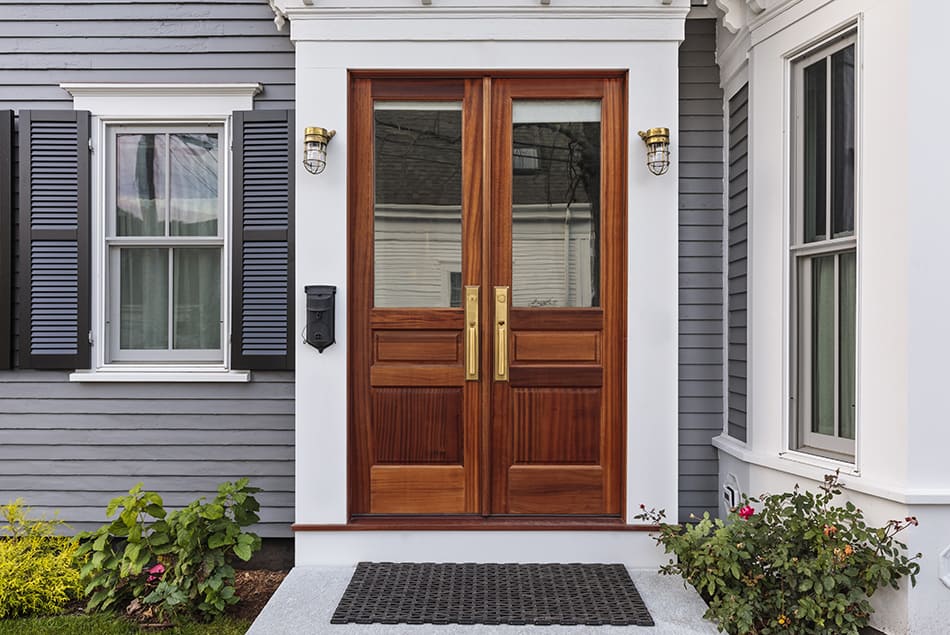 While a single glass door may be an ideal option for small entryways, it makes moving furniture rather difficult. Have you ever tried to get a large sofa through your front door only to find that it doesn't fit? With a double glass front door, the entryway will be wide enough so you won't have to worry about the size of your furniture. Simply open both doors to make life easier.  
9. Sidelites with Glass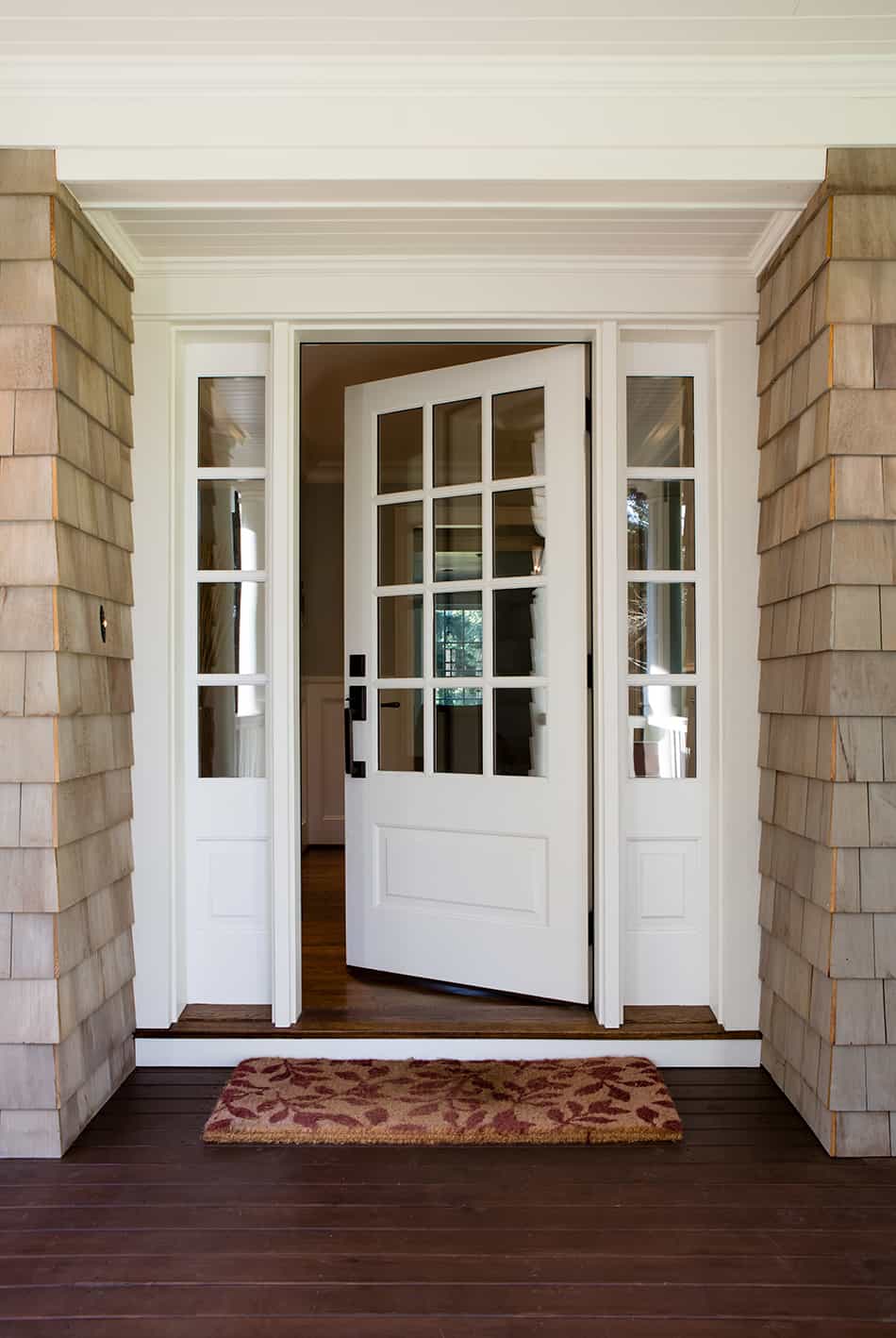 For those who still love a single glass door but want to add more style, there is the option of sidelites with glass to allow more natural light to filter through. Sidelites can be installed in many different ways, from left, right or one on either side of the glass door. Another alternative to sidelites is a transom, which lets natural light enter without compromising your privacy. This white single glass door in French style has matching sidelites that complement the brick exterior of the building. Simply stunning! 
Conclusion
Whether you choose large, single frosted panels or multi-paned clear glass for your exterior door, you're sure to find a design that suits your home. With all the excellent benefits of glass front doors, it's no wonder they are becoming so popular now. I hope my above examples have helped you make the right choice.