A dining table is a must-have piece of furniture that plays an important part in family meals and gatherings. When it comes to choosing the right dining table dimension & size for your needs, there are various factors to bear in mind: the number of guests you'll be inviting for dinner as well as the size of your dining room. If you're planning on hosting large dinner parties, you'll need a large table, and if you're only going to use the table for your day-to-day meals, then a small table will suffice.
To help you choose the right dining table for your home, you first need to understand the standard dining table dimensions according to the table's shape, height, and seating capacity.
Below is the dimension diagram for common dining tables. We also include 9 great designs for dining chair dimensions.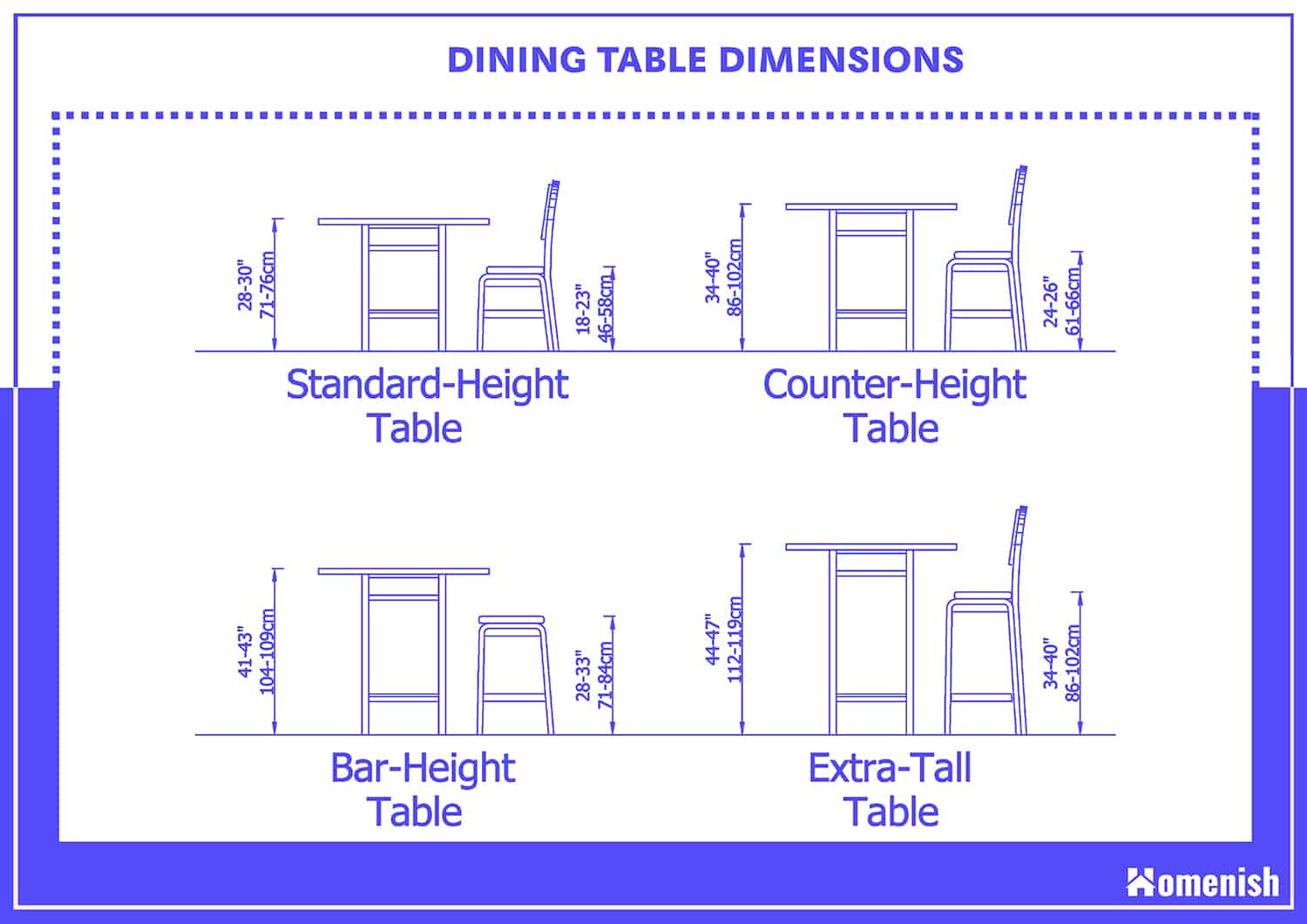 Standard Dining Table Height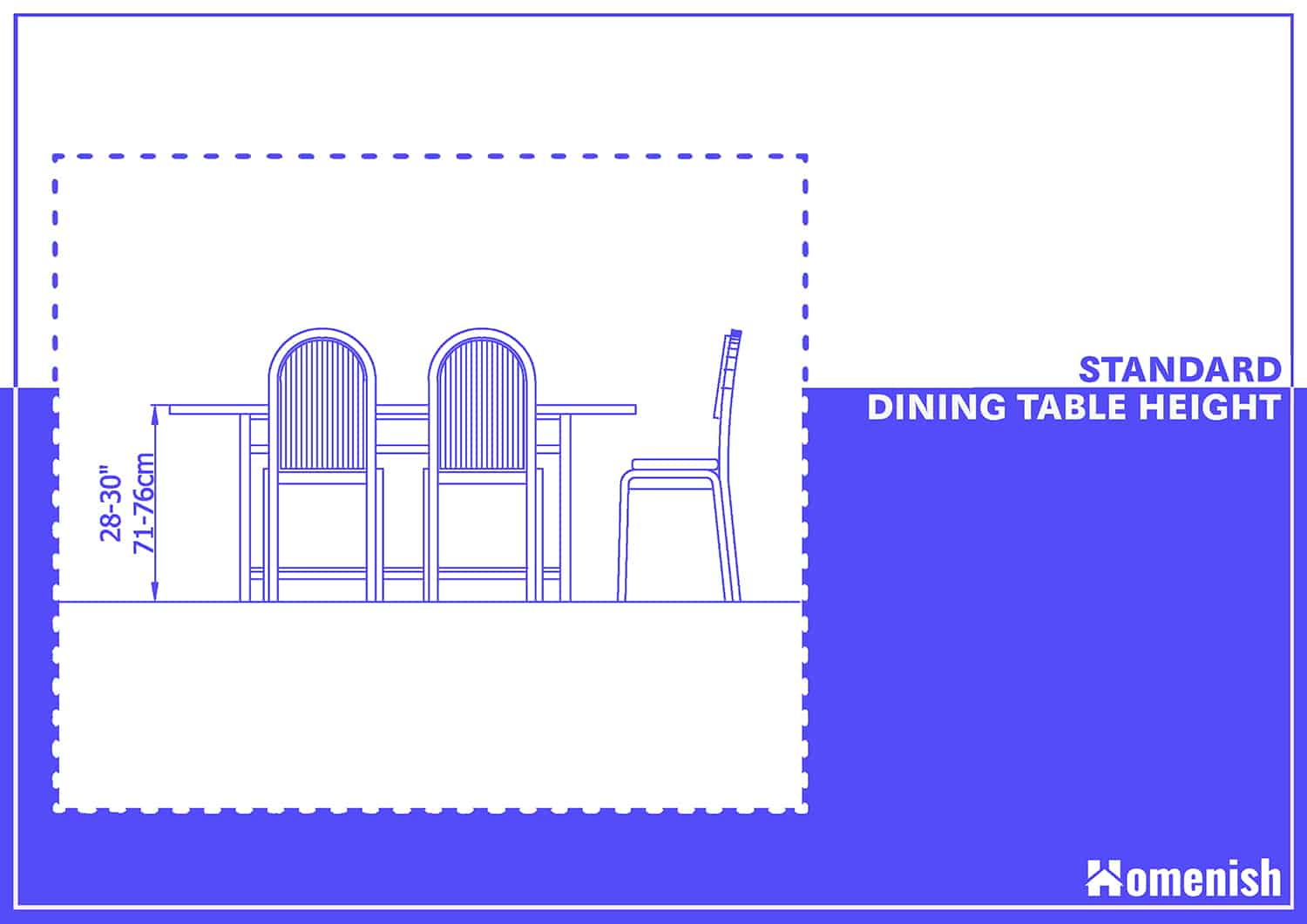 Dining tables come in different shapes and sizes. But the standard height of a dining table is usually always the same. To serve its purpose, the table has to be high enough for those who gather around it to eat or chat. To dine comfortably, your chosen table shouldn't be too high. The average height of dining tables is between 28 and 30 inches from the floor to the table surface.
Standard Counter Dining Table Height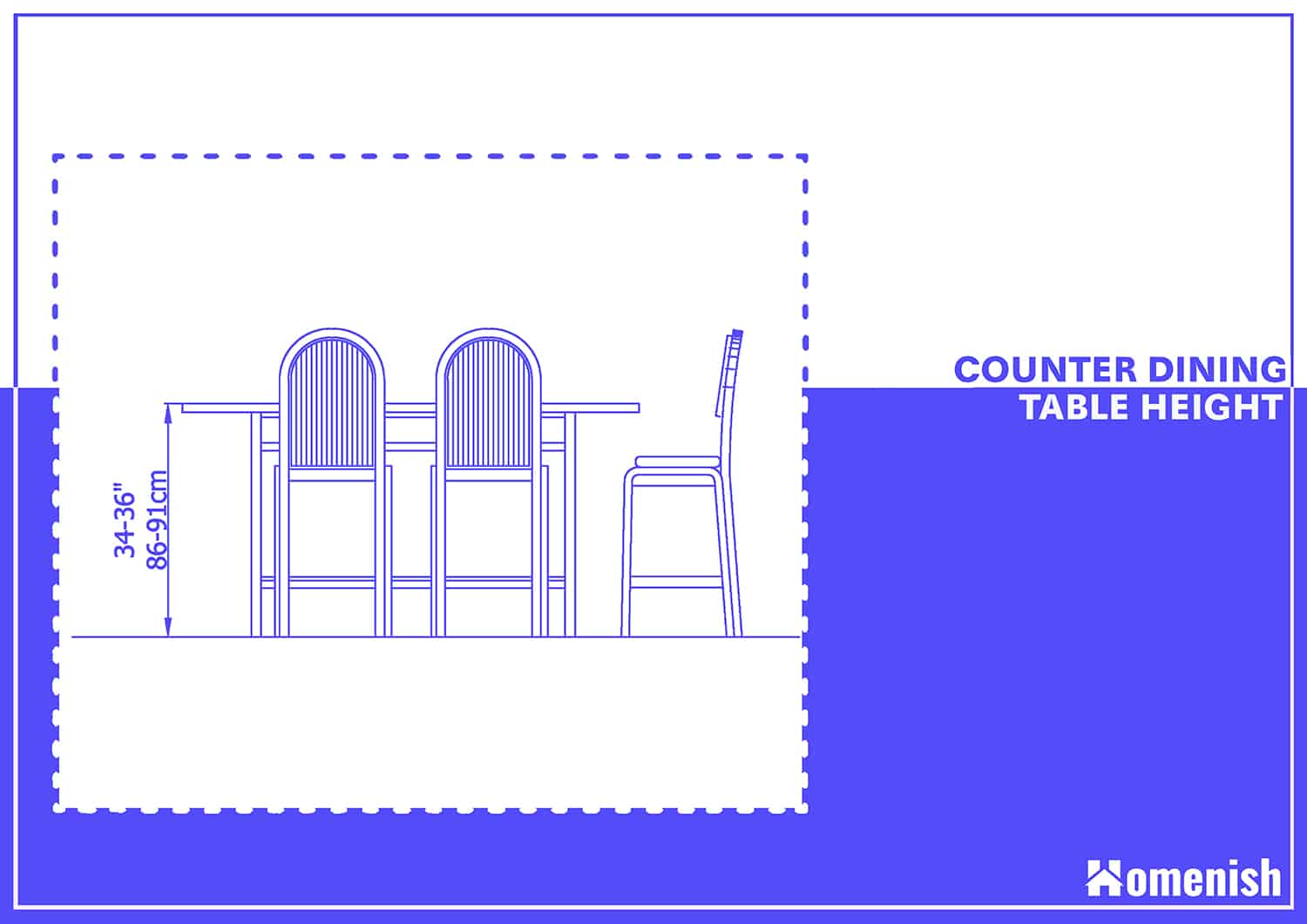 Counter dining tables are typically as high as 36 inches. These types of tables are known to create an informal atmosphere for small family gatherings. Counter tables are sometimes referred to as bar tables and should be used with stools or high chairs.
Standard Round Dining Table Dimensions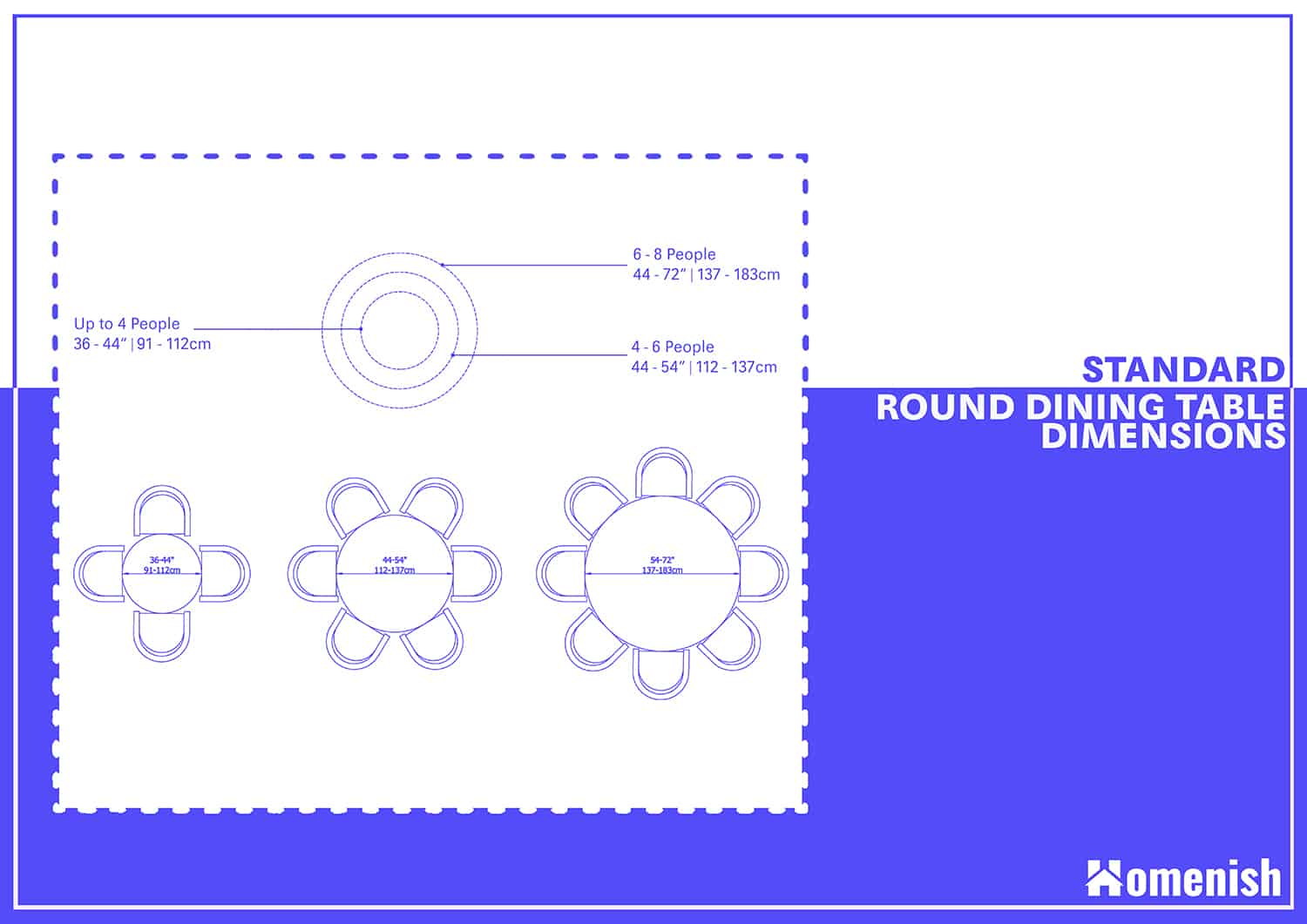 A round dining table creates a cozy and informal atmosphere that makes it easy to converse with your guests or family without straining your neck or raising your voice across the table. However, a round table isn't always the best option to entertain a large number of people. A large round table might not be the best solution for smaller dining room spaces.
Here are the standard dimensions for round dining tables:
36 to 44 inches in diameter will seat up to 4 people
44 to 54 inches in diameter will seat 4 to 6 people
54 to 72 inches in diameter will seat 6 to 8 people
Standard Oval Dining Table Dimensions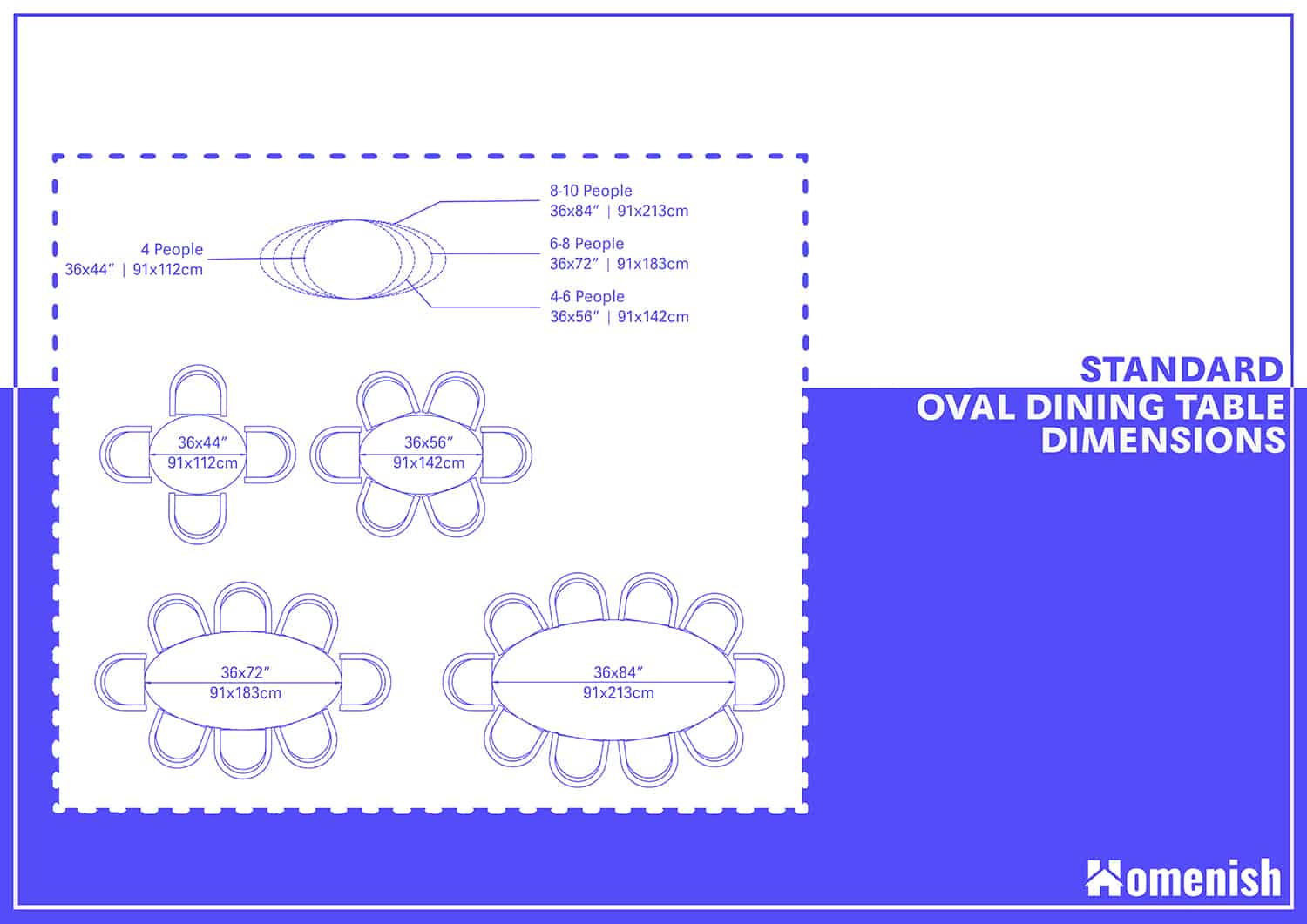 Similar to round tables, an oval-shaped dining table is ideal for occasional seating. These tables allow you the flexibility to expand or reduce their size plus they are perfect for smaller spaces as the edges of these tables don't stick out.
Here are the standard oval table dimensions:
36 inches in diameter and 44 inches in length for seating 4 people
36 inches in diameter and up to 56 inches in length for seating 4 to 6 people
36 inches in diameter and 72 inches in length for seating 6 to 8 people
36 inches in diameter and 84 inches in length for seating 8 to 10 people
Standard Square Dining Table Dimensions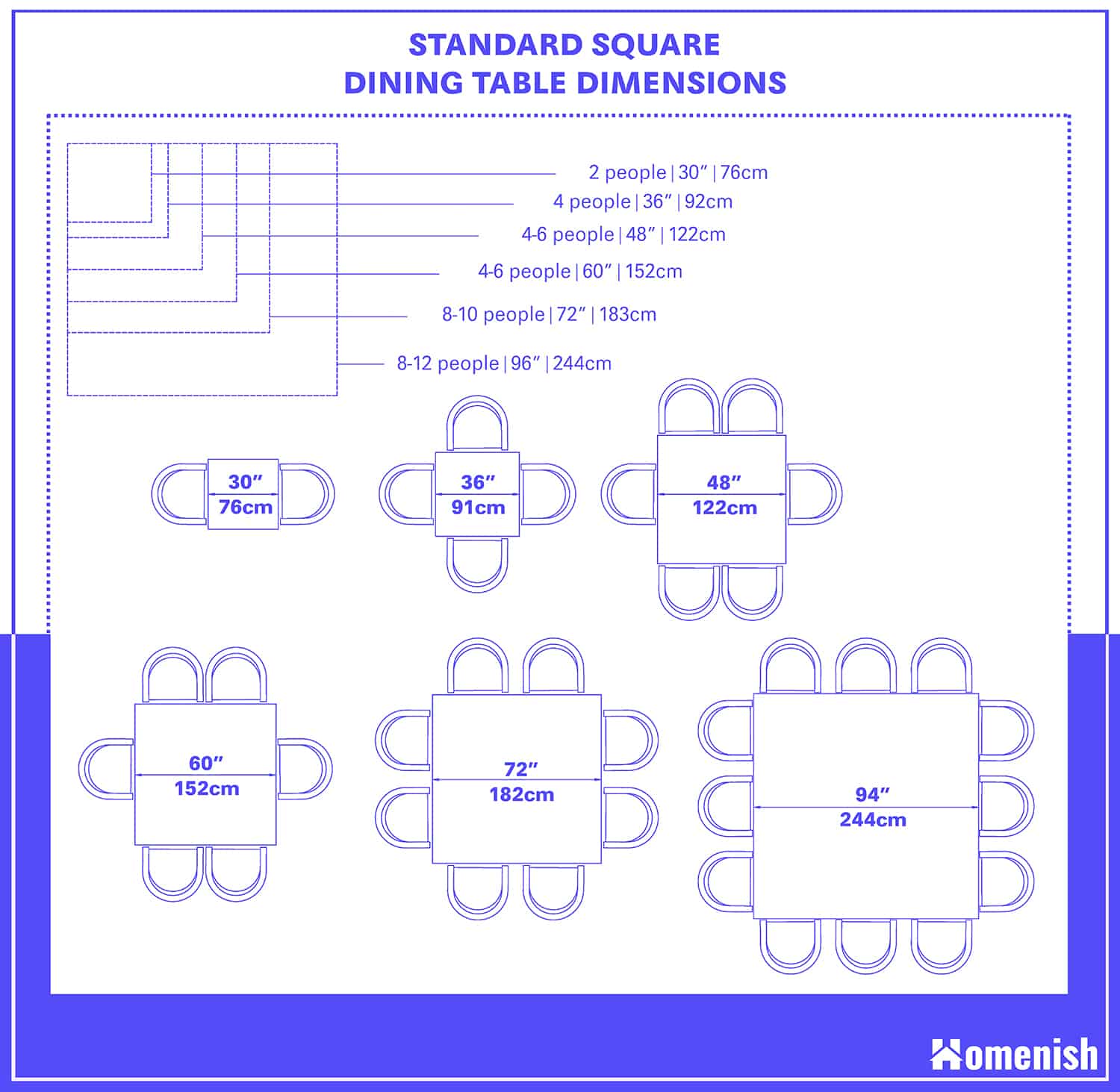 A square-shaped dining table has its own advantages and disadvantages just like a round table. This table is ideal for intimate dinners and people who want to sit close together. However, square dining tables aren't suitable for narrow dining rooms as they can cramp the space. Also, if you're planning on seating more than 4 people at your table, it's better to buy an extendable table.
The standard square table dimension is 36 to 44 inches in width for seating 4 people.
Standard Rectangular Dining Table Dimensions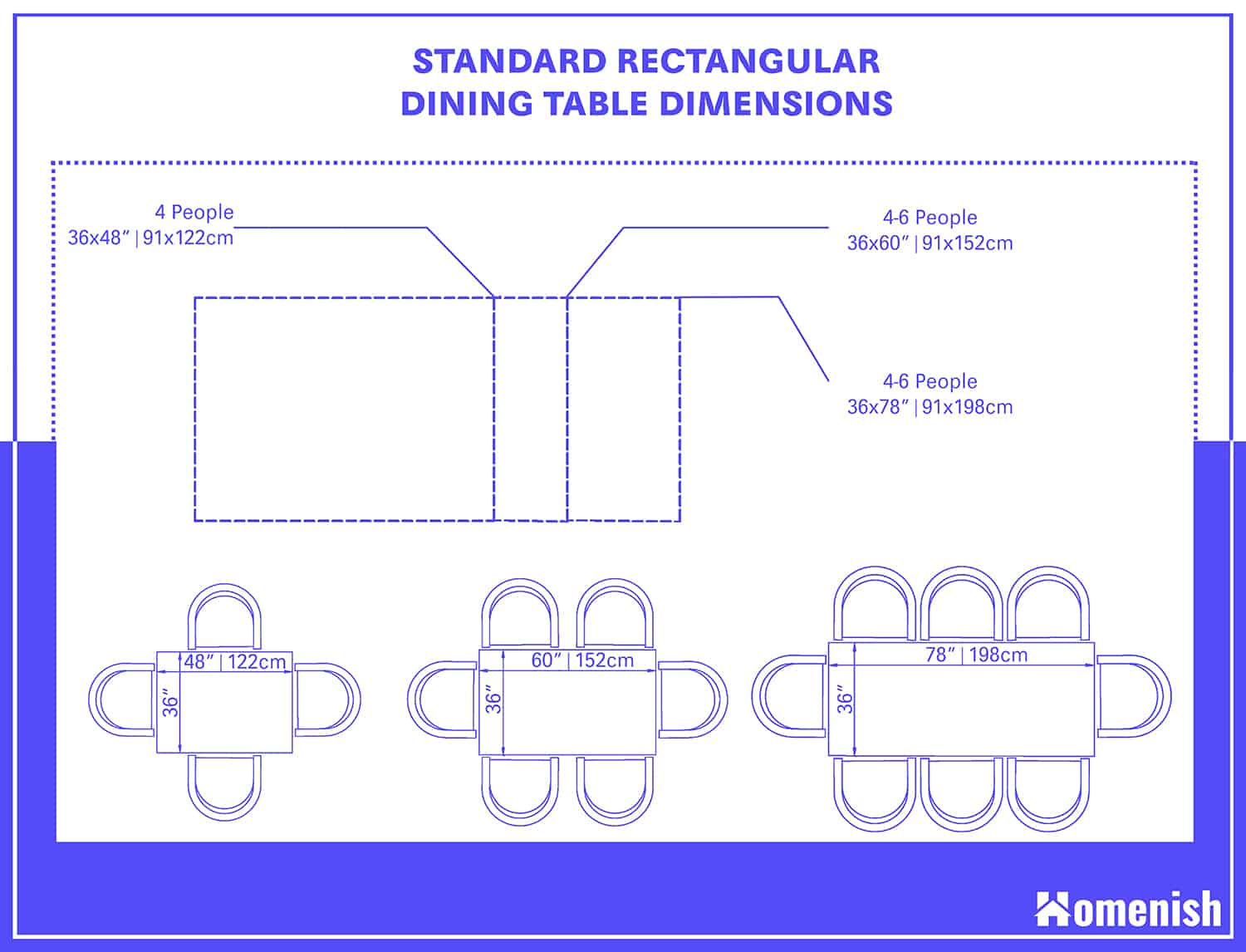 A rectangular dining table is one of the most common choices for dining rooms. These tables take up the most space and are ideal for large gatherings. For long and narrow dining rooms, you can find narrow rectangular tables that will comfortably fit your space. Some can even be extended to change their length whenever you want to host large dinner parties.
Here are the standard rectangular dining table dimensions:
36 inches wide x 48 inches long for seating 4 people
36 inches wide x 60 inches long for seating 4 to 6 people
36 inches wide x 78 inches long for seating 6 to 8 people
Standard Bar Dining Tables Height
Bars are 41 to 43 inches high, and they typically have small tabletops. They are called bar height tables because they are just as tall are a bar. They're just a few inches taller than counter-height tables.
Standard Free Form Dining Tables
Free-form dining tables are produced in a multitude of unique or organic shapes. Based on the abstract shape and size of free-form dining tables, it is best to use them in big, open spaces.
Rug Sizes For Dining Table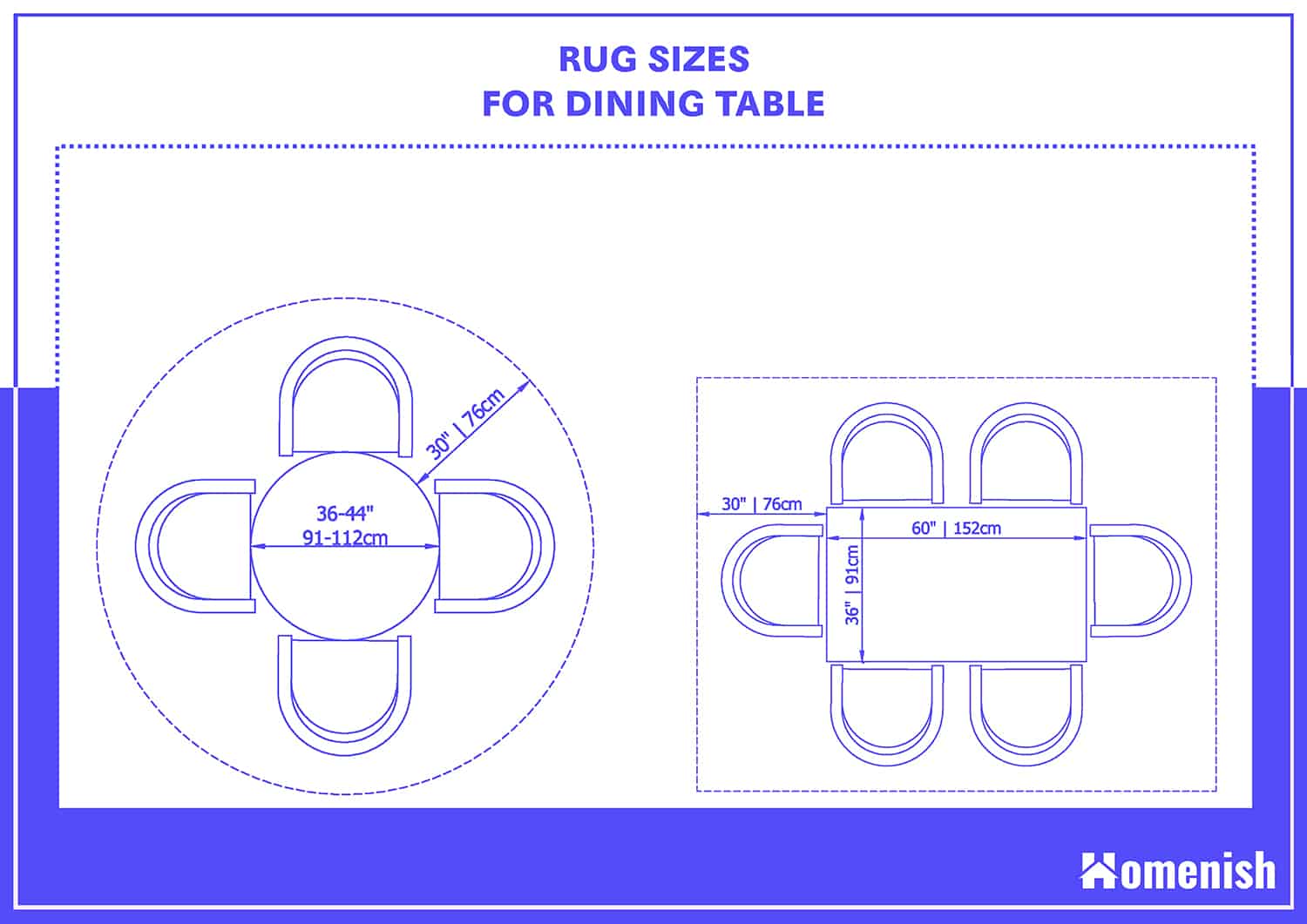 If you intend to place a rug under the dining table, the good rule of thumb is that your rug should be 24 – 30 inches, ideally 30 inches bigger than the dining table on the 4 sides.
Standard Dining Table Clearance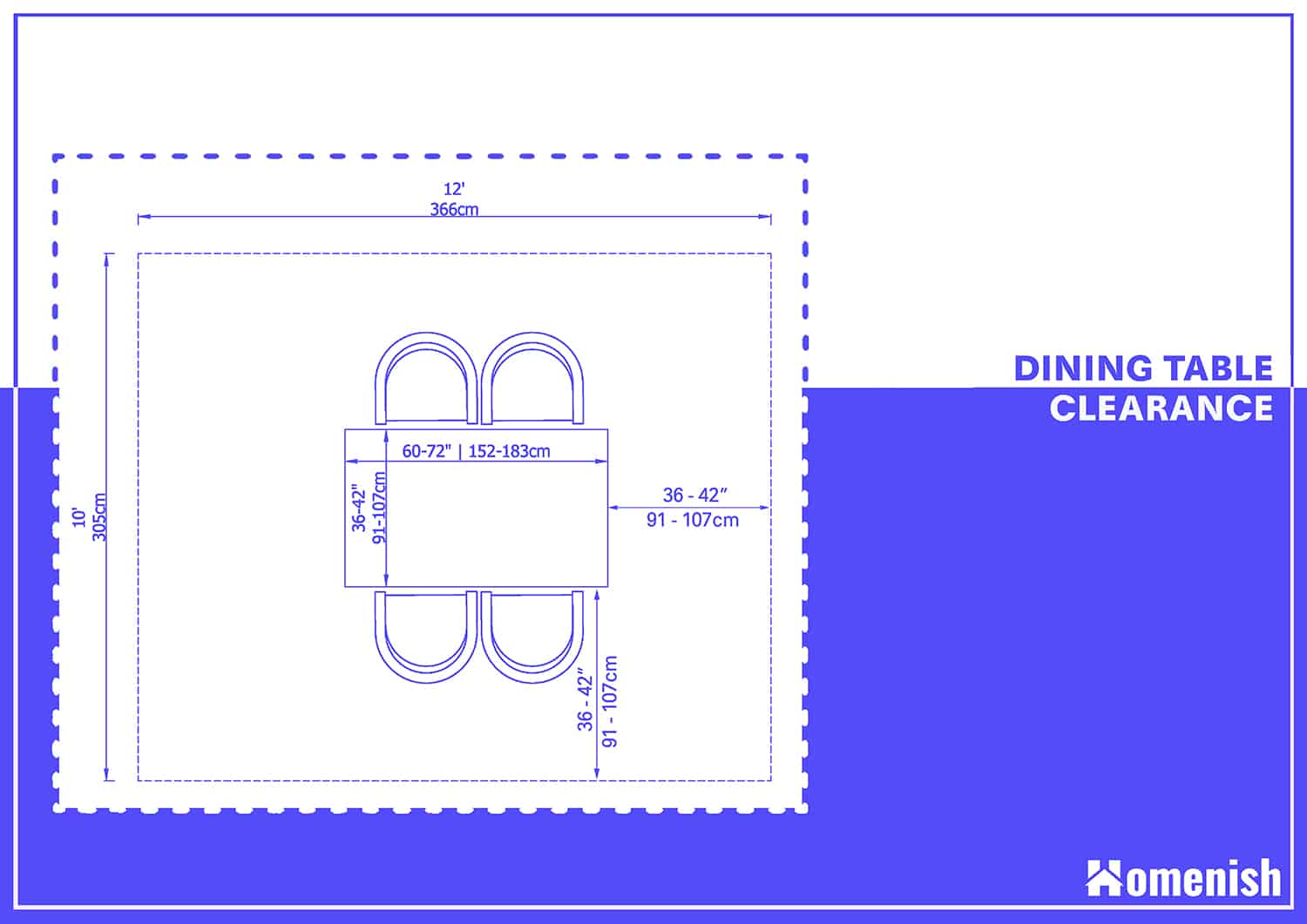 A dining table normally has two kinds of necessary space around it – a place-setting area for everyone and a shared area to place pepper, candles, and salt.
The least breadth needed for a place setting is determined by the average shoulder breadth of a human – 61 cm and the least depth needed for a place setting depends on the dimension of a plate with utensils and glass.
The least shared area that would be combined in the case of a table with two place settings set at opposite sides is gotten from the size of a serving platter.
If the table doesn't need a serving platter, then the need for a shared area will not be considered. The appropriate dining area sizes can be achieved a bit differently. The least breadth is gotten from a more traditional table that has additional utensils, glasses, and plates with lessened elbow fights.
Having the appropriate size of shared area infers that there's enough space to serve meals, candles, and centerpieces that add a more lavish vibe to the dining room while still being able to reach the diners, and you can hear people's interaction from the other side of the table. 
Despite varying recommendations, a space of "36-42" from the table sides to the wall or other furniture provides enough room to seat plus a walkway backing the diner. With this specification, a dining space 10 × 12 ft in length takes in a table "36-42" wide and "60-72" in length.
That room can also accommodate a 48" square or round dining table with space for more furniture beside one of the smaller walls.
Lengthy, restricted dining rooms require lengthy, rectangular tables. Take note of size as well. If the size of your dining is large and rectangular, make an adequate space of "48-54" for the table.
Tips on Selecting the Right Dining Table
– Before choosing a dining table, measure the room the table is going in. As a rule of thumb, allow at least 42 inches between the wall and the edge of the table. This will allow enough space to get in and out of your chair without bumping into the table. If it's not possible to leave 42 inches of room, the very bare minimum should be 36 inches. You should never go below this in order to fit a large table into a small space.
– Extendable dining tables are ideal for smaller or narrow rooms. If your dining room allows 42 inches of extra space from the wall to the table, but you don't want the table to take up this much space most of the time, an extendable dining table will be a good choice.
– To ensure you don't choose a table that's too small for your dining room, don't leave more than 180cm of space from the edge of the room.
– If you can't decide between a round, square, oval or rectangular dining table, consider the shape of your room and the amount of seating you want. For example, large square tables make intimate conversations difficult and they restrict movement. Round or oval tables, on the other hand, tend to be more informal and are ideal for family gatherings. All in all, the bigger the table, the more restricting it is to have conversations with the person sitting next to you. In this case, we recommend a round dining table.
– For homes with small children, it is best to seat them closer together for formal occasions. Rather than placing chairs behind the table, opt for benches and allow 18 to 24 inches of space between each child.
Once you have determined the perfect dining table size and shape for your space, you can then select a suitable table based on the measurements we've outlined here.