When kitting out a restaurant with furniture, you need to think carefully about which size of tables you buy for a number of reasons.
For dining tables at home, the purpose is for daily dining with some extra space for some guests. In a restaurant, you'll want to fit as many customers into your space as possible in order to maximize profit while also not making the room feel overcrowded, which might put people off from returning.
You'll also have to think about the flow of the space, giving people enough space to walk between tables. Learn all about restaurant table sizes here.
How Much Space Per Person?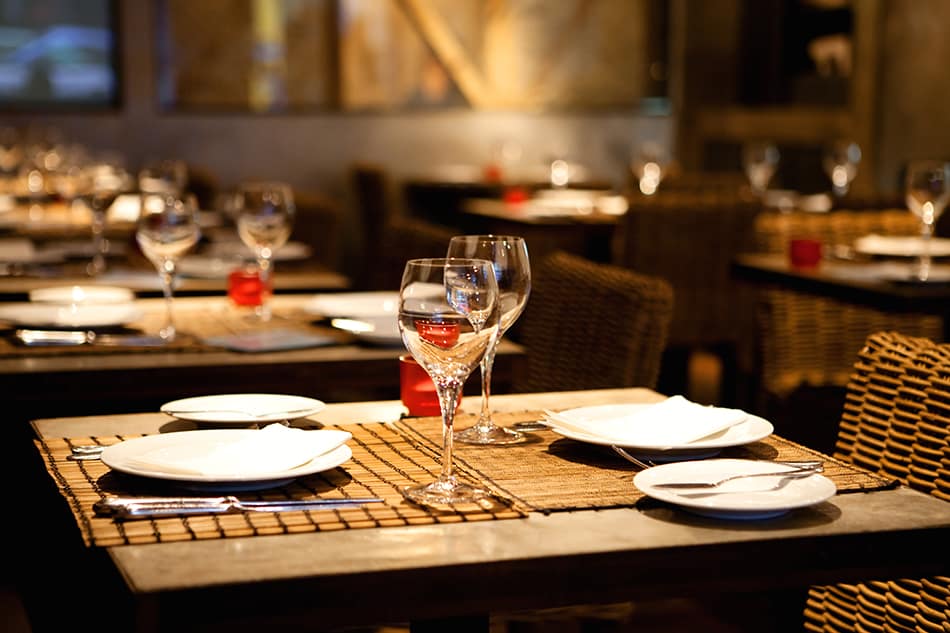 In restaurants, each diner should be allowed space between three square feet and six square feet. This includes their seating space as well as the tablespace in front of them where their drinks and food are placed.
In pub restaurants and cafe restaurants, you can aim towards the smaller end of this scale, while fine dining establishments will want to allow each customer a greater space.
Standard Restaurant Table Shapes and Sizes
Circular Restaurant Table Dimensions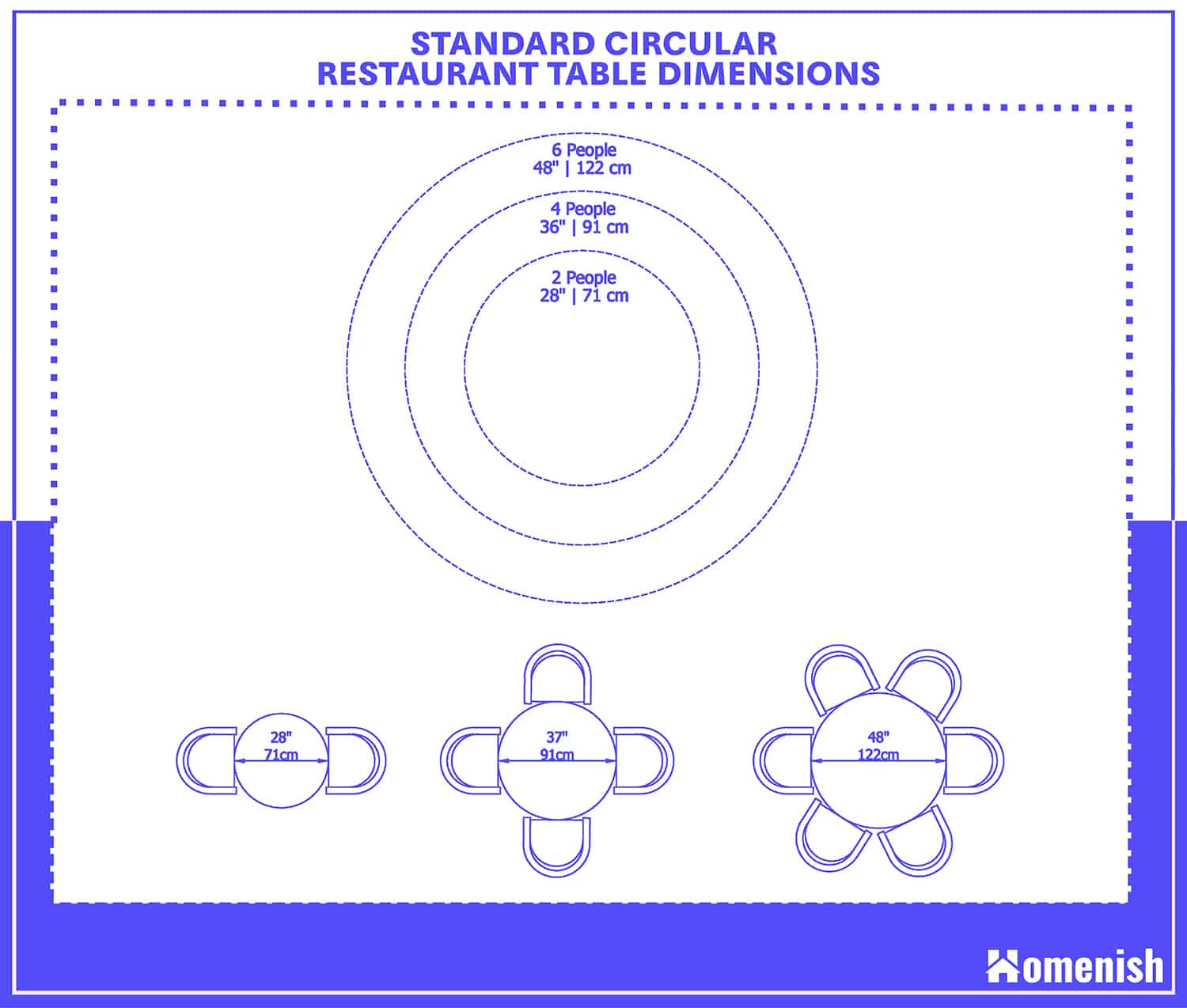 Circular tables work well in corners of restaurants because they allow you to really maximize the space. Using circular tables is also a good way to mix up the layout in a restaurant and make it feel less uniform for a more relaxed feel.
Alternatively, in a fine dining scenario, you might choose to use predominantly circular tables for a more formal feel similar to the look that you would expect in a wedding reception.
Circular tables are especially useful in cafe restaurants where people might be visiting just to purchase drinks or a slice of cake because less eating space on the table is required, and larger groups of customers can 'squeeze' additional chairs around the table so that more people can be catered for.
48-inch circular
This sized table will seat six people. It works well in a family restaurant or fine dining restaurant where you can expect people to visit in large groups. Many customers prefer circular tables when gathering with friends because it allows them to interact better with everyone at the table, whereas rectangular tables can put too much distance between some of the diners.
36-inch circular
This sized table will seat four people. This isn't a particularly popular size of the table because rectangular tables which seat four people allow you to accommodate more diners in the space. The exception to this is if you have an awkward corner space to fill.
28-inch circular
This sized table will seat two people in a restaurant or four people in a cafe. It is a popular size and shape of table in smaller establishments as it offers the flexibility of being used for diners or customers who are just dropping in for a drink. It's great for filling small spaces in the room.
Square Restaurant Table Dimensions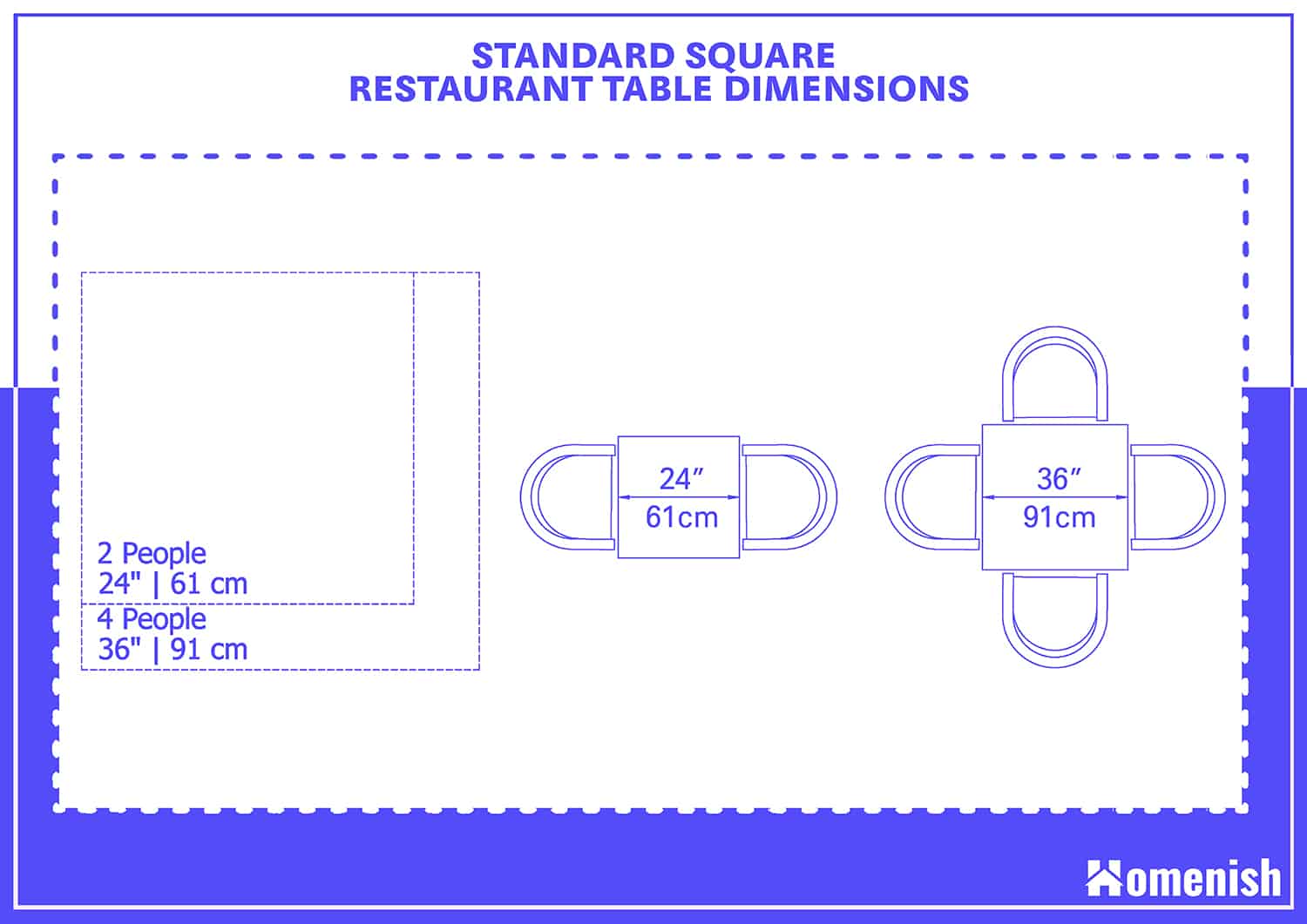 Square tables are the most popular types of tables used in restaurants because they are so versatile. Unlike circular tables, which can only be used as stand-alone tables, with square tables, you have the option of joining several together to make a rectangle for larger groups of diners.
This is a good option for most restaurants because very big groups of customers might be rare, so it would be a waste of space to buy a very large table that hardly gets used.
However, with smaller square tables, you can use them regularly to seat couples or small families and push them together when larger groups visit. In this way, you can maximize the use of space and be sure that you can accommodate any size of group.
24-inch square
This sized table will seat two people. In a restaurant that is aimed at adults, you will want several of these tables because you can expect that couples will visit without children, and a table for two makes for a romantic setting.
This is an incredibly popular size table because you can use it alone, or it is the perfect size and shape for being set up alongside other tables of the same dimensions to create a rectangular table. You could join two of these tables to seat a party of four or push a whole row of them together to seat a very large group.
36-inch square
This sized table will seat four people, with one seat on each side. It is a nice size table for groups of people to socialize together with each person being equally positioned to speak to everyone at the table, unlike rectangular tables, which have a tendency to position people in couples and mean you have to talk across people.
This table, despite being square, isn't ideal for being pushed together with other square tables because it is quite large and doesn't make the best use of space.
Rectangular Restaurant Table Dimensions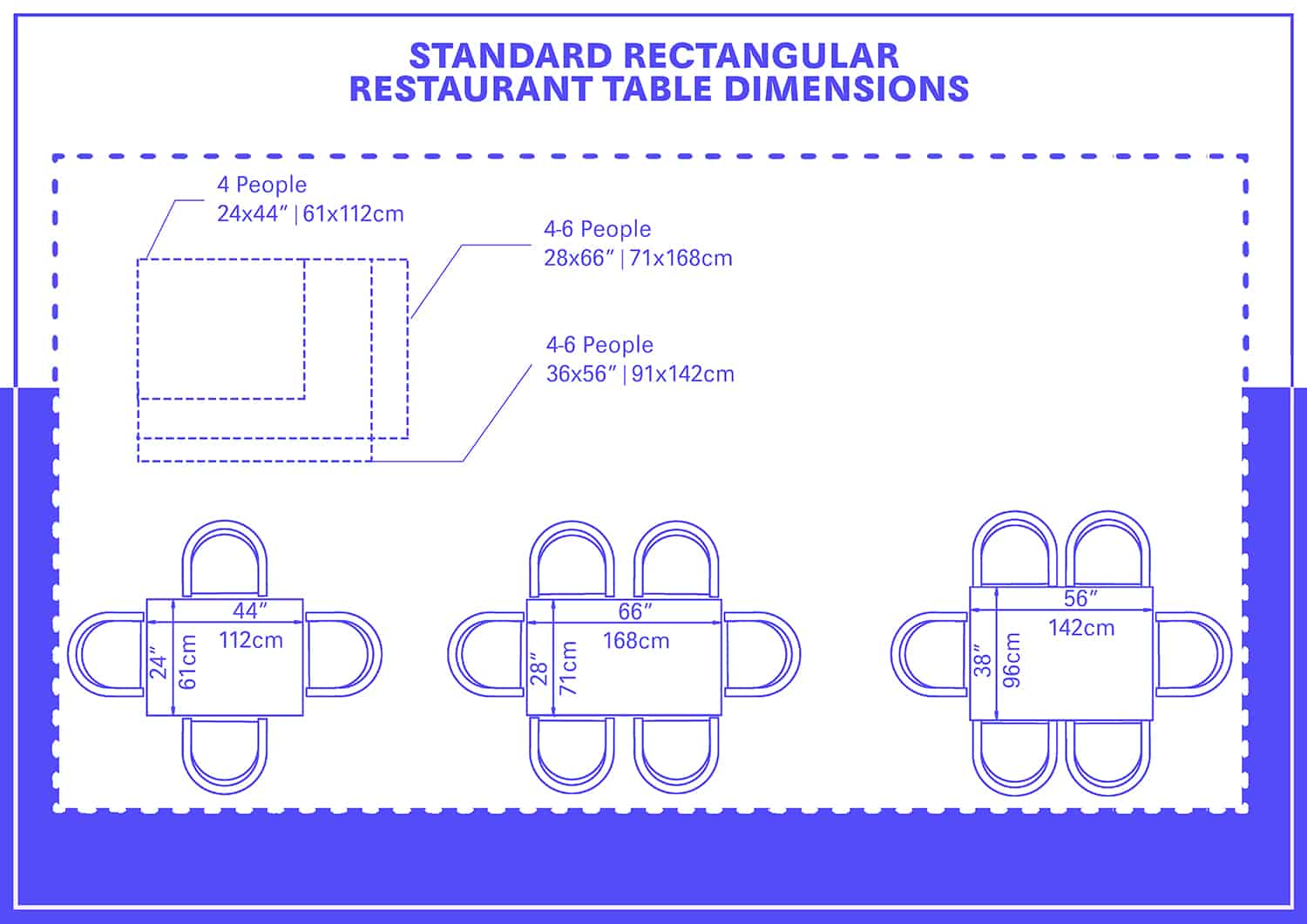 Rectangular tables are great for fitting more diners into a space, and these types of tables often make up the majority of table shapes in restaurants, especially those aimed at attracting families. Another common variety of rectangular restaurant tables is the banquette table. This type of table usually features a rectangular table with L-shaped or G-shaped chair arrangements. We discussed in great detail in our post about the standard banquette dimensions.
Here are some common sizes of rectangular restaurant tables. Pay attention to the types of legs or bases on rectangular tables because those which take up less space under the tabletop will be able to fit in additional chairs at the ends.
24-inch by 44-inch rectangular
This is the most common size of a rectangular table in restaurants. It fits four diners with two on each long side of the table and can also be paired up with another table of the same size to seat parties of eight.
28-inch by 66-inch rectangular
This table will seat six people, with three on opposite sides facing each other. This table can also be pushed up to another table of the same size to seat twelve people, for example, for birthday celebrations.
38-inch by 56-inch rectangular
This table seats six people, with two people on either side of the table and one person at each end. This allows the diners to be positioned in a way that better suits socializing, but this size table does not work well for joining other tables to accommodate larger groups.