The traditional table and chairs may not work for some dining areas with informal settings. Remember, this setup will require a lot of space because you need to slide the chair in and out. Fortunately, there is a modern way to set up your dining area. A banquette seating is an excellent way to save some space. Plus, you can dine more intimately with this kind of seating. So, what is the standard size of a banquette?
Here is a quick answer. You may also check out the detailed drawings and explanations throughout the article.
The standard table height is measured at 30 inches while the bench height is 18 inches. The space from the bench top to the table surface is 12 inches. Each person should have at least 12 inches of seating. For a U-shaped baquette, it should have minimum 54 inches for the curved area and 78 inches for the rear bench.
What Is a Banquette?
Often seen in restaurants, a banquette can also be installed in your homes. A banquette is a dining layout that pairs an upholstered bench with tables and chairs. The table is typically attached to a wall or backed by another banquette seat.
A banquette seating is a flexible option for your dining area, especially if you have a party. It is also a good choice if you have a large family. With this dining setup, you and your family can dine together instead of dining at separate tables.
Additionally, this type of layout allows you to maximize your dining area. As such, if you lack spaces for some standard-sized dining tables and chairs, it is an excellent option for homeowners with tight spaces.
Standard Banquette Dimensions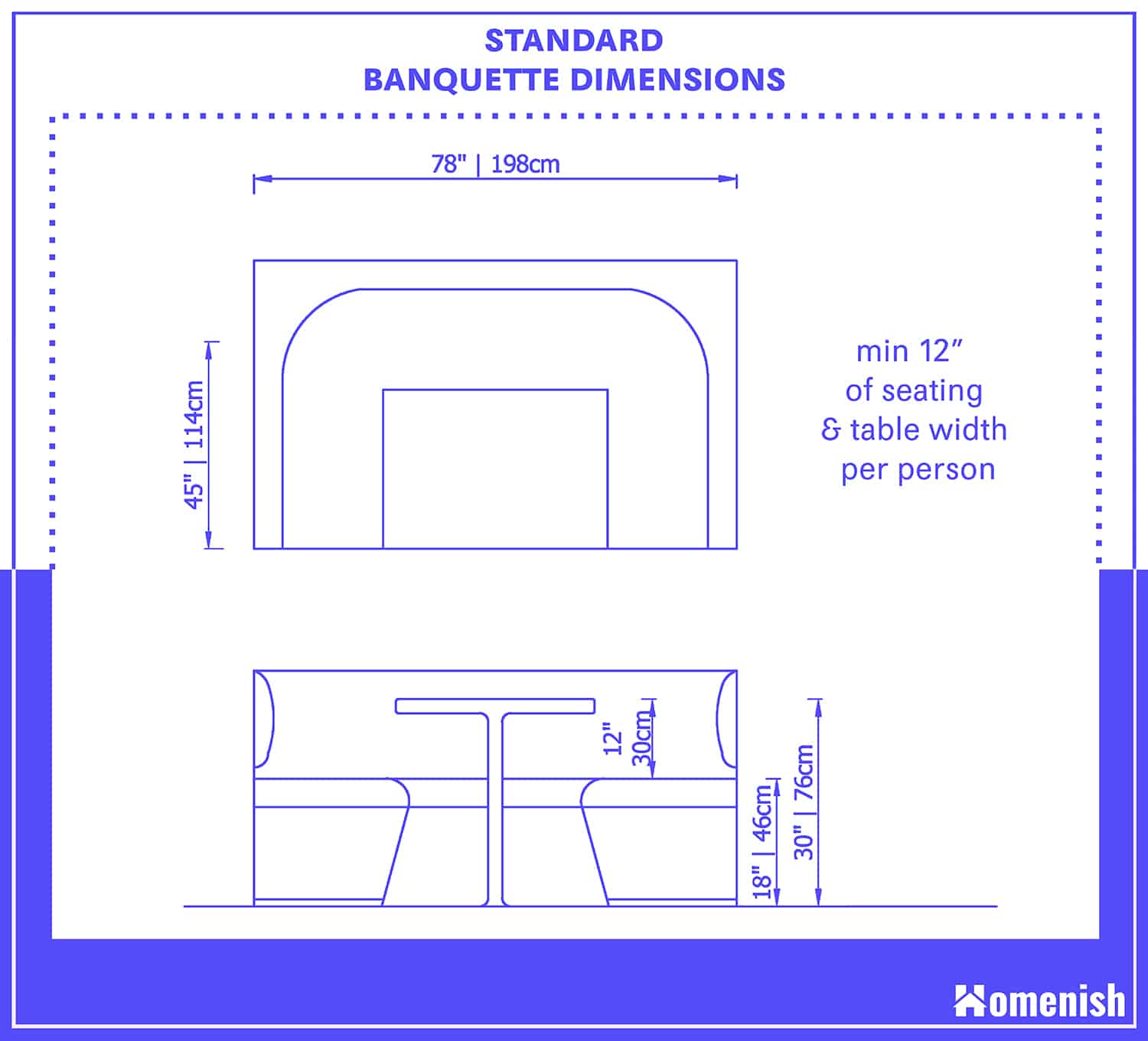 In banquette seating, the standard height of the table is 30 inches, while the bench has a height of about 18 inches.
Aside from that, the space between the top of the bench to the surface of the table is about 12 inches. You can let the table overlap the benches by about three or four inches on each side. Additionally, you can also set the benches a few inches back to have more room.
When installing a banquette, you must consider the number of people who will use it. Ideally, you need to set at least 12 inches of seating and table width per person. Additionally, there should also be at least 18 inches of seating depth.
Banquettes come in various shapes. If you're going to opt for a U-shaped arrangement, you have to set at least 54 inches for the curved area and 78 inches for the rear bench. By doing this, you can avoid knee-squeezing corners. You can turn it into a standard booth with two pairs of dining seats facing each other.
Booth dimensions typically have the same table and chair heights but differ in the total space the booth occupies.
Factors to Consider When Choosing a Banquette
Seating
Keep in mind that determining the type of seat you want for your banquette is vital. For instance, you want a corner setup, so you'll need an L-shaped bench. On the other hand, a wall banquette will need a bench and some additional chairs at the end of the table.
Table Size and Shape
Aside from seating, you also need to consider the shape and size of your banquette table. In terms of size, you can opt for a small table if you're going to use the area for eating breakfast or drinking coffee. If the banquette will be a dining zone for a large family, a larger table is recommended.
As you know, tables come in various shapes, such as round, oval, square, and rectangle. Most homeowners opt for a square or rectangular-shaped table for a traditional and homey look. You can also opt for a round table, which is perfect if you want to create a nice contrast with the bench. Lastly, an oval table is recommended if you like to make your dining area look sleek and modern.
Comfort
When designing a banquette, comfort is a key element. As such, you want to make the banquette look cozy and inviting. You can achieve this by incorporating a lot of padding and textiles. For example, you can opt for an upholstered backrest and seat cushions. Additionally, you can also place colorful throw pillows on the bench.
Lighting
Lighting is a vital part of a banquette because it can make your dining area look spacious and visually appealing, especially if you choose the right light fixtures. Some homeowners opt for small fixtures because they think that picking large fixtures will overwhelm the space. However, this is not true. Large fixtures can make your dining area look larger than it actually is. As such, you need to opt for the right size of lighting fixtures that would enhance and complement the area.
Banquette Designing Tips
In general, banquettes are meant to be placed on the corner of your dining area. However, you can also place it in other parts of the room. For instance, if you want to dine while enjoying the view of your garden, you can put the banquette beside a window. You can also add traditional dining chairs around the table for extra seats.
To prevent knocking knees, you can opt for a pedestal table. Because this type of table doesn't have legs, there's more space underneath the surface. Plus, there are no table legs that may knock your knees. For a more flexible option, you can opt for a round pedestal table.
If you want to give your dining area a touch of elegance, you can opt for a curved bench. This type of bench will pair well with a pedestal table. Remember, a table with legs will not fit properly to the bench. As a result, your dining experience will be uncomfortable. Plus, the table legs can also make it hard for you to go in and out of the banquette. As such, a pedestal table is preferred for more comfortable dining.
Keep in mind that a banquette can provide extra storage, especially if you opt for a bench with drawers or hidden storage space. By doing this, you will not only minimize clutter but maximize the functionality of the space.
Finally, to make your banquette look cozy and inviting, you can add decorations to the area. Through this, you can make the space visually appealing. Of course, you have to make sure that you balance the decorations. If your banquette is small, too much art can make the area look overwhelming. On the other hand, a large wall will look dull if you only place small picture frames.