A tablecloth offers practical as well as aesthetic benefits. It protects your dining table from scratches due to dinnerware, fading from the sun, and spills from drinks. It also creates a softer look in a space, much like other soft furnishings, making for a room that feels more comfortable.
If your table has seen better days or the surface doesn't match your current style, then you can use a tablecloth to hide the dining table and give it a complete transformation.
Since a tablecloth typically occupies a large surface area, selecting the right color of the fabric is an important decision that can finish off the look of a room or completely ruin it. Here we look at a number of points to think about when choosing a new tablecloth.
Coordinating a Tablecloth with Dining Room Decor
Neutral color tablecloths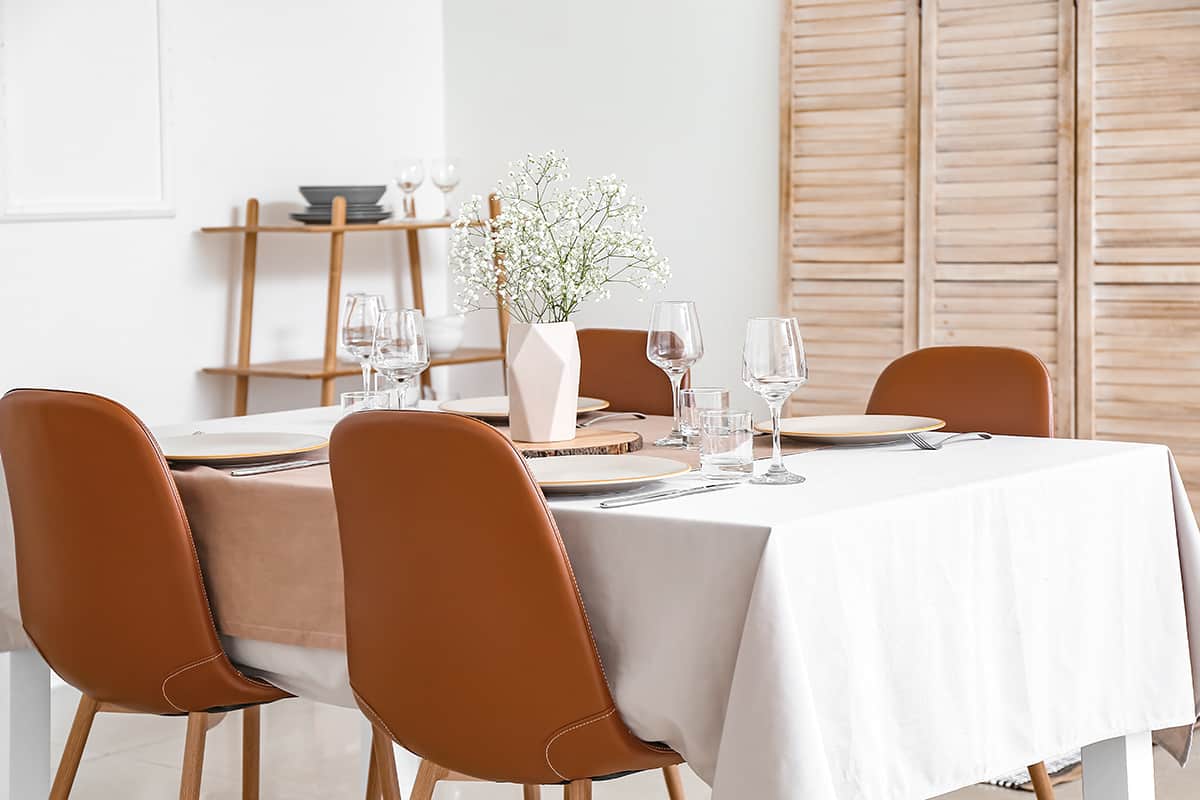 A neutral-colored tablecloth will always be a good idea because it can work in any color scheme. Even if you redecorate or move home, a neutral tablecloth is going to look great.
If you like a classic look, then a pure white tablecloth never fails to look sophisticated and elegant. Many people worry about being able to keep a white tablecloth clean, but if you add in a little bleach when washing the tablecloth, then it will come out looking good as new.
Gray is another nice choice if you like a modern style. Choose a gray tablecloth if you want to update the look of a dining room on a small budget.
Accent color tablecloths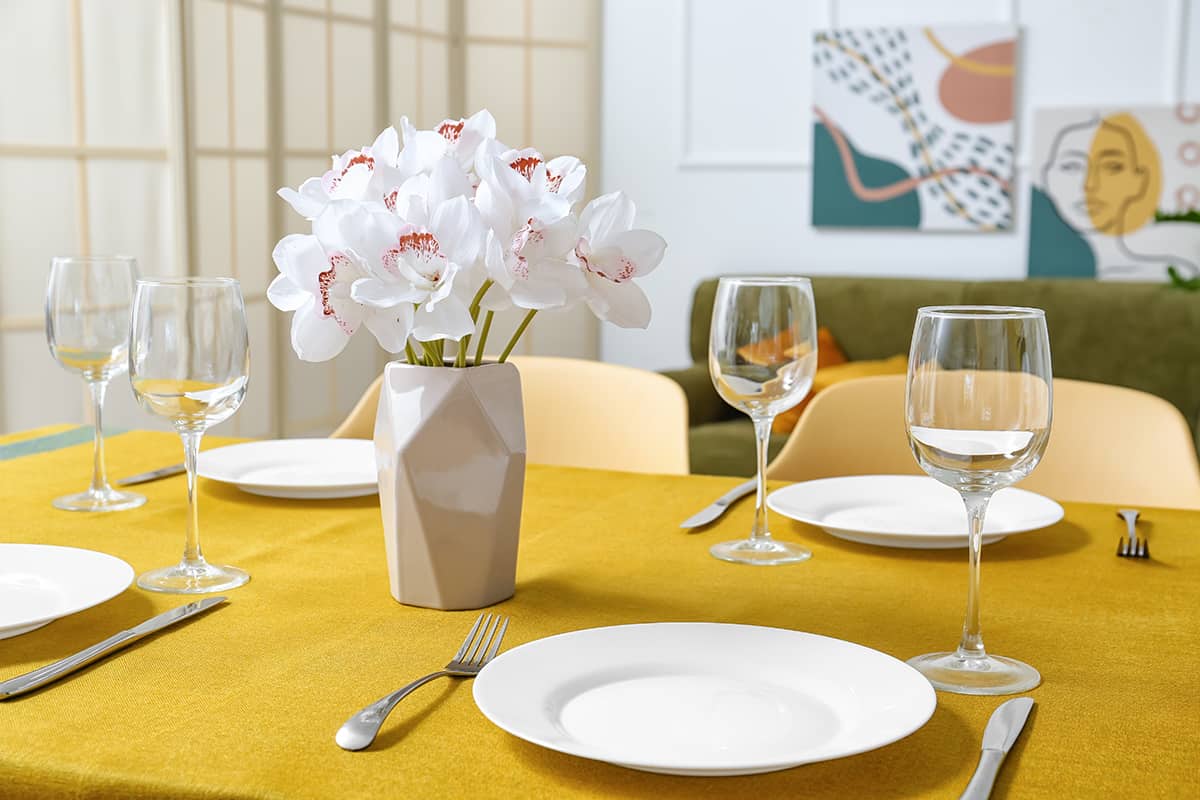 Choose an accent color for your tablecloth if the space currently feels quite flat. An accenting tablecloth will create another dimension to the room and help to give it more personality.
The accent color should contrast your existing colors. For example, if the room is predominantly blue, then opt for a yellow tablecloth. If the room is pink, then a green tablecloth will accent nicely.
Warm vs. cool color tablecloths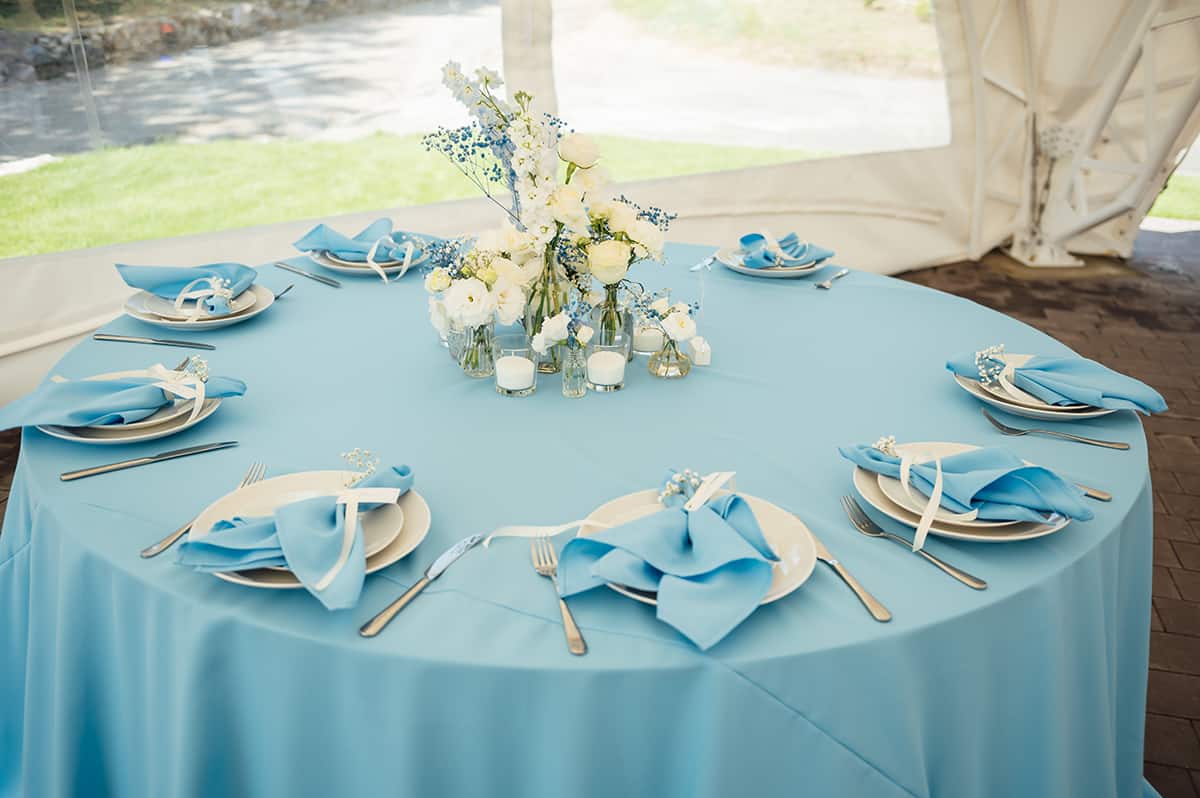 The temperature of the color you select for your tablecloth can impact the atmosphere in the room. Colors have either a warm or cool temperature (apart from pure black and pure white, which are the only true neutral colors).
As a tablecloth will occupy a large surface area in the room, ensure it creates the ambience you want. A tablecloth in a cool color, such as blue, green, or gray, will make a room feel fresh, clean, and modern. A tablecloth in a warm color, such as orange, yellow, red, or brown, will make a dining room feel cozy, comfortable, and inviting.
Tablecloth styles
The style of the tablecloth needs to align with the style of the room, as well as the color. If your room has a coastal theme, for example, then the tablecloth should reflect this to ensure the theme is consistent. For a coastal look, you might choose a blue and white striped tablecloth made from cotton or a white linen tablecloth.
Alternatively, a wipe-clean tablecloth with a boat pattern printed on it could work well if you have concerns about the tablecloth getting stained. If you are trying to create a more glamorous feel, then a tablecloth made from a sumptuous fabric like crushed velvet might be a better option.
Boho tablecloths are popular in rustic and Scandinavian-style interiors. These might have tassels around the edge or an element of modern embroidery.
Trending Tablecloth Colors
White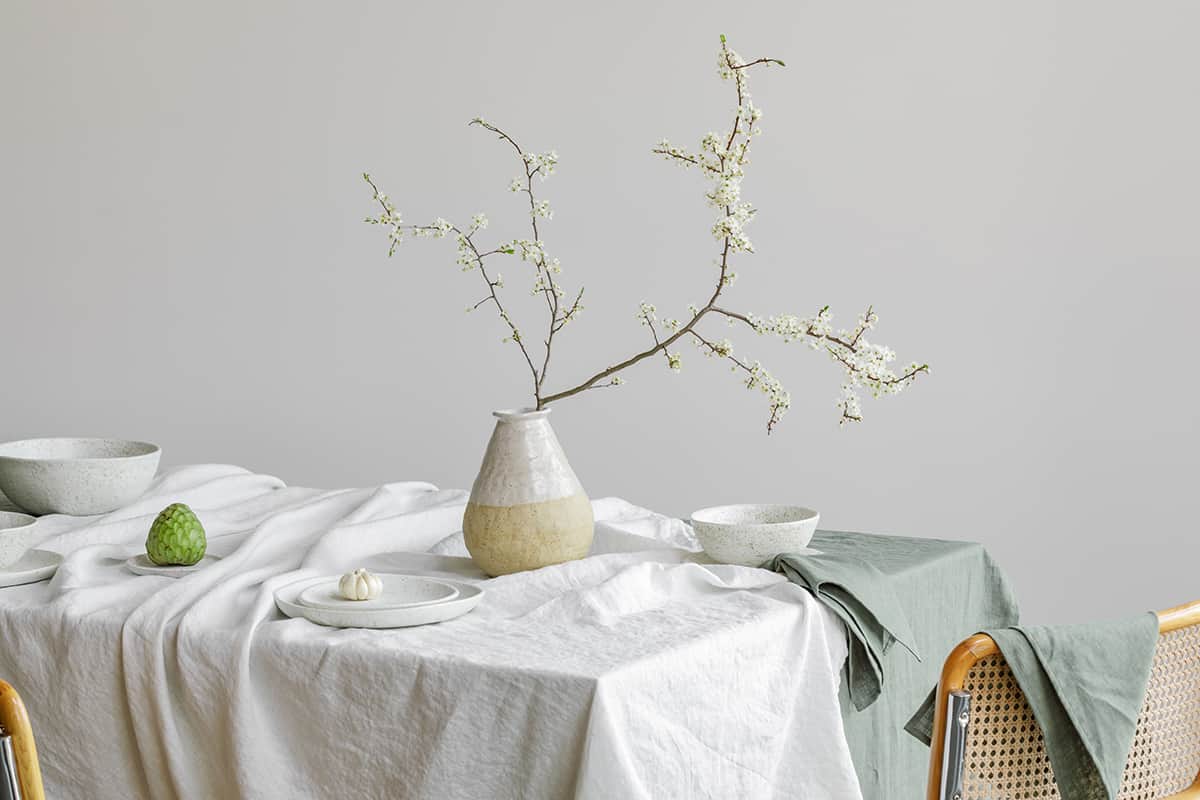 When it comes to tablecloths, white will never go out of style. This is a timeless color of tablecloth that exudes elegance, but it can also look great in more casual settings.
A white tablecloth will work with any color scheme, so if you are unsure, then white is a safe bet.
Green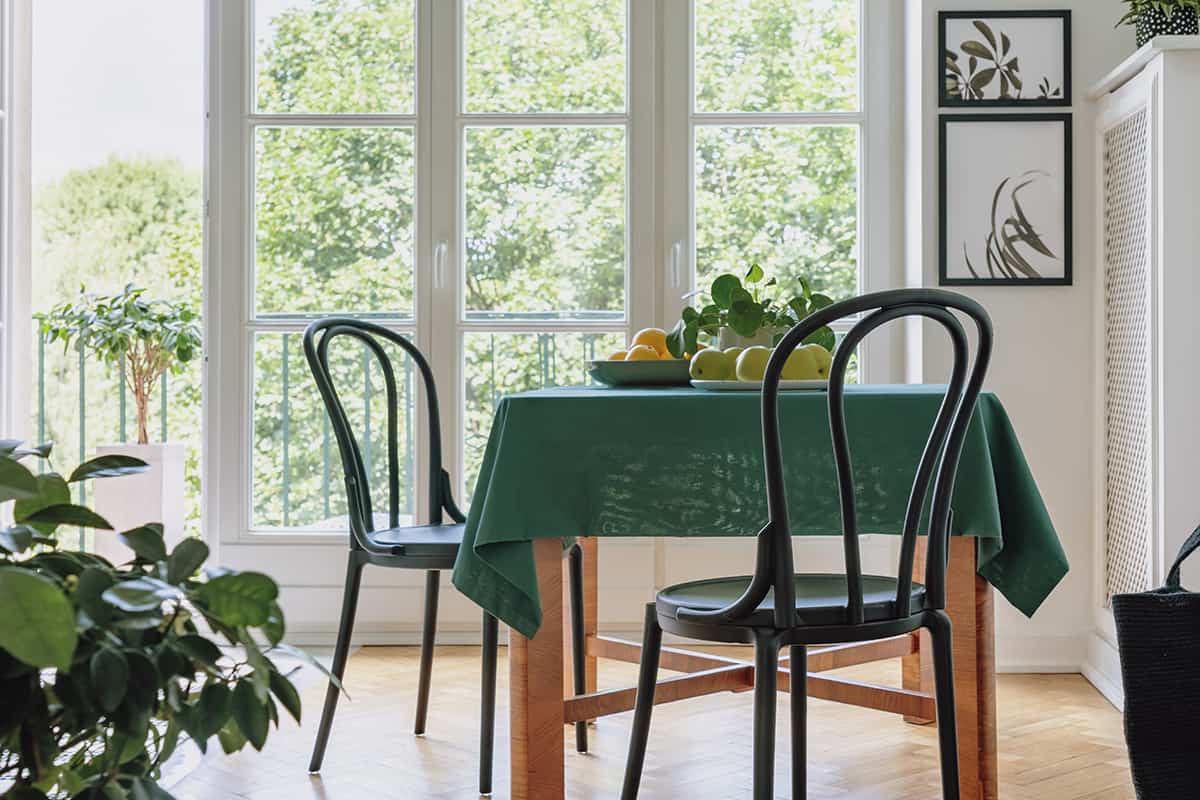 Green is the color of the moment in interior design right now, and it works in so many shades. An olive green tablecloth will bring an earthy feel to a room, while an emerald green tablecloth will create glamorous drama.
Gray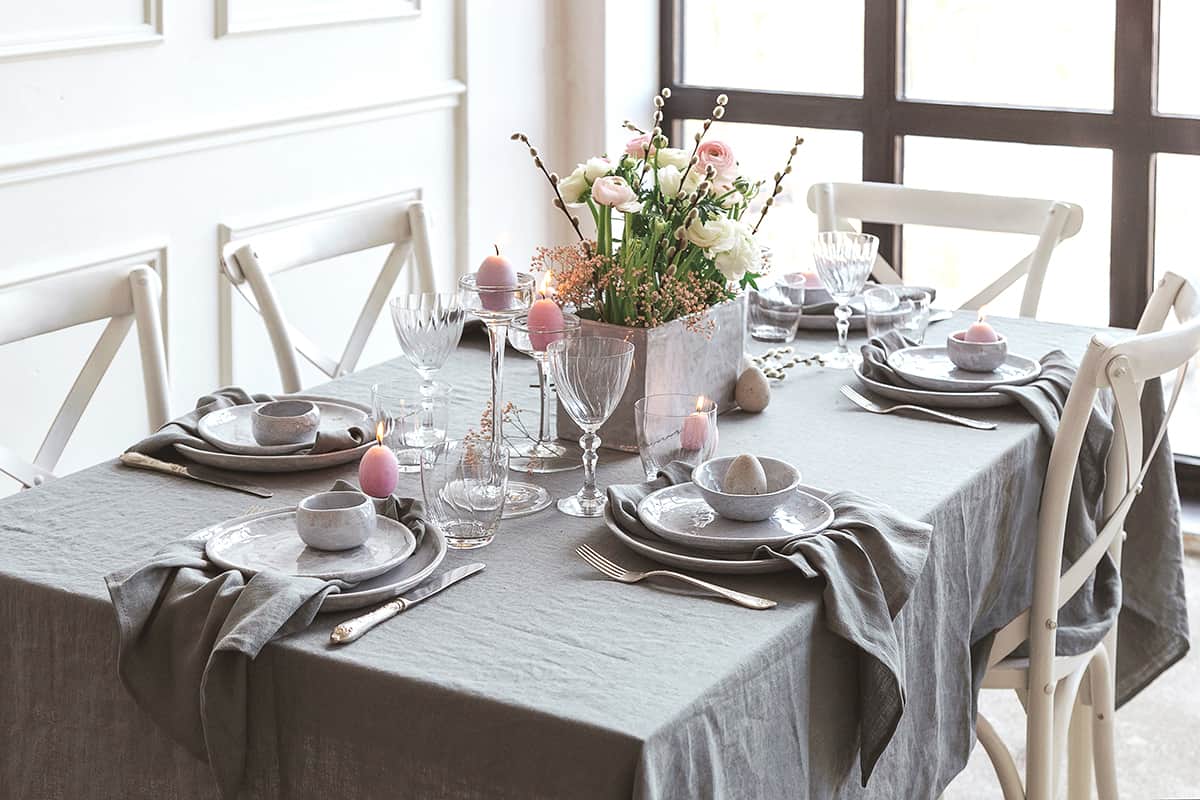 Gray is a great color choice for a tablecloth because it is neutral yet modern, so it is subtle enough to fade into the background yet stylish enough to add a splash of contemporary personality.
Use a dark gray tablecloth for a moody feel in an intimate dining room or a dove gray tablecloth for an airy, fresh effect.
Tablecloth Color Considerations
When it comes to choosing a color for your tablecloth, you need to consider the choices from both an aesthetic and practical point of view. For example, a white tablecloth might look great with your minimalist decor, but is this really suitable if you have a toddler eating at the table? That's why there are also some alternatives to tablecloths.
Here we encourage you to think about various points so that you can opt for a tablecloth that compliments your interior design while also making functional sense.
How frequently is the table used?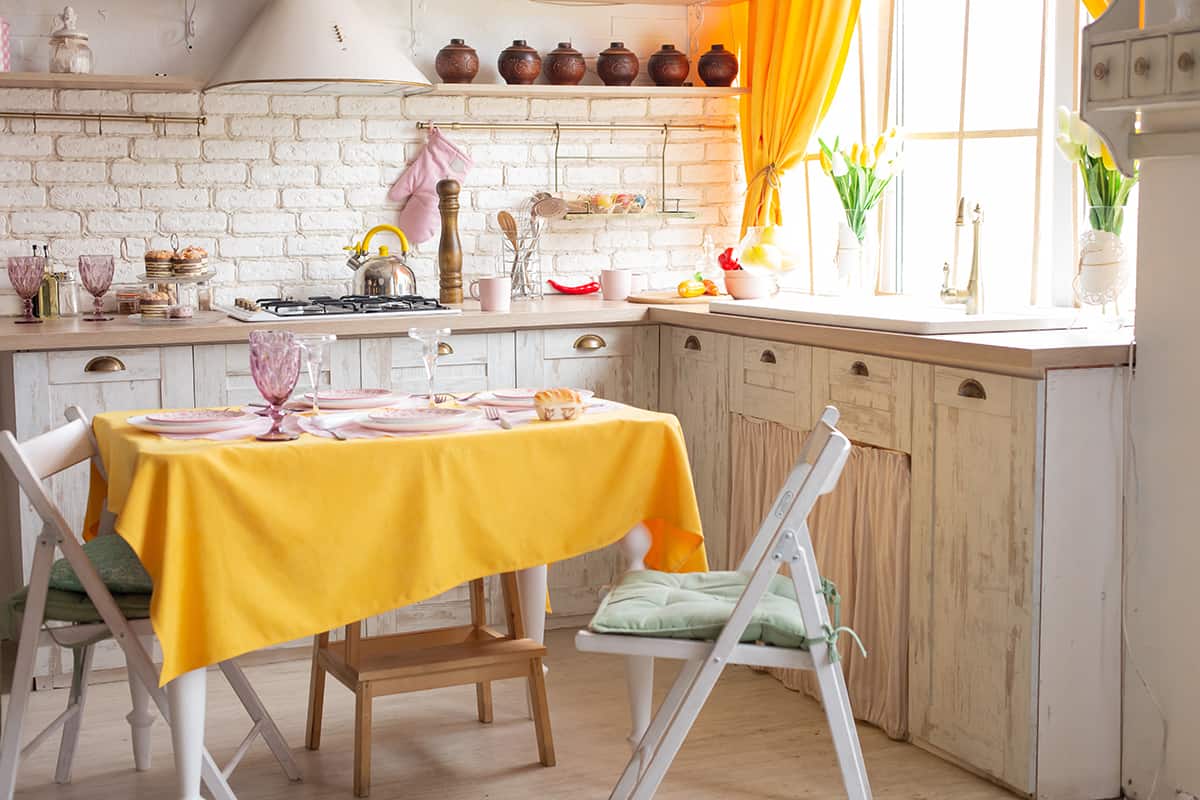 The way you use your table is going to affect the color of the tablecloth you choose. This is because when a table is used daily, the tablecloth protecting the table needs to be quite hardwearing and able to stand up to potential staining. If the table is more decorative than functional, then the types of tablecloths you can choose are more wide-ranging.
Some people have a formal dining table which is only used on special occasions, whereas for everyday meals, they will sit at the breakfast bar in the kitchen or in front of the TV with a tray.
In this instance, the tablecloth doesn't need to be quite so practical, and you can focus more on how it looks alongside the other colors in your dining room. However, if you eat at the table on a daily basis, you might prefer to choose a tablecloth in a color that is more forgiving.
Who eats at the table?
Thinking about the family members who typically eat at the table can help you to decide what color your tablecloth should be. This is because if you have children who spill their drinks or wipe their hands on the tablecloth, then a pale-colored tablecloth is probably a bad idea.
The same can be said for adults who are messy eaters. The type of fabric of a tablecloth should also be considered because if it can be wiped clean, then messy eaters become less of a problem.
Is the tablecloth washable?
Most tablecloths nowadays are suitable for laundering in the washing machine, but some will be more resistant to stains than others. If your tablecloth has a vinyl covering, then you should be able to wipe it clean with a wet cloth. These types of tablecloths are great from a practical perspective, but they don't hang as well as cotton tablecloths, making them look less elegant.
If you want a washable cotton tablecloth on a table that gets used frequently, then opt for a dark color or pure white. This is because darker colors will hide stains, and white tablecloths can be bleached back to white in the washing machine. Pale colors cannot be bleached, and they show stains easily, so they are not the best colors to choose.
Is your table the main feature?
If your dining table is the main feature in your room, then you might want to draw attention to it by choosing a tablecloth in a bold or striking color. For example, if your room is painted white, you could choose a navy blue tablecloth to make it stand out since the light and dark will provide a stark contrast.
However, if you want your dining table to blend seamlessly into the background, then choose a tablecloth in a color similar to your walls and soft furnishings. Either way, the tablecloth should coordinate with the existing colors in the room.