A kitchen breakfast bar can be the perfect way to separate the kitchen from a dining or sitting room in today's open-plan living spaces.
The bar essentially creates a "wall" without closing off the kitchen entirely. If you are planning to set up one, it's essential to know the breakfast bar's dimensions. Without further ado, here's the suggested answer.
The standard height for a kitchen breakfast bar is 42 inches from the floor to the top of the bar. There two shorter alternatives at 30 inches and 36 inches. The surface area or bar top should not exceed 24 inches deep for comfortable reach.

For overhang space, for a lower bar seat like a 30-inch bar, the standard space is 18 inches for a comfortable leg position. For counter-height breakfast bar with tall chairs or bar stools, the standard legroom is 12 – 15 inches.
Standard Kitchen Breakfast Bar Height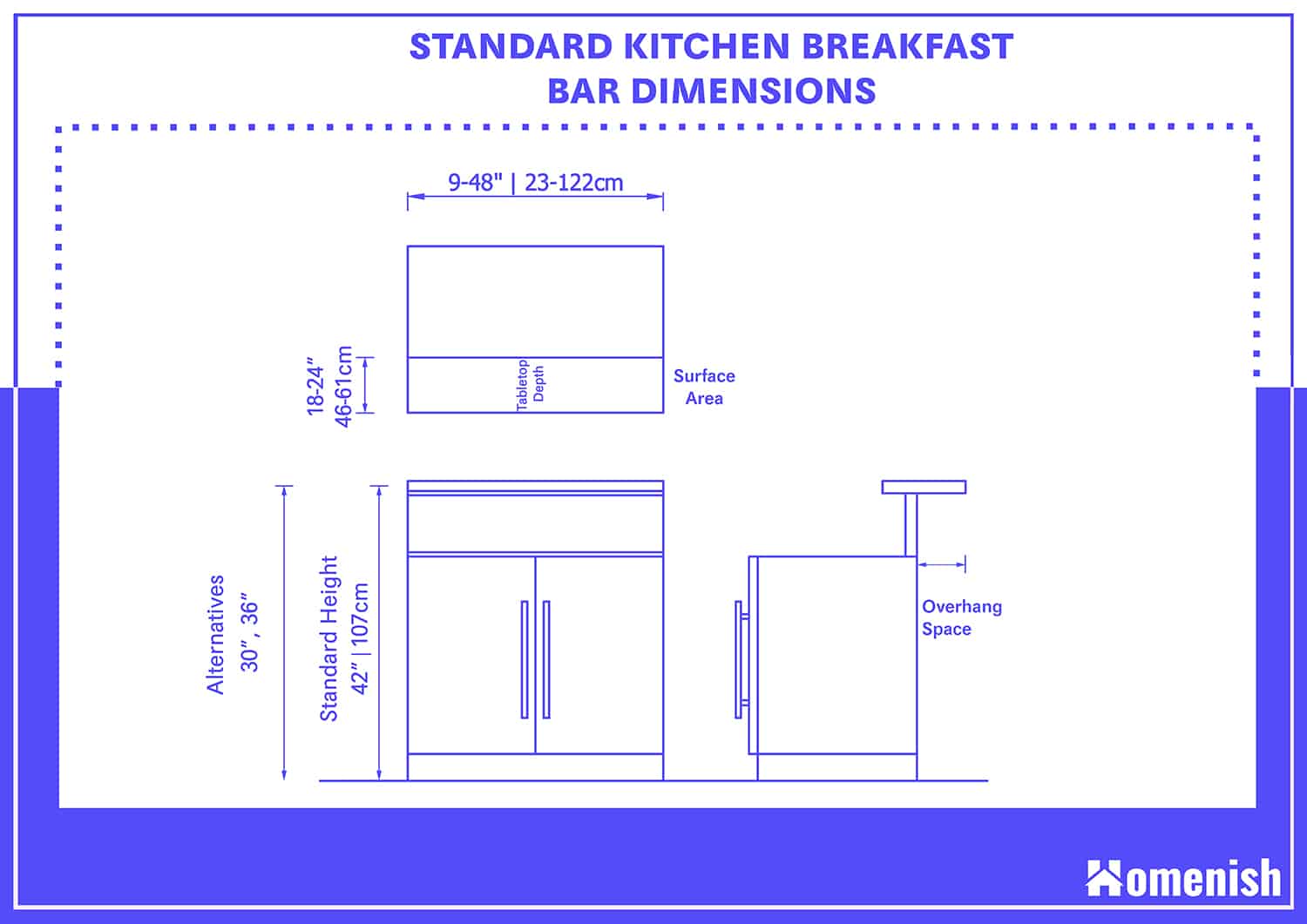 While a standard dining table height is just 28 – 30 inches above the ground, the most common height for a kitchen breakfast bar is 42 inches from the floor to the top of the bar. You can also find shorter breakfast bars. Two alternative sizes are 30 inches, which is about as tall as a table, and 36 inches, which is counter-height.
The height you choose is mainly a matter of preference. With 42 and 36-inch kitchen bars being at counter level, you can use high chairs or bar stools for seating. One advantage of a higher seating position is that it can be more accessible for elderly family members to sit down and get up from.
On the other hand, because a 30-inch breakfast bar is lower, you can use standard table chairs. These might be easier and more comfortable for young children or someone in a wheelchair to use.
If you value a large working surface area, consider a breakfast bar that is the same height as the kitchen counters nearest it. This setup can essentially double your workspace. The uniform size is also aesthetically pleasing, as in the case of U-shaped breakfast bars or breakfast bars that are an extension of a kitchen island.
The staggered setup has become increasingly popular, too, with the breakfast bar positioned a few inches higher than the counter. This height difference creates two distinct spaces.
You'll get a decent-sized working surface at a height of 36 inches that is often also fitted with a sink and faucet for food preparation. Plus, you'll have the eating surface at a height of 30 inches, situated opposite the work counter.
When the eating area is elevated relative to the food prep counter, it can conceal dirty dishes and other items used during the cooking process.
Standard Breakfast Bar Overhang Dimensions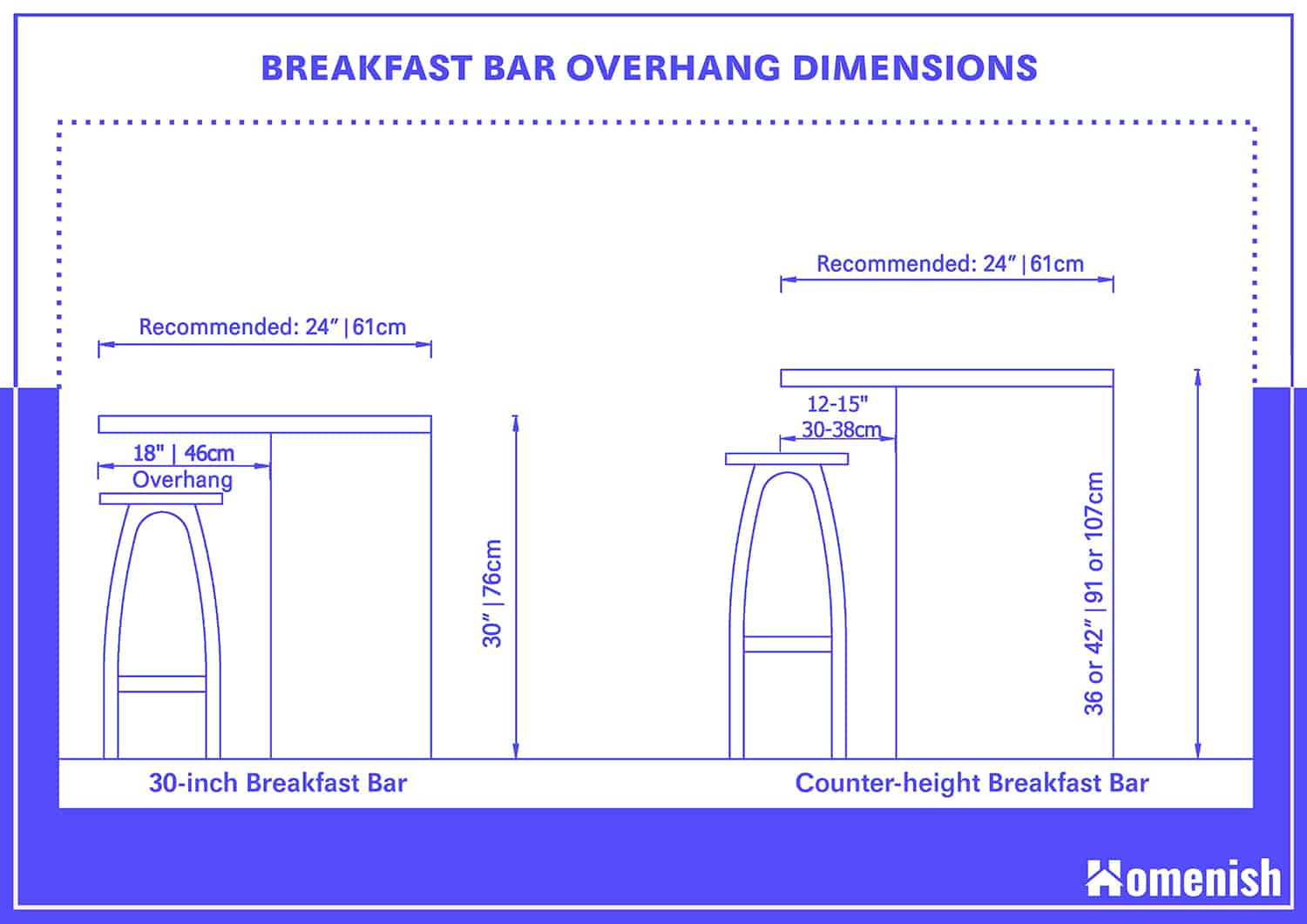 You might be tempted to try and get as much surface area as you can on your breakfast bar, but try to keep the maximum depth at 24 inches. This makes it easier to be able to reach across it. You also want to avoid the appearance of a kitchen that looks like it's filled with nothing but counter space.
Remember, too, that the kitchen breakfast bar also needs an overhang. The overhang is a small extension of the eating surface area with enough room for you to tuck your legs under when seated. It's also space where you push in the chairs to store them out of the way when they are not being used.
The overhang amount depends on a combination of the breakfast bar height and the chairs you'll be using with it. A 30-inch breakfast bar uses lower seats, requiring the most overhang space of 18 inches to accommodate legs in a more bent position.
Counter-height breakfast bars are paired with tall chairs or bar stools. They, therefore, require less legroom allowance – about 12 to 15 inches – because legs are more elongated when seated.
Choose Beautiful and Functional Bar Stools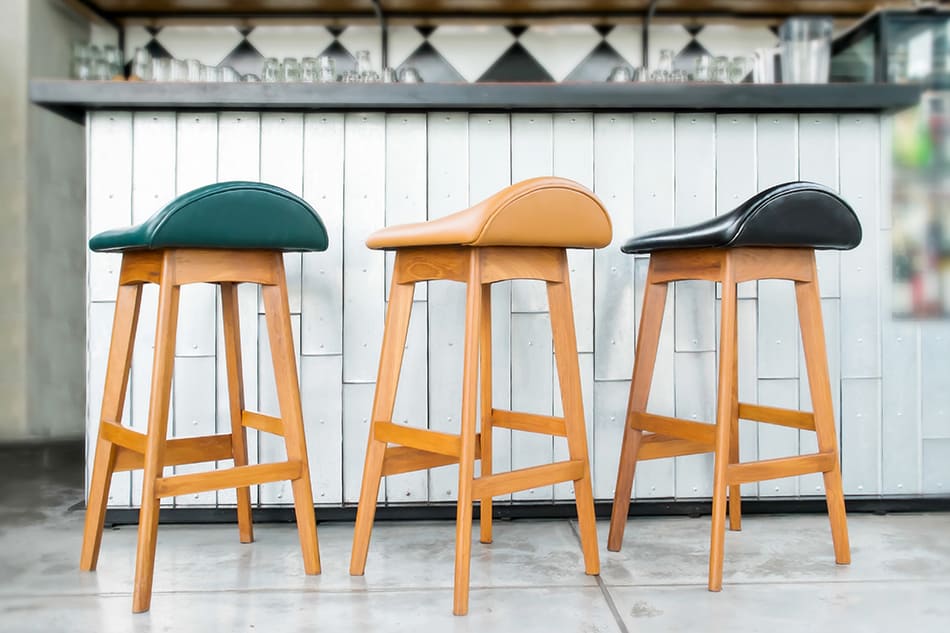 The seating around the bar is another opportunity for you to customize the appearance of your breakfast bar. Among the many chair options available, bar stools are by far the most popular. Bar stools are not only trendy, but some models also swivel, so you can always turn them towards a person that you're having a conversation with.
They can also be height-adjustable, allowing you to adjust them according to your preference.
Some types of bar stools offer little back support, if they offer any at all. However, if your plan is to use your kitchen for eating family meals or as a place to sit when working, good posture and comfort are key. A stool with a high back is highly recommended.
Also, given the elevated height of the chairs, a higher back makes the chair more stable and is safer for children.
For a 42-inch tall breakfast bar, look for stools that are 28 to 30 inches high. This leaves enough space between the kitchen bar counter and the chair so that your legs don't bump up against the overhang when you're sitting down.
Counter-height stools about 24 inches high will fit neatly under a 30-inch breakfast bar with 6 inches of leg clearance.
To ensure that everyone has enough space when seated at the bar, you should allow at least 24 inches for each person. However, if your barstools have arms, you should increase the space allocation to 26 inches.
Keep Chair Clearance In Mind
No matter how elegant your barstools look against your kitchen bar, your feelings of admiration for them will fade if they block the walking space behind them. When choosing breakfast bar chairs, don't forget about the clearance space in front of and behind them.
Leave 18 inches between the bar and the back of the stools, plus a further 18 inches or more of open space behind the chairs. This allows enough room for your family or guests to get in and out of their chairs with ease. It also eliminates the need to shimmy and shuffle when walking past the chairs.