Whether you're buying new chairs or reupholstering your existing chairs, there are lots of different types of fabric for dining room chairs to choose from. Let's go over the pros and cons of each one.
What to Look for in Dining Room Chair Upholstery
Before we get into the different types of fabrics, let's briefly go over the requirements for dining room chair upholstery so that you can judge what qualities to look for.
Durability
This is how long you can expect your fabric to last. It includes its resilience to staining, fading, puncturing, wrinkling, and pilling. If you have young kids who eat with you at the table for family meals, you're going to want to choose something with high durability. If you have mostly adults in your home or you don't use the dining room furniture very often, you can choose a less durable fabric that might be softer or give you a different look for your dining room.
When choosing your fabric, one thing to look for is its rub rating. This is the tested number of times the fabric can be rubbed back and forth (in this case, scooted on) before it pills or rubs through. You want to see a higher number here. Also, look for its UV rating and water-resistance. These are measurable characteristics, so a high-quality manufacturer should list these statistics on the packaging or website.
Maintenance
Next, look at how you need to maintain the fabric. This will include what to do to remove stains and wash the fabric. Can you scrub it with water, throw it in the washer, or dry clean it? For busy homes, you probably want something that is easier to take care of and doesn't require taking off the upholstery or using a steam cleaner.
Preventative Care
Look to see if the fabric has been treated with or can be treated with a stain-resistant spray or Scotch guard. Doing so will make messes easier to wipe off and keep the material from wrinkling. If you choose leather, be sure to moisturize it once a year to keep it from cracking.
If you don't use your dining room very often, consider placing slipcovers over the chairs to protect them in between uses.
Color and Pattern
The look and style of your chairs are up to you, but keep in mind that patterns and textures hide stains more than plain chairs, and of course, dark fabrics hide stains more than lighter colored fabrics.
The color of your upholstery should complement both the color of the chairs and table and any tablecloth or placemats you use on the table.
Best Types of Fabrics For Dining Room Chairs
Linen
This is another durable fabric, but like cotton, it stains and fades easily. It also develops wrinkles if not stretched very tight. Many people have linen tablecloths they use for special occasions, as they can last for generations, but they're generally not a good choice for daily use, as they do dirty quite easily, and it often takes a professional to clean linen properly.
Wool
The nice thing about wool is that it doesn't wrinkle. It can also be quite plush and soft but not very breathable. You might get warm sitting on wool for an extended period. It also stains as easily as any other fabric.
Cotton
You might choose cotton for your dining room chairs for the same reason you wear cotton on your body; it's breathable and low-cost. Your bottom and back won't get too hot sitting on cotton, and it won't cost much to reupholster in cotton.
But like cotton clothing, it's easy to stain cotton chairs, and if it gets a lot of direct sunlight, the color will fade. It can also wrinkle if you don't get it super-tight on the chair.
Avoid damask weaves for chairs. This is the looser type of cotton weave that you might have on a tablecloth. Instead, opt for the stronger, tighter canvas weave.
Cotton Blend
Instead of pure cotton, you might want to use a cotton blend. This will have polyester or nylon mixed with the cotton. These synthetic fibers make the fabric stronger and more resistant to fading and staining. It also retains cotton's breathability, for a win-win.
Note that cotton blends will stain; it just takes longer for the stain to set, so if you clean the fabric quickly, you might not see any lasting residue.
Tweed
Also made from wool, tweed is the coarser of the two options. It's not as comfortable to sit on because it's harder and firmer, but it resists staining better as it doesn't absorb liquids. Materials remain on the surface for easy wiping. It can pill up, however, so be careful not to use abrasive cleaning methods on tweed, even though it looks durable enough to take a scrubbing.
Jacquard
Jacquard is made from yarn (most commonly wool or polyester), making it a medium-strength material. The primary benefits are the texture and patterns you can make with jacquard. If you want a patterned fabric upholstery, your best bet is jacquard. The thicker threads can snag, however.
Silk
Silk chairs can create a very luxurious atmosphere in your dining room. Unfortunately, silk is a loose-weave fabric, so it snags easily and absorbs stains quickly.
Viscose
Viscose is a soft fabric that looks a lot like silk. Besides being used as a standalone fabric, you'll also see it added in to other blends to add softness to the mix. But like silk, viscose is not very durable. It snags and stains and wrinkles easily.
Polyester
Polyester is another add-in material, so you might not see 100% polyester upholstery. It adds strength and resistance to a fabric. It's easy to keep clean, but it can tear and pill up.
Velvet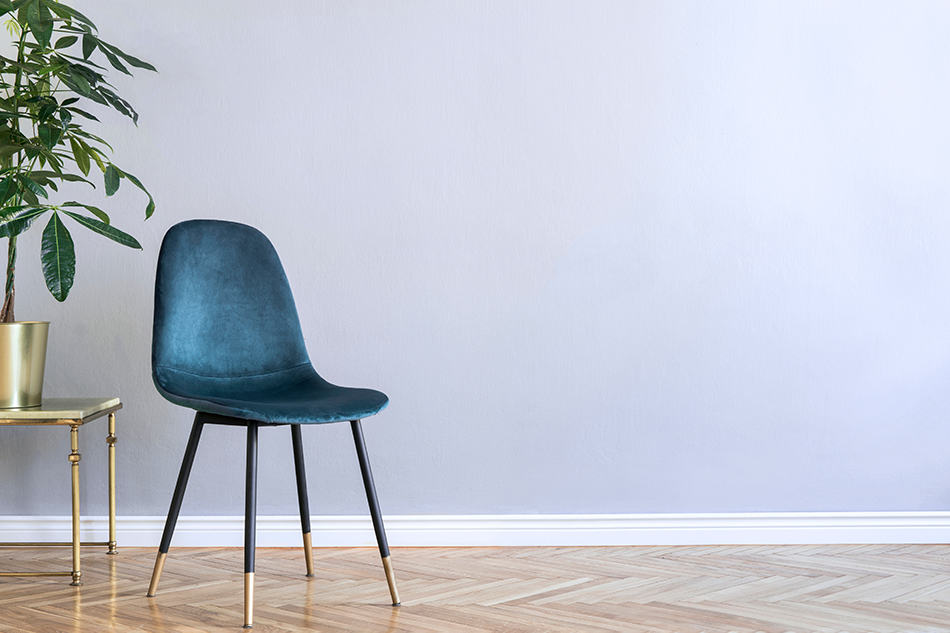 Velvet upholstery has a pleasant texture, is soft, and is also strong. It comes in cotton and polyester, so some velvet types are more resistant to staining than others. The texture of velvet does attract pet fur, so if you have a cat, you might need to brush your chairs off frequently to keep them looking clean. Velvet also fades when exposed to direct sunlight.
Chenille
This is similar to velvet in its soft texture but is more durable because it's made from rayon. Like velvet, however, it fades and even weakens when exposed to direct sunlight for too long.
Nylon
This synthetic fabric is durable and easy to clean. It's not as soft as organic fabrics, though, because it's a man-made plastic.
Acrylic and Olefin
Both of these are also plastic fibers, which makes them durable and resistant to staining. Olefin can have a waxy feel, and they aren't as soft as other options, but they are very long-lasting.
Leather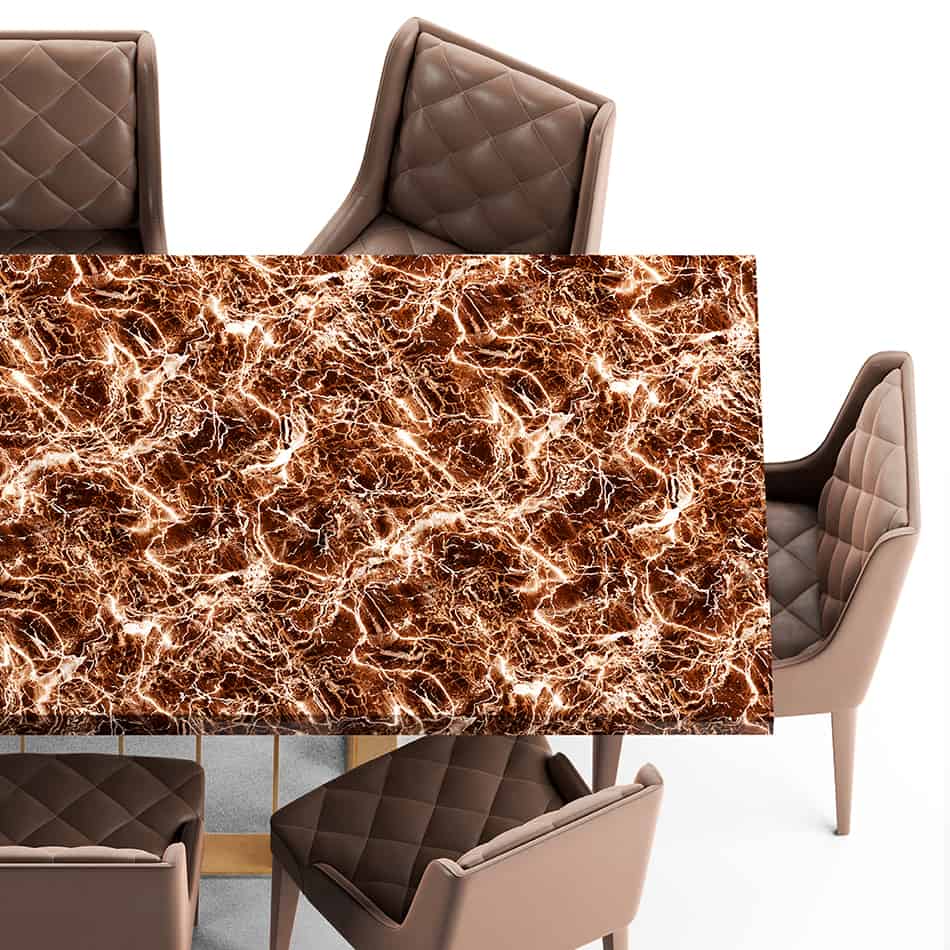 Getting away from fibers, you might cover your chairs in hide. Leather can last for 100 years if you choose the right quality. Top-grain and full-grain leather are the best because they're made from one piece of hide. Corrected-grain is a subset that has been buffed to give the leather a more uniform look. What you want to avoid is genuine leather; this is leather left-overs that have been pressed and glued to form one piece, meaning it will more readily peel apart.
Leather is a good option not only because it's durable but because it resists stains, wrinkles, and fading. Pet hair won't stick to it, and you can wipe anything else off of it. It will puncture, however, so be careful with the table cutlery. It also retains heat and may get hot to the touch when the sunlight is shining on it. If it gets warm, it can feel a little sticky, so you may have to peel yourself of it. And speaking of getting up, leather squeaks and makes noise with your movements.
Treat your leather with a moisturizer once a year because if the leather dries out, it cracks. Leather is essentially dry skin, and you know what happens to skin when it's too dry.
Faux Leather
If you don't like the idea of using animal hides or are looking for something less expensive than real leather, faux leather has come a long way in being able to give you the same appearance. It has all the strengths of weaknesses of real leather, except you don't have to worry about the grade (top-grain, full-grain, etc.).
Suede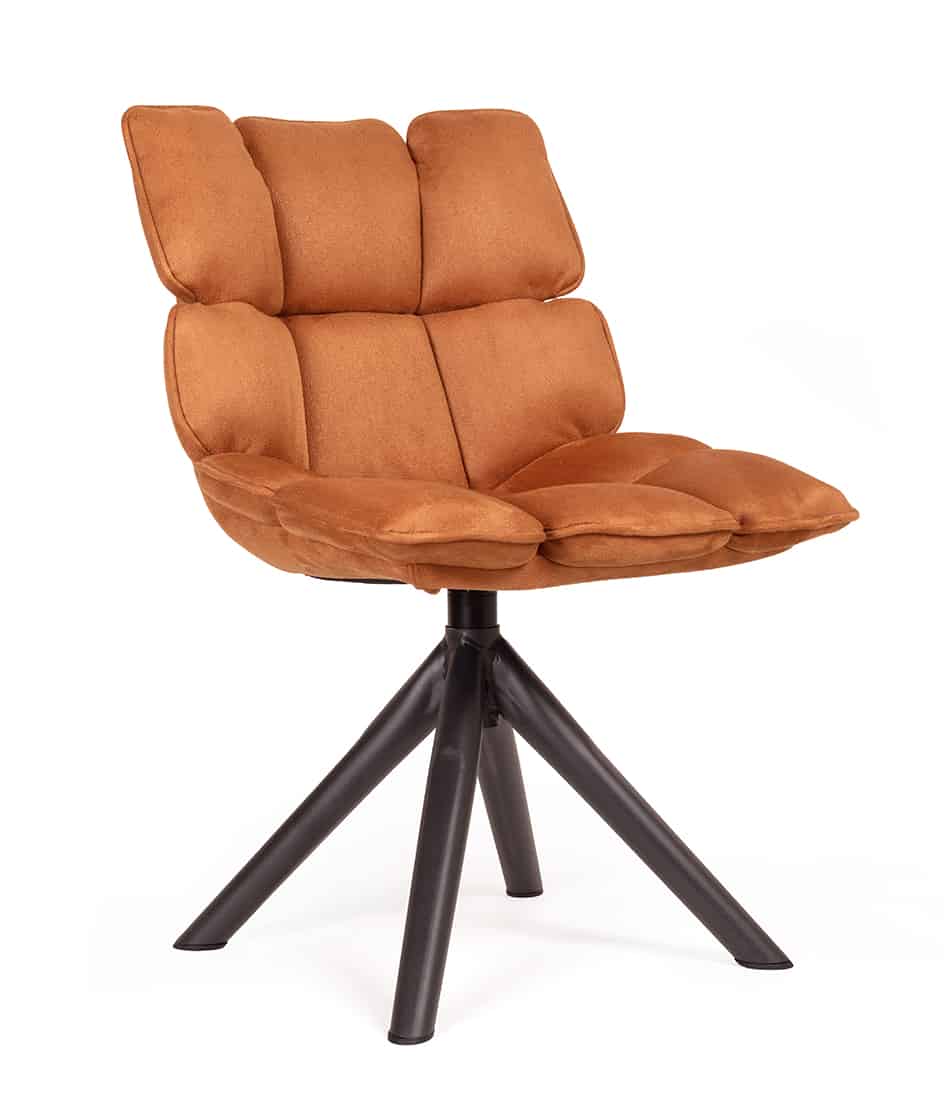 Suede is the underside of the animal hide. It's like flipping the leather upside down. The benefit of using suede is that it's softer than leather and has a velveteen texture. Scratches blend in, so it wears better than leather. It's not as durable as leather, though, and can stain more readily than leather.
Faux Suede
Like faux leather, you can buy faux suede. It's generally made of polyester, so it's almost as strong as animal hide. This is also called microsuede, microfiber, or Ultrasuede. The one downside to this synthetic material is that it doesn't hide scratches and abrasions as well as real suede does.
Vinyl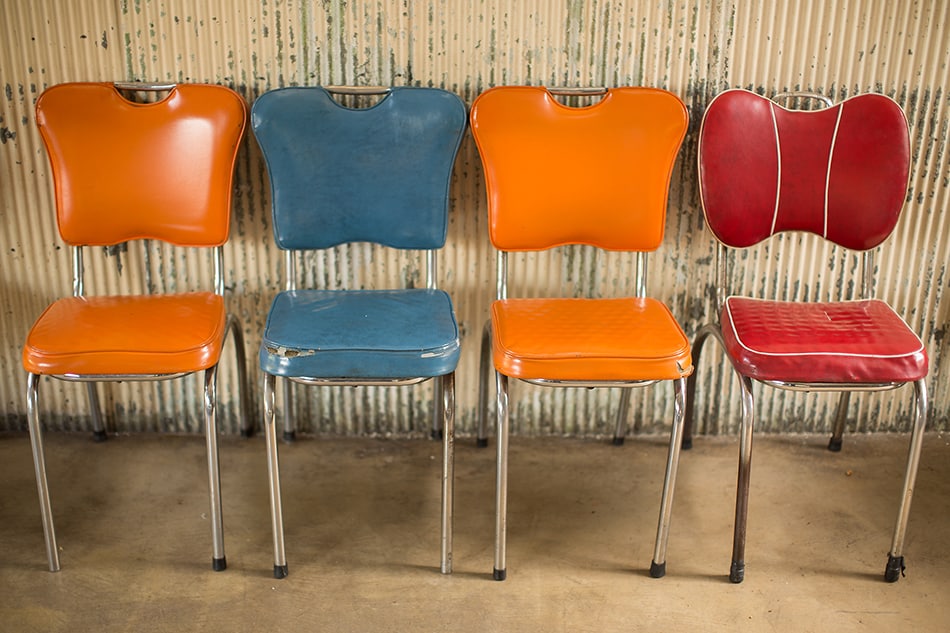 Vinyl is a lot like leather in that nothing sticks to it, and it is susceptible to cracking. Other than cracking, it's a very durable material, especially if you get a thicker grade. It won't stain very easily, and it even resists punctures better than leather.
You can buy vinyl that looks like leather or features other patterns and textures.
Marine Vinyl
This vinyl is what your boat seats are made of. It's even better than regular vinyl as far as being liquid-resistant and not fading in the sunlight.