Daybed sizes can be a bit confusing, especially if you're trying to buy bedding or a mattress for your daybed. You may also want to know the different daybed dimensions, so you can determine if you can comfortably sleep on it or if it may fit your room.
The good news is that we can give you the different daybed dimensions. As you know, this piece of furniture comes in a variety of types; thus, it has different sizes. To give you a better view, here are the various day bed dimensions.
What is a Daybed?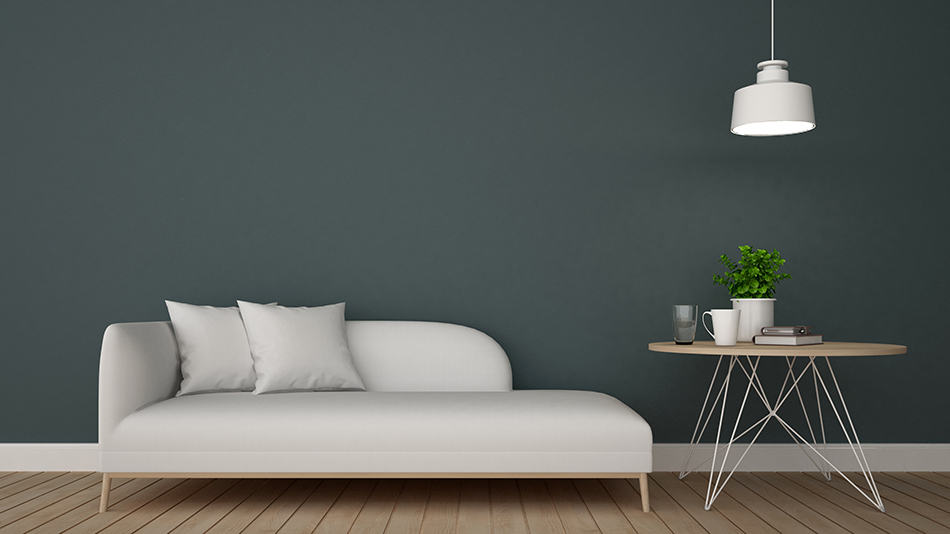 A daybed is a piece of furniture that is designed for daytime napping. Typically, it is placed in a living room because it has an appearance that resembles a sofa. The difference is that a daybed is longer so that it can accommodate various sleeping positions.
Daybeds can either be indoor or outdoor furniture. Usually, outdoor daybeds are placed beside a swimming pool or a shaded area because these places are the perfect spots to take a relaxing nap. Lastly, a daybed can be made with wood, metal, or wicker.
A daybed can function as a couch during the day and a sleeping spot at night. As such, this furniture is an excellent solution for homeowners that don't have a lot of space. For example, those who live in an apartment without a bedroom can opt for a daybed.
Standard Daybed Dimensions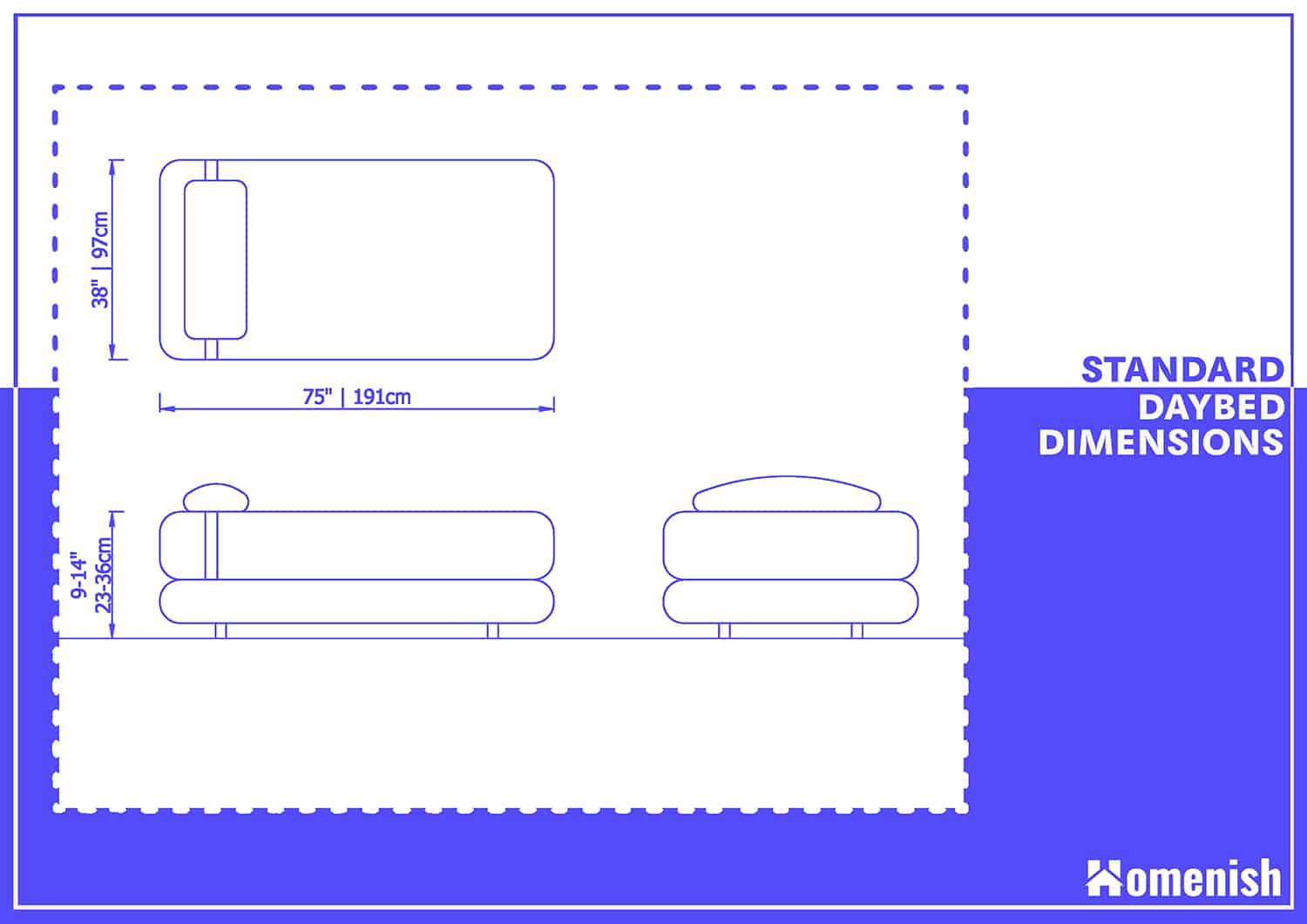 The standard dimension of a daybed is 38 inches (width) x 75 inches (length), which is the same as a twin bed. This size is quite small for a lot of adults. As such, most adults will not be able to sleep comfortably on this furniture. Even so, it is still perfect for growing children.
Fortunately, daybeds come in various types, so you'll be able to pick one that can accommodate your size. Here are the different types of daybeds, along with their dimensions.
Keep in mind that these measurements are mattress sizes and not the bed frame. For this reason, you must check all the dimensions of a fully assembled day bed.
As a general rule, you can add at least three inches to get the bed frame size. For instance, the size of a queen daybed mattress is 60 inches by 80 inches. So, the daybed dimension, when fully assembled, should be 63 inches by 83 inches. By knowing this, you'll be able to determine if the daybed will fit your room.
Common Types of Daybeds and Their Dimensions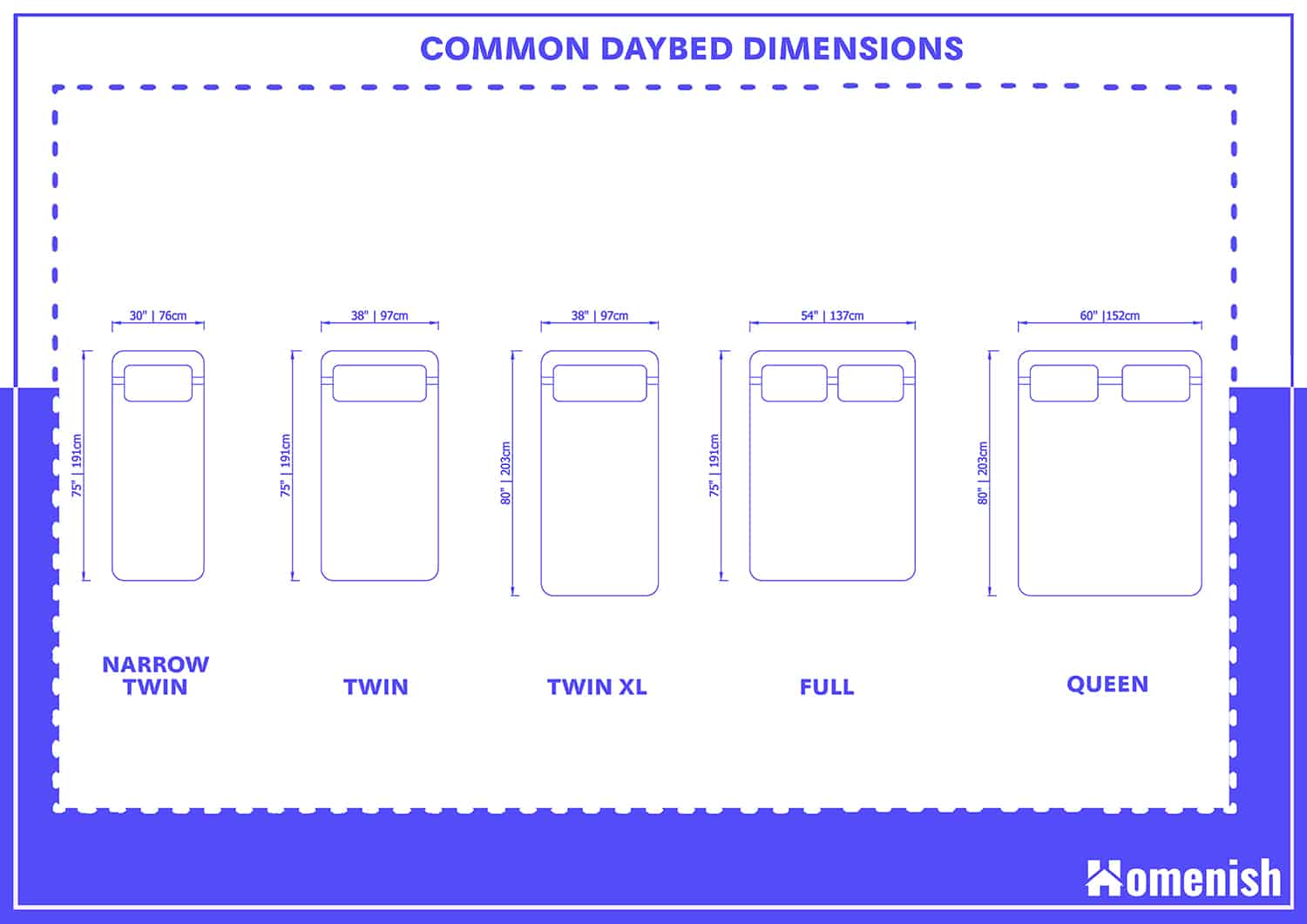 Narrow Twin
As mentioned, a narrow twin has a dimension of 30 inches by 75 inches, so it is the smallest type of daybed. For this reason, this piece of furniture is best suited for rooms with narrow spaces. Additionally, you can also place it in your corridors.
Because of its small size, a narrow twin daybed is often used for seating. Remember, this type of furniture is too small, so it is not ideal for sleeping. Still, you can use it if you want to take a short nap.
Twin
The twin daybed has a size of 38 inches by 75 inches, which is the standard size of a daybed. Because it is wider than the narrow twin, it can be used not only for seating but sleeping as well. However, this type of daybed is best suited for growing children. Still, small-sized adults can use this daybed.
Most daybed mattresses are available in twin sizes, so you'll be able to find this size easily. Aside from that, this type of daybed is also great for outdoor use; thus, you can place it on your balcony or patio.
Twin XL
The twin XL is a rare type of daybed. It has the same width as the twin daybed, but it is a bit longer. Because of this feature, this daybed is best suited for taller individuals. Unfortunately, it is an uncommon piece of furniture. As such, finding a mattress for this type of daybed can be challenging.
Full
A full daybed has the same length as a twin daybed. The difference is that it is about 15 inches wider. Because it is wider, an average-sized adult can sleep on it. However, it can't accommodate two people at the same time. Still, this type of daybed is perfect for seating, lounging, and sleeping. You can also place it on your patio, so you can use it if you want to take a relaxing afternoon nap outdoors.
Queen
The queen is the largest type of daybed, with a dimension of 60 inches by 80 inches. Because of its huge size, it can be used as a bed for your guest.
The downside is that styling this piece of furniture can be challenging. You will need to place a lot of cushions or throw pillows to make it look inviting. Aside from that, the mattress and linens for this type of daybed are also expensive.
Daybed Trundles
A trundle is an optional mattress frame you can purchase for your daybed. Typically, it is installed underneath the link spring of the daybed, and it can provide additional sleeping space if necessary. A trundle has two types, which are a pop-up trundle and a drawer trundle.
A drawer trundle is usually specific to a daybed so that its drawer dimension will fit the daybed. Typically, this type of trundle can hold a twin-sized mattress, but it does not elevate. Additionally, it is an excellent option for a kid's room because you can use it if your child is having a sleepover. Plus, you can use it as a storage space when not in use.
A pop-up trundle is made of metal. A lot of homeowners opt for this type of trundle because it can turn your twin daybed into a king-sized bed. You can either leave it in a lowered position or elevate it so that it will align with your main daybed mattress.