Having the right bed frame is important to make sure that your mattress will last long. Remember, if your bed frame is too big, your mattress will slide around due to the gaps.
On the other hand, if your bed frame is too small, your mattress may bend or fold, resulting in indentations and sagging.
As such, knowing the various bed sizes is vital so that you'll be able to buy the perfect furniture. So, what are the different bed frame dimensions?
What Is a Bed Frame?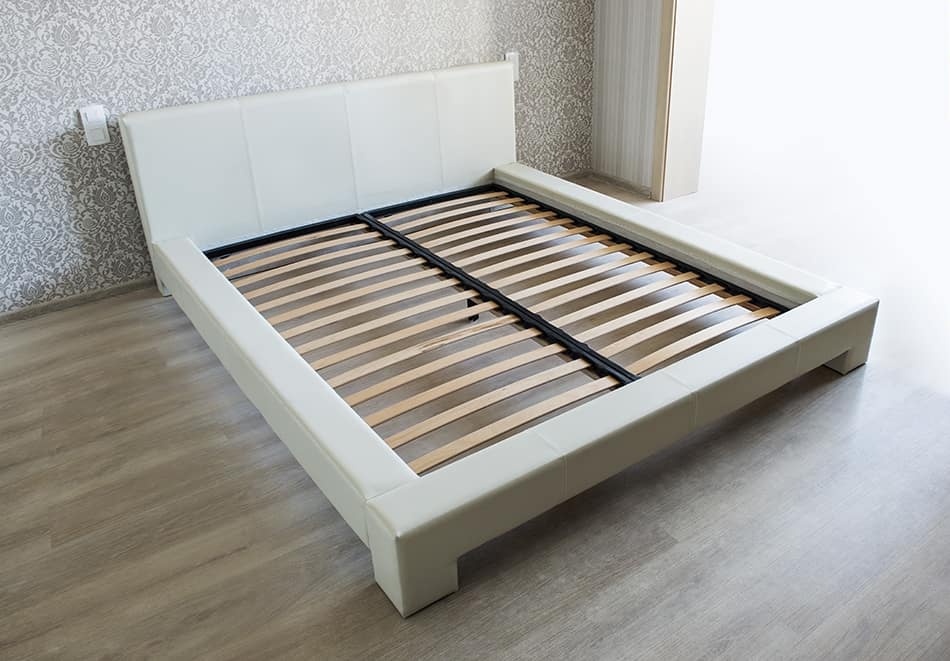 A bed frame is a piece of furniture that supports your mattress, keeping your mattress off the ground where it can remain dry and clean.
There are various types of bed frames, and typically, it is made of metal or wood. Additionally, it also has two side panels, a footboard, and a headboard. Oftentimes, it will also have a solid or slated base that supports your mattress.
Bed Frame Dimensions
Standard Bed Frame Height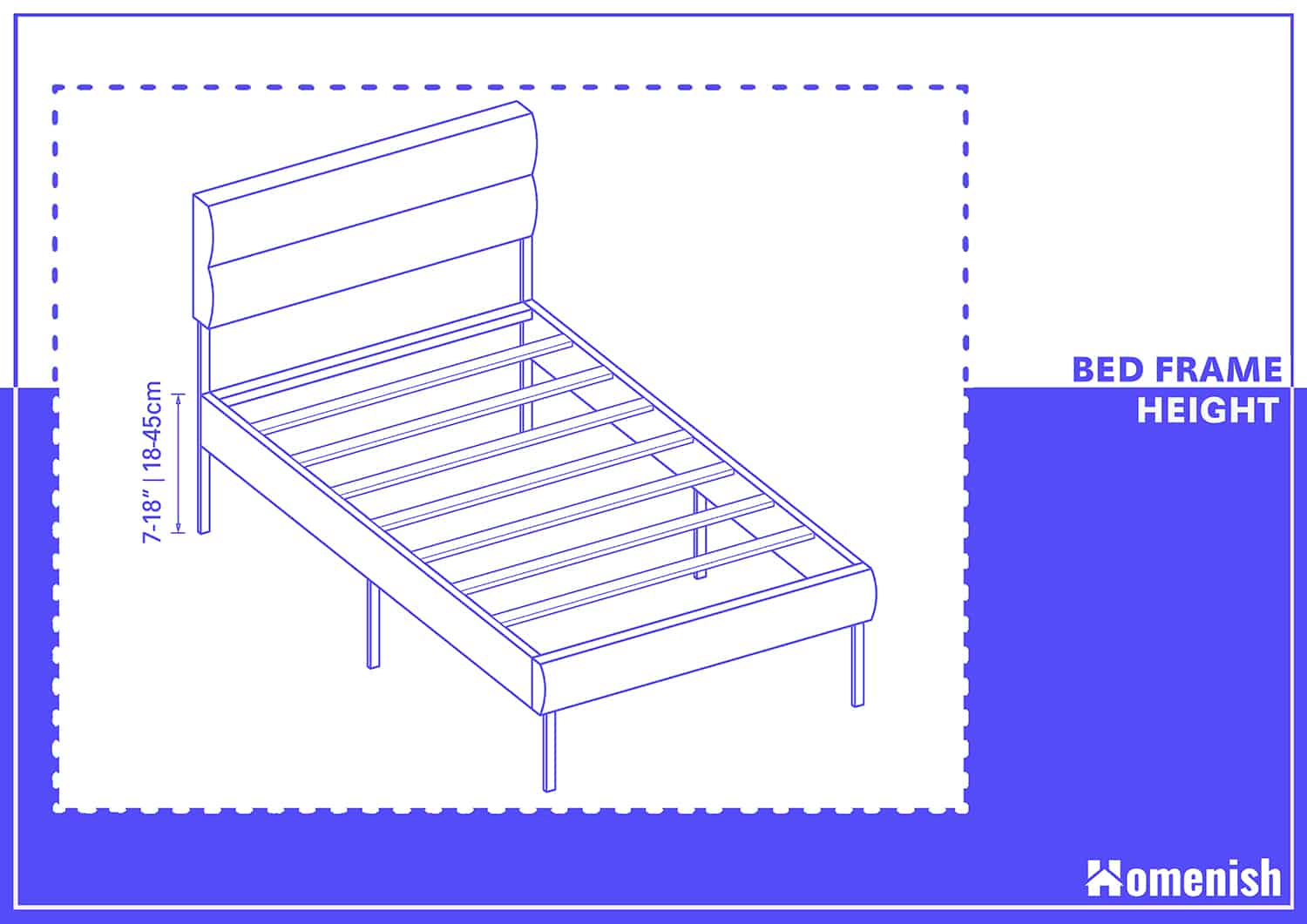 First, you need to know that a bed height consists of a frame height and a mattress height. The standard mattress and box spring height is between 8 to 12 inches.
And most bed height (with a mattress) today is between 18 – 36 inches, with 25 inches being the average today's bed height. Antique beds are about 36 inches in height, while modern platform bed is around 18 inches high.
So without a mattress, the average bed frame height should be around 7 – 18 inches from the floor.
Standard Bed Frame Width and Length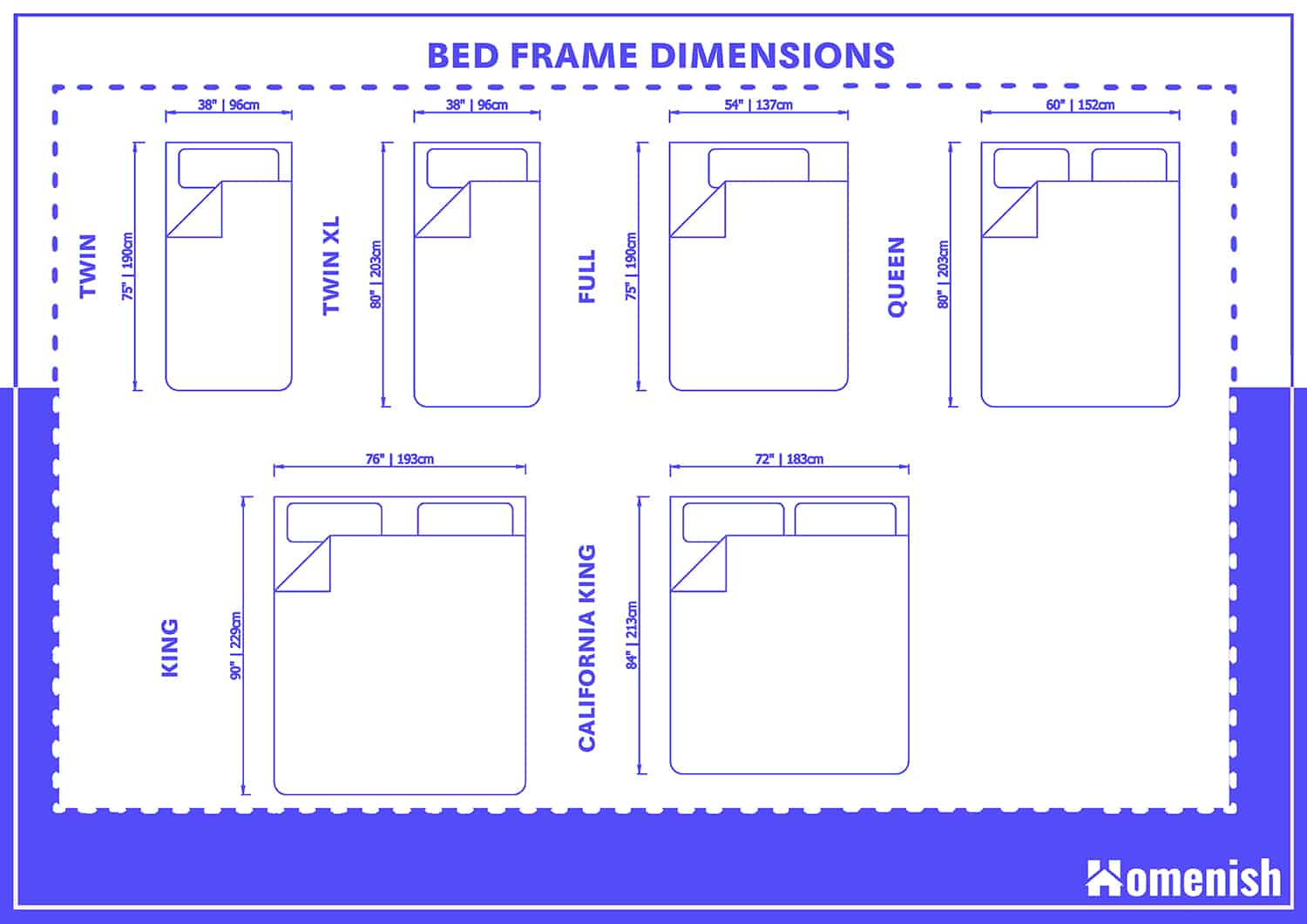 Width and length will vary much based on the different types of beds. And there are the standard dimensions for these beds.
Twin
The twin is the smallest adult-sized bed frame, and it is best for children who have outgrown toddler beds. For its dimension, this piece of furniture has a width of 38 inches and a length of 75 inches. As such, it can also be used by an adult with a small body frame.
A twin bed frame is best placed in a room with a size of eight feet by 10 feet. It is also usually used for bunk beds and daybeds. You can also use this size of bed if you're living in a one-bedroom apartment.
Because of its compact size, a twin bed will not take a lot of space. Aside from that, you can also move this piece of furniture with ease.
Twin XL
The width of a twin XL is similar to a twin bed frame. The difference is that the twin XL is longer by about five inches, making it a great bed for tall adults who don't have enough space for a bigger bed. Aside from that, this piece of furniture is common in college dorm rooms because its additional length can accommodate any height.
Keep in mind that a twin XL is a rare size, especially when it comes to bed sheets and comforters. For this reason, you have to double-check the size to make sure you're buying the right bedding.
Full
A full-sized bed frame is also known as a double bed. It has a dimension of about 54 inches by 75 inches; thus, it is about 16 inches wider than a twin bed.
A full-sized bed frame is suitable for restless sleepers who move a lot while sleeping. Additionally, this piece of furniture is a popular choice for single adults who live in a studio apartment.
Couples may also opt for this bed size; however, it is not recommended, especially if they share the bed with their child or pet.
Queen
A queen bed frame has a size of 60 inches by 80 inches, and it can fit in a bedroom with a size of 10 feet by 10 feet.
Because of its large size, a queen bed frame is a popular choice for most homeowners. The reason is that it is perfect not only for active sleepers but couples as well.
Plus, this size of bed frame has ample space for those who share the bed with their child or pet.
King
A king-sized bed frame has a measurement of 76 inches by 90 inches. Because of its huge size, this bed is a good choice for restless sleepers. Plus, couples who have a child who tend to sleep with them at night can comfortably sleep on this bed.
A king-sized bed is suitable for a master bedroom with a size of at least 13 feet by 13 feet. Unfortunately, this size of bed frame is not suited for a small-sized bedroom because the room will look too cramped.
For couples that have different bed preferences, they can opt for a split king mattress. This type of mattress consists of two identical-sized mattresses that have different firmness.
With this feature, you and your partner can sleep on the same bed without sacrificing your preferences. Unfortunately, finding bedding for this type of mattress is hard, plus the sheets are quite expensive.
California King
A California king bed frame has a dimension of 72 inches by 84 inches. Because of its long length, this bed size is best for tall adults or those who want some extra length to their bed. Additionally, it is also great for couples who share the bed with their child or pet.
Types of Bed Frames
Panel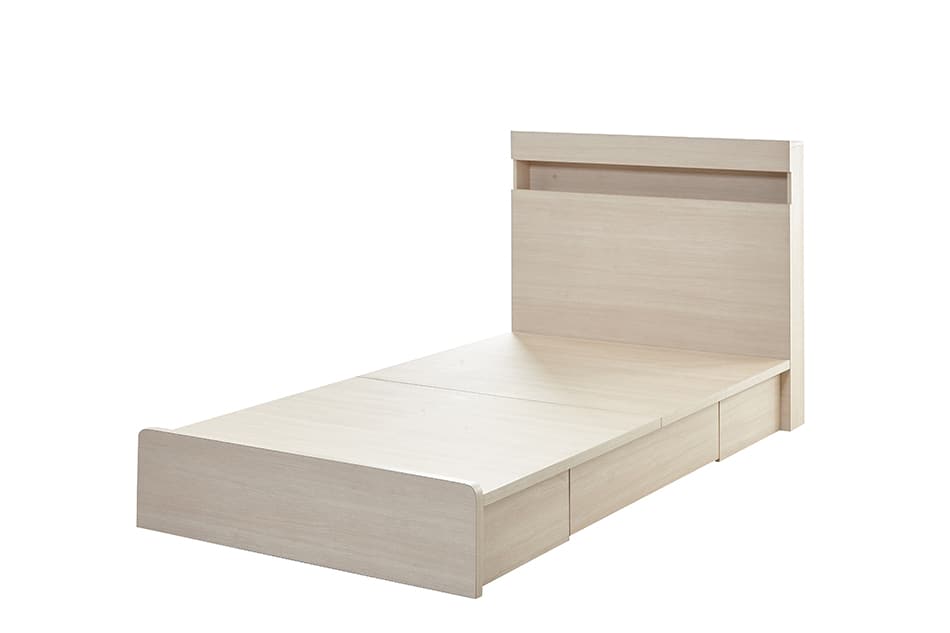 Panel bed frames are designed to hold and support the mattress and its foundation. It has wood or metal slats, a headboard, and two side panels.
Platform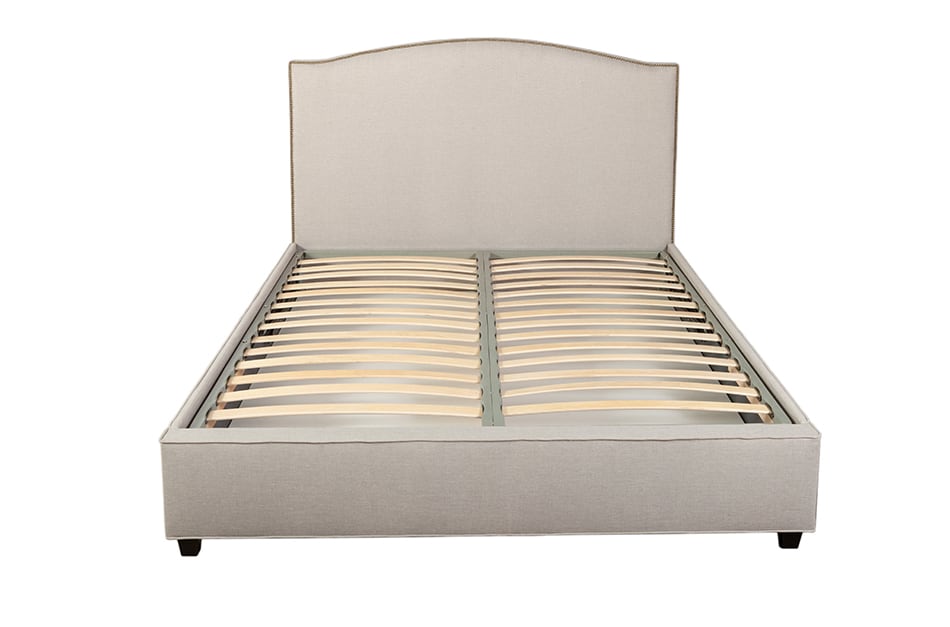 Platform bed frames are built to hold and support a mattress that doesn't have a foundation. Additionally, this type of bed frame has wood slats that can support most mattress types, including memory foam mattresses.
Most platform bed frames have a minimalistic design, but some have attachments for a footboard or headboard. Another variant of this bed frame is the captain bed, which has built-in drawers.
Sleigh
A sleigh bed frame is often made of solid wood that makes it look majestic and elegant. However, its material also makes it heavy; thus, it is hard to move compared to its counterparts.
A sleigh bed frame resembles a sled due to its curved footboard and headboard. Because of its fancy design, this type of bed frame is a great statement piece you can add to a master bedroom.
Bunk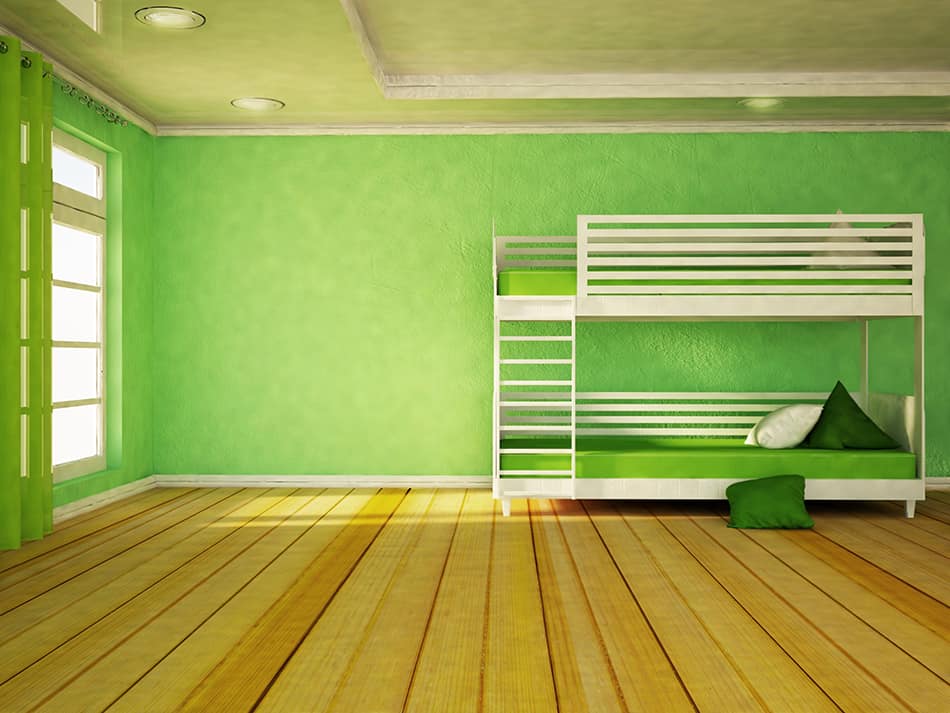 A bunk bed frame has two or three twin-sized beds that are stacked on top of each other. It also has four posts or pillars that support the bed and rails that prevent the sleeper from falling.
Four-Poster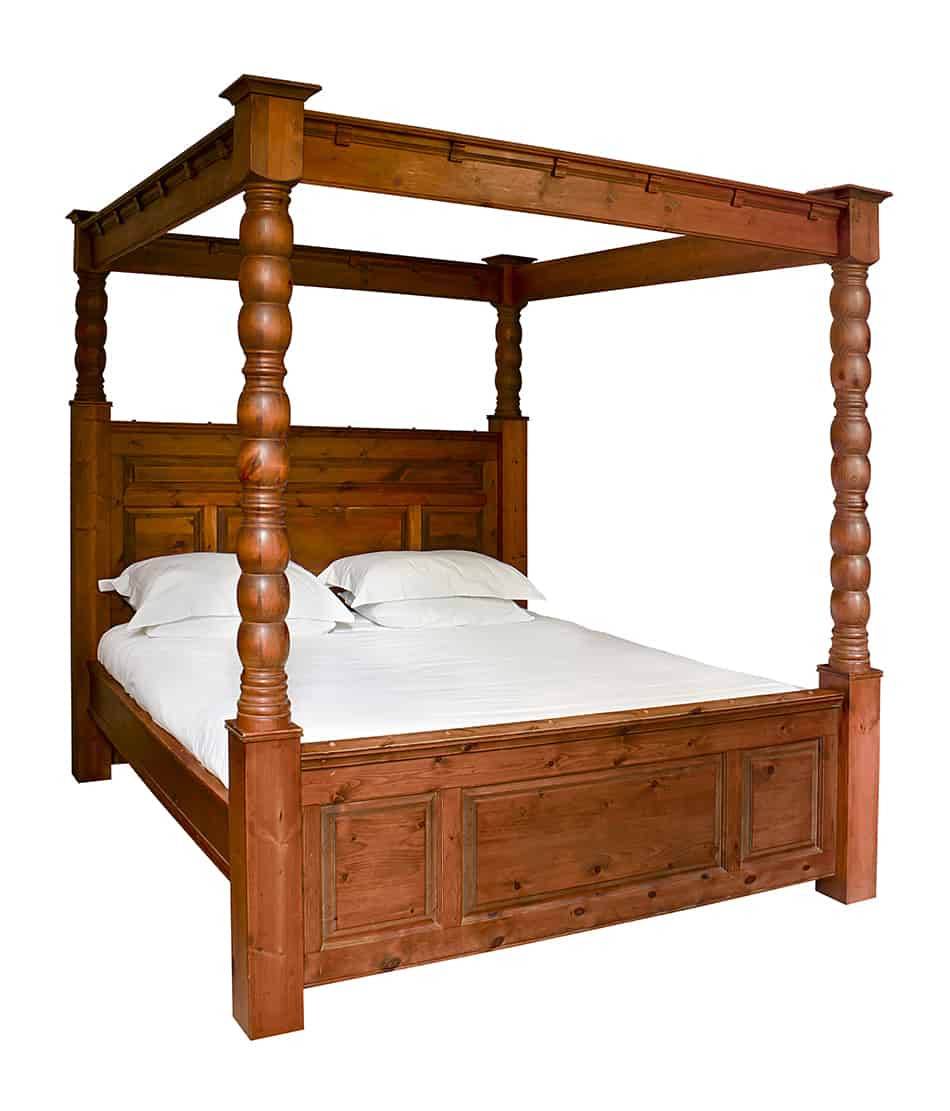 As its name implies, a four-poster bed frame has four tall posts or columns that can reach the ceiling. Traditionally, this type of bed frame features a rectangular panel with thick curtains around the bed that provides privacy. On the other hand, modern designs don't have a rectangular panel, but they may have a canopy on top of the mattress.