A beige sofa is a neutral backdrop that can be paired with practically any other furniture and accessory color as long as the style is consistent with the sofas. When it comes to cushions and pillows, you can coordinate bright accent colors or neutral ones with your bright or muted beige sofa. Even complementary patterns and prints will work beautifully.
Whether your interior decor is in modern, eclectic, bohemian, or rustic style, there are many beautiful cushions and pillows that go with a beige sofa. Just take a look at the following ideas that will instantly make your living space feel cozy and comfy.
Best Cushions and Pillows for Beige Sofa
Colorful Geometric Pillows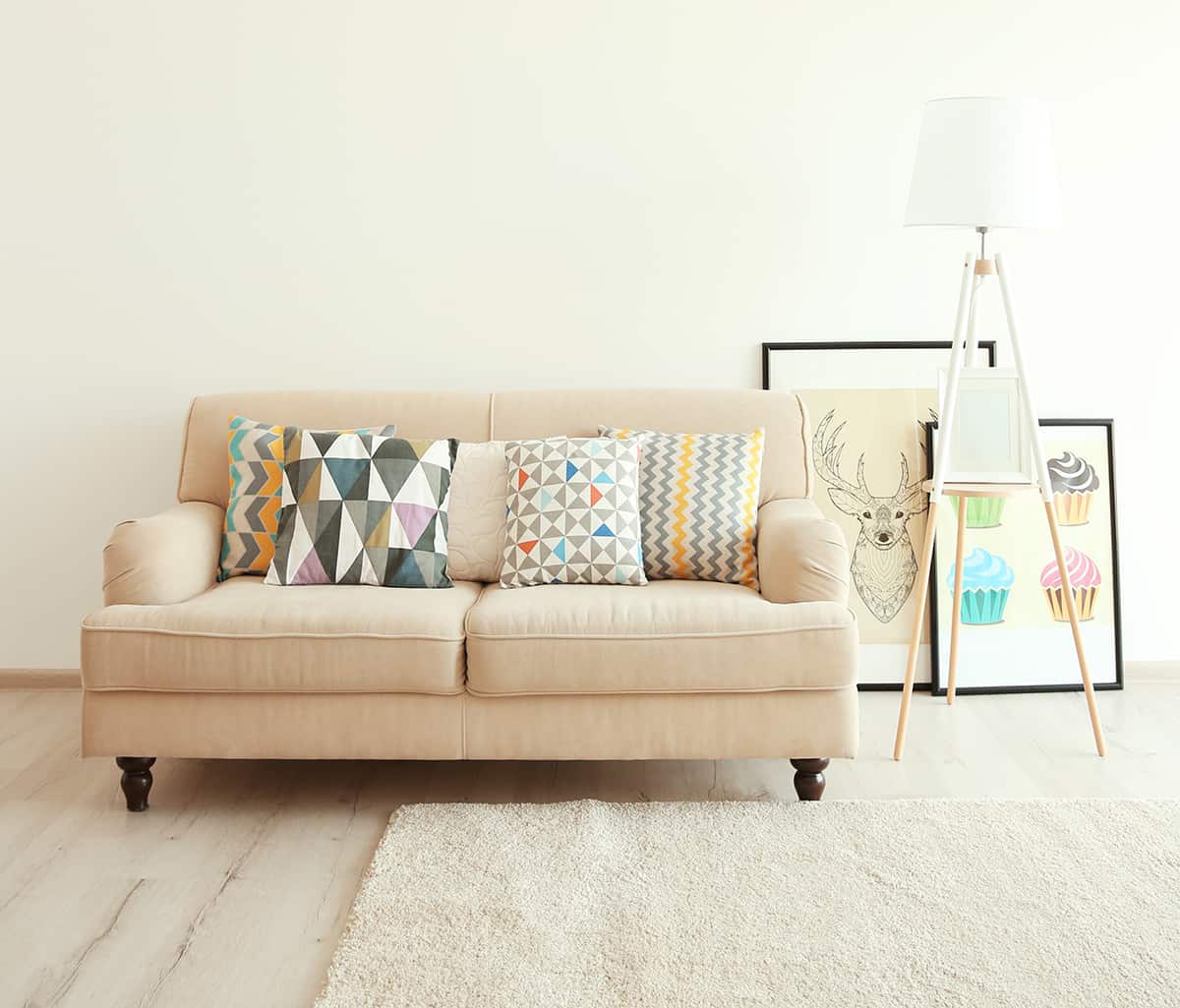 Beige sofas are often seen as the backdrop to throw pillows. But this doesn't mean the pillows should outshine the sofa. Rather, different colors can blend well with your beige sofa, especially if they are designed in interesting geometric patterns like the ones shown here. With this idea, you can pick any bright-colored geometric pillow in different fabrics to coordinate with your neutral sofa.
For an even more appealing look, decorate around the sofa with similar patterns and colors as the throw pillows. This can be done by hanging geometric or abstract home artwork to make the room bright and attractive.
Mustard Yellow Pillow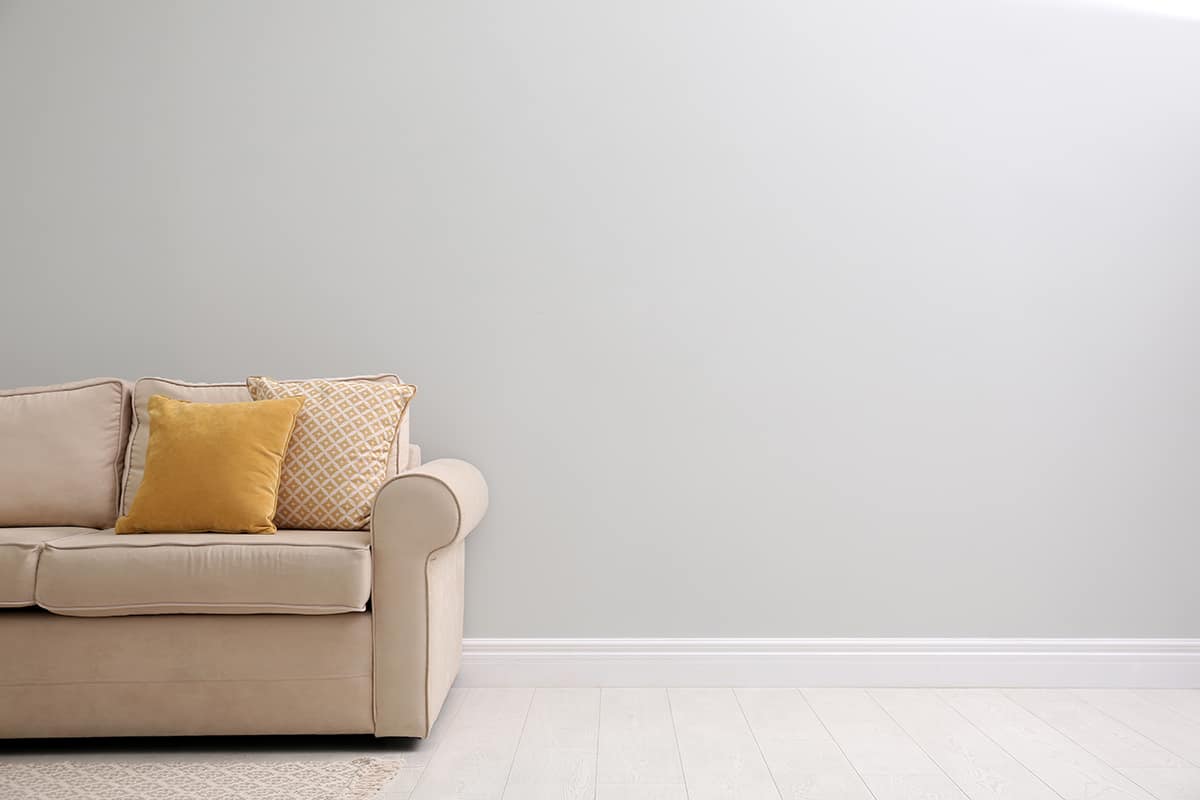 Another great throw pillow color combo that works well with a beige sofa is muted yellow. This color is very similar to beige, but since it is two shades darker, it will stand out against the sofa. You may also add other pillow or cushion colors to soften the yellow.
Feel free to pick any fabric you're comfortable with. Our favorite shade of yellow is mustard, as it does a great job of brightening up the neutral sofa.
Combining yellow and brown also works well with beige, as these are earthy colors that go beautifully in a bright and airy interior.
Creamy Beige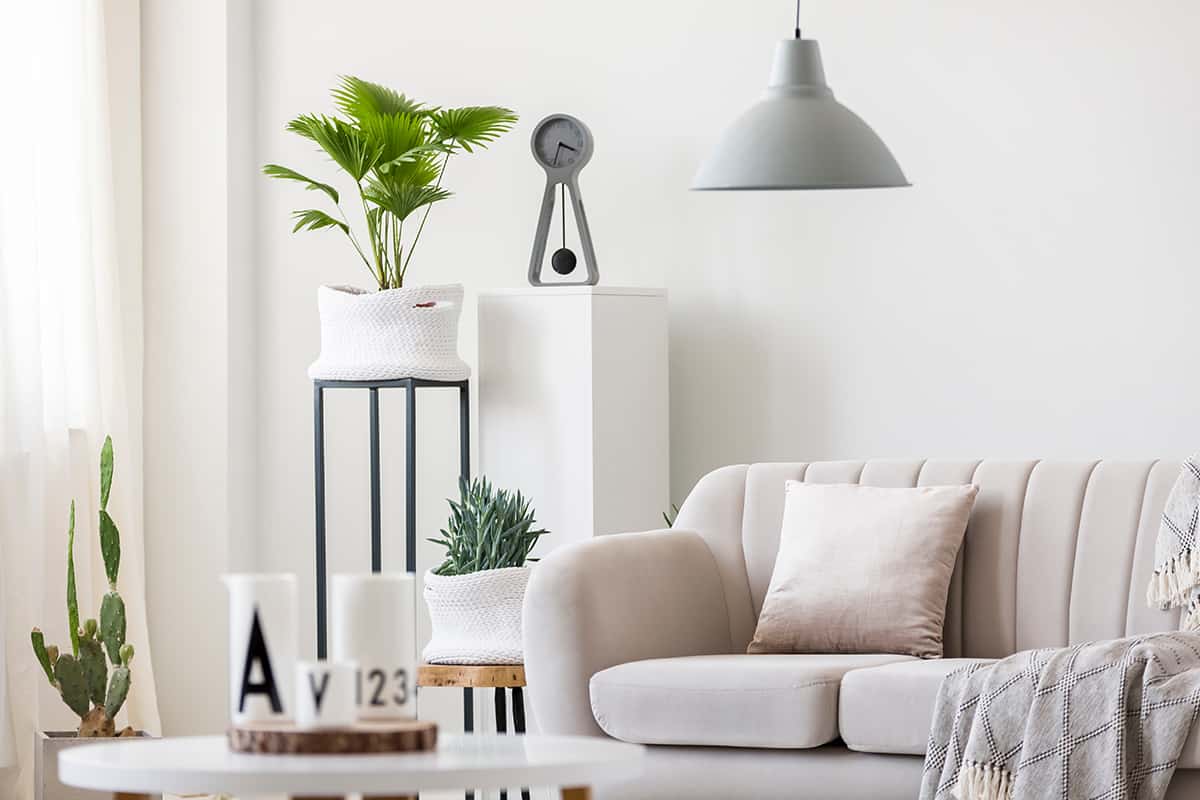 You can't go wrong with a matching shade of beige for your pillows and cushions. By using the same color, your sofa will have an aesthetic appeal in a modern space.
Why not add color to your neutral sitting area by including some plants or macrame decor on the walls. This is the perfect bohemian look that evokes a comfy and cozy feel.
Leather Pillows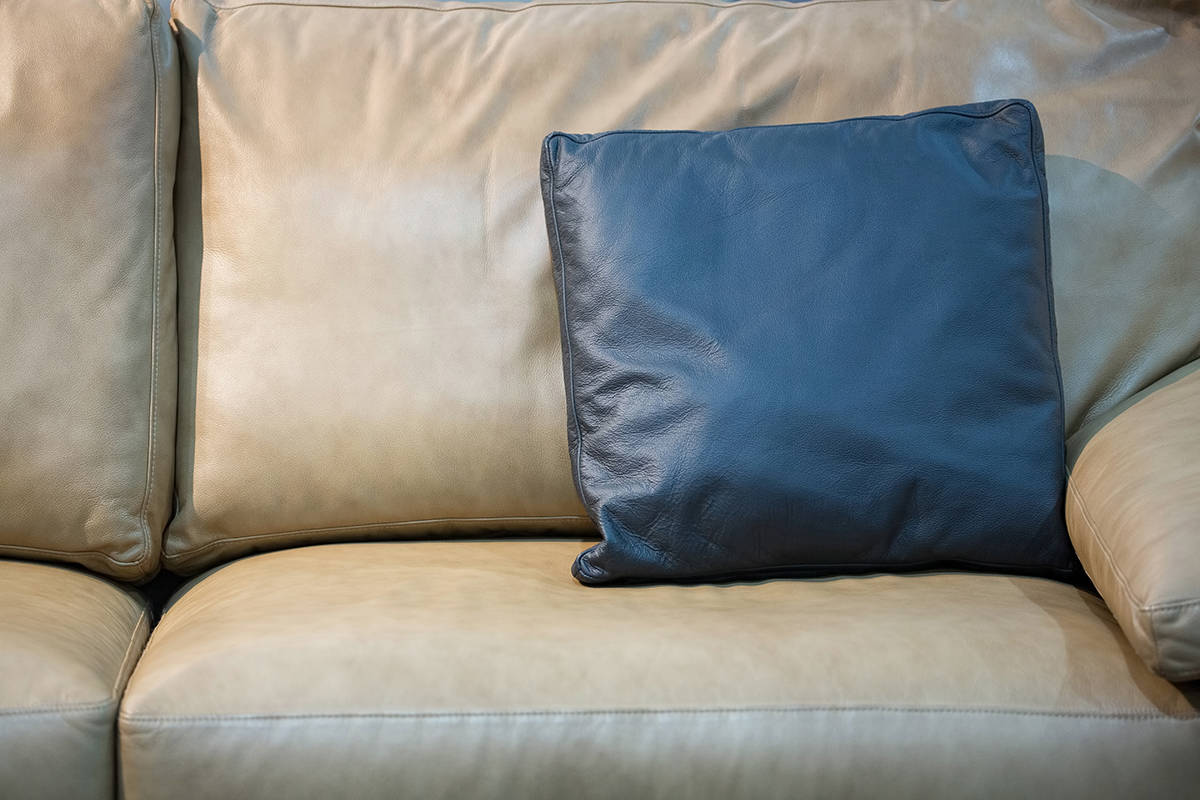 Combining a light beige or black leather couch with a bold leather pillow isn't a bad idea if you like to create a unique style. Although most pillows are commonly made from cotton, why not make your leather sofa even more attractive by adding a leather pillow?
As a rule of thumb, if the leather sofa is a lighter tone of beige, go for a dark pillow color and vice versa. The leather pillow will make your sofa appealing and provide comfort. And best of all, it won't need regular washing like cotton pillows!
Velvet Pillows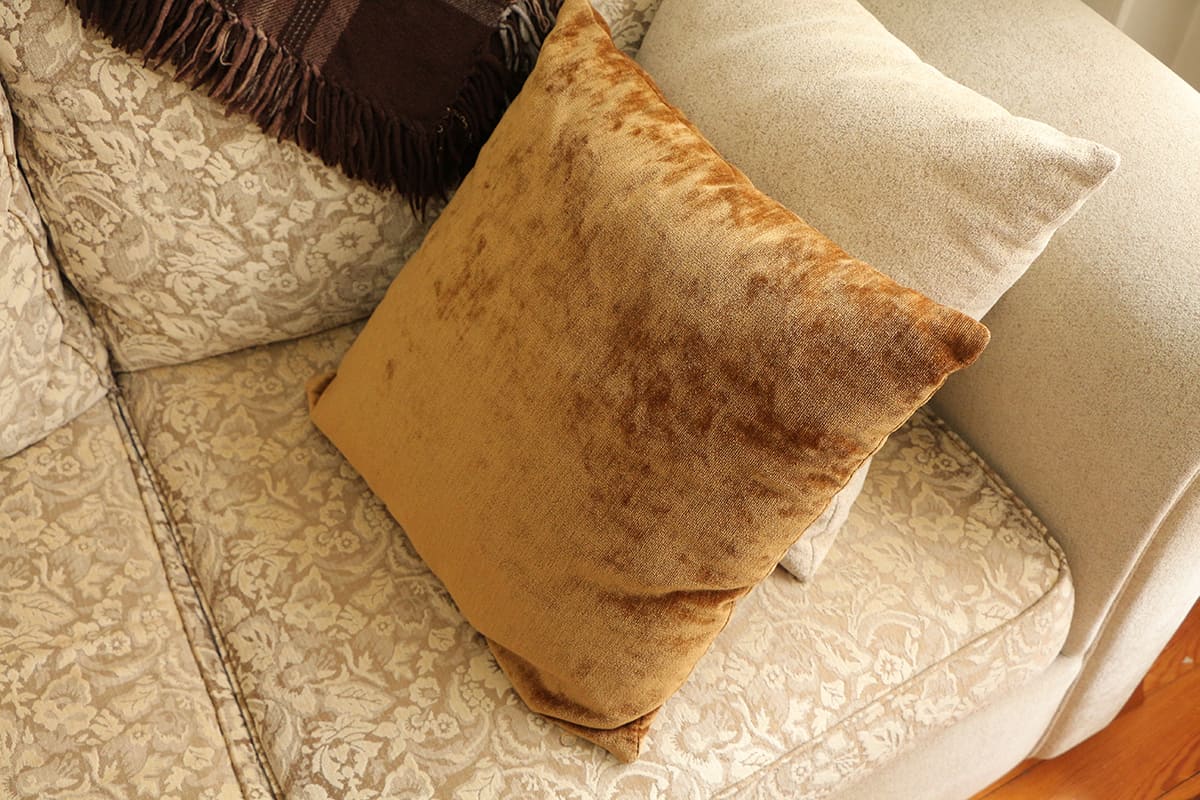 As an alternative to leather pillows, you can always opt for velvet for a classy touch. Whether your beige sofa is in leather or upholstery, it can come to life with a bright beige pillow and floral cushions. Just like in this example, see how comfy and elegant the beige sofa looks thanks to the luxury velvet pillows in brown and beige colors.
The reason we love velvet cushions and pillows so much is mainly because of how smooth and soft they feel. You may decide to use different colors to the ones we suggested for an elegant look. Just be sure to coordinate the colors of your velvet pillows with your beige sofa.
Oversized Textured Pillows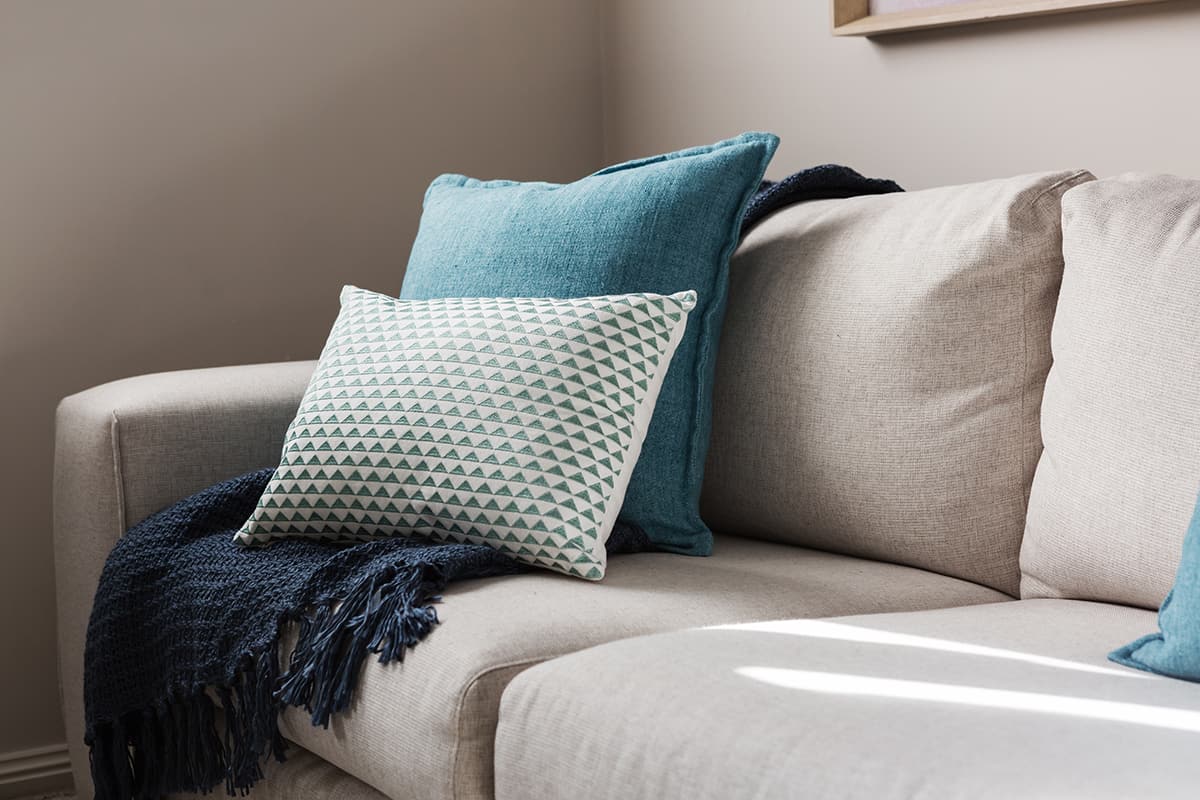 If you have a beige fabric sofa and want to make it more appealing, use textured pillows in large sizes.
Textured pillows can be the highlight of a sofa and create an elegant feel. Just choose colors that blend well with beige, such as blue and white, as shown here.
Mix and Match Pillow Sizes and Colors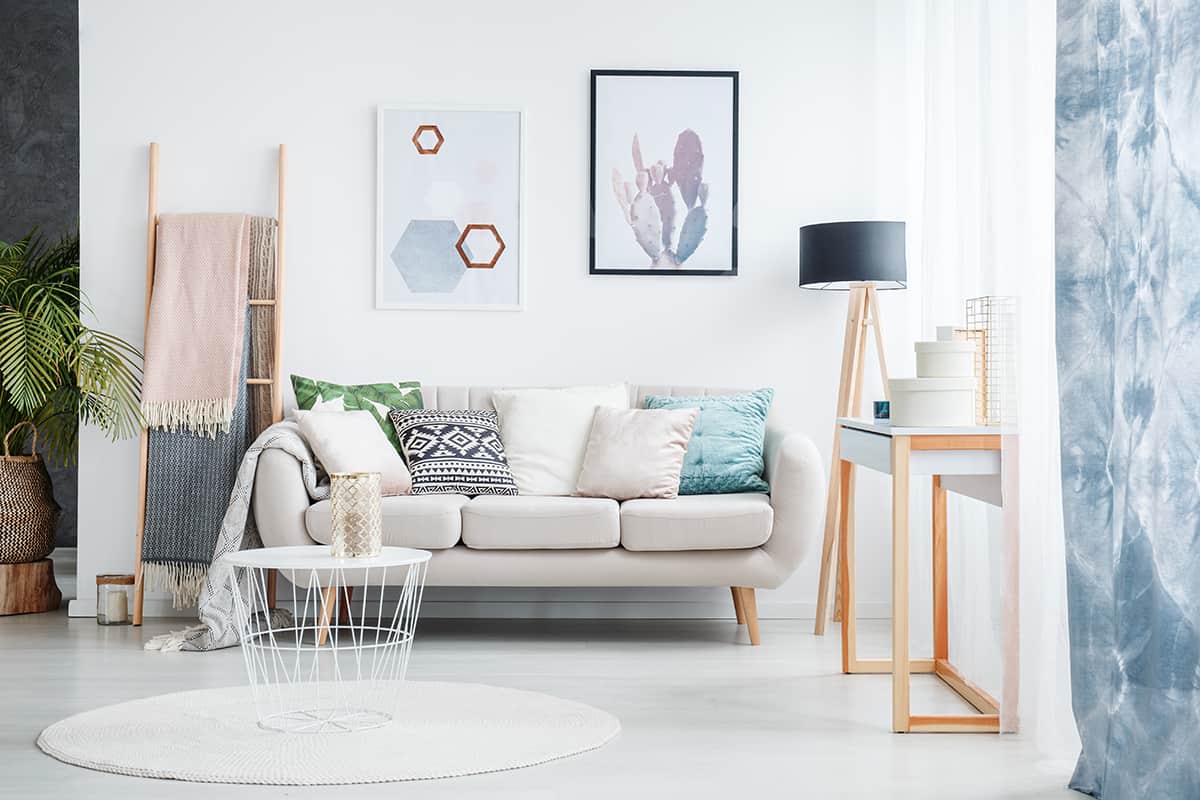 Why not make your pillow arrangement unique by combining them in various colors and sizes? When dressing your beige sofa with pillows, you can let your creativity run wild by picking all kinds of patterns, colors, and prints. From the smallest pillow on one corner to the largest in the center, the arrangement can be how you like it.
You don't even have to stick to one particular shape or size. Mix the colors and sizes for an interesting look. Choose solid colors like blue, black, golden, or chevron. To complete the look, add more textures and neutral accessories to your living space in order to blend well with your beige sofa and pillows.
Choose Bold Colors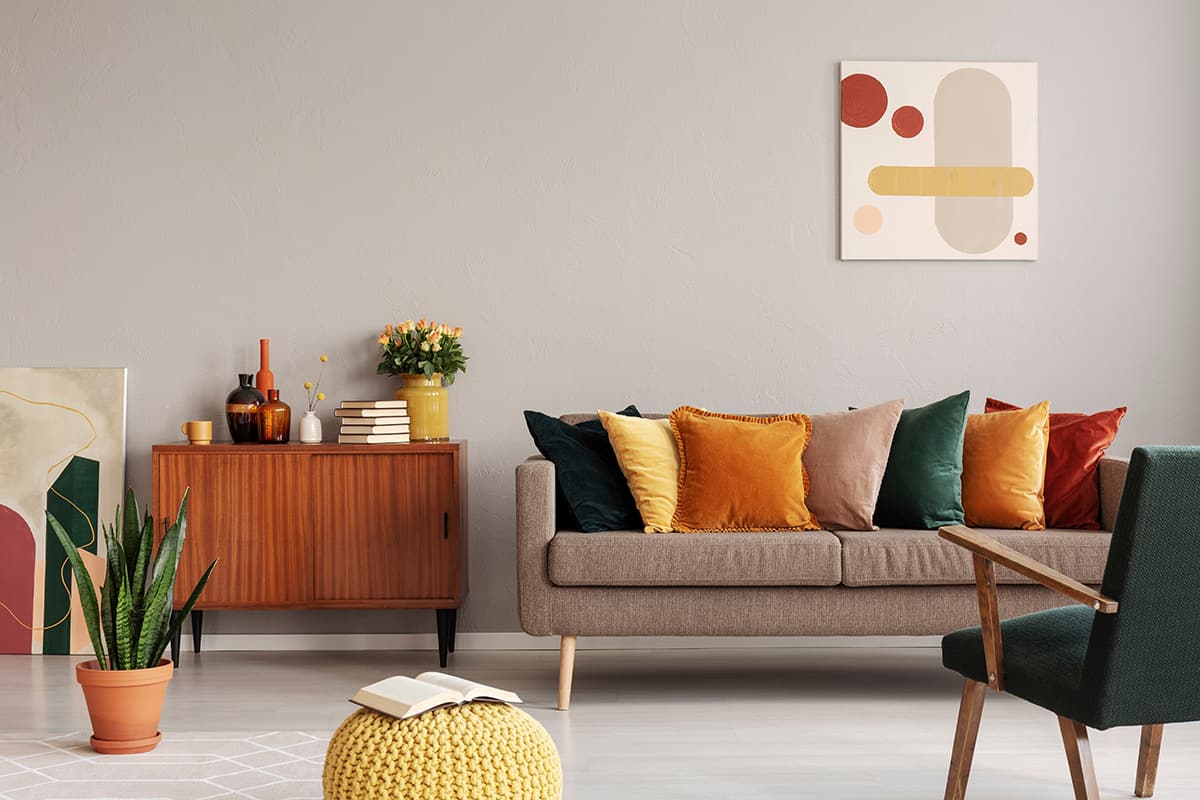 Whilst we are on the topic of colors, consider taking a bold leap by going for bright pillow colors. A selection of masculine and feminine hues using the same fabric ensures your beige sofa will stand out beautifully. Just like in this image, the fabric sofa is showcased by its selection of dark green, brown, yellow, red, and dark beige pillows.
If your beige sofa is a brighter shade, you may go for bold accent colors like violet, orange, blue and red. Complementary colors to beige include yellow, blues, browns, and a mixture of solid patterns.
To complete the look, hang framed paintings behind the sofa and include one or two vases of flowers on the side tables. By using beige, bold colors, your modern or contemporary living space will truly come to life.
Combine Contrasting Colors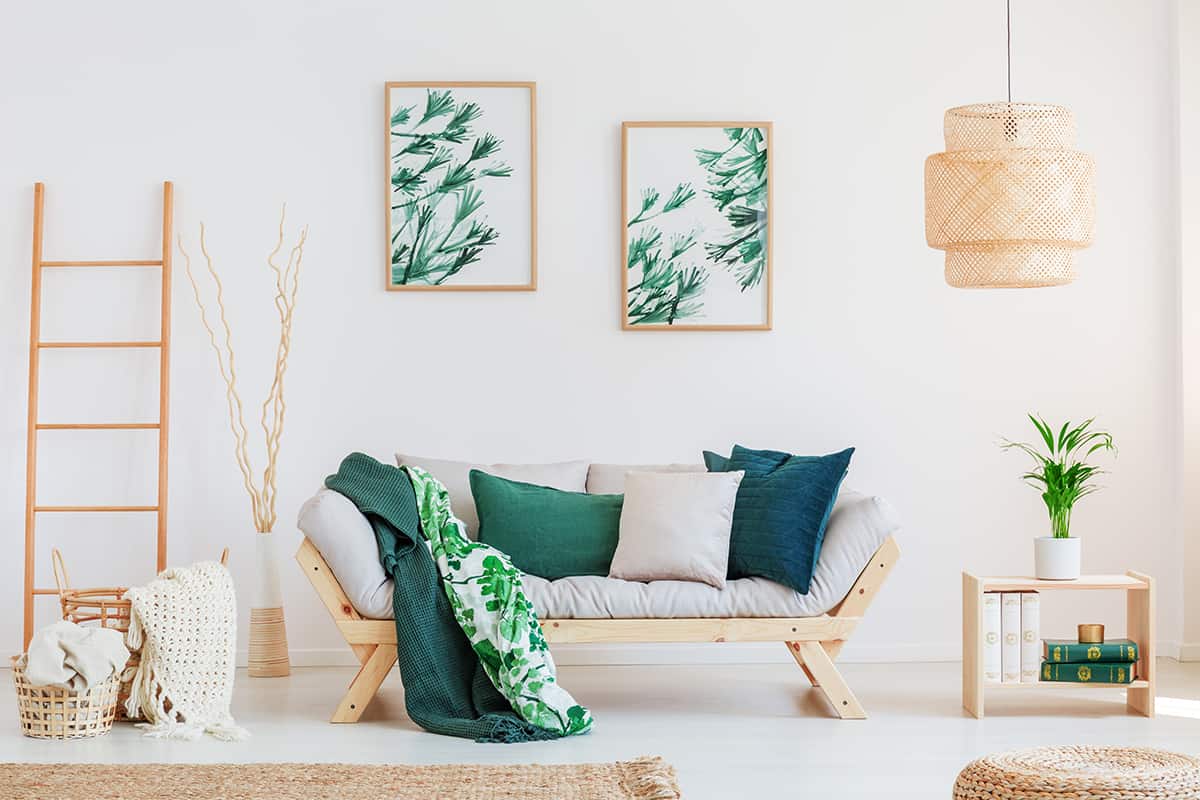 Combining contrasting colors with complimenting ones can bring an interesting look to your beige sofa. If you want to introduce luxury to your living space, mix some bright contrasting colors with neutral ones, as shown here.
When arranged well, the mix of greens, blues, and beige will go together nicely, but you don't have to limit your color choice to these. Go with dark shades of red like burgundy or black to contrast with your beige sofa.
You can also choose a mix of different fabrics for your throw pillows and cushions in contrasting colors to beige. Add throw blankets in bold colors and keep the rest of the decor in light beige or cream. This will prevent the living space from appearing dark or monotonous.
In this neutral living room, the use of earthy materials with green and beige colors blends beautifully to create a cozy and inviting feel. We particularly love the consistent use of green throughout the space in the form of throw pillows, blankets, wall art, and accessories.
A Mix of Greys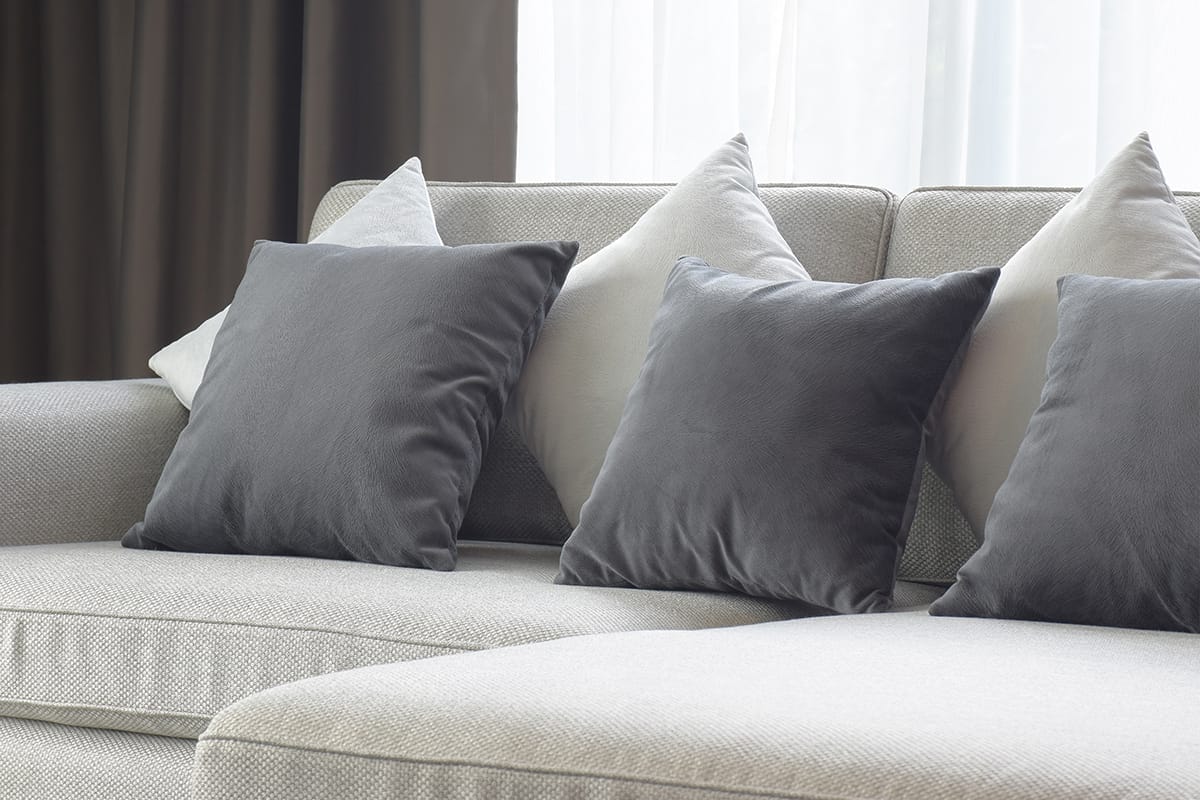 Mixing neutrals makes perfect sense when you want to keep your seating area in the background. In living rooms that have a fireplace as their focal feature, pairing the beige sofa with grey pillows will keep the furniture out of focus. Beige goes well with any shade of grey so your combination will definitely be unique.
Our favorite shade of grey for pillows is charcoal as it combines very well with light beige. Pick a satin or velvet fabric for an attractive look.
Pillows with Prints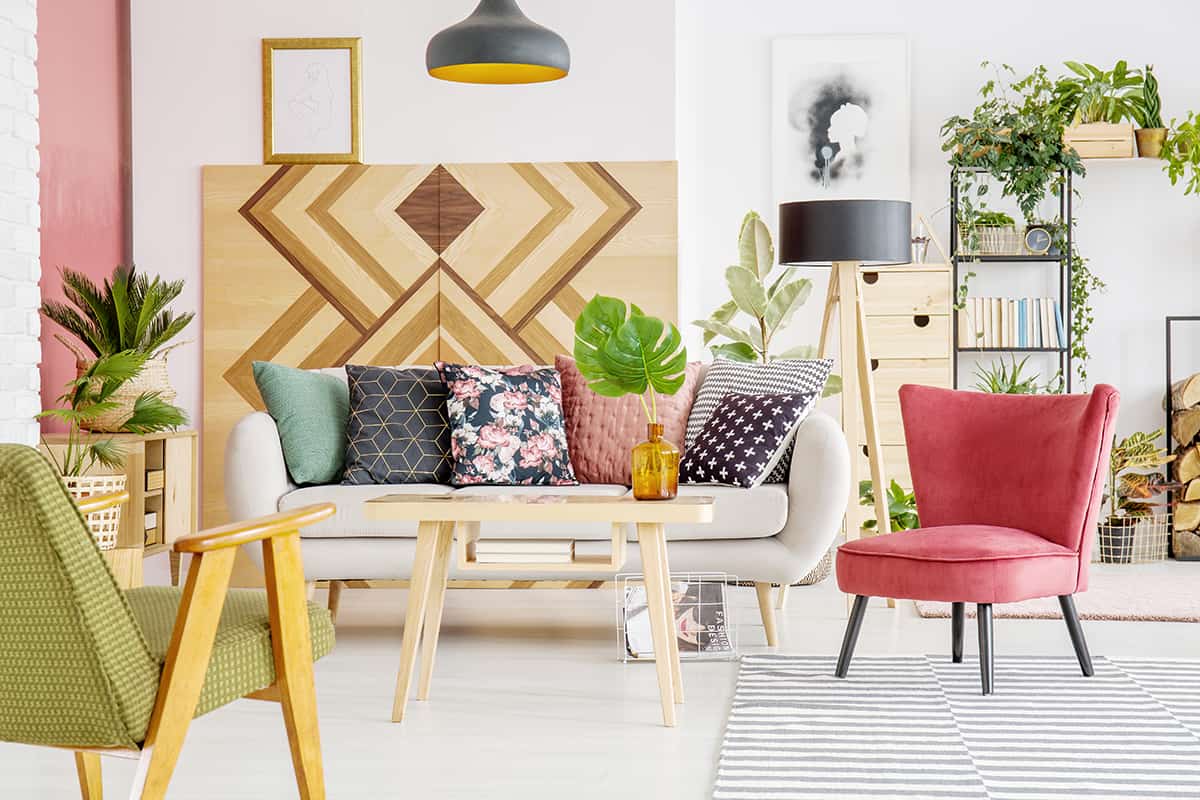 To spice up your neutral sofa, it makes sense to add pillows with interesting prints. This works especially well in nature-inspired living rooms with lots of plants as its decorative theme. Use a combination of patterns and prints from your favorite animals, landscapes, or flowers.
Include wooden furniture to keep the interior style in the nature theme. You can even drape the side of the beige sofa with a faux fur throw blanket and accent the area with exotic greenery as shown here.
Embroidered Cushion and Pillow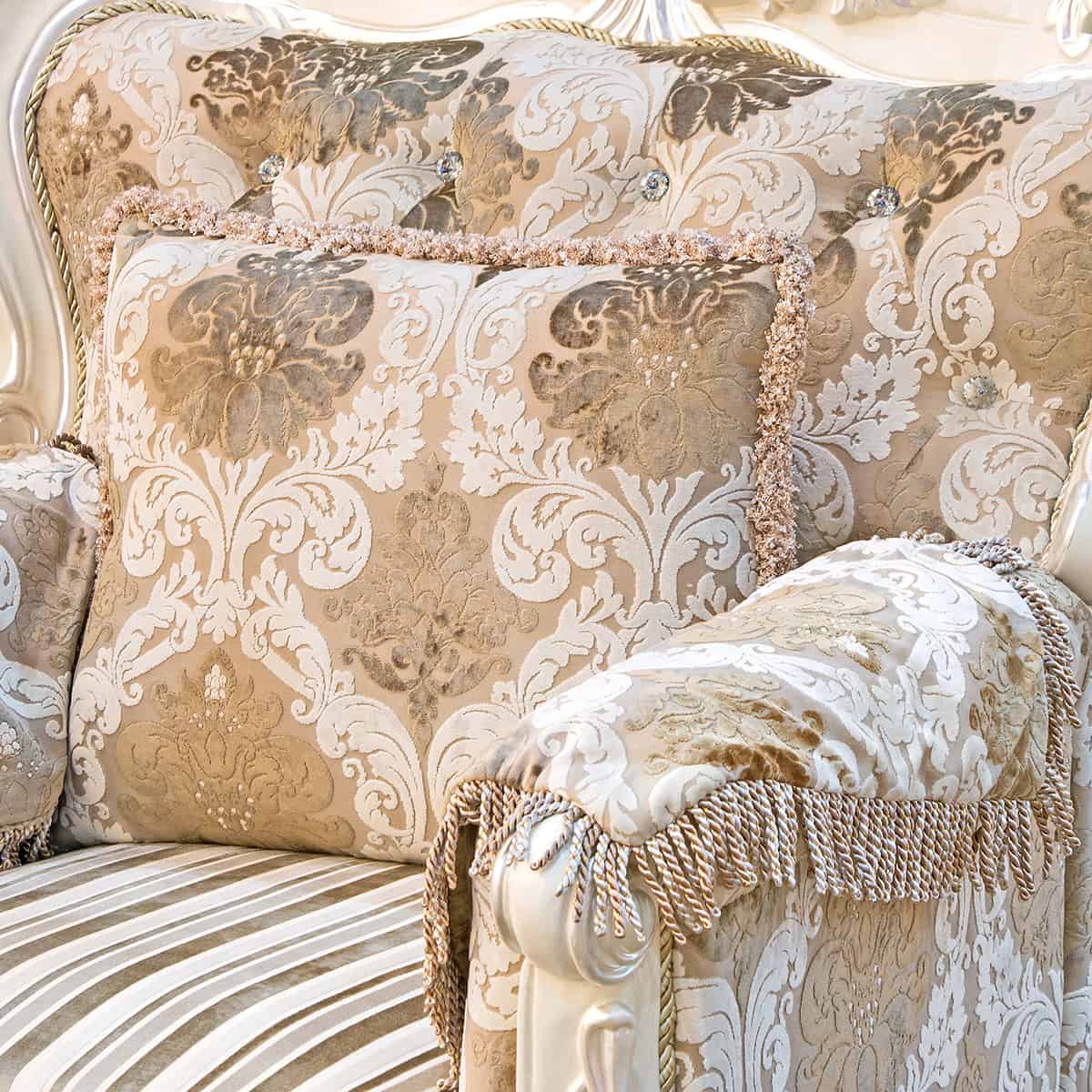 In traditional interiors, embroidered pillows and cushions make a stunning choice for beige sofas. Embroidery is inspired by Asian interior design and fits a bright living room perfectly. Since the beige sofa is on the bright side, an embroidered pillow that matches the cushion and the rest of the sofa will instantly draw the eye to the seating area.
Choose any pattern you like, and don't limit yourself to a neutral color as embroidery-designed pillows come in numerous patterns and colors, including custom-made pillows, as shown in this example.
Black and White Striped Pillows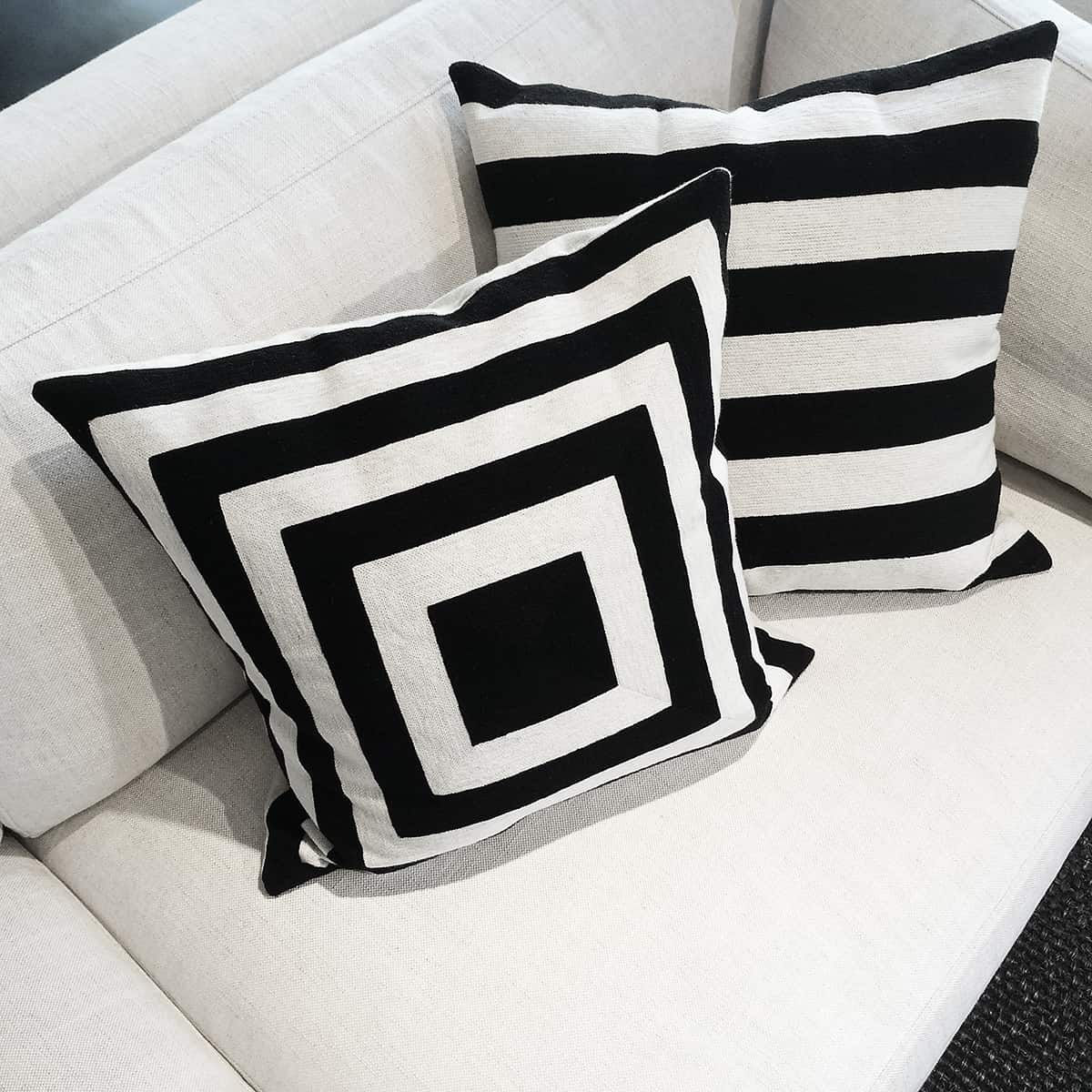 Another striking combination for pillows and the beige sofa is black and white striped designs. These pillow patterns will add an interesting look to your neutral sofa. The Black and white combination gives a living room a modern feel, plus you can add matching cushions close to each other to blend well with the beige sofa.