Gray is a highly popular color in the world of interior design. Why? Thanks to the unlimited shades available, this neutral, practical and versatile color fits any style or decor. In contemporary kitchens, gray cabinetry works well with various other color schemes, but what about the walls?
When you're deciding on what color walls go with gray kitchen cabinets, you must experiment with various combinations to get the perfect fit for your kitchen. Whether you want your kitchen design to be simple, bold or somewhere in between, there are many stylish wall color options that work with gray cabinets.
Below are some wall paint color ideas you can use to pair with your gray cabinets. So let's look at them now.
Best Wall Colors that Work with Gray Cabinets
Gray on Gray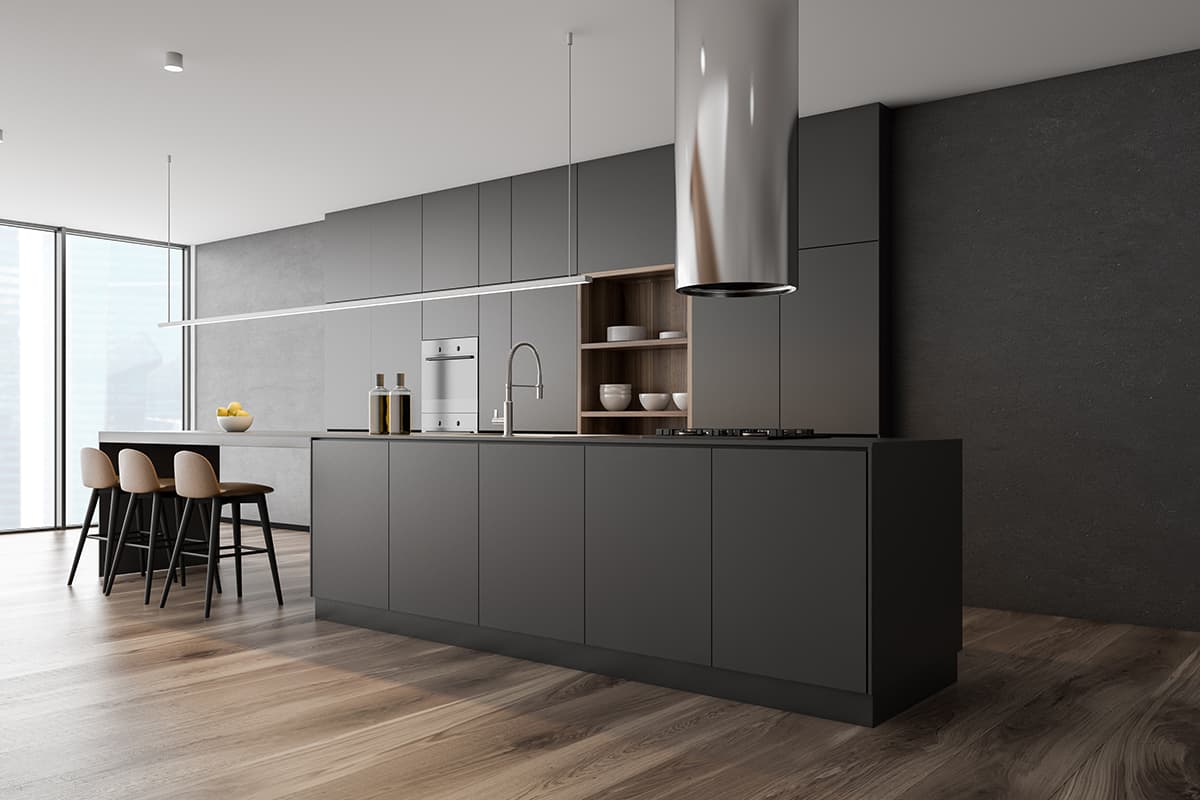 A combination of gray wall with gray cabinetry makes a welcoming setting. There are various gray undertones you can use to complement your cabinets. For example, paler gray shades are elegant while darker shades like charcoal make a dramatic statement. Just make sure you choose a shade lighter or darker than the cabinets for contrast.
Another idea is to mix two or three gray shades together for all the walls of your kitchen. For a restful feel, paint the main kitchen wall a shade lighter, and the rest of the walls something a little bolder like ash or anchor.
To make it even simpler, consider opting for lighter gray shades if your cabinets are a rich shade of gray and vice versa. To ensure the integrity of your interior design, softer shades of gray always work best next to their darker, more dramatic counterparts.
White
White and gray pairing has to be the ultimate colors that create a wow factor. White walls with gray cabinets are commonly found in modern homes as white paint provides plenty of stark contrast next to gray. White helps prevent the gray from looking too dark or dingy. You may even opt for cream or off-white as a softer shade alternative to crisp white. This helps keep your gray kitchen cabinets bright and airy.
While it's true that white and gray are very simple color schemes, we just can't help but love this combination. White walls provide a cheerful look to a kitchen with light gray or dark gray cabinets, and at the same time, they both have a cold undertone to preserve the crisp effect.
So if you wish to brighten up the background and wonder what color walls or what color wood floors to go with dark-colored cabinets, white is the perfect paint color to freshen the kitchen.
Beige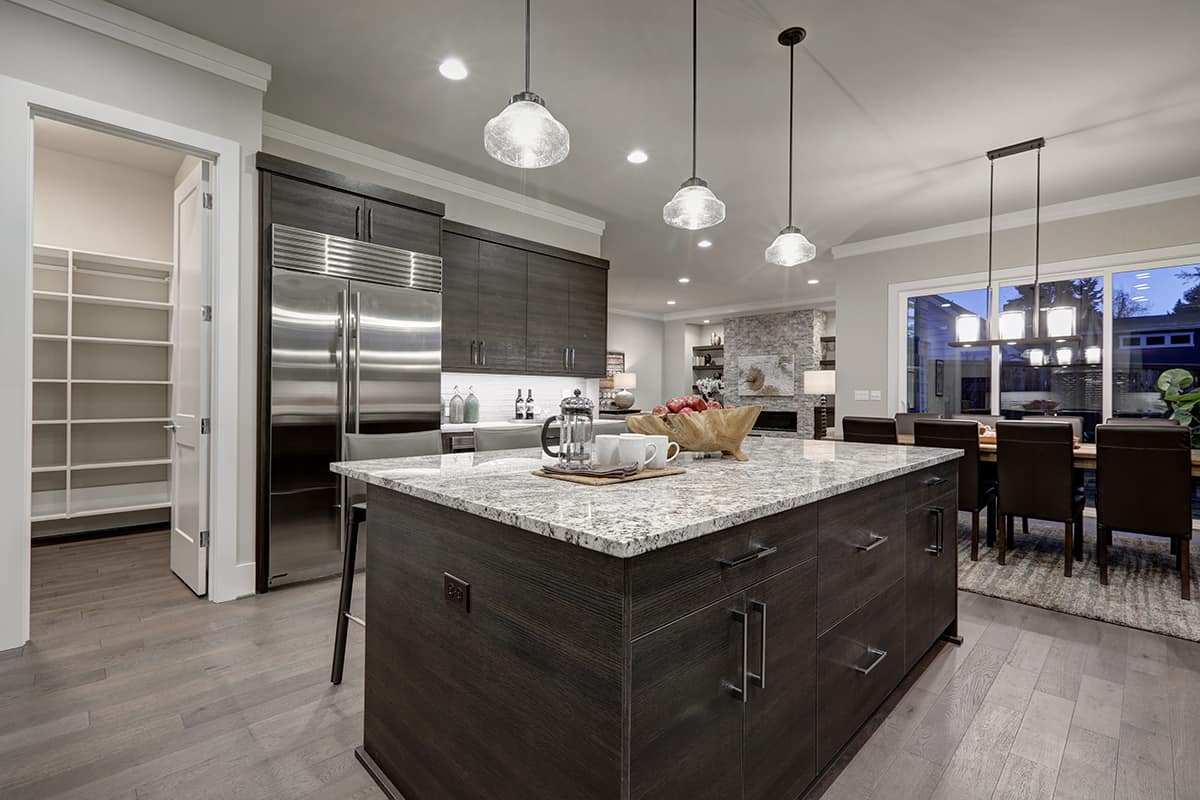 All gray shades work well with beige as these are both neutrals with balanced contrast. When you play with undertones, you must decide whether you're seeking a softer or colder environment.
Dark gray cabinets, for example, provide a warmer feel when paired with beige walls. On the flip side, light gray cabinets feel colder next to dark beige. That said, if the purpose is to create a unique gray kitchen design, the beige walls can serve as the perfect backdrop.
Here you'll find the dark gray cabinets with sandy beige walls providing a refreshed and calming feel in this modern, open-plan kitchen.
Purple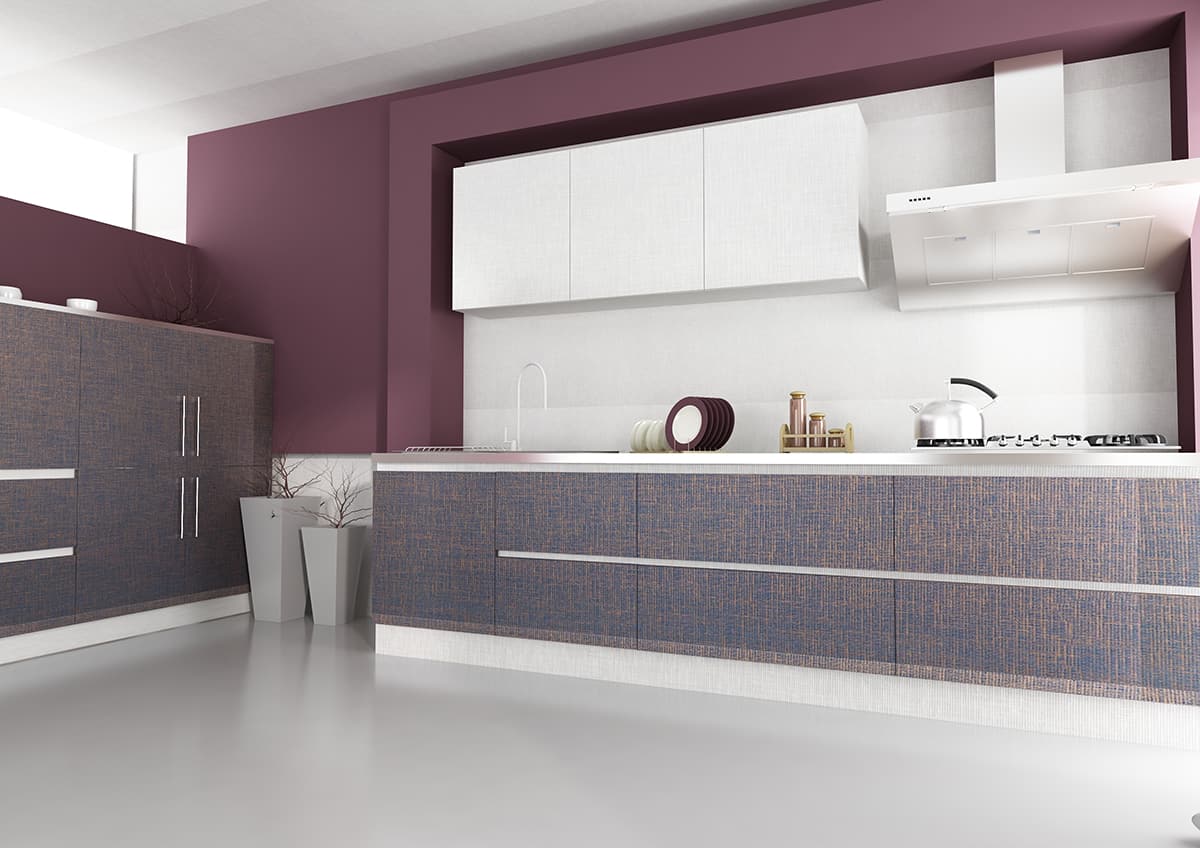 Some gray shades have a purple undertone, so you can't go wrong with a purple wall next to your gray cabinets. This soothing combination is perfect for modern kitchen designs, and any shade of gray works with a bold shade of purple.
Just look at how vibrant this kitchen looks with its contemporary purple wall and dark gray cabinetry. The lighting sources have softened the purple shade and lessened the boldness of purple.
Green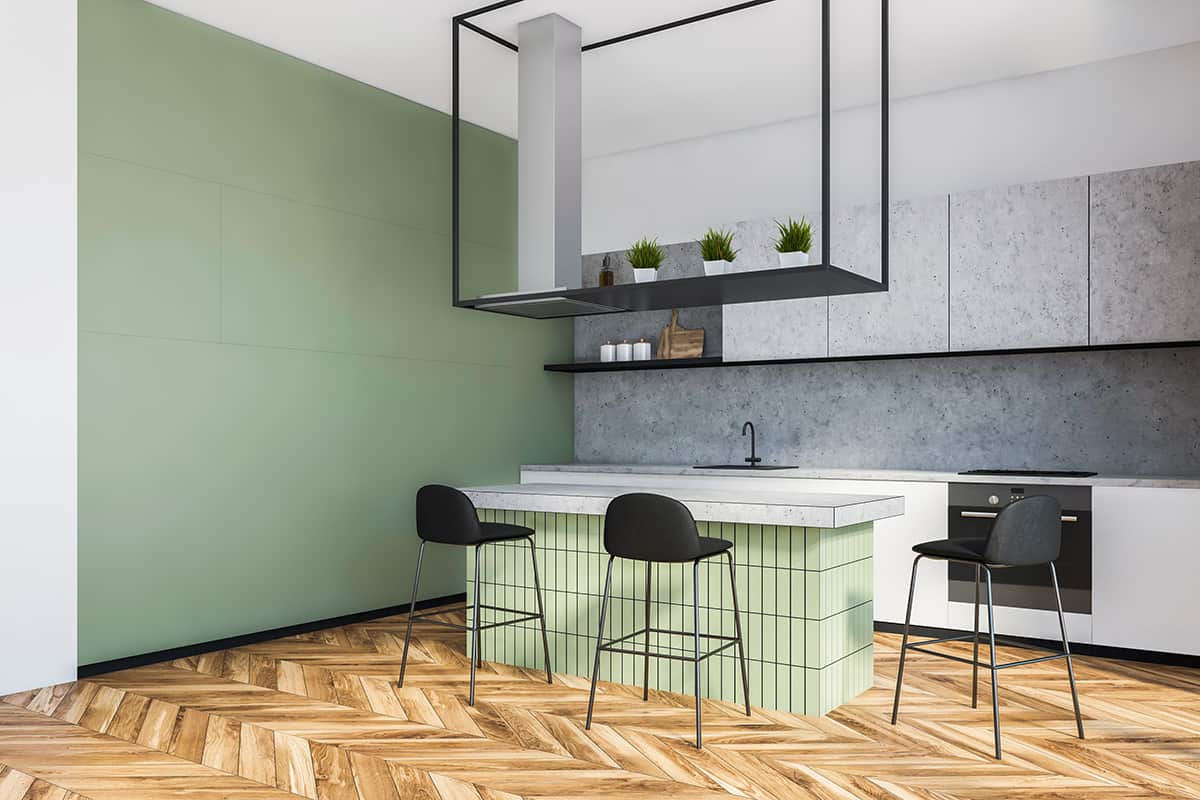 Aside from purple undertones, there are also gray shades with green undertones. A bright green wall next to light gray cabinets provides a flowing contrast that complements the neutral tone of gray.
Any soft or deep shade of green can be chosen for a modern kitchen with gray cabinetry. But you must also consider the lighting, especially if your kitchen lacks windows or natural light. Sage, mint or lime green hues look stunning next to warmer shades of gray.
This combination helps create an earthy vibe. You can also add hanging plants to complete the nature-inspired look. Note: we recommend green paint for just one wall of your kitchen so that it stands out next to soft gray cabinetry.
Red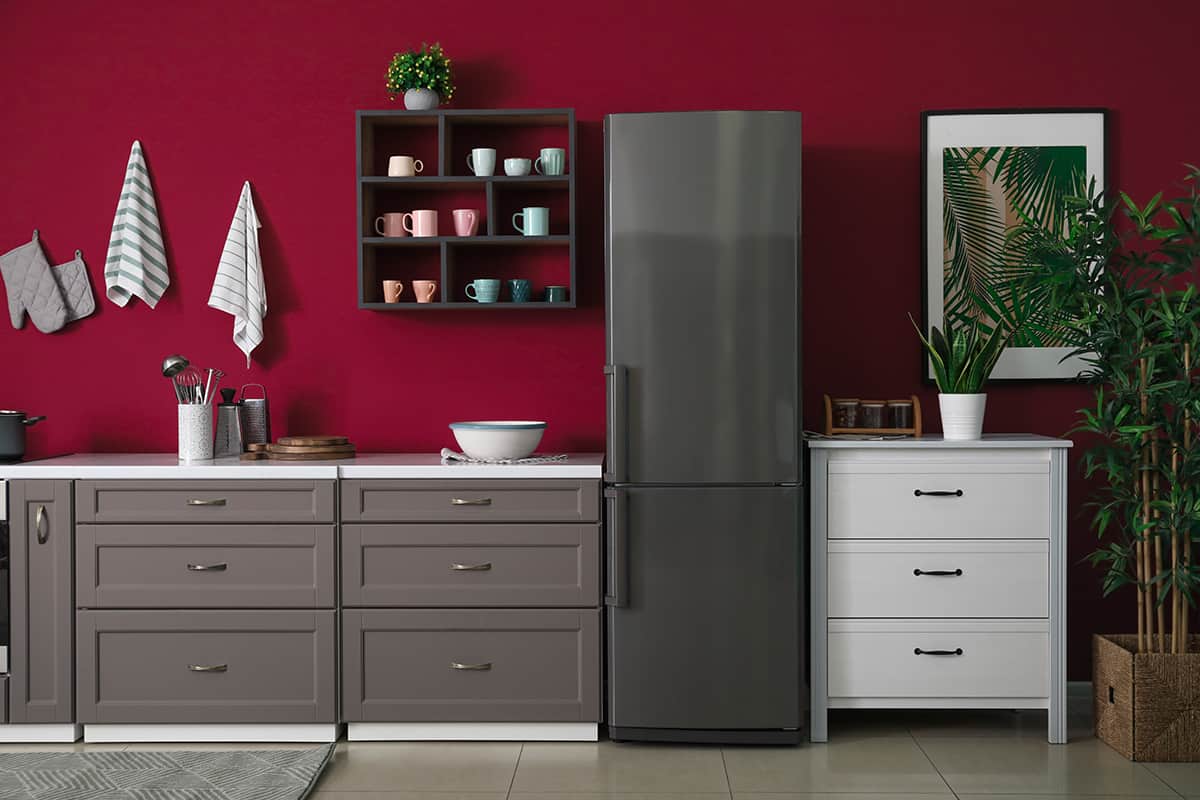 Contrast is everything when it comes to combining your gray cabinets with a wall color. Red is the best contrasting color that creates a more dramatic atmosphere. A red wall next to light gray cabinetry stands out in the kitchen and draws the eye towards it.
Light gray cabinets with a warm undertone look perfect with a burgundy or ruby red wall. This color combo makes a modern kitchen look sophisticated by transforming the space into a playful area. You don't have to use red sparingly as it may appear too overwhelming. Opt for one feature wall in a warm shade of red to stimulate appetite and promote cooking.
Yellow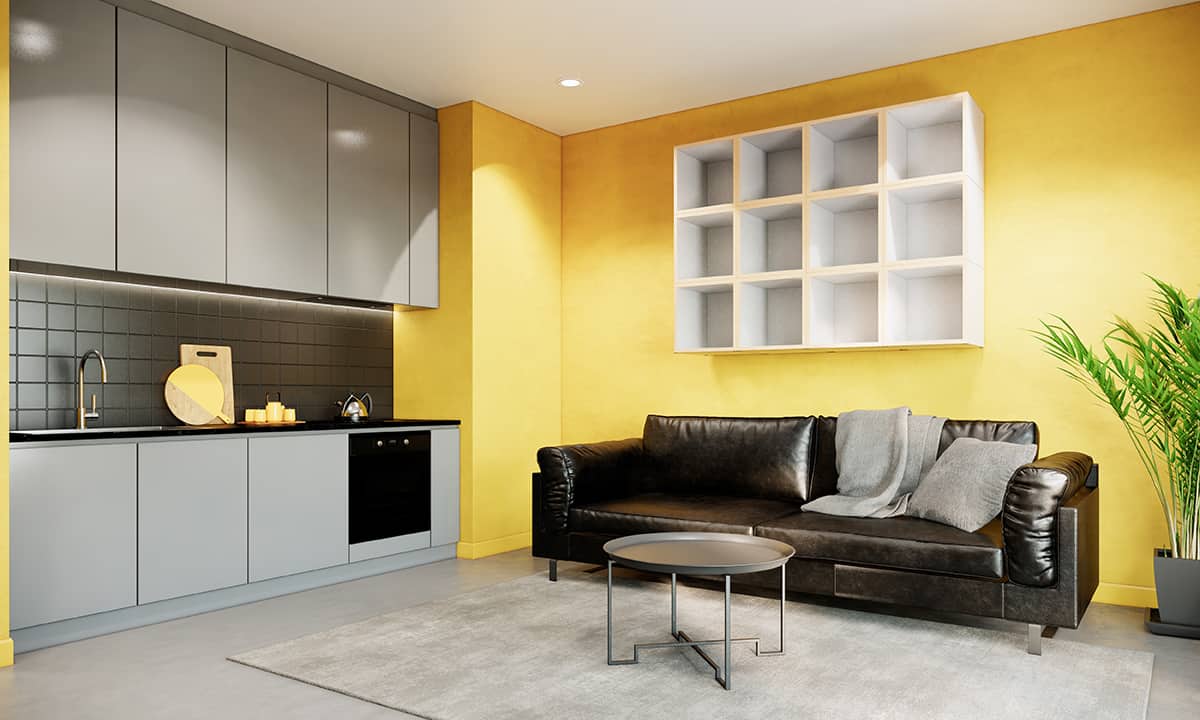 As a lighter alternative to red, yellow also works well with dark gray cabinets. This warm, soothing color does a great job of brightening up the kitchen, thus making it ideal for larger kitchens. Yellow paint is also great for a small kitchen as it can make the space appear larger and less cramped.
Your kitchen with gray cabinets will look bold and attractive when combined with vibrant yellow walls. To bring balance to the neutral and vivid colors, paint one wall yellow and leave the rest white or off-white. This way, you'll achieve neutrality with your gray cabinets whilst bringing a splash of color to the room.
Blue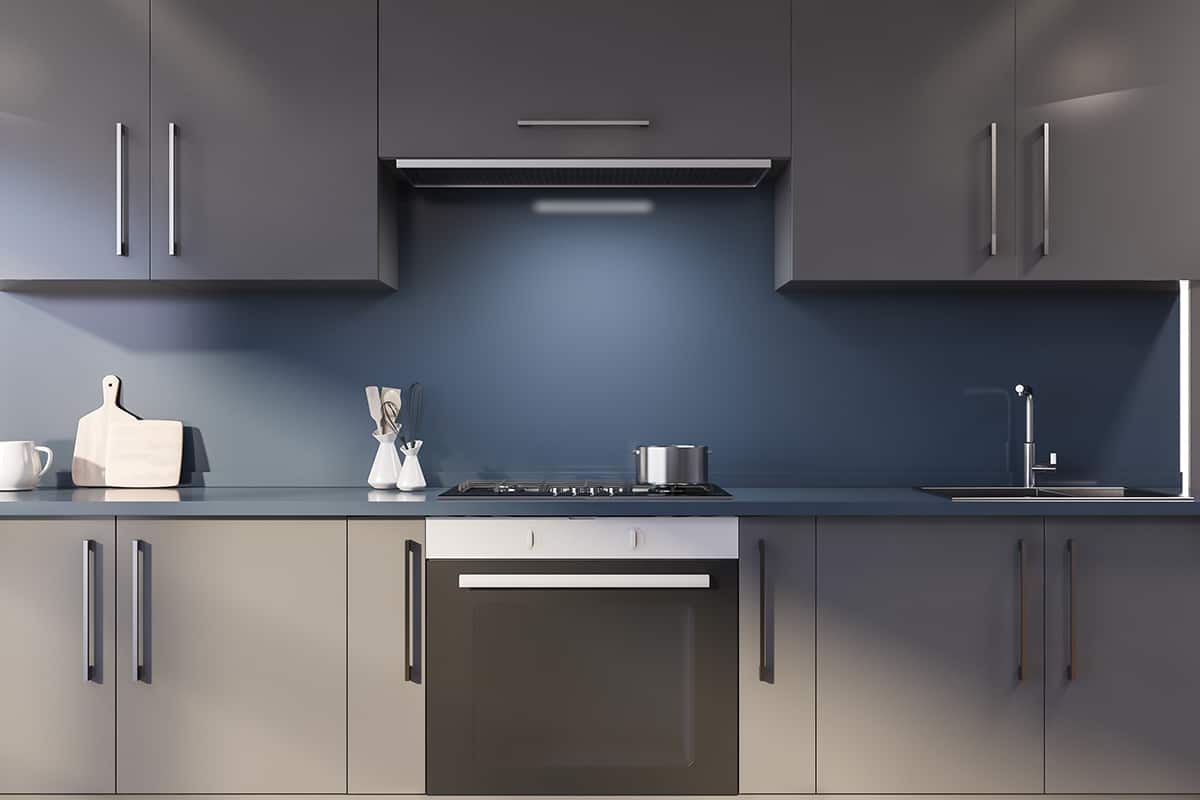 When you have dark gray cabinets, you might be forgiven to think a bold blue shade like navy will darken your kitchen. However, those who are seeking a splash of color in their modern kitchen should consider a dark shade of blue for the walls.
This color pairing will look absolutely stunning as dark blue and dark gray bring the whole look together. Dark blue also does a great job of making the space pop next to softer gray cabinetry.
Some people associate gray with industrial themed settings, but it doesn't have to be that way. Gray can look just as homely in a domestic kitchen. For example, gray shaker cabinets next to pastel blue walls can emit a welcoming feel in a rustic setting. Experiment with a range of blue paint colors to decide which one will look chic with your cabinet's gray shade.
Coral Pink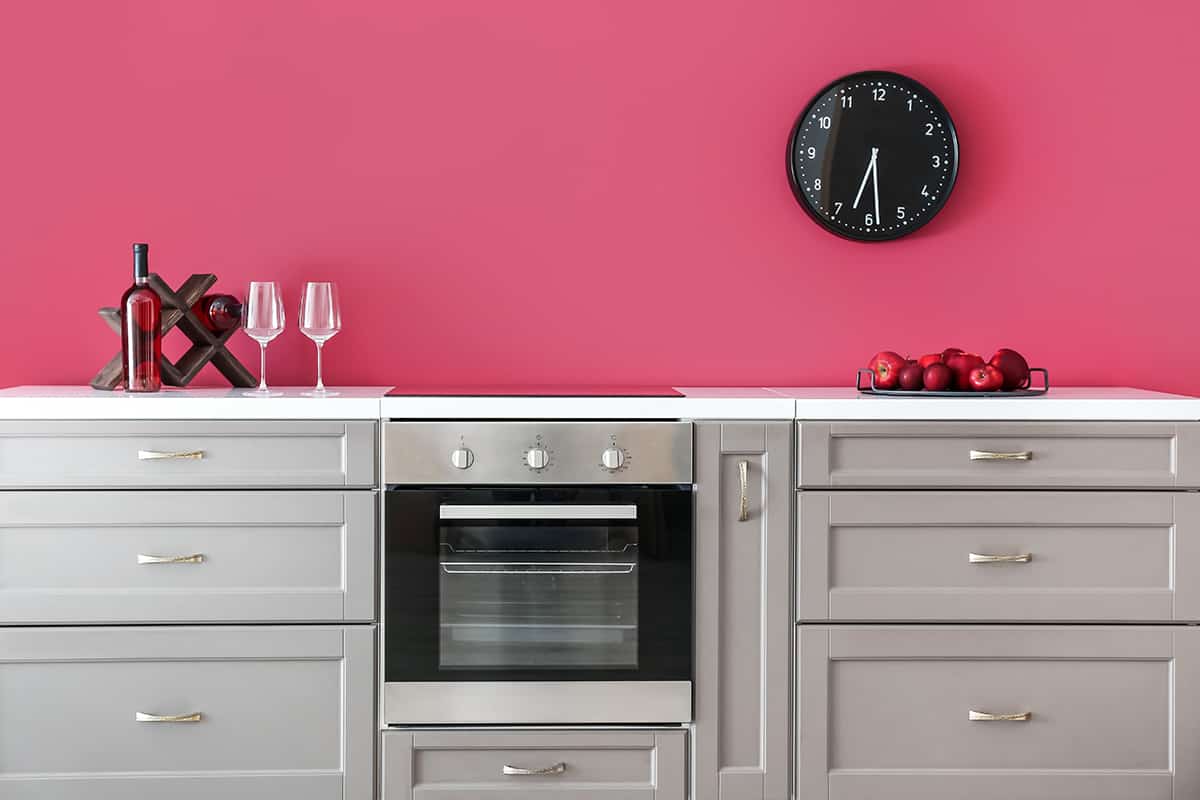 The timeless combination of coral pink walls with gray cabinets never fails to impress. This beautiful, pastel hue perfectly complements both light and dark gray kitchen cabinets thanks to the pink's calming yet vibrant tone. We love soothing pink shades like coral, salmon, rouge and ballet slippers, so consider any of these for your kitchen walls.
By painting your kitchen a soft shade of pink, you will instantly transform the gray cabinets and in fact the entire space into a comfortable and welcoming room. Although gray and pink are starkly different, such pairing is perfect in both traditional and contemporary style kitchens.
Coral leaves an eye-catching effect as a feature wall in the kitchen. When paired with gray, this vibrant color brings a calming and pleasant vibe to the kitchen.
Are Gray Kitchen Cabinets Trendy?
While it's true that gray isn't everyone's favorite color, it does work well with many other color schemes. If you want to give your kitchen a modern look, gray cabinetry will never go out of style. This evolving color keeps the kitchen fresh and sleek without overpowering the rest of the decor.
In terms of resale value, installing gray cabinets can be an excellent investment as it boosts the value of your home. This is something worth thinking about if you want to create a contemporary style kitchen design.
Since there are hundreds of gray shades to choose from, your kitchen cabinets can be the unique features of your home. So if you are wondering whether gray kitchen cabinets are still trendy, the answer is a big YES!
Conclusion
Whether you want to upgrade your entire kitchen or just repaint the walls, finding the right color wall for gray cabinets is an important decision. Based on our ideas, we found yellow, blue, beige and white especially attractive. If you choose a monochromatic color scheme, we recommend opting for a gray shade lighter or darker than your cabinets for contrast.