Just like tan and beige, caramel is a neutral color that blends well with bold hues. When you have painted your walls caramel, a classy addition to your living or sleeping space is a combination of cool and warm tones for a perfect balance.
This warm-toned color goes well with any decor or furniture style, but what colors can you pair with it for a cohesive look? Caramel works with almost any other color, including white, pink, gray, orange, blue, and many more.
Whether your home is boho, contemporary, mid-century modern, or rustic, there is perhaps no other wall color quite like rich caramel that adds a beautiful touch to your space. The welcoming nature of this color makes it super easy to pair with other furniture and decor colors. After all, caramel won't overwhelm your space so you are free to play around with your furniture colors.
To get an idea of the best colors that go with caramel walls, here we present you with some great examples of furniture and decoration color schemes that work with this warm, neutral wall color.
Color Schemes that Go with Caramel Walls
A Combination of Brown and Gold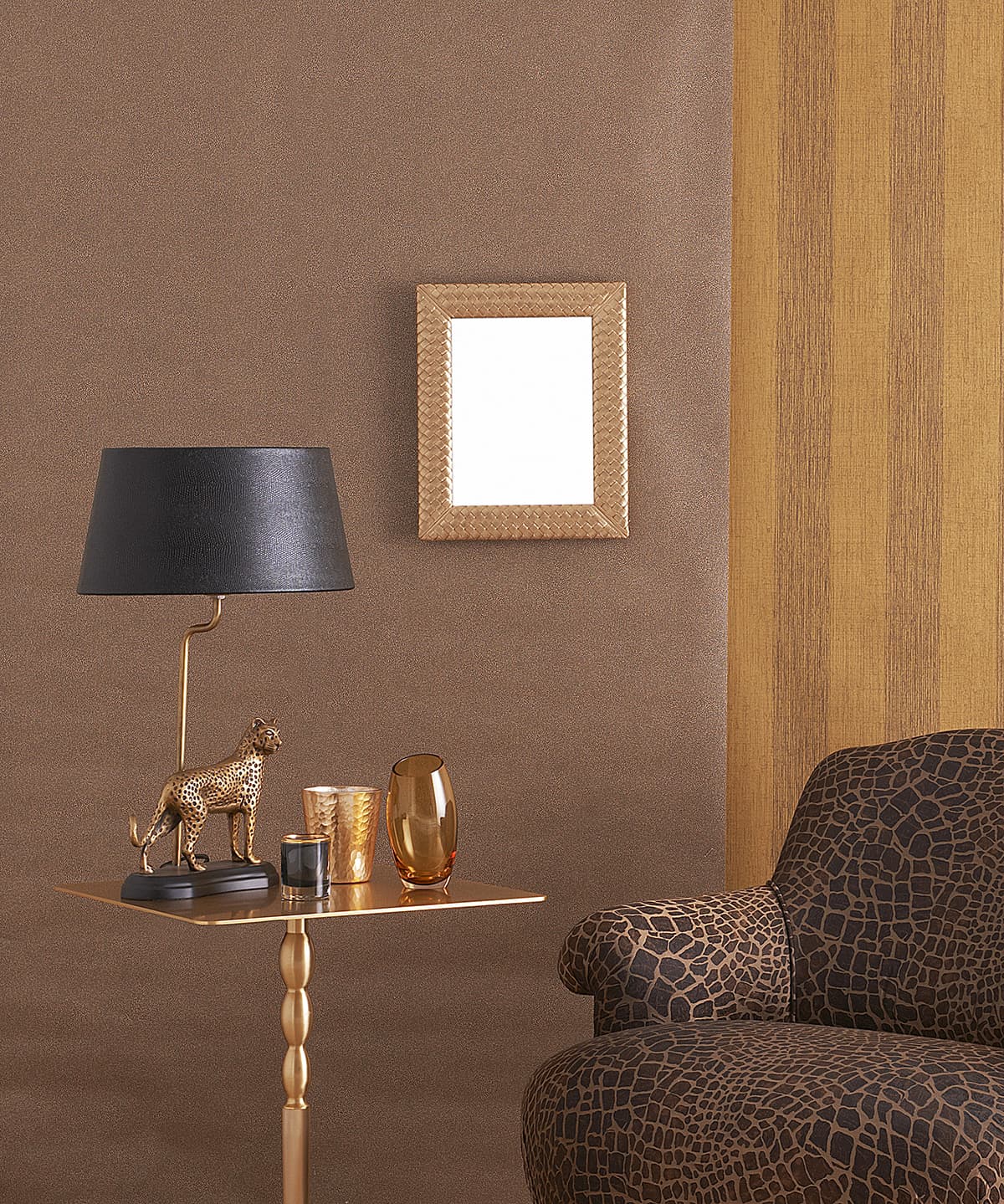 If you want your living room or bedroom to radiate a warm feeling, consider mixing gold and brown furniture and accessories with your caramel walls. The caramel walls will act as a perfect backdrop to darker shades of brown.
For example, gold-framed mirrors and a dark brown sofa create a cohesive look with a rich caramel tone. This color is very similar to khaki, thus pairs well with darker shades or even brown leather furniture.
For the flooring color, choose the same shade as the wall and add gold-color throw pillows to dress the dark brown sofa with. A combination of gold and brown is an effortlessly cohesive design that goes hand in hand with rich caramel walls as shown in this example.
Turquoise and Brown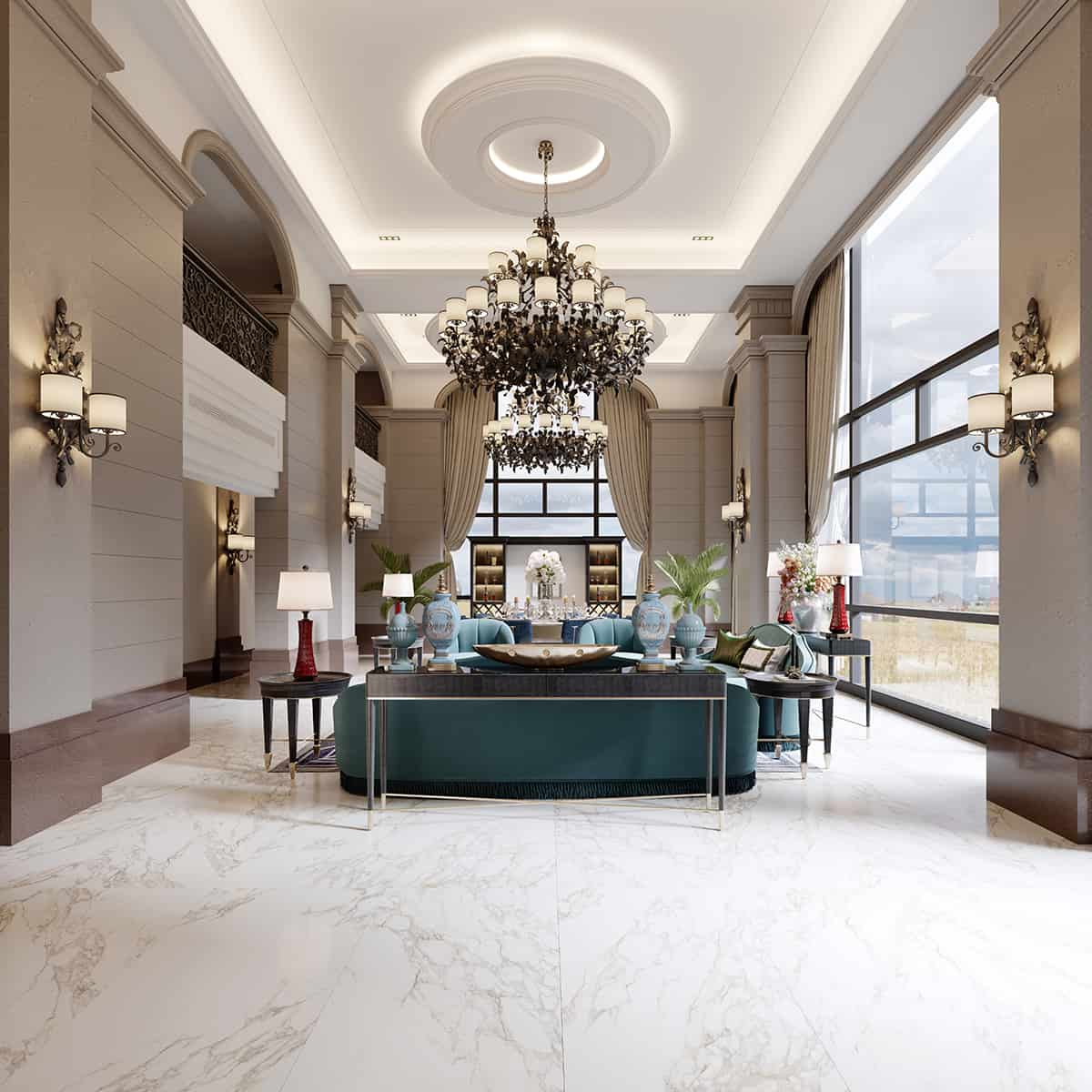 A contrasting shade of blue like turquoise blended with a rich brown shade is the ultimate on-trend in the world of interior design. This sleek, modern color scheme works brilliantly in bedrooms and living rooms with caramel walls.
The colors turquoise and brown directly contrast each other, thus allowing you to decorate your interior in a versatile way. These two colors go with both vintage and contemporary decor, so in rooms with caramel walls, you can add turquoise seating furniture or window treatments with brown coffee tables and of course, caramel walls.
White and Light Blue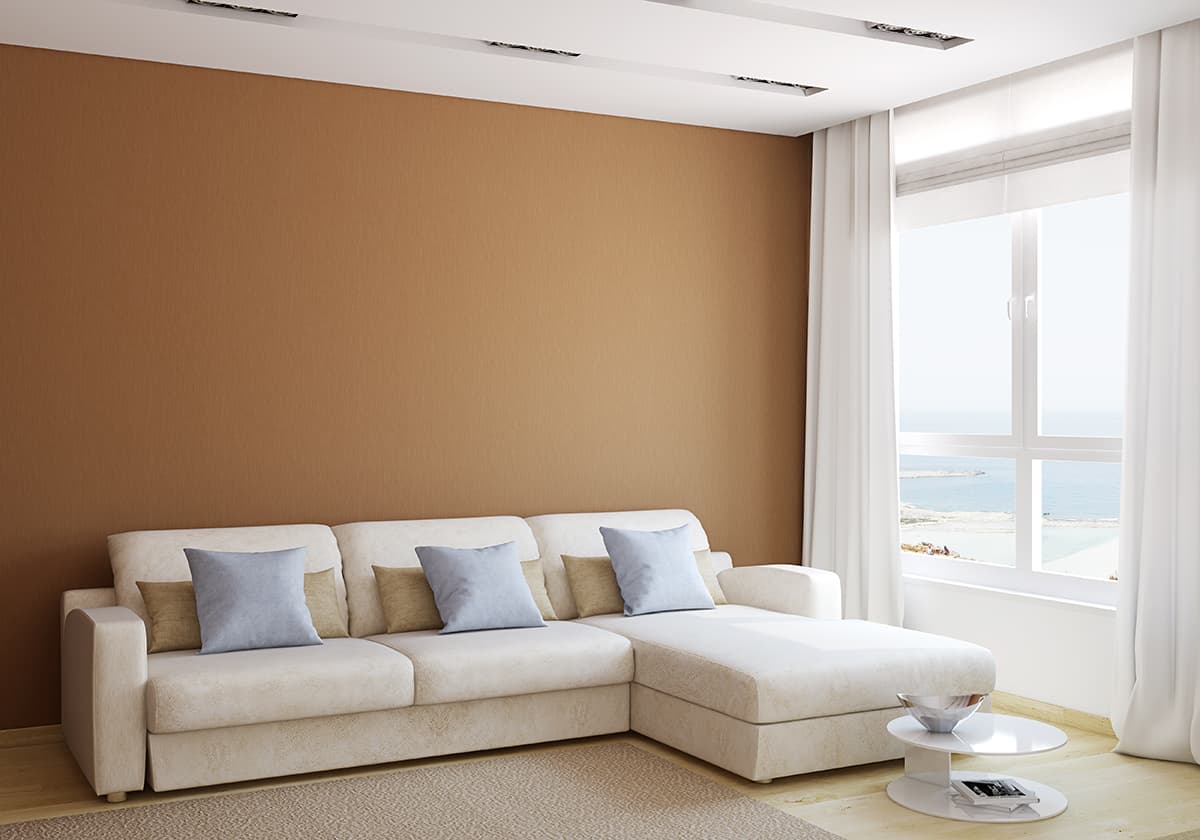 A lighter shade of blue that's softer than turquoise can be the perfect blend with white furniture and caramel walls. This simple, clean color contrast works wonderfully with light caramel walls as it adds a traditional flair to the room.
See how modern and luxurious this living space feels thanks to the light blue throw pillows, crisp white couch, and light caramel wall serving as the backdrop.
Yellow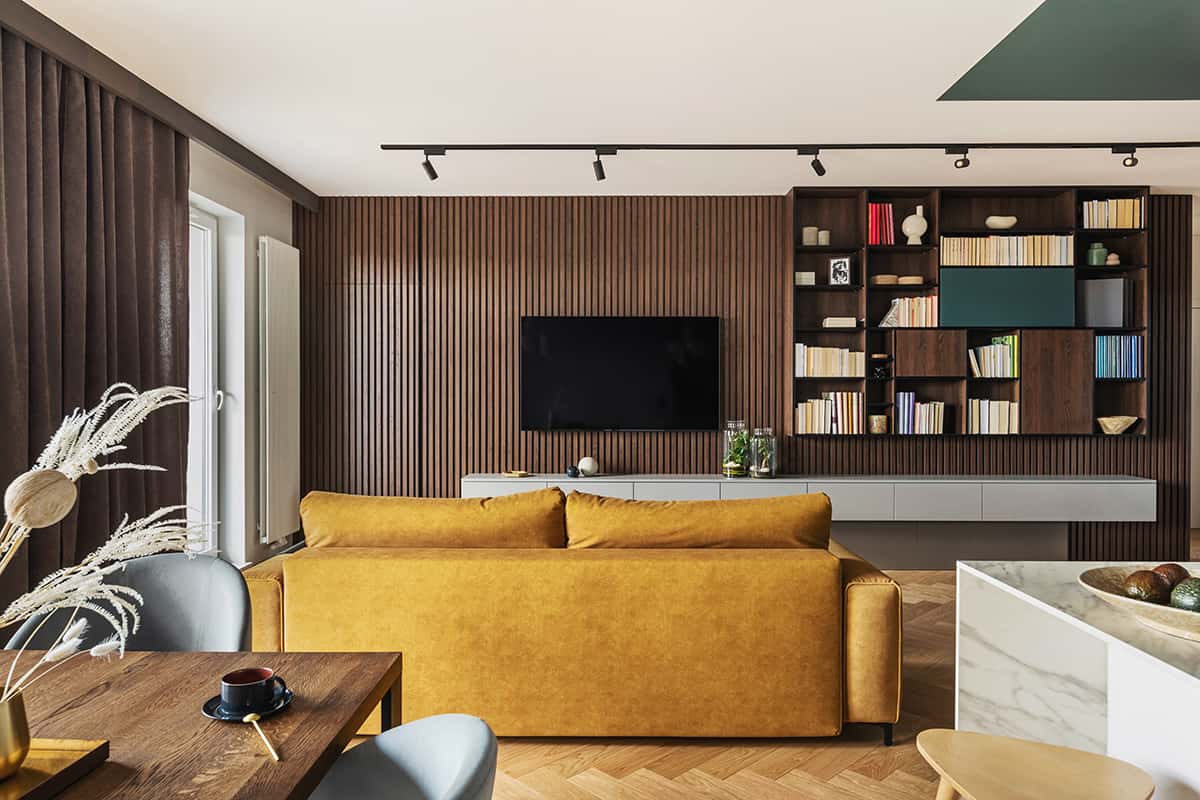 Yellow is an incredibly close color to caramel, so it makes sense to add this vibrant hue to your interior. A bright shade of yellow emits fun and liveliness, and when it is blended with caramel, it brings an energetic charm to your modern or vintage interior.
The yellow couch in this living room has made the space pop against the brown undertone of the caramel walls. With yellow, you get the best of both worlds in terms of modern meets traditional.
Gray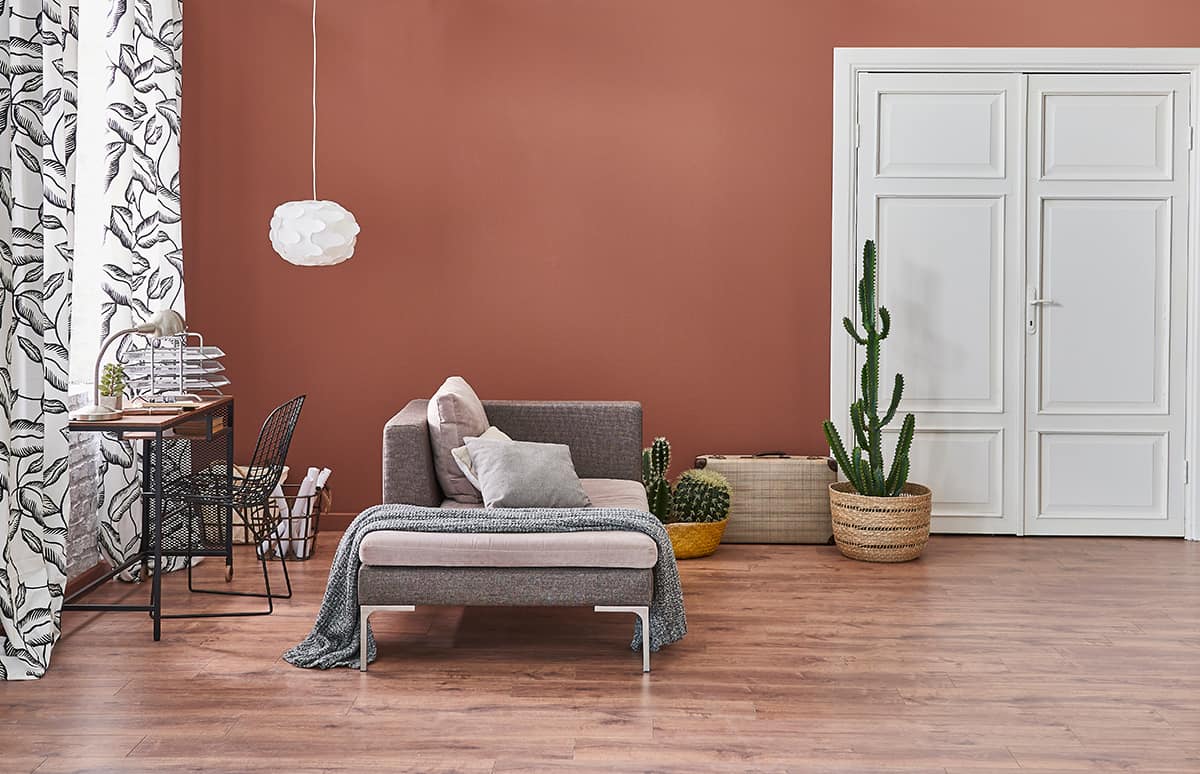 In a modern-style bedroom, having caramel walls allows you to add neutral furniture for a cozy contrast. Gray bedding, for example, is an excellent choice for a bedroom with caramel walls.
This color pairing allows you to add a modern twist to your bedroom without having to use bold colors.
Rust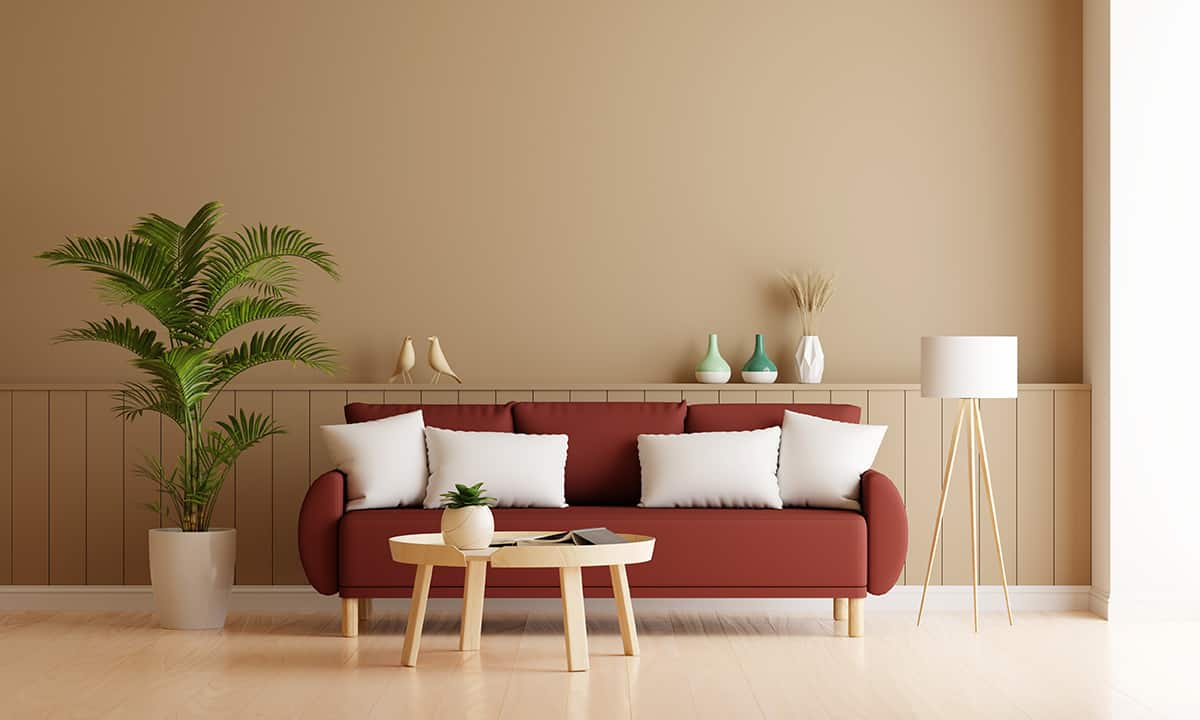 To boost the warmth of your living room's caramel walls, pair them with a warm-toned shade of red like rust. This shade is a mix of brown and red, which works perfectly with caramel.
The color scheme goes with most decor styles, from rustic and boho to mid-century modern and eclectic. You can choose a rust sofa and dress it with white pillows like the one shown here. The seating furniture will be the focal point of the room with light caramel walls.
Other Colors that Complement Caramel Walls
Jeweled Tones
When caramel is paired with jeweled tones like reds and greens, this brown shade becomes a neutral hue that sits in the background.
The richness of caramel highlights the reds and greens, which further enhances the visual interest. Mix this color scheme with some caramel accessories, including throw pillows or lamps in order to let the caramel shine.
Pastel Colors
Aside from jeweled shades, pastel colors also pair well with caramel brown walls. Think baby blue or coral pink. These pastel shades can be incorporated as accents into a room with caramel walls, with the caramel serving as the dominant color.
Add cream window treatments to this pastel and neutral mix to complete the look and frame the room.
For rustic or mid-century style bedrooms with caramel walls, for example, you can use soft, pale blue for the trim and decorate the bed with pink bedding. Add a few white pillows to break up the caramel. You can even make your bedroom or living room pop by using a combination of pale blue and caramel wallpaper.
Green
Earthy, warm shades of greens go a long way in visually enhancing a living room or bedroom. When combined with light caramel walls, green furniture or accessories lend an air of sophistication.
Consider blending this earthy color with brown wooden furniture. We recommend mint green as it evokes an organic feel in the overall ambiance of the bedroom or living room. You may also use a lime green floor covering to give off a soft yet masculine vibe to the room.
Lime green also works as the sofa color. This helps brighten up your room's caramel walls. But if lime is too overpowering, opt for a softer shade of green, such as olive or sage. These earthy tones pair wonderfully with caramel brown walls as they help highlight the richness of caramel.
Orange
Orange is a warm-toned color that goes hand in hand with the neutral caramel brown walls. When you blend your caramel brown walls with orange accessories or seating furniture, you will create an amazing contrasting effect that's full of vibrancy and energy.
By blending these two warm colors in a living room, you can enjoy an ultra-modern and trendy interior. Include some chocolate brown tables or dark hardwood flooring to this combination for even more contrast with the orange.
By opting for such an interior, the orange undertone of your furniture or accessories is sure to give off an air of elegance to the modern room with caramel walls.
Is Caramel a Shade of Brown?
Caramel has a golden-brown undertone, with some red and yellow as well. Although some people associate this color with gold, it is browner, so yes, the color caramel is a shade of brown, which makes it a warm, neutral shade. This means it can be paired with most other contrasting and complementary colors, especially if you use this color for your living room or bedroom walls.
What Color Contrasts Caramel?
Blue is the contrasting color to caramel as it sits on the opposite color wheel. But this doesn't mean you can't pair blue with caramel. The two colors don't clash and are usually considered complementary pairs.
For a deep contrast, navy works best as it brings a warmer vibe to the space than lighter blues. Other contrasting colors to caramel also include purples and greens. You can pair your caramel walls or furniture with any of these colors for a pop of color.
What Colors Complement Caramel?
Any neutral shade no matter the tone complements the color caramel. Since caramel brown has a warm, earthy undertone, it can be paired with other warm and brighter hues, including pinks, yellows, oranges, reds, and of course, browns.
Conclusion
Whether you're planning to boost your interior's vibe or just looking for a great color pairing option with your caramel walls, this neutral brown color allows you to combine it with many contrasting and complementary color schemes.
You can have caramel walls in your bedroom, living room, kitchen, or dining room. But when it comes to choosing the right furniture or decor color combinations that work with this neutral brown hue, our ideas should help you make the right decision for any space in your home.