Rust is an orange-brown shade with a subtle hint of red. It is very heavily saturated, which gives it an intense depth, and it is undoubtedly warming and rich. Rust is a similar shade to cinnamon, and it is a beautifully striking color to use in both fashion and interior design.
In fashion, rust is a color commonly worn with jeans and other garments made from blue denim; this is because rust is a shade of orange, and denim is a shade of blue, and these two colors are opposite sides of the color wheel, making them complementary and contrasting colors to each other.
Interior design color palettes take their cue from this, and you will find that various shades of blue are the most common colors used with rust in home decor. Here we will look at the different shades of blue that work best with rust, as well as some other colors you could consider using with this shade.
Indian Summer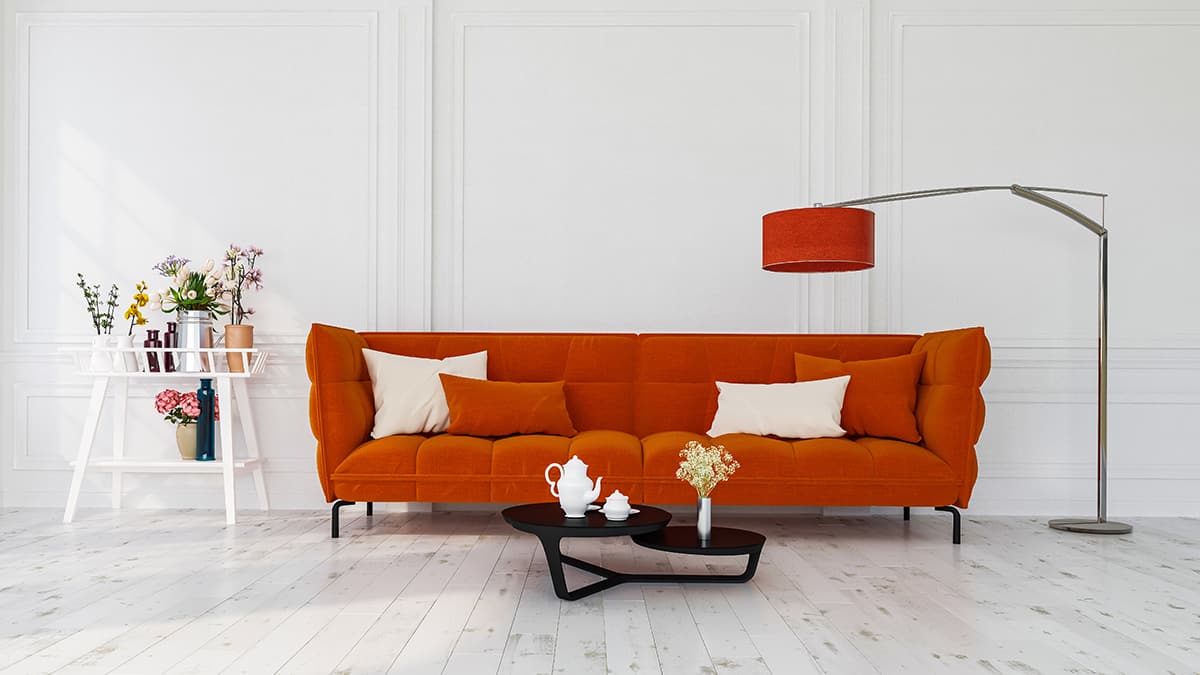 Colors to pair with for this style: Stark white
The warmth of rust is balanced out by the crisp freshness of stark white in interior decor themes with an Indian Summer vibe. An Indian Summer is the period of hot and dry weather enjoyed in the fall, where the mix of autumnal shades like rust meets with the brighter shades of summer, like white.
Using these two colors together creates a space that is edging towards cozy and comforting while also hailing to a more invigorating time, just like an Indian Summer. Choose white walls and rust-colored bed sheets to transform a bedroom into a haven of light and warmth, or consider a rust-colored tile backsplash to bring richness to a stark white kitchen.
Refined Rust
Colors to pair with for this style: Navy Blue
You can achieve a more refined style by pairing rust with navy blue in any area of the home. As a shade of blue, navy provides a beautiful contrast against rust, but as it is a darker shade as opposed to a bright shade of blue, the contrast is interesting and defined without being too intense or overwhelming.
Choose a navy blue tufted sofa with a rust-colored throw draped over the back of it for an understated elegance.
Bold Blue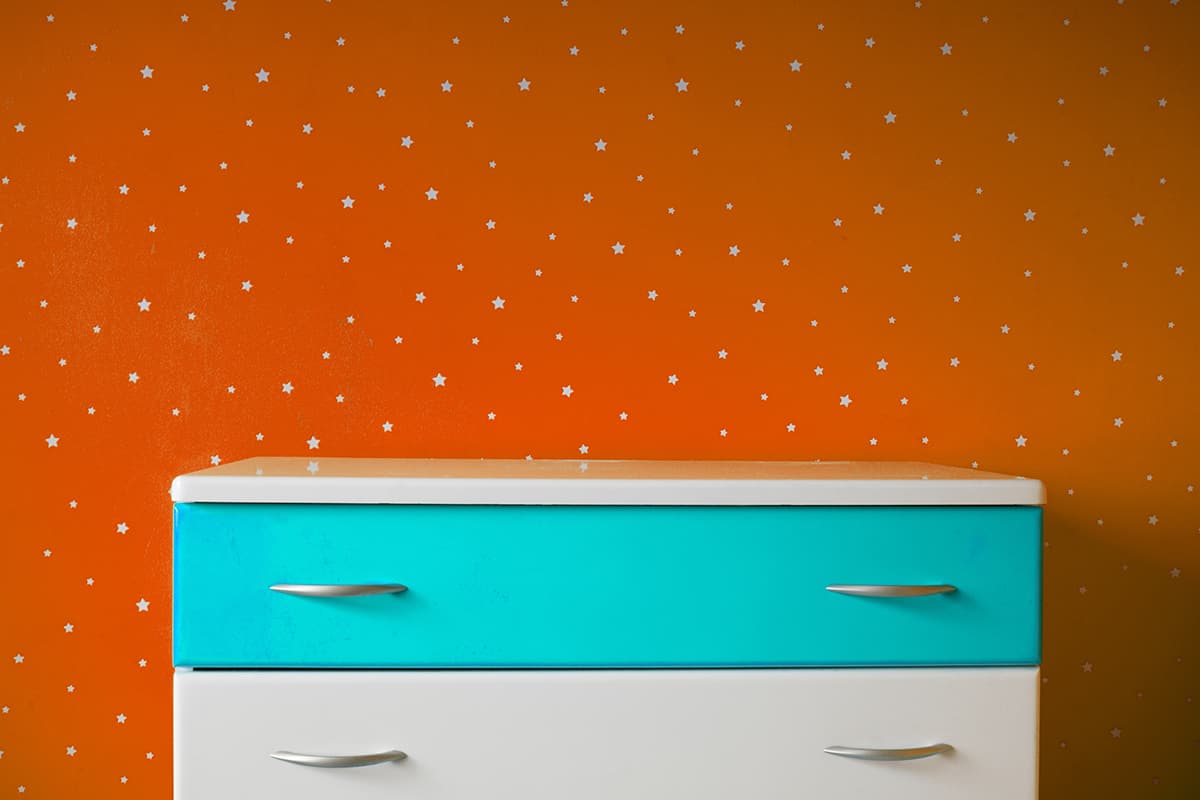 Colors to pair with for this style: bold blue (such as turquoise)
To intensify rust, pair that color alongside a bold shade of blue such as turquoise. These two colors work to make each other appear even more vivid and extreme, so they should be used sparingly and with a third neutral color such as beige or white.
Use pops of turquoise to bring life to a rust-colored room, such as a turquoise vase or a turquoise rug. Alternatively, in a room that is predominantly turquoise, you could use rust-colored accessories to create a bold contrast, such as with rust plant pots or rust cushions.
Retro Rust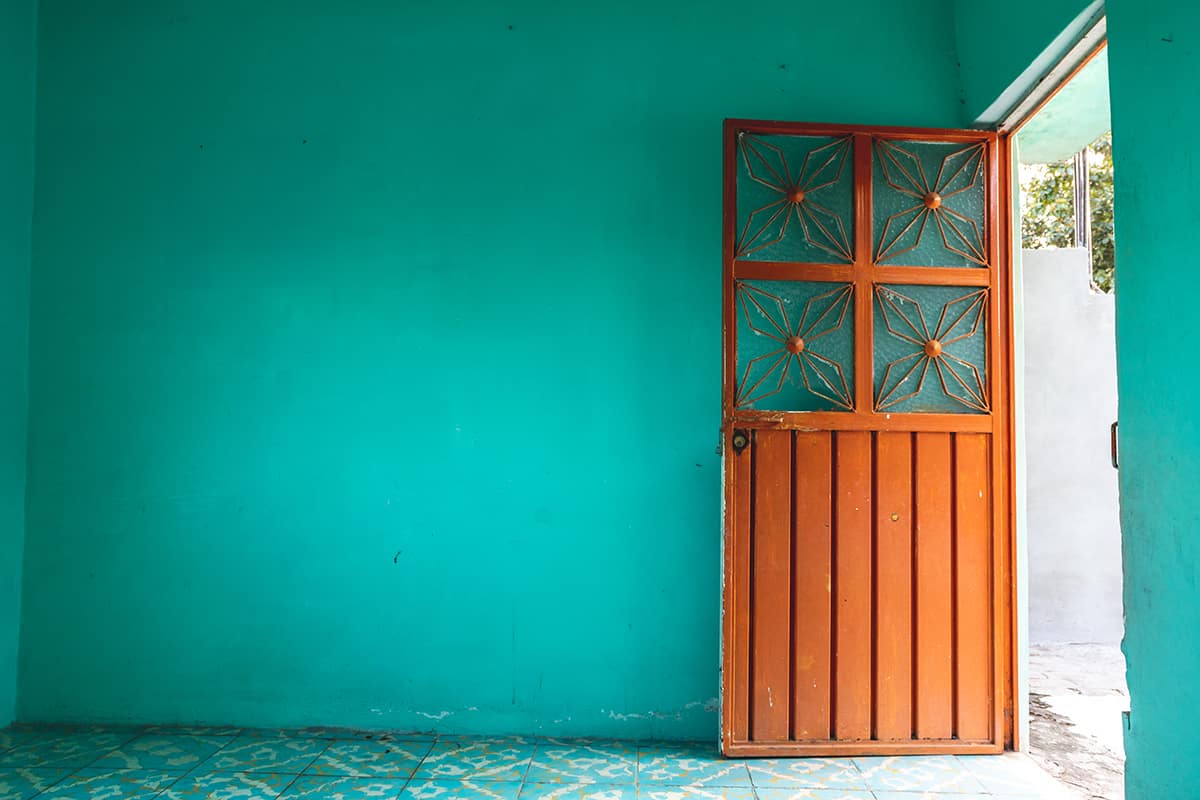 Colors to pair with for this style: teal
Rust is a color that can work in both retro and modern styles; it just depends on which colors you choose to put with it. If you are leaning more towards a retro or vintage look, then use teal with rust.
These two colors together create a retro feel that can be highlighted with homely style textures, such as crochet cushion covers or tapestry-style upholstered sofas. Cream or brown would also be a good addition to this color palette to break up the two bold shades while also maintaining a retro vibe.
Autumnal Comfort
Colors to pair with for this style: autumnal colors (shades of purple and red such as plum, burgundy, merlot, mustard)
Rust is a color strongly associated with autumn because of the changing colors of the leaves on deciduous trees before they shed their foliage. Many trees of this kind will have leaves that develop from green in the spring, to rust, pink, and golden colors in the fall, before falling to the ground.
This is a season that has a warming and comforting feel for many people, so if you want to recreate this atmosphere in your home, then you should set a color palette containing a selection of autumnal colors.
This could include dark shades of purple and red, such as mulberry, plum, burgundy, and merlot, as well as some yellow-toned golds and mustards. Layering these colors throughout a room will result in a space that feels rich and inviting, where you want to snuggle up and rest in front of a log fire.
Warm Neutral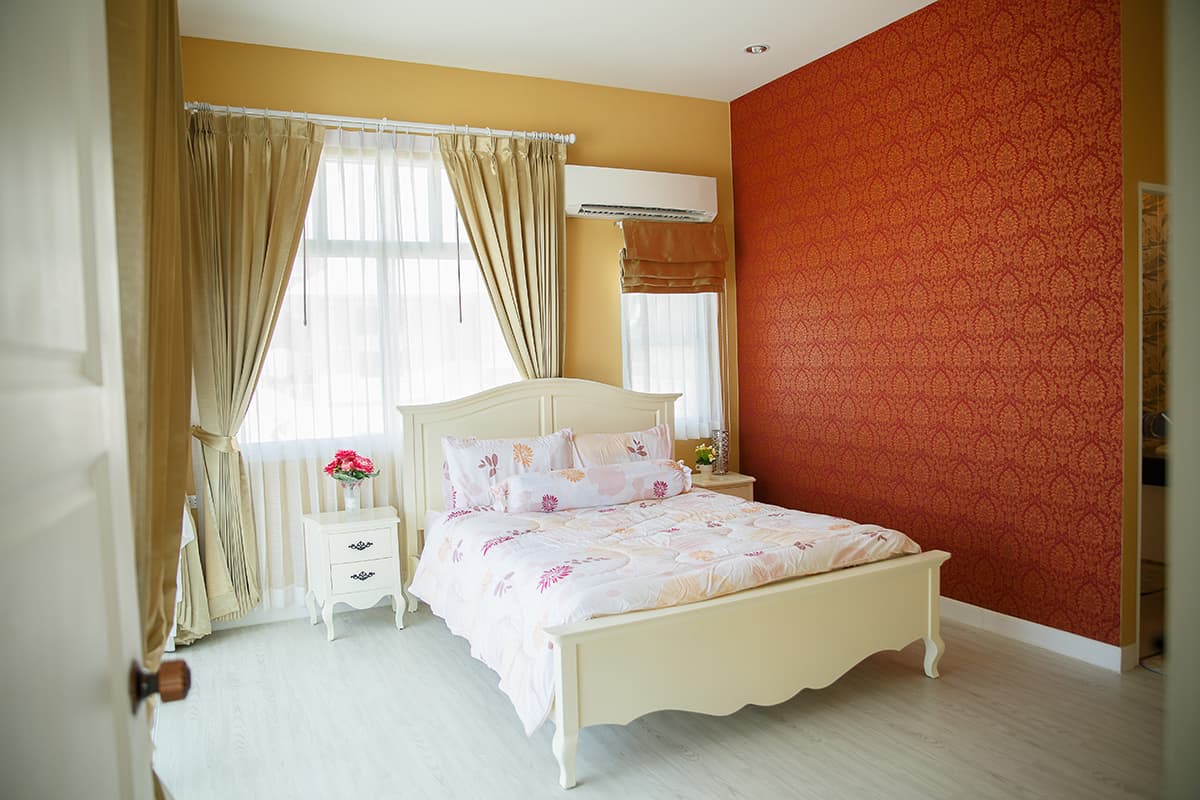 Colors to pair with for this style: paler neutrals such as oatmeal and cream
Despite being a shade of orange, rust almost feels like a neutral shade because it is similar to tan and other shades of brown or beige that fall into the neutral category. Use rust with some paler neutrals such as oatmeal and cream to create a space that feels both warm and casual.
You can also experiment with various shades of rust to achieve the right contrast in terms of light and dark, such as dark rust with cream for a more defined contrast or pale rust with tan for a much more subtle effect.
Golden Glamor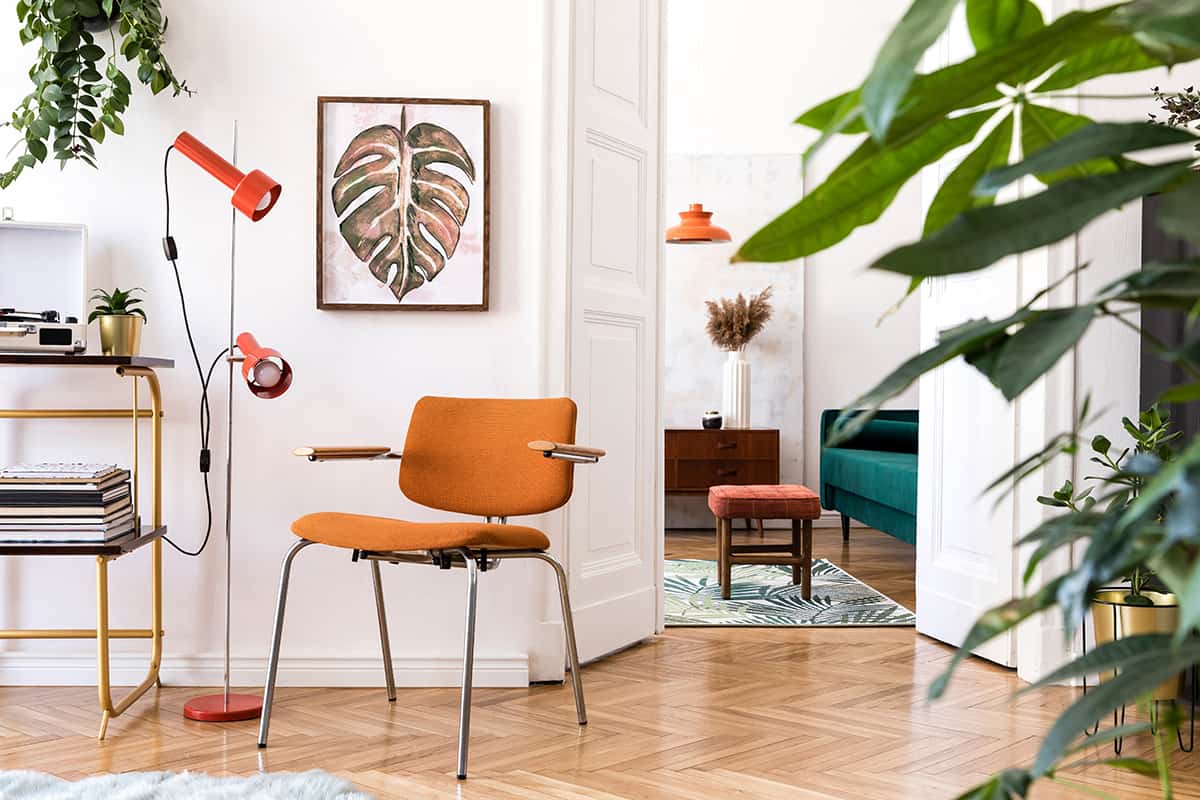 Colors to pair with for this style: gold colors
Use luxurious fabrics in rust alongside golden metallics for a glam effect in your home. This could include rust velvet cushions with a piped edge in a gold metallic thread or heavy suede drapes in rust hanging from a gold curtain pole.
Gold brings out a more sophisticated side to rust, while the two colors create a nice tonal effect as they are both warm shades. Commit to an entirely gold and rust space for an indulgent style, or incorporate a neutral such as cream or white as a base color.
Elegant Emerald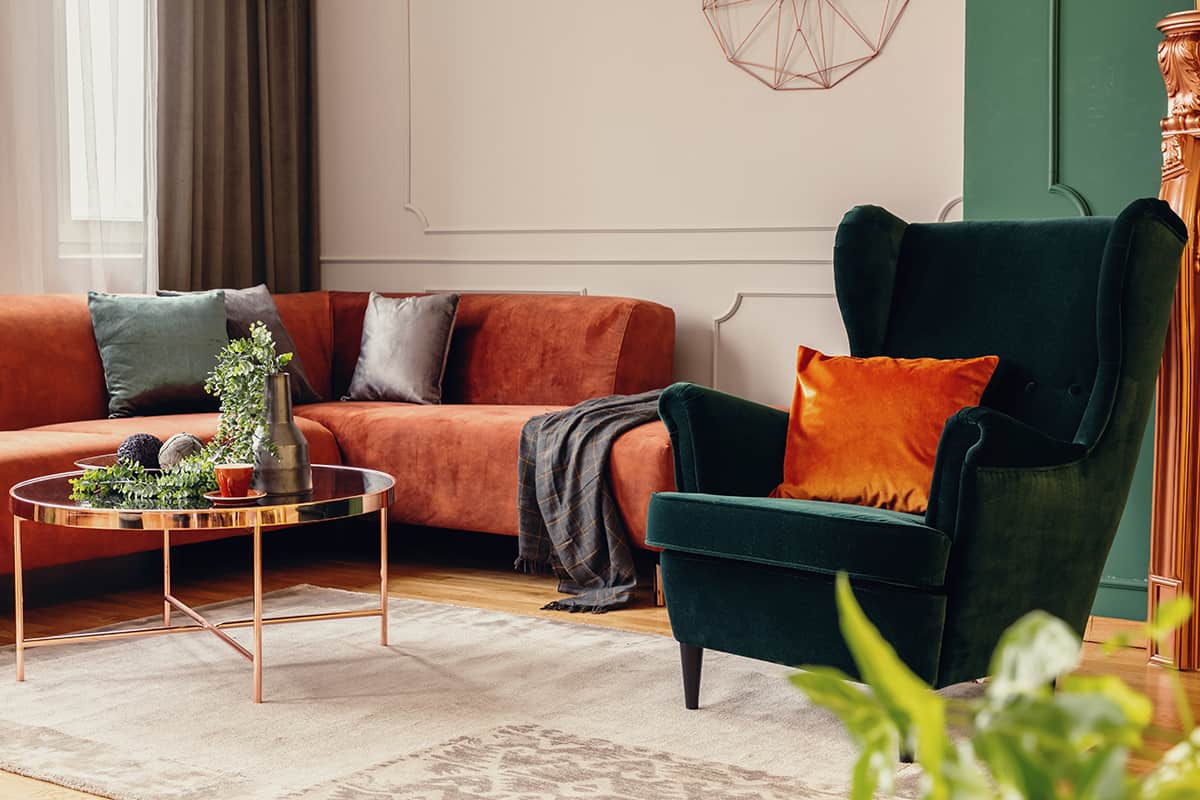 Colors to pair with for this style: emerald
For a bold contrast that feels invigorating and elegant at the same time, pair rust with emerald. These two saturated shades have a depth that makes them intensely atmospheric.
They can be used to create an exotic-inspired look, for example, with a rust-based wallpaper featuring a large emerald leaf print, or they can work to achieve a more sophisticated look by using classically shaped furniture in a mid-century modern style.
Add black accents to a rust and emerald color scheme to add definition, for example, with black metal side tables or black framed art hanging on the walls.