A backsplash is the name given to the protective surface which covers the wall directly behind a kitchen countertop or behind the vanity unit in a bathroom.
Traditionally this is made from tile, which works well because it is hard-wearing and resistant to stains and splashes caused when cooking. If you don't like the traditional feel of the backsplash and want something different for the kitchen or bathroom, here are some excellent backsplash alternatives
Alternatives to Tile Backsplash
Tile backsplashes tend to be expensive, and since they need to be grouted and applied professionally, just the labor cost alone can be huge.
If you want to create a DIY backsplash, then the tile isn't going to be the best material to use unless you have experience in tiling. Many people are looking for backsplash alternatives that are lower in cost or which don't require professional installation. But alternatives to tiles are also gaining popularity for other reasons.
Some people find tile backsplashes to look too traditional or outdated, and plenty of interior designers are opting for different materials when it comes to the backsplash to give a fresh and modern look. Let's take a look at some of the best backsplash alternatives available on the market right now.
Glass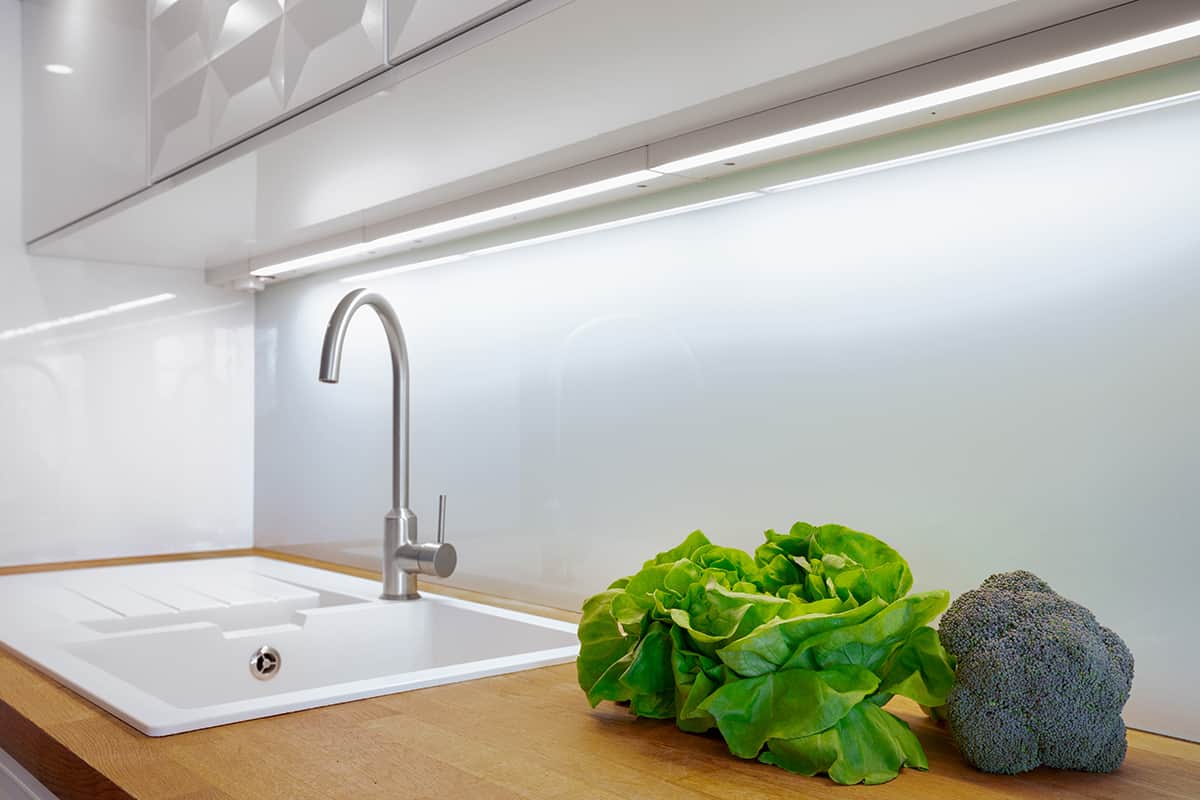 Glass backsplashes have been around for quite some time, and they are showing no sign of going anywhere. If anything, they are growing in popularity as more styles and options become available. Glass splashbacks must be made to measure so that they fit exactly to your wall without the need for any joins, but this doesn't necessarily mean you have to hire a professional.
There are numerous websites that offer custom glass backsplashes, where you can enter the dimensions that you need, and they will deliver the custom-cut glass right to your door. A glass backsplash will be made from one large sheet of glass which then gets fixed directly to the wall.
These types of splashbacks come in so wide varieties that you can select a colored glass in almost any shade; in fact, many companies will color match so that you can have your glass backsplash perfectly coordinating with another decorative element of the room, such as the kitchen cabinets, or the bathroom towels.
Glass backsplashes are also available in different textures, for example, frosted glass, or you could choose a glass with a pattern printed on the back of it. Examples include floral glass backsplashes, striped glass backsplashes, and landscape glass backsplashes. A glass splashback is a great choice because it is typically much more cost-effective than tile, costing anywhere from half to a third of what you would pay for a good quality tile backsplash.
From a functional perspective, they work really well, too. Glass is an easy material to wipe clean, and it is not porous, so it will not suffer from stains when cooking grease and other liquids splash against it.
Stone slabs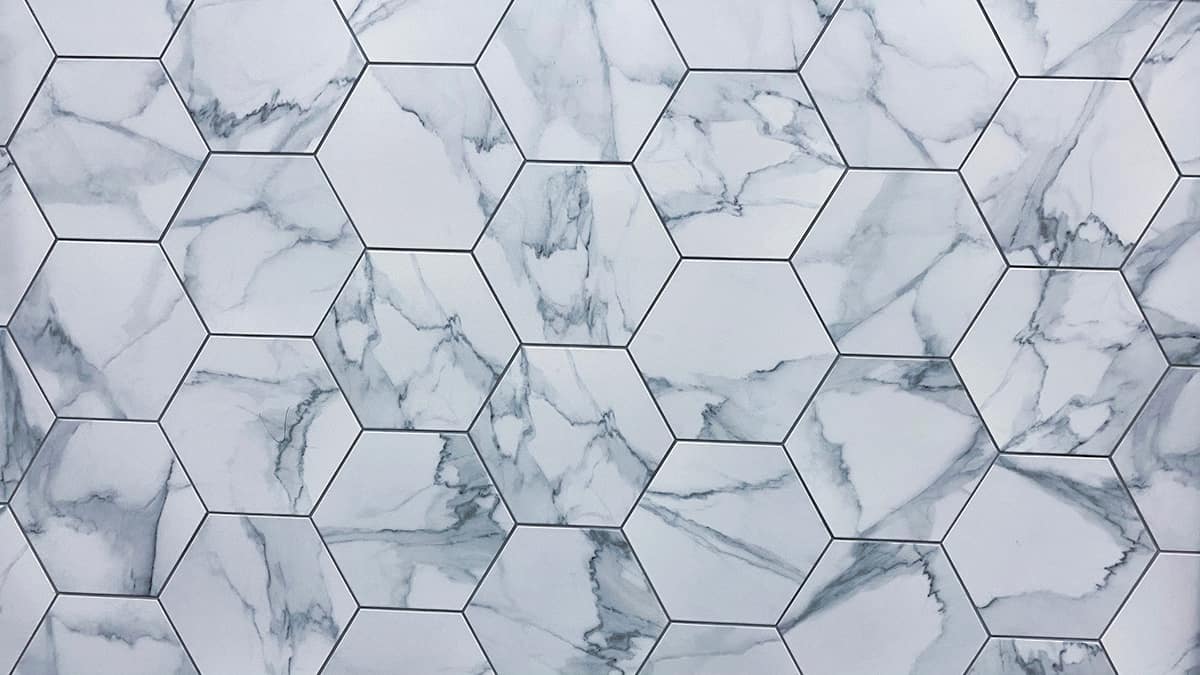 Stone slabs are available in a similar form to the sheets of glass used in place of a backsplash. They come in various types of stone such as marble, and like glass, they will need to be custom cut to size. A stone slab backsplash is easy to keep clean and maintain, and it creates a very high-end, luxury look. The main drawback with this type of backsplash is that it is very expensive, but if money is no object, then it's an appealing choice.
You can match your stone backsplash to your stone countertops for a seamless look or use a different material to add interest. If you have your heart set on a stone backsplash but are trying to keep costs to a minimum, you can instead install a length of stone just a few inches high at the point where your countertop meets the wall. This is known as an 'upstand' and is like a miniature version of a backsplash. You get the luxury look of stone without the enormous price tag.
Vinyl wallpaper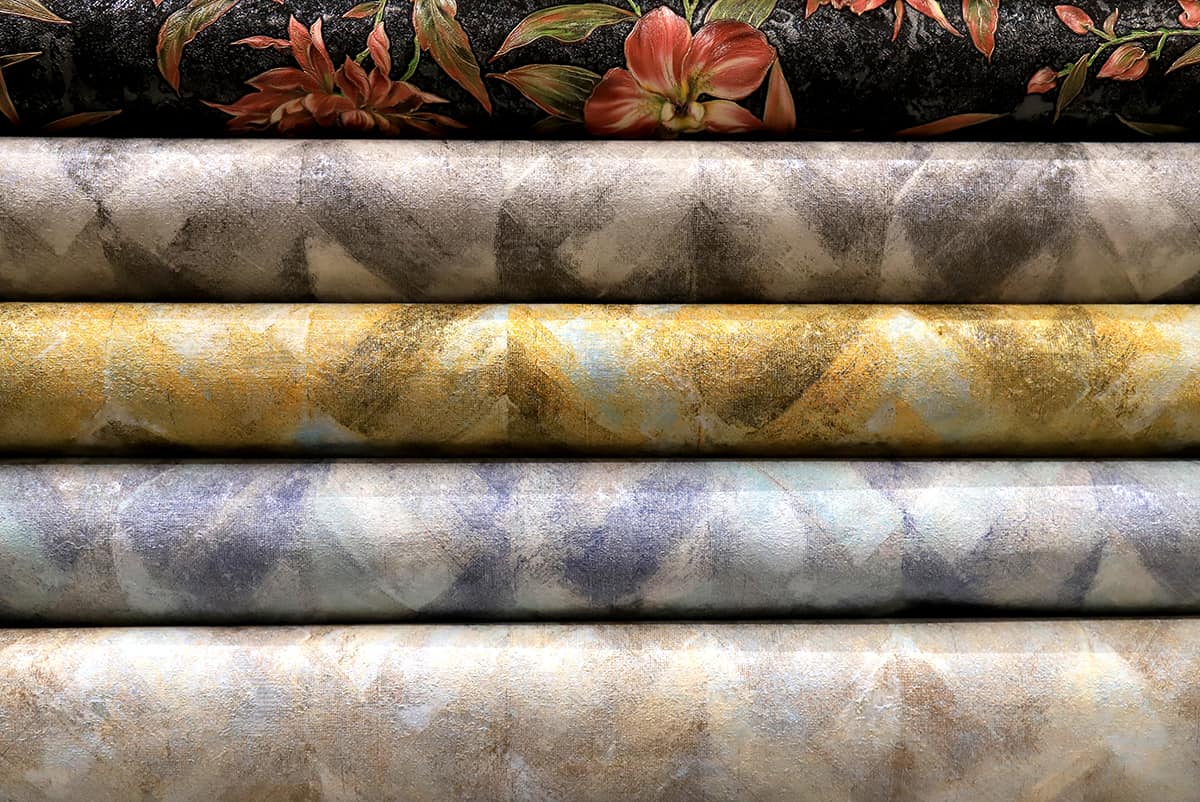 If you want to create a backsplash on a very tight budget, then vinyl wallpaper can work well. It also makes for a good temporary fix if you have moved into a new home and are saving up to buy a more permanent backsplash. Vinyl wallpaper is a type of sticky-back plastic sheet which comes on a roll and is available in a vast array of patterns and colors. A popular choice is vinyl wallpaper in the style of marble to create the look of a stone slab backsplash at a fraction of the cost.
You can pick up vinyl wallpaper at most hardware stores or online, and you can apply it yourself in a matter of minutes. It can be wiped clean since it has a glossy finish, but it is not heat resistant so you must be careful when cooking nearby. Vinyl wallpaper should be applied to flat walls for the best finish, and you should try to match up the pattern so that joins are less visible.
Gloss paint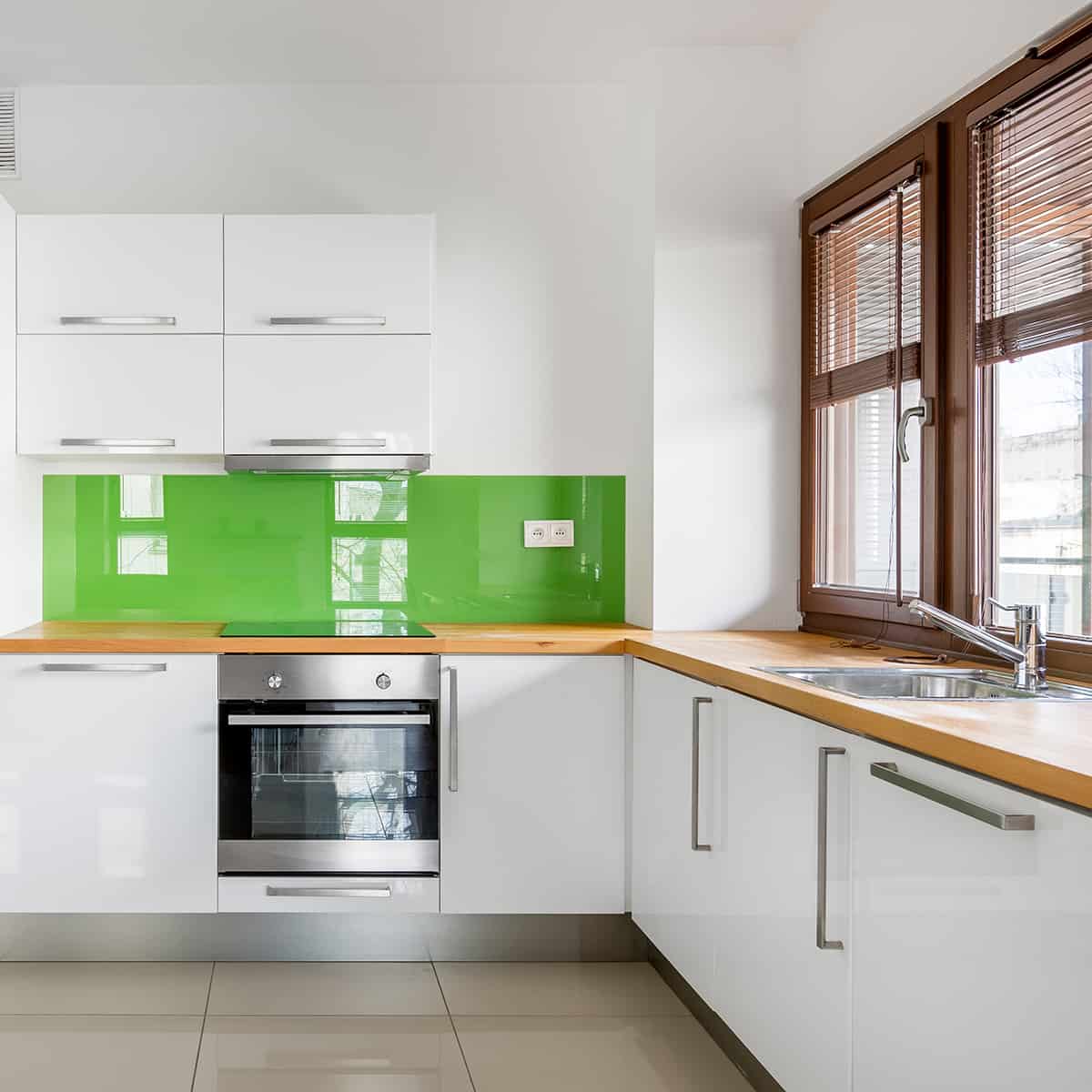 A low-cost alternative to a backsplash is to simply paint the wall behind the countertop. You could use the same color that has been applied to the rest of the walls in the room or a different color to create contrast. If a plain painted backsplash area sounds bland, you could get creative and paint a mural or use a repeating stencil pattern for a more interesting look.
If the backsplash area is close to a space where you will be preparing food, cooking food, or having running water, then you need to be able to wipe the paint clean from splashes. The best paint to use for this will be gloss paint because it can be wiped clean without causing any damage to the paint or leaving marks behind.
Peel and stick tiles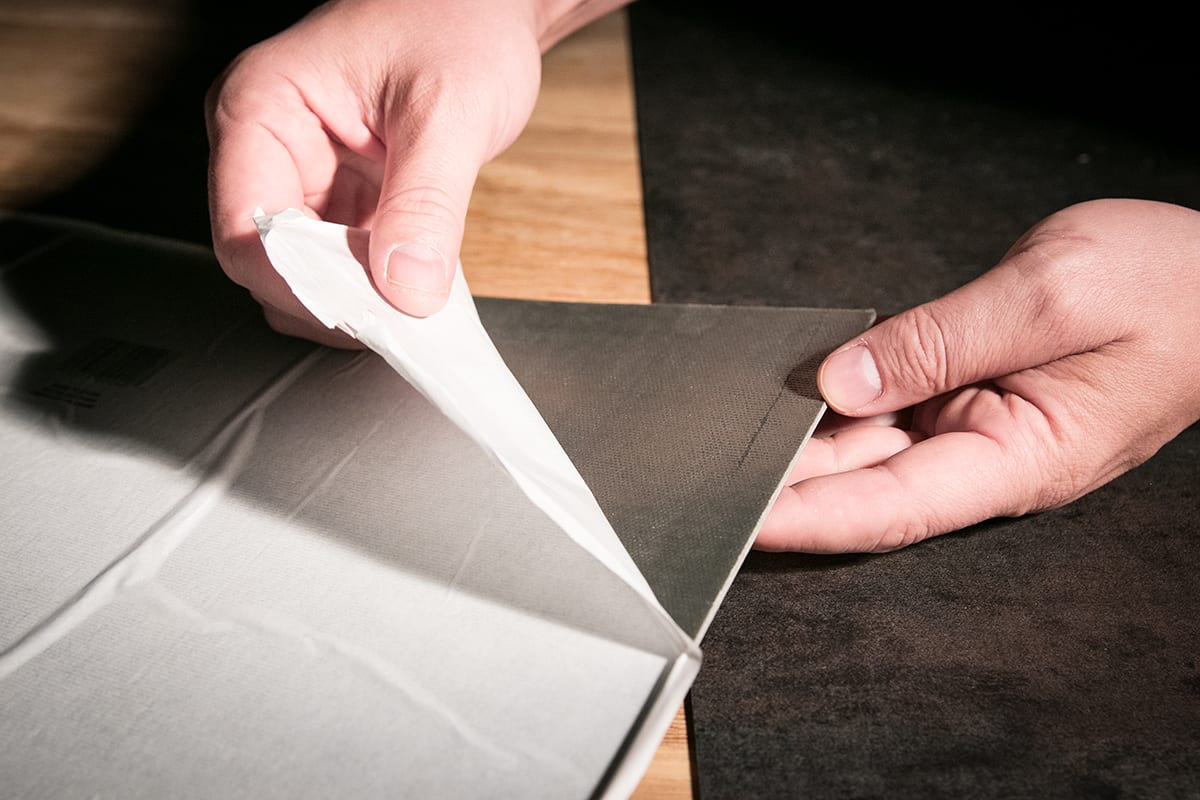 Peel and stick tiles are made from a material similar to vinyl wallpaper, but they come in small squares, which makes them more manageable and easier to apply. You won't need to worry about joins as you would with vinyl wallpaper, so peel and stick tiles represent a good choice for large areas.
Peel and stick tiles are very inexpensive, and you can usually pick them up for less than $10 for a sheet. They can be applied easily, and they can also be removed without damaging the wall, making them a good choice if you are renting a property.
Sheet metal
Sheet metal is becoming increasingly popular as a wallcovering alternative to a traditional backsplash. Types of metal that are especially trendy include copper and stainless steel.
These are materials that can be wiped down easily, and of course, they are not porous, so they will not stain. You can buy sheets of metal specifically for the purpose of creating a backsplash, and these come pre-cut to a certain size. If you want to avoid joins, you can have sheet metal custom cut to the size of your walls.
Brick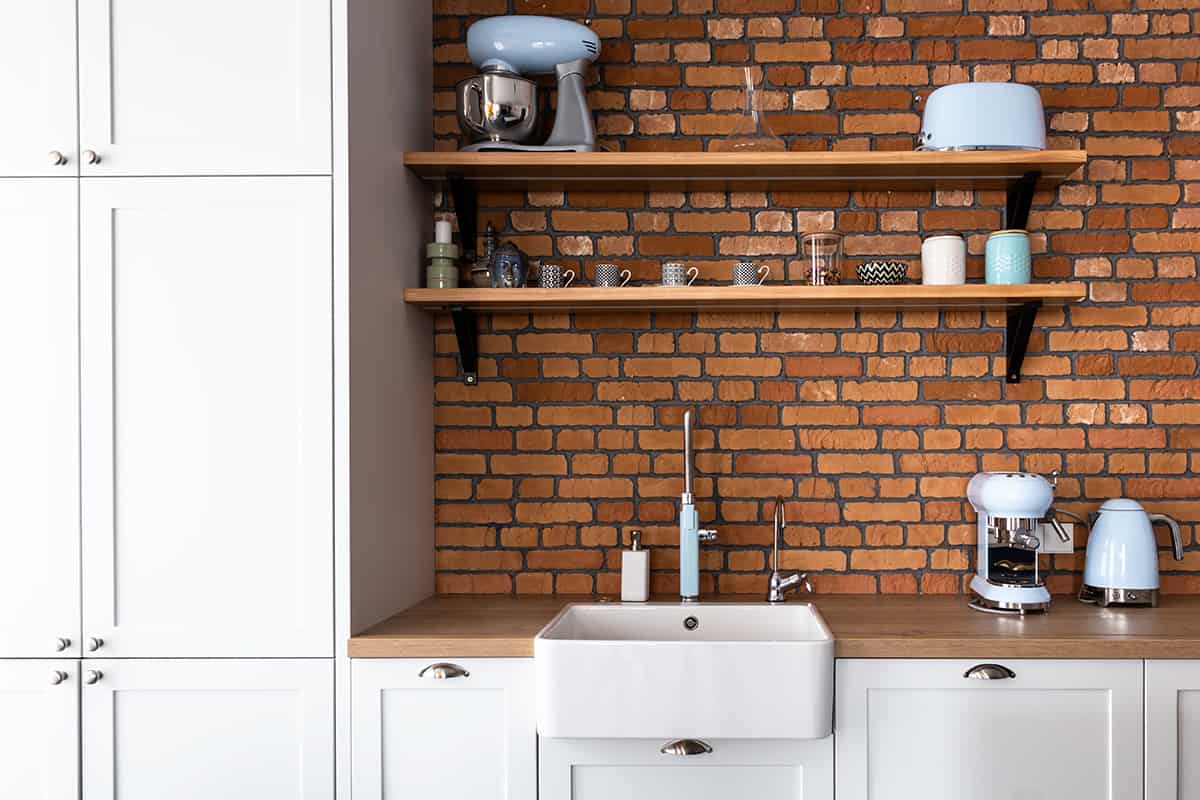 If you have exposed brick walls, then you can leave these as the backdrop behind your countertops and not use any backsplash at all. Exposed bricks create a rustic or industrial look that works well in loft-style decor, but they aren't terribly practical since they are porous and can therefore absorb stains.
Sealers can be used over brick to help prevent absorption, and this will need to be reapplied every few years. If you don't have exposed brick walls, you can create a brick-style backsplash in various ways, for example, by using vinyl wallpaper that has been printed with a brick pattern or peel-and-stick tiles in the style of brick.
Wood paneling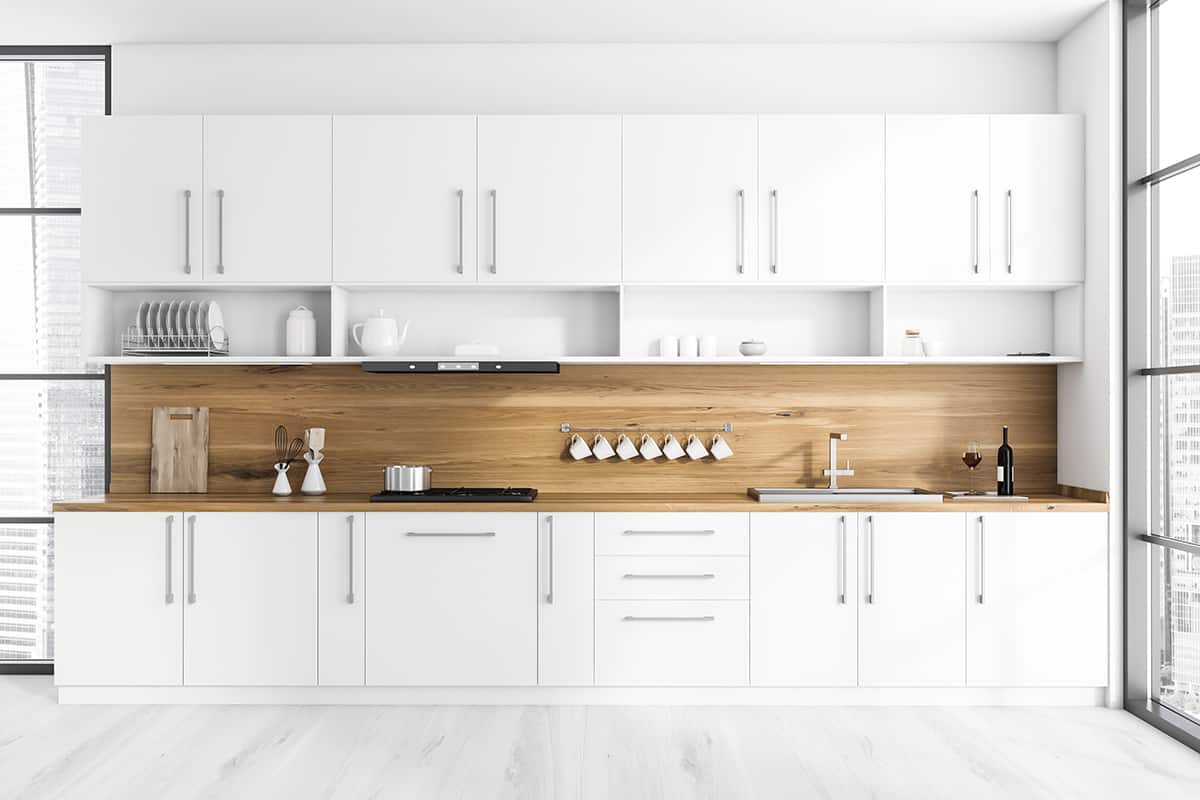 Wood paneling works really well instead of a backsplash in coastal or country-style homes. The aesthetic of white-washed wood, or planks painted in navy blue, creates a coziness that kitchens can lack. If you want your wooden panels to have the capacity to be wiped clean, then you will need to paint them in gloss paint or use a clear lacquer.
This will also protect the wood from absorbing moisture and swelling or staining. If you like the idea of wood paneling instead of a backsplash, there are so many different types of wood you can use.
You can repurpose old hardwood flooring by fixing it onto the wall or use reclaimed wood from old pallets for a more rustic style. You could even use plywood if you want to create a wooden look on a small budget, ensuring it is painted and sealed in a glossy finish.
Mirror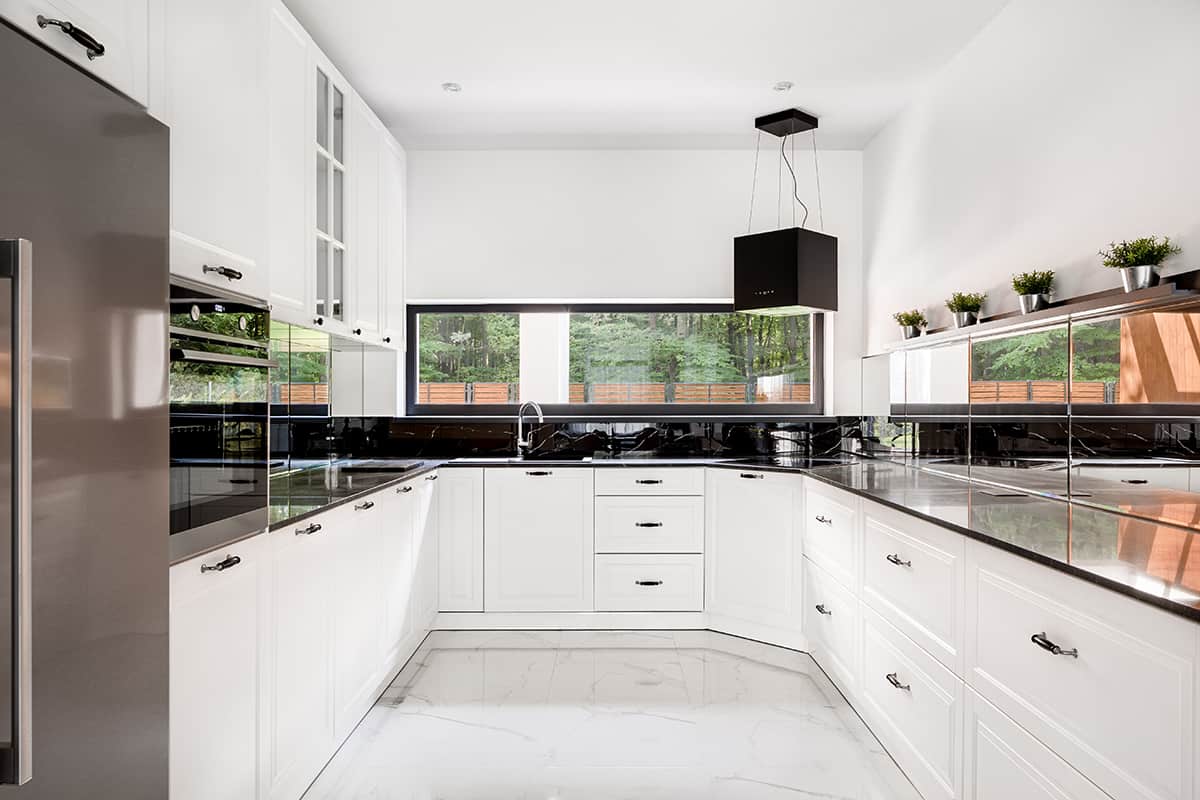 Sheets of mirrored glass have the same benefits as regular glass and the same installation process, but they give a dramatically different look. Mirrored glass in a backsplash area will create the illusion of a much larger space, which works especially well in compact kitchens and bathrooms.
In a bathroom, you could carry the mirrored glass right up to the ceiling, and then the backsplash will also double up as a bathroom mirror. Mirrored glass is inexpensive to buy, and you can have it cut to size to perfectly line up with the size of your walls.