How much should you pay for a bamboo floor? Well, that depends on what type of bamboo floor you want. There are four different types for you to choose from, depending on the quality of style of installation you want.
Of course, that's only material cost. You also have to think about the difference in cost between paying someone to install the floor for you vs. doing it yourself. There may also be some costs involved in the prep and finishing work. Do you need to rip up an old floor? Can you reuse your existing baseboards and trim or do you need to buy new?
We'll take a look into all these factors to help you decide if bamboo flooring is right for you and give you an idea of what it will cost for each of these options.
A Little about Bamboo Floors
Just like most types of flooring material, bamboo will contract in the heat and expand in the cold. The advantage is it does so less than other flooring types, making it a safe bet for both indoor and outdoor spaces. It also repels water than most woods. If you've ever seen bamboo growing, you can feel how dry the stalk is even when everything else around is it soaked.
You do need to be careful about buying bamboo that's been harvested too early. Generally, you can tell by the price. A company may want to produce their products faster and therefore source bamboo that isn't mature yet. You can also tell by feel. Compare a lower-priced bamboo to a higher-priced variety and see if you can tell the difference. The more mature bamboo will be harder.
If you get a softer bamboo, you'll pay less but won't be able to enjoy the advantages bamboo should give you. When it's too soft, it will scratch, dent, and even splinter much more easily. If you've ever dealt with a softwood, like pine, you'll know the danger of using soft bamboo. It's great for whitling, not for building.
It will also change shade in spots as it ages, and the color along a board will appear uneven. What you want to see is a uniform light tan or honey brown. And when you get mature bamboo, it'll be easy enough to keep looking nice.
Kinds of Bamboo Floors
So, what are the different types of bamboo floor products you can buy? Let's start with the best (and costliest) option.
Woven Strand Bamboo
You don't buy bamboo stalks. While you might see these used for walls in some parts of the world, they're not fun to walk on. They'd be too uneven, a nightmare to clean, and would break easily from the weight of stepping on them.
That's why you need some sort of manufacturing process. In this highest quality of bamboo flooring, the wood is compressed is compressed into boards. It looks the most authentic and uses the highest percentage of real bamboo. It carries all the advantages of bamboo and registers the hardest on the Janka Scale. A huge advantage with this genuine bamboo flooring is you can re-sand it and refinish it as often as you need to. It can literally stand hundreds of years without needing to be replaced.
Strand Carbonized Bamboo
This second type is made nearly the same as the above but uses lower quality bamboo made to look like higher quality. The different bamboo stalks are boiled to remove the sugars and other starches, then compressed and glued to form slats. Carbonizing the bamboo produces a deep amber color, though it can make the bamboo softer than the woven strand type.
Solid Bamboo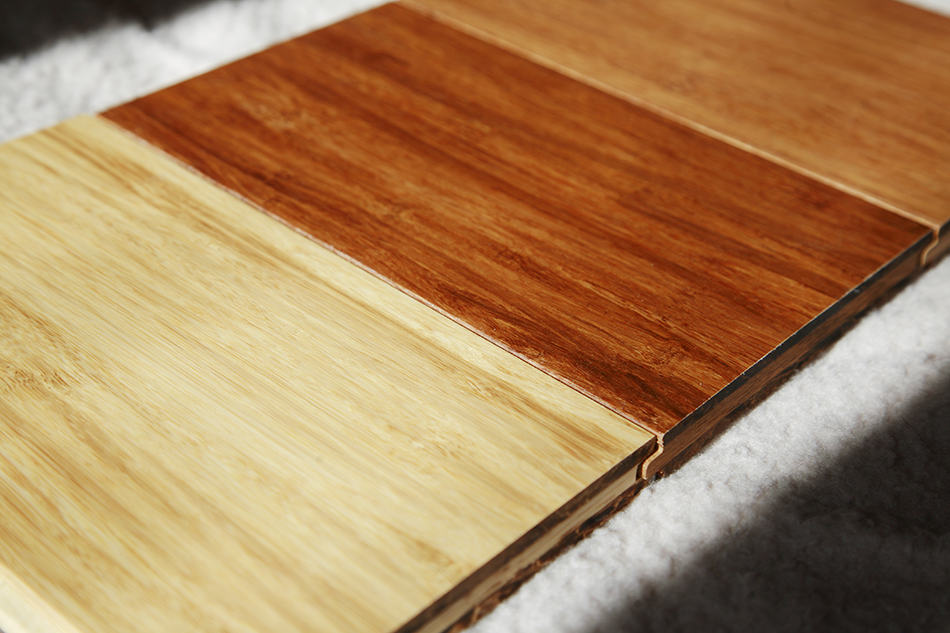 Solid plank floors sound like they should be the best, but they're not. Calling something solid is something of a misnomer, as anything is solid that isn't a liquid or gas, right? The advantages are that they are hard, and you can sand and reseal solid bamboo. But again, you're not getting the highest quality, and the color may be uneven.
Laminate Bamboo Floors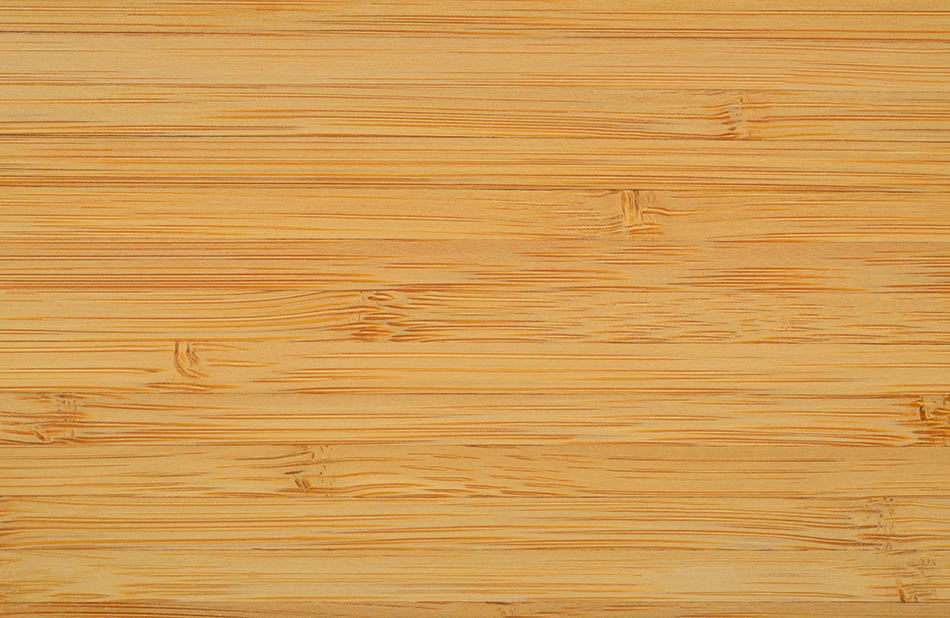 These floors include a thin bamboo veneer on a click-together board that "floats" over the subfloor. Comparable to laminate wood floors, the quantity of veneer is usually so little that refinishing them is not an option. The best you could do is try to fill and color in gouges or scratches. Bottom line: not much bamboo used here at all.
Bamboo Flooring Cost
So, as you can imagine, the lower the quality, the lower the price. When comparing prices, you want to ask yourself, do you want something that looks like bamboo or do you want the advantages of real bamboo?
Lowest: For low-end laminate or solid bamboo, the price might range between $4.50 and $9.50 per square foot. At this rate, the floors might be immature (meaning softer), have greater formaldehyde levels or VOCs (volatile organic compounds), and have larger color variations.
Middle: Mid-range laminate or solid bamboo can cost between $7.50 and $13 per square foot. This will typically get you grown bamboo, fewer VOCs, less formaldehyde, and better color consistency. Also, you might get a longer warranty.
Greatest: Paying between $17.50 and $30 per square foot will buy you high-end, hard, hand-finished bamboo floors. It normally will be woven strand or strand carbonized, which implies it's more long-lasting and has several protective finishes.
Extra Cost Factors for Bamboo Flooring
The nice thing about bamboo is that it does grow fairly easily and quickly, meaning it's not rare or difficult to keep in stock. You can grow a lot of bamboo in a small area and keep up with consumer demand. All that is to say that even the highest quality bamboo doesn't cost as much as other types of hardwood flooring.
But as with other flooring types, material is not your only expense. You also need to consider labor and the costs involved in preparing your area for a new floor. The very first expense you're most likely to sustain is the elimination of your existing flooring. Depending on what you have, you may need to do some repair work or lay a new subfloor.
If you hire someone for the job, plan on paying about $15 per square foot on top of your material costs. If you're doing a large area, your contractor may give you a reduced rate on labor or pass bulk material savings on to you.
How to Save Money on Bamboo Floors?
#1: DIY Installation: Of course, the best to save money on your new bamboo floors is not to compromise on material quality but to do the installation yourself. Setting up flooring is a huge task, though, so you might want to conserve money other ways if you'd rather hire a pro.
#2: Compare costs and wait for sales: It's easy to compare bamboo floor costs online. Lowe's and Home Depot often have clearance prices on bamboo for half the normal cost.
#3: Get a complimentary quote: Flooring professionals normally provide totally free price quotes. This can assist you in picking a capable floor installer and guarantee that you've budgeted for the expense of your flooring transformation.
How Does Bamboo Compare to Laminate or Wood Floors?
The low expense of laminate floors typically makes it a go-to alternative for house owners on a budget, though bamboo can likewise be a budget-friendly alternative to wood floors. Bamboo floors last longer than laminate floors, though, so the difference between the cost of strand woven bamboo and laminate is well worth it.
Bamboo Floor Upkeep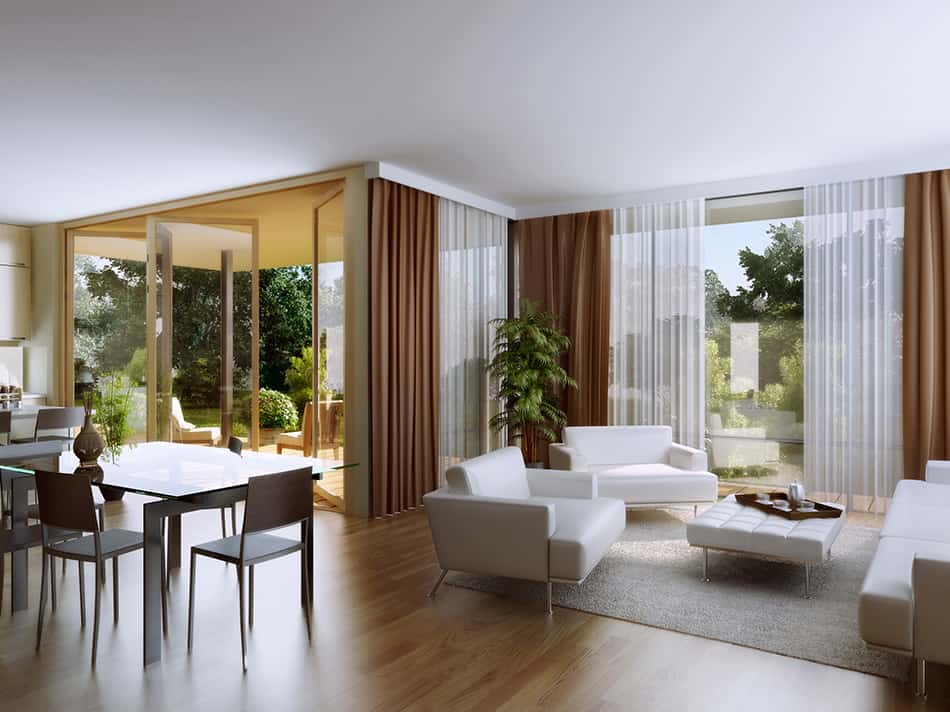 Producers recommend sticking felt pads to the feet of your furniture to avoid scratching the bamboo; besides that, bamboo is so long-lasting that it can last for many years without much hassle.
When you clean, just stay away from anything abrasive, and don't try to wax bamboo floors unless they're of the laminate variety. You can rely on daily items, like Murphy's Oil Soap.
Frequently Asked Questions
Are Bamboo Floors a Wise Investment or Just a Fad?
There are lots of passing trends in the world of style, though bamboo floors appear to be different. Due to the advantages of higher quality bamboo, it is being used more and more in home improvement projects and brand-new buildings.
With its streamlined look, bamboo is popular with a host of designers. It is subtler and less knotty than other types of wood. That makes it desirable for modern-day homes and office buildings.
Bamboo is also much denser than something like oak, so it's a stronger flooring option that does not warp as easily. Since bamboo stalks take just about 5 years to develop, unlike numerous species of trees (which can be 50 years or more in the growing), bamboo is ecologically sustainable.
Do You Need to Do Repairs or Change Subfloors to Install Bamboo?
You will not have to change it if your subfloor is in great condition. If you require brand-new subfloors, approximate $150 to $800 to fix broken subfloors on top of your setup expenses for the brand-new floor.
Can Bamboo Floors Be Refinished?
Like wood floors, floors made with some kinds of bamboo can be sanded down to smooth and eliminate any surface scratches and little dings. The price to refinish bamboo flooring begins at $5 per square foot.