While yellow may not be the first color that people consider for their home's exterior, it is in fact a warm and cheery hue that goes very well with many other color schemes. When you have a yellow house, there are tons of accent color palettes to pair with it.
This sunny color contains the characteristics of a Tuscan or Mediterranean-style house, and the best thing about it is that your home's curb appeal can be enhanced by blending some beautiful accent colors with your yellow exterior.
Regardless of the intensity of your home's yellow paint color, there are many stunning accent color schemes to blend with this inviting hue.
Let's take a closer look at the best accent colors for a yellow house, which include front doors, trim, and other decorative elements.
Best Accent Colors for a Yellow House
Black and White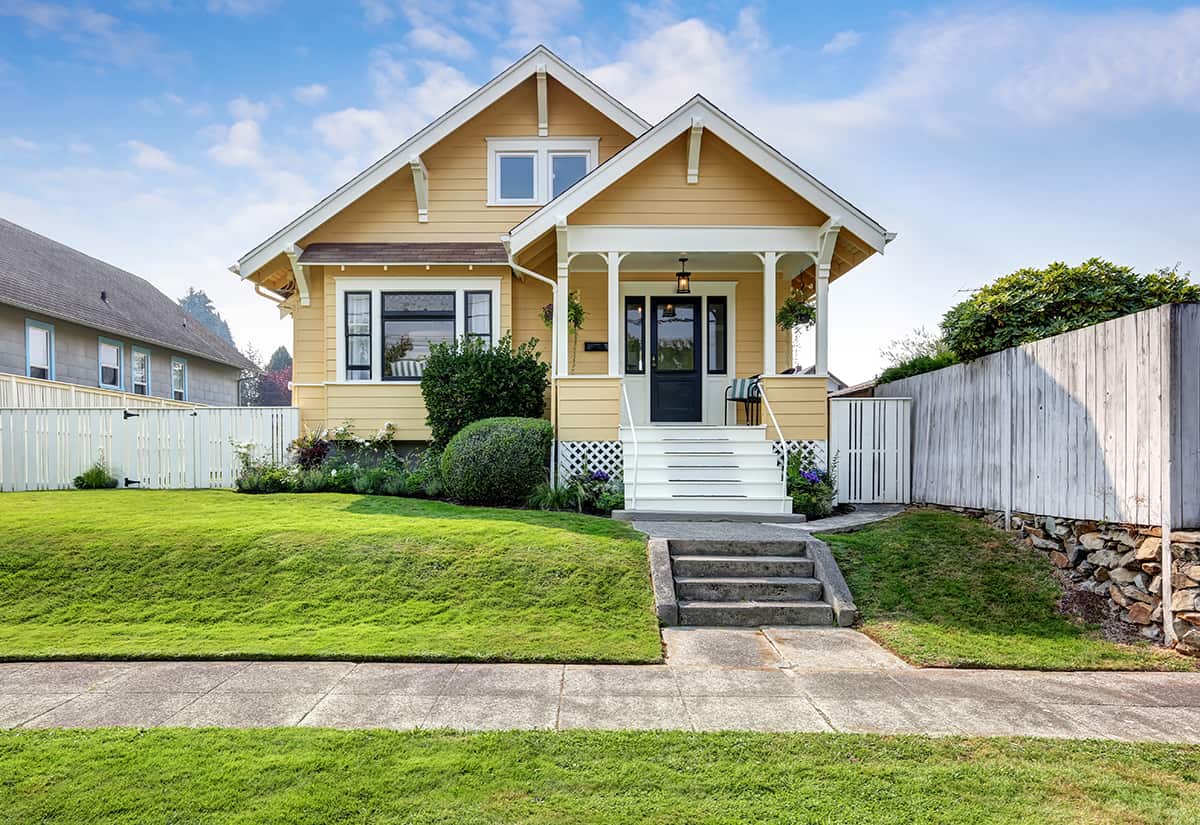 If your yellow house is surrounded by lots of greenery, consider combining it with black and white color schemes.
These accent colors will create a soothing visual effect without overwhelming the exterior of your home. This way, the yellow house will emit a relaxing vibe from the street view, even if the shade of yellow you've chosen is a bright one.
If you're interested in the black and white color scheme for your yellow house, then pick white for the trim and window frames, with black for the front door and lighting as shown here.
Since the yellow exterior is a soft shade, the colors black and white stand out here along with the green landscaping.
Green, Black, and White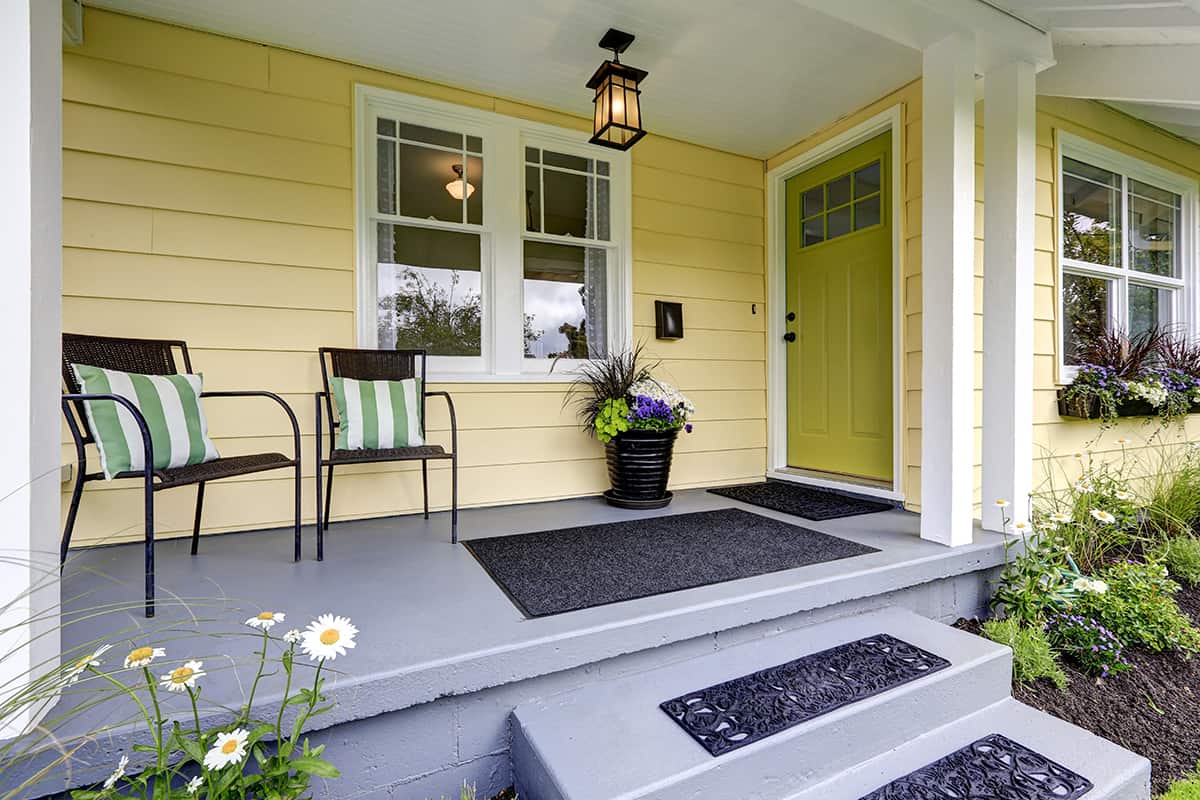 The next accent colors that we recommend pairing with your yellow house are green with black and white again. This combination is yet another soothing and cheerful blend that goes very well with a bright yellow exterior.
The idea is to introduce black decorative pieces such as hanging lights and potted plants along with a green front door and white trim as shown here.
Using all these shades together will create a welcoming atmosphere, and as you've paired yellow with green, it gives a balanced look to the rest of the exterior.
This is because green tones down the brightness of yellow, and neutral colors like black and white break up the boldness of yellow.
Red and Blue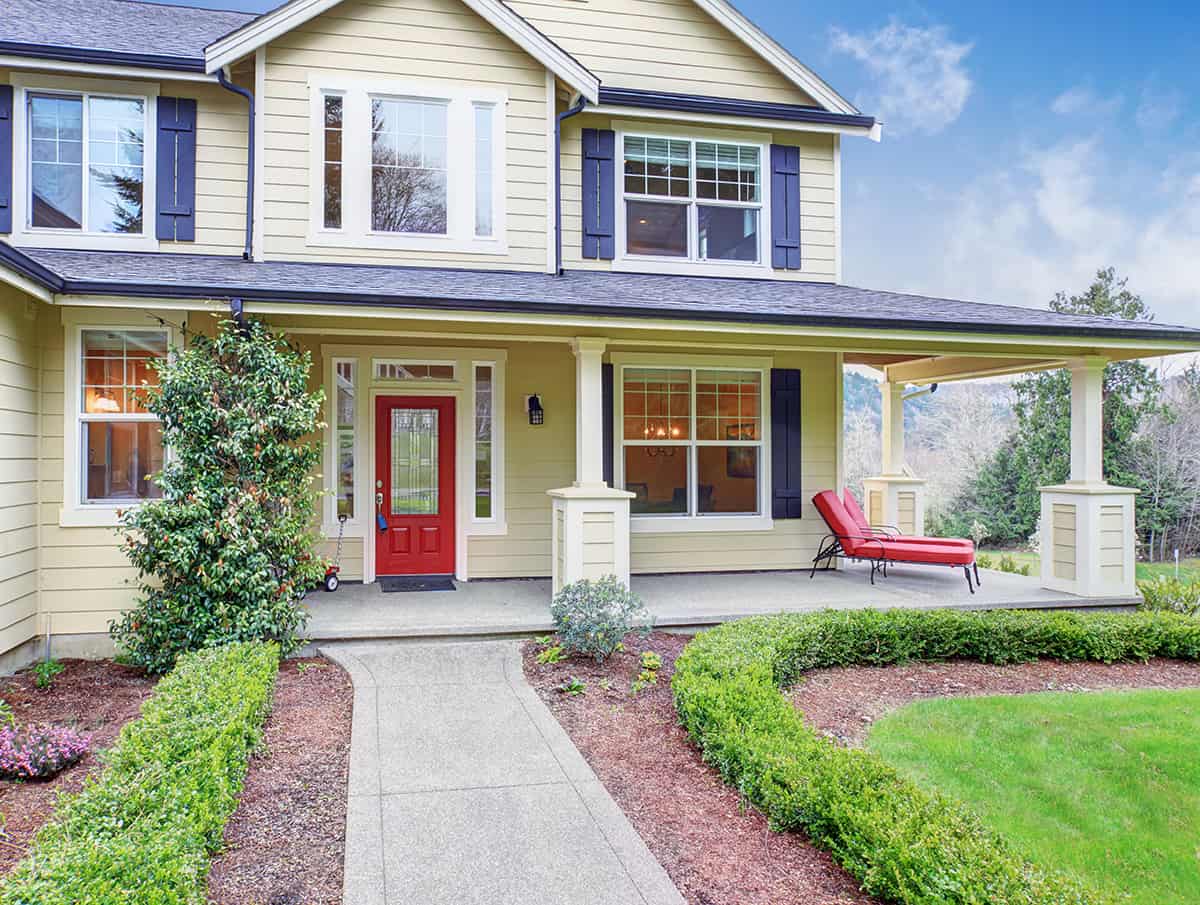 If you're a fan of the nautical exterior design, you'll be grateful for this idea. With a pale yellow exterior, dark blue shutters and a red front door can evoke a warm and welcoming feel.
A red front door just like the one shown in this image is a great way of contrasting the yellow and blue color schemes in a whimsical exterior design.
A red front door is believed to attract good luck so as a welcoming hue, we recommend pairing your yellow house with this color.
Brown and Grey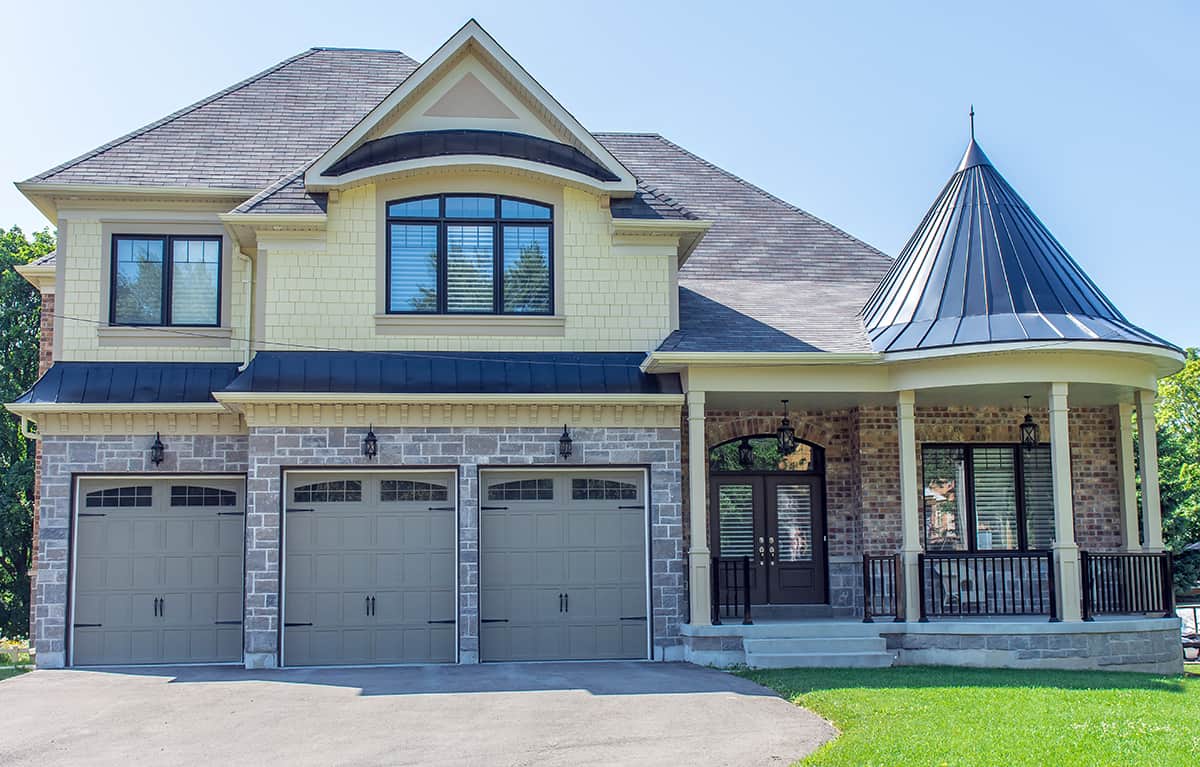 The next accent colors we want to share with you are a cool shade of grey and dark brown to go with your yellow exterior. The cool grey shade is highly popular as an accent color that goes with almost any other exterior color.
When you use grey and dark brown for your home's entry doors and trim, your yellow house will look stately and welcoming.
The combination of grey and brown next to soft yellow can enhance the cozy feel of a modern or traditional house. As a bonus, add brick and stone siding to give that extra unique texture to the exterior design.
Blue and White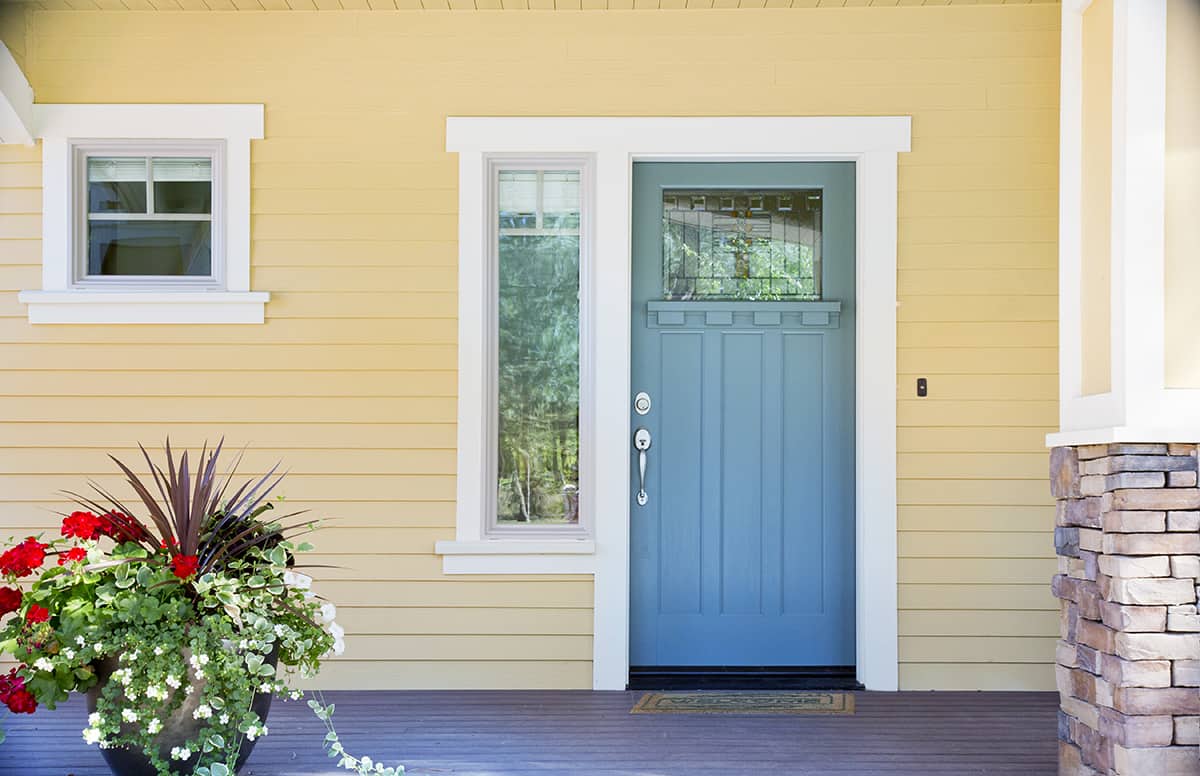 If you want a yellow house with a charming entrance, try pairing yellow with blue and white. Besides the charm, there is certainly something striking about this color combination.
Most beach-style houses tend to have a blue front door with white trim. But these accent colors work with just about any siding color including yellow.
A pale yellow siding with a cool blue front door and white trim looks charming on this house. The color combo is quite simple but elegant as it makes the exterior very appealing.
Even if your house siding is a bold shade of yellow, it can still work with blue and white. The main purpose is to increase the curb appeal of your home by using these colors as accents.
Brown and Black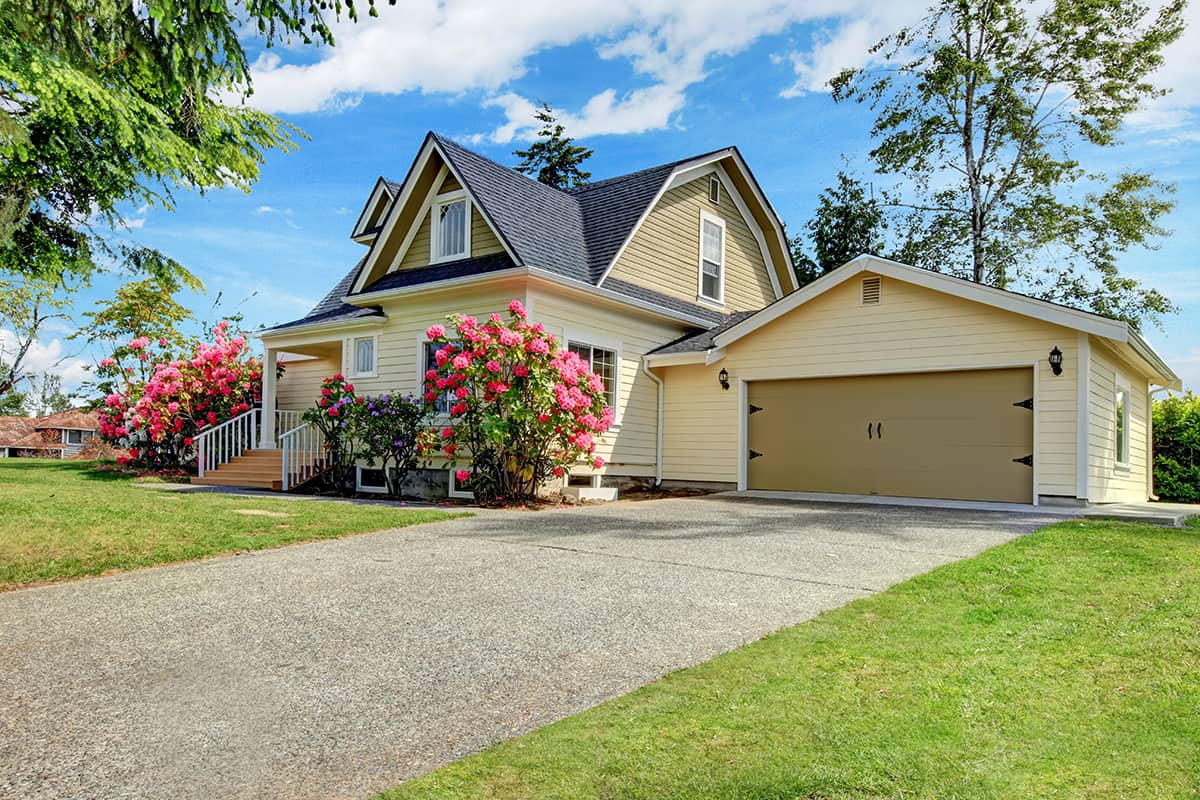 Both brown and black and timeless accent colors go well with a yellow house. Brown is after all a warm hue and a close relative of yellow.
While these colors are dark and commanding, they can be toned down next to the soft yellow siding. As long as you use brown and black accent colors in moderation, the yellow siding can still stand out.
As you can see in this example, there are small hints of brown and black throughout the exterior design of this house, but the yellow siding is the one that has the upper hand here.
You can achieve the same look by adding a brown front door with a matching garage door. Black can be used for the decorative lights and hardware as a complementary accent color to brown and yellow.
In Closing
If you love a vibrant and bold color for your home's exterior, then yellow is a great option. Whether you prefer a soft or strong shade, there are many other color combinations that go well with this sunny, cheerful paint color.
Once you've finally decided on the right yellow shade for your home's exterior, the next challenge is to pick the right accent colors that complement yellow.
Our above ideas should help you with this task, but just to recap, white is a classic accent color to pair with yellow. You could also try blending this neutral color with green, grey, or black to give your home extra curb appeal!