If you want to change the color scheme in a room, you can do so without having to buy new decor accessories and instead paint the ones you already have to give them an updated look. Picture frames are easy to paint and can be upcycled whether they are wood, metal, or plastic.
You could also paint them if they are looking a little tired or shabby or give them a unique style that nobody else will have. To understand the best paint to use on picture frames you already own, here we explain the pros and cons of various common paint types.
Acrylic Paint
Acrylic paint is water-based paint, which means it has a much less offensive odor compared to oil-based paints; and also makes for an easier cleanup because it will wash right off your hands or the paintbrush with just soap and water, providing the paint is still wet. However, once dry, acrylic paint can be difficult to clean up and can be quite problematic to remove from fingernails and brushes.
Acrylic paint is a good paint to choose if your priority is ease. This is because it can be applied directly onto wood without needing to sand it down or prime it first, and if it is prepared first, acrylic paint can also be used on almost any material out there, including metal, plastic, and glass.
If you are looking for a very specific color, then you should find it easily among acrylic paints because there is such an enormous range of acrylic paints available.
As many artists and crafters use acrylic paint for their projects, acrylic paint is available in small quantities, which is perfect if you just have a few picture frames to paint.
Acrylic paint is one of the most inexpensive types of paints to buy and is widely available and, therefore, easy to get hold of. Another great thing about acrylic paint is that it dries extremely quickly, meaning you won't have to wait long between applying coats to your picture frame or to position it back on your wall or shelf.
If you like to work slowly, then the quick-drying properties of acrylic paint can be a problem. Once dry, acrylic paint is very durable and water-resistant, making it a good choice for picture frames displayed in kitchens or bathrooms where humidity levels are higher. The durability and flexibility of acrylic paint also mean that the dried paint shouldn't crack or peel over time, even if the picture frames are accidentally knocked over.
Acrylic paints tend to be less toxic than other types of paint, which makes them a sensible option to have around your family, especially if you have pets or children. Acrylic paint does tend to dry a darker color, so the color you see during application might not be the eventual color you end up with.
Pros:
Inexpensive
Wide color range
Widely available
Quick-drying
Durable
Water-based
Water-resistant when dry
Easy clean up when wet
Low toxicity
Suitable for most surfaces
Cons:
Hard to clean up when dry
Color darkens as it dries
Oil-Based Paint
Oil-based paint offers a number of advantages and disadvantages compared with other types of paint. Being oil-based, this paint is notoriously difficult to clean up, requiring paint thinner solvents to remove the paint from brushes and hands. However, it is the most durable type of paint around, so if you are concerned about the paint on your picture frames suffering from chips or wear and tear, then oil-based paint will be the best option.
With oil-based paint, you can achieve a much glossier finish compared with water-based paints, so if you want a high-shine or mirror finish on your photo frames, then oil-based paint is the most likely to give you these results. Oil-based paints are easy to apply and dry fairly slowly, which means you can work on your frame for longer.
If you are in a hurry, then the slow drying quality of oil-based paint might prove a problem; however, these paints usually cover very well, so you probably won't need multiple coats on your frames.
These paints can result in a flawless finish, with no paint strokes showing. One reason that many people avoid oil-based paints is that they have an extremely strong smell that can make you feel nauseous or cause headaches.
To work with this paint, you'll want to be sure to have good ventilation and, ideally allow your frames to dry in an unused area of your home, such as in the garage or basement. If you have a workshop to complete your project, then the odor of oil-based paints won't cause too much of a problem, but if you want to paint your picture frames in your home and keep windows shut to avoid heat loss, then oil-based paints are not a good idea.
Oil-based paints are quite flexible, which means they won't crack when a wooden frame shrinks or expands due to temperature changes. When dry, oil paint is also water-resistant, making it a good choice for bathroom picture frames. Over time, oil-based paints can harden and become brittle and as a result, may crack when the material underneath shrinks or expands.
One of the best things about oil-based paint is that it can be applied to almost any surface. It has excellent adhesion qualities, which means, in most cases, it won't require you to sand or prime the picture frame surface.
Unfortunately, oil-based paints do tend to be among the most expensive types of paint, but they do offer some important qualities that you won't find among water-based paints.
Pros:
Flexible when dry
Very durable
Water and temperature resistant
Suitable for most surfaces
Gloss finish
Easy to work with
Good coverage
Cons:
More expensive
Strong odor
High VOCs
Requires special cleaning fluids
Slow drying
Chalk Paint
Chalk paint has become hugely popular in recent years as an impressive way to upcycle and transform furniture. With this paint, you can achieve a matt finish or a chalky vintage-style finish. Most chalk paints are designed specifically for use on furniture and home decor items, making them a great choice for painting your picture frames.
One of the reasons chalk paint is so loved is that it is easy to use and requires minimal preparation. Chalk paint has various paint colors to choose from and can be used directly on most surfaces and on top of previous old layers of paint with no sanding or priming necessary.
The only time you will need to prep a frame before painting with chalk paint is if your surface is very slick and shiny, in which case it should be lightly sanded to give the paint a rougher surface to adhere to.
Chalk paint has a thick consistency which means it covers well, so in most instances, you will need two coats as a maximum. This means that in spite of being more expensive than acrylic or latex paints, you won't need as much of the product, and a tin will last longer. Chalk paint has a fast touch-dry time, but you should leave at least 24 hours between coats, so if you're in a hurry, it isn't the best option.
One thing chalk paint is known for is its durability, but this is only the case when your picture frames have been coated in a final layer of wax. Without sealing the chalk paint with wax, it is very likely to scratch or chip. Once waxed, the chalk paint is extremely durable and will stand up well to wear and tear.
When considering chalk paint as an option to use on picture frames, you should think about the additional time and money needed to wax the frames. Chalk paint is water-based, which means it is easy to clean off of hands and paintbrushes.
Pros:
Minimal prep required
Easy to use
Easy to clean
Durable after waxing
Good coverage
Fast touch-dry time
Cons:
Slow drying between coats
It needs to be waxed
More expensive
Latex Paint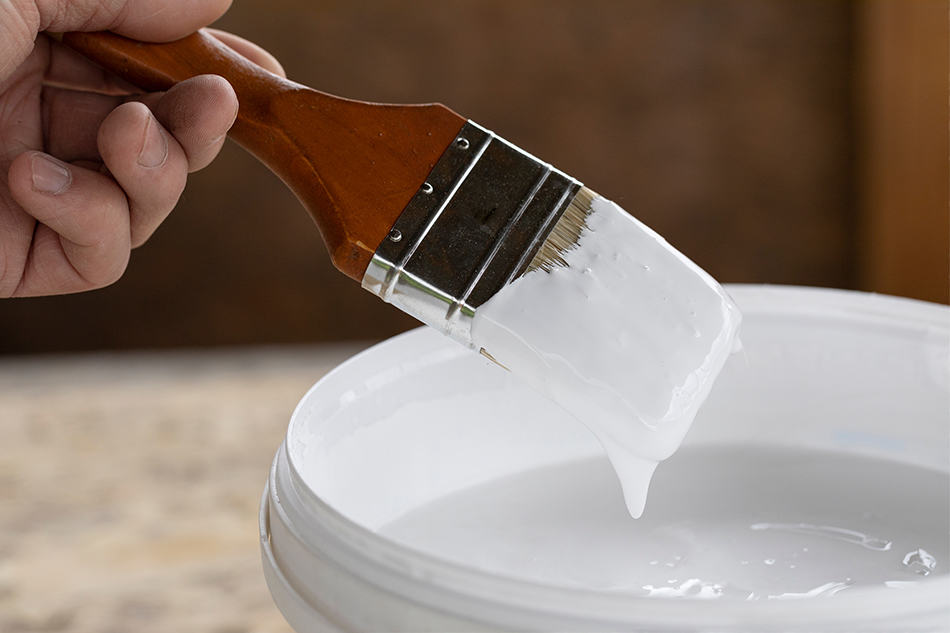 Latex paints are water-based paints, which means they are easy to use and offer easy cleanup with soap and water. These are the most widely used types of paints in home interiors, so there is a huge selection available in terms of both colors and finishes. Most latex paints come in various finishes, including flat, eggshell, satin, and gloss.
These types of paints tend to be the most affordable and are widely available. They do require proper preparation in order for the paint to adhere to the picture frame, so you should sand and prime your frame before painting. One drawback of latex paint is that it can chip easily; however, this may not be a concern if your picture frame is positioned out of the way, such as hanging high on a wall.
Pros:
Huge color choice
Affordable
Various finishes available
Easy cleanup
Cons:
Not durable
Preparation required