If you love cherry hardwood flooring, you may be wondering what furniture goes with cherry wood floors. This type of wood flooring possesses a warm-toned reddish hue that many homeowners find visually appealing.
But when it comes to deciding what furniture to pair with cherry wood floors, it can often prove to be a challenge.
Here we will provide you with some excellent ideas with images to help you choose the right furniture to complement your cherry wood floors. Let's get started!
Furniture that Complements Cherry Wood Flooring
Neutral Upholstery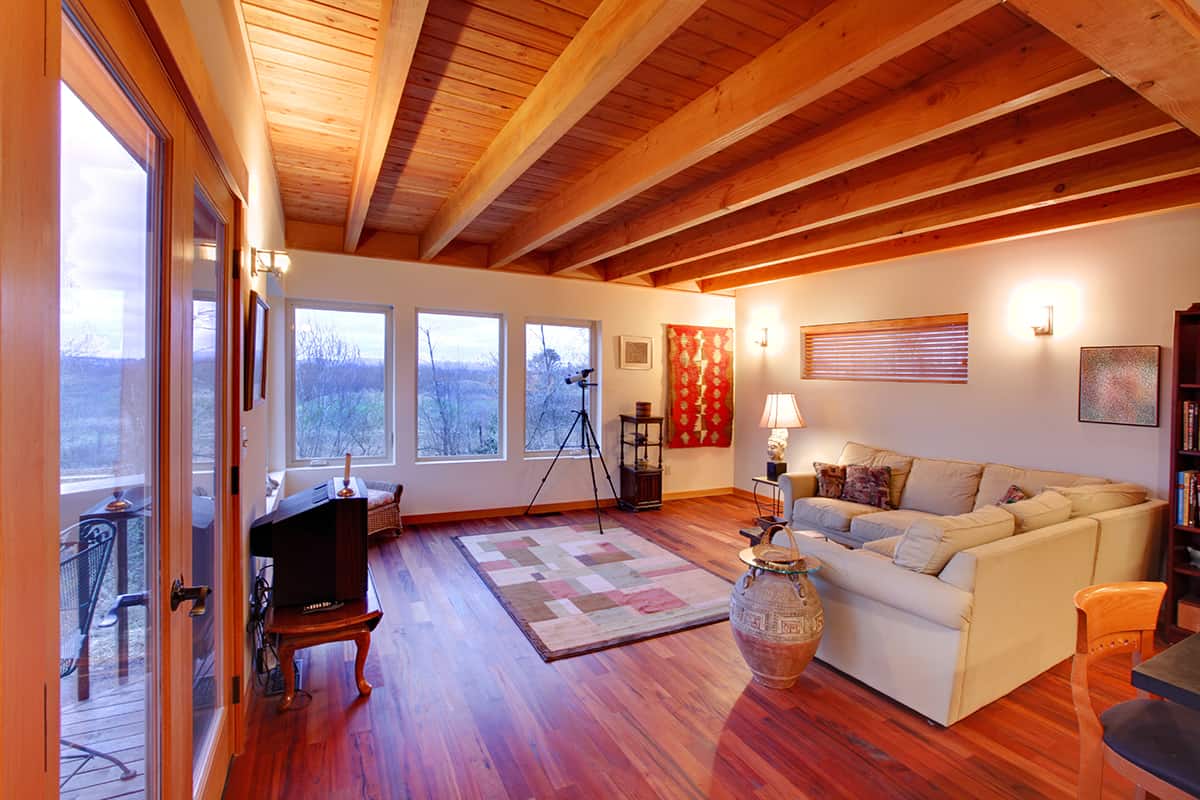 A formal living room or dining room with cherry wood flooring will always evoke an inviting vibe. When paired with neutral color furniture, the visual appearance of your hardwood floor can be enhanced.
This is because the eye is immediately drawn to the red-toned flooring rather than the furniture. Neutral colors can complement this type of hardwood floor in a traditional or modern setting. They can be in the form of cream, beige, gray, taupe, or tan.
Just as you can see in this living room with cherry wood flooring, the beige upholstered sofa serves as a neutral companion to the bright red cherry wood floor.
This living room has a blend of modern and traditional elements that work in harmony together to boost the beauty of the hardwood floor.
Dark Brown Leather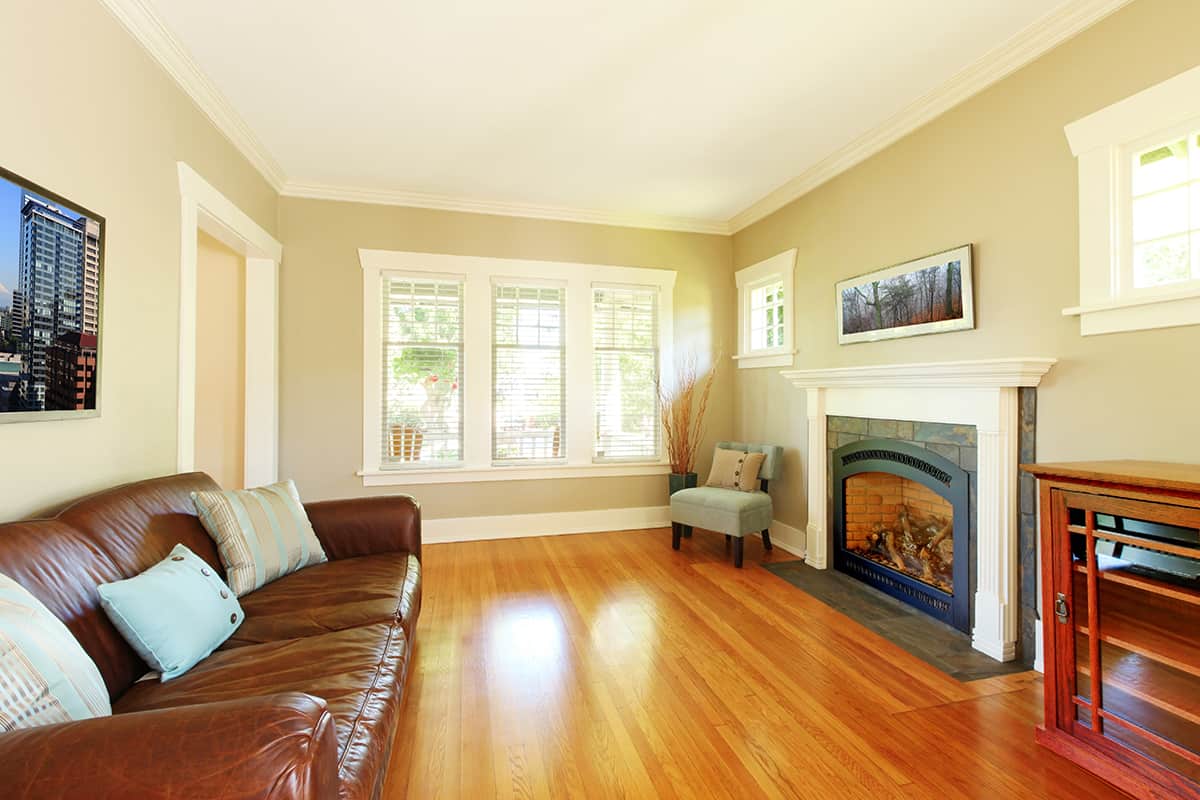 Brown leather furniture can look particularly stylish when it's paired with cherry wood flooring. If you love this idea, opt for dark brown leather, as the shiny brown tone of the furniture is sure to complement your hardwood floor.
To accompany your dark brown leather sofa, add matching accent chairs with cream or beige throw pillows to brighten up the overall design. The dark brown color will give your living room an elegant vibe, especially if you add other matching pieces like a leather ottoman or armchairs.
However, it is not recommended to overcrowd the room with too many dark brown leather furniture pieces as this will make your space appear dark and compact.
Keep the wall color simple and neutral, and only add one or two large size seating pieces of furniture in dark brown leather to complement your cherry wood floors.
The reason we suggested dark brown leather is because of the rich red tones, which match the cherry floor. The example you can see here is the reason why brown leather works so well with light-toned cherry wood flooring.
The simple living room is furnished with a dark brown leather sofa and neutral throw pillows. The fireplace has taken center stage, while the cherry floor is the complementing attraction to the room's focal point.
Light Brown Suede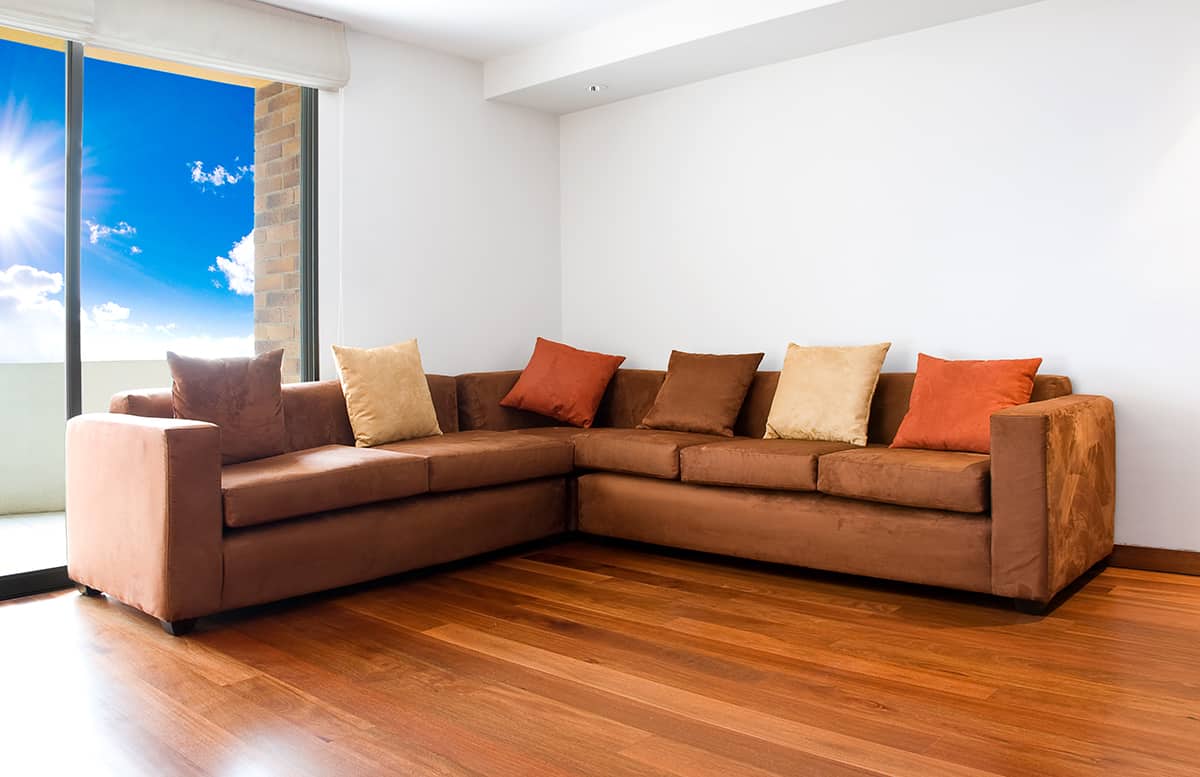 In living rooms with white walls, a combination of light brown suede furniture with cherry wood floors can add some color to the overall space. The coziness of brown, together with other warm accent tones, can draw the eye instantly to the cherry floors.
When you pair a light brown suede sofa with your cherry floor, you must think about adding brighter accessories in order to keep your room as airy and light as possible.
When arranging the furniture in the room, determine the type of furniture you want to use.
For example, do you prefer a loveseat over a sectional, or do you want to keep your room cozy with armchairs? Any furniture type you choose in light brown suede can work brilliantly with cherry wood floors. The only downside to suede furniture is its high expense, but if you're after a chic interior, it will be well worth the investment.
Cherry Wood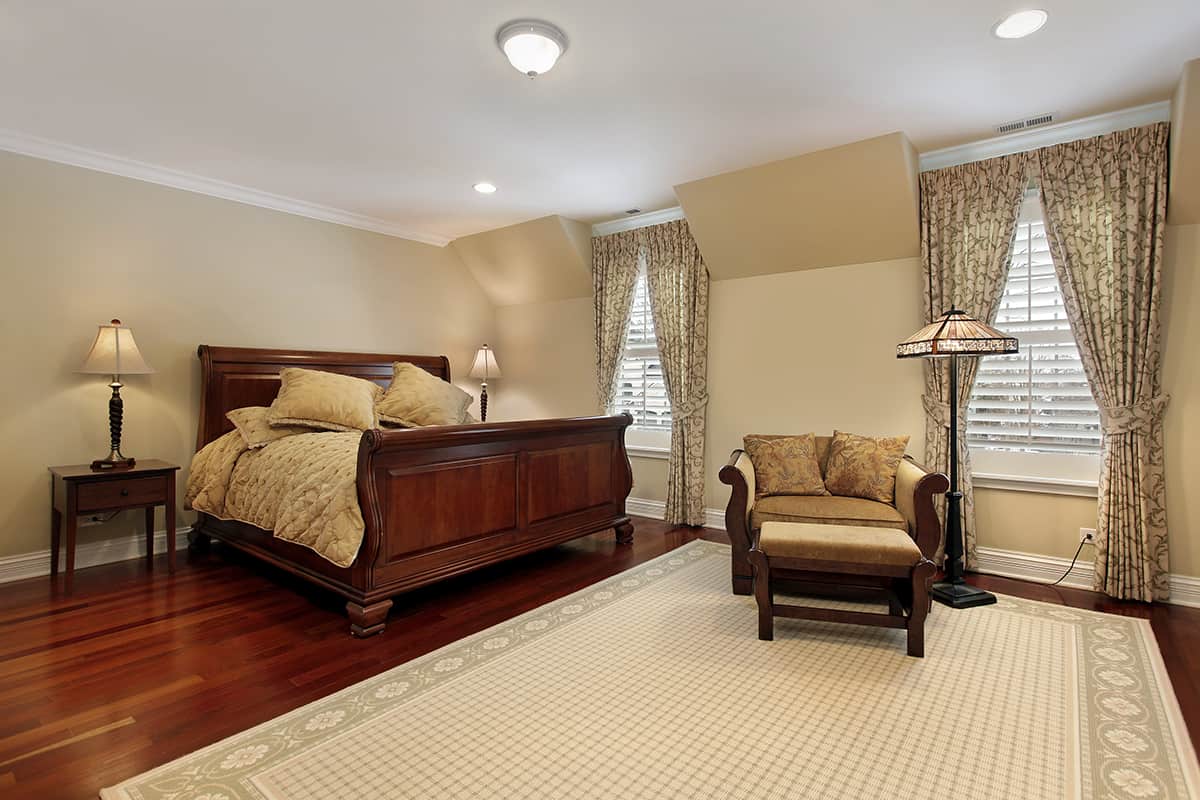 It's not just the living room that can look chic with cherry wood floors. In a modern bedroom, using cherry flooring is a popular option, especially when paired with cherry wood furniture. This combination is ideal for master bedrooms with neutral accessories.
When pairing cherry wood furniture with the floor color, pick light accent pieces so as to avoid making your bedroom dark or heavy.
The bold furniture and floor color will be the focal point of the room but take care, not to over furnish the space with cherry wood furniture. To keep it stylish, add a matching bedside table and accent chair to go with the bed frame and headboard, as shown here.
In this bright and stylish bedroom, the emphasis is on the red and brown undertone of the floor and furniture.
The rest of this master bedroom's decor is in warm beige as this color complements both brown and red. All the furnishings here, including the large beige rug, work perfectly well together to highlight the cherry wood tones.
Black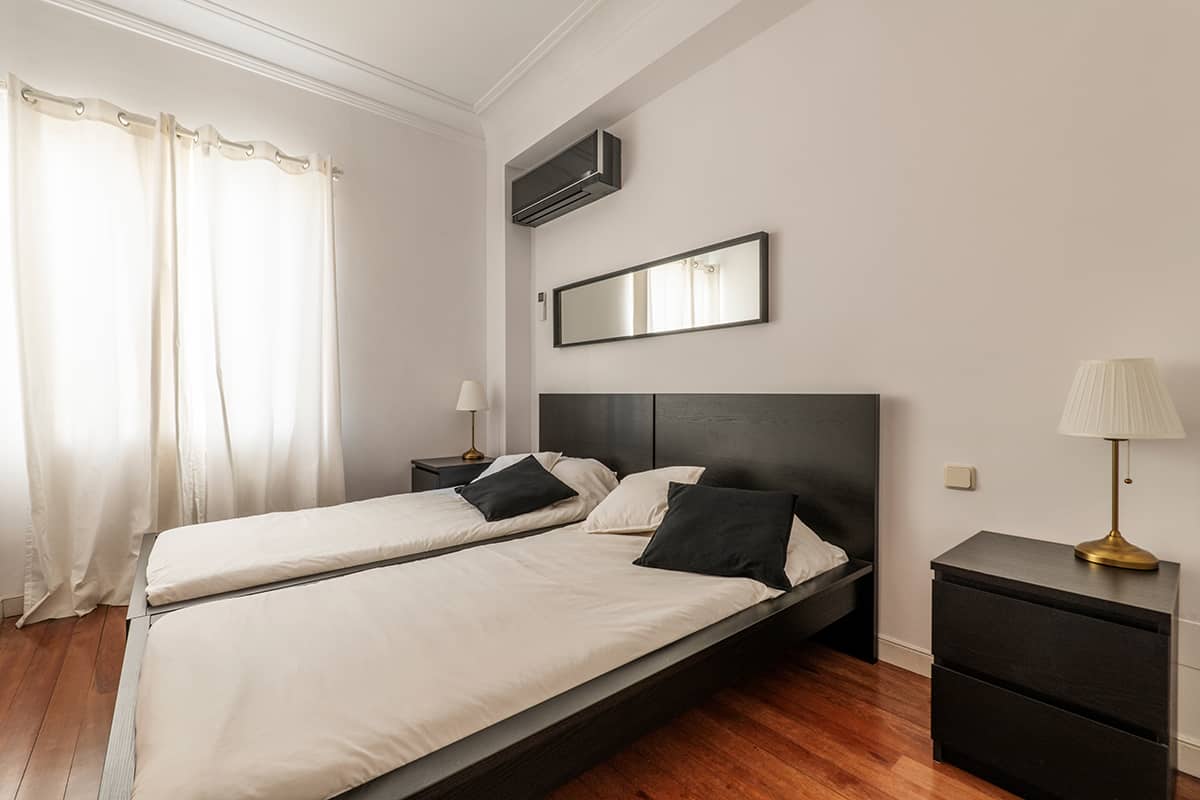 Anyone who is into interior design knows very well how black furniture goes with cherry floors. After all, red and black are highly popular in both modern and traditional interiors, so it makes sense to combine these colors for the living room.
Whether you prefer black leather sofas or a black coffee table with your cherry red floors, the centerpiece will, without a doubt, be the black furniture items.
In this bedroom example, all the furniture is in striking black, while the white bedding provides a bright contrast to both the furniture and the cherry wood floor. The result is a sophisticated and clean interior that oozes style.
What Color is Cherry Wood?
Originating from the wood of the cherry tree, this durable hardwood is famed for its beautiful undertones. At the beginning of the ripening process, the color of cherry wood has a light yellow or pink tone. Over time, as it gets exposed to light, the color darkens to reddish-brown.
This darkening process occurs within the first six months of sunlight exposure and gets even darker after several years. Cherry wood is known for its stunning reddish-brown undertone, but it must go through an aging process by getting as much sunlight as possible before it darkens.
Why Choose Cherry Wood for Flooring?
With its deep red undertones and soft grain structure, cherry hardwood has long been homeowners' favorite flooring. This elegant, natural wood has a unique warmth that brightens up any space and brings an inviting vibe to the room.
One of the biggest advantages of cherry wood flooring is its durability. This impact-resistant wood makes it an excellent choice for high-traffic rooms. What's more, cherry wood is resistant to rot and water, thus requiring minimal maintenance.
When compared to oak flooring, which is significantly denser than cherry wood, we find that cherry provides better shock absorption with more longevity.
Although both hardwood floor options are extremely durable, cherry can endure years of wear and tear better than oak. There are various cherry wood colors to pair with in a room, with the most popular ones being the reddish-brown and light golden undertones.
Should All My Furniture Match Cherry Wood Floors?
Not all your furniture items need to match the color of cherry wood floors. After all, it can be difficult to find the exact color that goes with your flooring. The best way is to experiment with both light and dark furniture color tones instead of using the same color as the floor.
For example, if your cherry wood floor has a brown tone to it, rather than choosing light or dark brown furniture, you may want to consider burgundy or beige to brighten up the space. Although dark colors can complement cherry wood floors, they may overwhelm the room.
Therefore, it's best to use two or three different furniture colors. That said, some people prefer to match their furniture to the hardwood flooring or find the closest match. This is fine as long as your choice of color doesn't make your room appear too dark or heavy.
Can I Stain Cherry Wood Floors?
Yes, it is possible to sand and stain your cherry wood floors if they are starting to look a little faded or worn out. To give your cherry wood floor surface a fresh new look, you must first use a sander to gently buff the hardwood floor. But take care not to over-sand the floor as this may cause damage to the surface.
The idea is to do it gently and patiently. If you wish to lighten the floor's tone, it is perfectly acceptable to use bleach. In case you're not into home improvement tasks, seek the assistance of a professional interior decorator. Keep in mind that your furniture must be removed from the room prior to refinishing the cherry wood floors.