If you're thinking of buying cherry wood furniture for your bedroom, or you've already decided to make this wood color part of your bedroom design, you may be wondering what colors work best with it.
Cherry wood has a stylish appearance that's aesthetically pleasing, and since the color of this wood has a dark reddish undertone, it can work with a number of warm and cold colors.
To effectively decorate your bedroom, it is important to select the most complementing colors and accents that go with cherry wood furniture.
For example, the reddish colors of most types of cherry woods look amazing with monochromatic red, neutrals, and even contrasting colors like green and blue. And since cherry wood has a deep red undertone, you can pair your furniture with other warm colors for an invigorating combination.
Ultimately, it is up to you to choose the right colors for a bedroom with cherry wood furniture. But to make this task easier for you, take a look at our excellent color examples below to improve the overall aesthetic of your bedroom:
Best Color Schemes for Cherry Wood Bedroom Furniture
White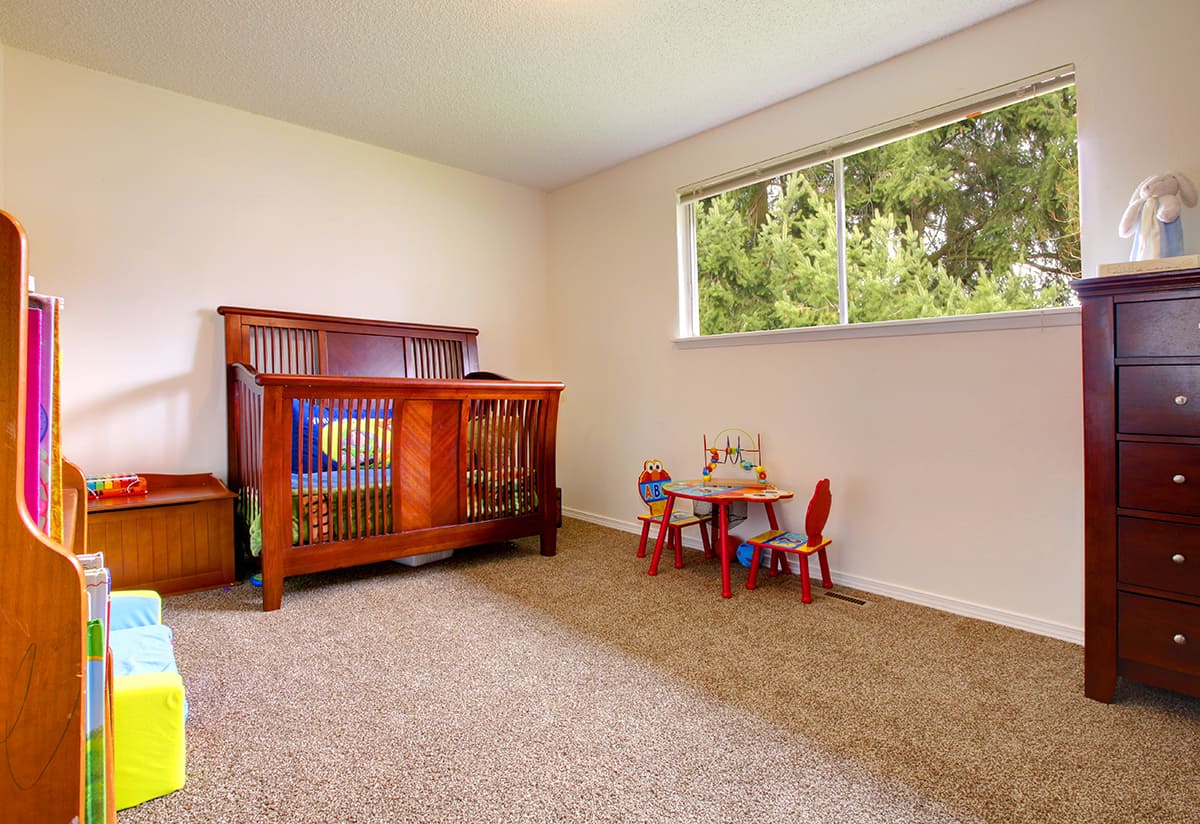 White has always been the easiest option to pair with any wood furniture color. In fact, cherry wood looks amazing next to white as the intensity of the red hue is reduced by the crisp white.
This ensures the bedroom's overall appearance is more balanced and subtle. At the same time, white takes the dominating role when paired with your cherry wood furniture.
To incorporate this neutral color into your bedroom with cherry wood furniture, consider painting the walls a pure and crisp white. You can also opt for white bedding to brighten up your bedroom.
Beige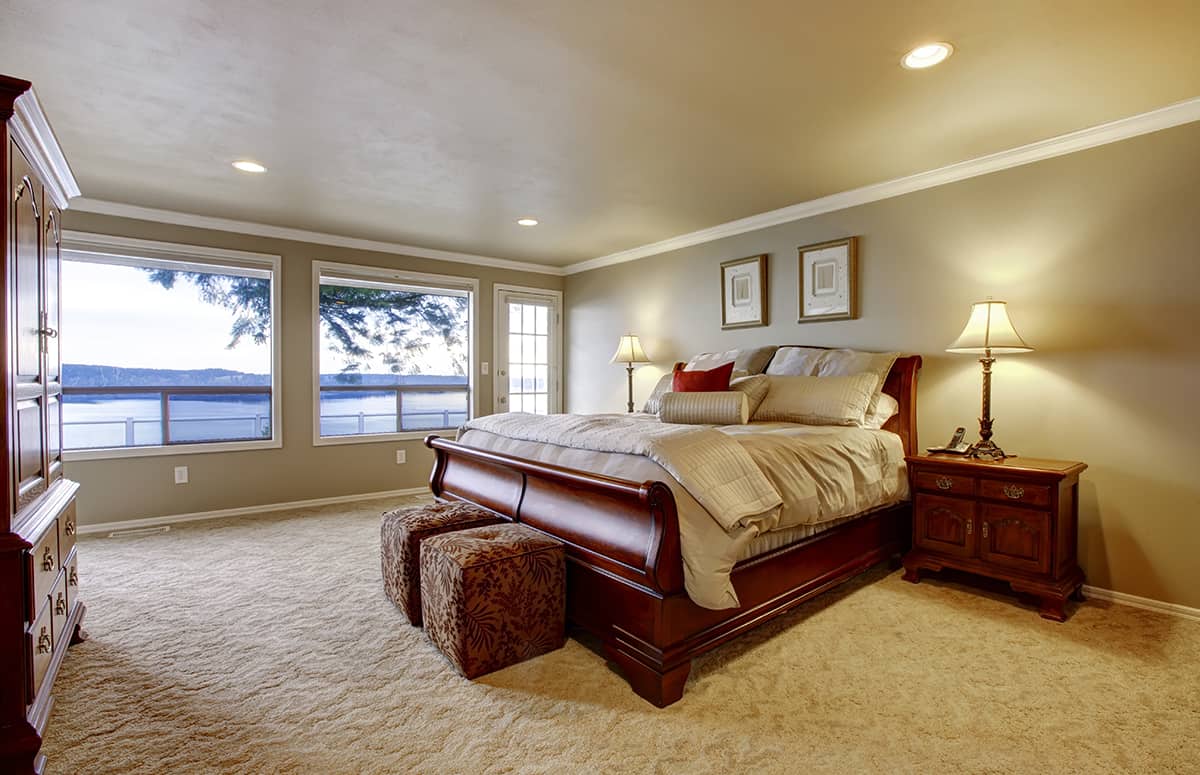 When it comes to creating balance and harmony with your cherry red furniture, beige is the best option to consider. This color enhances the texture of the wood and the best thing is, that you can use beige abundantly throughout your bedroom without it overwhelming the space.
See how consistent and balanced the appearance of this bedroom is thanks to the beige bedding, flooring and the walls. The focus is on the cherry red furniture since beige serves as a neutral backdrop.
Pale Green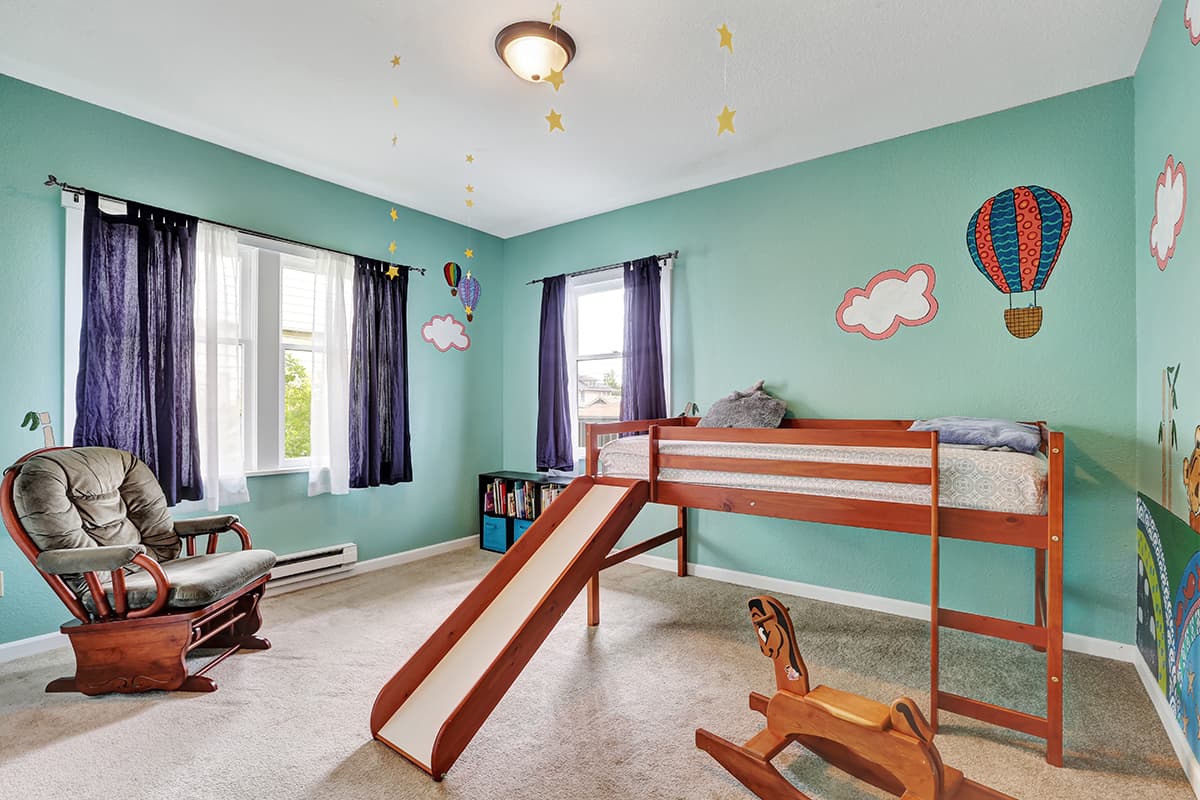 If you want to make your bedroom with cherry wood furniture truly feel earthy, then what better color to pair the natural redwood with than green! This refreshing color can add an eye-pleasing ambience to your bedroom.
To maximize the effect, opt for a pale shade of green in order to keep the cherry wood furniture as the focal point of the room.
While the cherry wood color itself may look a little dull, pairing it with a soft and subtle green shade will bring a much more joyful feel to the bedroom. One such shade of green we recommend is lemongrass as it's vibrant yet subtle. This combination contains the perfect balance between brightness and subtleness.
Gray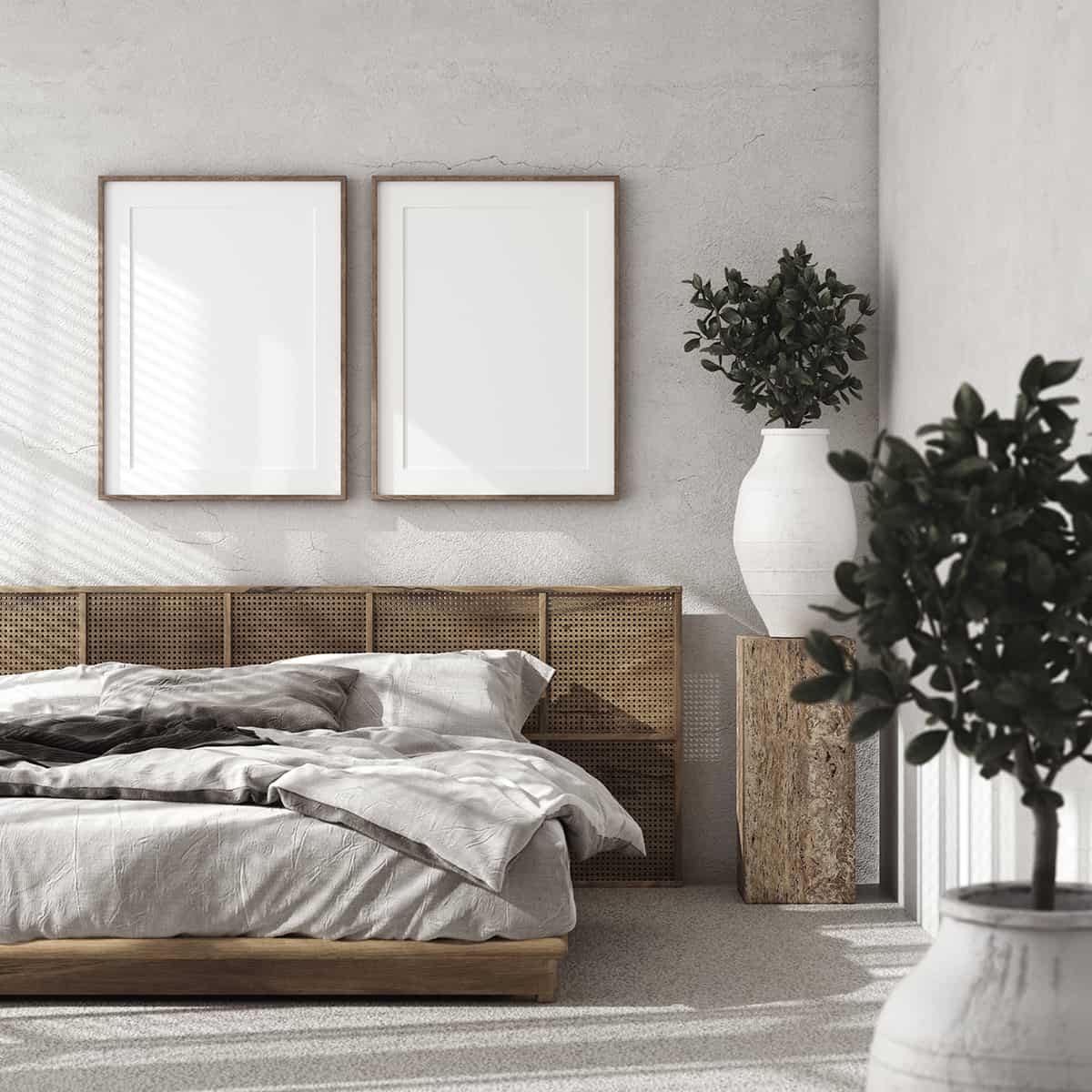 To generate depth between the cherry wood bedroom furniture and the colors of the room, choose a modern color like gray. This neutral color gives enough depth to bring out the cherry wood's natural accent.
Since gray is neither too dark nor too light, it is an excellent contrasting color to coordinate with your bedroom's cherry wood furniture. Use this color to make your space feel cleaner and brighter.
Whether you use gray for the walls, the bedding, the flooring, or all of them, this classy color is sure to bring life to your bedroom. See how eye-catching this example we've picked looks thanks to the comfortable and cozy vibe of the gray combination and cherry red furniture.
Warm Accent Colors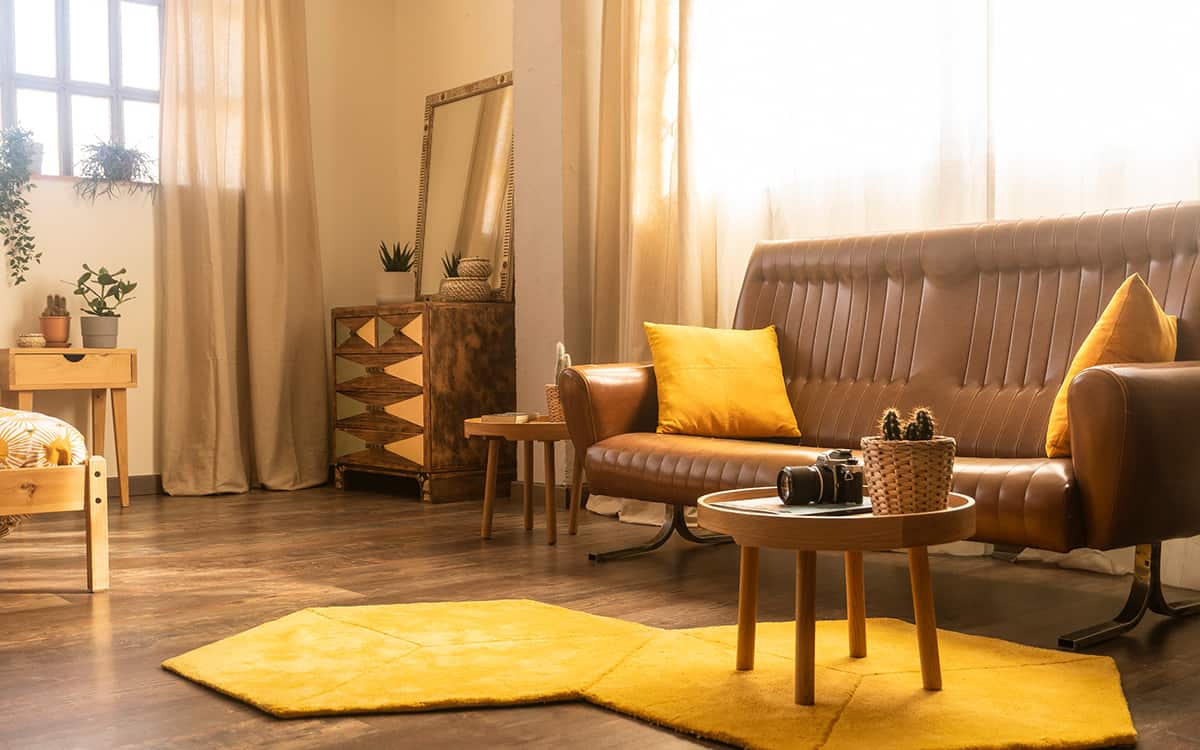 Any warm accent color will work well with cherry wood since the furniture color itself is a deep shade of warm red. If you are a fan of warm tones and want to incorporate them into your bedroom with cherry red furniture, look for shades of yellow, cream, or orange in the form of floor covering, throw pillows, window treatments, and even wall paint.
See how powerfully warm this bedroom feels thanks to the yellow pillows, rug, and natural wood accessories. The soft yellow curtains and walls also enhance the appeal of this boho-inspired room. Doesn't this bright bedroom feel inviting?
Dark Accent Colors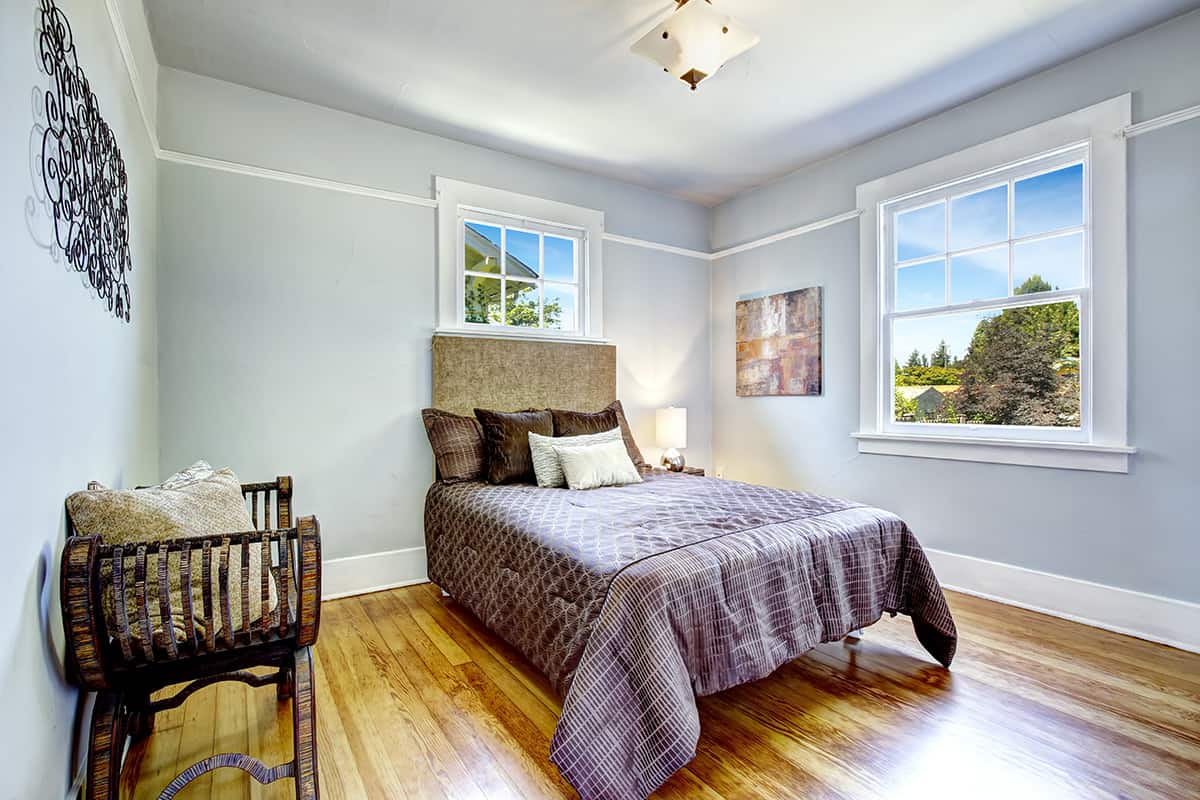 Cherry red furniture has so much presence that it's hard not to make it stand out against darker colors. By choosing an intense color scheme like purple or blue for the bedding, you can generate balance in the color design. We particularly like lavender as a beautiful and harmonious shade of purple to pair with cherry wood.
Dark accent colors tend to create a subtle contrast against cherry red as they blend in with this color scheme rather than stand out on their own.
But just because we recommend dark colors, it doesn't mean your bedroom is going to look dark or closed in. Instead of painting the walls a dark color, consider using dark purple or blue for the bedding. Your bedroom with cherry wood furniture will truly be a unique and relaxing space with this color combo, as shown in this example of a bright and airy bedroom.
Red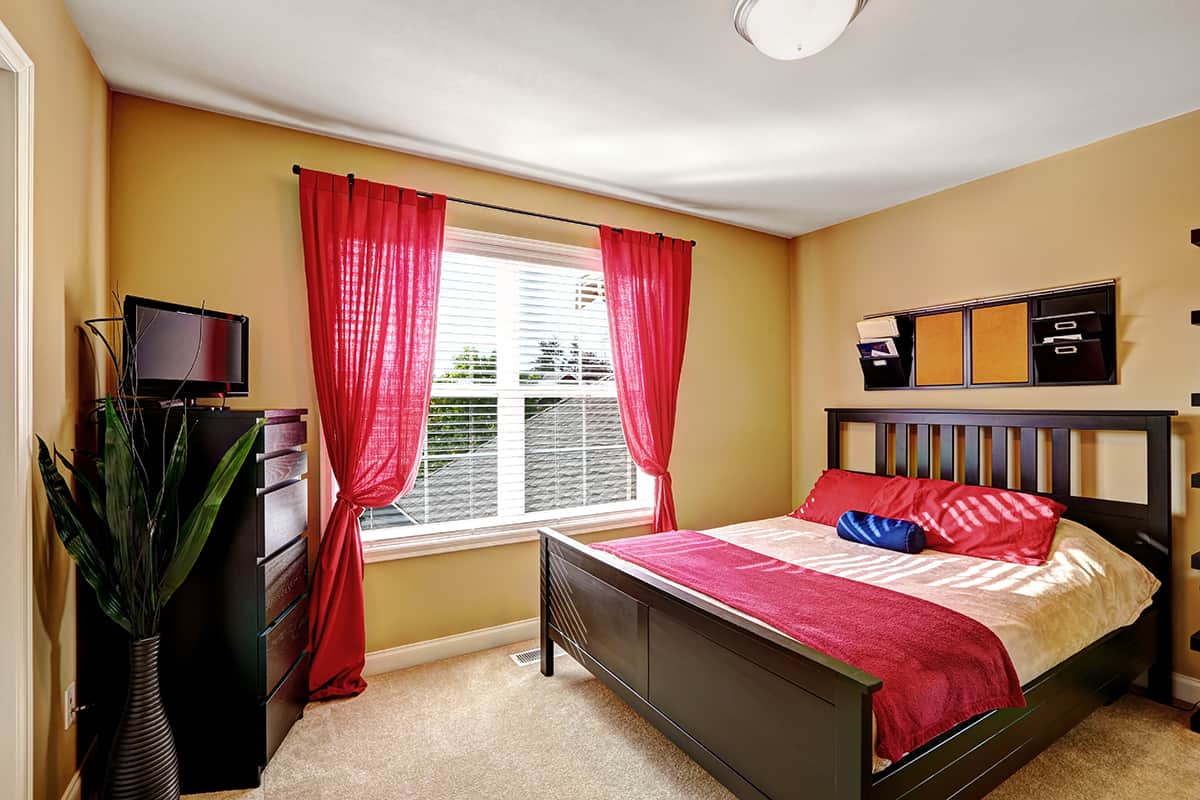 We've mentioned warm accent colors previously, but how about a monochromatic color scheme? Cherry red wood is a deep shade that makes a bedroom feel elegant.
However, it's best not to use a dark shade of red as it will not add much impact. It is best to use a bold shade of red for the curtains and the bedding as per this example.
Be aware that using too much red can make the room feel smaller. Avoid painting the walls in this color as you don't want the space to bleed. Pair another warm color like yellow (for the walls) to soften the red just like in this photo.
What Color Flooring Complements Cherry Wood Bedroom Furniture?
With cherry wood bedroom furniture, it's not just the color of walls and accessories that need to work with this wood color. The flooring you choose must also go with your furniture.
Some contrasting colors you can pick for your bedroom flooring include off-white laminate, gray tiles, or blue carpet.
For the most coordinating combo, go for light brown wood or beige wood flooring. This will ensure your cherry wood furniture looks cohesive when paired with earthy, warm wood flooring colors. Alternatively, you may opt for oak flooring in a dark brown tone or a deep shade of red carpet.
What are the Best Undertones that Go with Cherry Wood Furniture?
Cherry wood furniture has a versatile tone, which means there is a wide range of colors that can be paired with this wood. Warm colors with red undertones coordinate well with the red hue of cherry wood furniture.
To contrast your cherry red furniture, cool blue undertones make a good choice. That said, neutral colors with a tan or taupe undertone balance the room better than bolder ones.
Therefore, stick to shades of beige for a coordinated look. While cool undertones like blue or green tend to stand out more against cherry red furniture, it's best to use them in moderation.
For example, you may paint your bedroom walls sage green or sky blue and incorporate neutral bedding and area rugs for a relaxing vibe.
Remember the warmer the undertone, the more sense of cohesiveness you will achieve in your bedroom with cherry red furniture. While cool-toned colors tend to give your cherry wood furniture a brighter and more vibrant look, they can overwhelm the room and detract the eye from the furniture.
Conclusion
When you're trying to decide what colors go with cherry wood bedroom furniture, always pay attention to the undertone of your furniture. The best accentuating colors that go with warm red include any neutral shade like beige, white or gray, as well as cool colors like greens and blues.
Contrasting blues and greens are ideal as bedding or wall paint colors whilst warmer tones like beige and light red can be used for the accessories or throw pillows to bring out the natural look of the cherry wood.
To coordinate your cherry wood bedroom furniture with the most fitting colors, you must first decide whether you wish the colors to contrast or complement the cherry red.
As we previously stated, complementary colors that can be paired with cherry are light red and beige. For contrast, however, go for cool hues like blue or pale green.
Neutrals tend to accentuate the warm red undertone of the cherry while the cool hues pop next to the cherry furniture. Hopefully, our article has provided you with some ideas and inspirations on how to choose the right colors for your bedroom with cherry wood furniture.