If you have fallen in love with the new brown flooring that you are going to have installed in your home, then you might be curious as to which colors will go best with it.
You may even have existing brown floors and are wondering how you can decorate them in a way that makes them look more stylish.
Here we look at the stylish wall colors and styles to pair with brown floors and suggested wall color choices for different brown floor types.
Wall Colors for Brown Floors
Gray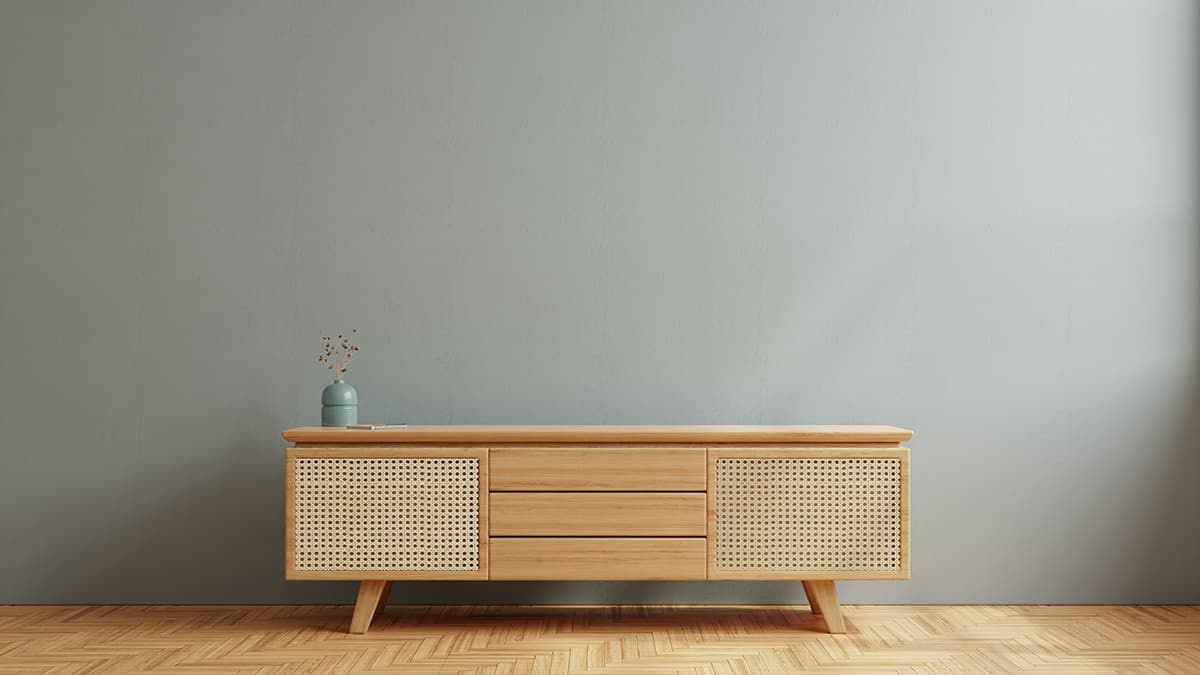 Any shade of gray is going to work well on walls next to a brown floor, whether that be a light gray, a dark gray, a warm gray, or a cool gray.
Gray is a quintessentially modern color, so it is the perfect choice if you are trying to update a room with an old-fashioned brown floor.
Since gray and brown are both neutral colors, the options are endless for the accent color you could use in this color scheme. Green would work well as an accent color to set a natural themed space, while pale pink would be a good choice for a subtle hint of femininity.
Blue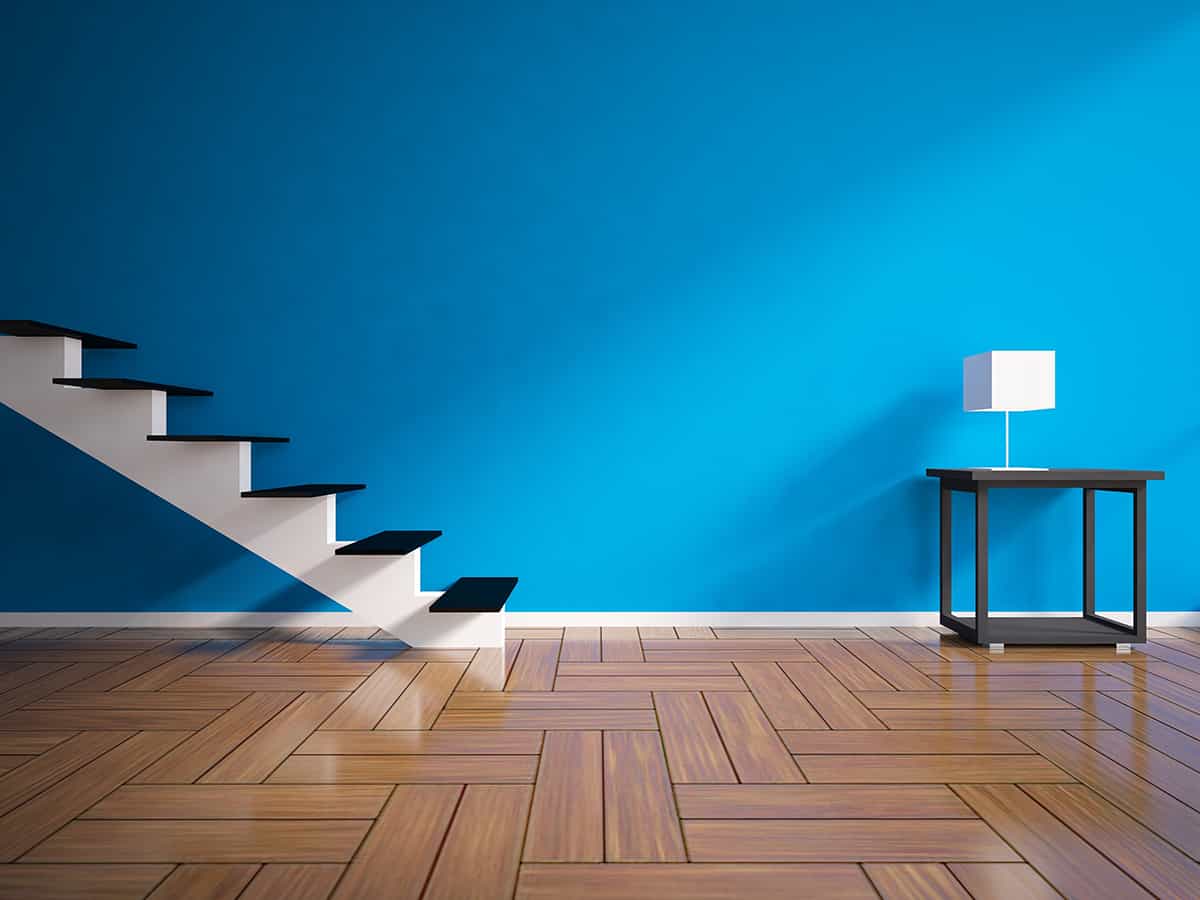 Blue has a cool temperature that works well against brown because it can balance out the warmth in this color floor. Blue is a hugely popular color scheme choice for walls because it has so many positive associations, such as tranquility and relaxation, and this means that it can be a nice option for any room in the home.
By pairing blue walls with a brown floor, you can create a muted contrast between cool and warm without forcing a bold clash between the two.
Opt for pale shades of blue with a mid-brown wooden floor for a calm atmosphere, or use navy blue wall paint with dark chocolate brown floors for a more intense style.
Green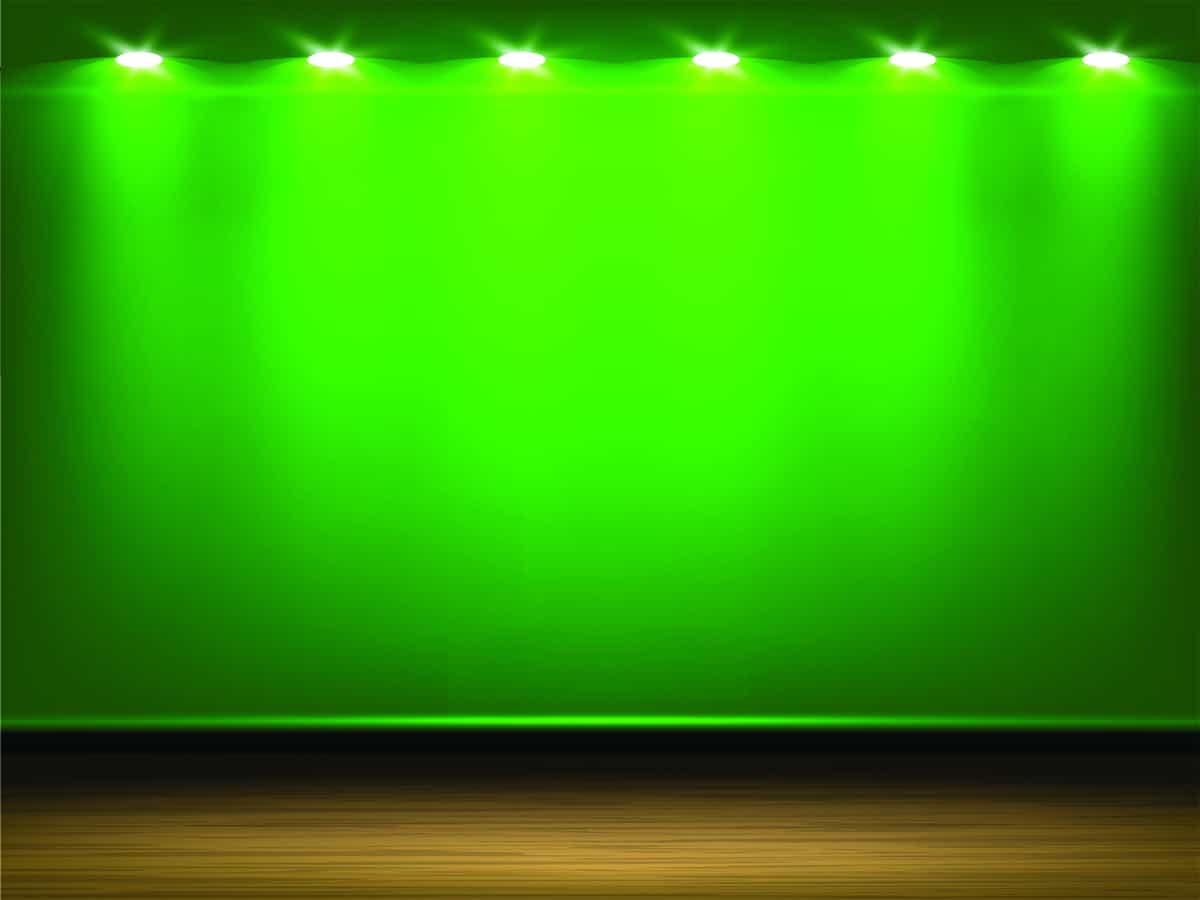 Green and brown are two colors that are commonly seen together in the natural world, so they create a sense of harmony when used together in home decor.
Despite being on opposing sides of the temperature scale, with green being a cool shade and brown being a warm shade, these two colors just feel right together, most likely because we are so used to seeing them in the same context in nature.
Use green wall paint with brown floors to invite the outdoors into your space, creating a link between your interior property and your exterior property. This is best achieved with earthy shades of green such as sage and olive, but it can also work well with dark or bold colors such as forest green and lime green.
White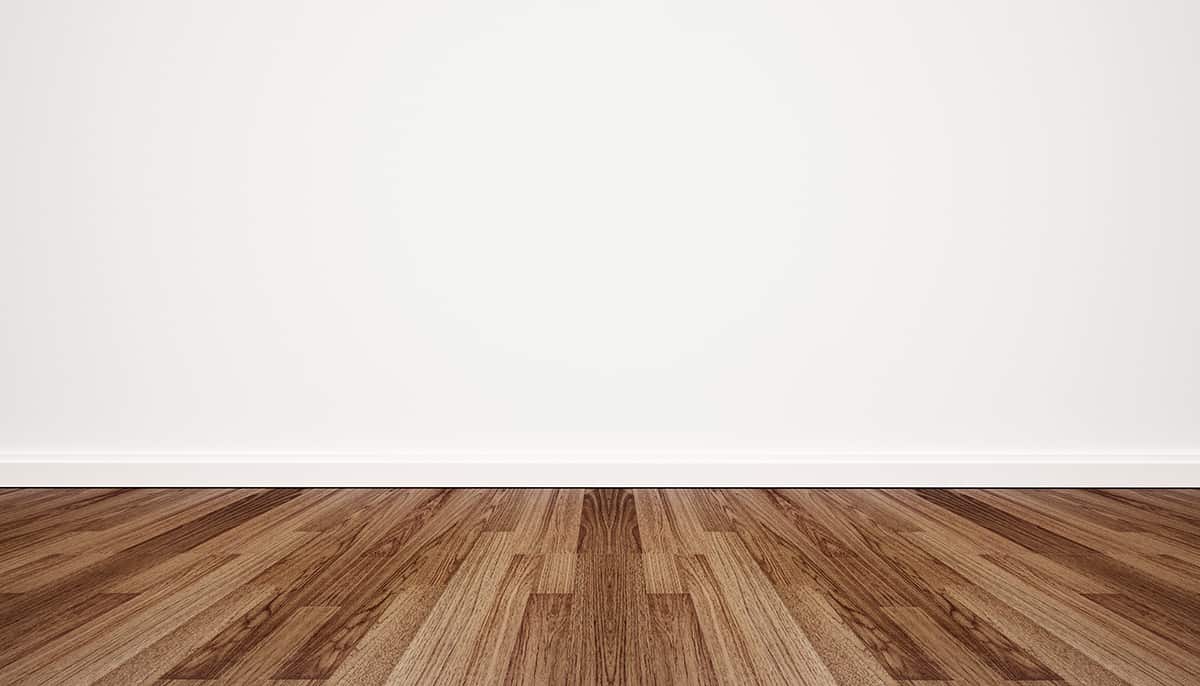 If you have a room with a brown floor that seems to be sucking all the life out of the space, you could lighten it up with white walls. Pure white isn't generally a good option in this scenario because it can come off as stark or dinghy.
However, a warm off-white with yellow undertones will make a room with a brown floor feel instantly lifted and brighter.
The yellow undertones echo the warmth in the brown floor and create a sense of joy and light, as opposed to cool off-white paints, which could make the space feel cold.
Beige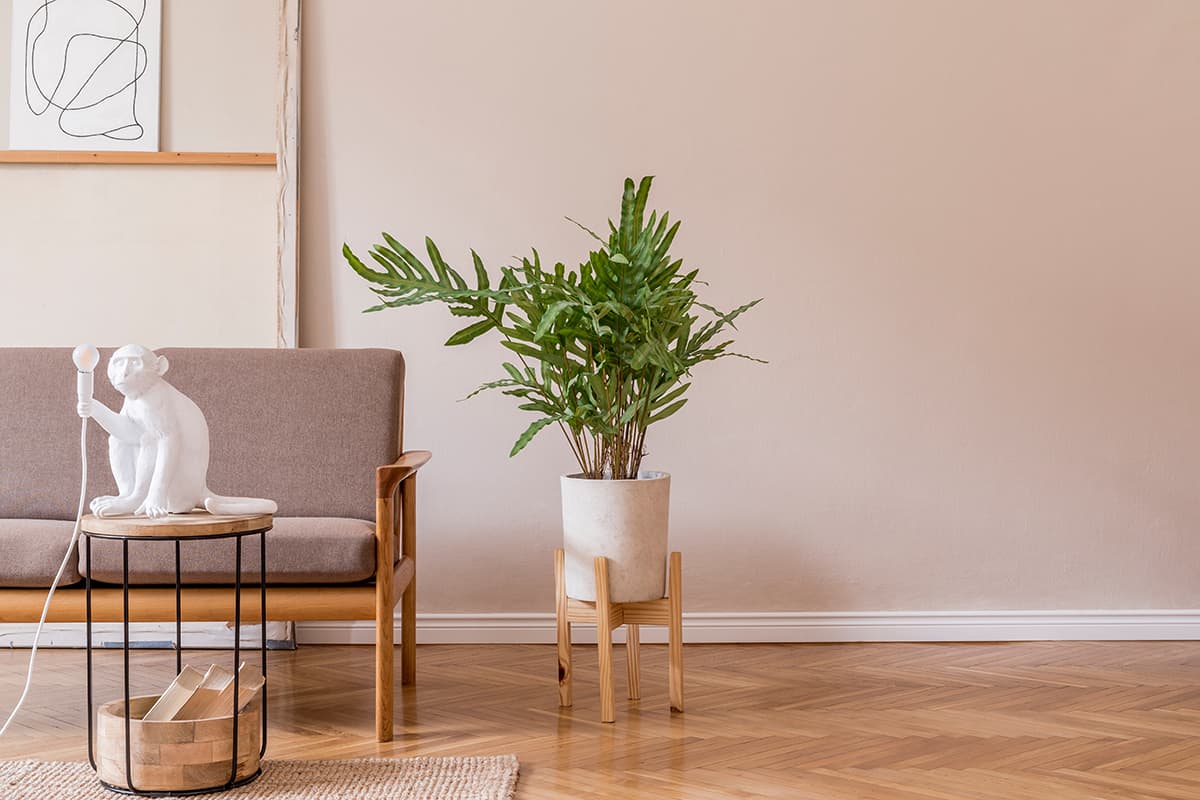 Beige and brown are an easy color pairing that never fail to feel cozy and welcoming. If you want a room that lures you in for calm and relaxing times, then beige walls with a brown floor can work well.
Opt for a pale shade of beige to ensure the color of the walls and floor don't look too similar. You'll need to ensure definition between the two, so if the floors are a pale brown, then opt for a shade of beige that is significantly lighter. With dark brown floors, most shades of beige will work well.
These two colors can look old-fashioned when not styled properly, so take care to use sleek lines and modern touches for accessories to avoid this.
Greige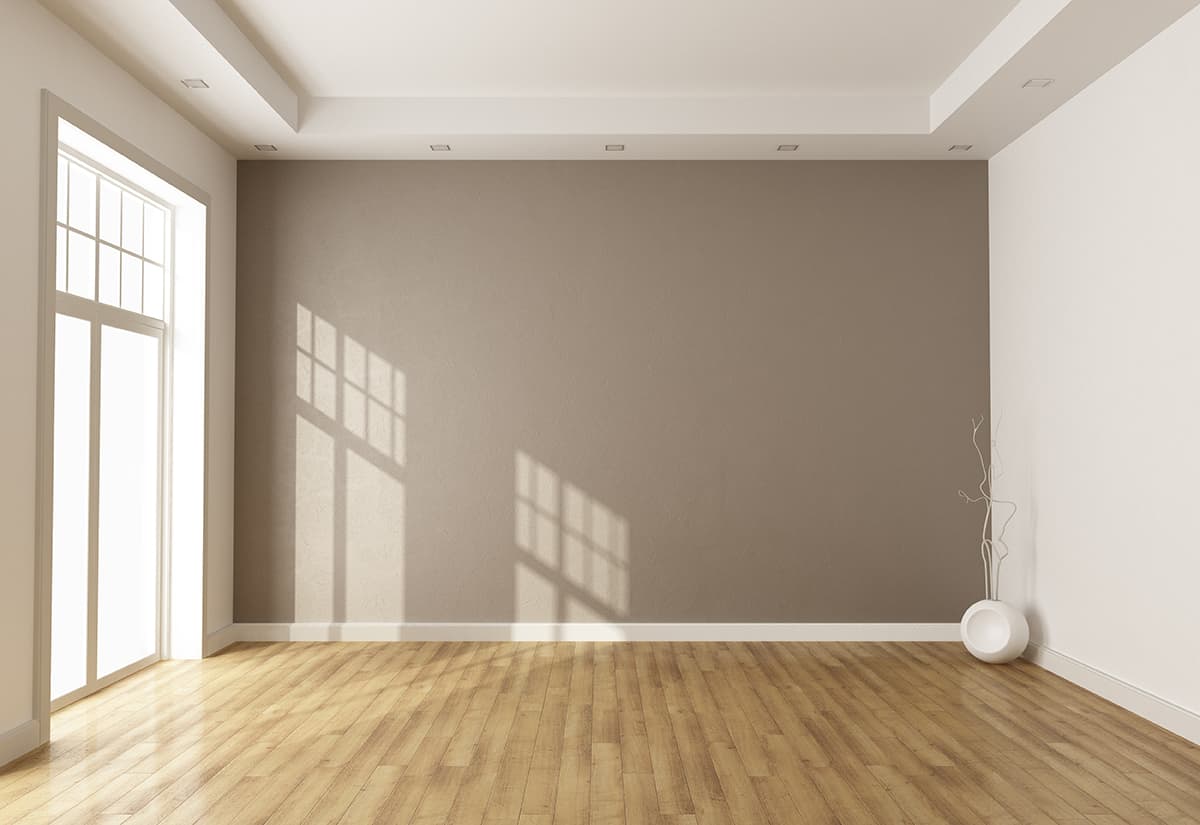 Greige is the wall color of the moment since it combines the modern luxury of gray with the warm familiarity of beige. Use this color with brown floors if you are aiming to create a space that feels welcoming and cozy while still being contemporary.
The warm tones in greige pick up on the warm tones on a brown floor, while the cool tones create a really subtle contrast.
Wall Color Suggestions For Different Brown Floor Types
Brown Hardwood or Laminate Floors
If you have brown hardwood or laminate floors, then you will be able to use almost any color with these. This is because wooden surfaces are natural, and therefore they work as a neutral base.
However, the tone of your brown wooden floors will dictate which colors will go best on the walls. You can follow our article on ' Hardwood floor and wall color combinations' for more inspiration
Walnut brown floors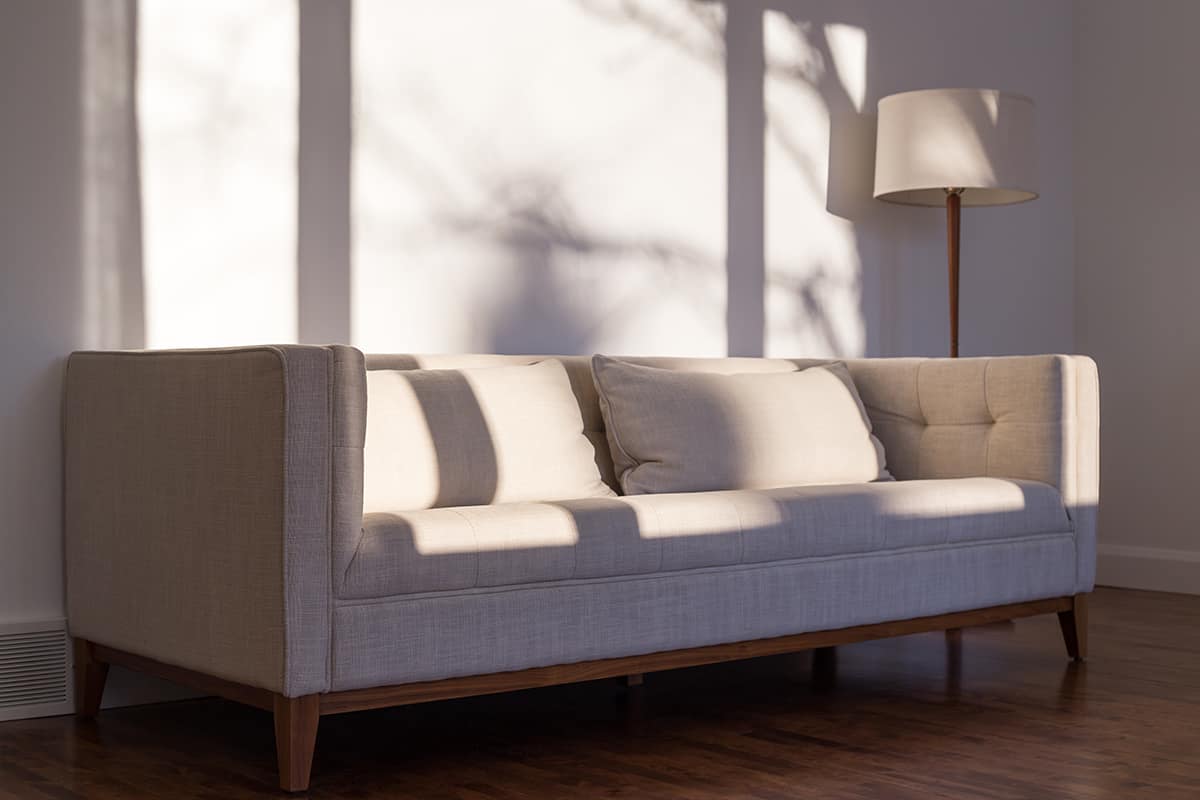 Walnut is among the most common colors for hardwood and laminate floors, whether that is achieved using solid walnut wood or a walnut-colored stain. Walnut can vary from mid-warm brown through to a rich dark brown.
Some walnut shades can have a slightly red tone, but usually, they will have more golden streaks running through them. Walnut brown hardwood or laminate floors are a really great option for natural style decor themes, using shades of beige and earthy green.
Paint walls in olive green and use beige accents, such as a jute rug on the walnut floor and a dark forest green sofa. Walnut brown floors will also look great with luxurious decor themes because they have a rich and elegant appeal.
Warm and cool shades on the wall will work equally well. For a warm and comforting feel in a room, choose tan-colored walls with a walnut brown floor and a mustard yellow sofa. For a contemporary look, choose gray walls and an emerald green velvet armchair.
Oak brown floors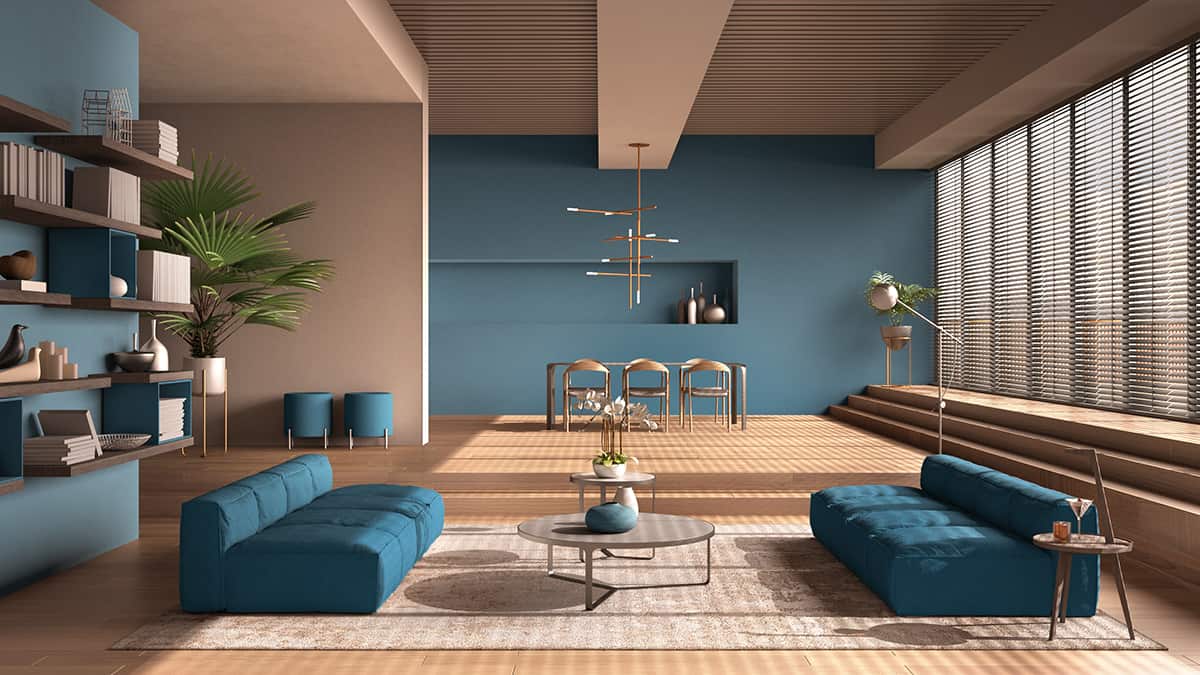 Oak floors come in a variety of shades, such as antique oak and honey oak, but generally, oak-colored floors are a medium brown to light brown shade, with golden hues. Oak brown floors do not have any red tones, but they can have gold or even gray tones visible.
If you have oak brown wooden or laminate flooring, you can use almost any color on the walls, but avoid shades that are too similar to the brown color because this will make the room lack definition and feel flat or bland.
Tan-colored walls or pale brown will be too close to the oak color, so opt for pale beige or dark brown if you want to stick with a warm neutral color palette. Oak brown floors work well with cool color schemes for a subtle contrast; consider lilac walls with oak brown floors in a country cottage style bedroom or navy blue walls with oak brown floors in a farmhouse style living room.
Mahogany brown floors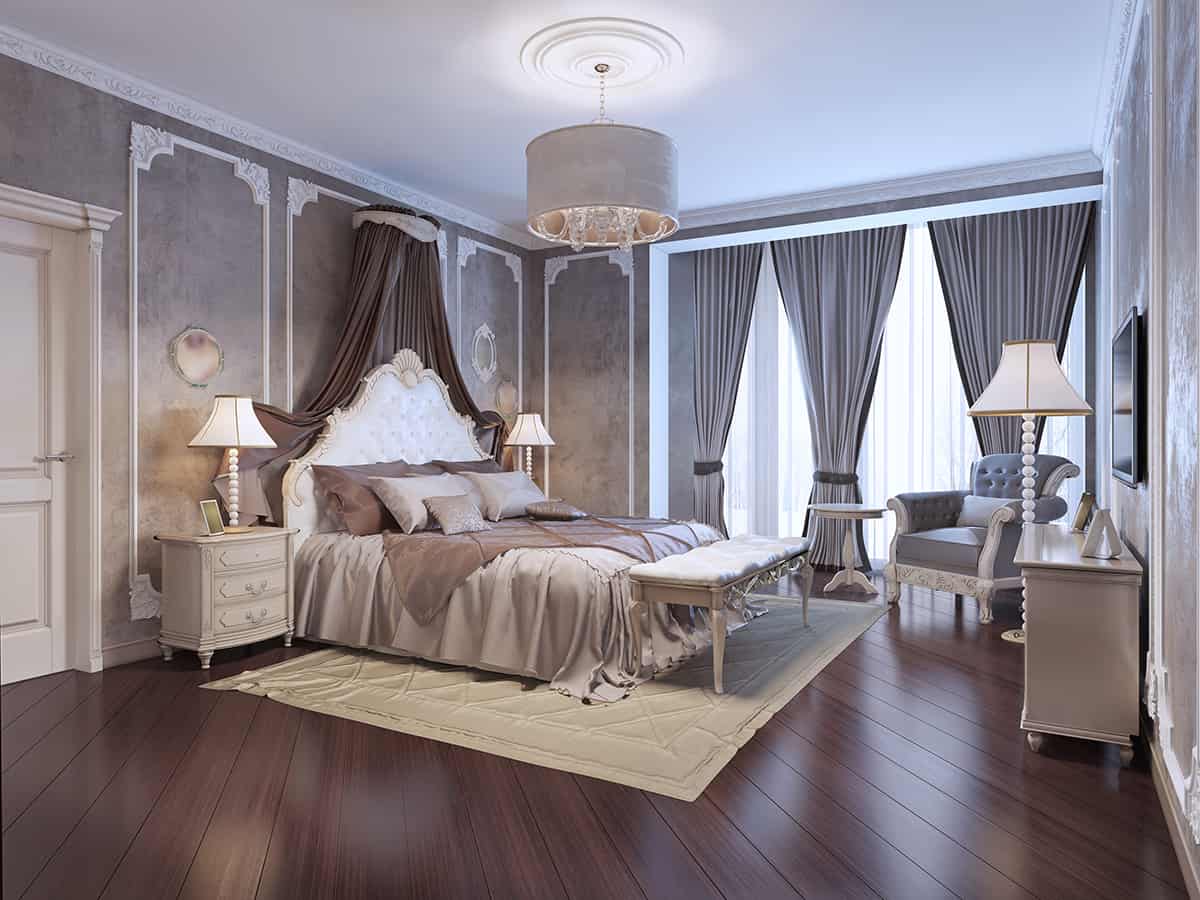 Mahogany brown floors are a dark red-brown color. You can use this as a base for a warm and cozy space by choosing another warm color for the walls, such as latte, cream, or burnt orange. By selecting warm colors to go with mahogany brown flooring, you will create a room that feels inviting, as it envelopes you in a warm hug.
Mahogany brown floors are a great choice for classic or traditional style decor, but they can look dated in more modern homes.
If you want to update the look of a room with mahogany brown flooring, choose a cool color on your walls. Pale gray will work nicely to bring a contemporary feel to a room with mahogany floors, or choose sage green for a fresh and natural style.
Choose aqua blue or blue-gray for a soothing feel that contrasts against the red on the mahogany floor. As mahogany floors tend to be dark, select a light wall color if a room doesn't get much natural light in order to make it feel fresh and airy.
If your room benefits from plenty of daylight, or you want to create a dramatic or intimate feel, then a darker wall color can work well.
Teak brown floors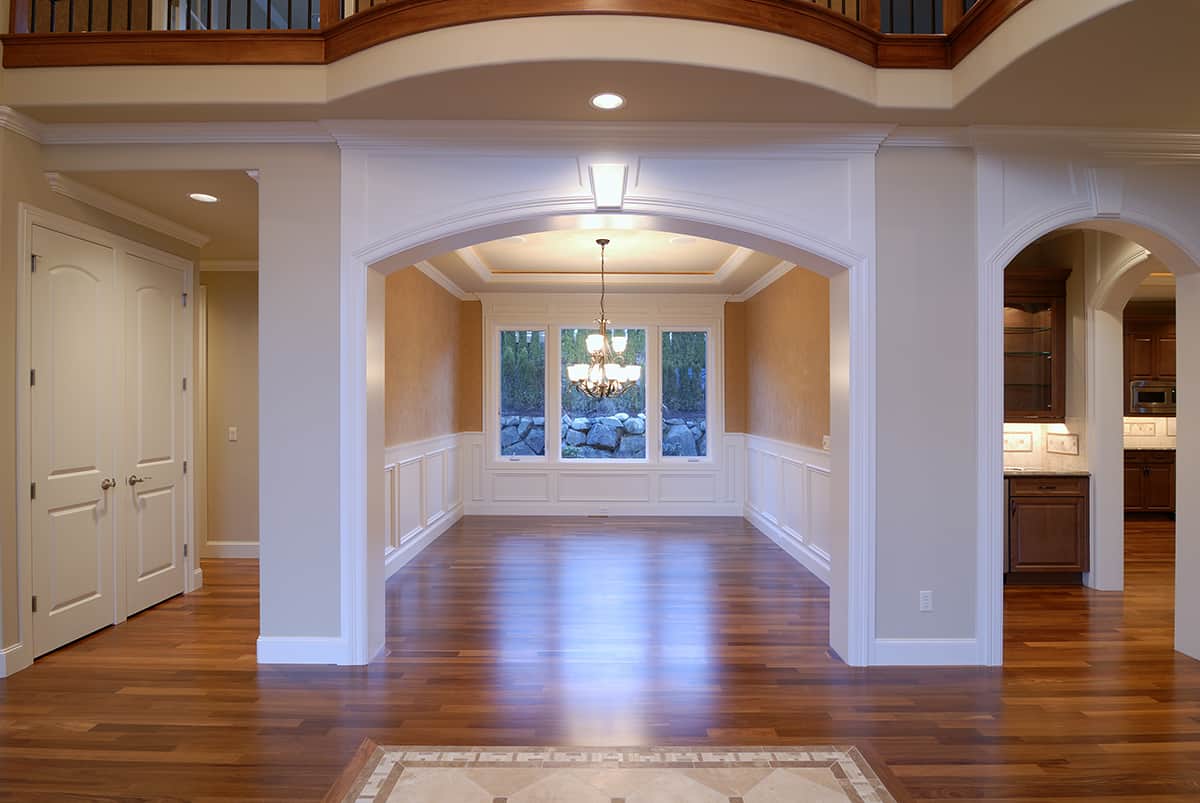 Teak flooring has more subtle red tones compared with mahogany on a brown base. This makes for a more modern style if you want to choose a brown-red shade for your flooring surface.
Avoid purple-red colors on your walls with floors of this color as it can look garish, and bright red or orange tones should also be avoided as this will be too intense. Instead, if you want a warm space, opt for soft lemon yellow walls or a shade of beige.
Greige is a color that will work well with teak flooring, which offers the warmth of beige with the modern feel of gray. Green walls will contrast against a teak floor, so opt for this color if you want the floors and walls to be at odds with each other. This can help to make each component stand out more.
Maple brown floors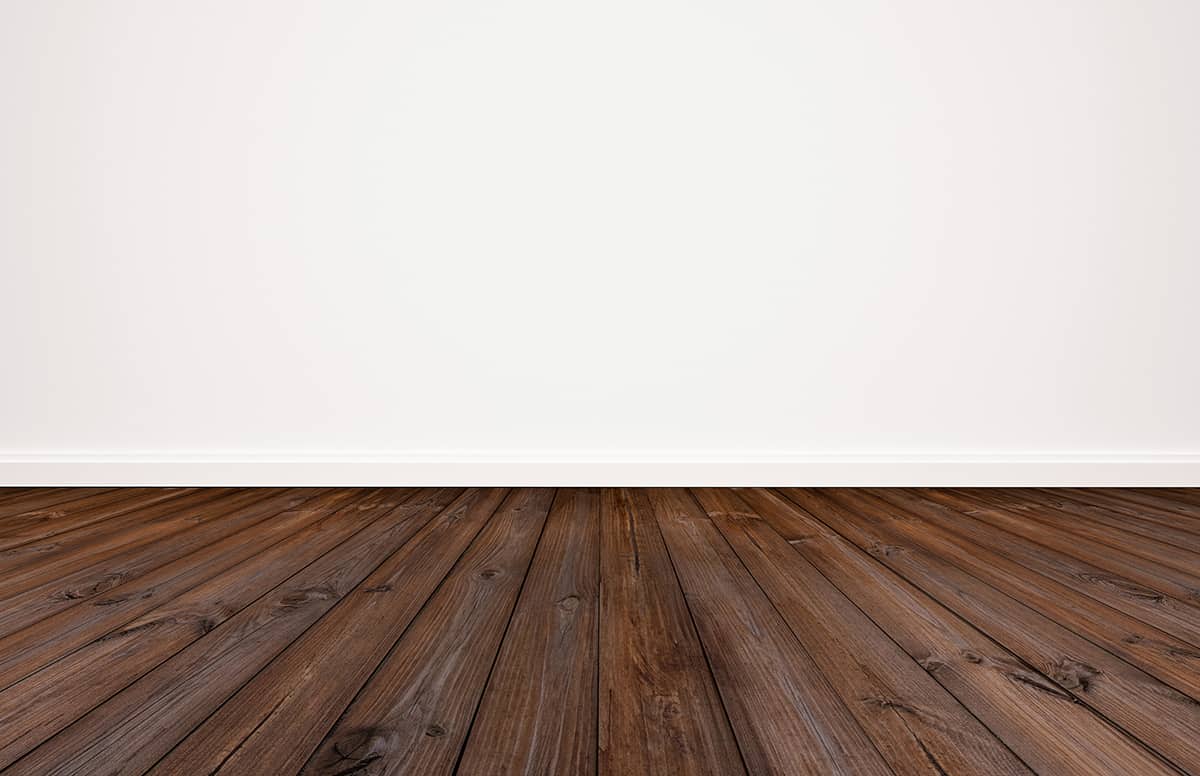 Maple floors have a rich brown chocolate color that feels indulgent and expensive. This is a stunning floor color to use in a sophisticated monochrome decor scheme, as it provides a warm base that looks luxurious.
Opt for white walls and black furniture to achieve this style. Maple brown floors will look stylish with cool tones on the walls, such as khaki green and duck egg blue. Warm colors can also work, but avoid red shades unless you want to draw out the red undertones in maple. Consider golden tan-colored walls or cream paint.
Brown Carpet or Tile Floors
If you have a brown carpet flooring, then typically, this is going to contain fewer different shades or tones compared with a wood flooring, which has various shades running through the grain.
This means that your floor will be a more consistent color, and you will need to match your wall color to it more carefully. With tile flooring, you may have a consistent flat color, or you may have marble tiles that have more color variation.
Brown marble floors
The type of marble you choose for your brown marble floors is going to affect the shades it is made up from and, therefore, which wall color will work best. Bronze marble is a popular type of brown marble that has a light brown base color, with patches of beige and gray.
This will work beautifully with pale gray walls or taupe walls, and it can also look striking next to white walls to allow the beauty of the floor to really shine. Emperador marble is a deep and dark shade of brown that should be paired with a light wall color to achieve a nice contrast.
Choose a cappuccino color for a warm color scheme or olive green for a neutral feel.
Brown tile floors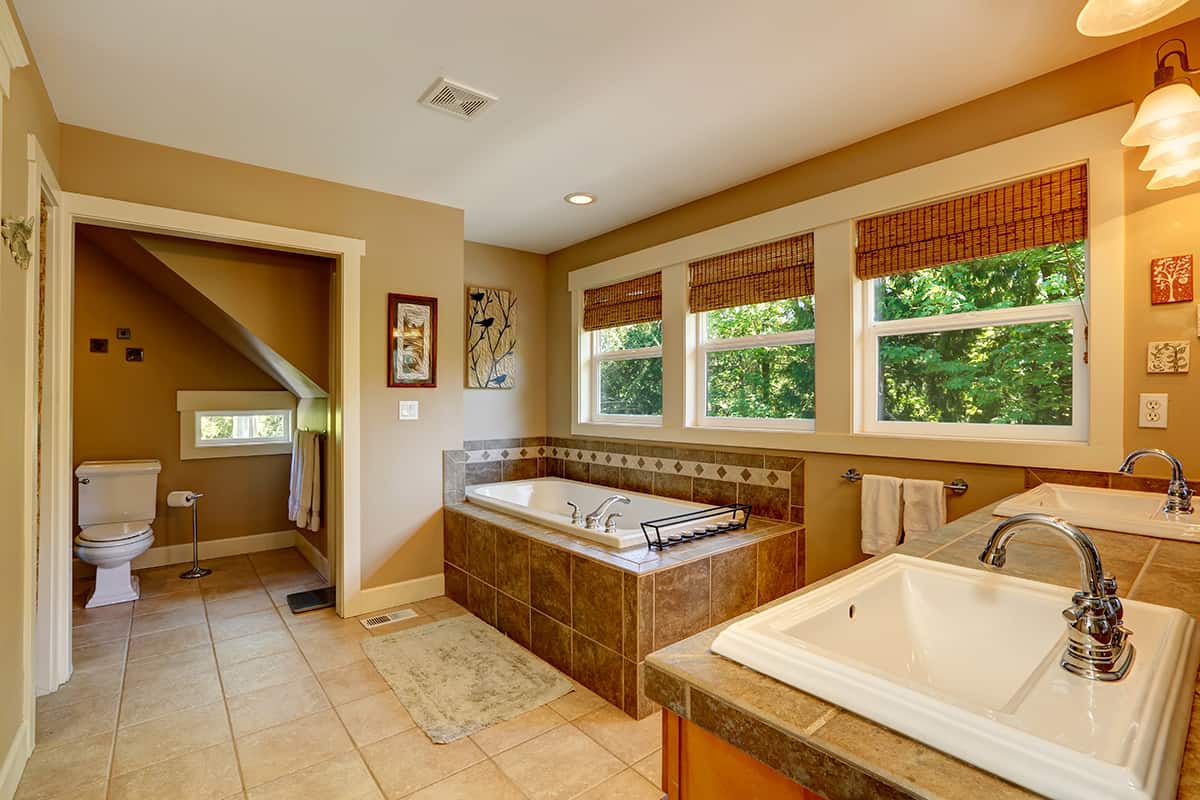 Brown tile floors will usually have a much more consistent color, though they can have swirled marble-like effects. Brown porcelain or ceramic tiles can range in shade from pale peanut brown to dark espresso brown.
Choose a wall color that is contrasting in shade to ensure some differentiation between the floor surface and the wall surface.
If you choose a similar paint color for your walls as the floor tiles, the color itself can feel overwhelming, and you also risk making the space feel bland.
If you have dark brown floor tiles, then opt for a medium to pale shade on your walls, and if you have light brown floor tiles, then choose a medium to dark shade for your walls. As a general rule, your wall color needs to be at least two shades lighter or two shades darker than your floor color.
Pale brown floors can be used to create a light and airy room with white walls and tan furniture, or choose dark brown floors with cream walls for a dramatic yet cozy feel.
Brown carpet floors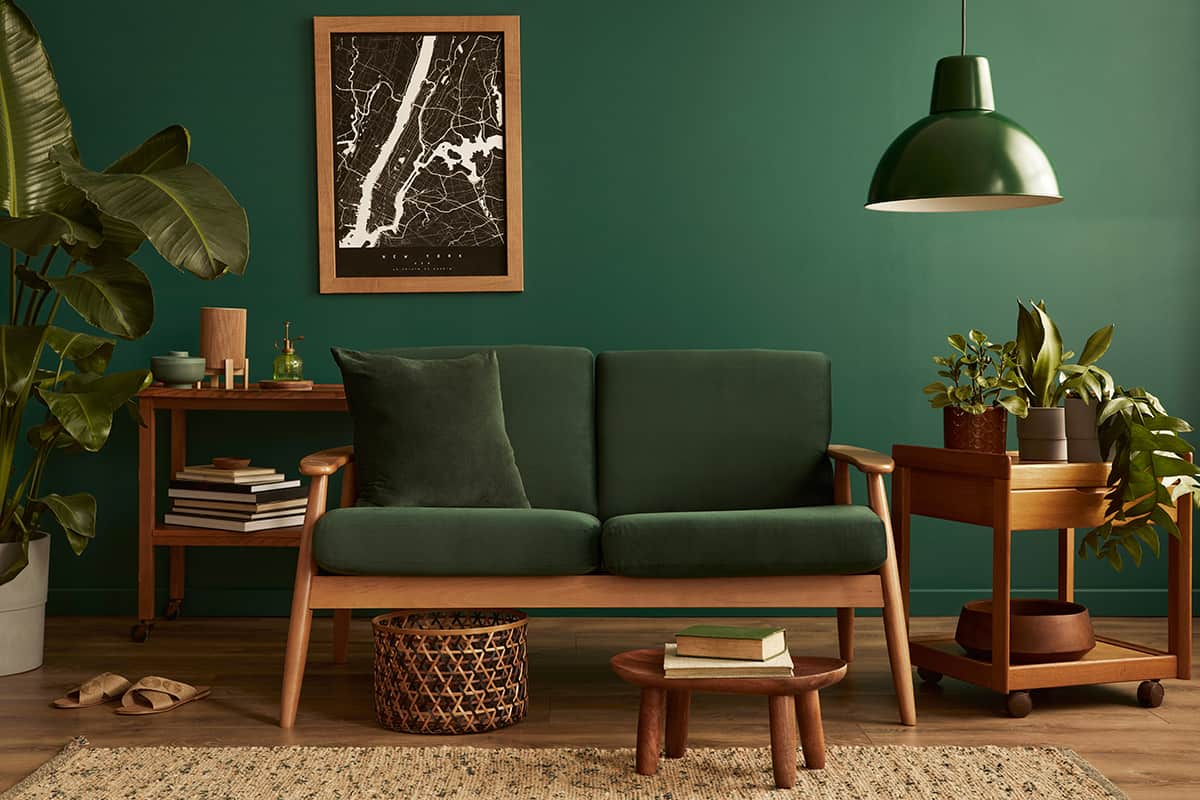 Brown carpet floors are popular because they create a neutral-colored floor surface that can be paired with a variety of wall colors, and they are also great at hiding stains or marks. Dark colors help to ground a room, which also makes brown a good choice.
If you want a variation of color in your carpets, then Berber is a nice option because it can have flecks of darker or lighter browns in it, which will add texture, or a thick pile of flat brown color can feel luxurious.
With a rich brown carpet, choose soft colors so that the room doesn't feel too intense and sickly, such as pale blue or gray. Cooler browns that have a gray base can be warmed up with colors like peach and apricot.
If your carpets are pale brown, then you could choose an intense wall color to liven up the space, such as teal or emerald green. Brown is a lovely neutral choice for a carpet, but it can also feel boring or dull, though fortunately, it works with a wide range of shades that will bring the room to life.
Decor Styles for Brown Floors
Earthy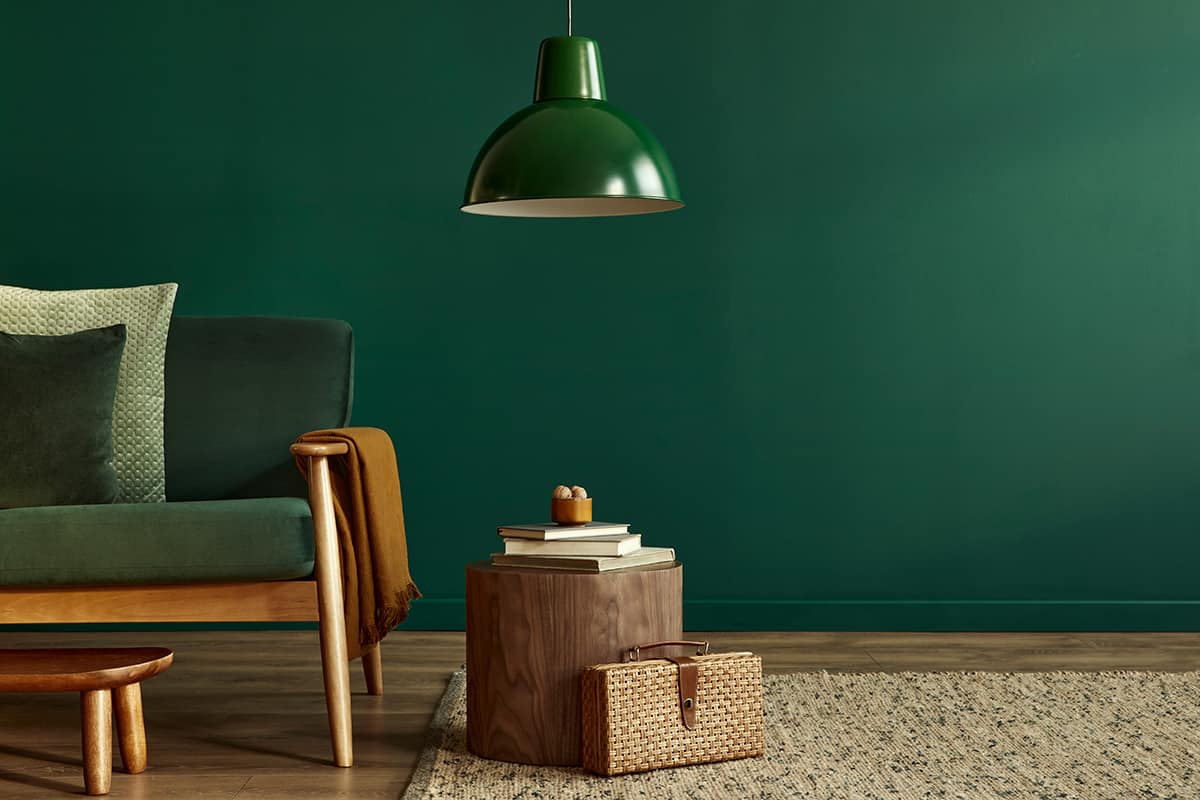 If you have brown floors in any shade or hue, these are going to work well in an earthy or natural-styled room. Earthy themes are all about focusing on colors that you would find in nature, and since brown in all of its various hues is a prominent color in nature, this is an easy look to achieve.
For your wall color, opt for a subtle shade of gray or green, and then accessorize with natural textures such as rattan furniture or jute rugs. Woven baskets can also complement an earthy theme beautifully, and houseplants will further serve to link this theme to nature and the great outdoors.
Coastal
If you have medium-toned brown floors, then this will work perfectly for a casual coastal theme; just paint the walls off-white and add in blue accessories and furnishings such as a blue sofa and blue curtains. If your brown floors are darker, a nautical theme will work better.
Choose navy blue walls and rich brown furniture to create the formal look of a ship's living quarters. This is an ideal look for an intimate dining room, or a dramatic living room, as the overall feeling will be one of darkness and depth.
Rustic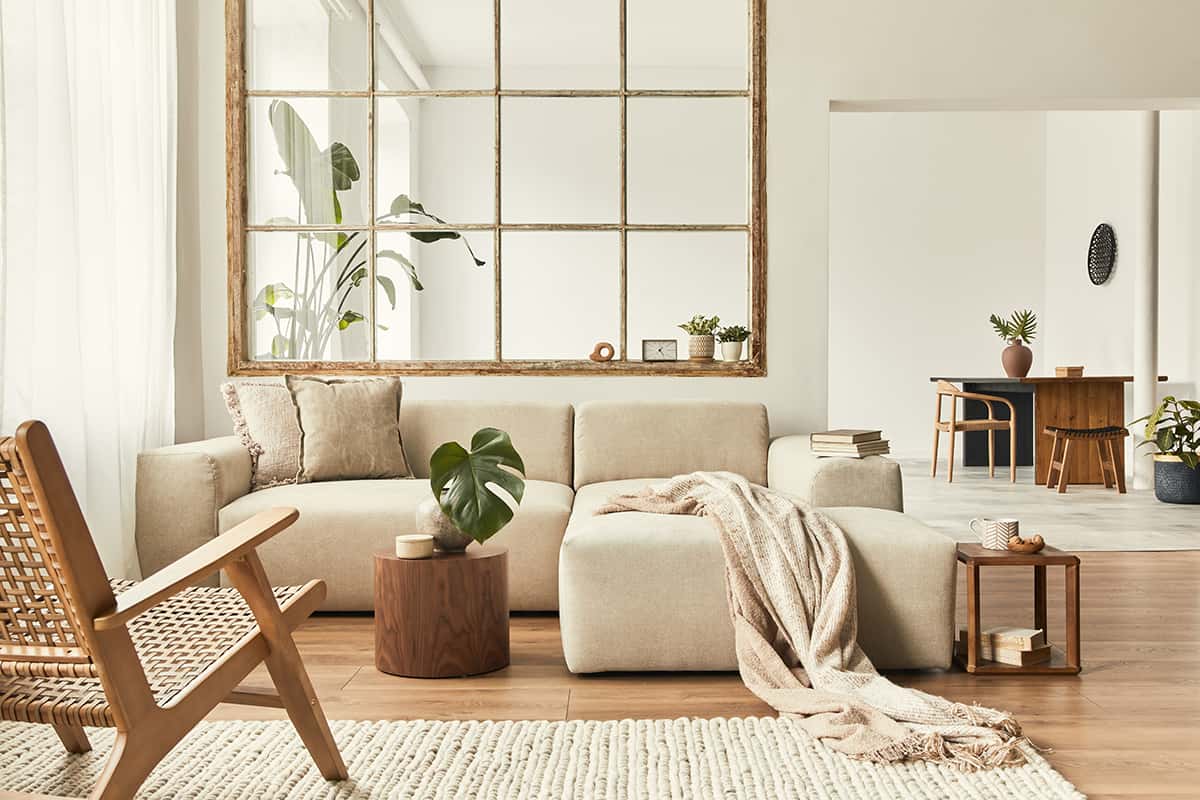 Brown floors make a great base for a rustic-themed decor style while helping to ground the space. Distressed brown floors will help to accentuate a rustic style, but they are not essential.
Set distressed wooden furniture in the room alongside walls painted in white for an airy rustic feel, or opt for deep red walls to emulate an old-world rustic look.
Are Brown Floors Neutral?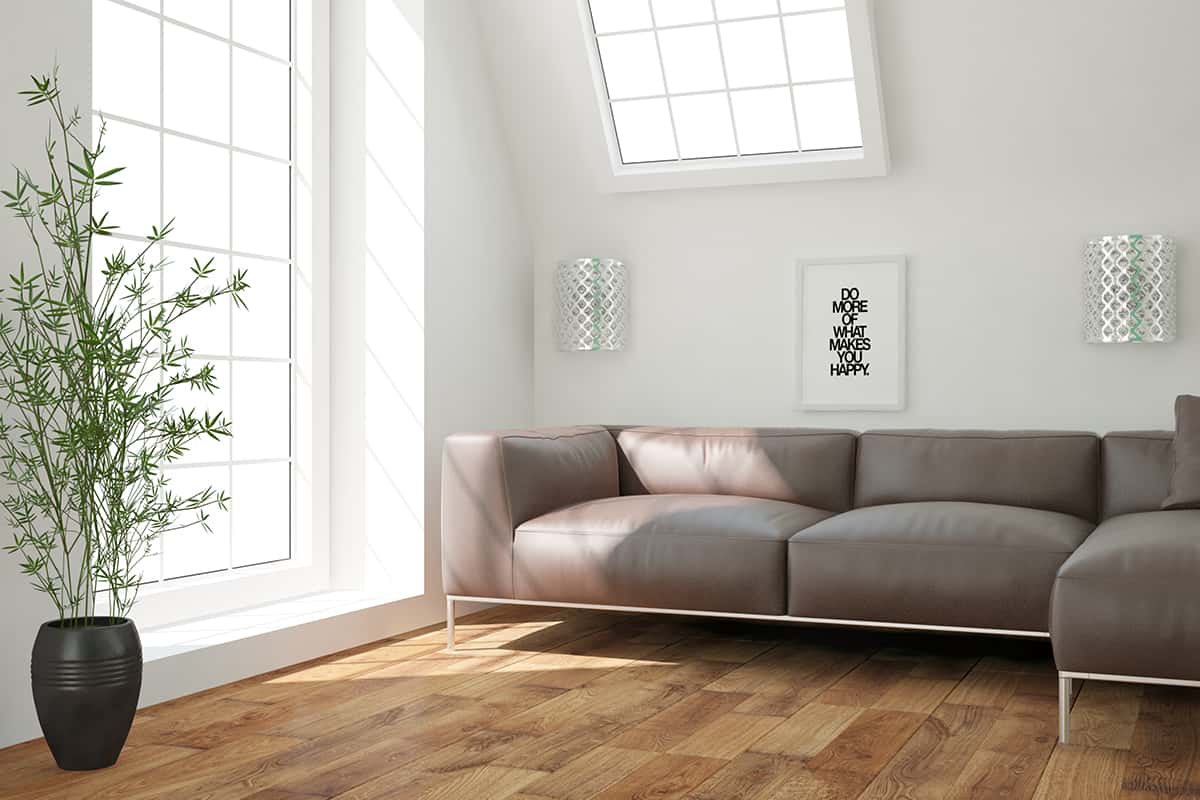 Brown is a color that is often considered to be neutral, but the true meaning of neutral is to lack color, which of course, brown does not. The only true neutrals are black and white, though some shades of gray which do not have any undertones can fall into this category as well.
Most shades of brown have a warm temperature, with orange, red, or yellow undertones, and these colors make for a cozy and inviting atmosphere. Some shades of brown can have a cooler feel, such as those which have gray undertones, though these are less common.
In terms of flooring, the shade of brown you have is going to define whether the space comes off as neutral or warm. In hardwood flooring, brown is predominantly a warm color since woods typically have a natural richness.
Hardwood flooring materials such as mahogany, walnut, cherry, and oak, are all naturally warm-toned. Some of these will read as more neutral in a space than others.
For example, oak tends to come across as quite balanced, while cherry wood has a much more obvious red hue, which means it cannot be construed as neutral.
Cool shades of brown are more likely to appear in laminate flooring that has been treated to give them a gray wash look. These can be used to create a cool or neutral floor surface in a room. Brown carpets can be bought in a huge variety of shades, varying from dark beige through to darkest brown.
Brown carpets which have more of a taupe hue can read as neutral and make for a good base that will work with any wall color, while rich brown carpets have a warmer look.
The shade of brown of your floor is going to determine which colors it should be used with, so you'll want to identify this before choosing a wall color.
Are Brown Floors on Trend?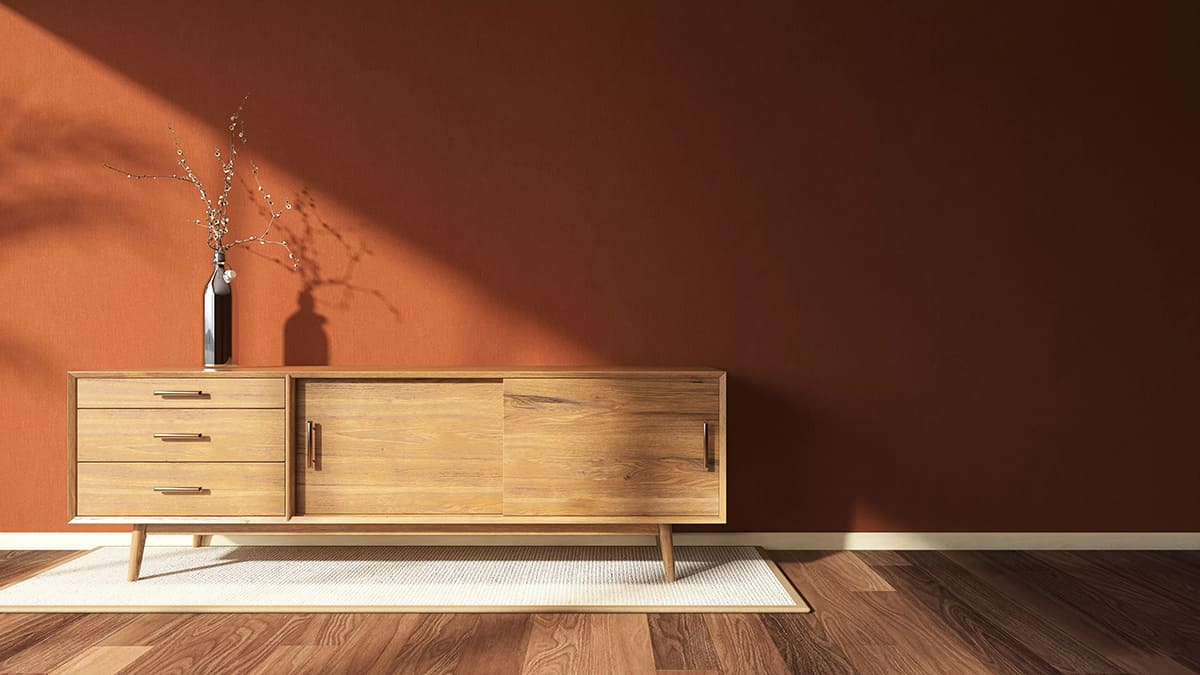 Hardwood floors are very desirable, and the most popular finish for these floors right now is oak, which has a medium brown tone. If you want to ensure your brown floors come off as contemporary and stylish, then oak is an excellent choice, though walnut is a close second.
These types of brown flooring surfaces are considered to be on-trend, but there are other brown shades that are less coveted. Avoid brown hardwood floors that have a strong red component, as these are much harder to decorate with because they limit your color scheme options, and they can also come off as dated.
If you are considering new carpets, then brown can be a good choice for high-traffic areas because it can hide dirt and stains, and it also helps to ground the room; however, from a trend point of view, a beige or gray carpet would present a more modern or classic look.