Dark furniture is a super stylish choice for large, open living rooms or bedrooms. This is because dark furniture can blend in nicely with any modern or traditional setting, thus making an incredibly sophisticated choice that brings a polished feel to the space.
But when it comes to deciding what color wood floor goes with dark furniture, you may run the risk of choosing the wrong color that makes the room feel heavy or dark.
To help you decide on the most suitable wood floor color that complements your dark furniture, read this article, which includes ideas as well as tips on coordinating your wood floor and dark furniture colors.
Best Wood Floor Colors that Go with Dark Furniture
Gray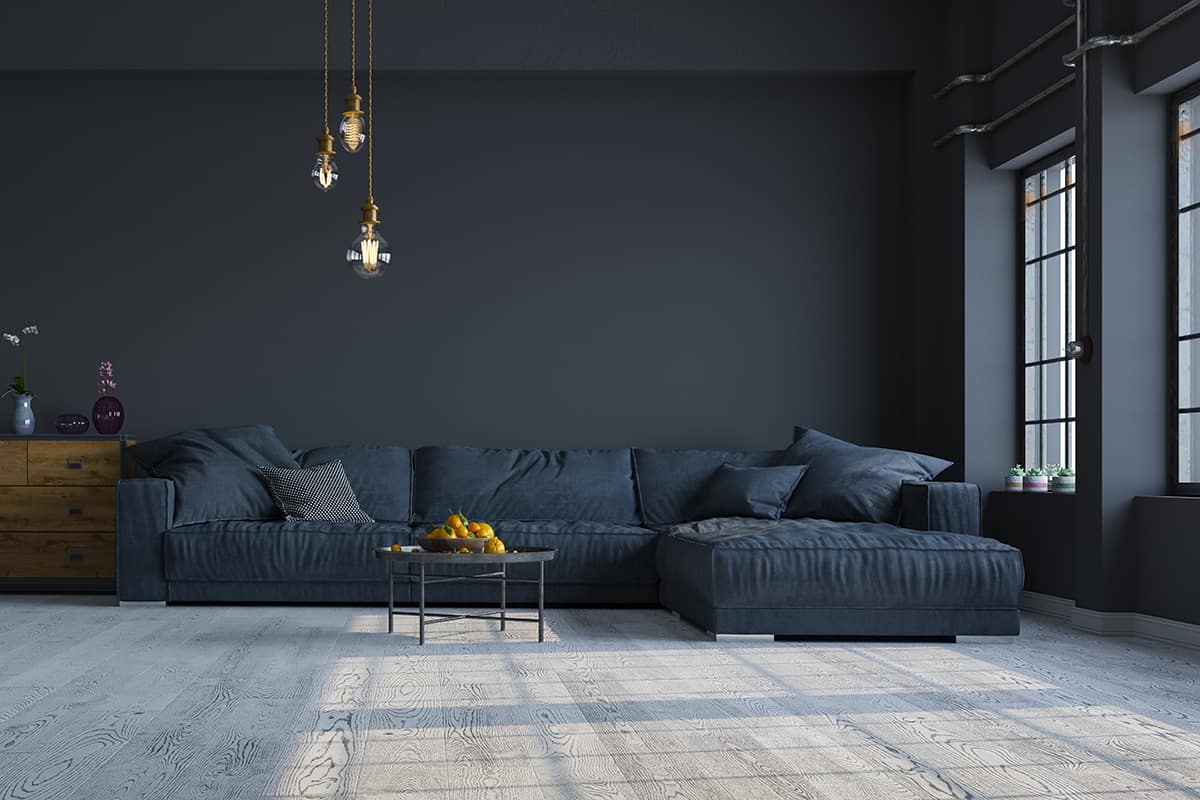 When it comes to finding the right wood floor color for your dark furniture, sometimes a simple black and white combination isn't the wisest choice. To avoid a bland setup, try gray wood flooring for a more modern and elegant look. Gray floor works especially well with black furnishings, while bringing an earthy, natural touch to the room.
Gray is without doubt one of the most popular wood floor colors thanks to its solid tones. Whether your living room is modern or traditional, your dark furnishings will appear ultra chic with a multi-grain gray wood floor as shown here.
This example proves how dark blue furniture paired with light gray wood floors can be a superbly modern touch to the large living room.
Medium Tone Orange-Brown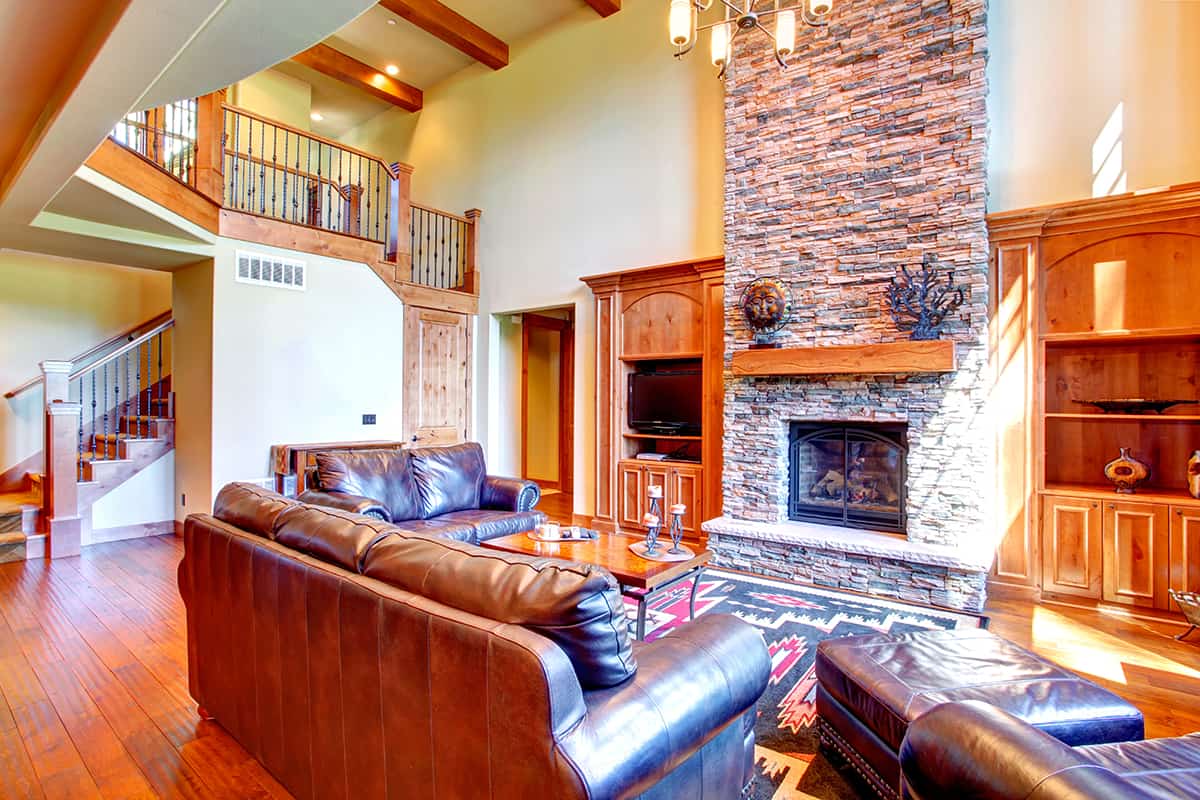 Wood flooring with a medium-toned orange-brown stain has a certain glow to it that highlights your dark leather furniture. This is the perfect blend in a large living room, especially when you pair these with terracotta decor or accessories.
Wood flooring in medium orange can compliment brown furniture and walls without adding starkness. Coordinate the look with wooden paneling for added interest, as shown in this example.
Rich Red
If your living room is only partially furnished with dark furniture, consider cherrywood floors to match the undertone of your leather furniture. A reddish stain, for example, pairs excellently with dark brown wood and leather furniture as an analogue color palette.
You may paint the walls muted yellow or beige to complement your cherrywood flooring and dark brown furniture, as shown here. This living room has softly contrasting walls to brighten up the space.
You can reinforce the cherrywood tone of your floor with a red oak coffee table, brown throw pillows, and yellow-framed wall decor for the perfect color coordination.
White Oak
White oak floors offer an excellent contrast against dark furniture. Whether you go for whitewashed wood floors or multi-grain white oak, this flooring material enhances the rich, dark shade of your living room furniture.
Some white wood floors have a yellowish undertone, which is a warm complement to dark brown, blue and black furniture. This tonal contrast is perfect for modern interiors that are accented with bold, dark furniture and wall colors.
Yellowish white flooring is a versatile pairing with dark tones, so you won't need to add a rug for cohesion. The interplay between dark and light tones blends perfectly well with any interior style.
Light Brown Tones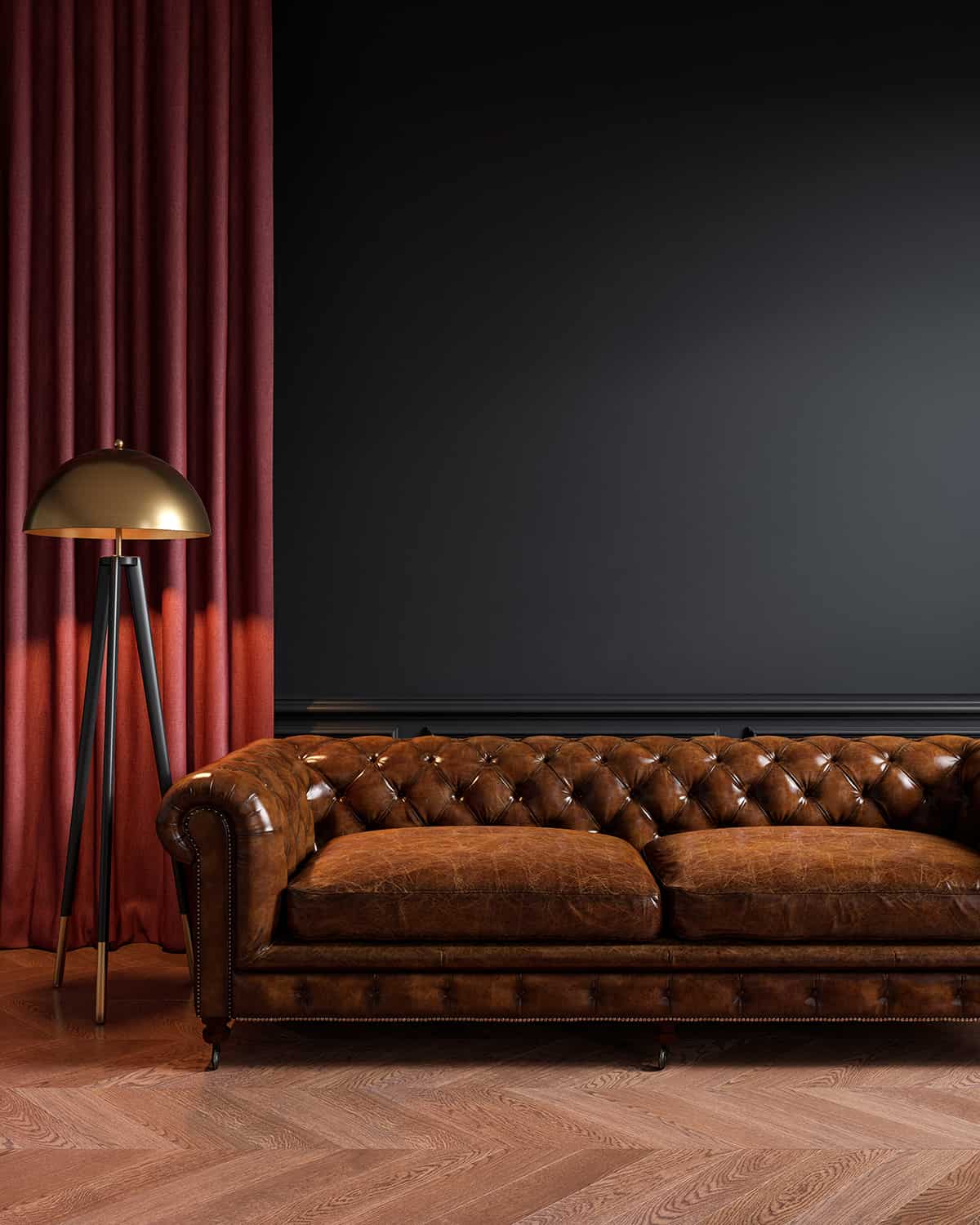 To really offset your dark furnishings against your wood floor, go for light brown tones. This is the perfect way to make your furniture stand out, plus light brown is a blend of classic meets contemporary. Light brown tones add a touch of elegance to any living room without undermining the coziness of the space.
Since colors play an important role in the appearance of a space, a light brown wood flooring paired with chocolate brown furniture tends to look more elegant and fresh.
Just as you can see here, the chocolate brown sofa with the light brown wood floor complements the light and dark tones by letting the natural wood's character shine. The rich red curtain further enhances the aesthetic appeal of this room.
Medium Brown Tones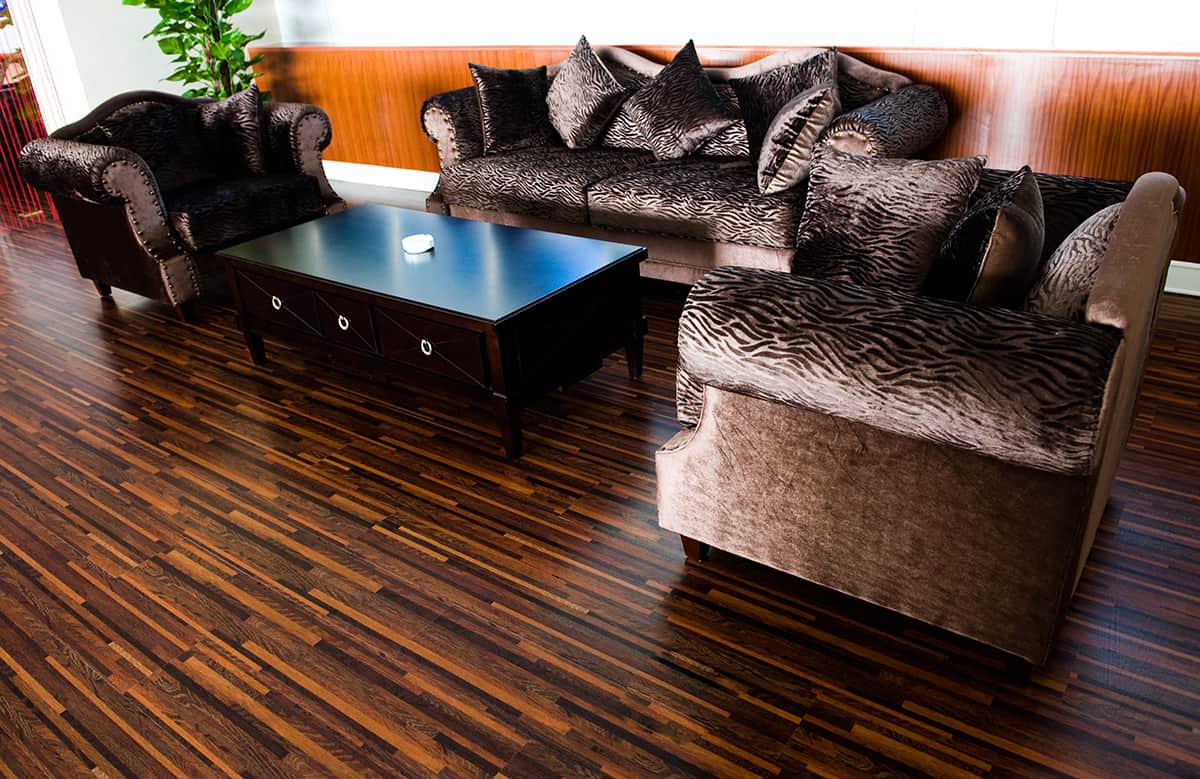 While light brown tones may be especially trendy at the moment, it doesn't mean you can't favor medium to darker brown wood floors. These are becoming ever so popular next to dark furniture.
To give your bright and airy living room a classic look, opt for medium or dark brown wood flooring for a sense of calmness. This helps bring a touch of contrast to the dark brown furniture.
In this example of a modern living room, the soft oak wood flooring is a medium-dark brown, which makes the space feel more spacious while offering a calming backdrop to highlight the dark sofas and coffee table. The furniture is definitely the centerpiece of this living room!
Black
For a super daring approach, why not take your floor and furniture color coordination to the next level by going for a black wood floor? This idea is for ultra-modern and classic living rooms with black leather furniture and dark walls as per this example.
A black wood floor is a perfect starting point for a superbly luxurious interior as this bold, striking color adds depth to the living room as well as provides an eye-catching backdrop to the dark furnishings.
Matching your black leather furniture to a black wood floor may sound unusual, but if your living room boasts tall windows with plenty of natural light and is decorated in a luxurious and modern style, then you might want to consider this idea.
How to Coordinate Wood Floor Color with Dark Furniture
Pay Attention to the Wood Flooring's Tones
Wood floors come in various characteristics and grain patterns, which can't be altered. The only change you can make to the wood is by staining or coloring it to enhance its appearance. There are many different wood stain colors specifically for walnut, oak, cherrywood, and many others.
Over time, you will need to reapply the stain to give the wood surface depth and a rich patina. So when choosing the right wood color for your dark furniture, always bear in mind the wood's overall color tone. Some wood color tones include reddish-brown, bluish-brown, orange, or light brown.
Keep it Subtle
Another way to coordinate your wood floor color with dark furniture is to pair the colors of equal intensity to create a subtle contrast. This doesn't mean your wood floor fades into the background.
But when your furniture is a dark brown or deep red, you can balance the dynamic color with a low-strength wood floor color. The same goes for medium or muted wood floor colors paired with dark brown furniture; the result is more restrained thanks to the subdued tones of the wood floor.
Consider the Room's Overall Weight
The overall color scheme of your furniture and wood floor aren't the only considerations you should pay attention to. When you have large-sized dark furniture and light wood floors, for example, you don't want your heavy furniture to overpower the room. Similarly, when you have small-sized dark furniture, your dark wooden floors can swallow the slim furniture.
As a good rule of thumb, small, delicate household furniture in dark colors works better with light wood floor colors, while larger pieces go well with dark wood floors. This helps preserve balance in the living room or bedroom so that all your furnishings shine without overwhelming the space.
Match the Wood Floor to the Dark Furniture
While neutral wood floor colors are a safer bet, if you want a bolder choice to match with your dark furniture, try picking a shade lighter or darker. You can also find dark furniture pieces with wooden legs to complement your wooden floors.
The wooden part of your dark furniture not only complements the flooring, but it also makes the material stand out nicely. By matching the furniture material with your wooden floor, you can create an overall balance in the room without blending the two too much.
Alternatively, you may just match one of your dark furniture pieces with your wood floor color. However, make sure the other furniture items don't contrast the floor color too much otherwise, they may look out of place.
Conclusion
Just because you prefer furnishing your rooms with dark furniture, it doesn't mean your space can't benefit from an airy and bright feel. Opting for dark furniture can make your room pop, especially when you choose the right wood floor color.
Whether your dark furniture is green, black, rich red, dark brown or charcoal gray, it can be coordinated with many different wood floor colors that give your room an amazing makeover.