Some people may think that picking the right wall colors to go with a grey carpet is an easy task, and for the most part, it is. However, there are a few decorating rules and tricks to apply in order to achieve balance.
If you are trying to coordinate your grey carpet with your walls, we have put together some color palette ideas that should inspire you to pair your grey carpet with the best wall color.
9 Wall Colors that Work with Grey Carpet
White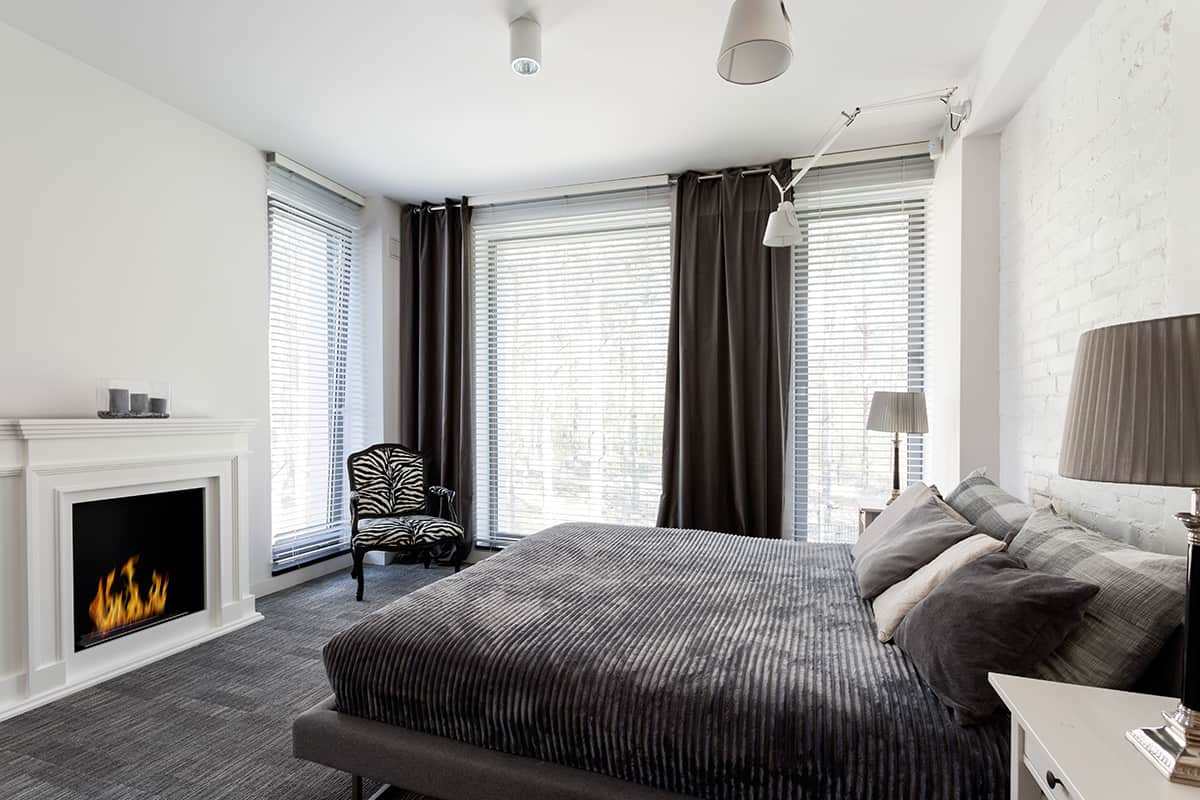 Let's start with the most popular and obvious wall paint choice: white. Used in most interiors, white walls can blend with any color scheme, especially with dark or light grey. This combination brings just the right amount of contrast to make your room appear elegant and flawless.
To give your bedroom or living room a harmonious feel, consider painting one or more of your walls in stark white and installing light or dark grey carpet.
In this example, the luxurious, contemporary bedroom boasts dark grey carpet and white walls, with dark grey bedding and curtains to match the color scheme.
Grey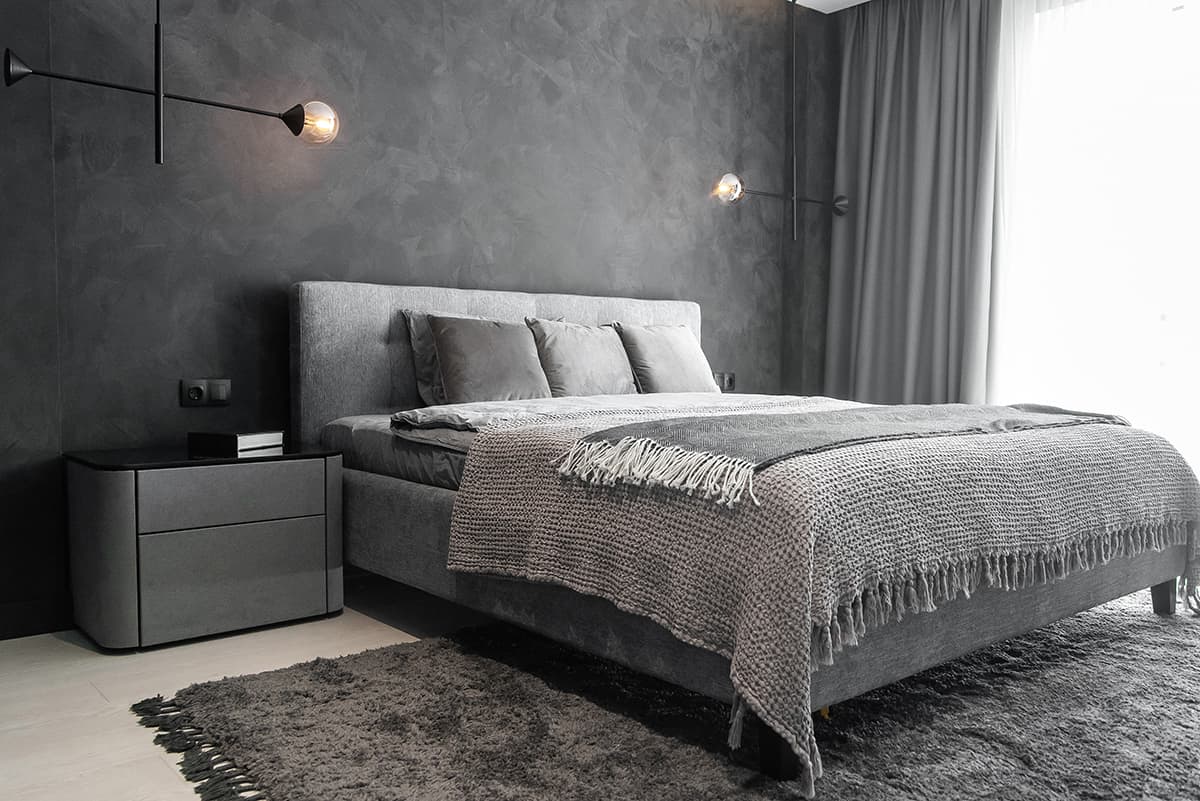 For a less maintenance choice but with a similar effect to white, consider painting your walls a dark shade of grey as a more elegant alternative.
In this case, it is wise to choose a light shade of grey for the carpet so as not to make the bedroom appear dark. Using a light grey carpet can make the entire room feel balanced and look perfectly seamless.
Although using similar shades of grey for the walls and carpet can be somewhat risky, if you match your other furnishings, like curtains and bedding, to the greys shades, you can achieve amazing results.
Alternatively, you may use some vibrant colors for your furniture to make the grey walls and carpet stand out. This will prevent a monotonous look. But be sure to use contrasting colors with the grey.
Beige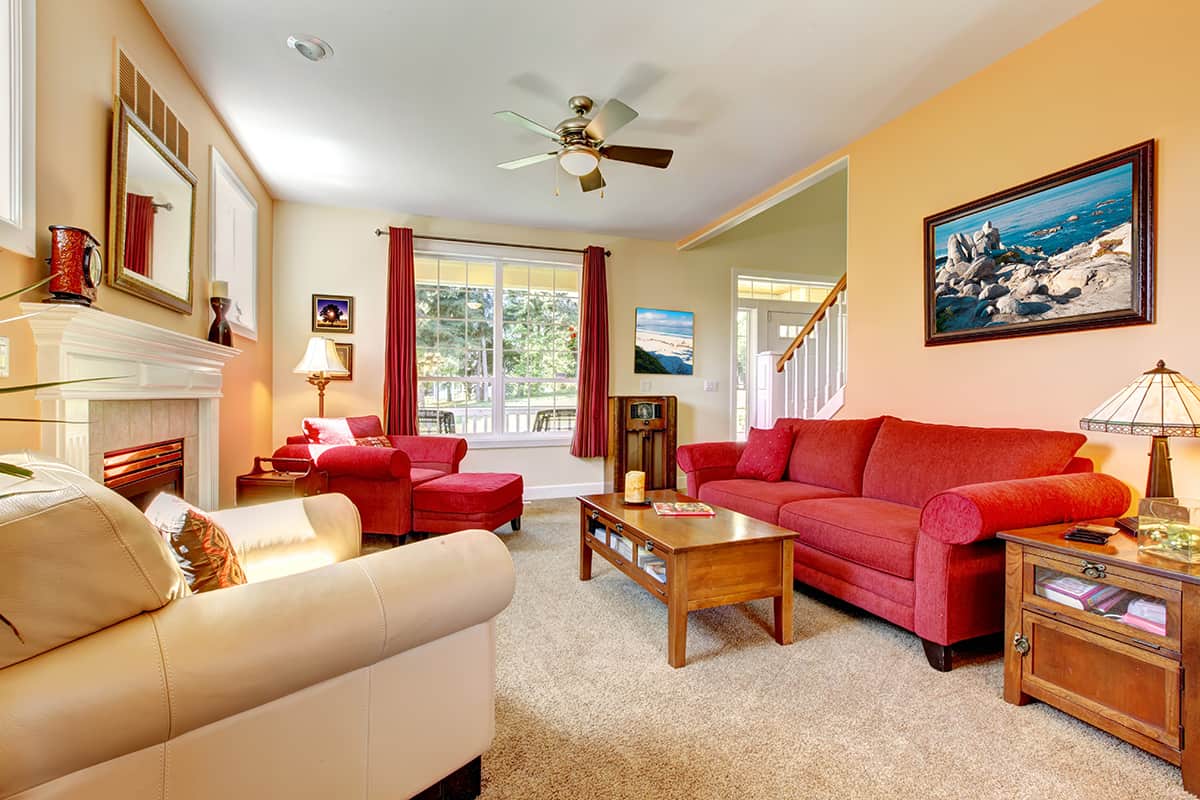 If you don't want a grey shade for your walls, then how about another neutral yet lighter color, such as beige or cream? This color can warm up the room next to a light grey carpet in the living room without appearing too loud. When used with vibrant colors like red, beige walls, and light grey carpets can enhance the elegance of the living space.
For example, here is a warm, cozy living room with a welcoming ambiance thanks to its warm-toned beige walls paired with cool grey carpets for a perfectly cohesive space. The peach-red furniture and curtain create contrast with the beige and grey color scheme while drawing the eye toward the center of the room.
Moreover, the beige walls emit an inviting feel, which makes them ideal for pairing with grey carpets in any room that needs such a vibe.
Light Blue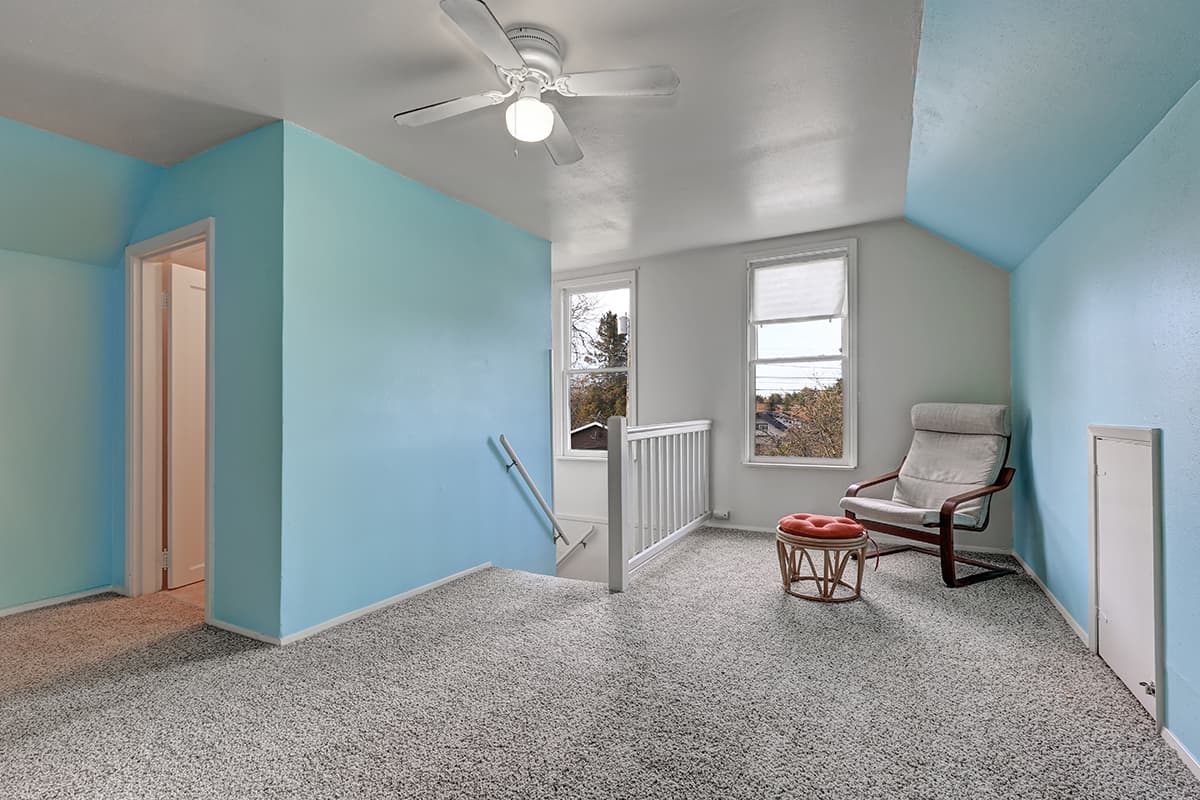 For those who want to give their entire walls a refreshing look, the best color is blue. There are many different shades to choose from, but our favorite has to be light blue.
Sky blue, for example, has a closer resemblance to grey; that's why it blends well with a light grey carpet. By pairing your light grey carpet with light blue walls, you can create an airy and fresh ambiance in the bedroom or living room.
Navy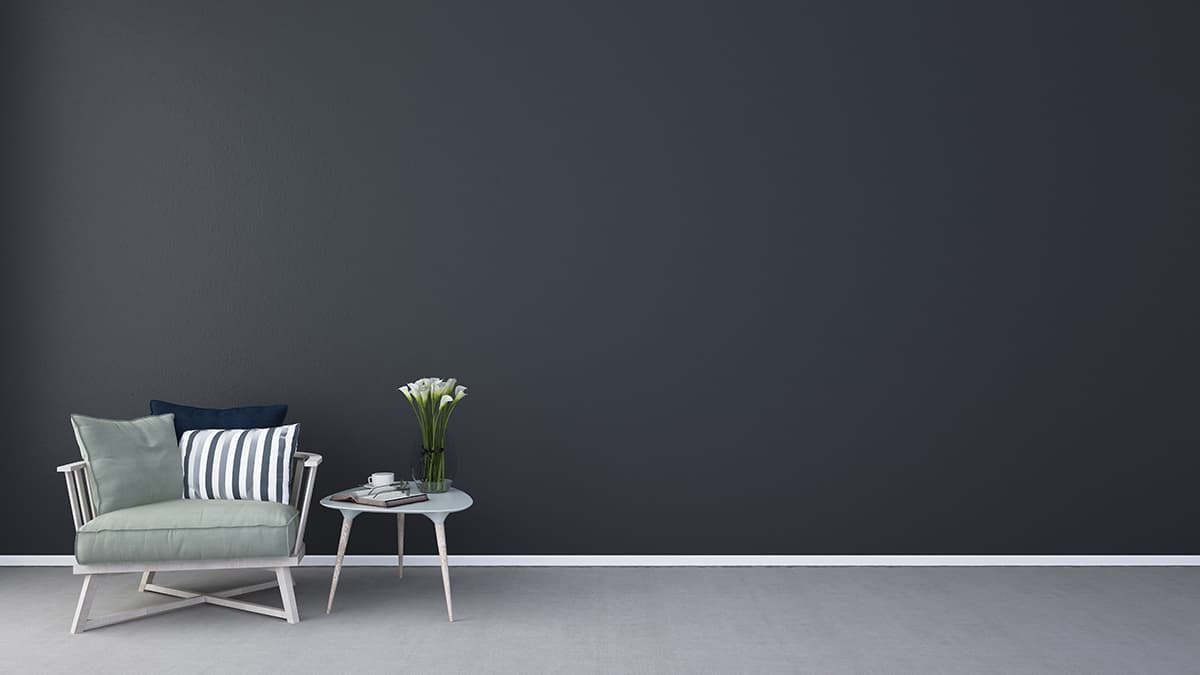 Another beautiful blue shade that pairs with a grey carpet is navy. This option is perfect for those who want to create a modern, bold-style living space. Navy walls provide freshness and vibrancy, so when paired with light grey carpets, they can evoke a welcoming vibe.
Navy is a blue shade with dark grey undertones. This is why it perfectly complements the grey carpet while at the same time adding an elegant depth to your living room or bedroom.
Red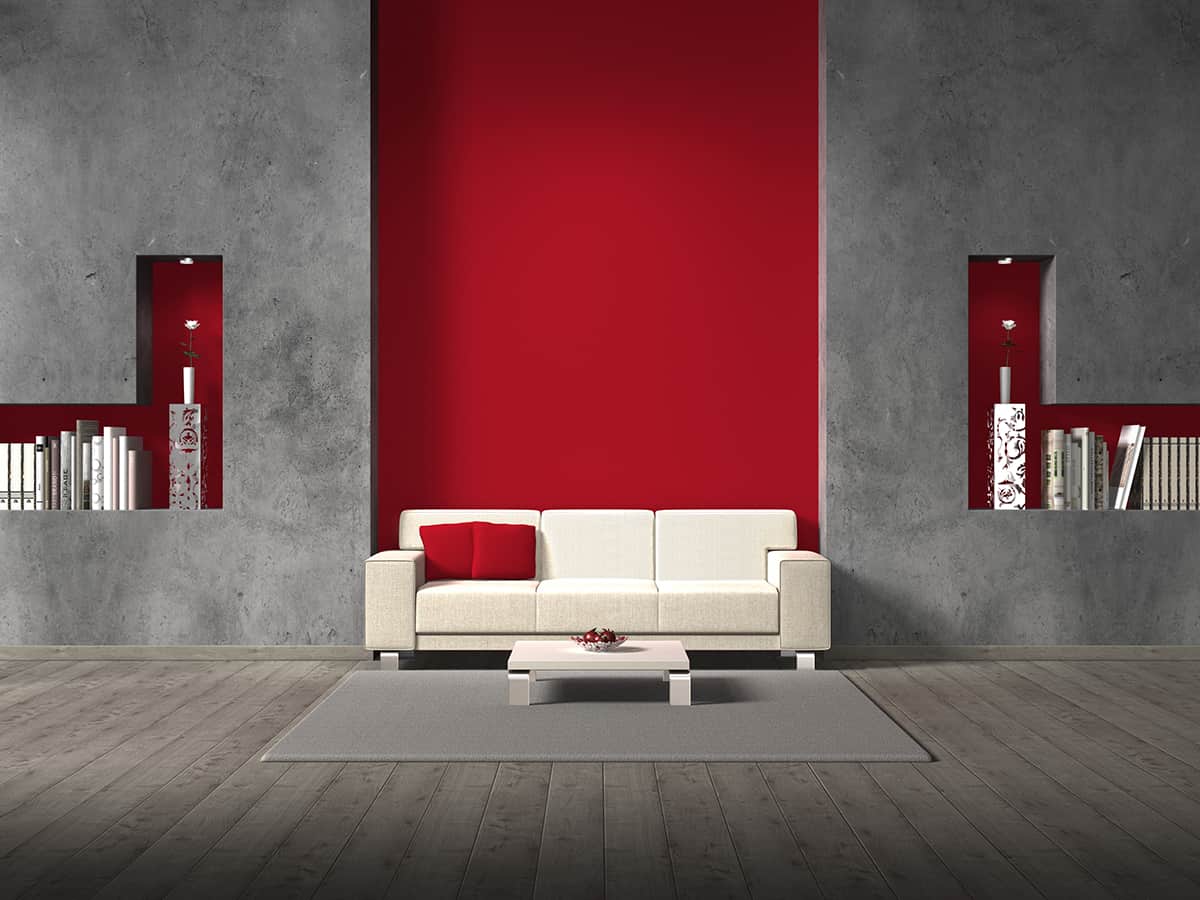 Another warm color for the walls is a rich shade of red. This is a bright, glowing color that provides a fierce contrast to your dark grey carpet.
Blood-red walls, just like in this example, are a vivid backdrop to neutral grey carpet and furniture. This color scheme helps break up the bold red color and provides dimension to the room.
Purple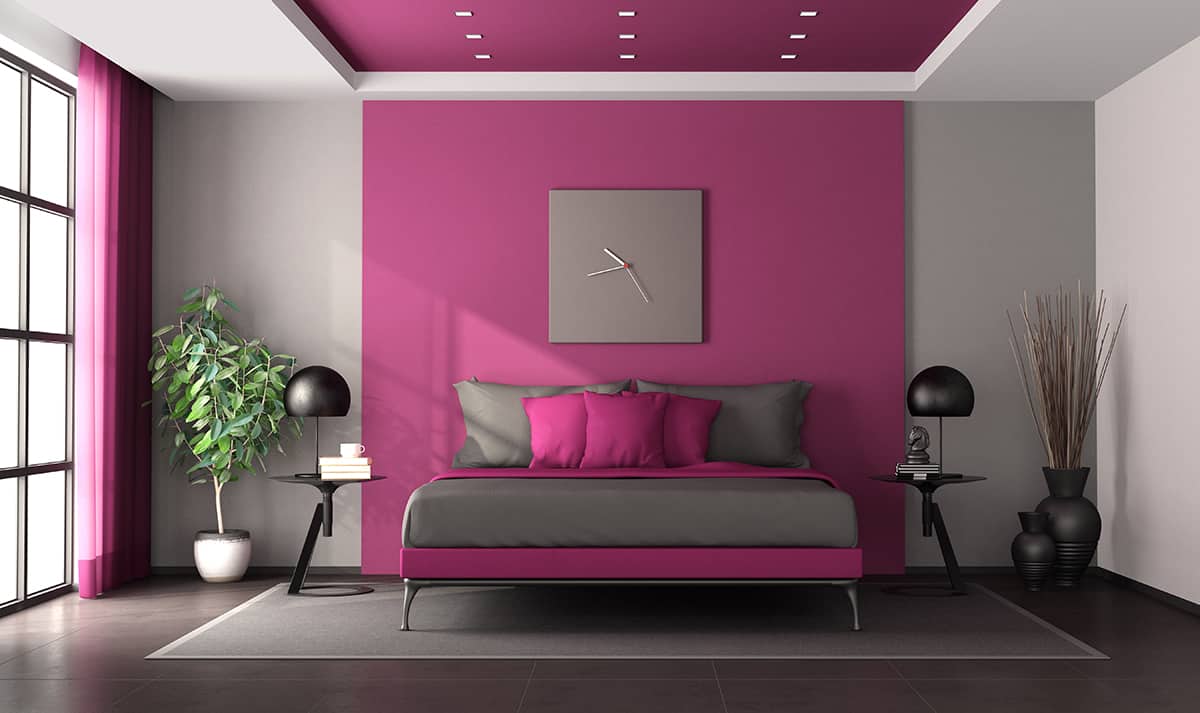 A modern bedroom with purple walls and grey carpet generates a creative and cozy feel in your space. A violet shade of purple like the one shown in this example contrasts with the dark grey for an intriguing vibe.
To prevent the purple's dramatic hue from being overbearing in the bedroom, add black and grey colors, as shown here. A deep purple shade for the walls can be matched with a curtain, with grey bedding and carpet for added brightness. Rich shades of silver or gold can also be added to the bedroom for extra glow.
Green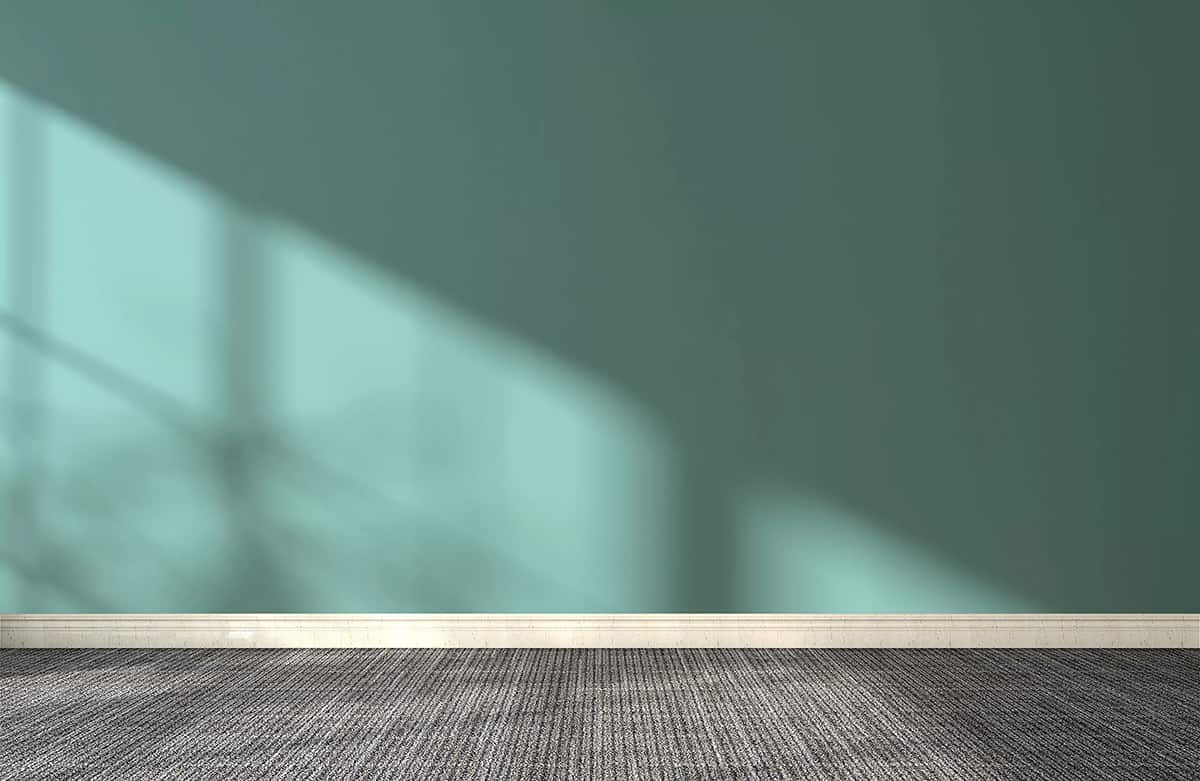 Another unique wall color that's not mainstream is green. Whether you go for teal green, mint green, or sage, this wall color can bring a natural and fresh ambiance to a room and lift the mood of the entire space.
Green and grey go hand in hand together as they both have hints of blue. These color combos promote positive energy. In this example, the teal green wall paint stands out against the deep grey carpet.
You can add bright white accents or natural wood furniture to complement the nature-inspired green walls. Feel free to choose any shade of green for a sense of dimension.
Yellow
A mustard yellow shade as the primary wall color against a medium-toned grey carpet will create a modern feel in the bedroom.
That said, you can choose from citrus yellows to rich, sunny shades to bring color to your space. A soft, warm shade of yellow alongside a bright shade for the bedding will not be overbearing as you can see in this example. Cool shades of grey with muted warm shades of yellow can be a great pairing for any room.
Dark Vs. Light Grey Carpet: Which Should You Choose?
Some people might avoid dark carpet shades as they believe their rooms will appear dark and dingy. However, unlike black or dark green, which can make a space feel dull, grey is becoming a trendy choice. This is because grey is stylish, especially in rooms with ample natural lighting.
When it comes to choosing between dark grey and light grey carpets, you must first weigh their benefits for your home. Take note of the following to help you determine whether you should go for light or dark grey carpets:
Cleaner appearance: light grey carpets show dirt or stains easier and are harder to keep clean. The issue gets worse in high foot traffic areas such as in children's rooms, hallways, and living rooms. Dark grey carpets, on the other hand, won't show stains or dirt as easily. With regular vacuum cleaning and shampooing, you will spend less time maintaining your carpet.
Easier to blend: dark grey carpets are easier to match with most other furniture and decor. So if you have light color furnishings, it makes sense to opt for dark grey carpet. This gives you more decorating options when remodeling your interiors.
Hides gaps: during installation, carpets often have small seams or gaps. But these seams or gaps aren't as visible on dark grey carpets as on light grey ones.
Consider your wall color: if your walls are in a light tone, you can go for a dark grey carpet. But if your walls are painted in a darker color, you should choose a light grey carpet so as not to make the room appear dull or dingy. It would be easier to select your carpet shade first before painting your walls.
Size of your room matters: large, open-plan rooms with high ceilings can feel cozier with dark grey carpets. In smaller rooms, however, it is not ideal to have dark grey carpeting. Otherwise, your space will feel even smaller and claustrophobic.
Is Grey Carpet Suitable for Every Room?
Yes. To make your rooms feel even more spacious, you can use grey carpeting. For a sense of continuity, install the same shade of grey throughout the rooms. Since grey is such a versatile color, it is suitable for any room, including hallways, children's bedrooms, and basements. All in all, any room that isn't in contact with moisture can benefit from this elegant carpet color.
In Closing
When you think of fresh and airy carpet color, grey doesn't immediately spring to mind. But by pairing light or dark grey carpets with lighter wall tones, you will make your space feel grounded. Our above list of wall paint colors should help you find the most suitable one to incorporate with your grey carpet.
Add plenty of light-catching fixtures and neutral furniture to tie in the grey floor covering and enhance the vibrant wall color.