Gray furniture is increasingly becoming the preferred choice for homeowners thanks to its fresh and natural look. Gray fits into any color scheme or decoration style in both modern and traditional settings.
From pewter and dove to flint and smoke, there is always a shade of gray that's bound to match the rest of your interior decor. However, it can be quite challenging to decide what wall colors go with light or dark gray furniture.
To create a contemporary, fresh look, you must choose your wall color carefully as it must blend perfectly with your gray furniture. After all, the idea is to draw the eye to the neutral furniture. Here you'll find some great wall color with gray furniture combinations to set up a focal point in your living room. But first, we'd like to discuss a little more about this mysterious color: gray.
The Complexity of Gray Color
If you ever looked at the color gray and thought it is just a bland, dull hue, you couldn't be more wrong. This neutral color is very complex in nature so it is safe to say; gray is not actually a color but rather a tone. In fact, gray is a combination of white and black with different undertones, such as green, blue, purple, brown, or yellow.
To put it simply, gray consists of light, medium and dark shades like soft pearl, fog, silver, charcoal and numerous others. Light and medium shades of gray are slightly warmer than darker tones. These include pewter, greige and elephant.
There are many warm gray shades with blue, red, green or brown undertones, so the easiest way to coordinate your gray furniture with the wall color is to determine the undertone of your gray furniture. For example, if your gray furniture has a warm brown undertone like charcoal or steel shades, pairing them with light brown or beige walls can add depth and richness to your living space.
If you're still unsure what wall colors work best with your gray furniture, you might want to pick up a few color strip samples from a local home improvement store to decide which paint color complements your gray furniture. To get you started, here are some excellent wall color ideas for gray furniture:
Best Wall Colors that Go with Gray Furniture
White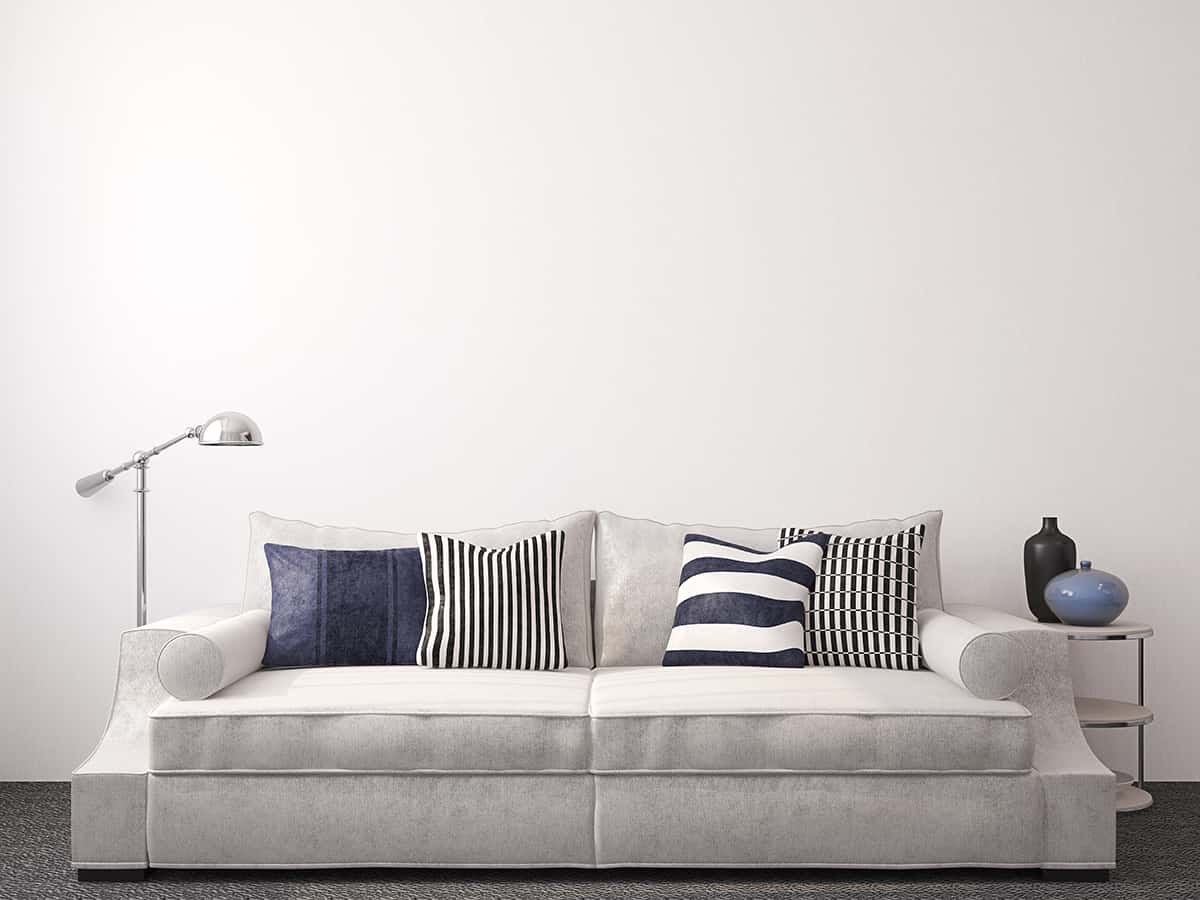 White is the simplest paint color to pair with your gray furniture. White walls can blend with many neutral and bold decor colors, hence their popularity in modern interiors.
For anyone who wants a minimalist design, white walls are the easiest solution to coordinate with light and dark gray furniture. In fact, the possibilities of using this crisp color as an accent or backdrop are endless. Some of the most common shades of white that highlight the beauty of your gray furniture include ivory, coconut, daisy, and snow.
Pair your gray furniture and white walls with black wall decor to emphasize the neutral setting. However, if you want to make your living space more vibrant and harmonious, go for bold, colorful accessories.
Light Gray on Dark Gray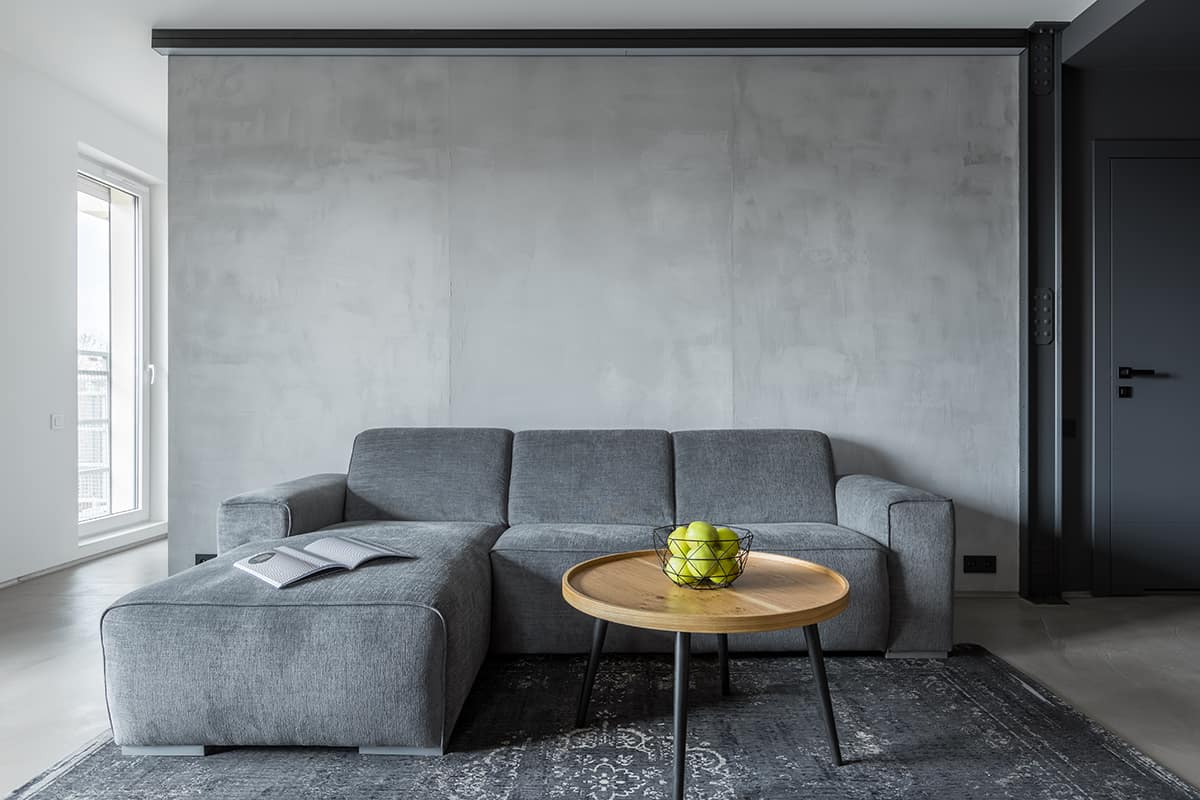 Using a light shade of gray for the walls can make the dark gray furniture stand out while still maintaining a flawless look. In a modern living room, a dark gray sofa with a light gray wall as the backdrop creates a monochromatic look. This combo is especially perfect for minimalist or contemporary style interiors.
If, however, you find the monochromatic look somewhat static, you may add natural elements, such as a wooden coffee table near the gray sofa. For serenity, hang mirrors or paintings on the wall to emphasize the gray base.
Grayish Blue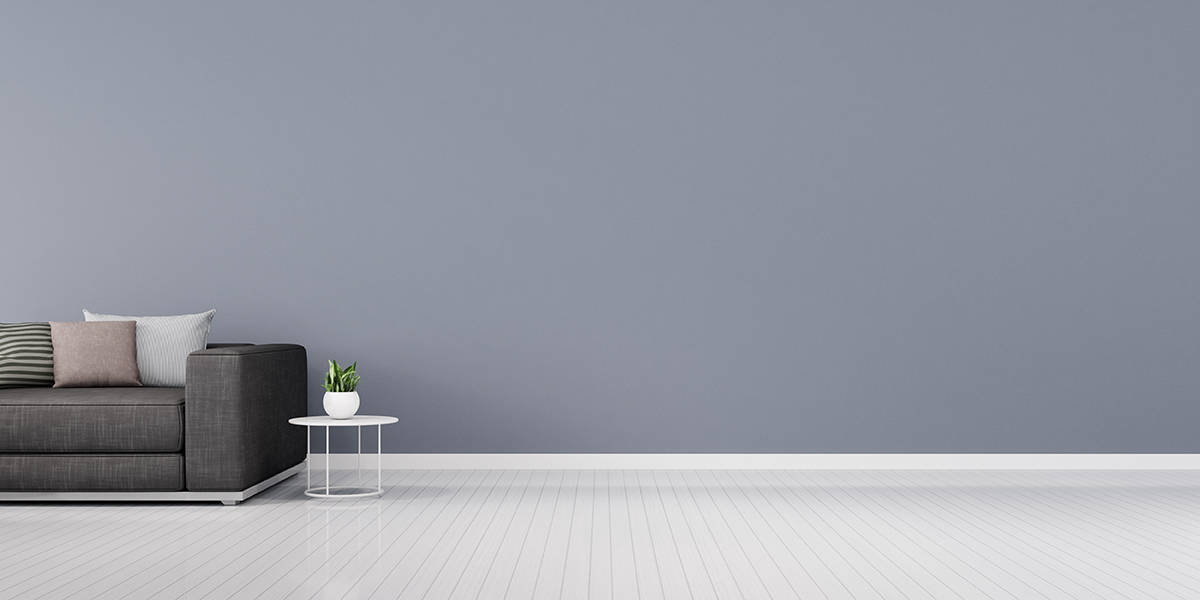 There are some grays with a blue undertone, which makes them perfect to pair with dark gray furniture. Grayish blue is one such hue that produces a relaxing and serene vibe. It looks ultra-stylish with both dark blue and dark gray furniture.
In a modern living room, painting your walls grayish-blue will make your gray furniture look flawless, especially when the living space is decorated with fresh and vibrant accessories like throw pillows and curtains. Check out our post ' What Color Curtains with Gray Couch? 'for some ideas to use the right curtain color scheme with gray furniture.
Beige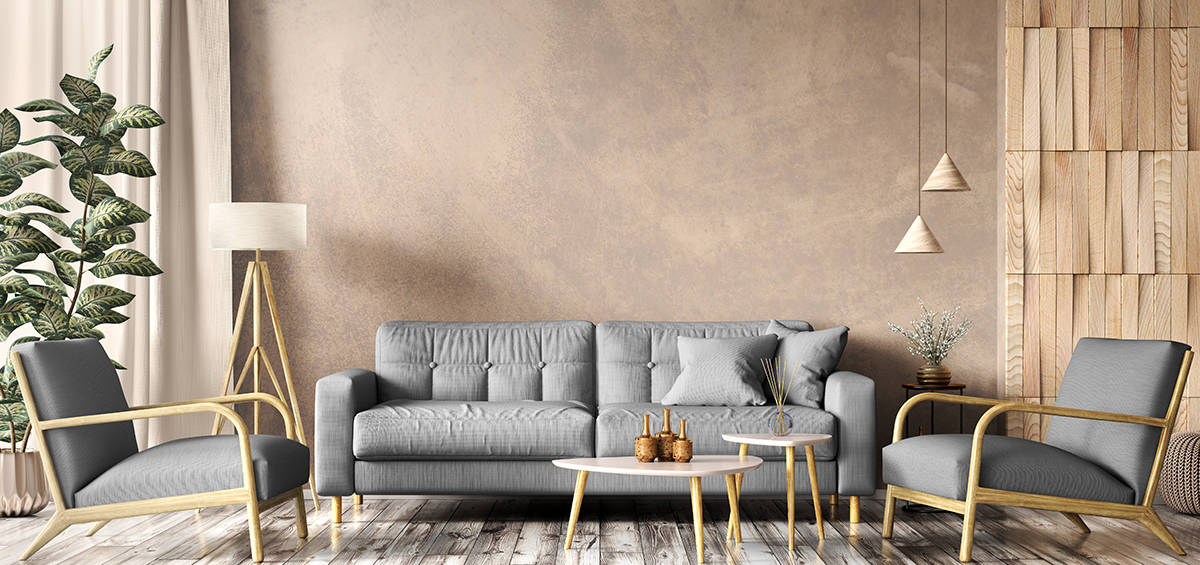 Since most gray shades have a cool tone, you should ideally paint your living room walls a warm color to mix up the cool and the warm tone colors.
Beige is one of those warm, neutral colors that pairs beautifully with both light and dark gray furniture. You can keep your living space well-balanced by using these neutral colors. And to enhance the beige wall, hang light brown decor so that your beige wall becomes the accent feature of the room.
The other advantage of painting your walls beige is that the color can easily blend with other elements of the living room, not just the gray furniture. For example, if you want to use different materials and colors, your beige wall won't steal the spotlight, so you can use colorful throw pillows to accentuate your gray sofa without worrying about the beige walls looking out of place.
Torquoise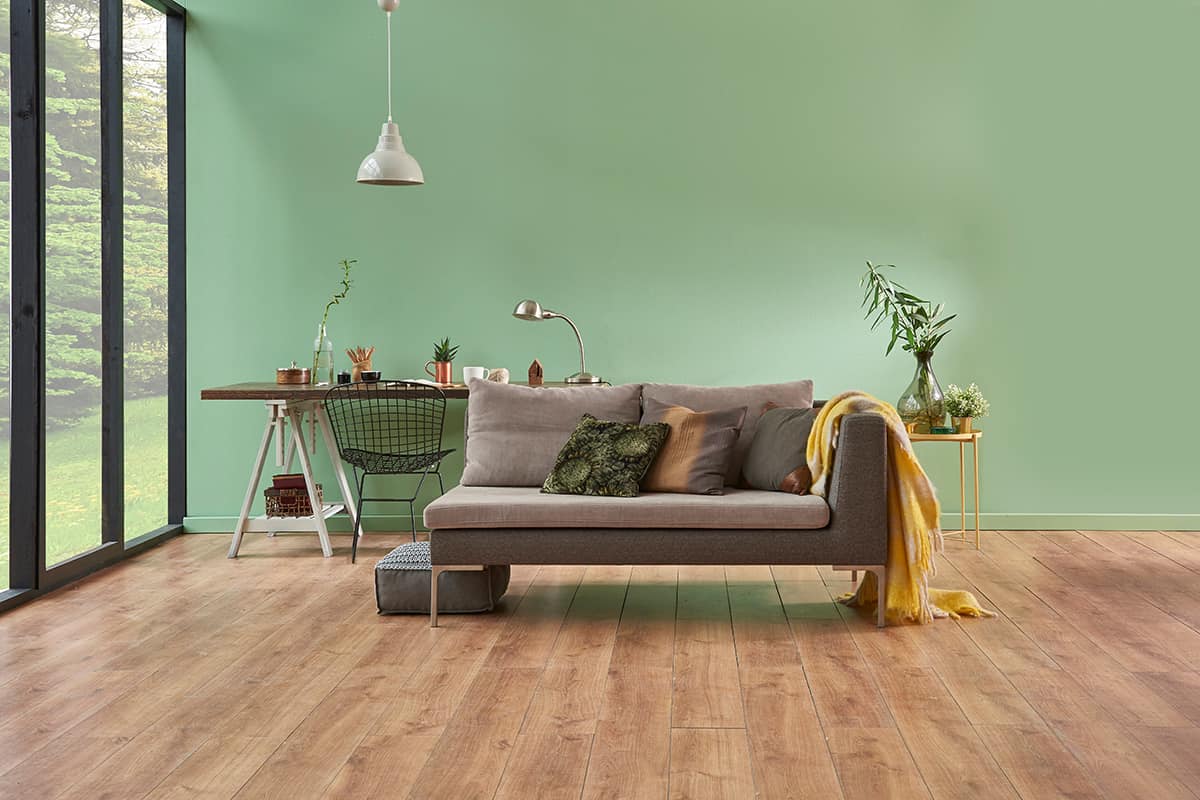 Turquoise is a top favorite blue shade in the world of interior design. When paired with gray furniture, this blue shade can really stand out. Turquoise can help a living room feel more natural as blue represents nature (sea and sky).
Painting your walls turquoise helps bring depth and character into a living room with gray furniture. This color combo works well to balance out the two cool tones in order to create a calming, natural living environment.
In this example, the turquoise wall serves as a strong backdrop to the gray sofa and natural wood flooring. Although the gray sofa is a darker shade, the room still feels bright and airy thanks to the light blue wall and wood floor.
Mint Green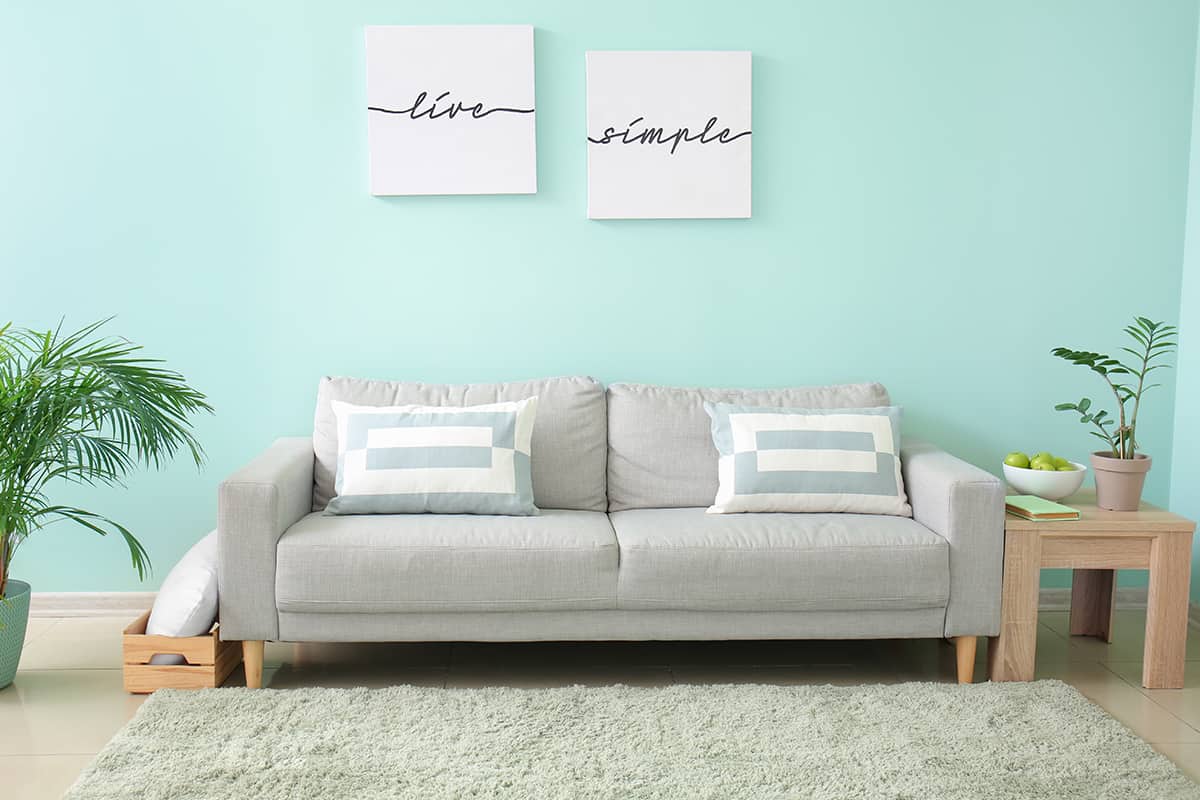 If you want to paint your wall a refreshing color, opt for mint green. This warm hue has an elegant twist that's closely associated with nature. By using mint green for the walls, your gray furniture can stand out, thus a perfect choice to show off your wall decor or any other centerpiece in your living room.
Green is such a versatile color that when it's paired with gray furniture, it brings a calming vibe to the living space. Mint green has a soft tone, which lends a sophisticated feel to the space. Add indoor plants or textiles to enhance the authentic ambiance.
Brown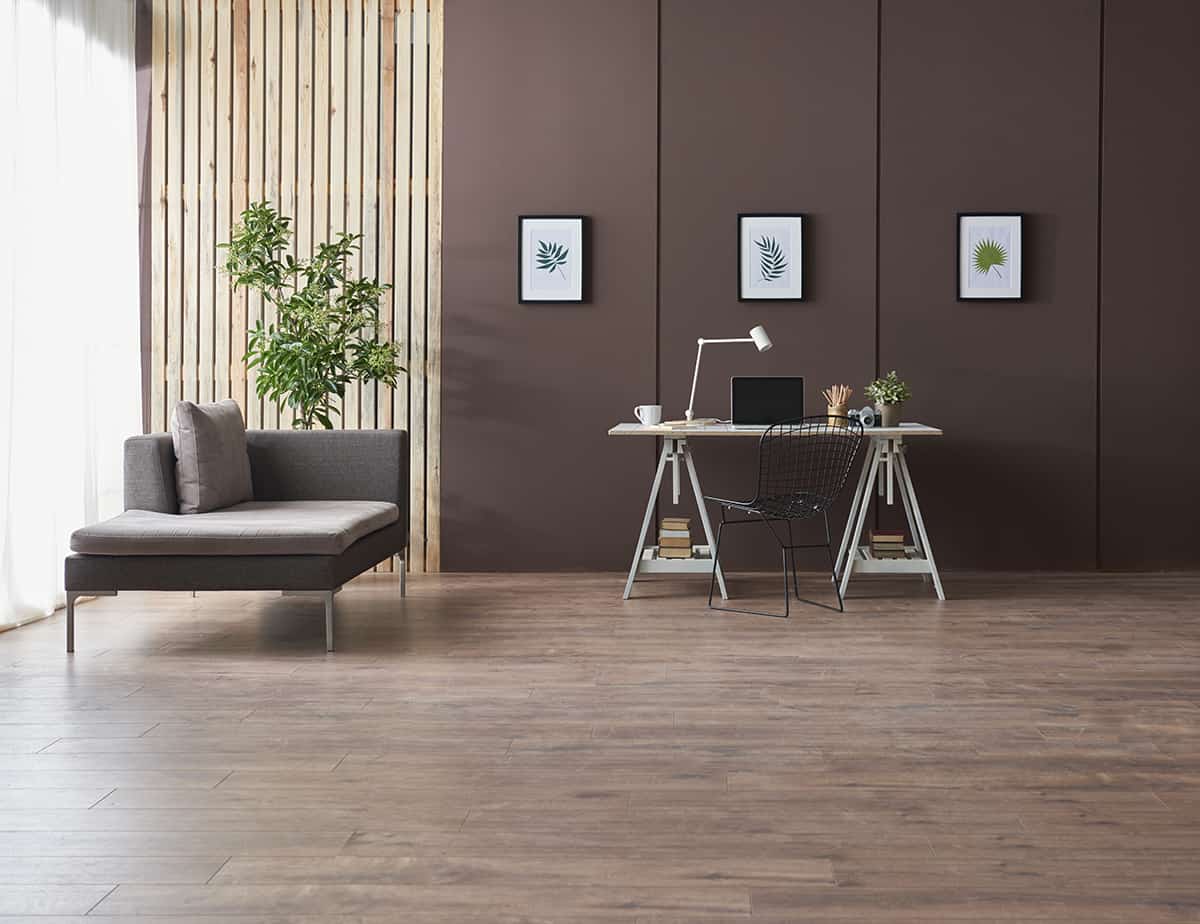 Brown is another warm color for the wall of a living room with cool gray furniture. This pairing brings more warmth to your living space as well as balances the room. Your brown wall behind the gray furniture can even serve as a focal point if you wish.
Otherwise, you may paint the entire living room walls a rich shade of brown to highlight your gray furniture. This color combo brings a comfortable look as long as you avoid a dark shade of brown, such as coffee. This is because dark brown shades can shrink the space visually. Instead, opt for caramel, tan or almond wall paint.
Yellow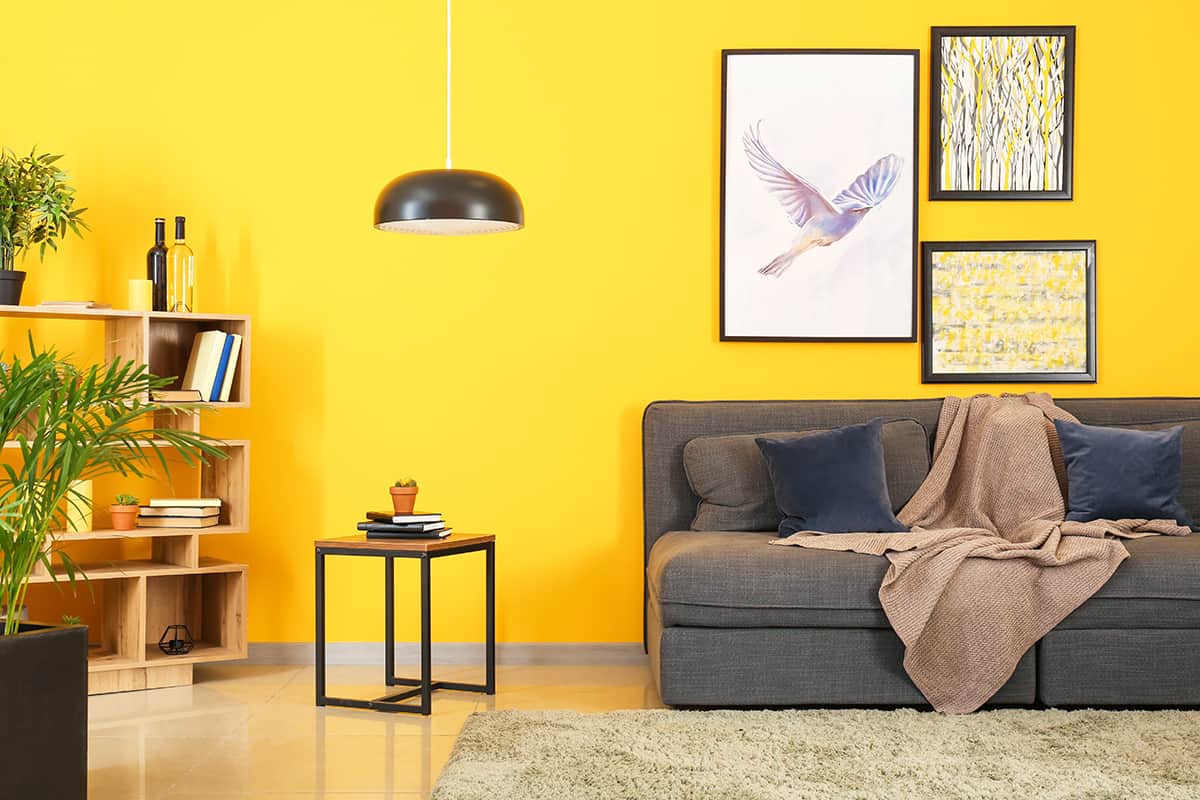 Yellow is one of those colors that just can't be ignored. Its warm appeal makes it a popular choice for rooms with dark gray furniture. Indeed, it is a bright yellow wall that can truly emphasize your furniture's modern beauty, so it makes sense to paint the wall behind a gray couch a bright shade of yellow.
A deep shade of yellow like lemon or sunflower can bring a cheery feel to any room. This bright, warm color is characterized by its joyous reflection. Pair it with a sofa in a deep shade of gray to make the yellow appear richer as shown in this example.
Coral Pink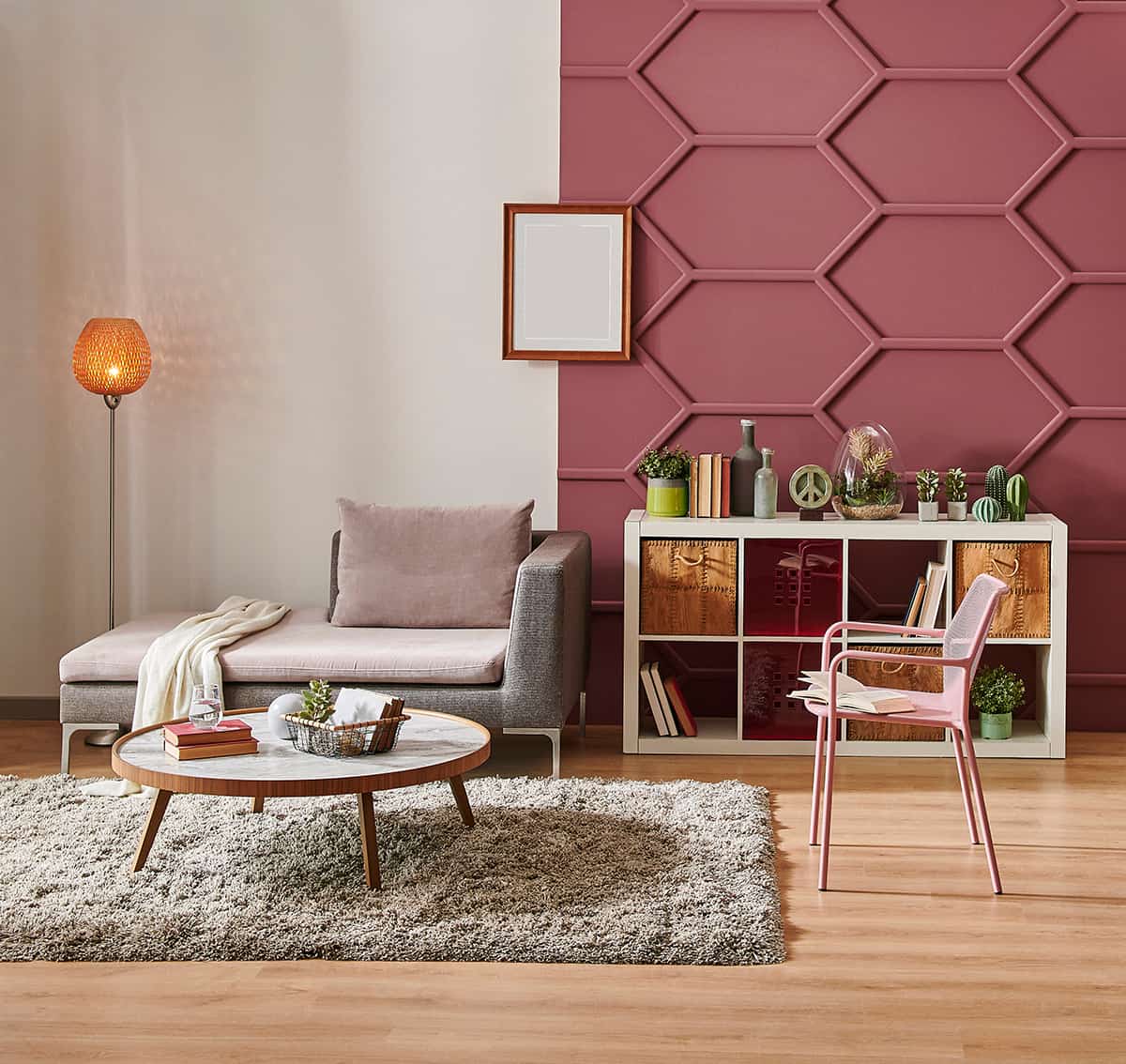 A soft pink wall with gray furniture combination is a stunning color scheme for the nursery, living room or girls' bedroom. Since coral pink has an orange and purple undertone, it makes a surprisingly vivid backdrop for any room. Pair it with light gray furniture to keep the wall the focal point of the room.
Wrapping it Up
As you can see, most neutral and bold wall paint colors complement light and dark gray furniture. Whether your gray furniture has a warm or cool undertone, it can take center stage in a room with neutral or bold walls.
Any of our ideas can work in small or large modern living rooms. But in the latter case, your options are more varied as tall walls can be painted in any dark or bold colors to draw the eye to the furniture.
If you have a blue sofa instead, here some of the suggested wall colors that go greatly with blue furniture.