When redesigning your living room or bedroom, a feature wall is not the first idea that pops to mind. However, an accent wall behind the TV is one of the best ways to enhance the aesthetic appeal of a room. This wall can be the focal point that attracts attention, so it's important to design it in the most eye-catching way.
An accent wall can be created in any room of the house, and it need not be a difficult task. It could be as simple as repainting the wall a different paint color to the rest or adding accessories on the shelves. You can use your own imagination to come up with a stunning feature wall behind the TV.
Some people choose to leave this wall bare as a minimalist approach. This is fine as less is sometimes more. But if your room just feels too empty or plain, adding some decorative features to the wall behind the TV without cluttering it can boost visual interest.
In this article, we'll provide you with some excellent accent wall ideas behind the TV to transform your room into a stylish and chic interior.
How to Decorate Accent Wall Behind TV
Paint the Wall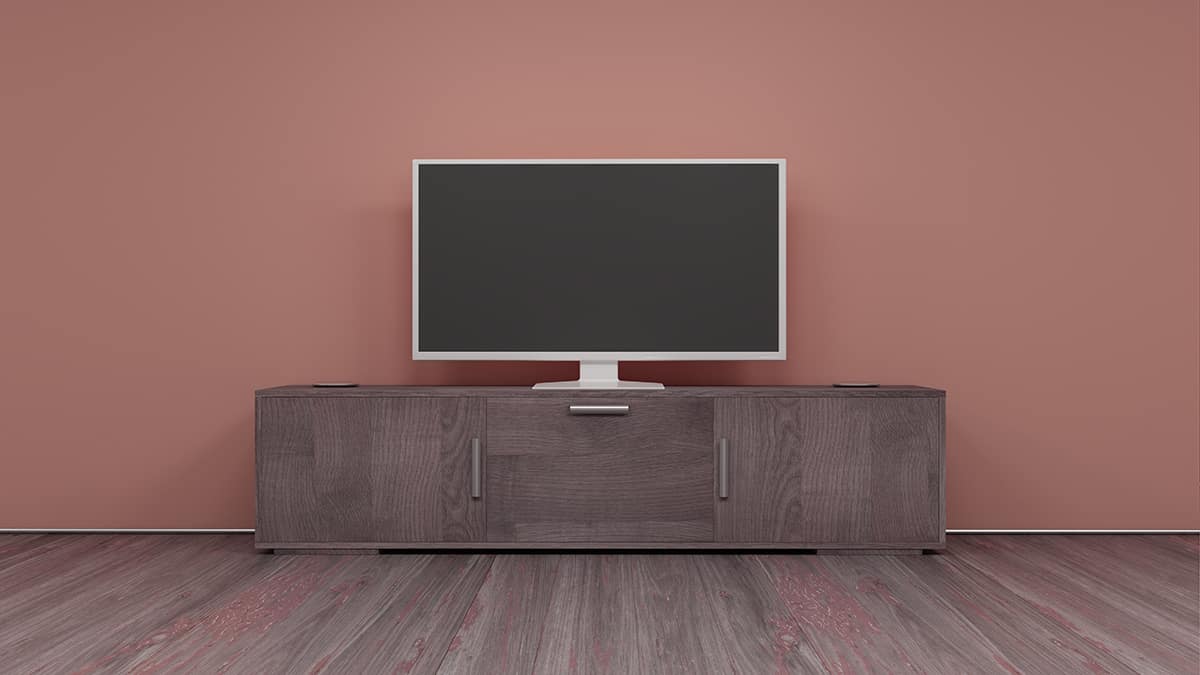 As we said earlier, creating an accent wall behind the TV can be as simple as just repainting the wall a bold or vivid color so it stands out.
Any paint color in deep or bold tones makes a perfect choice for a feature wall, as long as the color you pick matches your furniture or room decor since the idea is to make the painted wall integrate beautifully with the rest of the interior.
Add Wall Accessories
To take the idea to the next level, you don't have to limit your accent wall to just a paint color. To make it more attractive, include some accessories in the form of wall art or trim.
The latter produces a framed effect that makes the accent wall more contemporary. The idea is to transform the plain wall behind the TV into a focal feature.
Surround the TV with a Gallery Wall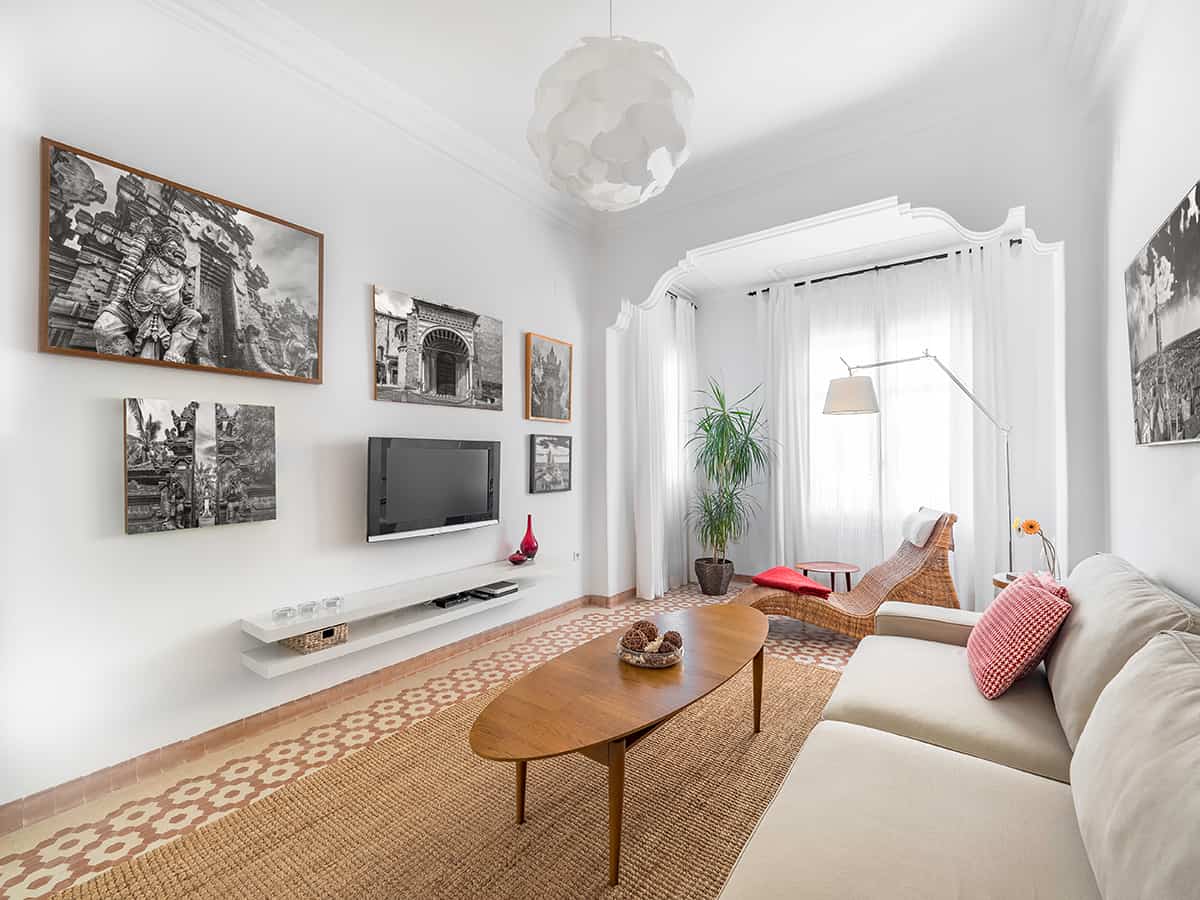 A gallery wall is an excellent idea to incorporate into your TV. A wall-mounted TV, for example, can be surrounded with a gallery wall featuring your favorite paintings or photos. Even if your TV is on a stand, the accent gallery wall behind it will lend itself as the perfect backdrop.
Aside from paintings or family photos, you can personalize the gallery wall arrangement any way you like for a unique look. Using artworks or abstract paintings will also work nicely. Another option is to go for an eclectic gallery wall arranged in a random layout. A gallery wall is ideal for a large wall, where you have lots of space to design your own stunning gallery.
Consider Wall Paneling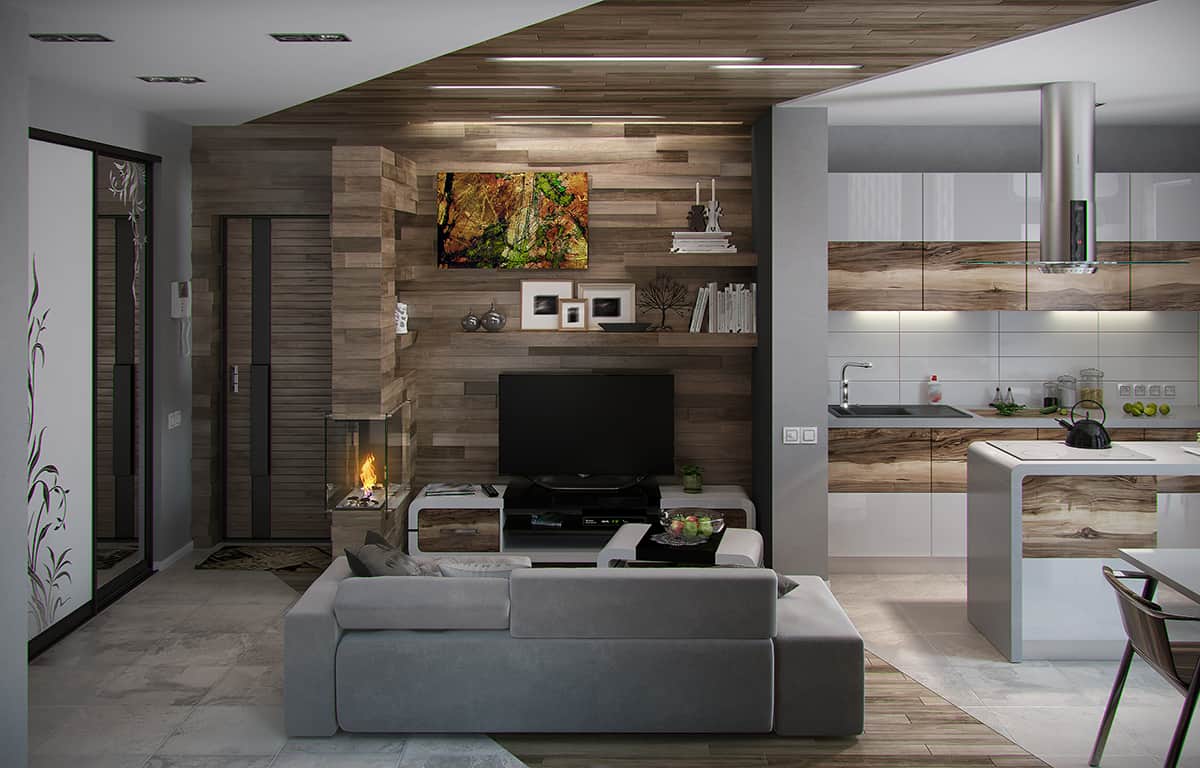 Any type of wood paneling will work as an accent wall behind the TV. Wood paneling makes your wall look more interesting as well as bring a natural touch to your interior space.
Perhaps one type of wood that makes a great accent for the wall behind the TV is shiplap. This type of wood wall paneling consists of horizontally installed planks. The shiplap paneling can be painted a modern, neutral color in order to retain the grain and texture of the wood.
Whether you opt for composite or natural wood paneling, this idea is perfect for any interior decor style. As you can see here, a dominating wall paneling can make a big difference to the entire room thanks to its modern effects to the accent wall.
Create an Industrial Look with a Brick Wall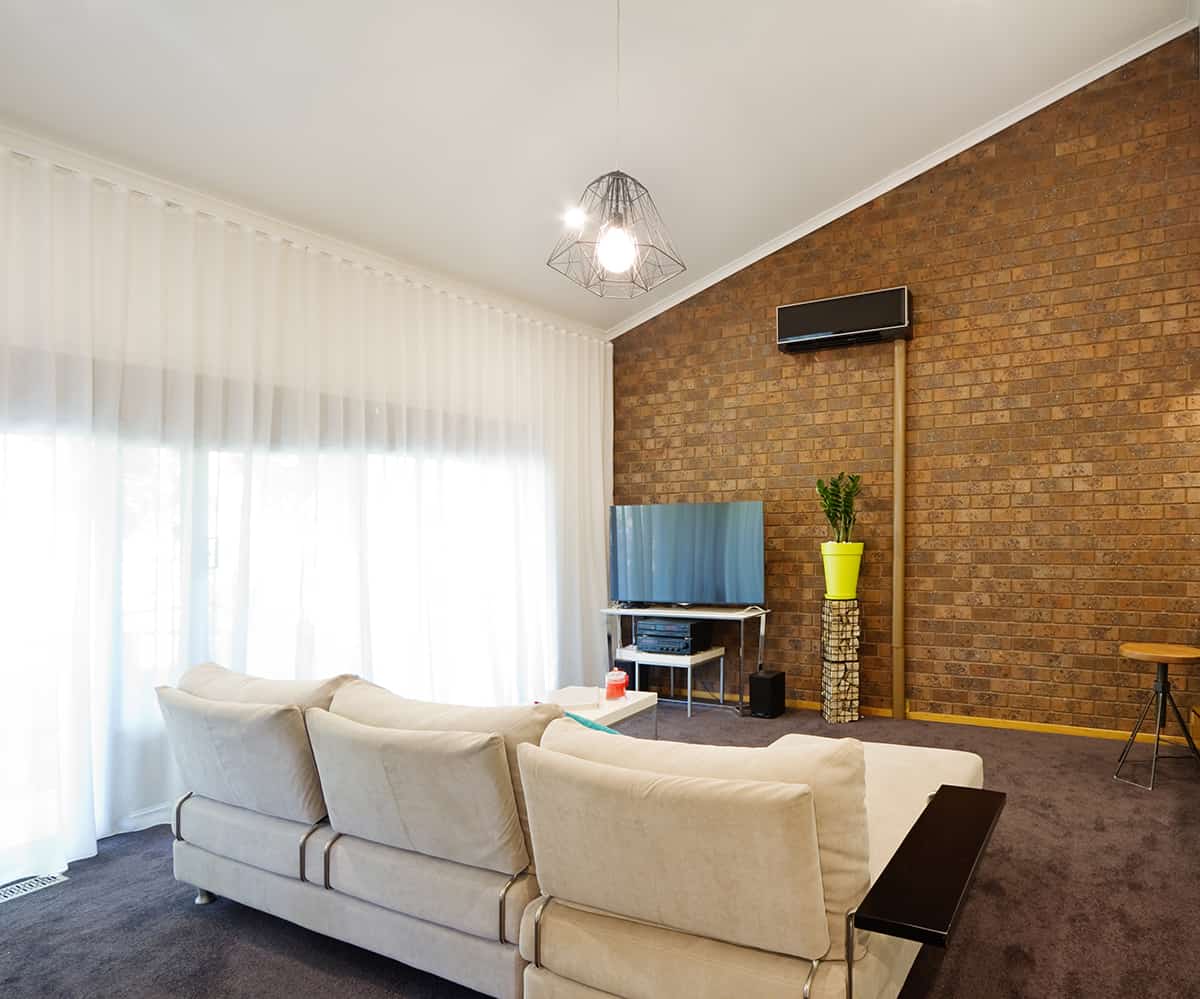 If you're more into an industrial look than a contemporary one, then how about a brick accent wall behind your TV. A brick wall can stand out on its own without the need to add any artwork or accessories. Though you may choose to paint the brick white, brown or red for a neat effect.
However, you can still decorate the brick wall if you wish but without jeopardizing its originality. Installing the TV gadgets to the brick wall can provide a cohesive design with the TV at the front of the accent wall.
Alternatively, Go for Decorative Stone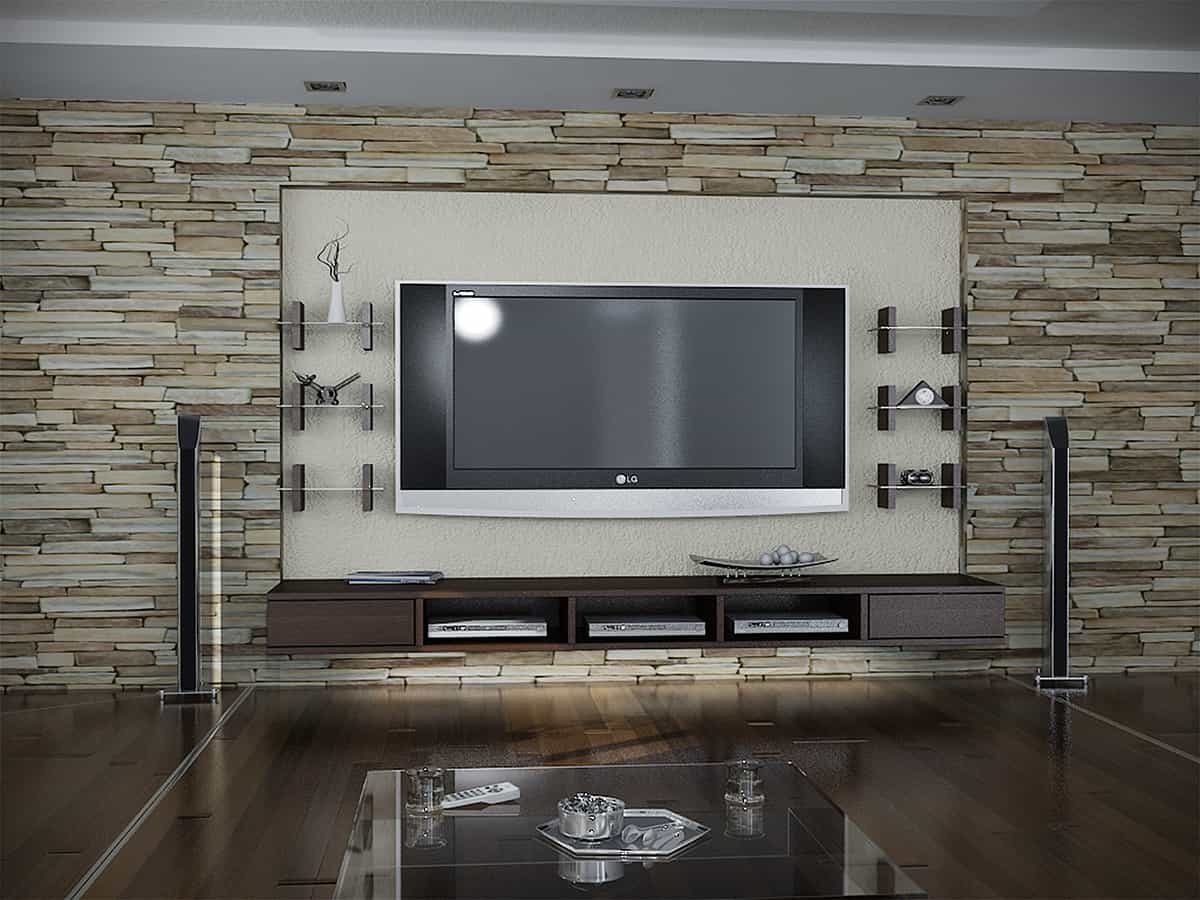 We've so far suggested wood paneling and brick wall, but how about decorative stone cladding behind the TV? This Art Nouveau style can be created with any natural stone material depending on the design you're after, including:
Marble: this type of stone is the most expensive option for an accent wall, but nevertheless an elegant and modern addition.
Black onyx: a cheaper alternative for a sophisticated feature wall of a modern interior.
Limestone: for a calm design, limestone makes an attractive choice. This natural stone is porous with a natural tone.
Slate: a popular and stylish accent wall, slate is a layered stone as seen in our example.
Travertine: suitable for both modern and classic interiors, this is a polished type of stone that doesn't cost as high as limestone or marble.
Use Wallpaper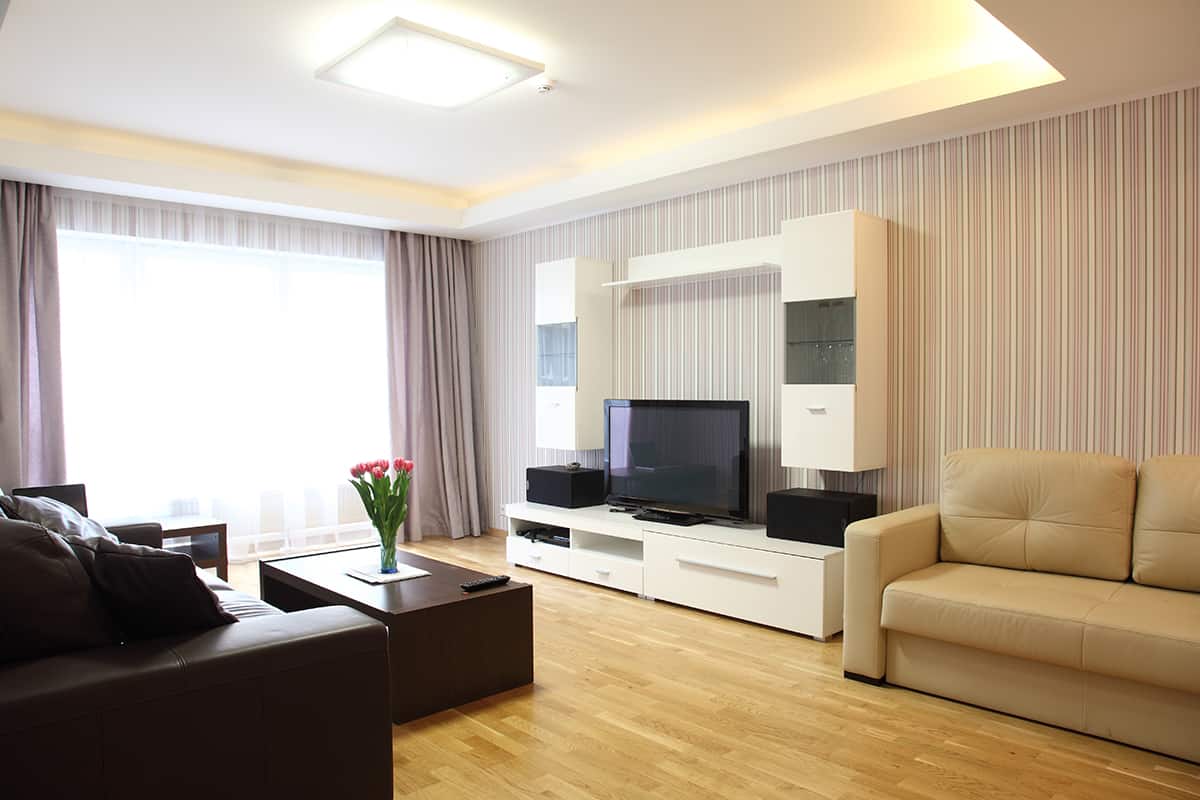 Another material that can be used to create a feature wall behind the TV and is much cheaper than wood or stone is wallpaper. There are many textured and patterned wallpapers to make your accent wall much more interesting. You can even match the wallpaper pattern and color to the rest of your bedroom or living room decor.
Wallpaper might be a bold approach, but it does add personality to your room. Even a simple black and white striped pattern can complement the TV for a cohesive look.
In this example, the vertically striped wallpaper is a neutral color, which blends well with the rest of the room's furniture and decor. Some wallpapers are super easy to install as they're peel and stick designs.
Install Shelves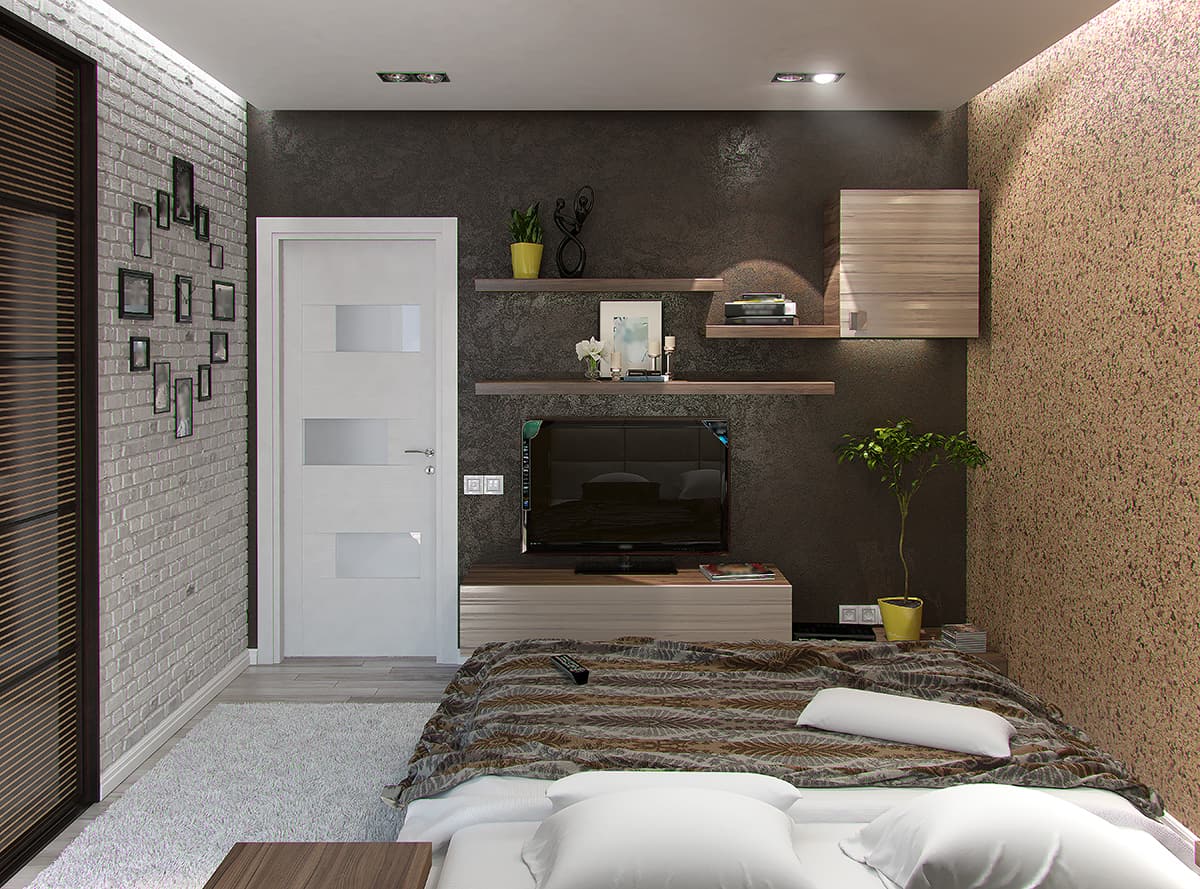 Floating or recessed shelves on the wall behind the TV creates a symmetrical arrangement to detract attention away from the TV. Arrange the shelves at any height you like anywhere on the wall. You can even install some bookshelves for the same effect. For a personalized look, you may build DIY wooden shelves as an inexpensive alternative to ready-made ones.
In this example, the bedroom accent wall is a bold black color, which serves as a backdrop to the shelves behind the TV.
Hang Mirrors
A simpler option for decorating your accent wall behind the TV is by hanging gold-framed or beveled mirrors. This is an elegant solution for making the wall behind your TV stand out.
Whether you hang several ornately framed mirrors or just a single, large mirror on the center of the wall, it is sure to bring a whimsical touch to your interior. Mirrors reflect light so a TV placed at the front won't disturb the visual comfort.
Keep it Minimal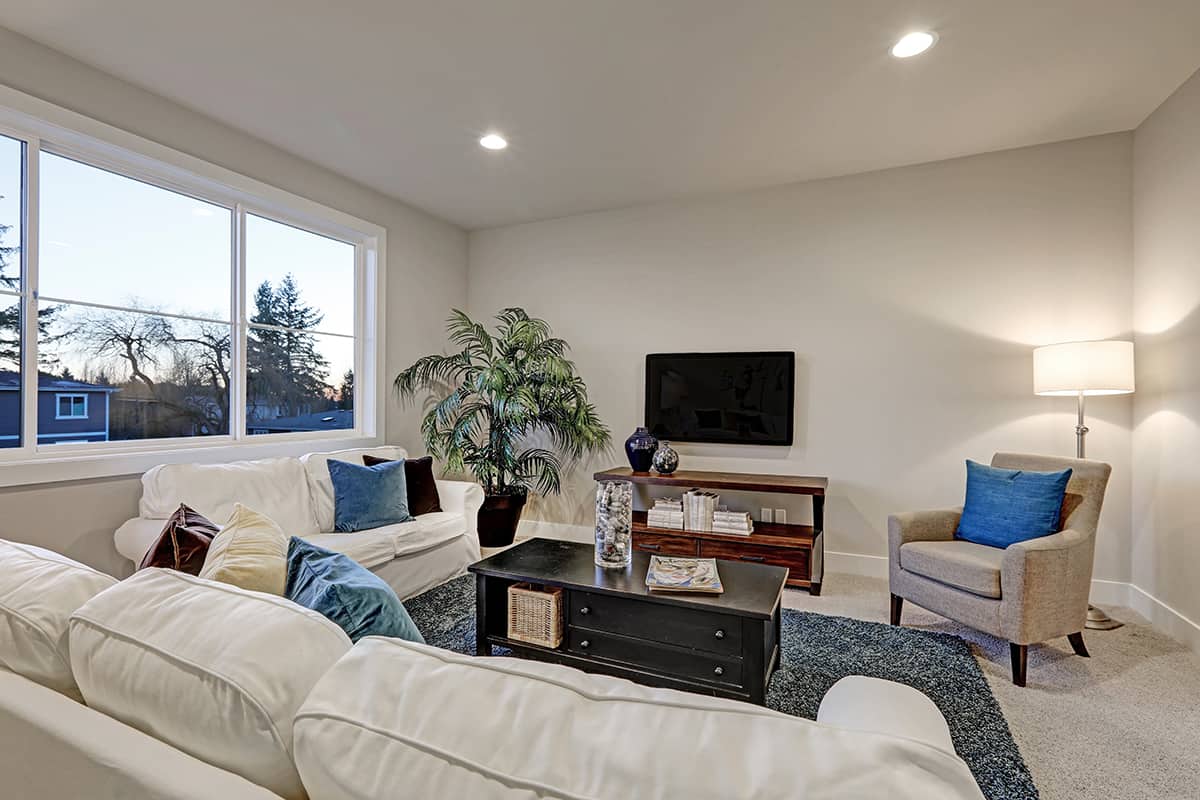 For those who embrace the minimalist style interior design, a freestanding TV with a plain white wall as the backdrop will work just fine for a sleek feel.
Consider a wooden cabinet under the TV in order to hide away the wires and store your essentials. This is by far the cheapest and simplest idea to create an accent wall behind the TV.
Mount the TV on the Mantel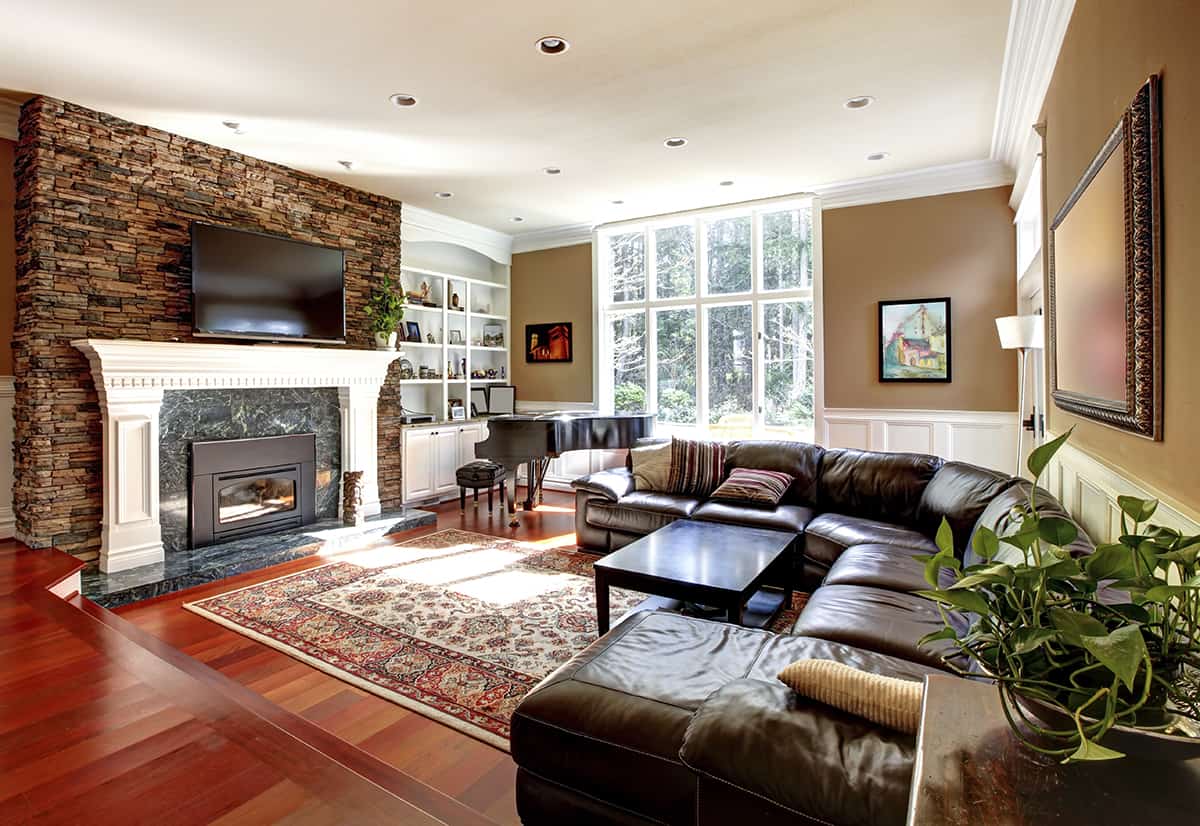 If your living room has a fireplace, rather than sitting the TV on a cabinet, you can mount it onto the fireplace mantel instead. A TV on the mantel creates a visual focal point, without the fireplace and the TV competing for attention. This is an uncluttered look, which doesn't require the addition of any cabinets.
Just like in this image of a luxurious living room, the stone accent wall serves as a stunning backdrop to the TV on the fireplace mantel. The decorative stone wall stands out thanks to the visual interest stemming from the fireplace mantel.
We love the use of brown and beige colors throughout this living room, which work in harmony with the stone wall and flooring. The stone accent wall is without doubt the attention grabber in this room!
Wrapping it Up
Creating an accent wall behind the TV is a great opportunity to inject your personality into your space. Whether you go for a trendy wall paneling, patterned wallpaper or shelves, the idea is to make your feature wall stand out in the room. Our listed examples are perfect for all budgets so even if you're not into DIY, you can still implement any of these ideas into your home.