Brown is a classic color for a home's roof. Since a century ago, most roofing shingles were made from brown clay or shingled wood, and many homes still use the same materials to this day.
Brown is a color that comes in different tones in both light and dark, with undertones of red or gold. This earthy color is, in fact, the first choice for homes with brick or stone exteriors. Since brown is a warm color, pairing it with another harmonious color scheme will no doubt increase the curb appeal of your home.
So if you're wondering what color house goes with a brown roof, we will show you our best ideas with pictures right here. Let's get started!
Best House Colors that Go with Brown Roofs
Brown roofs generally work with the following house exterior colors:
Warm stone color tones – beige, orange, yellows, and creams
Brick color tones – oranges, yellows, browns, and reds
Trim colors – beige, dark brown, and taupe
All muted or warm siding colors – blues, greens, reds, and yellows
Other less noticeable element colors of your home should also be taken into account, like garage doors, gutters, and shutters. You can obtain some color samples from your local paint company based on the architectural style of your home.
This can be very helpful when matching your brown roof color to your home's exterior color. To make the task easier for you, we've put together some of the best examples of brown roofs that go with other warm colors:
Beige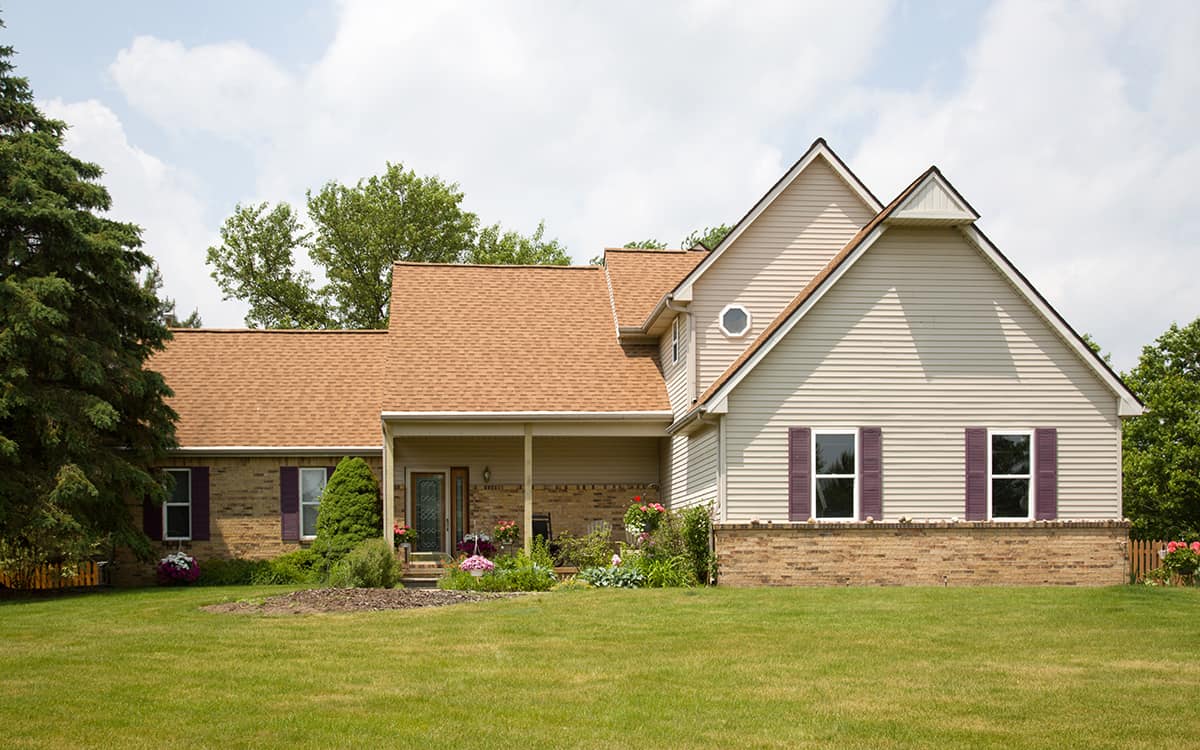 Beige is a warm, neutral color that looks great on a medium to dark brown roof. This light color can be painted on the part of the full exterior of your home, with white trim and matching door color to complete the look.
Here, this beige house has a slightly yellow-tinged hue that goes very well with the brown roof. The cool vibe of the beige exterior, together with the white trim and garage door, provides a stunning curb appeal to this suburban home.
Green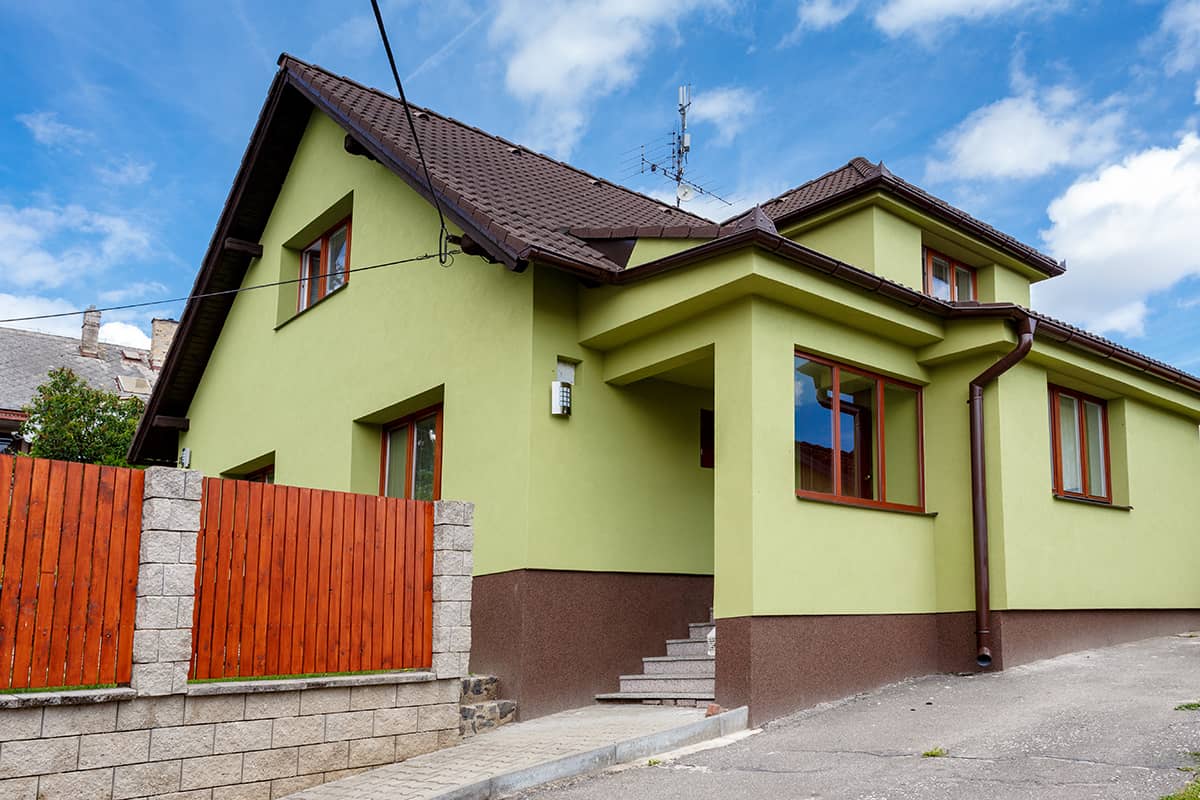 Green is a beautiful siding color that naturally goes with a brown roof. This is because both green and brown colors are found in nature. Hence they are highly preferred for pairing. All you need to do is pay attention to the shade of green you choose for your home's exterior. It's recommended not to opt for dark green hues. Otherwise, it will detract the eye from the brown roof.
In traditional homes, green and brown are often seen among residential landscapes as these two colors harmoniously blend with the softness of greenery and trees. If your roof is of medium brown, go with a soft green paint-like moss for the exterior. And to enhance the curb appeal, add brown accents or trim to further increase the visual interest.
This house is a perfect example of how brown and green go together as an exterior design of a home. The two colors are of the same temperature and represent nature. Thus they will both stand out. This light shade of green for the exterior with the medium color brown roof proves how balanced this color match looks.
Yellow

Similar to beige, yellow is another warm color that goes with dark brown roof shingles. In fact, if you want to create a monochromatic look, opt for a bright yellow paint color for your exterior.
Add white gutters and trim for variety, as shown in this example. The dark brown roof with the bold yellow and white color combo has provided a subtle and pleasing contrast. But it's not just white that can be combined with yellow and brown. To unite the brown roof and yellow exterior, consider painting your trim and gutters cream or beige for a pleasing effect.
White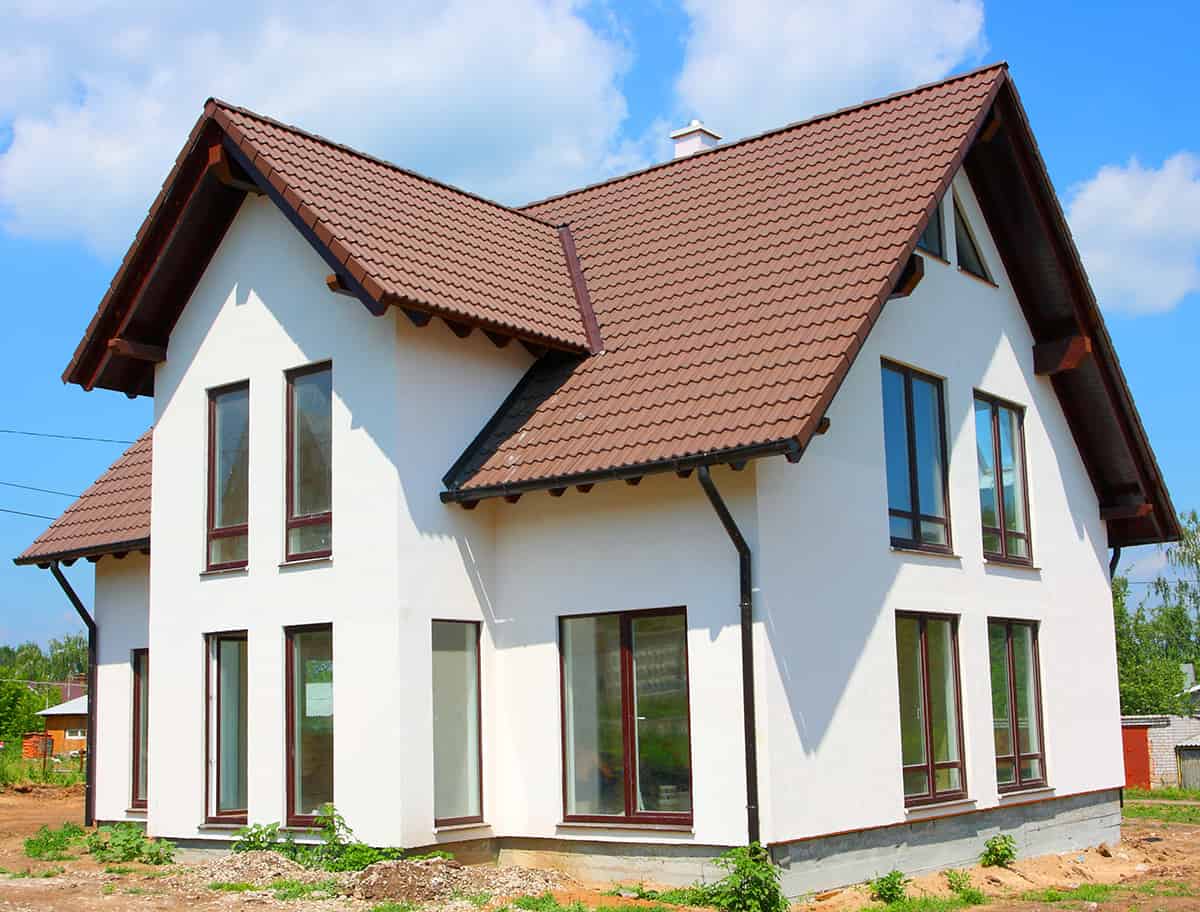 A white exterior will work with any roof color, so brown is no exception. In fact, brown roofs were mostly coordinated with white siding on Colonial homes up until a century ago, when other colors were introduced for the house facade.
A traditional home with classic architectural details and a dark brown roof will look stunning with a crisp white exterior. After all, white is a refreshing color that works in both country-style and modern homes.
Since most white houses have either brown or black roof shingles, you must pick a dark shade of brown to go with your crisp white exterior. You may also incorporate other brown elements like solid wood columns for the porch or brown shutters to match the roof color.
Dark brown metal railings will also work to contrast the lighter brown shingles. Since white isn't a warm color, when used with an earthy brown tone, it will complement the overall aesthetic of the house. Brown window frames and gutters provide a good contrast with the white, as shown in this example.
Brown
What better color to pair with your brown roof than brown itself? Since there are many different brown siding shades, any of them can bring charm and character to your home. For example, lighter brown shades work with warm grey siding and white trim so having more brown on your house doesn't mean you are not being creative.
You can really pull off this look by using two or three different shades of brown stain or paint. Natural wood siding in brown, for example, is a great material that goes perfectly with brown roof shingles. Shaker-style wood in different shades of brown will never go out of style. You can even add vertical planks of wood painted in a darker shade of brown to go with your shaker-style siding.
A good example of brown wood with brown roof shingles is right here. The orange-brown exterior of these houses with matching front doors works in harmony with the brown roof.
We can also see grey stone and white trim on the exterior of these houses, which have further increased the curb appeal. These homes ooze personality without any of the brown shades taking over or standing out. All the color combinations here work beautifully together.
Red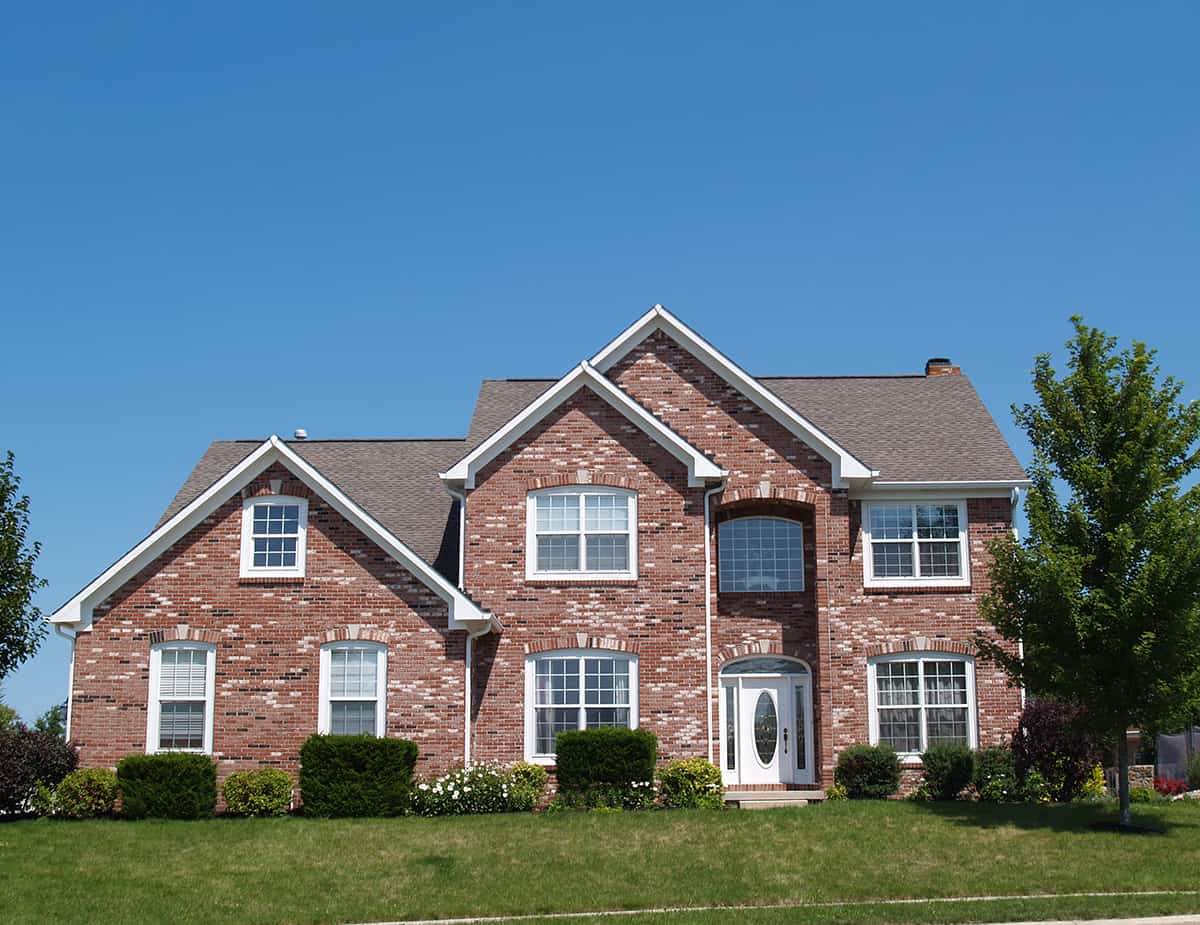 A brown roof paired with a natural material like brick for the siding of your home is a match made in exterior design heaven. Red brick exteriors can be paired with many roof colors, including brown. A brown or orange undertone looks stylish with dark brown roof shingles. This color scheme is ideal for Colonial-style homes as it adds character to the home.
This red brick house with its brown roof is an interesting illustration of how a dark shade of brown works with the red siding. In this case, the roof color is darker as a contrasting color scheme.
When you look at the red brick exterior closely, you can see how many colors it is made of. Redbrick homes are made up of many textures and hues. That's why it makes sense to pair this natural material with dark brown, which is an earthy color. To increase curb appeal, the front door and trim are in white in order to brighten up the exterior of this house.
Blue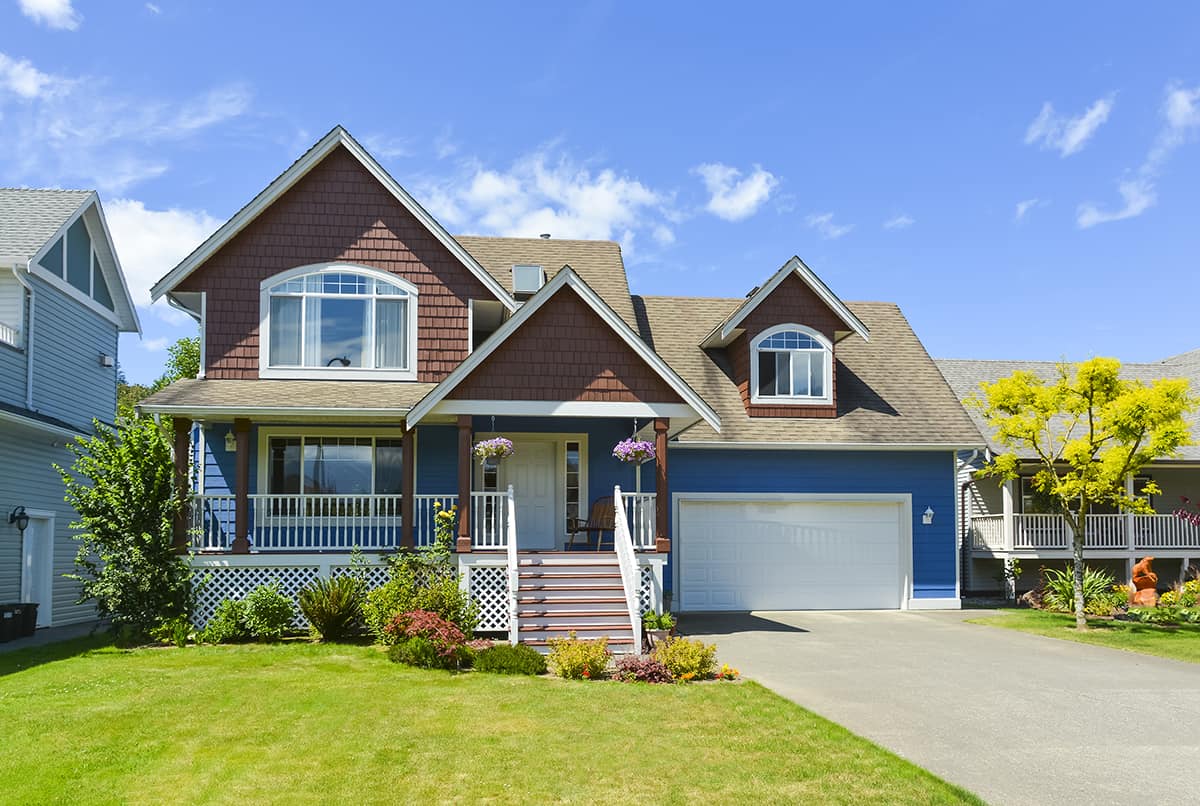 Any shade of blue goes with a warm color like brown. A chocolate brown roof will look stunning with a medium-rich blue for its paint color. This striking contrast to the white trim and blue-themed exterior ties the whole look together, as you can see in this example.
If you have chosen a dark brown roof, it is refreshing to introduce a crisp white shade for the trim of your home together with a dark shade of blue. Alternatively, you may opt for sky blue, which works just as nicely.
Does a Grey Exterior Go with a Brown Roof?
If you have a grey exterior, you might wonder whether your roof shingles can be brown. Although grey siding is typically paired with black or grey roof, there are many Mediterranean and Colonial-style homes that boast grey exteriors with brown roofs.
The undertone of their brown shingles is terra cotta, as this hue goes most with neutral colors. Light grey is a great shade to pair with brown, so if your home's grey exterior is in natural stone or wood, a fabulous color pairing is grey and brown.
Summary
Brown is certainly a classic roof color seen in many traditional homes. This color is super easy to work with, not just next to siding but it also looks good with shutters, masonry, trims, and other architectural elements.
So the next time you're thinking of re-roofing your home with brown shingles or painting the exterior, just refer to our ideas above to find the best house color for your brown roof.