What's your dining table's story? Take a moment and think about it. Every dining table has a story. Either your dining table was where you celebrated your firstborn's one-year birthday, or where you opened that mail telling you that you got the new job, or where your little girl feels its most comfortable for doing her homework, or where your wife said, "I do" after you popped the question. Whatever it is, your dining table has a story.
These days in this world of smartphones and other gadgets that we live in, your dining table might be the only place the family comes together and be able to have a conversation while having a delicious meal. Once again, every dining room has a story.
After your bed, your dining table is the most important piece of furniture in your home. Some dining table holds more memories than every other furniture and room in the house. If your family likes to write things on the dining table, then surely some beautiful memories are engraved on your table already. This might even make the entire family attached to the table and not want to change it.
These and many more are the reasons why dining tables are very important and why you must be very careful when selecting your dining table. This is why you must know the essential factors to consider when selecting your dining table and the various types of dining tables available.
Factors to Consider When Choosing a Dining Table
Size
When choosing a dining table, one of the first and most important things to consider is the size of the table. Before going to the furniture store or ordering online, it is best to use a measuring tape to measure the length and breadth of the dining area where the table is placed. For easy movement in and around the dining table, ensure that you leave a minimum of three feet between the wall and the back of the chair.
Also, ensure that you get a table that is large enough for each person to have the necessary elbow room. If your family is the type that hosts large gatherings occasionally, perhaps you should consider getting an extendable table to manage such occasions.
Shape
What should be the shape of your dining table? Should it be rectangular, square, or round? The shape of your table is another important factor you need to consider when selecting a dining table.
To ensure that your dining room is comfortable, make sure you select a table whose shape is coherent with the shape of your room. For narrow rooms and large families, it is best to select a rectangular table because it accommodates more people.
While round tables are easy to move around and fit in tight and small spaces, they are also best suited for social functions, and they foster a sense of familiarity and communion among the people sitting around them. If you have a large family or regular occasions that involves an ample number of people, then you cannot buy a square table. Square tables are best suited for small families and fitting for events with few guests.
Style
Style is another factor to consider in selecting your dining table. You must ensure that the style of the table aligns with the interior decor of your room. This will enhance the aesthetics of the room and the uniformity of style.
Materials
In a house with kids, one of the most important things to consider is the material of the table you want to buy. Are you going to select a table that is hard to keep clean but very attractive, or will you settle for a dark finish that hides stains? If your kids are in love with crayons, they will inevitably "add more color" to your table. So, a dark finish is for you. If your kids boisterous and have boundless energy, then you should avoid glass tables and sharp-edged tables to prevent accidents.
Also, if you have pets, it is best to go for a table with a pedestal base and metal legs to prevent them from chewing on it.
Base
Legs, pedestal, or trestle? The base of your table determines how many people that you can sit around it. The base of your table must not restrict the leg space of the people who will sit around it. Legs are often used for rectangular and square tables, while a pedestal base is placed at the center of the table and is mostly used for small size and round tables. Trestle supports are fixed at the edges of the table and connected by a parallel tabletop. In the end, the most crucial thing is to ensure that you select a base that gives you enough legroom and does not make your table unbalanced but rather flawless.
Chairs to go with the Dining Tables
Nowadays, tables and chairs don't always come in sets; instead, many people opt for versatility and experiment by mixing various designs, colors, and materials. Hence, chairs are another factor to keep in mind when selecting your dining table. Make certain to choose a kind of chair that leaves enough room for your legs to move without any restrictions under the table.
Also, select chairs that don't take up much space and easy to slide into. This is why armless and side chairs have become the most popular and comfortable dining chairs.
Quality
No one wants to be changing their dining table after three months or four; instead, we all want a dining table that is reliable and will last for years. To get a dining table that will last for a considerable period, make sure you select a table that is durable and solid. Ensure that the connection points of the table have no divide whatsoever. Move the table to see if it flounders; if it does, then it won't last; rather, the table should remain still and stable.
Types of Dining Table
Dining tables differ based on style, shape, material, style, base, and tabletop. These various categories define the table, and knowing them makes it easier for you to select what table is best suited for your home. Here are the various types of dining tables.
1) Rectangular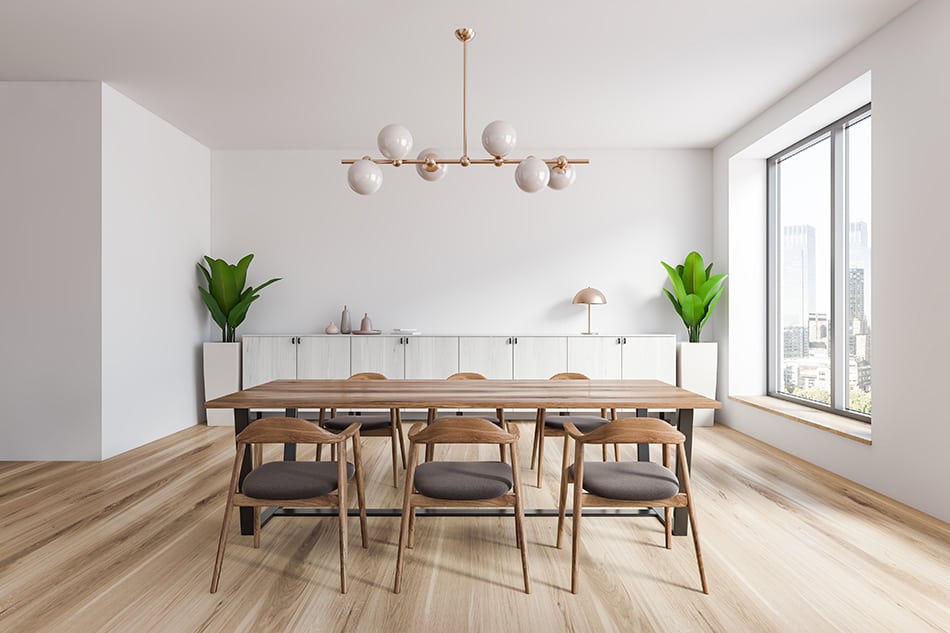 Rectangular-shaped dining tables are the most popular types of dining tables. This dining table is fitting for a large type of family as it can be extended indefinitely. Rectangle dining tables are also best suited to long and narrow rooms.
If you have a family that accommodates guests quite often, this type of dining table is for you. Due to its corners, rectangular tables can accommodate numerous people. This shape of the dining table also allows free movement of people in and around the table.
Rectangular tables are also more practical and functional. Contrary to other shapes of dining tables, you can change the position of a rectangular dining table — for instance, pushing it against the wall — and it won't affect its functionality. They are also very versatile and allows you to be creative. With rectangular dining tables, rather than use only chairs, you can choose to mix it up with dinner benches to add more style to your dining room.
2) Round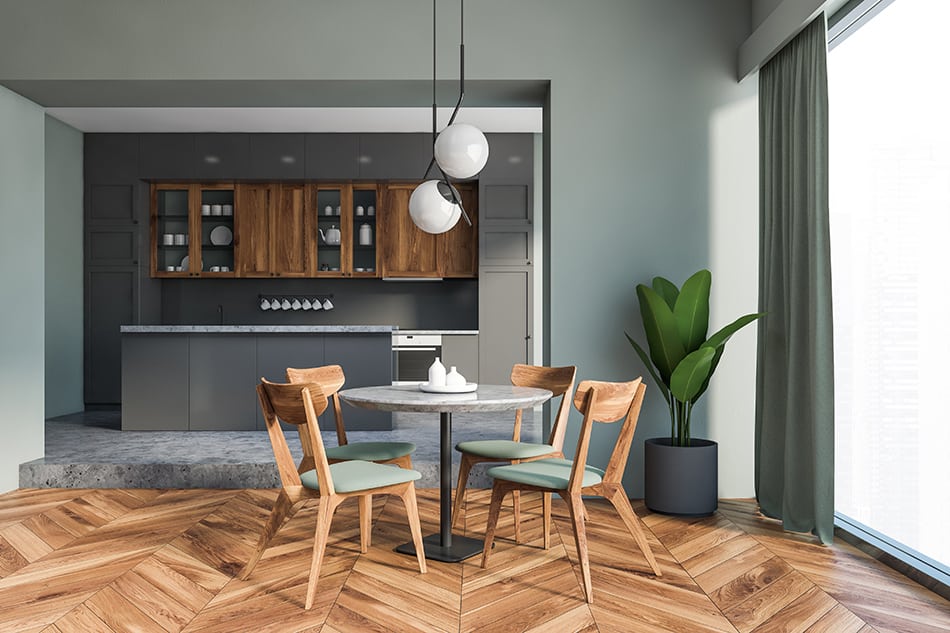 For small families and small dining rooms, a round dining table is the best fit for you. This dining table encourages a good ambiance as everyone is sat closely knitted to one another.
Round dining tables are perfect for social gatherings as they give the dining room a more friendly and cozy feel. They consume less space and stimulate better conversation because you can see everyone else. With round tables, you have enough leg space for all individuals.
Round dining tables are also sufficient for a house with kids. They don't have sharp edges, so they have no chance of causing injuries. They are also best for game nights because of the size and the unifying central area.
3) Square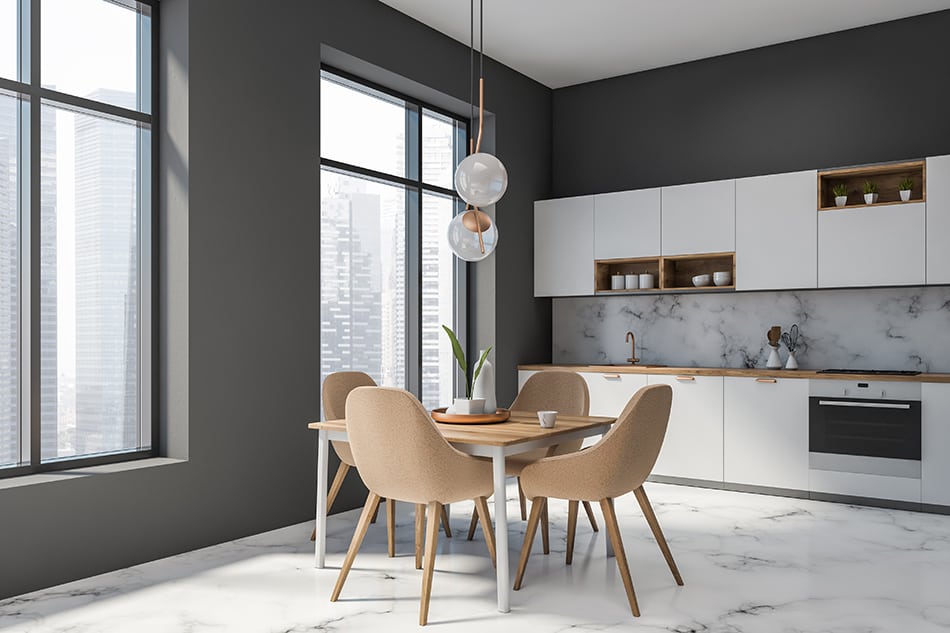 Square-shaped dining tables are suited for small dining rooms, narrow rooms, and tight spaces. Just like the round table, square dining tables do not consume large spaces. It is surely the simplest shape of a dining table.
For a family of four or six, the square dining table is the best option for you. With a square table, everyone is at equal distance from one another, and thereby conversations are more laid back and satisfying.
4) Oval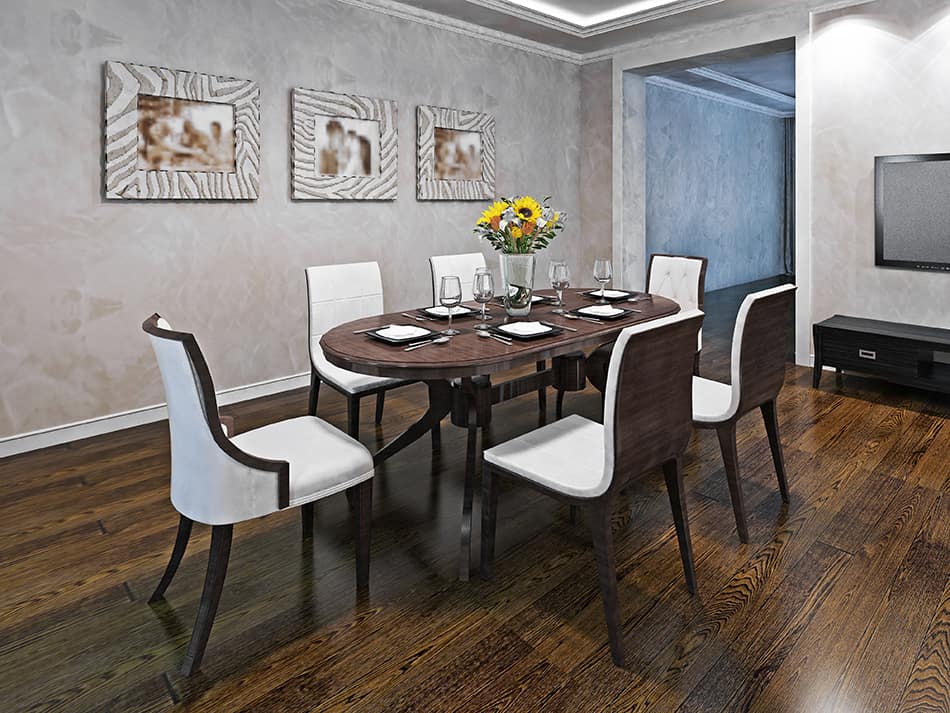 An oval-shaped dining table is another great fit for long and narrow rooms. An oval dining table gives you the best of both worlds. It can accommodate many people like a rectangular dining table and also provide you with the sleek round edges of a round table. It is a hybrid of rectangular and round shape dining tables.
Contrary to other shape category types of dining tables, oval-shaped dining tables can fit in a large room and are also convenient for small spaces. This type of dining table also allows you to be quite flexible with your choice of chairs.
Oval shape dining table is the most stylish of all shape category dining tables. They also give enough space for legroom because of its base.
5) Freeform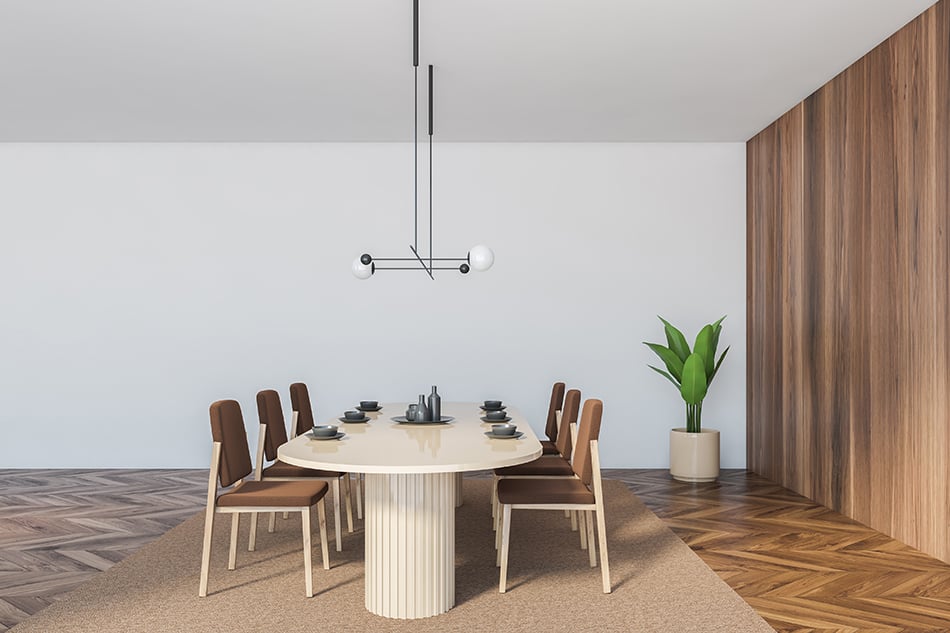 Freeform-shaped dining tables are tables that don't fit in within any standard shape. Due to its freeform, this type of dining table can fit in small, large, and unusual-shaped dining rooms.
Similar to the oval-shaped dining table, freeform dining tables are very stylish and aesthetic. Also, owing to its unusual form, most freeform dining tables are custom-made and unique. This type of dining table accentuates the dining room.
6) Wood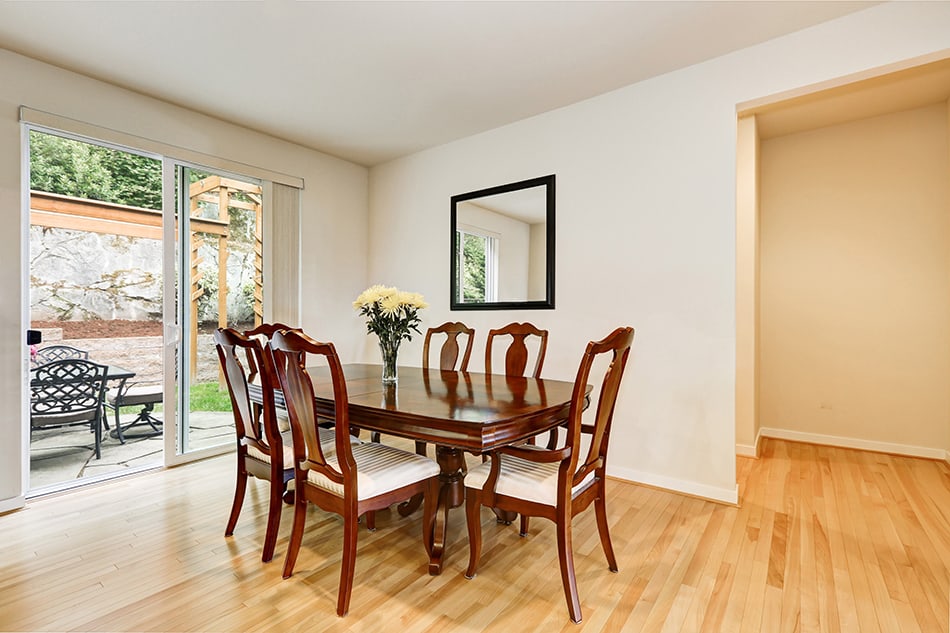 A wood dining table is the classic choice of a dining table. It doesn't matter what the new trends of dining tables are, a wood dining table is never archaic or outdated; it simply evolves.
Either round, rectangular, or square, a wooden type of dining table fits in with all types of interior decor. Ensure you choose a wooden type of dining table that not only matches but also enhances the color of your dining room. You can also enhance your wooden dining table by using stylish linens and decorative plates.
The biggest advantage of a wooden dining table is that they are very durable and sturdy. This durability ensures that they last longer than every other type of dining table. You can also modify your wooden dining table to your desired taste anytime you want. You can change the finish and repaint the table to give it a new look from time to time.
7) Marble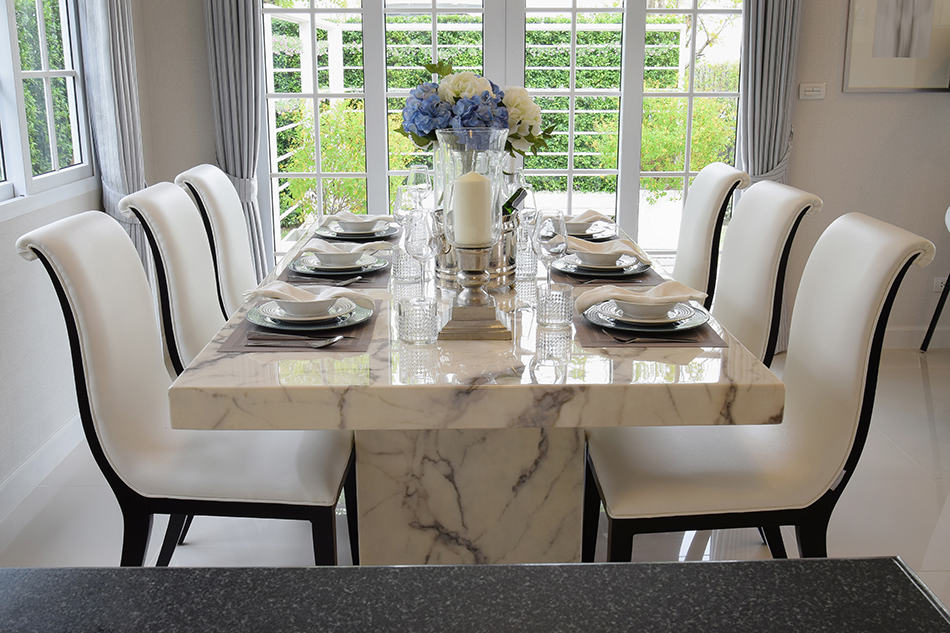 Marble is perhaps the easiest to clean type of dining table. This dining table is quite expensive, and this is why it's a luxurious type of dining table. It is classy, cool to touch, and with various colors to choose from. This gives you the to select the right color to match your dining room.
This type of dining table complements all types of decor. Marble dining tables are also durable and last for a long period if they are well cared for. A marble dining table is also an environmentally friendly dining table as marble is a natural stone that doesn't require any industrial efforts for its production.
However, marble gets stained and dull easily. Furthermore, it needs to be sealed and resealed at intervals to retain its good look.
8) Glass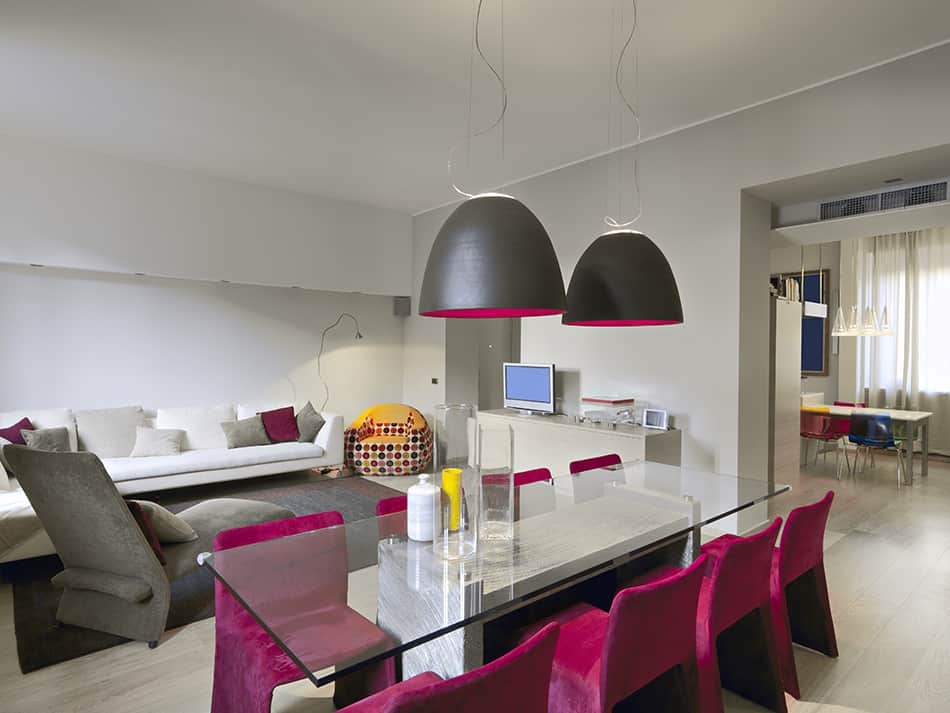 If you are looking for a stylish and modern type of dining table, a glass tabletop dining table is what you need. It radiates a level of subtlety and opens up the visual space of your dining room.
Despite its sophistication, the glass tabletop dining table is very easy to maintain and clean. The glass tabletop dining table gives you the freedom to experiment with its frame. You can use metal, natural stones, or wood for your frame to match your interior design.
Additionally, make sure you use tempered glass for your tabletop. This is to ensure that if your glass breaks, it will not shatter. Tempered glass is also not affected by hot items. However, it is best to place a tablecloth or placemat before placing any hot item on the table.
9) Metal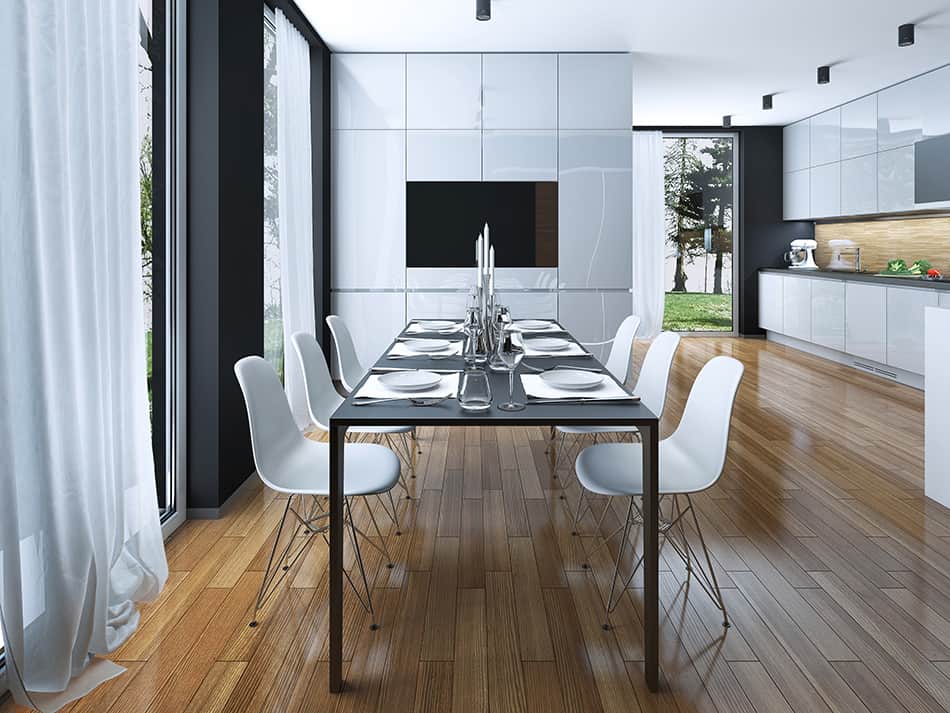 A metal top dining table is one of the trendy types of dining table and has become the preferred choice for most people. This type of dining table is best suited for homes with industrial and contemporary interior decor.
A metal top dining table is very durable and lasts for a long time. Since it's made of metal, you can put items of any kind and size on it without doing any damage.
What's more, this type of dining table offers you practicality and is easy to maintain as all you have to do is wipe it with a clean cloth to remove all dirt and stains. With a metal tabletop, you can be very flexible with color and match your dining table with the color of your dining room. A metal top dining table is also suitable for all types of interior decor.
10) Traditional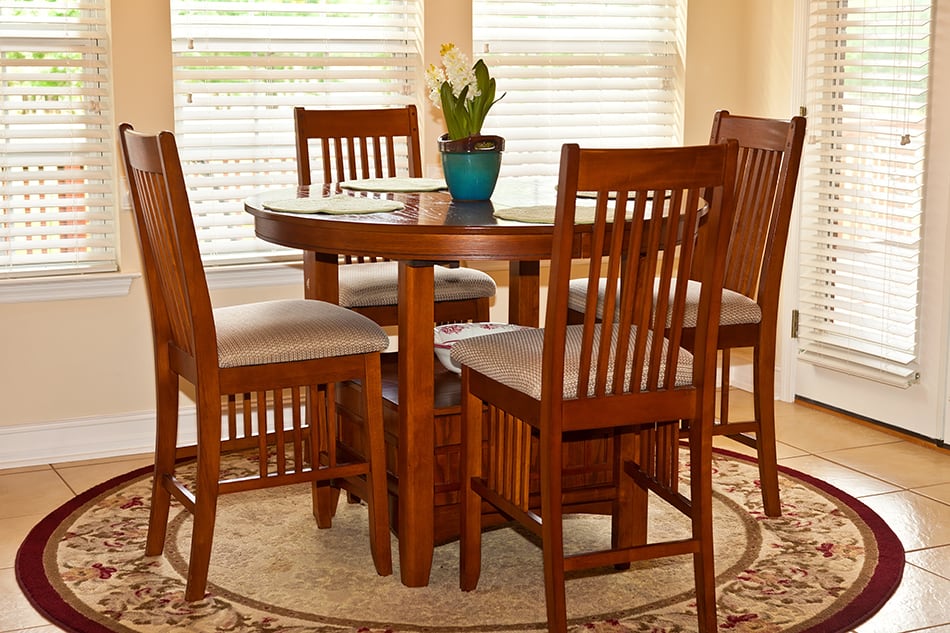 How about a classic and timeless style for your dining table? This is what a traditional dining table encompasses. A traditional type of dining table is made of wood and is highly versatile.
It is the most prevalent type of style you will find when shopping for your dining table. A traditional type of dining table makes use of exquisitely carved wood, thorough texture, and rich proportions.
This type of dining table is very sturdy as it is made of wood, and the design is quite simple and basic. Traditional dining table also allows you to be flexible with color because you can paint the table in any color and match it with the color of your dining room. It is best suited for dining rooms with classic designs, muted shades of paint, and rustic accessories.
11) Rustic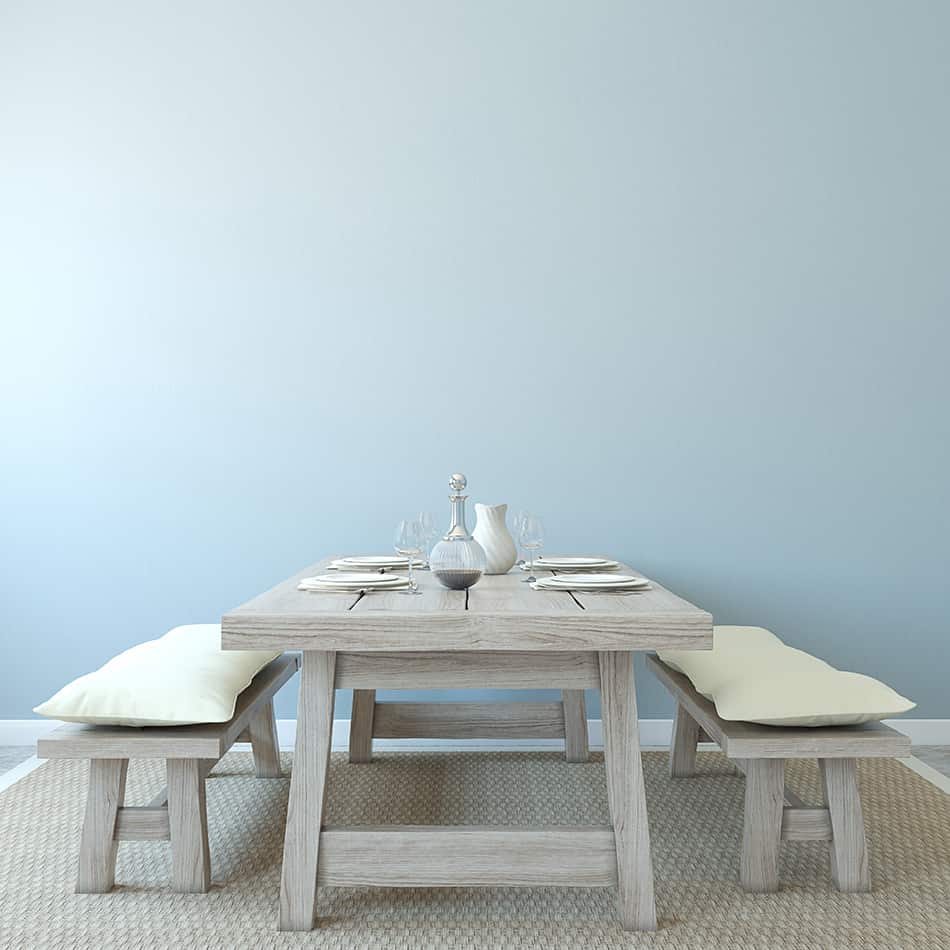 This one is for country-style lovers. A rustic type of dining table is best suited for a country-style themed dining room. This type of dining room gives your dining room that farmhouse or natural feel.
This dining table is made of unpainted wood in its bland and brown natural form to give your dining room a simple and natural look. Some rustic dining tables are also made of barn door materials.
Rustic dining tables are very solid and reliable as they are made of strong, natural wood, and they can stay in your family for generations. They are more popular in cabins and cottages.
12) Modern and Contemporary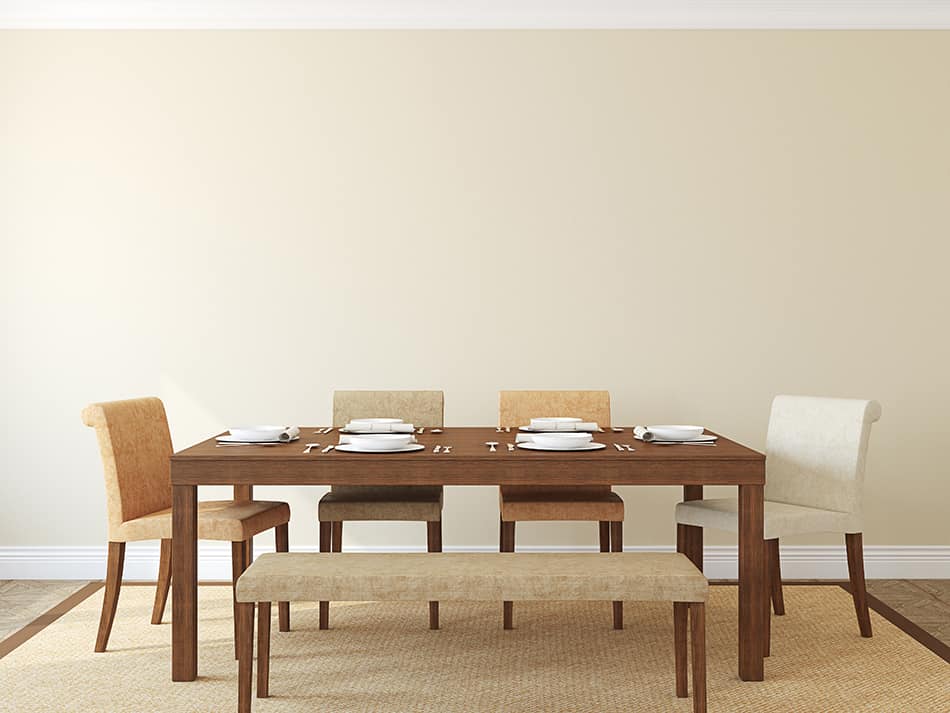 These are the latest styles and types of dining tables. These types of tables can be made with any type of material and in all types of shapes.
The modern styles of dining tables are unique as you do not need to match them with the color of your dining room; rather, a mixture of styles, texture, and color is encouraged. This involves the use of drape chairs paired with a rustic unstained wood table.
Benches have also become part of the contemporary style for dining tables. Rather than chairs for one of the sides of your rectangular or square shape tables, a bench is used instead. These benches save space, and you can fit more people on a bench rather than a chair. Furthermore, these benches give your dining room a farmhouse look—a blend of the classic and stylish.