Interior colors allow us to create stunning rooms and bring harmony to our homes. Matching colors is a very important element in interior decorating and design. After all, it is colors that transform small, compact spaces and bring brightness to a room.
When you're thinking of the best wall and ceiling color combinations, there are many ideas to implement in your home in order to add warmth and coziness.
Complementing wall and ceiling colors always look stylish and elegant. But you can also use contrasting colors to emphasize the darker tones in a modern interior design.
If you want to take your interior to new heights, consider applying a fresh coat of paint to your walls and ceiling. Choosing the right color combinations will make a huge impact so it's important to use the right paint colors.
But before you get your paintbrush or rollers out, take a look at our following ideas with images for inspiration:
Best Wall and Ceiling Color Combo Ideas
Matching Beige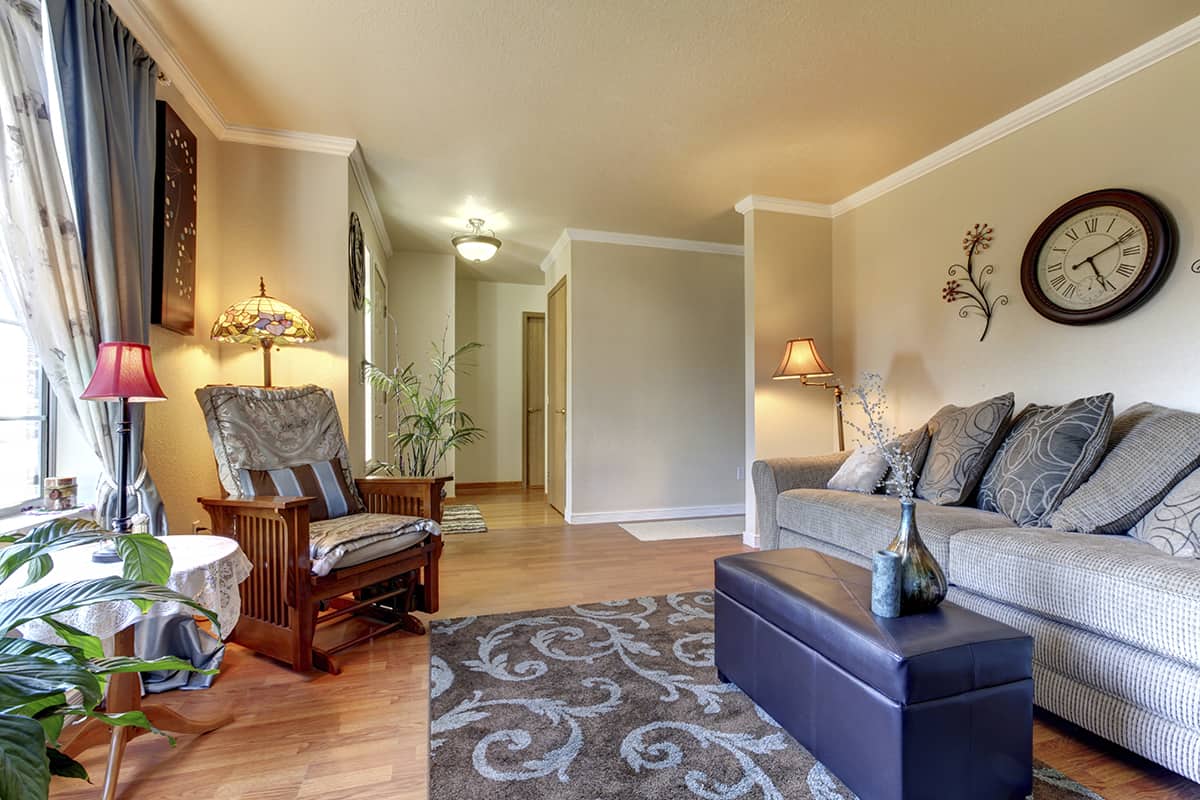 One of the best ways to create a cohesive and unique design is to use the same ceiling color for the walls. For example, a soft, light beige ceiling can look stunning when combined with a slightly darker or lighter beige wall. The overall effect of beige on beige is soothing, especially when you add crown molding or trim to your room.
When matching your beige ceiling with beige walls, be sure to use semi-gloss paint instead of matte. By painting your ceiling a golden beige hue and your walls a soft sand shade, the warm, neutral combination can be calming yet subtle.
See how elegant this traditional, cozy living room looks with its beige ceiling and matching walls. This inviting space radiates warmth and style thanks to the bright white crown molding that frames the ceiling.
Light Gray Ceiling with Dark Gray Wall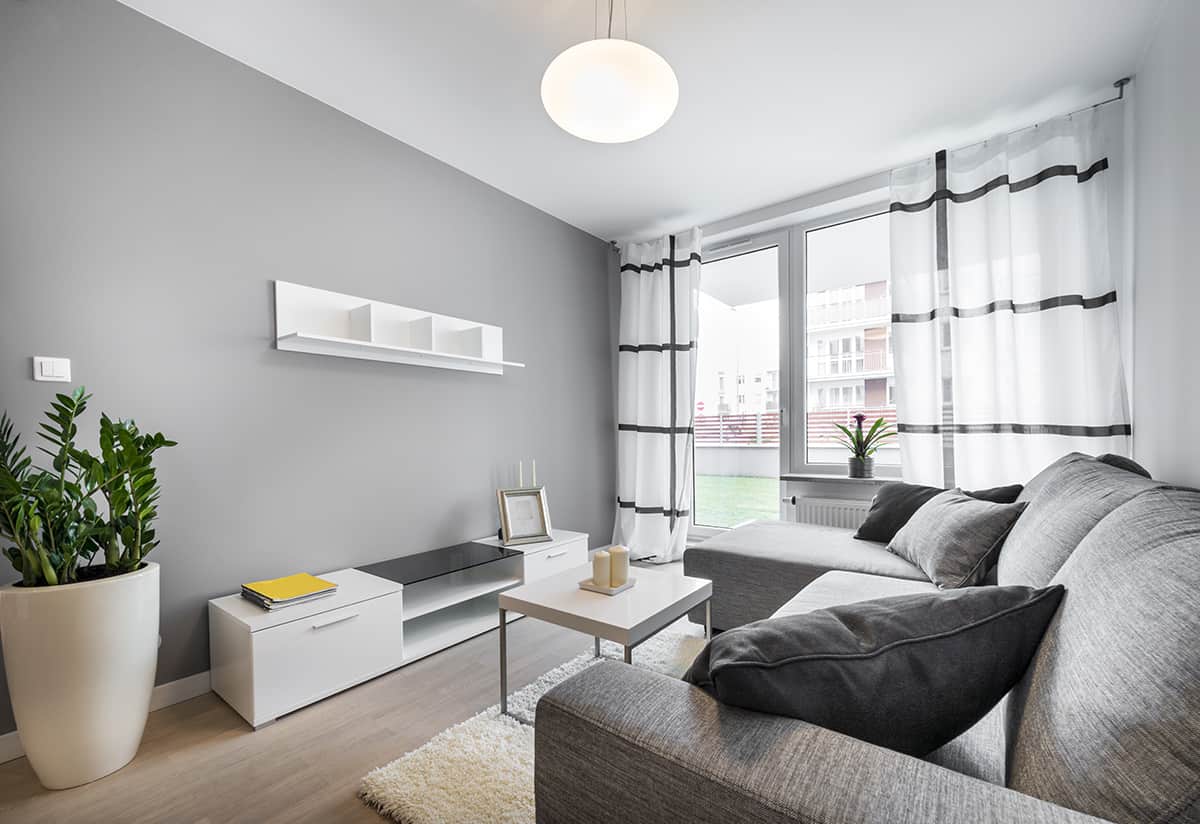 Since gray is such a sought-after color, why not use this color for the walls and ceiling? For example, you may paint your ceiling a light shade of gray while using a darker shade for the walls to make them stand out and separate the two spaces.
Tip: a stylish chandelier would bring extra attention to the light gray ceiling!
Even in a small living room like the one seen here, the combination of light gray ceiling and dark gray walls hasn't shrunk the space nor made it appear cold. On the contrary, this modern gray living room feels cozy and comfortable.
Check out our article' What color ceiling goes with gray walls? 'for more ceiling and gray wall color combinations.
White Ceiling with Red and Gray Walls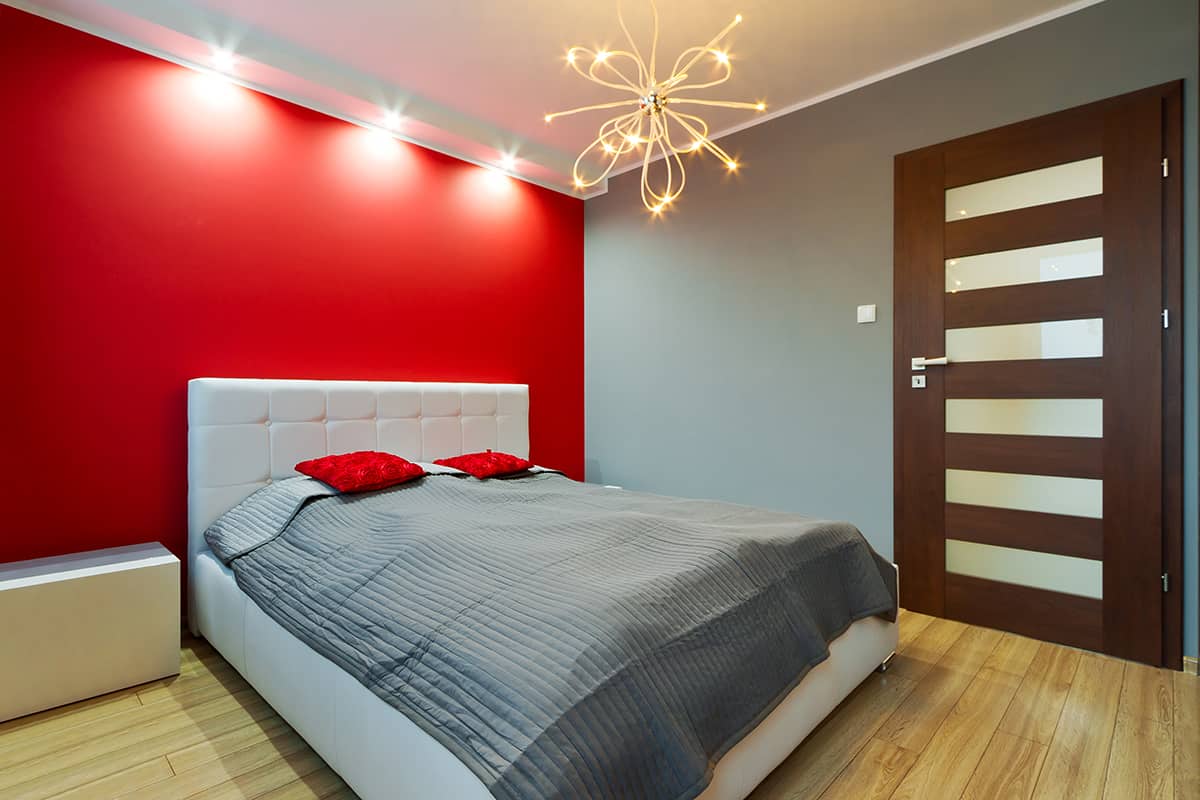 Most homeowners believe the safest ceiling and wall color is white, but for those who want to add a more dramatic and striking feel, why not pair the white ceiling with a rich shade of red and gray walls?
A cherry red wall can bring life to a neutral bedroom or living room, plus it pairs well with cool grays and off-white. Burgundy is another striking color that can make your wall stand out. This is the perfect idea for those who want to create a feature wall.
White Ceiling with Green Walls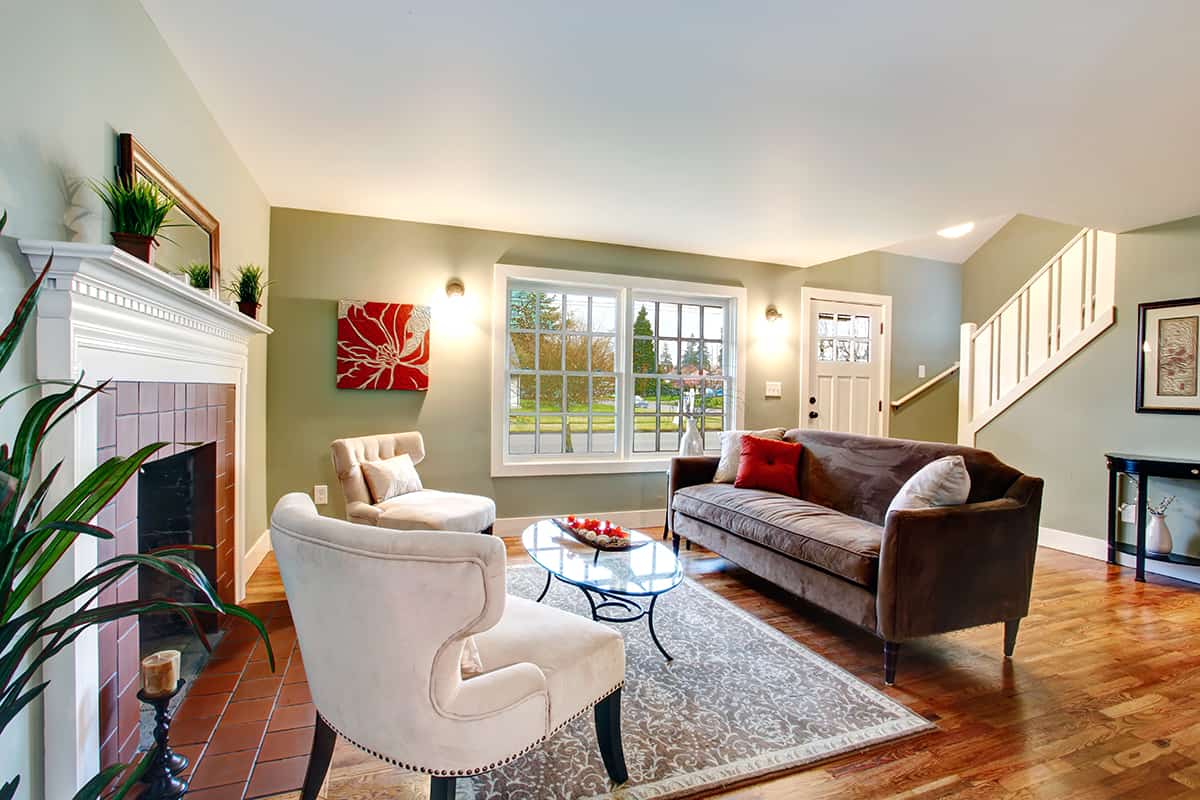 In traditional style living rooms, white ceilings can brighten up the green walls as it provides a soft contrast to this interior design. The use of white with green stretches the space visually, but there is no reason why you can't add dark brown furniture and hardwood flooring to the color scheme.
A bright white ceiling can look harmonious when paired with a soft shade of green for the walls. You can see how refreshing this living room with green walls and white ceiling looks. The earthy brown furniture and wooden floor add to the visual appeal of this interior.
Off-White Ceiling with Pink Walls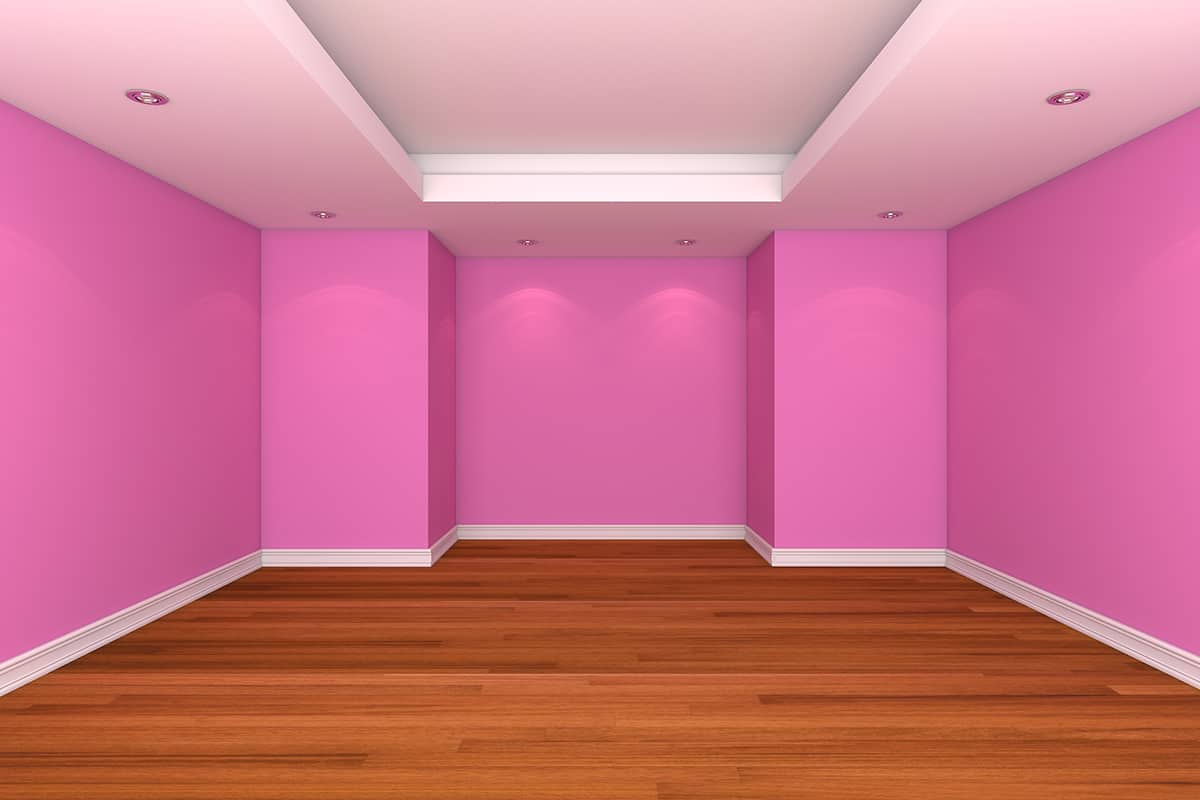 Off-white is a fresh alternative to pure white ceilings. When paired with bright pink walls, this vibrant combination can surprisingly make the space appear larger.
For a seamless flow, paint all the walls pink as the off-white ceiling will raise the eye level. Whether you have a large or small room to decorate, a cheery shade of pink can be like a breath of fresh air. This approach adds dimension to the room while maintaining the harmony between the two colors.
Just as you can see in this example, the off-white ceiling draws the eye upwards rather than down. And even though all the walls are pink, the room still feels open and airy.
Navy Ceiling with Matching Wall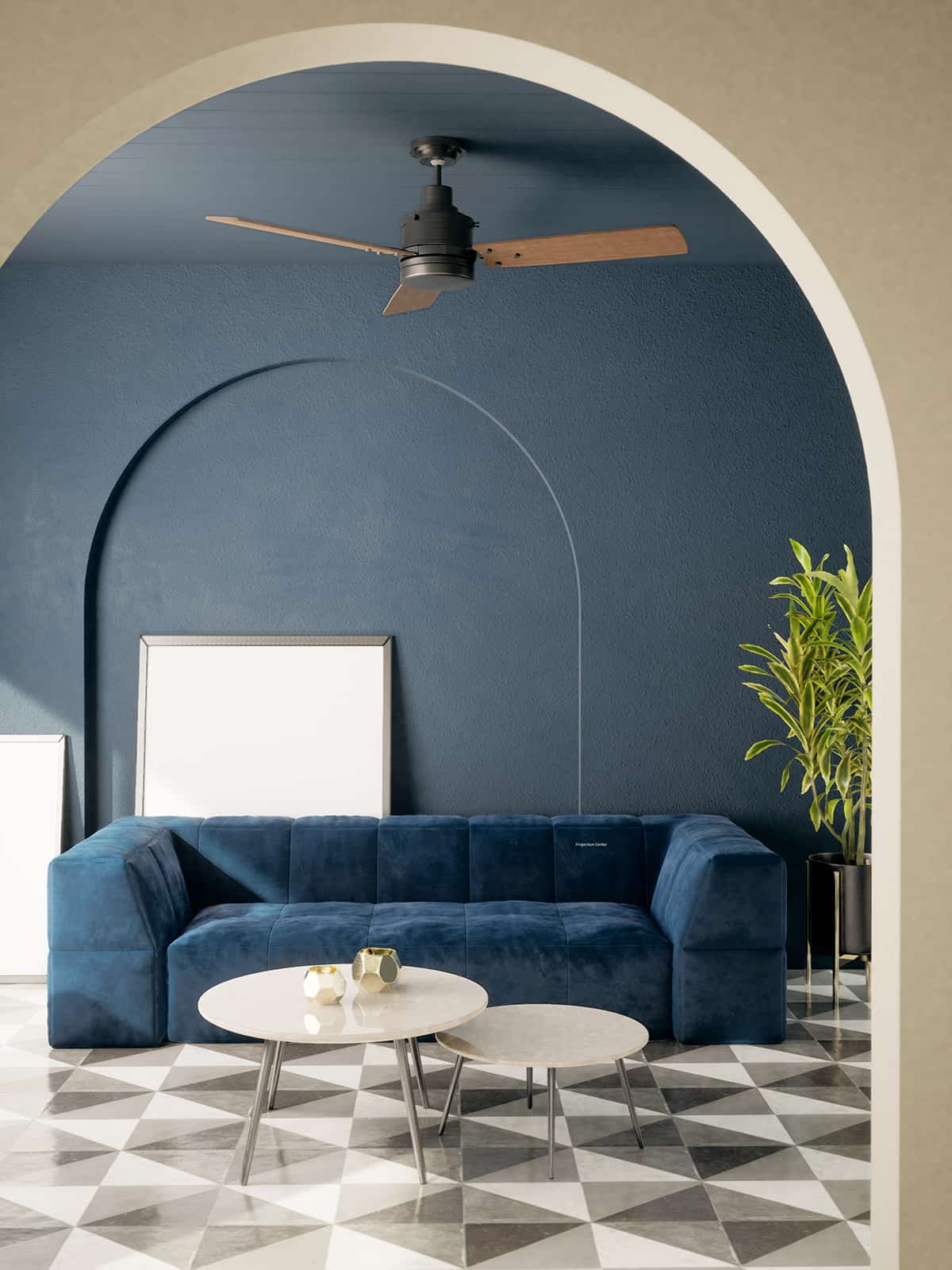 A dark blue ceiling can be a beautiful design when it's matched with blue walls. This timeless interior design creates an intimate vibe in a modern living room.
You can go as dark as you like when choosing a blue shade. Navy is one of the most striking hues so you can paint your walls and ceiling the same shade for a cozy feel.
Torquoise Ceiling with Light Blue Walls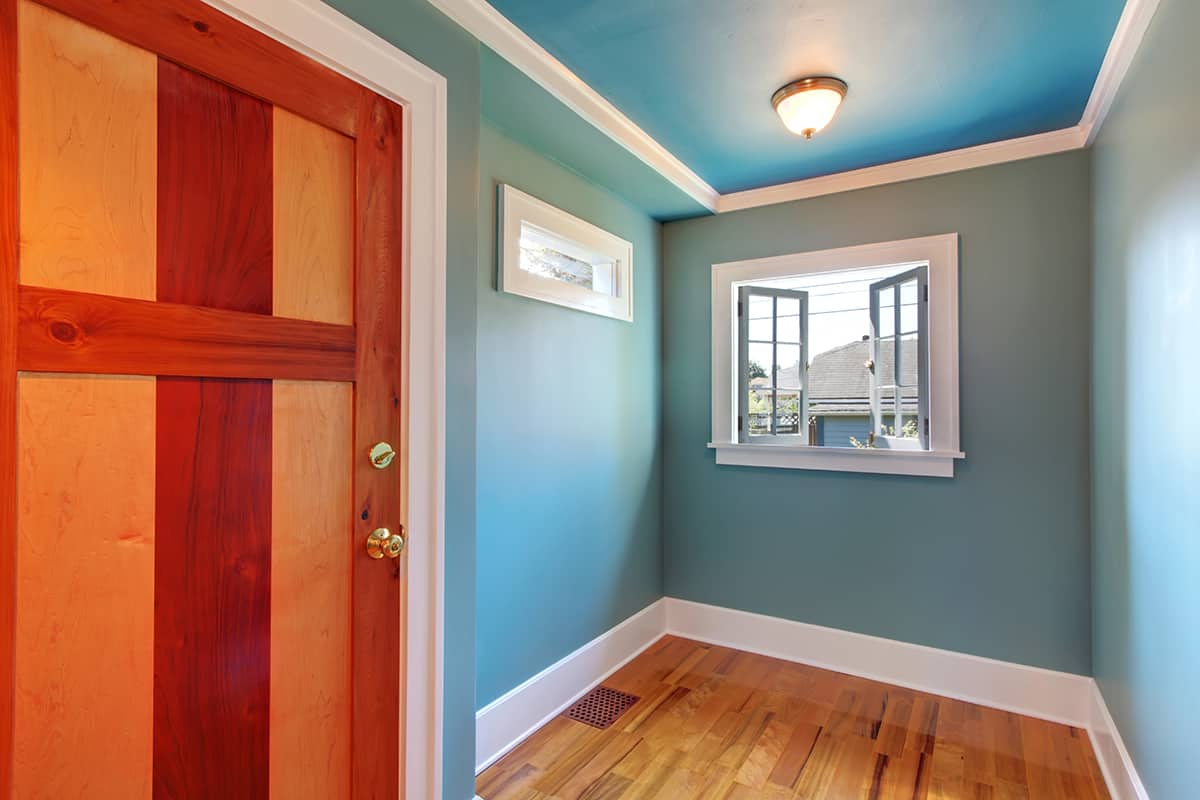 Similar to dark blue, there are also lighter shades of blue that can be used in different tones for the walls and ceiling. The beauty of blue is that it can be used for any room, regardless of how dark or light the shade you choose.
Turquoise, for example, can be used for the ceiling, while a subtle shade of blue, such as sky blue, can be used for the walls. Add a bright white crown molding to this combination to highlight the two colors as shown in this example.
What is the Best Paint Color for a Ceiling?
When it comes to choosing a paint color for your ceiling, there are no decorating rules to follow. While bold colors can bring much charm to a room, most homeowners tend to opt for white. This is the most neutral paint color that can be paired with any wall color.
But whether you want to paint your bedroom, kitchen or living room ceiling, if your spaces have adequate natural light, there is no reason why you can't paint the ceiling a darker hue for a cozier look. Bold or striking paint color can add drama and style to any room – as long as there is adequate natural light and the ceiling height isn't low. However, for small rooms, neutral colors and bright colors for ceilings are preferred.
Should Ceiling Color be Lighter or Darker than the Walls?
If you paint the ceiling a lighter color than the walls, it will allow the space to appear bigger. Most interior decorators use a standard technique of painting the ceiling a lighter color than the walls with a ratio of 80% to 20% color. This technique is ideal for small spaces or for rooms with low ceiling height as it opens up the space.
On the other hand, if you are thinking of applying a darker paint color to your ceiling than the walls, you may want to use a little contrast.
For example, a neutral beige ceiling can be paired with a charcoal gray wall for a contrast between the warm and cool colors. That said, it's best to opt for ceiling colors that are two to three shades darker than the wall paint color to evoke a polished look.
Whether you choose a lighter or darker ceiling color than the walls, take note of the following:
To make your room feel more open and comfortable, opt for a lighter ceiling color to create the illusion of a high ceiling, even if your ceiling height isn't particularly high in the first place.
If your room already has tall walls and large windows, you can paint your ceiling a darker color for a cozier feel. Darker ceiling colors can add contrast to large or open-plan rooms and liven up your decorative features.
In rooms with white or off-white walls, a dark ceiling color like burgundy or navy blue will give the space a striking contrast.
In a living or dining room that lacks a focal point, avoid painting the ceiling the same color as the walls. By using two different paint colors, you will help enhance the existing furniture and details. For example, a ceiling painted light gray or green with cream or white walls can create a focal point in a rustic-style living room.
In Closing
Whether you paint your ceiling a neutral or bold color, by combining it with the right wall colors, your room will become the talking point of your guests.
You may paint the ceiling a lighter or darker color than the walls, but just take the size of your room and how much natural light enters the space into account before choosing the paint colors.
To make it easier, refer to our wall and ceiling color combinations to find inspiration for your own interior design.
If you have a black ceiling, but don't know how to pick the right wall colors, follow our guide ' What Color Walls Go with Black Ceiling? (8 Coordinating Color Ideas) '