Traditionally ceilings have been painted white, and so when decorating our homes, most of us naturally paint our ceilings white without realizing that actually there are other alternatives.
Here we look at some of the best ceiling color options to go with gray walls.
White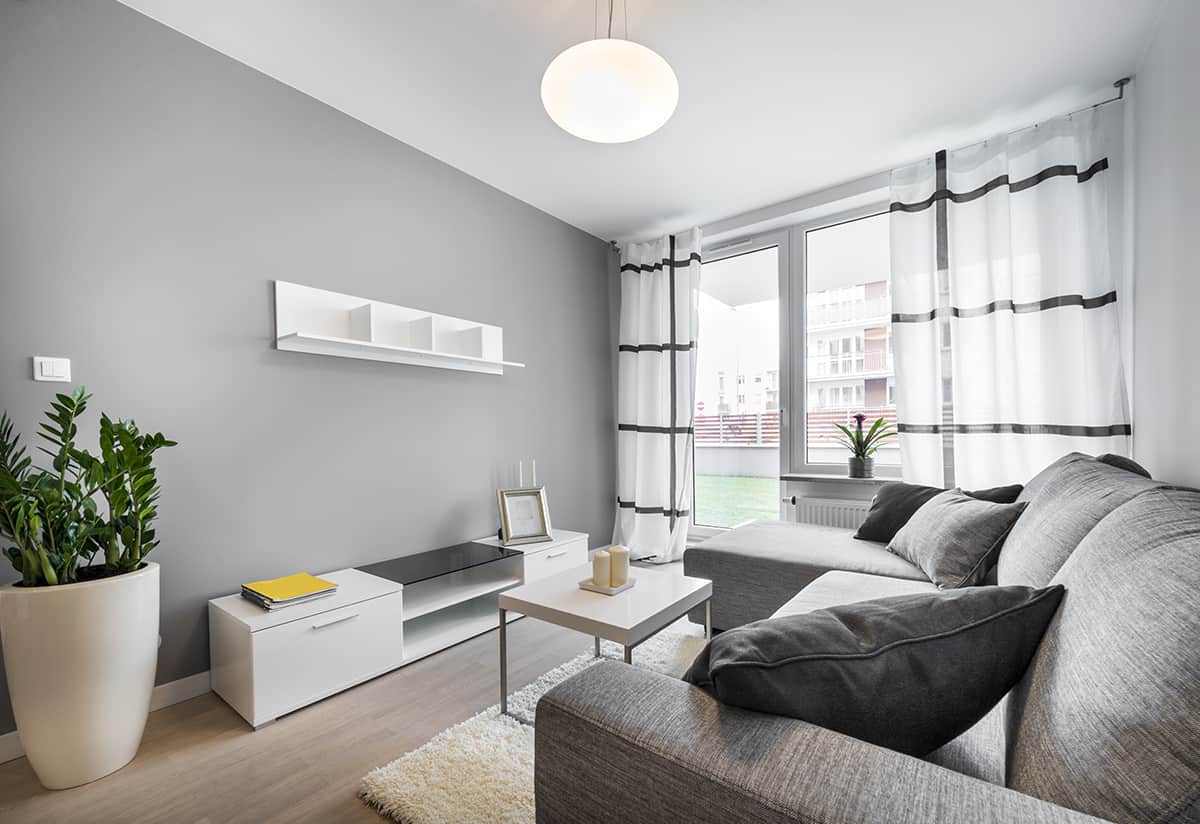 White is a classic ceiling color which is still a strong choice even after decades of having this color on our ceilings. White, in some instances, is not actually considered a color because it lacks any tones or hues and instead is technically a pure neutral. This makes it the perfect color choice for a ceiling because it is guaranteed to go with whatever color you choose to paint your walls.
Gray walls of any shade will look good with a white ceiling, but whether you opt for white as a ceiling color should reflect the type of atmosphere you are trying to create in a room. White ceilings work well for a bright and breezy mood in a room, but if you are trying to achieve a more sultry or moody tone, then a darker ceiling could be a better option.
One of the main benefits of a white ceiling is, of course, that it won't need to be repainted if you choose to change the color scheme of your room because you know white will still work with whatever different color you choose.
Many people find painting ceilings to be a laborious job which can result in paint splatters on the walls and an aching neck or arm at the end of the day, which is another reason why white is a popular ceiling choice because it won't need to frequently be repainted.
Off-White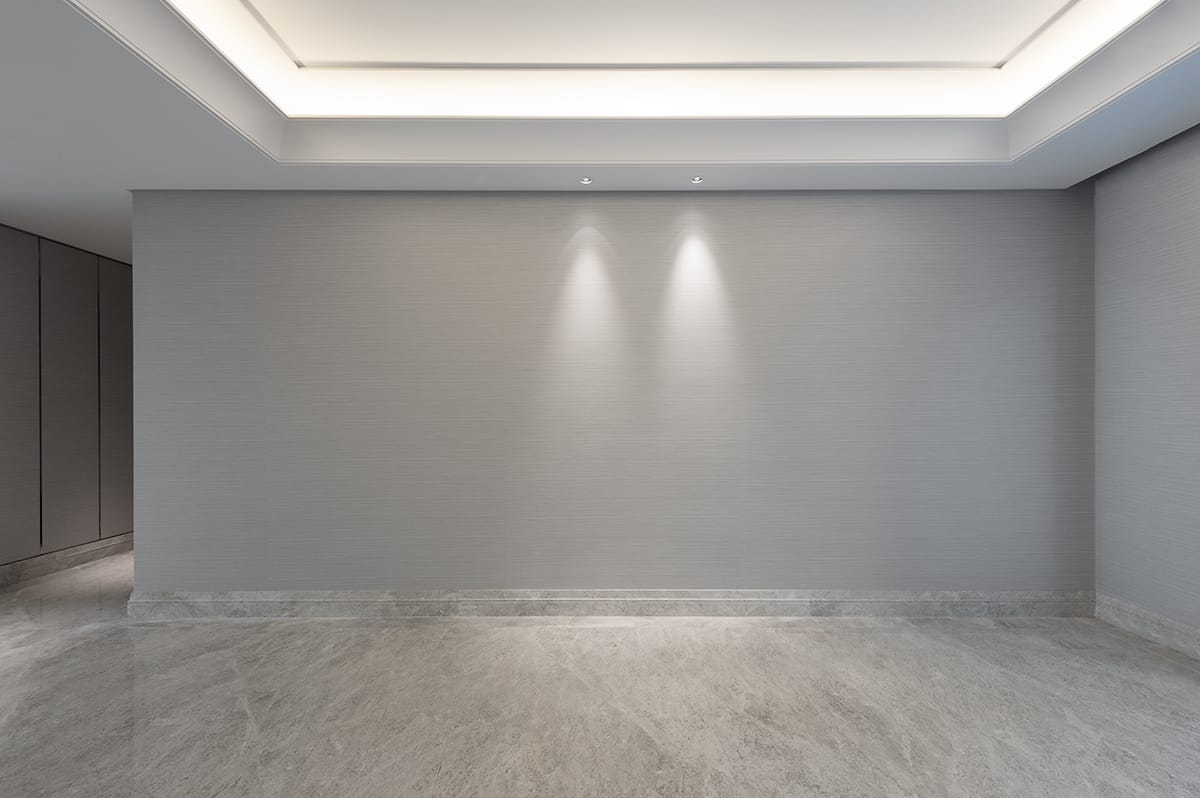 For people who find white to be too clinical and stark but still enjoy the pale and neutral aspect of it, off-white is a good choice. Off-white can come in various tones and is produced by adding a drop of another color to a white can of paint. If you want your room to feel warmer and more welcoming, then choose an off-white shade that has yellow or orange undertones. This will include colors such as cream and ivory.
For a more fresh and airy feel, a shade of off-white with cool undertones will help a room feel crisp and clean. Shades of off-white with cool undertones include those with hints of blue, green, or purple and can look like extremely pale shades of gray.
In a gray room, an off-white ceiling can help the space feel contemporary while still holding onto a classic element. Tie in the off-white ceiling color with other aspects of the room by using the same shade for internal doors and trim.
Gray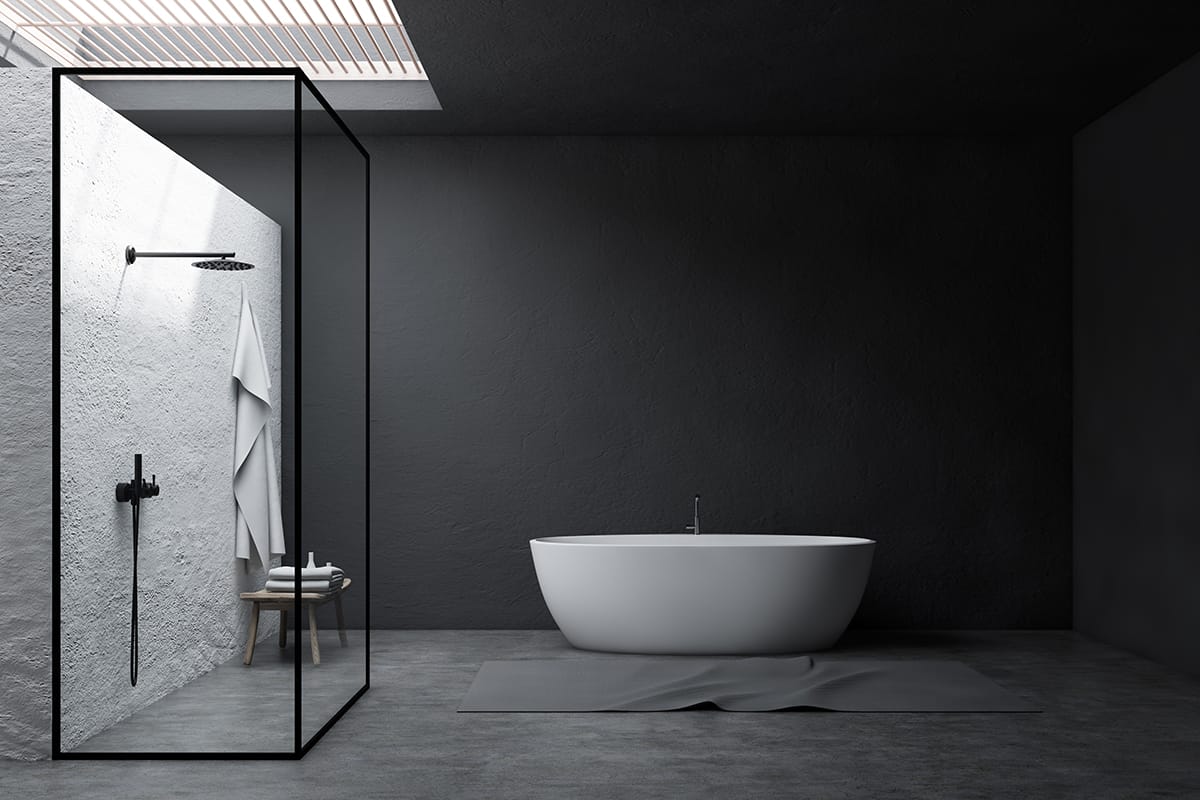 You can create a really modern shadowy effect by using different shades of gray for your walls and ceiling. In a dark gray room, a mid-gray painted ceiling will ensure the room feels cozy and enclosed without drawing the ceiling down.
A ceiling that is darker than the walls can make the room feel like it is closing in on itself from above, so by choosing a color in the same palette, which is a little lighter, you can prevent this from happening, and the eyeline will be lifted upwards.
This can also work in a room that has medium gray walls by using a pale gray on the ceiling. By choosing two different shades of gray, a layered and shadowed effect is created, which can look really edgy. You also have the option of choosing the exact same shade of gray for your walls and ceiling. This creates the effect of the room feeling like it is enveloping the user in a safe and comforting way rather than a claustrophobic way, and it makes for a really immersive experience.
A huge benefit of painting the ceiling in the same shade of gray as the walls are that you won't need to worry about getting a neat line between the walls and ceiling. You'll also be able to paint both the ceiling and walls in one go rather than waiting for one to dry before painting the other, helping the project to be completed in a smaller space of time.
Metallics
Painting a ceiling in a metallic color can bring a really luxurious feel to a room, and if you want to try this, then one of the best wall colors to use is gray. Gray is a muted and neutral tone that can be dressed up with a metallic color to feel glamorous and sparkling. Other muted neutrals such as beige and brown have too much of an earthy tone to work well with a metallic ceiling because they veer more towards a natural style.
For a metallic ceiling with gray walls, you could choose gold, copper, silver, or rose gold. Any of these shades will work well with gray, but for the most lavish style, choose gold or copper. Both of these colors are vibrant and warm, which contrasts nicely against gray. They are also known for their extravagant and expensive appeal, which ensures the room will look grand rather than looking like a nightclub.
Metallic ceilings can really help to define the style of a room and add a spark that is hard to achieve in any other way. The shimmering aspect of a metallic ceiling ensures that it doesn't make the room feel smaller, while the darkness of the color will help the space to feel intimate and mature.
Beige
If your gray walls are making a space feel cold and unwelcoming, then consider painting your ceiling beige and tying this in with other beige accents, such as beige cushions and beige baseboards. Beige is a warm neutral which comes in various shades, from light sand through to fawn and khaki.
Paler beige shades on the ceiling will make a room feel bright and inviting, while darker shades can help a room have a more cozy or formal atmosphere. Dark gray walls can contrast beautifully against a beige ceiling, while pale gray walls can jar with a beige ceiling, so be sure to choose your shades carefully.
Blue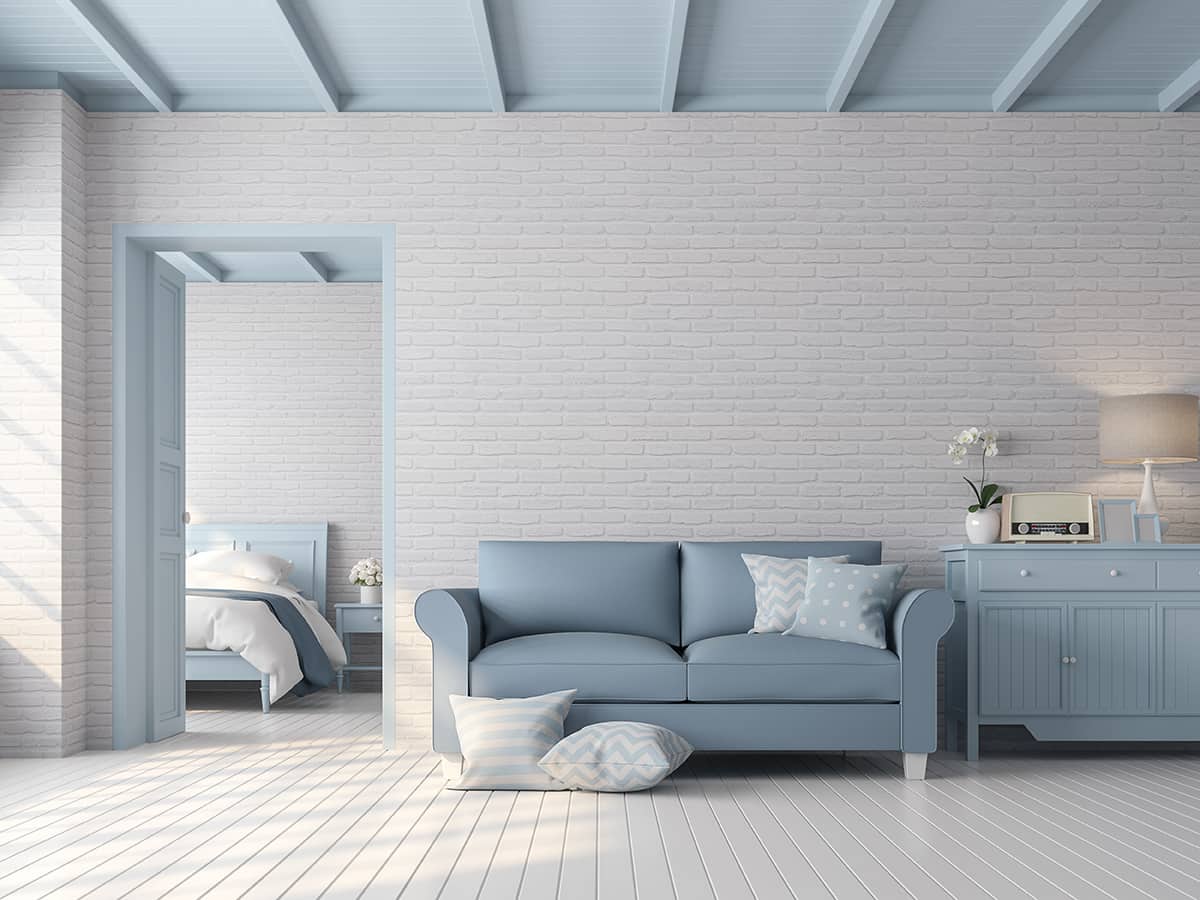 The relaxing elements of blue make it a great color choice for ceilings, especially in rooms with gray walls where the two cool energies complement each other.
In rooms with mid to dark gray walls, a dusky gray shade of blue can work well to create a moody atmosphere that is thoughtful without being depressing. Brighter shades of blue can also work well with gray walls, such as sky blue or sea blue. These more joyful shades of blue can make a gray room feel soothing and calming, and so they work particularly well in living rooms and bedrooms where you want to feel tranquil.
Green
Rooms with gray walls can feel dull or disconnected in some instances, and a really interesting way to resolve this is to paint a ceiling green. Choose a mossy or olive shade of green and watch the room be instantly transformed into an earthy retreat that feels like it is inviting nature into your life.
To capitalize on this theme, incorporate houseplants or artwork featuring nature into your decor. You can also make a feature of windows if you have nice views by framing them with a bold or contrasting color to bring attention to them.
Pink
A room with soft pale gray walls will look graceful and refined with a ceiling painted in a dusty shade of light pink. This is a gorgeous color pairing that looks simultaneously classic and contemporary and makes an appealing change to a white or neutral-colored ceiling without having too much of a striking impact.
Pale pink adds flair to an otherwise fairly plain gray room, but it is soft and subtle enough to not steal the focus of the space and instead provides a beautiful accent. If your walls are medium to dark gray, you should avoid pale pink as a ceiling option because the contrast will be too stark, and this will make the room feel out of balance.
Wood-Clad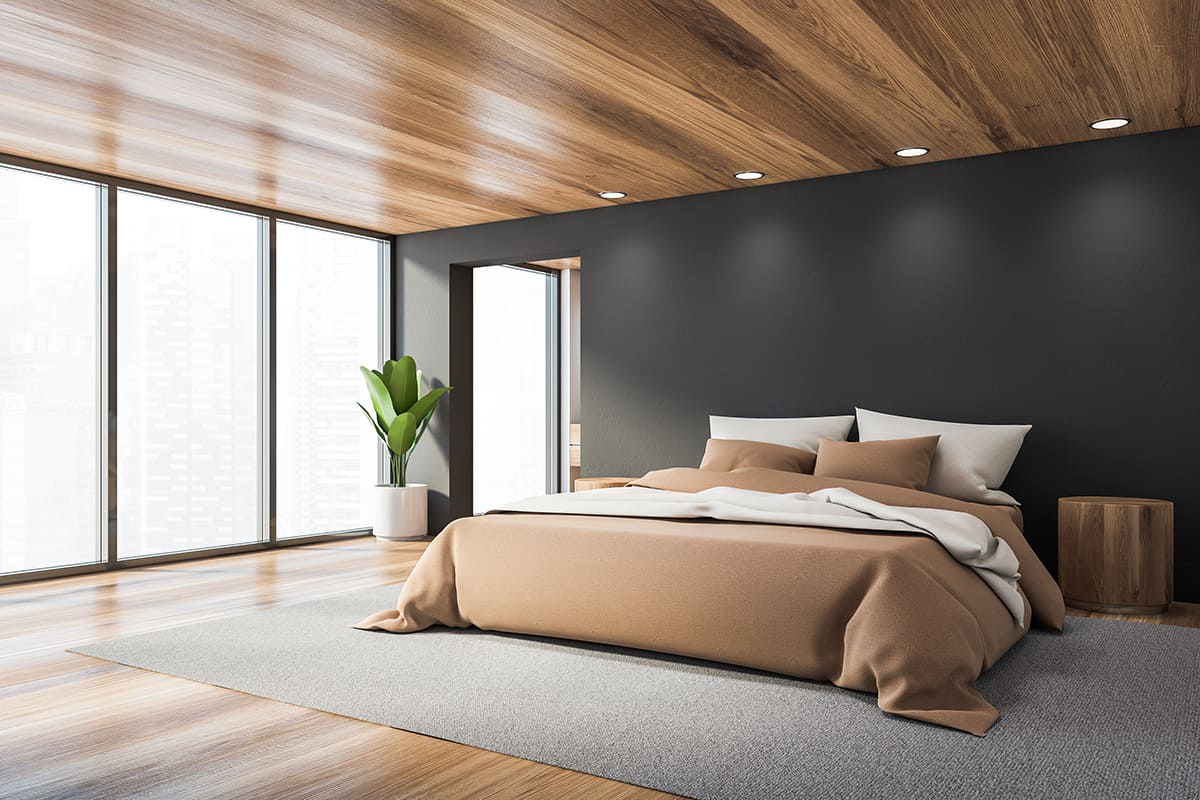 For a woodland lodge style, you can cover your ceiling in planks of wood. This will make for a space that is warm and comforting while also feeling traditional and homely. You can achieve this look on a budget by repurposing lengths of wood from old pallets or using purpose-made lengths of timber. Some people have also achieved a modern take on this look by using hardwood or laminate floorboards fitted to their ceiling.
A wooden ceiling is a nice choice with gray walls because it balances out the cool tones in gray and feels like a natural option rather than a specific color of paint.
The type of wood used for a ceiling in a gray room could take many forms. A whitewashed wood ceiling will look coastal, while a deep brown wood ceiling will look rich and comforting. You could also consider golden tones.