Most ceilings are a light color as it helps create the illusion of more space. But have you ever considered painting your ceilings black? This dramatic color is sure to die for, especially when combined with lighter wall and accessory colors.
If you love the idea of black ceilings, it is important to select the right wall colors to accentuate them. The last thing you want is to make your interior feel like a dark cave. When you pick the best wall colors that go with black ceilings, your room will look ultra-modern and stylish.
Black is a color with surprisingly many undertones that are either cool or warm. When it comes to implementing this dramatic, bold color into interior design, contrast is key.
For example, dark gray or blue walls can make a room with a black ceiling appear too dark. However, in rooms with high ceilings and tall windows, this color combination is an excellent way to enhance the elegance of the interior.
With that in mind, let's browse through our list of wall colors that can be paired with black ceilings:
Best Wall Colors that Work with Black Ceilings
White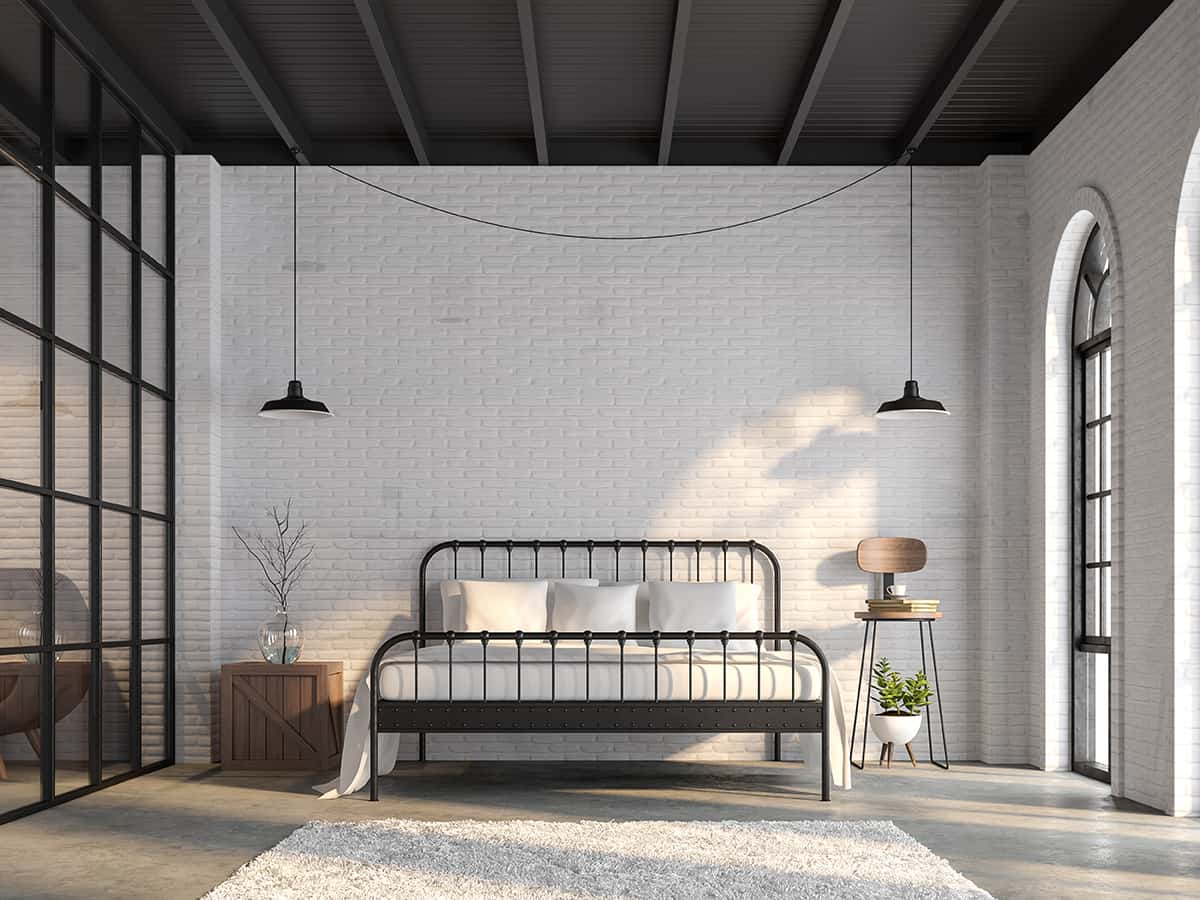 One of the safest wall colors to pair with black ceilings is a neutral hue like stark white. In contemporary, industrial style and bohemian interiors, we often see tall white walls paired with dark ceilings. This neutral color helps keep the room feel comfortable and not overbearing.
Whether you want to make a dramatic statement in your bedroom or living room, painting your walls white will certainly accentuate the black ceiling.
You may even paint just one wall white as an accent. But to avoid a stark, overwhelming look, add rich textures like velvet curtains for visual interest.
In this industrial-style bedroom, the use of black metallic lighting and a metal bed frame perfectly works with white brick walls and a black wooden ceiling.
This room features just the right amount of contrast between the black ceiling and the light brick wall.
Brown Brick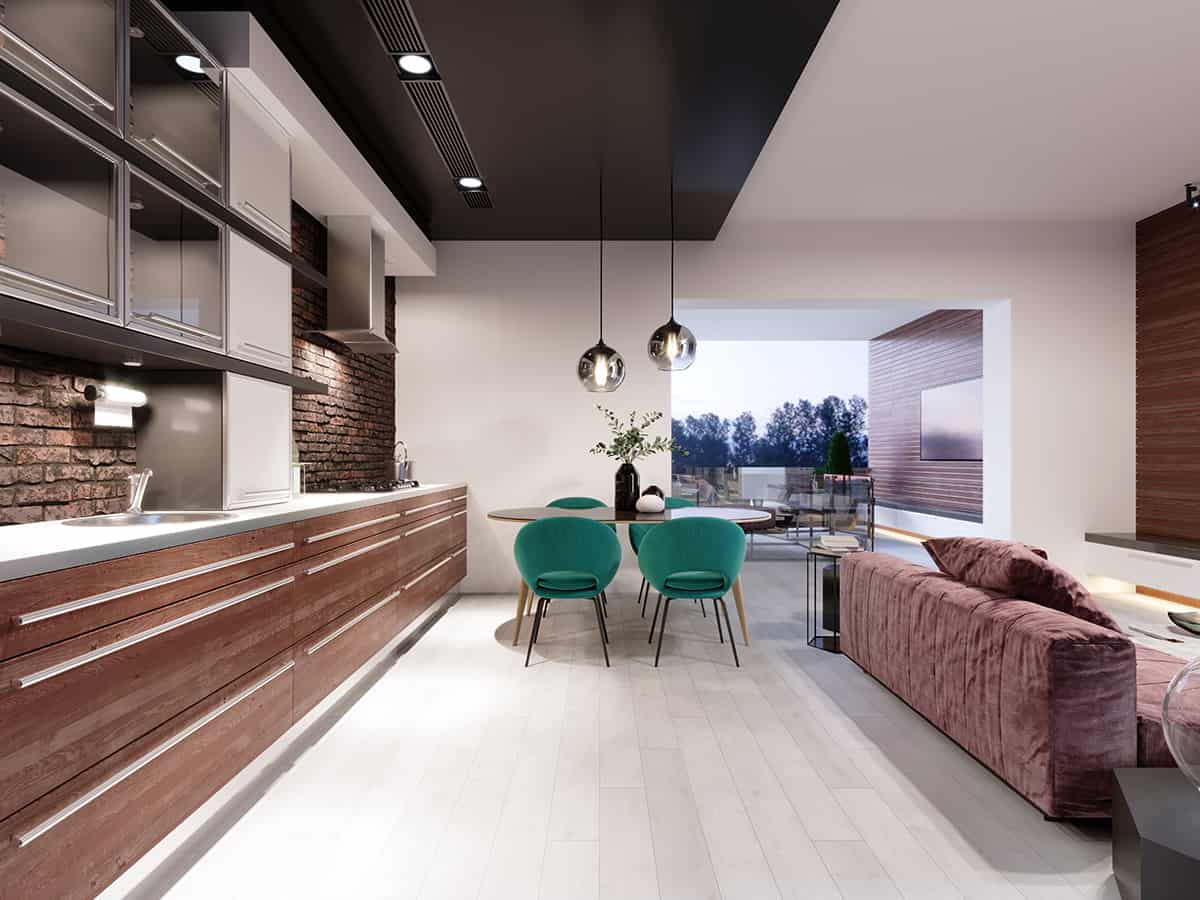 As you saw in the previous example, the white brick wall is a beautiful pairing with black ceilings. But have you considered a brown brick wall instead?
When we suggest brown, we don't mean dark tones. Choose brown brick with tan, beige, or sand undertones. Include some accent colors for texture and the end result will be a modern room with a clean feel.
Black ceilings with light brown brick walls set the mood for a welcoming room. You can incorporate a black leather couch and dark brown tables into this mix for an eclectic vibe.
For pops of color, throw in some exotic indoor plants to bring an even earthier look to the space.
In this newly-designed kitchen, we see a mix of white and light brown brick walls paired with a black ceiling. The height of this ceiling is high, which helps draw the eye upwards.
Light Gray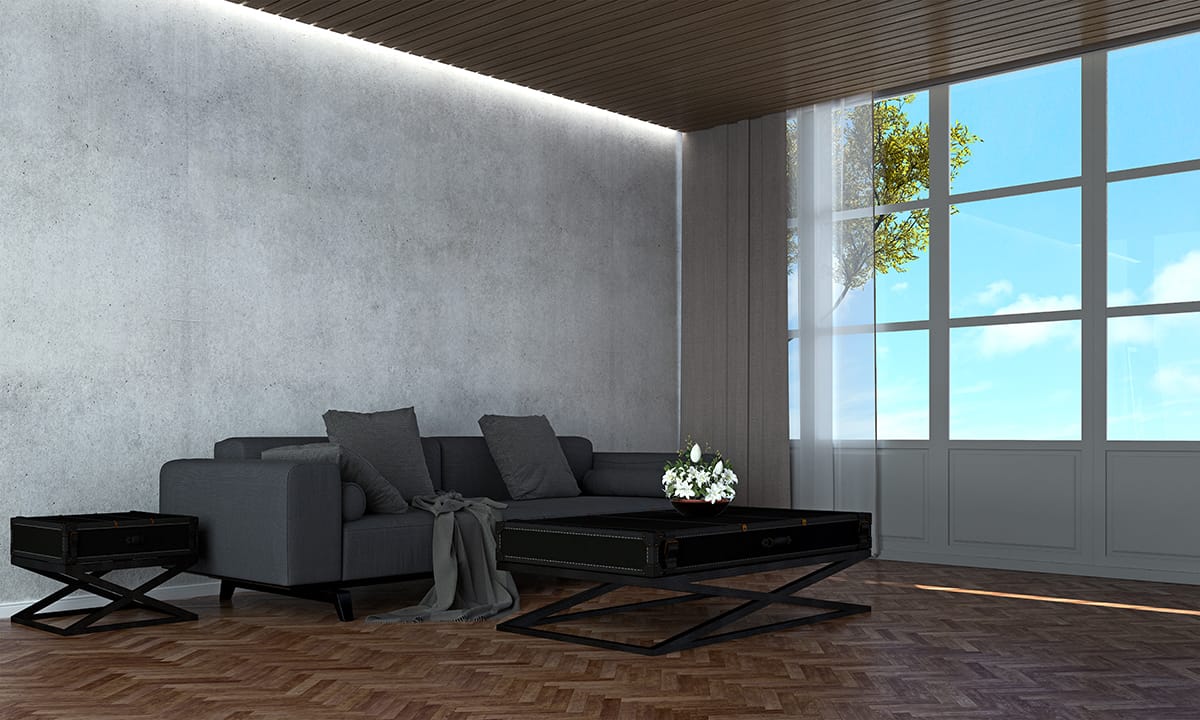 If you're still keen on the neutral color options, but don't want to use plain white, introduce light gray to create a rich feel. A black ceiling is definitely a good color choice that goes with light gray. You may paint all your walls a series of light gray shades or use the same shade throughout.
Start with dark flooring and smaller accent items, with light gray for the tallest wall. You can keep the interior fresh by opting for metallic decor. This gives your room with black ceiling extra luster.
In this minimalist style living room, the black wooden ceiling panel makes the room feel cozy, while the light gray wall, dark gray couch and black tables pop softly.
Purple
For a regal look, how about painting your walls purple to pair with black ceilings. This color combo will fit seamlessly with a traditional interior. Add gold-framed mirrors to the purple wall and a beautiful chandelier to the black ceiling to cast a golden glow.
Since some purple shades are considered bolder than black, the color suits rooms with Baroque style or Victorian architecture.
A high ceiling in black with vivid purple walls can take over the entire room, so you may want to incorporate neutral furnishings to separate the two major colors.
A deep purple feature wall with coffered black ceilings, for example, can bring an effortlessly stylish ambiance to the room. The use of gold wall decor or mirrors will work in harmony with the black ceiling and purple walls by adding visual interest.
Navy
With the same impact and intensity as black, navy can set the scene for a moody interior. In a contemporary or mid-century room, navy walls with black ceilings can create a sense of depth.
Add a light blue upholstered couch to the mix for charm and texture. This color pairing works particularly well for bedrooms with high ceilings or formal dining rooms. The use of navy for the walls will reduce the harshness of the stark black ceiling so it's worth considering for open-plan rooms.
Dark Red
A black ceiling can sometimes feel a little cold so why not bring some warmth to your room by painting your walls a dark shade of red! Deep red walls inject vibrancy into any room without overpowering the black ceiling. With this color combo, you will introduce some texture for added visual interest.
But you might think that red and black might feel a little too intimidating. Well, it depends on the shade of red you choose and the size of your room. We wouldn't recommend this wall color for smaller rooms.
The intensity of red can be downplayed by adding white accessories to the mix.
In boho-themed interiors, for example, we often see bright red walls with matching tile floors and black ceilings. This combination of warm and neutral colors is a visually dynamic palette that gives the interior a welcoming vibe.
Beige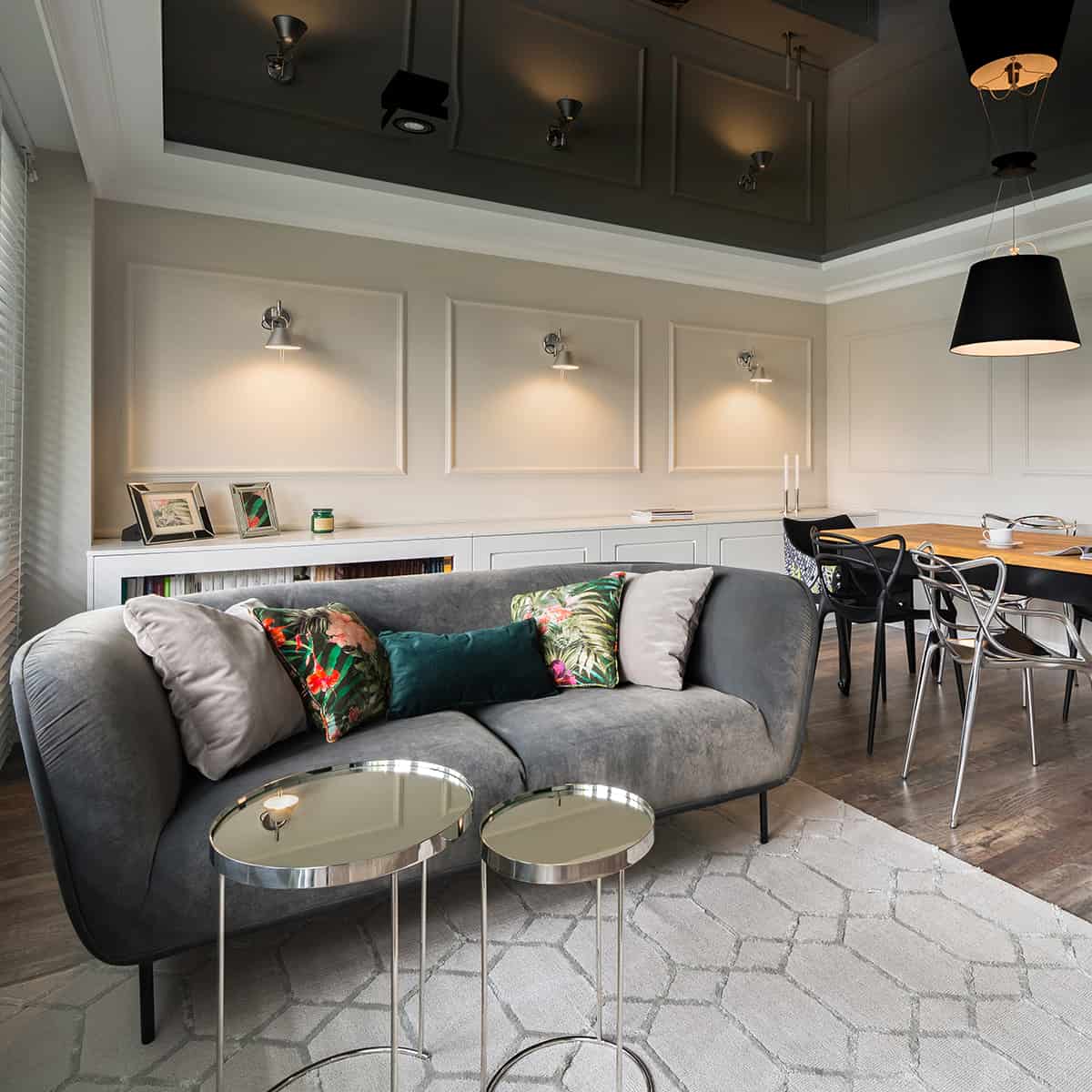 For an ultra-refined color scheme, consider painting your walls beige. This is a lighter and warmer approach to the stark white. The creamy undertone of beige serves as the perfect backdrop to black ceilings.
Some beige shades feature light brown or tan undertones, which work just as well. This neutral paint color will complement the black ceiling and help it visually stand out.
As you can see in this modern living room, the stylish beige walls beautifully complement the black ceiling and the gray furniture.
Yellow
Similar to beige, but as a bolder and brighter version, yellow walls will seamlessly pop in any room. For added drama, choose black furniture to match your ceiling, with bright yellow walls to complement the black.
Your accessories, such as throw pillows and floor covering can also be in bright yellow shades.
Avoid muted yellows like mustard as it doesn't look punchy enough in a room with black ceilings. Yellow has a warm tone that works great with most other neutral colors.
Are Black Ceilings Trendy
Black ceilings can run the risk of visually shrinking the interior's height, which is why many homeowners see this dark color as a little off-putting.
But black ceilings have the ability to grab attention thanks to their stylish and glam look. They are definitely worth considering in rooms with high ceilings.
When coordinated well, an interior with black ceilings can look ultra-sophisticated next to white or bright walls. In fact, any warm wall color can emit vibrant energy next to dark flooring and black ceilings.
Since high ceilings painted in black can make the room appear wider and classy, it is worth considering using embellishments, such as wainscotting or crown molding to bring out the best of your dark ceiling.
Any light textures or colors will help balance out a room with a black ceiling. This interior design idea draws the eye to the bold ceiling and makes the walls appear taller than they are.
So if you are still wondering if black ceilings are trendy, then we must say in large, open-plan rooms with high ceilings, this bold color is highly sought. Just remember to use plenty of texture and light colors to bring harmony and balance to your interior.
Wrapping it Up
Gone are the days of classic white ceilings in every traditional or contemporary home. Black ceilings, regardless of whether they are made of wood, tiles or drywall are fast becoming a modern interior design approach.
When coordinated with the right wall colors, your room with black ceilings can feel cozier and draw attention to the embellishments.
To pull it off in smaller rooms, you should choose lighter wall colors, such as beige, light gray, or stark white. In rooms with high ceilings though, feel free to paint your walls a bright or bold color based on our list of suggestions above.
Read more: