Basic sewing requires little more than a needle, thread, and scissors, but if you're a keen sewing enthusiast or sew for work or pleasure, there are a plethora of sewing tools that you'll find are essentials in your sewing kit, and some which are not technically necessary but will make your sewing experience much easier and more enjoyable.
Here we cover the most popular sewing tools used in modern sewing, along with an explanation of how they work or what they are used for in order to help anyone who might be starting out on their sewing journey or looking to add to their sewing kit.
Measuring Tape
Measuring tapes designed to be used for sewing are usually made from laminated fabric or flexible plastic. Unlike builders measuring tapes, a sewing measuring tape or tailor's measuring tape will be very pliable so that it could easily be wrapped around a person or an object with a close fit to give an accurate measurement.
These types of measuring tapes are most commonly used to take the body measurements of a person for tailoring clothing, but they are handy to have in your sewing box for measuring all sorts of sewing projects.
Some sewing measuring tapes are retractable, so they can quickly be wound back up inside a plastic casing and stored away. Non-retractable measuring tapes can easily get tangled if they aren't carefully put away, so it's a good idea to secure it with an elastic band once you have rolled it up to prevent it from getting knotted with loose cotton or other measuring tapes.
Most measuring tapes will have metric and imperial measurements on them, with inches on one side of the tape and centimeters on the other.
Scissors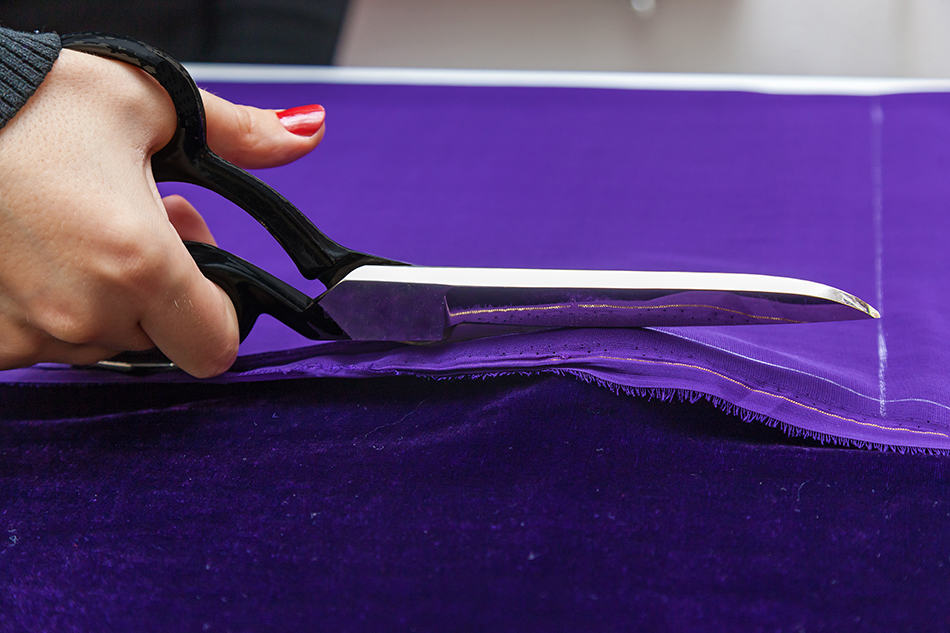 There are many types of scissors used in sewing, but most hobby dressmakers suffice with just one or two different types of scissors. Standard sewing scissors are the small types of scissors that you might find included as part of a sewing or mending kit. These scissors aren't very sturdy and are really only useful for cutting thread.
When it comes to cutting fabric, you would be wise to invest in a proper pair of tailor's shears or scissors. These scissors have a long blade which makes them ideal for making deep cuts in rolls of fabric, and they can be sharpened to ensure they are slicing through the fabrics with ease. A good pair of tailor's shears can be expensive, but they are built to last decades.
Needles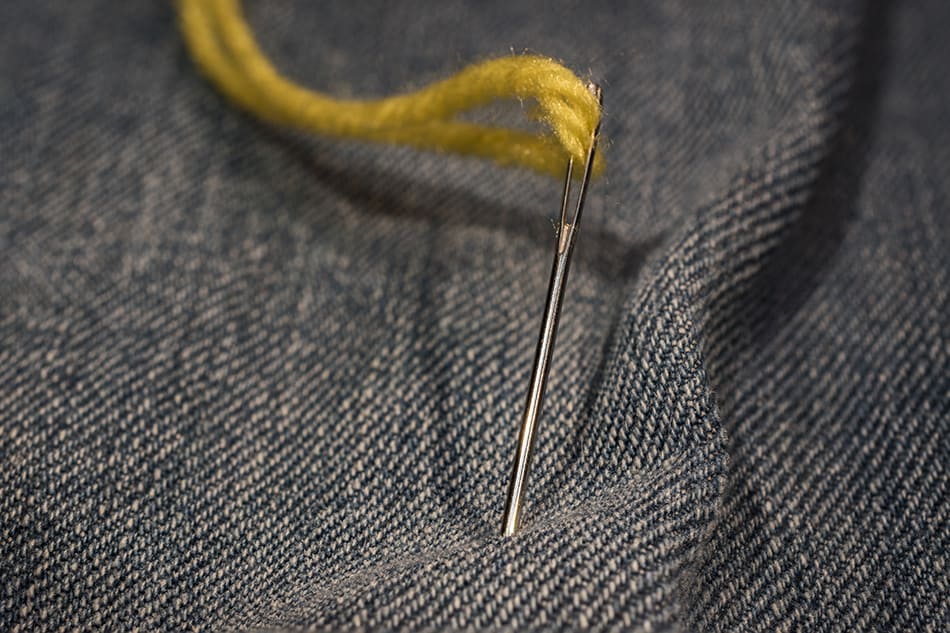 To complete any sewing by hand, your most essential item is a sewing needle. Sewing needles come in various sizes to suit different types of projects, and a number will designate the size of the needle, with a higher number indicating a smaller needle and vice versa. It's important to choose a suitable needle for the fabric you're working on in order to achieve a better result and also to make stitching the item easier and more enjoyable.
Fabrics that are thick or tough to work with will need a heavier needle, while more delicate fabrics such as satin and silk will benefit from a slender needle. The size of the needle will also affect the needle head where the cotton gets threaded through. Large needle heads can be threaded by hand, but very small needle heads might need the assistance of a threader.
Thimble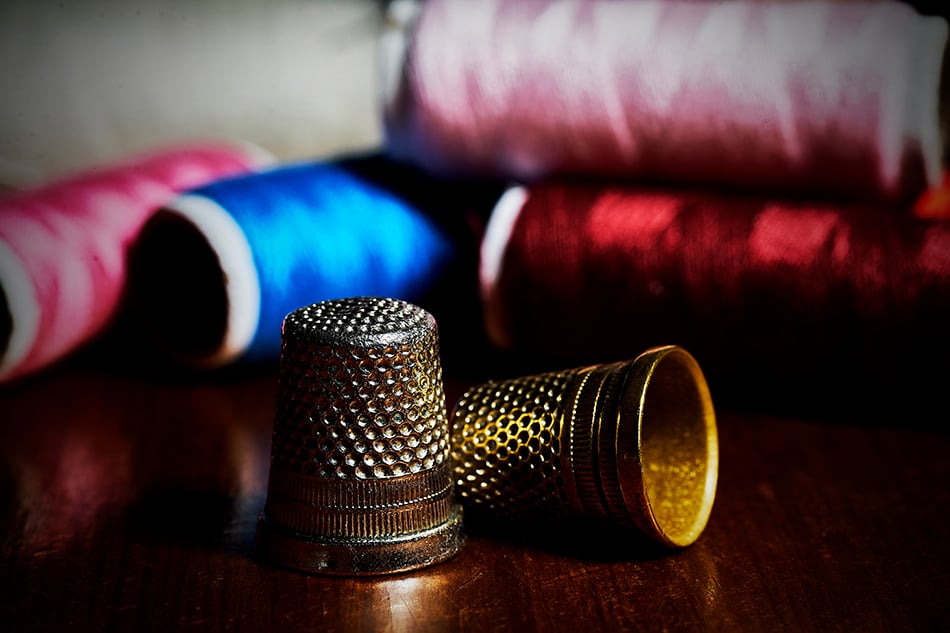 Thimbles are like little hard hats for your fingers or thumbs. They are worn on the ends of your digits to protect them from coming into contact with the sewing needle, which could cause damage. Thimbles also help to keep skin smooth, as they can develop a coarse texture and become sore if you spend a lot of time sewing.
Thimbles can be made from plastic, metal, or even porcelain and can be plain or decorative. They also vary in size to suit the different sizes of people's fingers. These are useful sewing tools, but they aren't routinely used by many dressmakers as they can interfere with the dexterity and precision of fingers.
Pins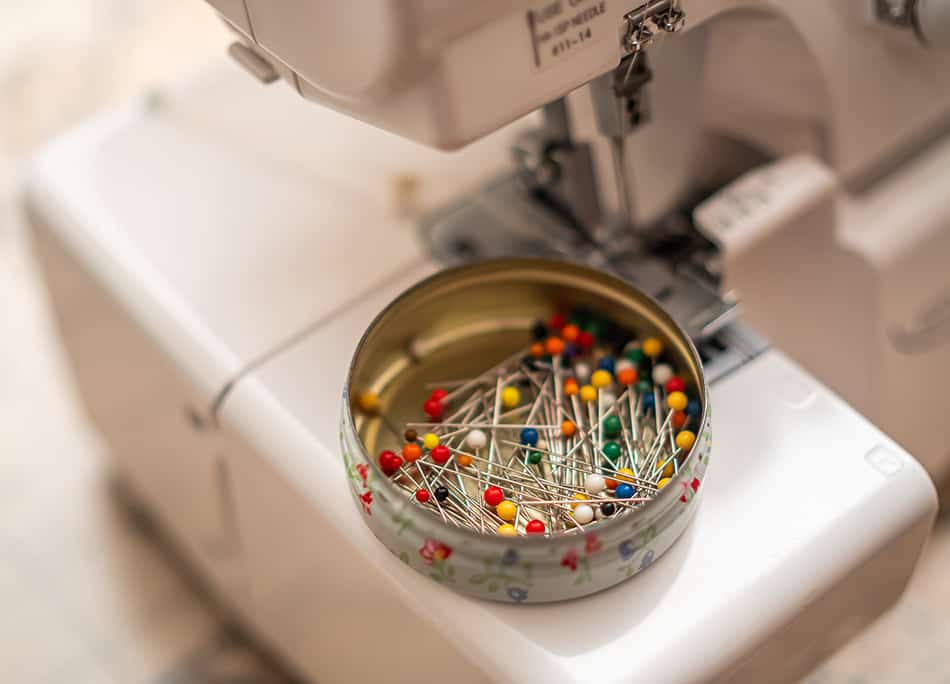 Sewing pins are used to secure material together in a particular shape or pattern before it gets sewn together. Pins are a great way of temporarily adjusting the size of something before you commit to putting a more permanent stitch in it.
Sewing pins are available in large quantities at very low prices. They can have small, blunt heads, but more commonly, they will have colored balls at the end, which makes them easier to pick up and easier to spot on fabric when it's time to remove them.
Pin Cushion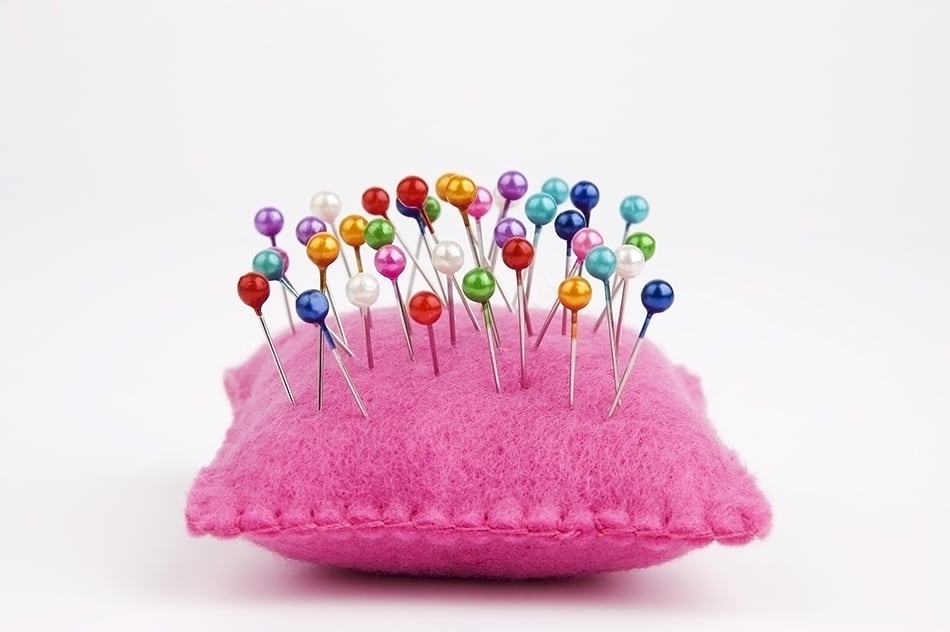 Most people think a pincushion is just a convenient place to store pins, but pin cushions actually have more uses than this. The main body of a pincushion will be filled with wool fibers and sawdust. The wool fibers contain lanolin, a naturally occurring wax produced by sheep which has excellent moisturizing properties. When pins are stored in the pincushion, the body of the pin will be exposed to the lanolin, which prevents rusting.
Most pincushions have a smaller pin cushion attached, often in the shape of a strawberry. This pincushion contains sand which will have an abrasive effect on the pins to keep them sharp and remove dirt and rust. As well as keeping the pins in good condition, pincushions are a good place to store pins that conceals their sharp tips to prevent injury.
Threader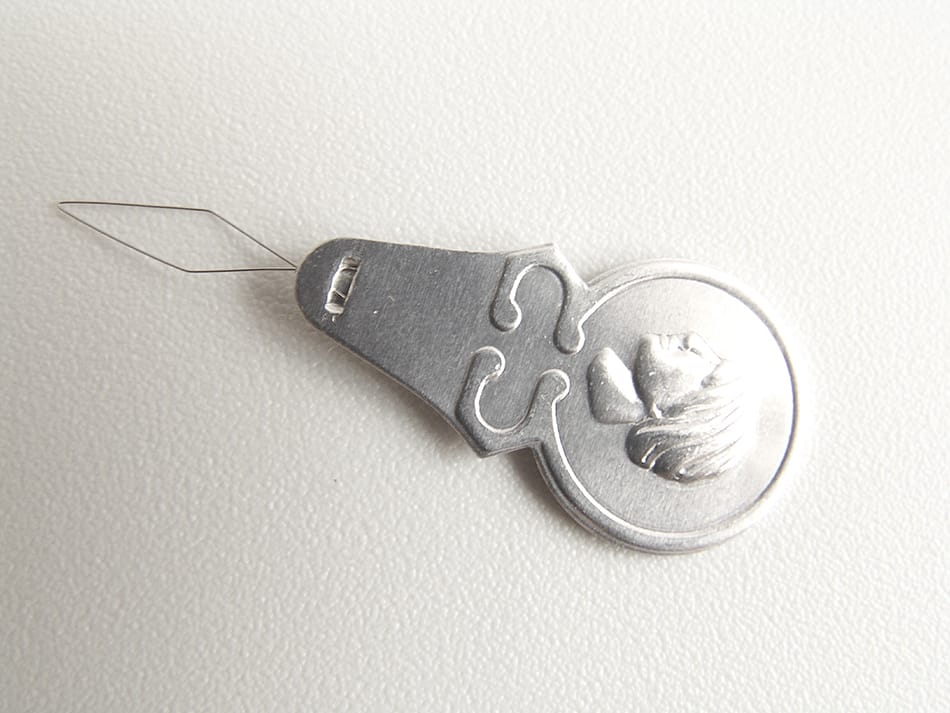 A needle threader is a tool that makes it easier for a needle to be threaded. This simple tool uses a very thin wire in a wide diamond shape through which you insert your thread.
The flexible wires then get pushed through the needle head, taking the thread with them and therefore threading the needle with minimal fuss and effort. These are great for people who struggle with their eyesight or anyone working with very fine and delicate needles.
Iron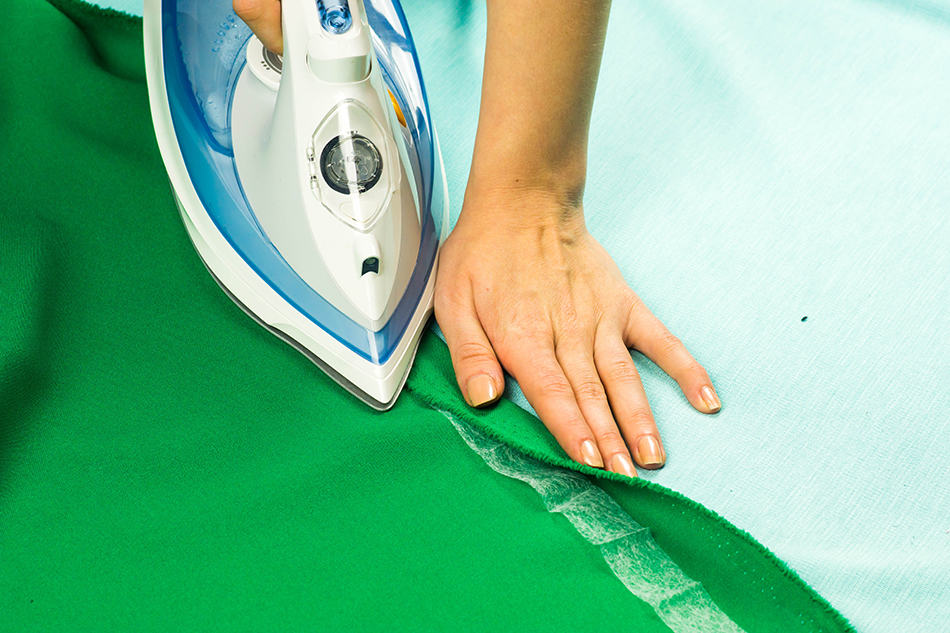 An iron might seem like an unusual piece of kit when it comes to sewing, but having some sort of hot press to use as you stitch will give you much more professional results. You should always iron out any creases in fabric before you start working with it to ensure all measurements are correct.
You'll also need to iron edge seams after they have been sewn to give a stiff edge, or ironing joining seams will help them blend in. This is probably most important for sewing clothing, but it will also give a better finish to other textile products you are sewings, such as cushion covers and curtains.
Seam Ripper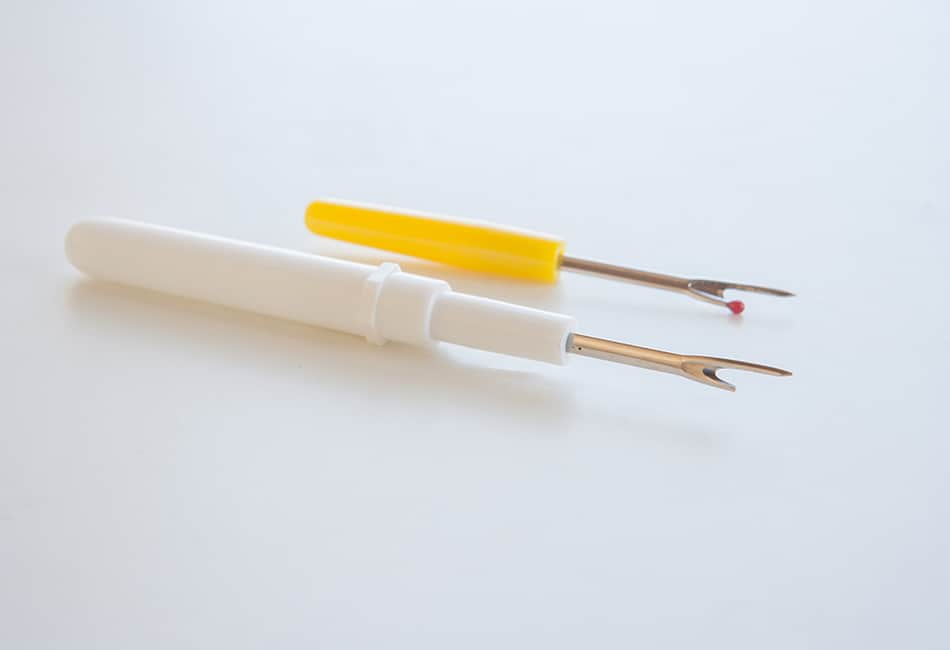 A seam ripper is a small hand tool that has a sharp and pointed end with a blade along the inner edge. As you'd expect from the name, this tool is designed to rip open seams. You might need a seam ripper if you've made a mistake and need to undo your stitching. You can also use a seam ripper to remove stitches in the old fabric in order to reuse it for a different project.
Seam rippers also come in handy for making holes in garments, for example, if you need to make a small opening to create a buttonhole. These tools are very inexpensive and can make removing stitching a much quicker and easier task than if you tried to use small scissors or tweezers. They are an essential part of any sewing kit, whether you hand sew or machine sew.
Tailor's Chalk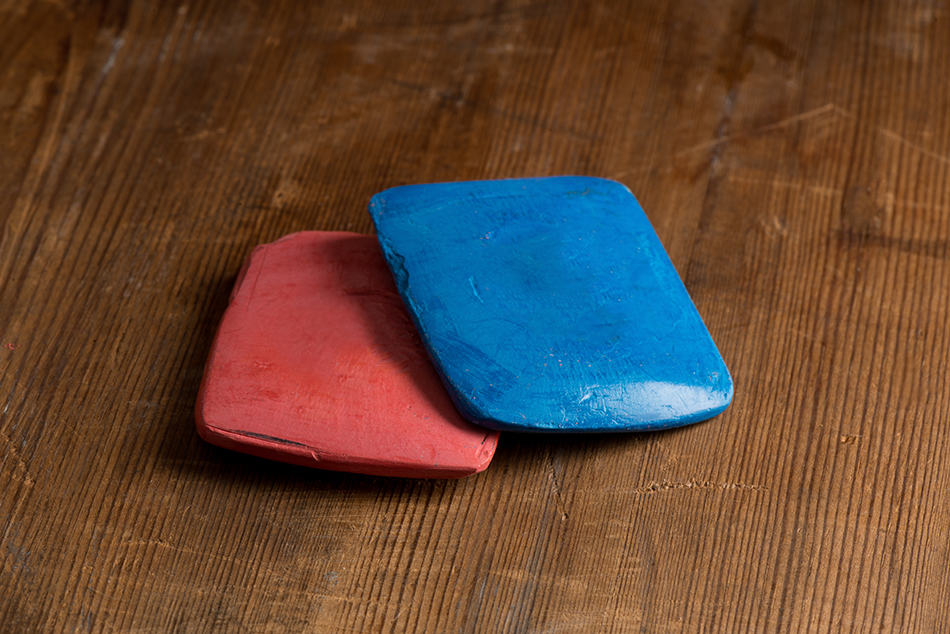 Tailor's chalk is used to make temporary markings on fabric which can be easily removed when it is no longer needed. Tailor's chalk can simply be wiped off of the fabric and will not leave any staining or damage. You can get tailor's chalk in various colors, and it's handy to have a few different colors in your sewing kit.
This is so that certain colors can indicate different things. For example, your blue chalk could be used to mark out where seams will go, and red chalk to mark out where pockets will go. Using tailor's chalk can help prevent simple mistakes, as it's a visual guide for showing exactly where you need to sew, rather than having to judge by eye.
Rotary Cutter
A rotary cutter looks just like a pizza cutter and operates on the same premise. It is made up of a handle and a turning wheel with a sharp blade for an edge. Rotary cutters are very simple to operate and can completely transform how you cut fabric, making it much quicker and easier and giving you a far superior result compared to cutting fabric with scissors.
Rotary cutters can cut in straight lines, curves, and circles and make small movements to cut out intricate patterns. They are also great for cutting fabric that you might struggle to cut with scissors and achieve a sleek result, such as leather.
A good rotary cutter can cost in the region of $20 to $30, which might seem expensive compared to a pair of scissors, but most people who have used a rotary cutter for cutting fabric will never go back to using scissors because the experience and the results are far superior. If you are left-handed, you'll need to purchase a rotary cutter designed for left-handed work or one which can be used ambidextrously.
Rotary Mat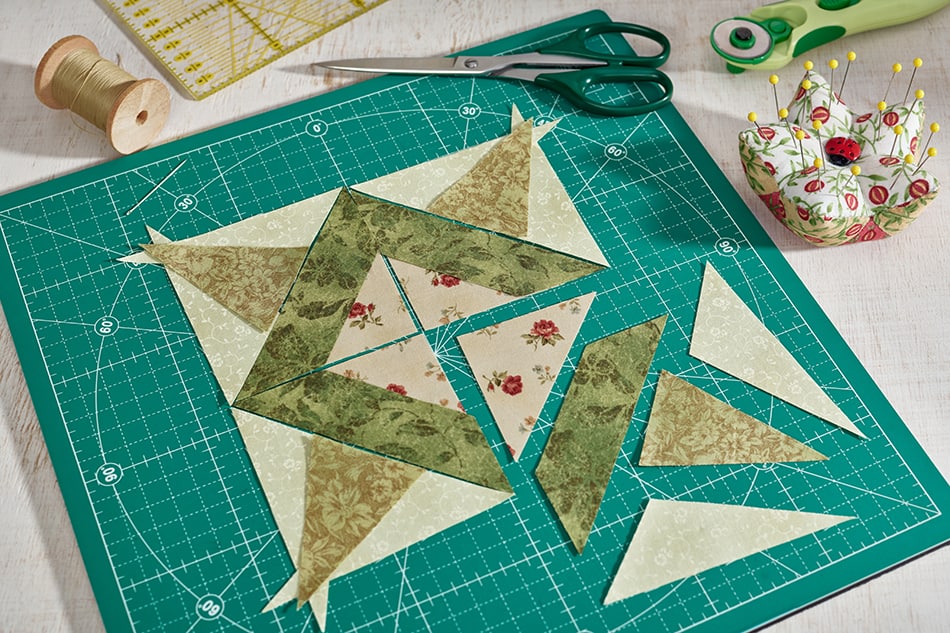 A rotary cutting mat is essential if you're going to be using a rotary cutter, and it will often be sold in a set with the rotary cutter. A rotary mat has many uses. First and foremost, it provides a protective surface that is safe to cut on so that when you are cutting fabric, you aren't going to damage the table you are working on.
A rotary mat will have measurements marked on it to help with alignment and precision cutting. It will also be made from a tough material that does not blunt your blade and is smooth but dull so that material can be held in place without slipping while you cut. Many rotary mats are self-healing, being made from a type of rubber that is resistant to cutting and, therefore, will last a long time.
Ruler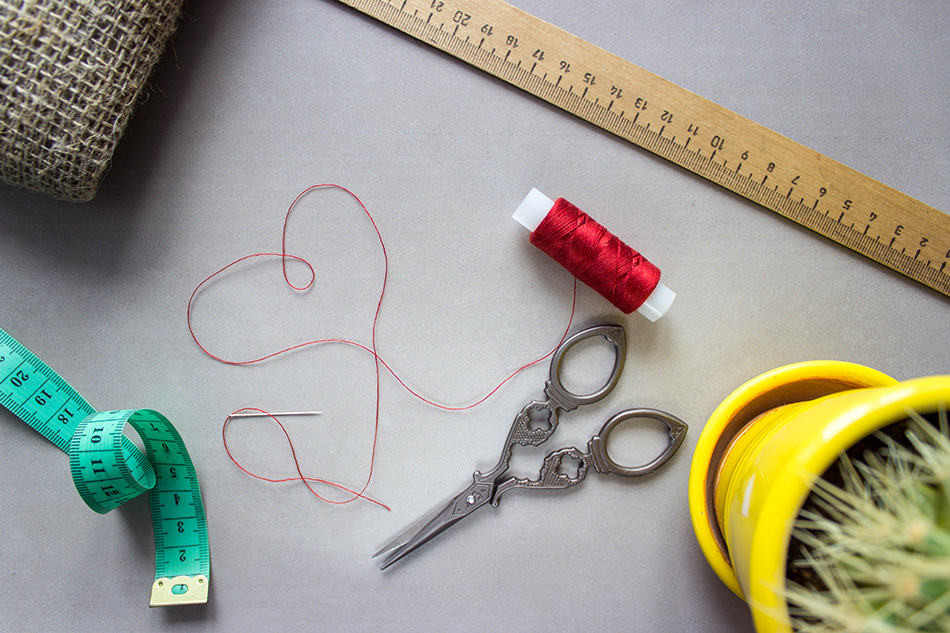 You might think that if you have a tape measure that you won't need a ruler for sewing, but it's useful to have both. Rulers are great for taking measurements, but they also provide a straight edge against which you can make marks on the fabric.
For example, if you're making square cushion covers, you can use your ruler to measure out the length and then draw along the straight edge of the ruler with tailor's chalk so you can be sure you'll be sewing in a perfectly straight line.
Pinking Shears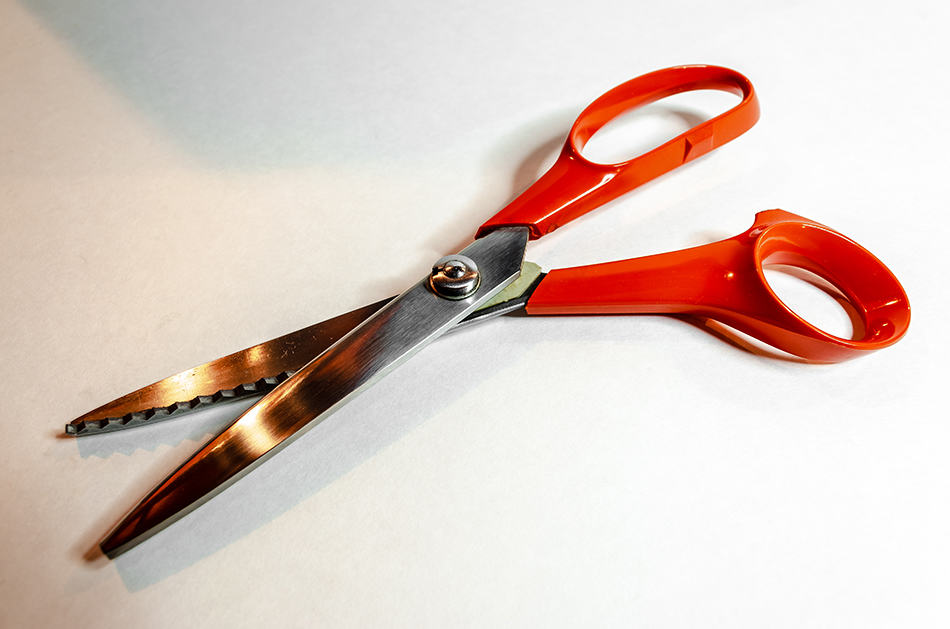 Pinking shears are exactly like regular shears but with a jagged blade in a concertina pattern. This type of scissors will result in a zigzag edge when they are used to cut fabric. They are useful for any time you want to create a zigzag effect on your fabric, but they are most commonly used in creating edges that won't fray.
The zigzag pattern prevents loose threads from pulling away, and so pinking shears are great for cutting raw seams on clothing. Pinking shears are popularly used for crafting with paper, but you'll want to keep a separate pair in your sewing kit, which is only used on fabric because using your shears on paper will blunt them and make cutting fabric much more tricky.
Tweezers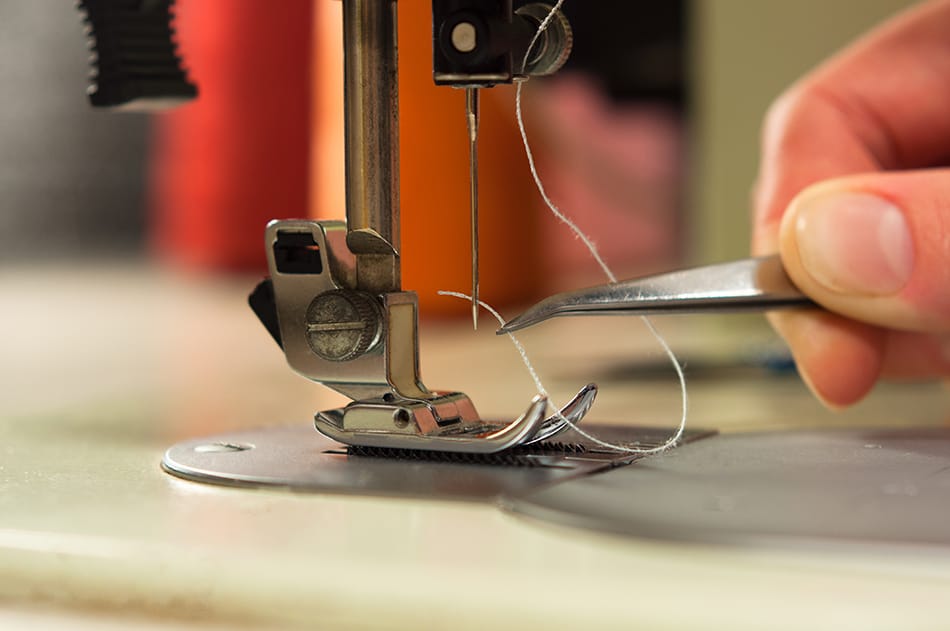 Tweezers can be a useful tool to have in your sewing kit for occasions where fingers are too bulky to be of use, for example, if you're working on small and complex patterns.
Tweezers are also helpful for people who don't have great dexterity in their fingers, as they can use tweezers to grab loose threads of cotton and direct it where it needs to go. Some people even use tweezers to thread needles instead of using a designated needle threader.