Scissors might seem like a fairly basic cutting tool, but there are many different varieties that can assist in a whole host of tasks around the home, garden, and for use in hobbies or different professions. Find out about the different types of scissors here.
Multi-Purpose Scissors
These are the most common types of scissors that can be used for a variety of purposes and don't have a single specific intended use.
Standard Scissors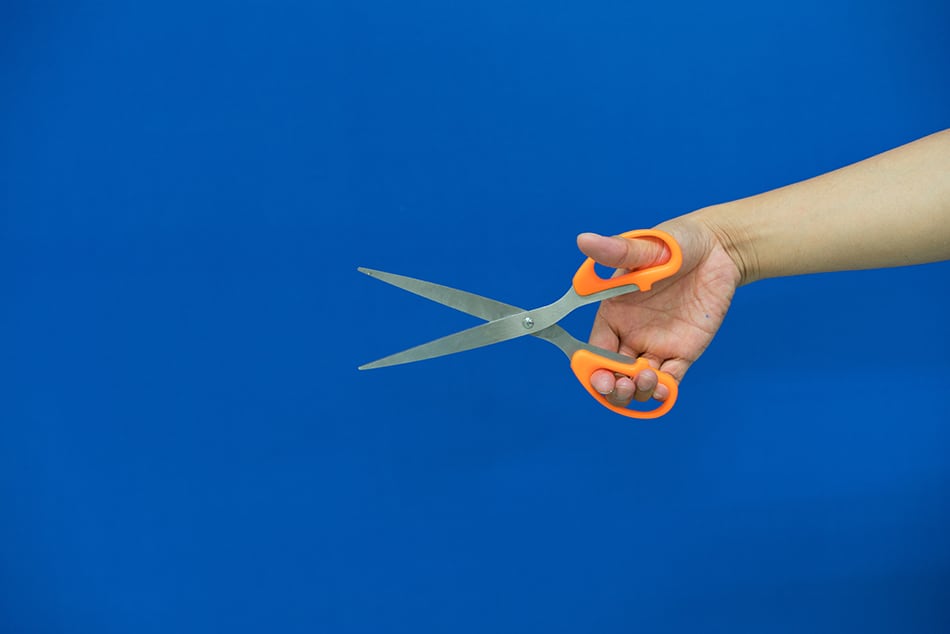 These are the scissors that most people have at least one pair of in their kitchen drawer. They are also referred to as 'crafting scissors' because they are most often used for cutting paper or cards. These types of scissors have reasonably long, chunky blades and a sturdy feel. They will typically have plastic handles that are easy and comfortable to grip.
Commonly these scissors will perform a variety of tasks, such as cutting open cardboard boxes you receive in the mail, snipping off the return form on admission slips that children bring home, cutting open bags of fruit, or removing the labels from new clothing. If you have children, you may find that these scissors often find their way out of your kitchen drawer to be lost forever!
Right or Left-handed Scissors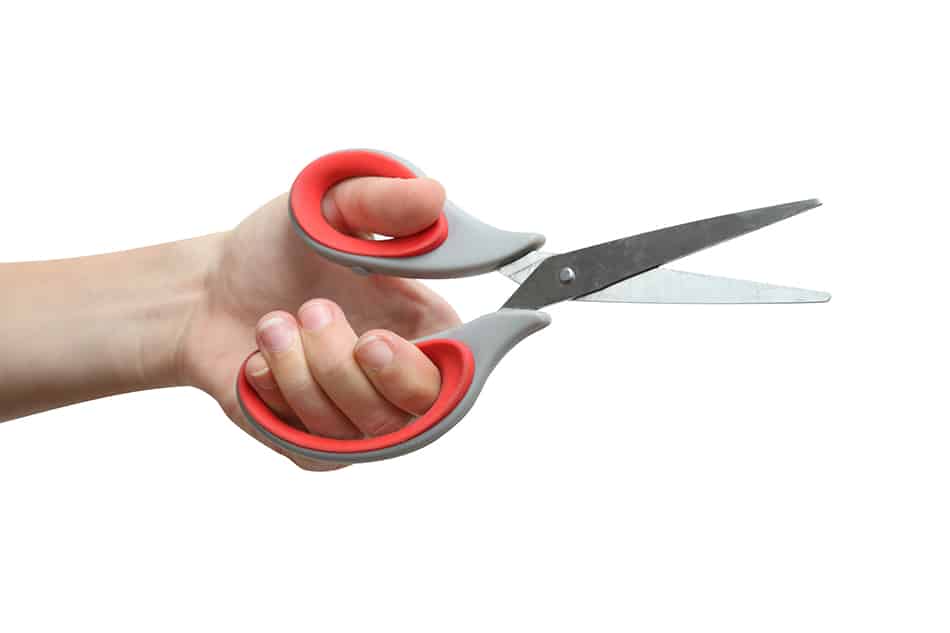 The majority of people are right-handed, and as a result, scissors are generally produced to fit right-handed people. If you are left-handed and need to use scissors on a regular basis, then you'll probably want to purchase some scissors that are specifically designed for left-handed people.
Using scissors that are not compatible with your primary hand can be very frustrating, but fortunately, left-handed scissors are now quite easy to find. The blades of left-handed scissors will overlap in the reverse way to right-handed scissors, and their thumb and forefinger holes will be at opposite angles to make using scissors more comfortable.
Ambidextrous Scissors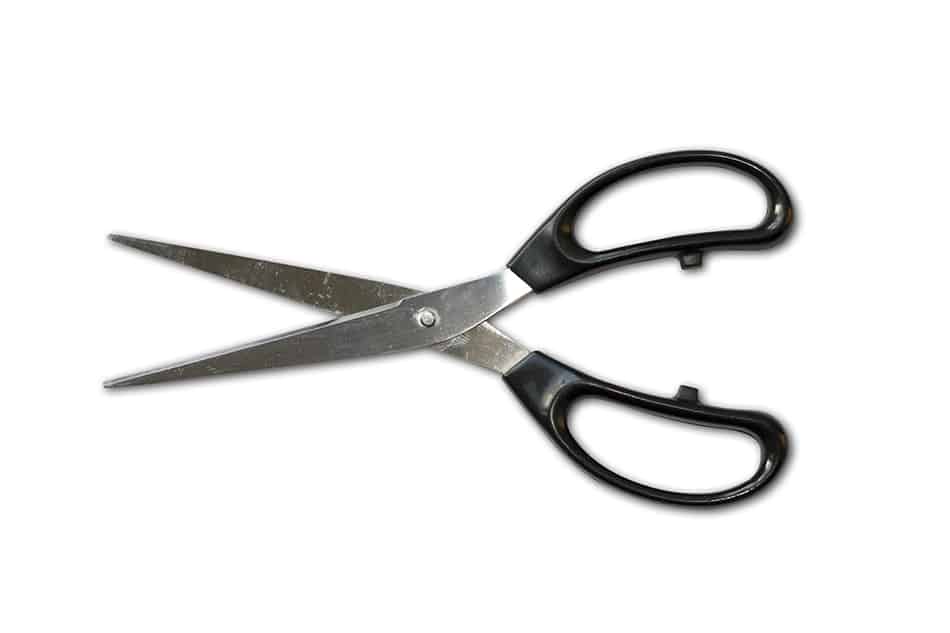 These scissors are symmetrical, with no difference between the handles, therefore allowing both left and right-handed users to handle them with ease. These types of scissors are less common than left or right-handed scissors, but they are available. If you're on the hunt for some ambidextrous scissors, then looking online will be your best bet. You might want ambidextrous scissors if you have people in your household with different hand preferences, and a pair of ambidextrous scissors would mean your whole family could use them without issue.
Industrial Scissors

Industrial scissors have large blades in excess of seven inches long, and these blades will be precise and sharp. There are many uses for industrial scissors, such as cutting thick fabrics or for use in upholstery. These scissors slice through paper and card with ease and might be suitable for people with arthritis or similar problems with their hands, which makes using force when cutting uncomfortable or difficult. These scissors are usually heavy-duty and will last a long time. Commonly they will have metal handles, though some may have plastic handles
Grooming Scissors
There are a number of different types of scissors used for both personal and professional grooming. The type of scissors used in these instances will have a dramatic impact on the results.
Haircutting Shears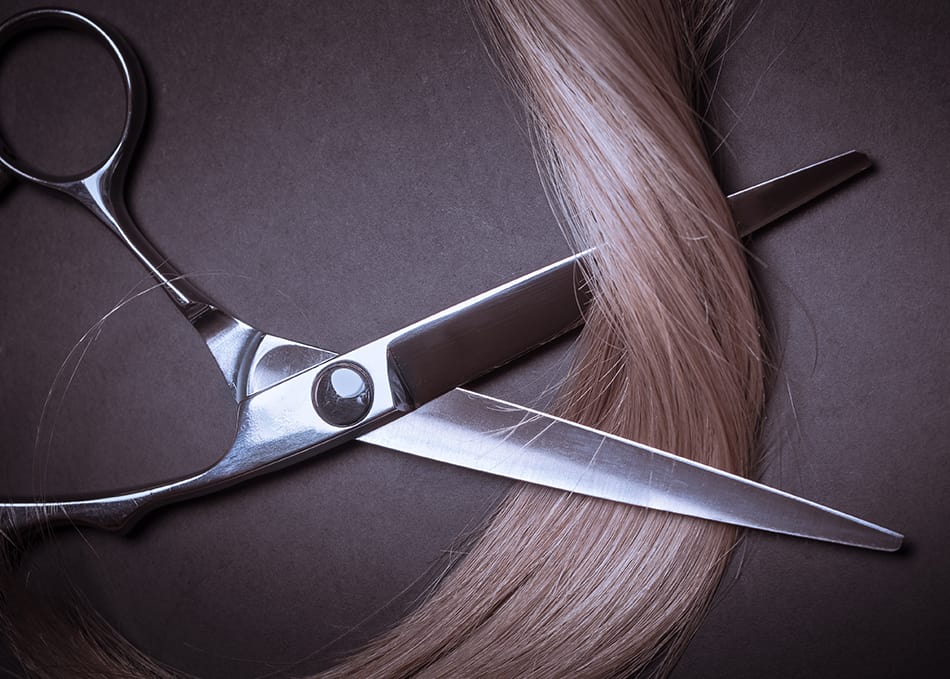 These are the most basic cutting tools that a hairstylist will own. They have extremely sharp blades that will slice through hair with ease, without bending the hair at all. These types of scissors will be essential in creating very blunt styles and straightforward, simple cuts where layers or texture isn't required.
Haircutting shears are also commonly owned by people to make small adjustments to their own hair, for example, keeping bangs at the right length without having to see a hairstylist every week, or many parents will own haircutting shears as a means of cutting their children's hair to save money. Haircutting shears have a piece of metal extending from one of the handles where your pinky finger can rest.
Texturizing Shears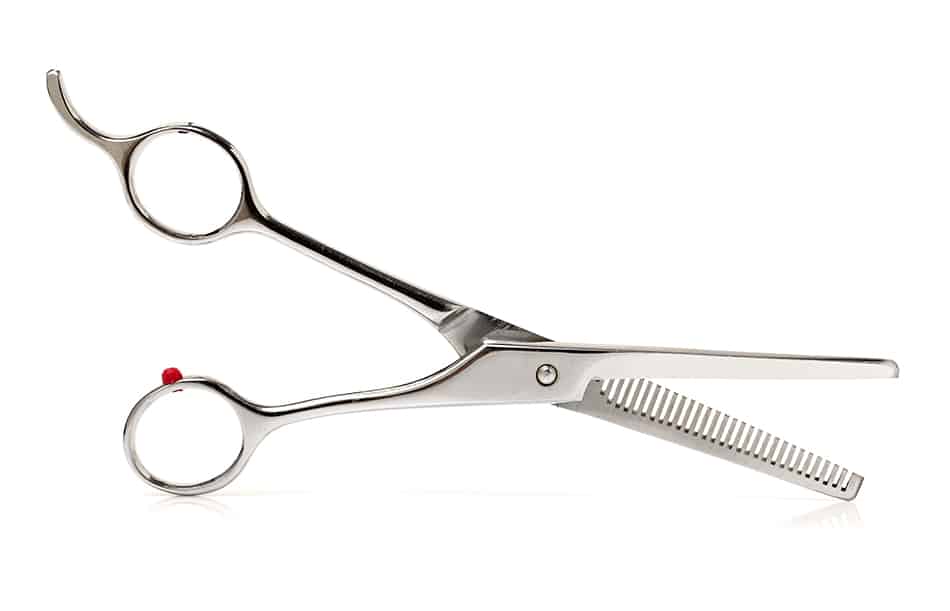 This is another commonly used hairdressing tool. It takes the shape of regular scissors, but one of the blades will have very fine and sharp teeth along it, which clasp onto some of the hair. This tool is used to thin out hair and create layers and texture. These scissors are helpful to remove some layers in very thick hair to make it sleeker without losing any of the length.
Texturizing shears should only be used by experienced stylists and certainly not attempted at home because they require practiced skill and can end in disaster if you try to use them yourself without guidance. They should only be used to thin out hair and can not work as an all-around cutting tool.
Swivel Scissors
Swivel scissors are a type of hairstyling scissor that is designed to limit the strain on the user. Busy hair stylists who spend their entire day with a hand in a pair of scissors can suffer from repetitive strain injury or carpal tunnel syndrome. Swivel scissors help to combat this is they have a more ergonomic design that allows natural movement of the hands.
The thumb hole in swivel scissors can swivel around, which explains the name. This prevents the thumb from being stuck in one position. The thumb and forefinger holes will be angled slightly further apart, which encourages the hand to sit in a more natural position, and tangs can be present on both parts of the handle to allow other fingers to rest. All types of hairdressing scissors can be found in a swivel scissor design.
Thinning Scissors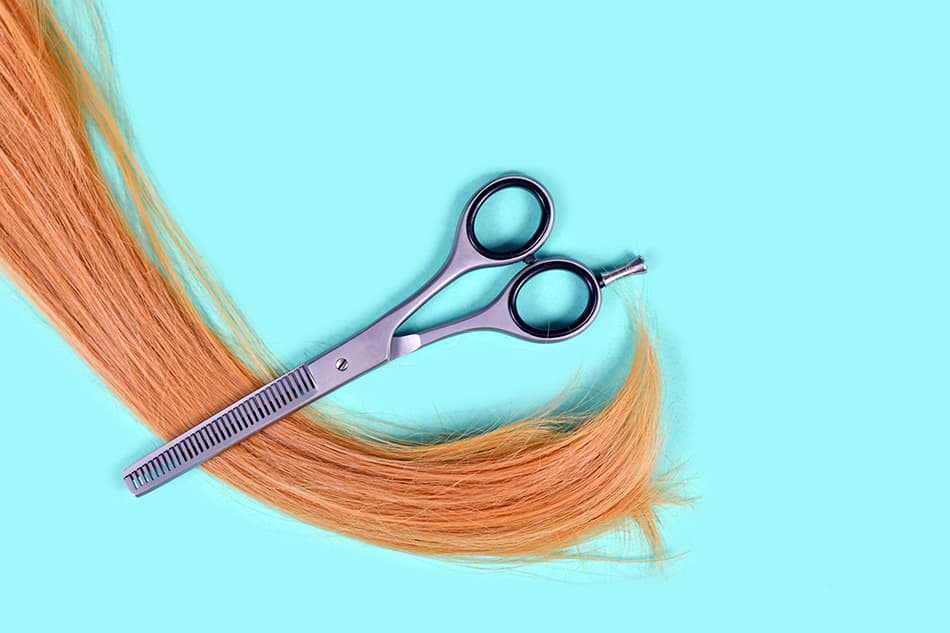 Thinning scissors work in the same way as texturizing scissors, but they have more teeth along the blade that are set much more closely together. Like texturizing scissors, these are used to thin out bulky hair, but they blend rather than add layers. These tools will cut half of the hair grabbed by the scissors, making thinning out a quicker and more seamless job. Thinning scissors can also be used to blend sections of hair together and give it a more natural finish, as opposed to a blunt look.
Nail Scissors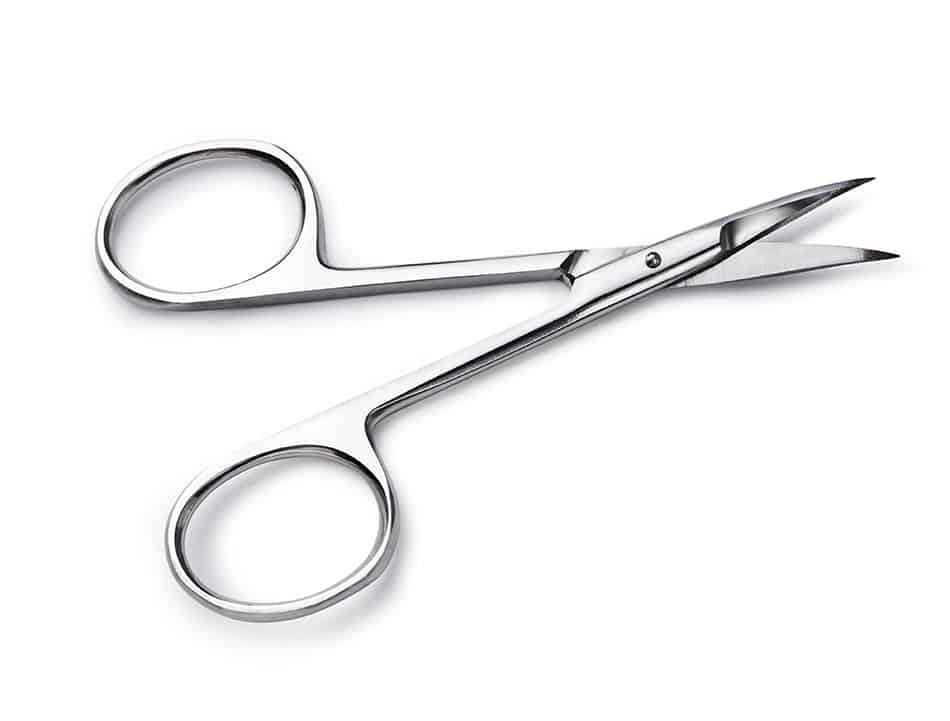 Nail scissors are a compact tool that is used in manicuring nails. They are used by professional manicurists to trim nails and shape nails and are commonly found in home bathroom cabinets for people to keep their fingernails and toenails in check. Nail scissors have sharp but slender blades, which are often curved to aid in gently shaping the nails.
Sewing Scissors
If you like to sew in your spare time, or you sew as part of your job, then you're likely going to need a variety of different types of sewing scissors to fulfill different purposes. These are some of the most common types of sewing scissors.
Dressmakers Shears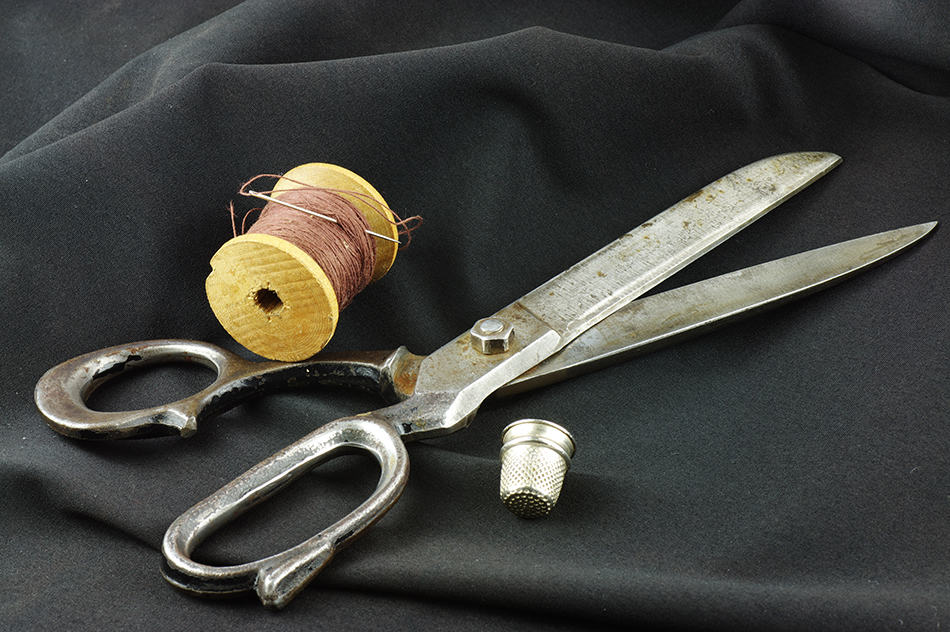 These types of scissors are sturdy and quite heavy-duty. They have long blades, typically in excess of six inches. The blades themselves have flat edges on the underneath, which is so that you can lean the scissors against a flat surface when gliding through fabrics to cut patterns out. The handles of dressmaking shears are larger than standard scissors, and this is so that you can fit all of your fingers into the handles to give you more strength and pressure when cutting through heavyweight fabrics.
A good pair of dressmaking shears will last many years if you treat them well; choose a well-weighted pair to ensure good quality, and regularly oil the screw joint to keep them running smoothly. Don't use them for cutting paper, and have them sharpened at least once a year.
Pinking Shears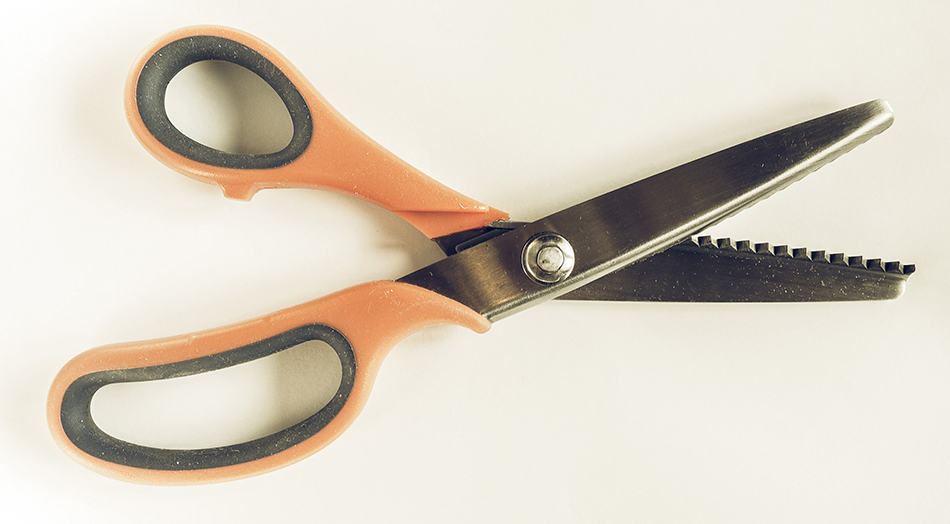 The term 'pinking' in the name of these scissors refers to the shape of the blade, which will be scalloped or zig-zagged. In sewing, these scissors help to prevent the ends of fabric from fraying. If you don't have the time or the option to use a zig-zag stitch on a sewing machine to finish off your hems, then you can use pinking shears instead. This will give your sewing projects a nice neat finish and keep pieces of cotton from coming loose.
Pinking shears are also commonly used in crafting and can add interest and detail to felt projects. Many children will also have a pair of pinking shears to add decorative edges to their paperwork. If you do let your children borrow your pinking shears for use on paper, then remember to sharpen them regularly to prevent them from going dull.
Tailor Scissors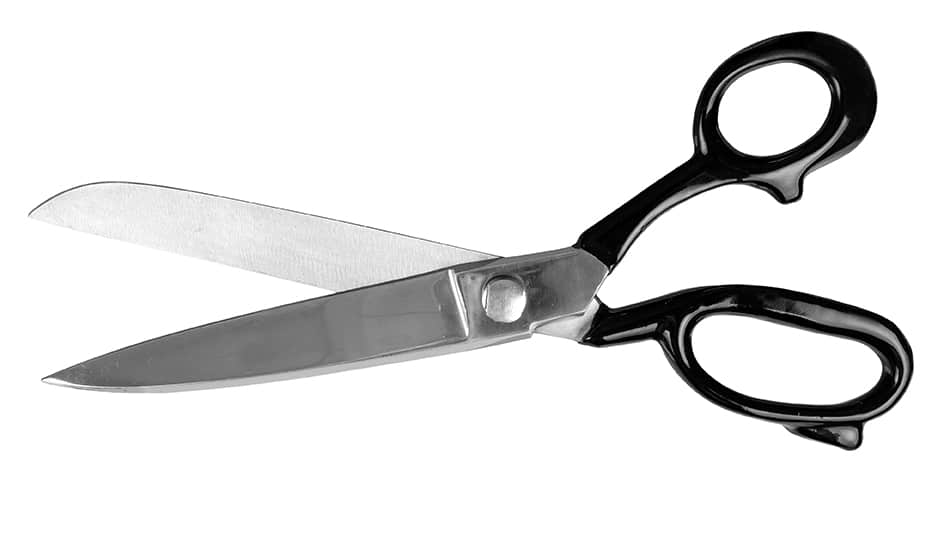 Tailor scissors, for all intents and purposes, are just like dressmaking shears. They have straight, heavy blades that can be pointy or rounded. The only difference between these two types of sewing scissors is that tailor scissors tend to have slightly shorter blades. You can probably complete any tailoring just fine with a pair of dressmaking scissors, but some people like to have the option of the shorter bladed version for certain tasks.
These scissors have very sharp and heavy blades that are great for cutting through tougher fabric like leather. The shorter blade will be useful in tailoring to cut fabric in situ to make alterations, while a longer blade is more suited for cutting fabric on a table.
Embroidery Scissors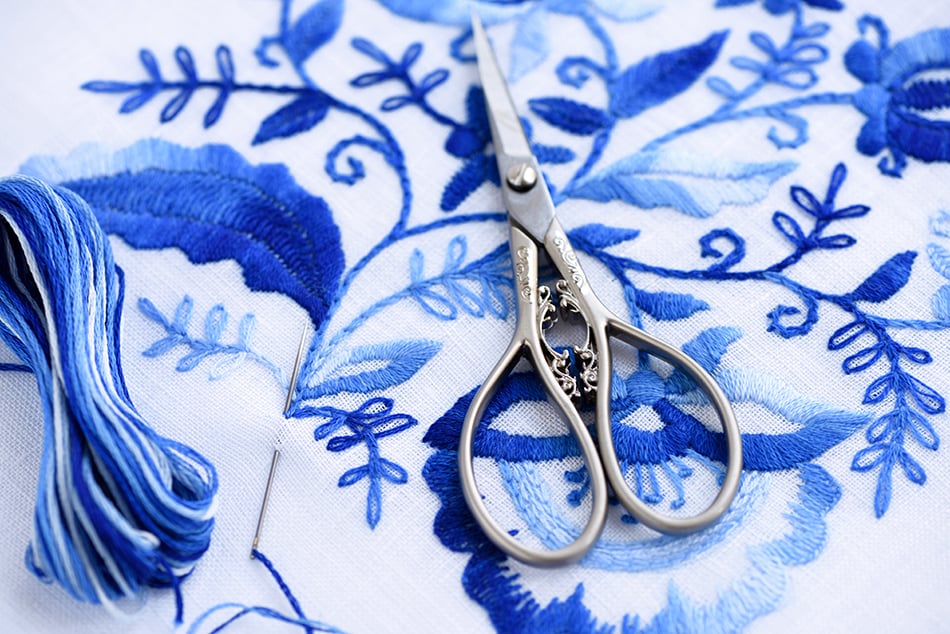 These small scissors have short, sharp blades and can have pointed ends or dull ends shaped like a duckbill. These scissors are designed for using in small or awkward spaces or getting into the fine details of embroidery and applique work. They are lightweight and store away easily in small sewing kits. They are also handy for picking apart stitching if you don't have a seam ripper handy. They are commonly used for snipping the ends of cotton.
Buttonhole Scissors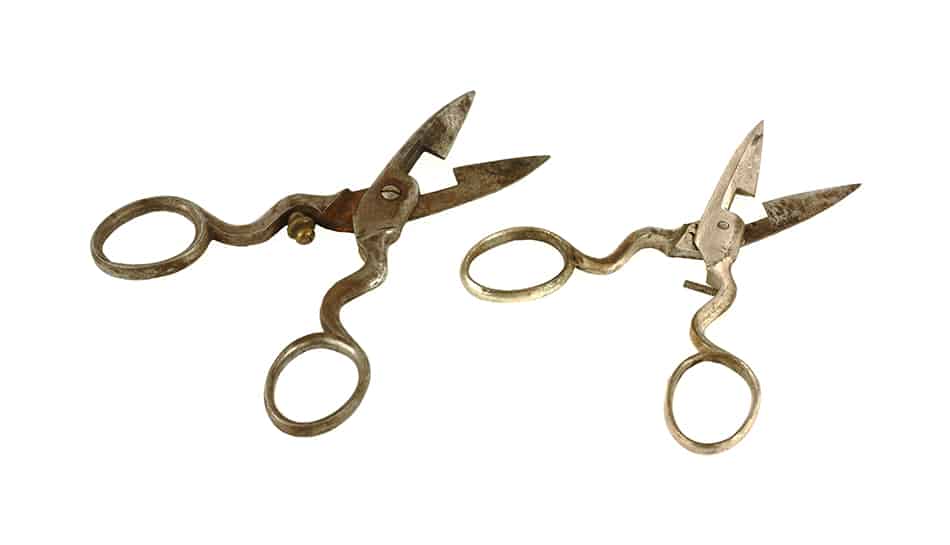 Buttonhole scissors, as you may expect, are intended for the sole purpose of creating buttonholes. These scissors are adjustable with a screw so that you can alter the length of the blade and therefore alter the size of the buttonhole you are creating. These can also be used for opening buttonholes carefully without damaging or stretching the fabric and stitching. This is an essential tool for tailors and dressmakers, but DIY sewing enthusiasts will be more likely to create buttonholes with embroidery scissors. Buttonhole scissors are a specialist piece of equipment for when precision and accuracy is vital.
Small Snips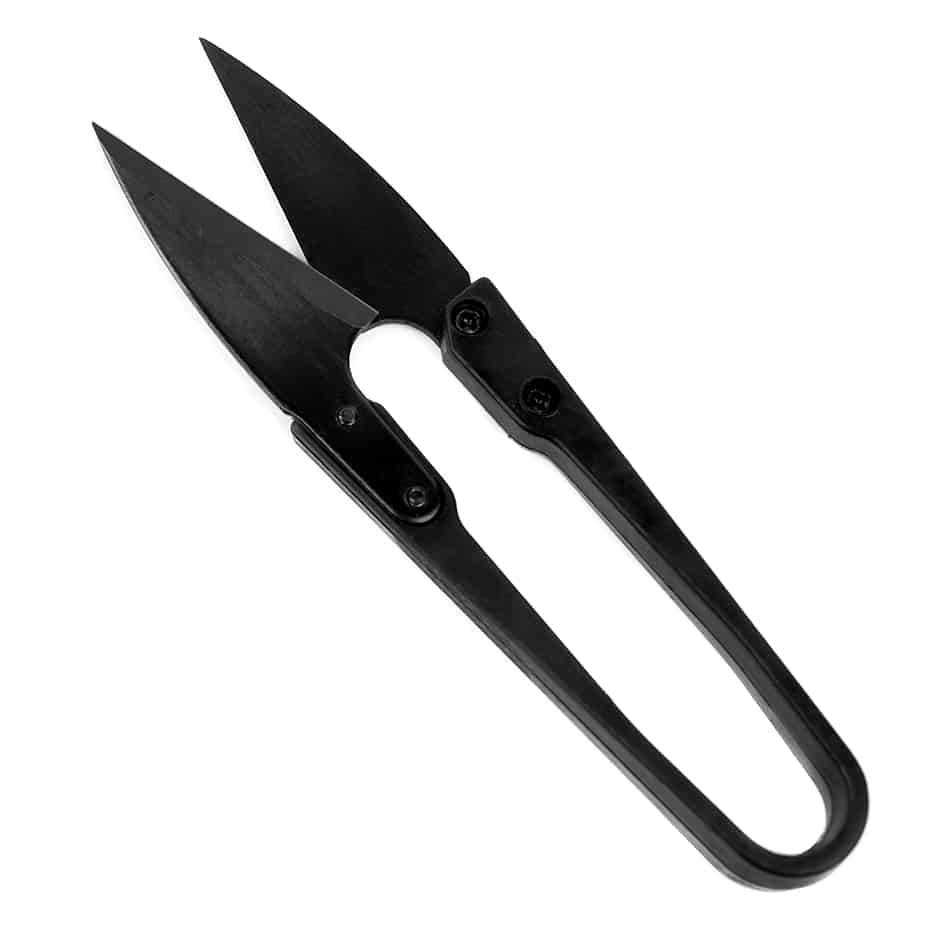 These scissors don't look like your average pair of scissors and actually look more like a clip. They also go by the name of 'embroidery scissors' as they are commonly used in embroidery but are also very useful for all other types of sewing. They have two blades at the top, but they lack the handles that scissors usually have, and instead are operated by pushing the lower parts of the tool together, a bit like tweezers.
When force is applied, the two blades come together to cut fabric or thread. These are ideal for getting into tight spaces to make cuts without risking damage to the fabric. Their blades are especially sharp, so take care when using them.
Medical Scissors
These types of scissors are those that will be commonly found in hospitals, doctor's offices, and first-response vehicles. These are surgical-grade scissors.
Bandage Scissors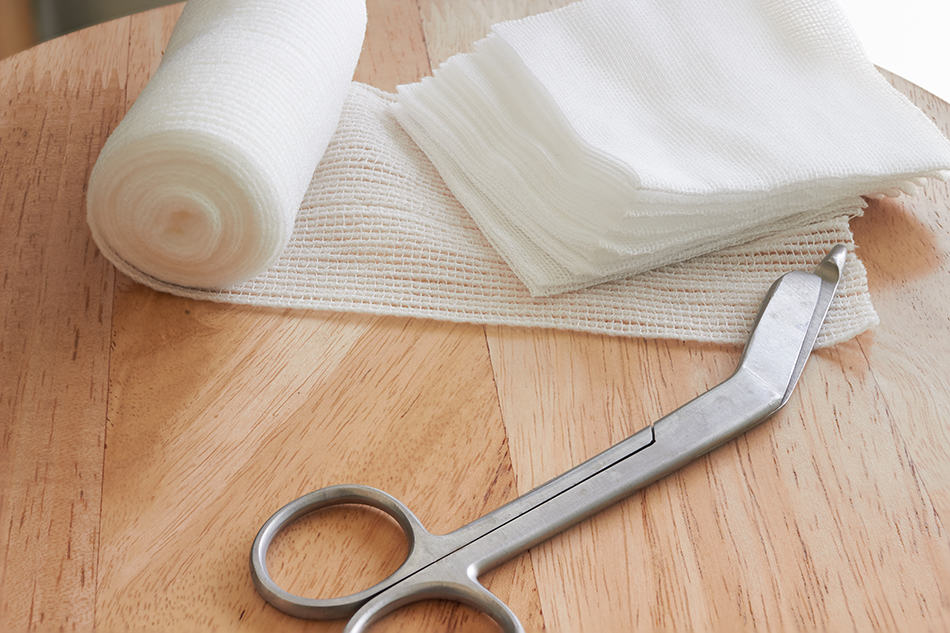 These scissors are intended for removing bandages from patients. They are specifically designed with angled blades that can easily get between the layer of bandage and skin. These scissors have sharp blades, but the end of the blades are dull and rounded to avoid injury to the patient. These scissors, also known as bandage forceps, are commonplace in all medical facilities. As well as removing bandages, they are also useful in cutting gauze and other dressings.
Trauma Shears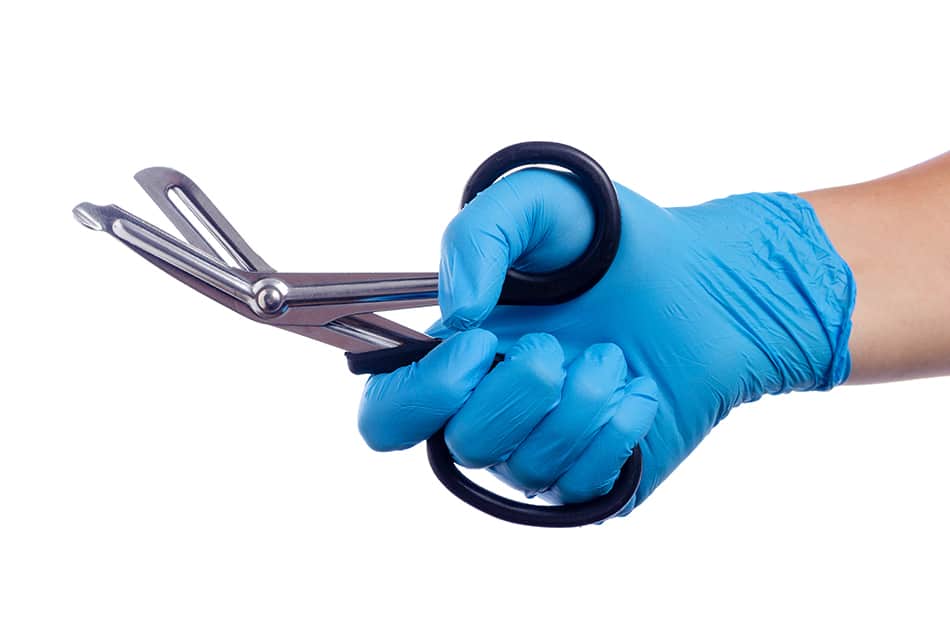 These scissors are commonly used by paramedics and other emergency medical staff with the primary purpose of quickly and safely removing clothing from a patient. These are medium-sized scissors that typically have plastic handles and blades pointing at an angle. The blades are very sharp so that they can cut through even very thick or tough fabric such as leather or seatbelts with ease, but the ends of the blades are rounded so that they do not cause accidental injury when pushed up against a patient's skin.
They typically measure around eight inches in length, compared to bandage scissors that have a very similar design but are significantly smaller. Trauma shears are gaining popularity outside of the medical profession amongst soldiers and divers as a safer option instead of carrying knives.
Iris Scissors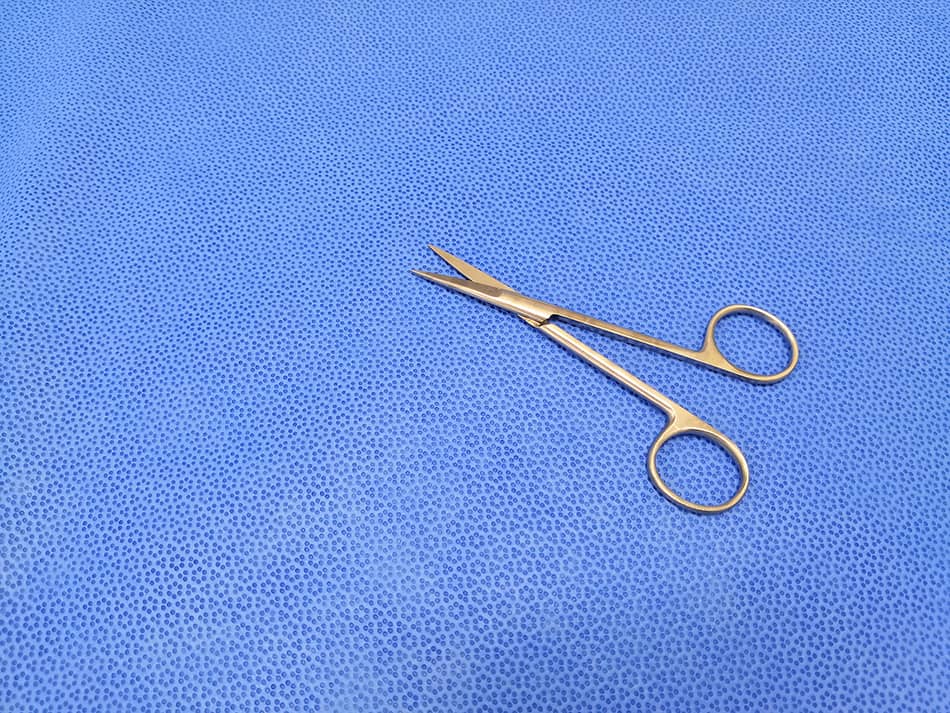 These small scissors were originally designed for use in eye surgery, but they have since become popularly used in all areas of the medical profession. They are sturdy, being made from surgical stainless steel, with small sharp, smooth blades that are ideal for using with delicate tissue.
Iris scissors come in straight or rounded blade versions, with straight scissors intended for use on flat surfaces, while the rounded blades make it easier to contour tissue in difficult to reach angles. This strong but delicate tool is great for cutting sutures and for removing small pieces of fragile tissue.
Gardening Scissors
Home gardeners and professional gardeners will need a good selection of gardening scissors to keep their yard in good shape. These are some of the most popular types.
Pruning Shears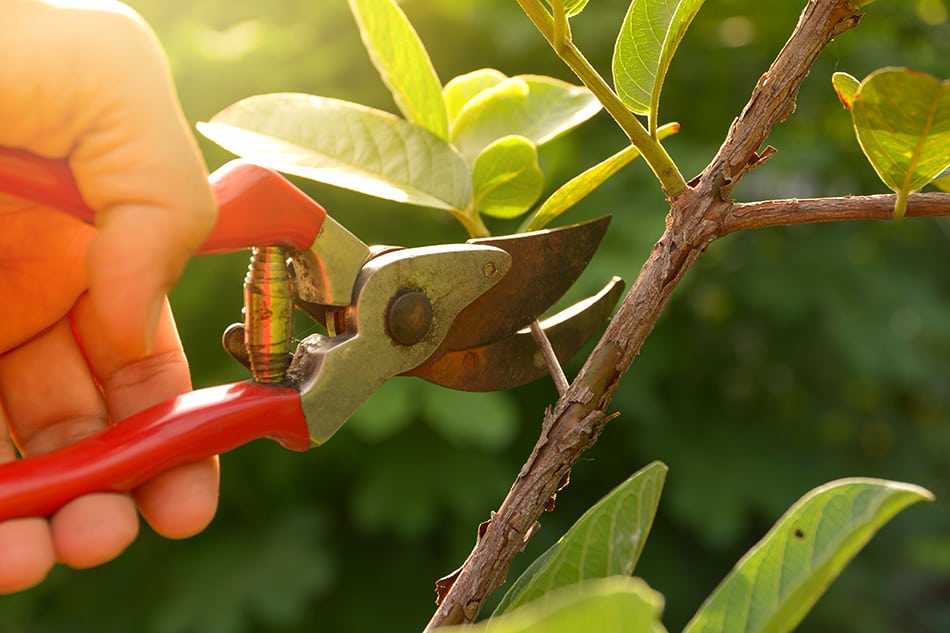 Pruning shears are also known as 'hand pruners,' or in England, they are called 'secateurs.' They have two very sharp blades that cut through branches or stems when the handles are pressed together. These are relatively small garden tools that can be operated by one hand. They are strong and sturdy, useful for cutting back overgrown shrubs and trees or keeping them in shape with annual pruning.
For thicker branches, these shears may not be suitable, and larger shears would need to be used. Pruning shears are one of the most common tools a gardener will own, and they are also utilized by farmers, conservation workers, and florists.
Lopping Shears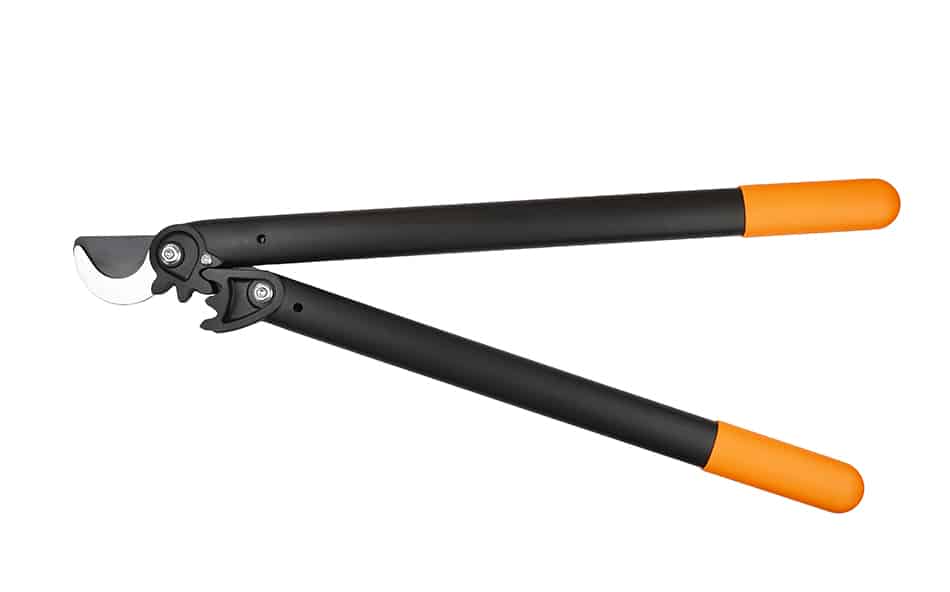 Lopping shears are just like pruning shears, but with much longer and sturdier handles. These scissors are also used in the garden but require two hands to operate. They are among the largest types of garden hand tools available and are ideal for pruning branches that are too big for pruning shears to cope with. They have short but very sharp blades that can cut branches with a diameter of up to two inches.
Hedge Shears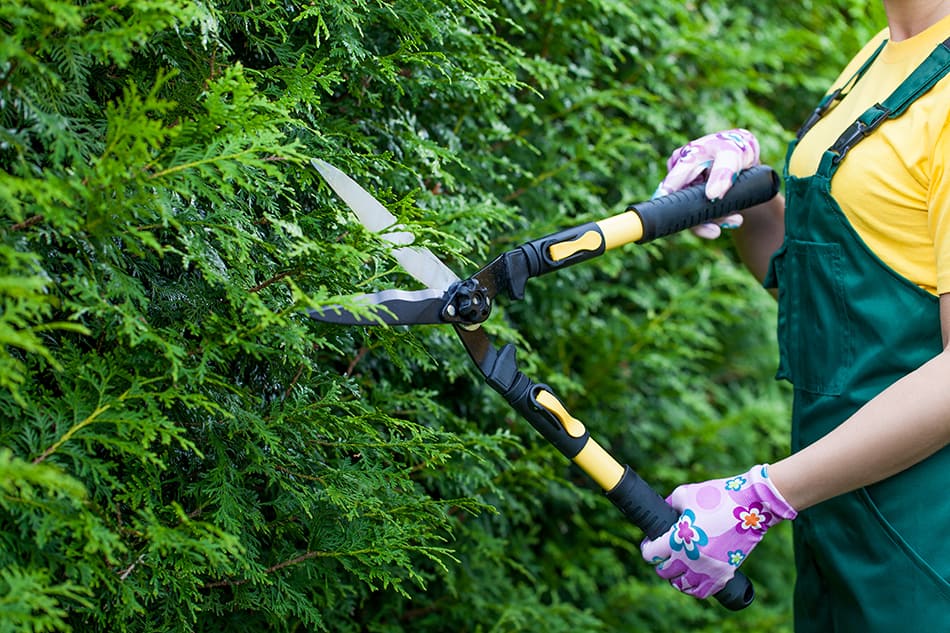 Hedge shears come in various sizes and take on more of a scissor shape compared with pruning shears and lopping shears. They have longer blades that are good for making fine trims and snips to hedges and rose bushes.
Grass Shears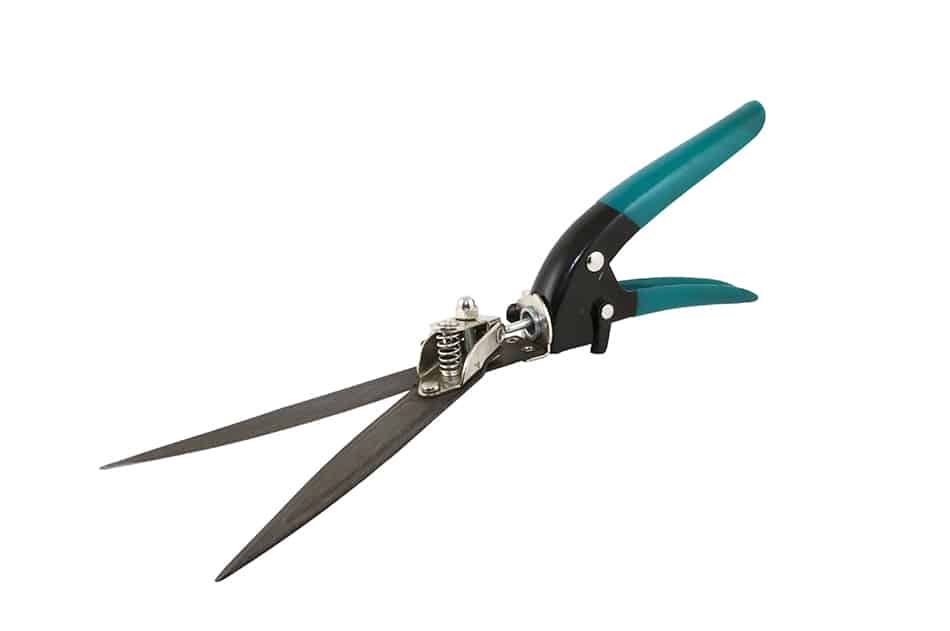 Grass shears are much like pruning shears but with longer handles. They come in two varieties depending on what their intended purpose is. Grass shears with horizontal blades are designed to trim patches of lawn where a mower has missed, while grass shears with vertical blades are used for trimming the edges of a lawn to keep boundary lines looking neat and tidy. Grass shears have fallen out of favor in recent years thanks to the introduction of electric grass shears and weed whackers that perform a similar job in a fraction of the time.