Whether you've been dying to remodel your old house or you're simply itching to give your room a face-lift, you'll likely consider removing old paint. This is seen by many as a tough and undesirable job, not like picking the new color for a house or room.
But the good news is that you can choose from a variety of paint removal tools to get the job done. These tools may require you to do some manual work while others can remove paint without you having to sweat.
Types of Paint Removal Tools
Below are some of the best and most effective paint removal tools that you can use for your next home remodeling or renovation project:
Paint Scraper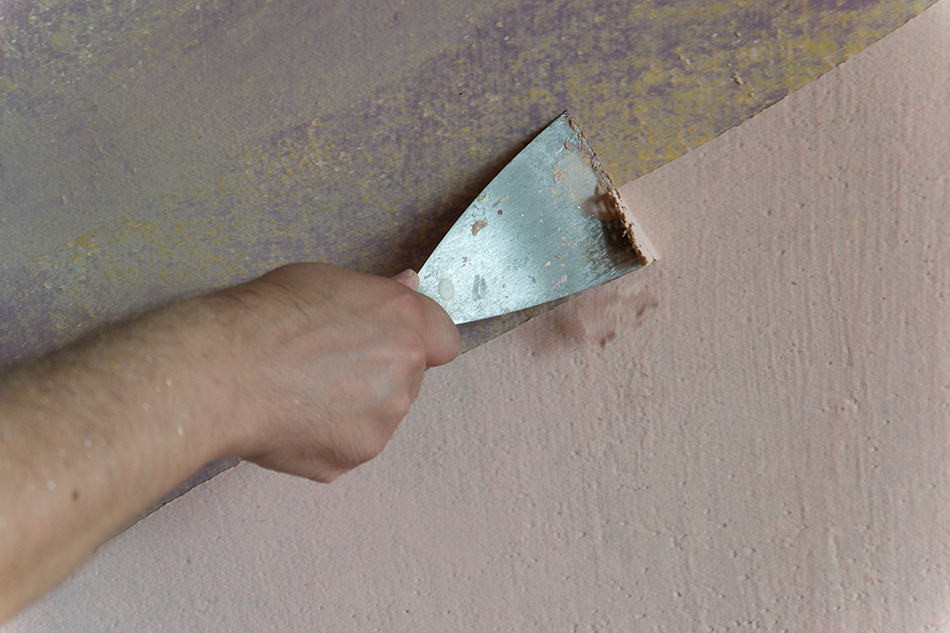 This is the most basic tool for paint removal. It's also effective in removing rust. While there may be tools far easier to use, many DIYers and professionals still prefer to use a paint scraper, particularly when working in tight spaces.
The traditional paint scraper features a flat blade and a handle. But through the years, we've seen variations in the design of this tool. Some scrapers are oval-shaped, while others are shaped like a triangle. You can also find rectangular scrapers.
Paint scrapers can be a single or double edge. The single-edge variety is the more common type. But if you want to scrape paint faster, then the double-edge scraper is for you. Most carpenters, though, prefer to use the single-edge scraper as it is deemed more efficient, particularly on rough surfaces.
There are also paint scrapers for removing numerous layers of paint. A hook scraper is designed to get rid of stubborn paint. Meanwhile, a multi-tool paint scraper can remove paint off various surfaces. This versatile tool can also do other things like cleaning roller and opening paint cans, hence its name. It can come in variations like 5-in-1 and 8-in-1 tools.
Wire Brush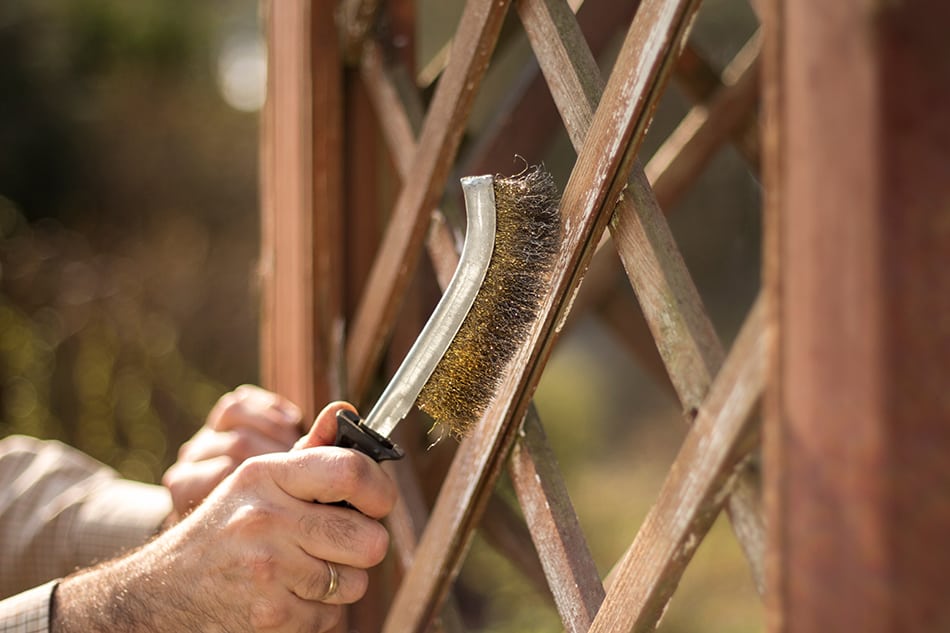 From removing paint to rust and other ugly surface contaminants, a wire brush is a handy tool you'd want in your tool kit. This paint removal tool, however, is best suited for removing paint in small spots. It may not be the best tool to remove paint in the front part of your house.
Wire brushes are inexpensive and easy to use. It's a cheaper alternative to a power sander. It can remove peeling paint by lightly sweeping it parallel to the edge of the paint.
In choosing a wire brush, there are three things you should consider—the kind of wire, its diameter, and the filament configuration.
Wire brushes are available in various materials ranging from brass, stainless steel, and carbon steel. Brass is versatile enough to be used on almost any kind of project. It can remove paint on materials like steel, plastic, iron, and wood. Carbon and stainless steel are more suited for certain materials. Carbon wire brush, for example, is only used for carbon, steel, and wood. Stainless steel can't remove paint on plastic and iron.
As for the diameter of the wire, the rule of thumb is to use fine wire when taking on light-duty jobs. For removing paint, it's advisable to use either a medium or a coarse wire brush.
Heat Guns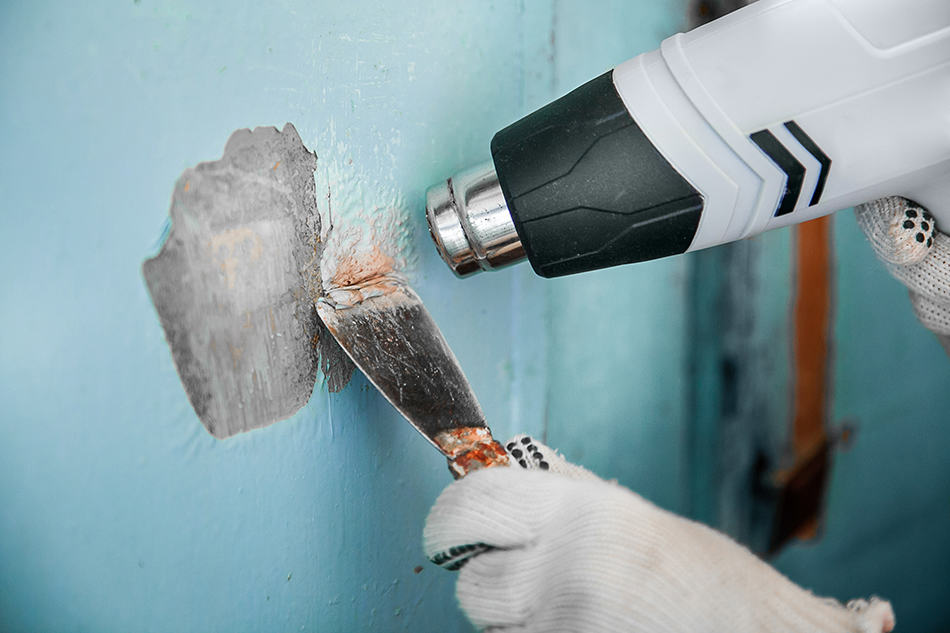 If you find the use of a wire brush and manual paint scraper tedious and time-consuming, then consider using heat guns or electric paint removers. This is a power tool that can help you remove paint faster so you can finish your project quickly.
The downside, though, is that heat guns are more expensive than a paint scraper and wire brush. But you can look at its many advantages and realize that it's worth investing in. For one, you'll be able to use a heat gun in a lot of ways. Aside from paint removal, this power tool can come in handy in mending plastic and thawing frozen pipes. You'll also find them useful in various repair jobs, including repairing your phone.
So, how does a heat gun remove paint? The heat gun can produce hot air with temperatures reaching up to 1,000 degrees Fahrenheit. This is enough to melt the paint. When it becomes gooey, the paint can then be scraped away.
A heat gun is especially effective in removing multiple layers of paint. It can get rid of paint on various surfaces, including wood, concrete, stone, metal, concrete, and brick. Although tried and tested for paint removal, a heat gun can be quite dangerous to use, especially by novice DIYers. If you are to use one, you should protect yourself with heat-protective gloves. You should never put a heat gun down on any surface and near flammable materials.
In buying a heat gun, you should get one with adjustable airflow. The power tool should have high and low-speed settings. Other considerations in buying a heat gun include temperature display and thermal cut-offs.
Paint Stripper
This is one of the more popular tools for removing paint. A paint stripper is a chemical product formulated to remove paint and clean its underlying surface. Aside from removing paint from baseboards, it can also be effective in removing varnish from wood or a piece of furniture.
You should know that there are four kinds of paint stripper. Each kind has unique properties for removing paint from certain surfaces. For example, a solvent is the most versatile of those four paint stripper types. It can remove water and oil-based paint from wood and metal surfaces without causing discoloration. The main issue with solvent strippers is the high volatile organic compound (VOC) content, which means it emits a smelly fume, which may pose a health hazard or risk.
You only have to apply a thin layer of a solvent stripper and let it stay for around 15 minutes. The paint will then be easy to lift off with the use of a paint scraper. It's also recommended that you wash the stripped surface with water before repainting it.
The second type of paint stripper is the caustic stripper, which is effective in removing oil-based paint from concrete floors and other masonry surfaces. It partially converts paint into soap, making it gooey and easier to loosen. However, this type of paint stripper is not effective in removing paint on polyurethane and epoxy. You should also be wary in using this chemical on wood, particularly hardwood, as it can blacken the surface.
Biochemical paint strippers are considered safer alternatives to the two other paint stripper types. Often formulated from a mixture of plant-based solvents and organic compounds, a biochemical stripper has a lower volatile organic compound (VOC) content. This means that the paint stripper is a safer and healthier choice compared to solvent and caustic strippers.
With a biochemical stripper, you can remove paint from wood, metal, and masonry. But it's not great at stripping epoxy and polyurethane coatings. It can also leave wood fibers when applied to stripped wood.
Finally, a zero-VOC paint stripper is virtually odorless. It's excellent if you or anyone in your household has health problems. It can remove paint from masonry, wood, and metal surfaces. But it's not that effective at removing paint from plastic. Despite zero-VOC paint being considered a safe and healthy paint removal tool, it is still advisable that you use safety gloves when using this chemical.
Nylon Drill Brush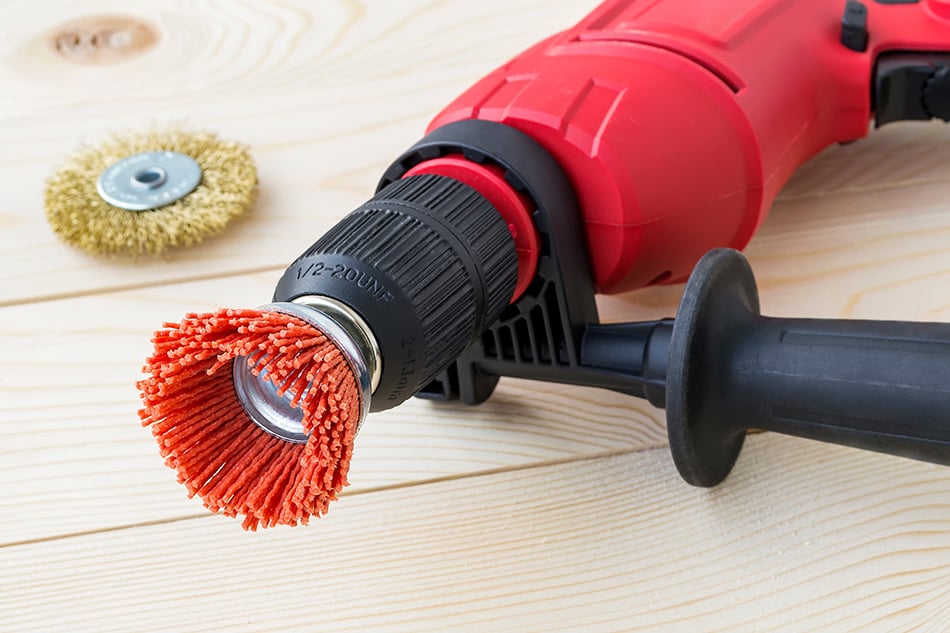 Do you have a power drill at home? If so, you can pair it with a nylon wire brush to remove paint. The nylon wire brush attachment can help in removing paint from most surfaces. This potent combination can make the paint removal task quick and easy, enabling you to move on to the next stage of your home improvement project.
The said drill attachment is available in different types of brushes. You can opt for a 2-inch, 4-inch, and the standard pine-cone shaped brush. All these attachments work well in most situations. You can also use the attachments in other tasks like cleaning up grills.
It's quick and easy, too, to attach the nylon wire brush to your power drill. After attaching it to your drill bit, you can start using the power drill in removing the paint. You may also use this alongside a paint stripping gel.
Putty Knife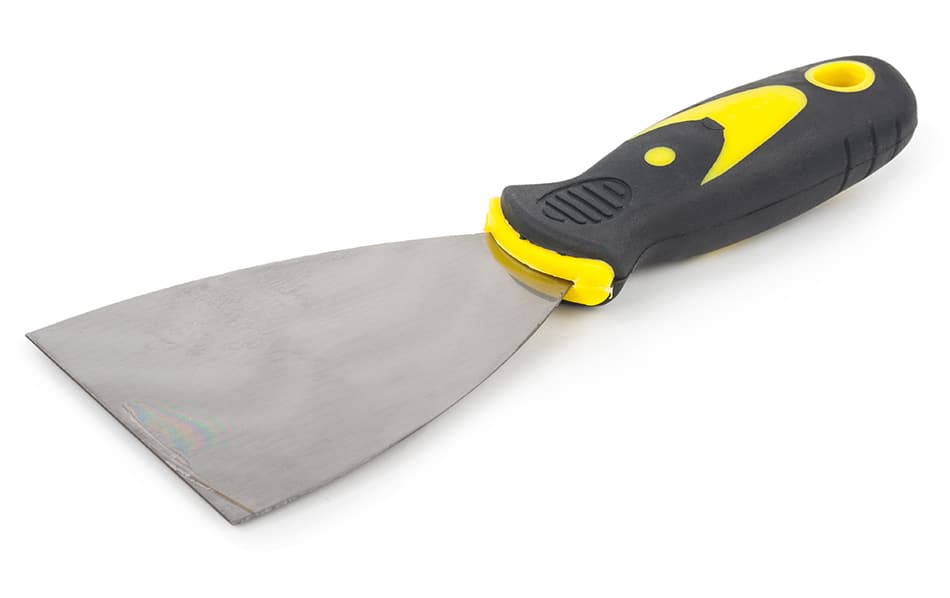 Traditionally speaking, the putty knife's main purpose is not for removing stubborn paint. But carpenters have realized that the putty knife can get the job done despite it not designed for paint removal. It's not surprising that the putty knife is considered one of the most versatile hand tools that you can have!
The main purpose or use of a putty knife is for applying filler materials such as drywall taping compound and wood filler. But its dull edge works for it in as far as paint removal is concerned. The dull edge of the putty knife makes it less likely to scratch the siding. In fact, many DIYers prefer to use a putty knife than sharp scrapers that have a tendency to gouge into the work surface.
Another reason why the putty knife works in removing paint is its flexibility. The tool can be bent. This lets users scrape away the paint even at a lower angle.
Still, a putty knife has many weaknesses that make it far from being the best paint removal tool. It isn't ideal for removing paint from bigger surfaces. Also, the blade of a putty knife isn't as durable as a paint scraper. Therefore, there's always the risk that a putty knife may not be able to remove stubborn paint.
Utility Knife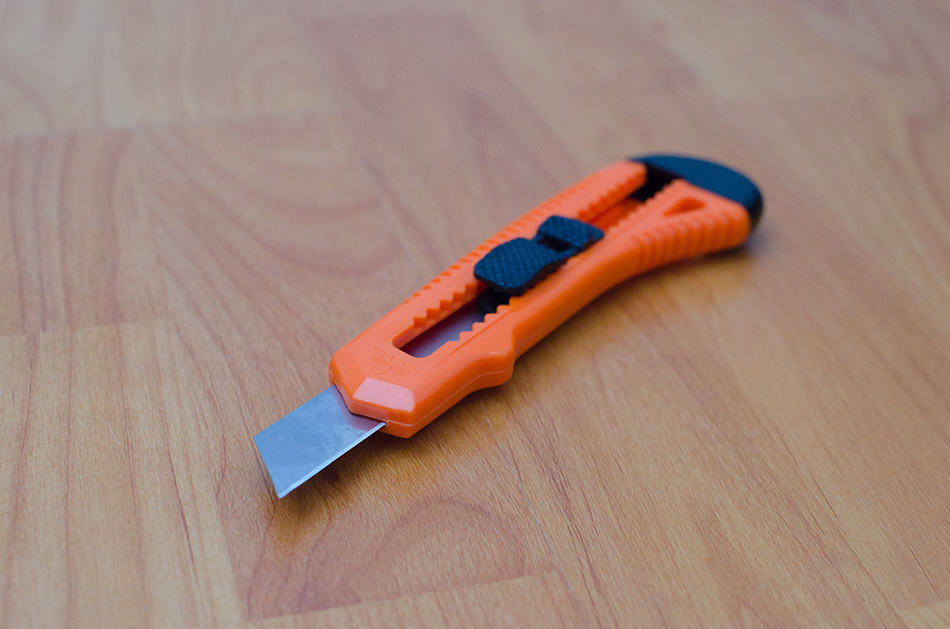 Similar to the putty knife, a utility knife is a versatile tool that can be used in a variety of applications. It has a retractable blade and a lightweight design, enabling it to be carried in toolboxes and even pockets.
The utility knife can be used in cutting drywall, trimming roof shingles, cutting vinyl flooring, and trimming wood shims. Yet, it's also effective in removing loose chips of paint.
You can also use it in removing paint-coated screws. Let's say that after painting a room, you realize that you've accidentally painted screws that need to be removed. With a utility knife, you can scrape out the paint from the slots. Then unscrew it. Just make sure that you have completely removed the paint from the slots in order for the screwdriver to get a good grip.
Oscillating Power Tool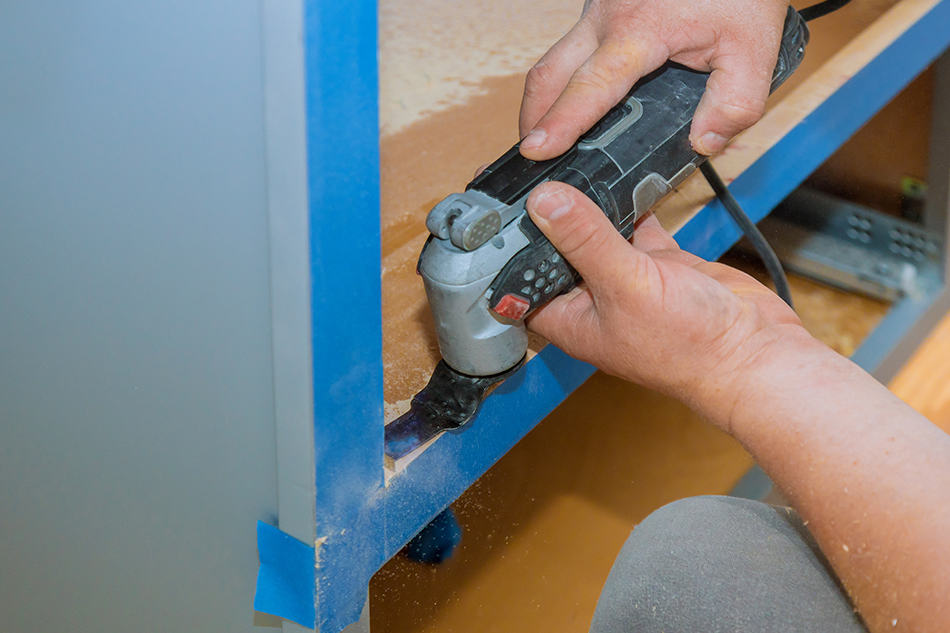 A favorite of DIYers and professional contractors, the oscillating multi-tool can take on a lot of tasks. With the right blade and accessories, it can be used in sanding, grinding, polishing, scraping, and even removing paint. This tool is also easy to use and can fit in small places, unlike other power tools.
You can start the paint removal process with an oscillating power tool by attaching a rigid scraper. You may also use a blade attachment that is thin enough to remove under the paint layer. Then switch attachments by using a sanding pad. This can help in smoothing down the surface.
In shopping for an oscillating power tool, choose one that's lightweight and easy to handle. You'd also want a power tool that has a long cord so you can move freely.
Power Washer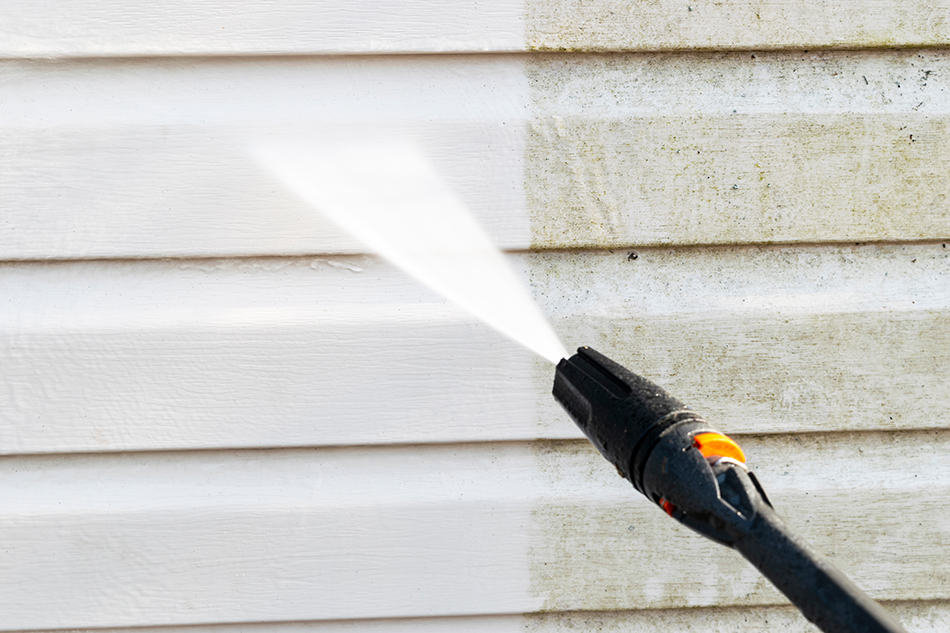 The power washer is perhaps the best tool for removing paint from a house or deck. With a power washer, you can get the job done quicker compared to, say, using a manual paint scraper. You may also find the use of a power washer thrilling or exciting. You can buy one at your local hardware store. There are also stores that offer power washer rentals.
As you may deduce from its name, a power washer blasts a high-pressure stream of water. The water can be hot or cold. Coupled with the high pressure, it can dislodge paint from most surfaces.
There are plenty of power washer models on the market. The most common are the electric-power types. You may want to stay away from gasoline-powered pressure washers as these are noisy and emit fumes.
Now in using a power washer, you'll have to find the right nozzle. Nozzles have different spray angles and pressures. Moreover, you'll need to use a unit with an operating capacity of 3,000 pounds of pressure per square inch as this can provide the power to wash away the paint.
Some experienced contractors suggest the use of a scraper first to peel the paint before using a pressure washer. Others suggest applying a paint stripper so that the paint will be soft enough for the power washer to get rid of.
Sanding Machine
The sanding machine is yet another powerful tool to remove paint fast. Also called a sander, this tool is electrically powered with a moving abrasive surface. The abrasive surface may be a belt, spindle, or disk. It is used for smoothing surfaces.
Sanding machines essentially have two types for paint removal—orbital and belt sanders.
Orbital sanders employ two processes in removing paint. First, the spinning head moves to remove the loose paint as the user moves the tool slowly along the surface. It is not advisable to keep the sander in one spot too long because the rotation can leave a nasty pattern on the surface. Then the sanding attachment helps in removing the remaining paint.
Orbital sanders are also named quarter-sheet sanders because they use a quarter of the standard 9×11 inch of sandpaper. It can be used with one hand. This is a faster sander with a higher OPM (orbits per minute), which indicates that it can make more motions in a minute. Therefore, it can remove paint faster.
On the other hand, a belt sander is one of the more common tools in a modern workshop. It utilizes a sanding belt which is wrapped around a couple of drums or rollers. The front drum moves while the rear drum is motorized. Both drums or rollers move the belt in a single direction.
Belt sanders are available in various sizes. Some are small, handheld-models that can be used in removing paint on flat surfaces. Others are large and designed for deck and floor sanding.
You may also use a detail sander. This is another type of sanding machine, although it's not designed for sanding large surfaces. It's effective and useful, though, in removing paint on furniture. It is small enough to be used in tight spaces. You can also use it to get rid of paint on textured surfaces.
Regardless of the type of sander that you are to use, you should remember to use proper safety equipment when sanding paint. You should wear safety goggles to protect your eyes. You may also wear a respirator to protect yourself from airborne dust. And if you're thinking of sanding layers of old paint, you may want to bring a chip to a hardware store so it can be checked for lead.