Have you ever considered installing an outdoor shower to cool off in summer? Outdoor showers are more than about getting refreshed in the hot sunny weather; they are also excellent plumbing additions that can bring more convenience to your life.
While showering in the rain may be an exhilarating experience, nothing beats having a semi-open shower in your own garden or backyard whenever you want. If you're contemplating about the idea of installing an outdoor shower but still not convinced of its benefits, here are some great reasons that will help you decide. 
Advantages of Outdoor Showers
Ideal for the pool area: if you have a swimming pool, an outdoor shower is the perfect addition that will save you the hassle of going inside the house for a quick wash.
Fast and easy clean up after gardening: a shower after gardening is a good way of cleaning the dirt off. Thanks to an open-air or enclosed shower, you won't have to step inside the house with muddy hands.
Enhance the value of your home: installing an outdoor shower in your patio or backyard will not only enhance the aesthetic appeal of your landscaping but it will also increase your home's value.
An enjoyable outdoor experience: there is no denying that showering outside while being surrounded by the beautiful views of nature is a more enjoyable experience compared to showering in an indoor bathroom. 
Good for your health: a cool shower helps improve circulation and open up the skin pores. But aside from the physical benefits, spending your time in a natural environment can be advantageous for your mental health and well-being.
Convenient for summer guests: when you're hosting an outdoor pool party with lots of guests to impress, why not offer them the convenience of an outdoor shower after a dip in the pool. And to go one step further, add a lockable door and a toilet to save them from using the bathroom inside the house.
An easy dog-washing spot: who isn't tired of muddy paws in the house! If you're like me, you'll quickly summon to the idea of washing your furry friend in an outdoor shower – just don't forget the hand-held nozzle as an added convenience.
These were just some of the many reasons why installing an outdoor shower is highly worth considering. To encourage you further, take a look at the 9 outdoor shower floor ideas below: 
1.  Composite deck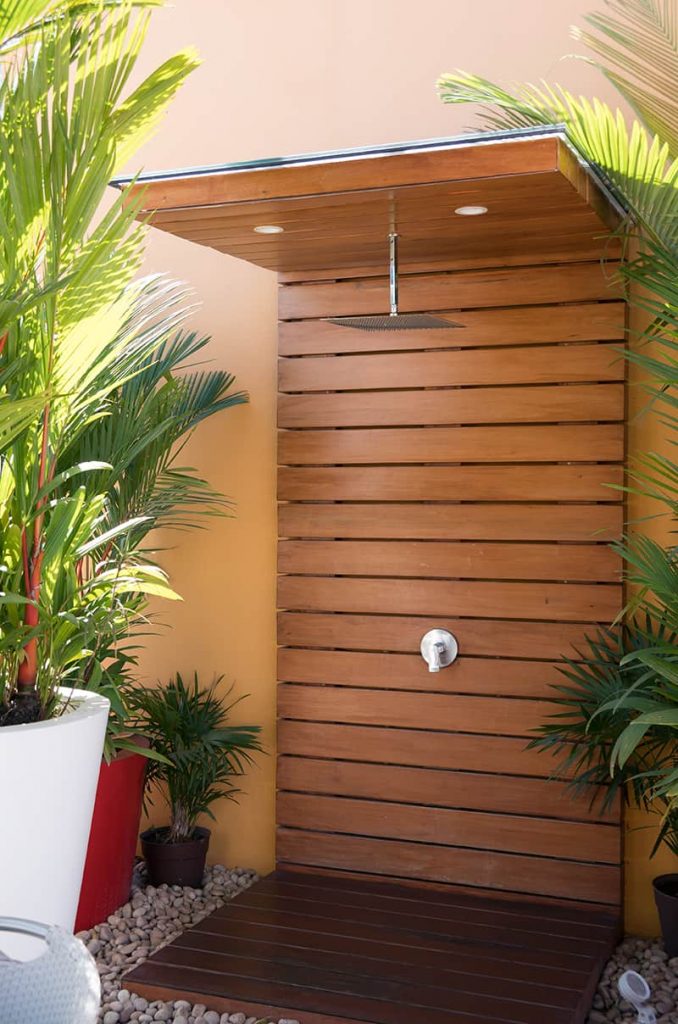 Composite decks are man-made materials consisting of organic and plastic filler. These types of flooring require very little maintenance and mimic the look of real wood. Furthermore, they are splash and slip resistant, thus making them a suitable floor material for your shower. 
Composite is a functional and high-performance material that make it ideal for your outdoor shower floor. There are many styles and colors to choose from so you're guaranteed to find the one that suits your needs. One such composite material is Trex, which has a finish that looks exactly like real wood – but without the need to maintain it regularly. 
2.  Cedar wood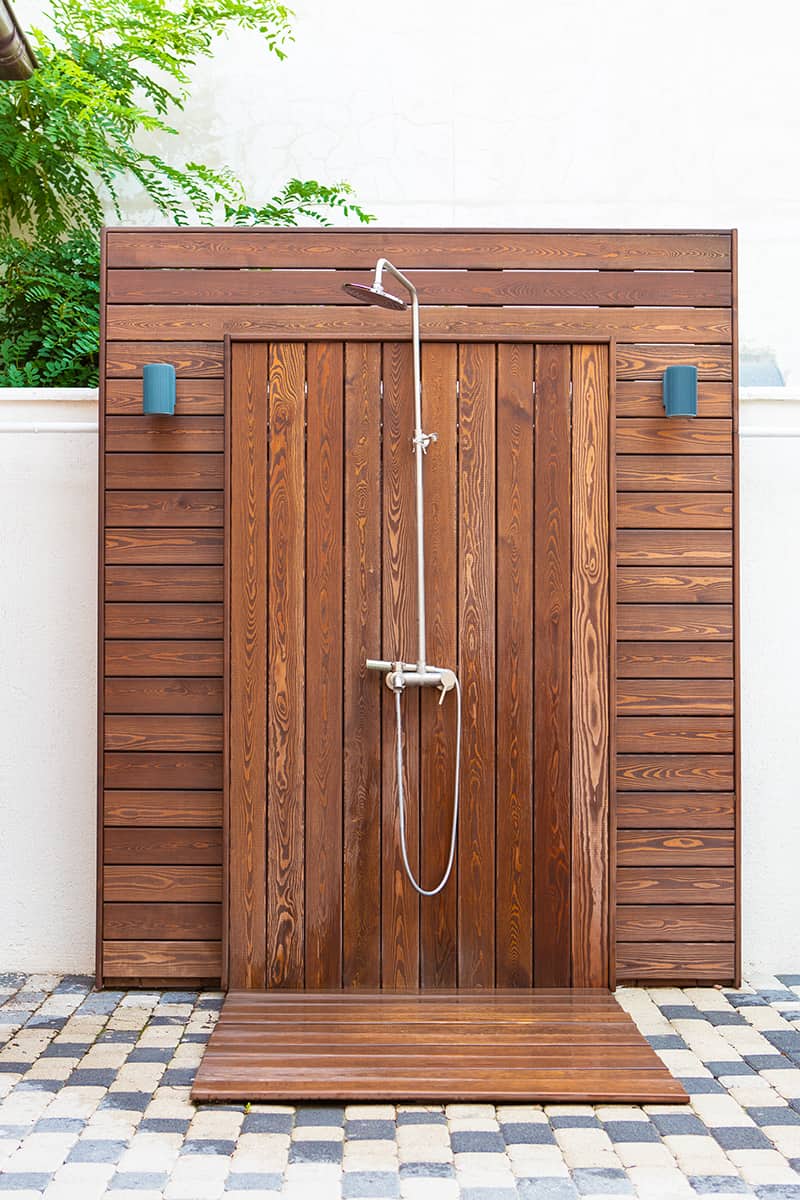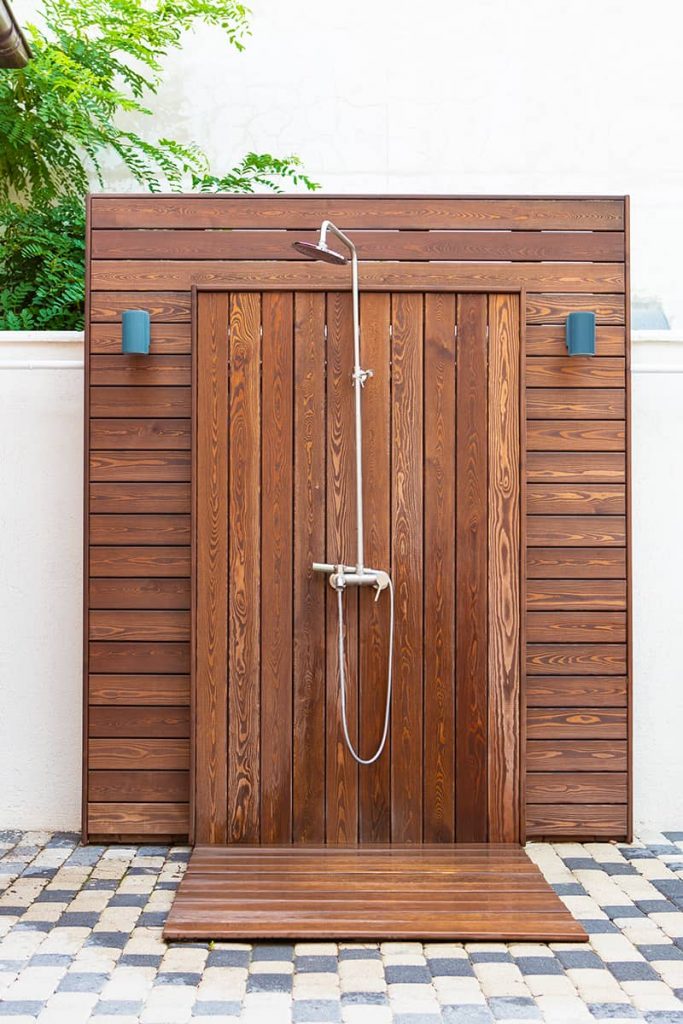 An outdoor shower on wooden decking gives a laid-back and rustic feel. Cedar is a popular type of red wood that's attractive to the eye and boasts aromatic qualities when it's new.
To install cedar flooring in your outdoor shower, it's important to seal the wood prior to the installation. By applying lacquer to seal the wood, you'll protect it from inside out and prevent it from damage. Lacquer penetrates deeper into the wood and you won't need to apply more than two coats to get the maximum benefits. 
3.  Teak wood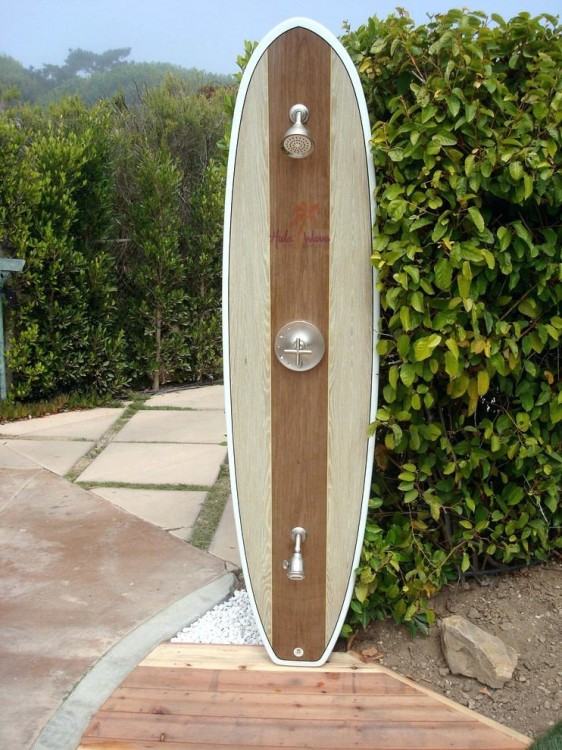 To make your shower stand out, opt for a good-quality teak floor. This type of wooden floor takes the worry out of slipping in wet conditions or feeling uncomfortable while standing on the surface.Teak is a safer and warmer option than other regular floor options. The natural oils in this type of wood prevent the formation of fungus and mold.Teak floors provide a luxurious and authentic feel to your outdoor shower. 
But just like cedar, you'll also need to apply lacquer to teak to make it last longer. This elegant material not only provides extra floor stability, but it also enhances the look of your outdoor shower – especially if the walls and ceiling are of matching material.
4.  Compost pile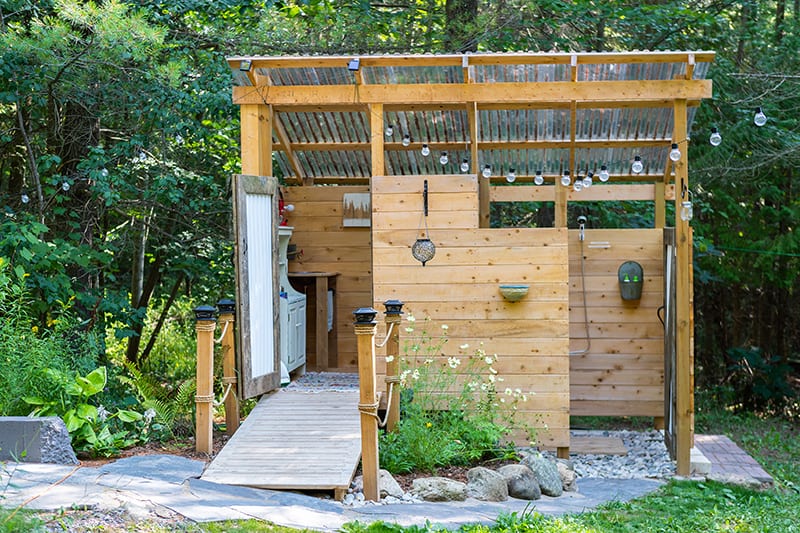 Why not tap into nature by letting the shower water drain into a compost pile? You can use coarse chipwood with layers of seaweed to allow maximum air to flow through the pile. The seaweed layers will also provide a source of nitrogen but you can generally use just about any type of plant-based compost including hay for your outdoor shower flooring.
5.  Pebbles or gravel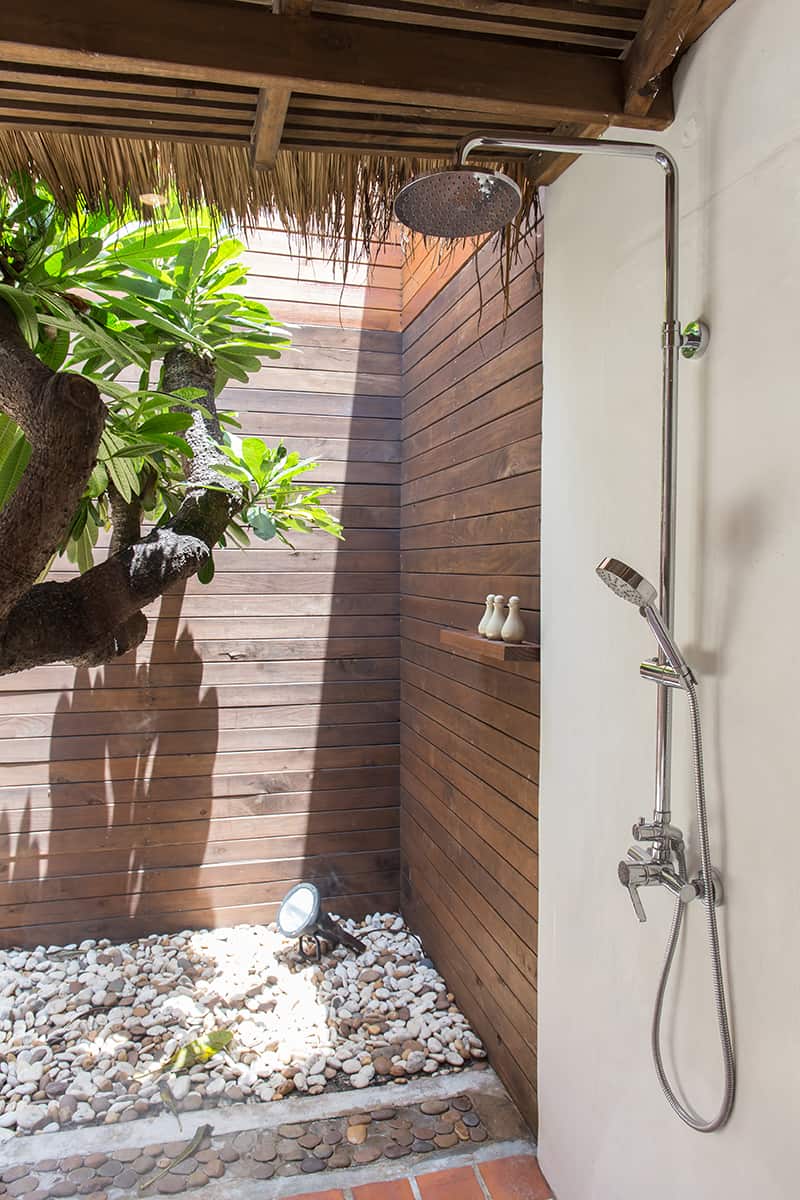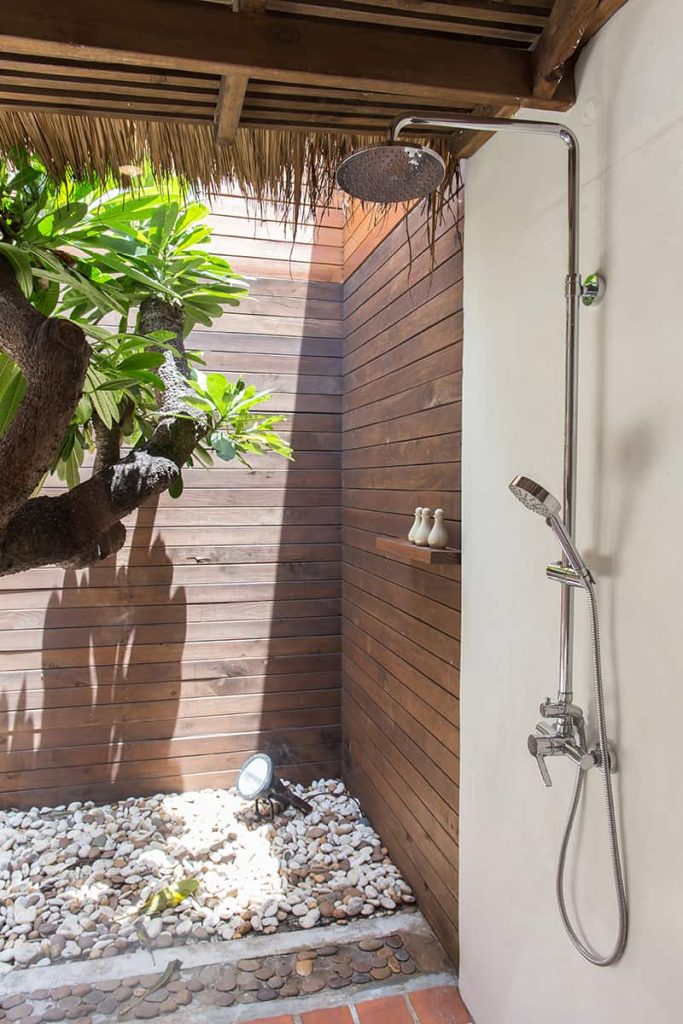 Pebble stones are water-resistant materials that come in various sizes, textures, colors, and shapes. These small, loose stones can easily be spread out on outdoor surfaces for a naturally beautiful finish. And the best thing about gravel stones is that they require little or no maintenance.
When gravel is mixed with epoxy resin, it can provide a durable floor finish for a rustic-looking shower. Tip: for a natural look, use the rounded gravel stones rather than the flat ones.   
6.  Natural stone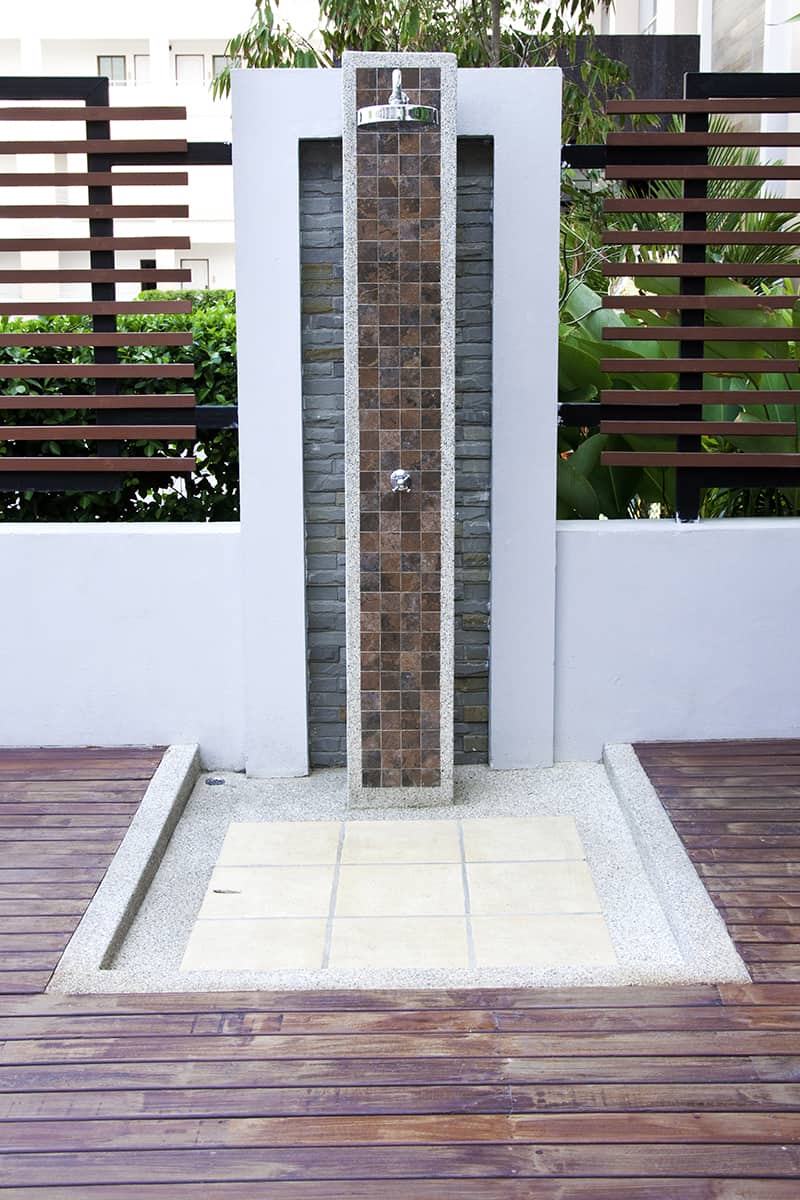 If you don't like stepping on loose stones while showering, consider using natural paving stone in your outdoor shower flooring instead. Stone tiles are slip-resistant and temperature-proof, with many different types to choose from including marble, granite, and slate.
One such stone that's ideal as a shower flooring is travertine. This limestone material absorbs water quickly and keeps your feet cool in the shower. Unlike marble – which is very slippery – you should opt for other porous stones, such as granite, limestone, or slate stone tiles. Stone tiles are generally hard-wearing and easy to maintain/clean, thus making them the ideal bathroom floor material.
Tip: before installing your stone floor, it's important to apply the best-quality grout in order to prevent the buildup of mold, moisture, and mildew.
7.  Ceramic Tiles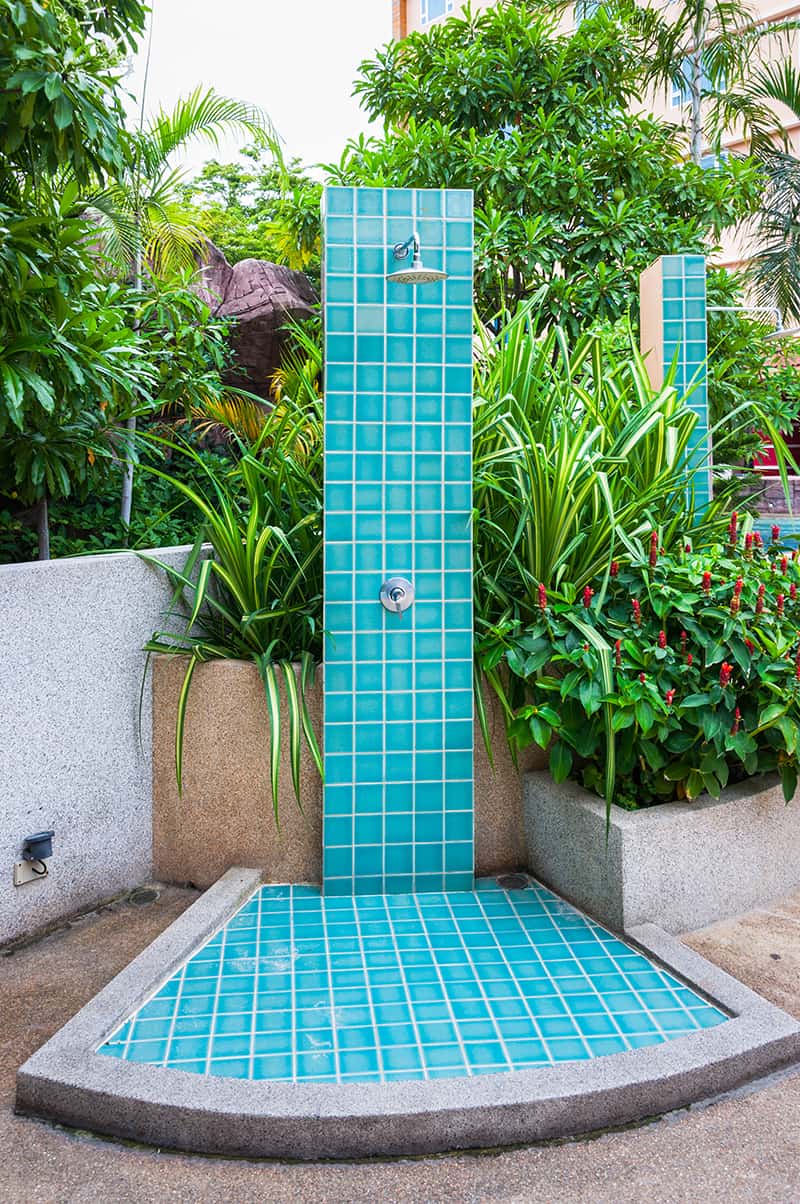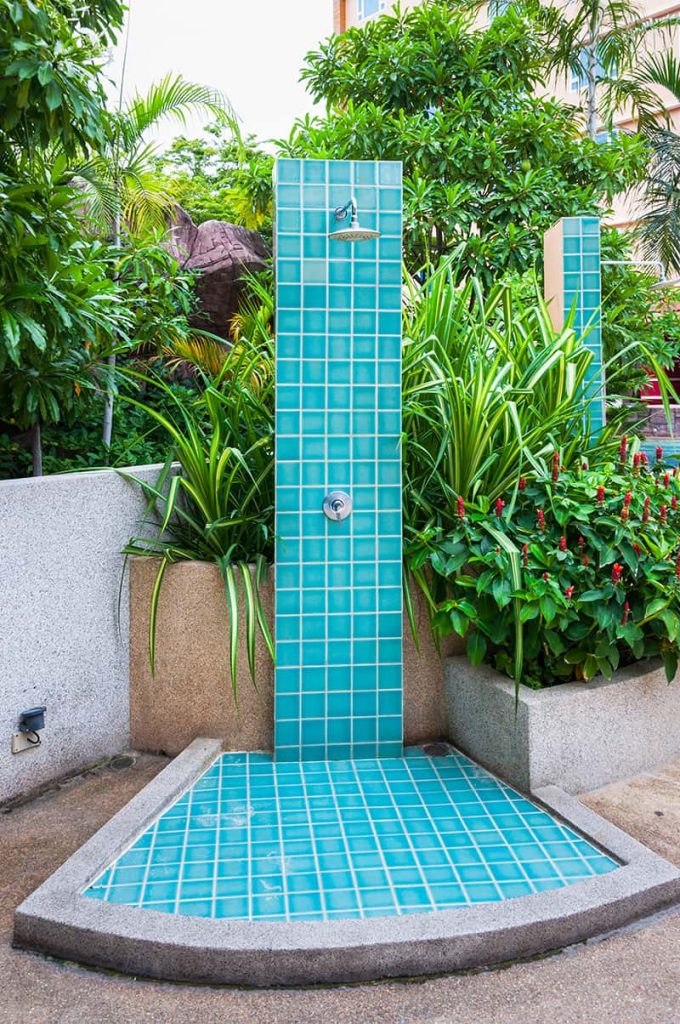 Ceramic tile surfaces can be very dense, regardless of whether they are glazed or unglazed. These types of tiles are easy-to-clean materials that ward off mites and microbes.
Whether you choose ceramic or porcelain tiles, they are both perfectly suitable for an outdoor shower floor as they are slip-resistant, and available in different sizes, textures, and colors. Glazed tiles are highly practical thanks to their protective layer that's resistant to both water and stains.  
8.  Bricks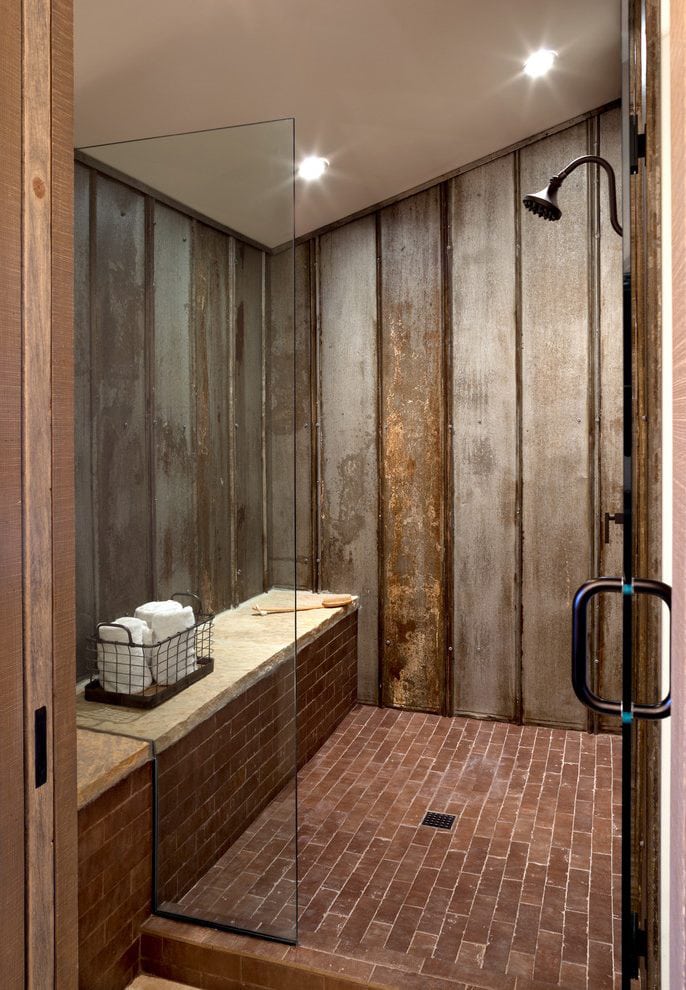 Bricks are warmer than stone, but with more character than ceramic tiles. This type of unique material is mostly used in the buildings' exteriors and comes in different sizes and colors. Paving bricks offer ease of maintenance, with a range of design options to choose from. Brick is a durable and sturdy material, although it is extremely water absorbent.
To prevent mold and mildew growth in your outdoor shower, it's important to stop the water from penetrating deep into the paved brick floor. This can be done by covering the brick paved showering area with an additional flooring, such as teak mat or stone tiles.
9.  Concrete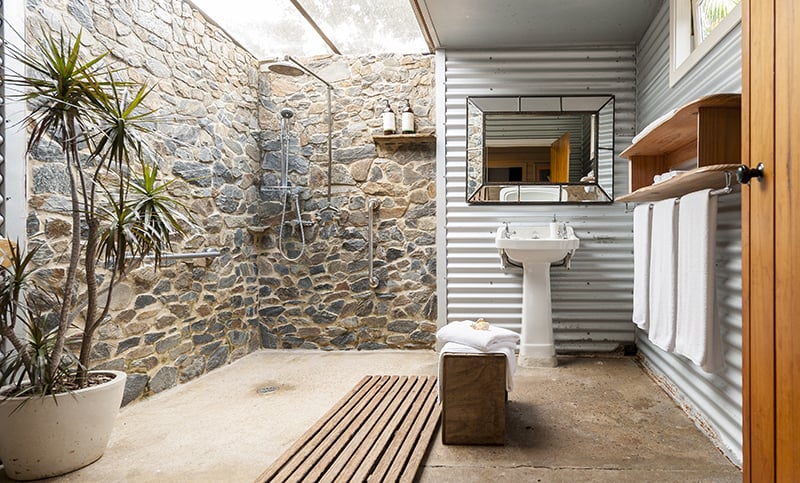 For a non-slip and practical surface, you can choose a plain and simple concrete finish for your outdoor shower floor. During the installation process, give the floor any pattern you like before the concrete is hardened. Be sure to set it at a slope towards the drainage to avoid excess water sitting on the floor. An added option would be to pave over the concrete floor with stone or ceramic tiles. 
Good to Know
Before you go ahead and choose a flooring for your outdoor shower, make sure you pick the right location in your backyard or patio for installing the shower. The location you choose must be a little more sheltered and away from the prying eyes of neighbors. Having the shower installed towards the edge of your backyard rather than the center is probably a better idea when it comes to privacy. Tip: for a more creative and private touch, why not place some thick, exotic plants around the shower area.
If you have a pool, it's best to install the shower closer to the pool area or a location that gets the most sunlight.
The other important consideration is the drainage system. Remember that water must always flow away from your home's foundation and landscaping areas.
Most outdoor showers are installed against the side or back exterior walls of the house for easy access to the cold and hot water. If you only want cold water, (which most people do) the installation process will be much easier and less costly.
If you're ready to take your outdoor living space to the next level, consider installing an outdoor shower as a luxurious feature or relaxing fixture. It's a refreshing, enjoyable, and convenient option to get you through those hot summer months.