There could be a thousand and one reasons why you don't want to get a new dining table right now. For instance, you love the dining table you already own, but you've invited a handful of guests over for the holidays and they just wouldn't fit around your table.
Or perhaps you have sentimental reasons for wanting to keep your old table yet you just need more space. We have found a couple of smart, easy solutions for how to make your existing dining table longer.
Get Custom-Made Table Extender Pads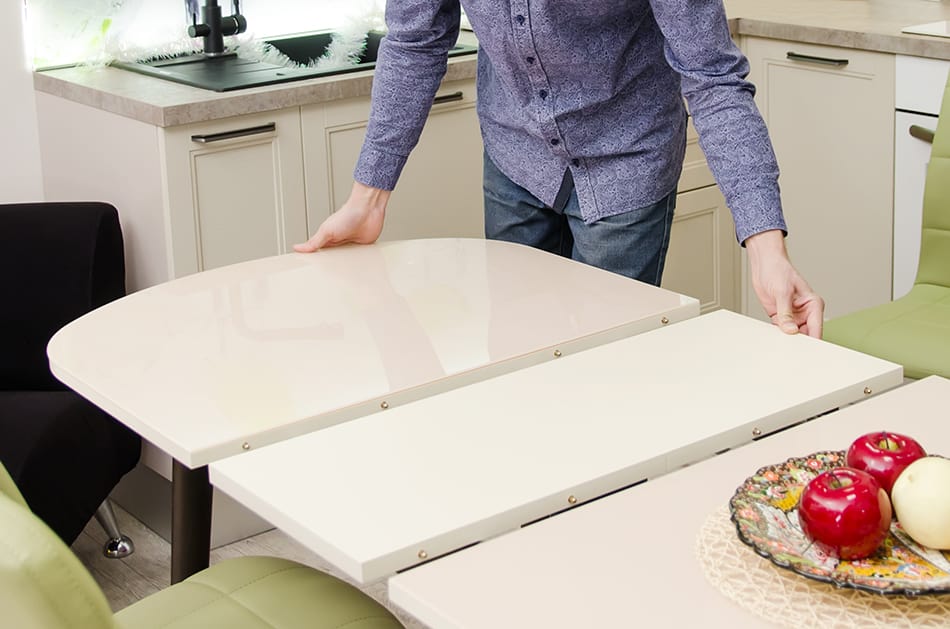 If you've been having trouble creating adequate space on your dining table during large family dinners, table extensions are the way to go. You can double the size of your original dining table just by adding these extenders; it will also create additional legroom for everyone.
A lot of people worry that table extender pads are not sturdy enough to bear the additional weight put on them. Many people also worry about how to make sure that table extenders can remain steady on the table. Fortunately, these days, they are made to fit just right.
You can make sure you're going to get the correct size pad for your table by doing a number of things. For one, you can contact a company that makes extender pads to make bespoke ones for you.
This way your table extenders can be built to fit on your dining table without requiring any additional legs. You could also take your table's measurements and try to DIY the project. You'll find it's worth the effort when you see everyone sitting comfortably around the table at the end of the day.
Add a Leaf to Your Table
Some dining tables come with additional leaves to allow you to keep the table small for when you're eating alone and then pull out an extra leaf or two when having guests. Some of these tables can be bought with extra leaves, while others come with just the space for an additional leaf. You can add a table leaf to a dining table to make more space on your dining table.
It's quite inexpensive to add a new leaf and extend your table; all you need is a little bit of patience and creativity. If your table doesn't come with extra leaves, you must try to find the same leaf like the one on your dining table, so that the new leaf matches the table. This means that when you are shopping for a leaf, you must check the labels on the new leaf to make sure that the thickness matches that of your dining table.
If you can't find the exact leaf in stores, you can easily get one made for you. Go to a woodshop and get the kind of wood you would need for the new leaf, then go to a mills shop and ask for one to be made from the wood. It could be made in an hour or two.
Afterward, paint the new leaf in the same paint as your dining table. When the paint is dry, release any locking mechanisms (e.g buckles, clasps) beneath the table so that you can pull the table apart.
Pull the table apart until you have a width large enough to fit your new leaf. Place the new leaf at the center of the table, there is most likely a board underneath the table to hold the new leaf. If the board can't hold the new leaf, you may have to build some new support for your new leaf.
When you are done fitting the new leaf, ensure that there is no space left between your old leaves and new leaf, do this by pushing the table back together tightly. Now lock the clasps or buckles underneath your table to ensure that your leaves remain in place. There you have it, a longer table.
How Do You Make a Round Table Bigger?
How do you make a round table bigger? Let's say you purchase a 48″ round table for your dining room. It looks great and every family member loves it, but just one little problem, it's too small to fit everyone's chair around. You don't want to replace the entire table; you just want it to be a little bigger.
Simple solution, you can have another top made from plywood or medium-density fiberboards (MDF). A 60″ top, for instance, made from plywood, would be easy to put over your 48″ table.
Plywood isn't heavy, so there would be no need for additional legs. Plywood tops are also easy to store when not in use. When in use, you need to anchor the top so that it won't slide around. To do this, you can use a thick pad of rubber matting. You can also use piano hinges to secure your table.
Extendable Dining Tables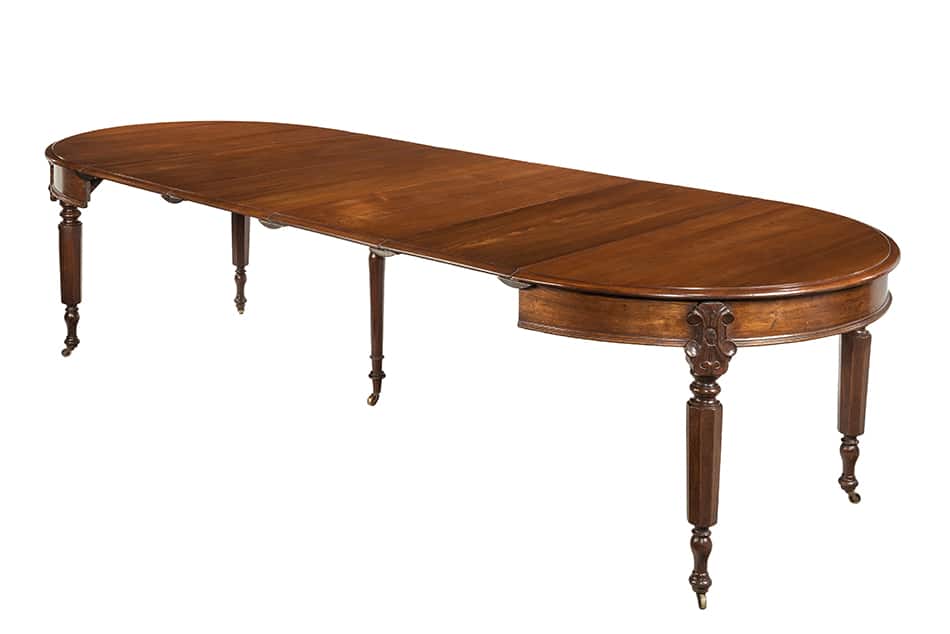 Extendable dining tables are a perfect way to make the most of the dining room space you have. With extendable tables, you can spread out your dining table to accommodate your guests when you have them over; when they're gone and you find yourself needing more space, you can fold in the extra leaves. Basically, you can have the leaves closed up for most of the year, only extending them for celebrations, parties, and holiday dinners.
Asides from allowing you to maximize space, extendable tables are also loved for their versatility. They also come in a wide assortment of styles and designs, which means it would be quite easy to get a design that matches your existing décor.
These designs come in circular, rectangular, bow-ended, and boat-shaped forms for the tabletops and can easily be custom-made to fit better into your room.
Putting Two Dining Tables Together
Ever found yourself with two dining tables but just one dining room? If none of these two tables are long enough to fit everyone individually, you can push them together, end to end, or side by side so that there is enough room to fit everyone around the table. Joining two dining tables is always a good idea when entertaining particularly large groups because sometimes one table proves to be too small and people end up being squeezed around the table during dinner.
When joining two tables, you should try to get some uniformity by using tables of similar height and length. You can cover the joined tables with a large table cloth to make the joining less conspicuous. You could also place a large beautiful centerpiece along the line where the tables join. Put matching seats around your joined tables for even more uniformity.
Converting a Round Table to a Square One
There are tons of reasons why one might want to convert their round table to a square one. For instance, you might want to join two tables, but one is square while the other is round, and so you want to convert the round table to a square one for a better fit. You might also want to change the shape of a table for practical reasons.
For instance, round tables make great center tables but square tables fit better in a corner. It is easy to make a square table from a round one with just a little adjustment.
If you want to make this change temporarily, try laying a square piece of plywood across the round table; hold this down with some rubber matting. To make a more permanent alteration, you'll need to take proper measurements before sawing off the edges of the round table to make a square one.
How Do You Modernize an Old Dining Table?
If you've got a dining table that requires a little makeover, don't sweat it. Dining table makeovers are pretty easy, especially if you like the shape and basic makeup of the table and just want to give it a bit of a modern look.
First, dismantle the parts of the table you want to replace. Then sand down any old finish on what's left of your table. Use an electric sander to make the job easier. If the sander isn't working, try buying a stripping gel. Put the gel over the table, cover with a plastic wrap and leave to sit for a bit; this should get any old finish off your table.
If you are buying any additional inserts for your table, make sure they fit with the old table. For instance, make sure any new wood maintains the same thickness as what's left of the old wood, additionally, sometimes you have to add some support under the table to hold up new inserts.
When putting your table back together, make sure there are no cracks and holes. If you find any, you can fill them up with stainable wood filler.
When you are done putting your table together, you'll have to stain it to have it look beautiful again. Before staining, you could try using a wood conditioner to make sure the entire table takes the stain at the same time. Seal up the stain with three coats of polyurethane and you have yourself a new dining table.