There's no question that a sliding glass door can make your home look elegant, pleasing, and inviting. A sliding glass door, with its large glass panes, can let air and natural sunlight into your place. Moreover, sliding glass doors are easy to clean and operate. These are just some of the reasons why many homeowners opt for sliding glass doors.
But while there are many advantages of sliding glass doors, there are also some inherent weaknesses. One of these weaknesses is its security risk. Burglars can get inside the house if there's no locking mechanism installed.
And there are the less serious but still irksome issues like toddlers slipping into the patio because the sliding glass door isn't locked. These scenarios underline the importance and value of installing a strong and robust locking mechanism for sliding glass doors.
The good thing is that there are plenty of sliding glass door types you can choose from. These include:
Double Bolt Lock
The double bolt lock is perhaps the most widely available security solution for sliding glass doors. You can get one from your local hardware store. You can also buy one from a home improvement center. Aside from being widely available, the double-bolt lock is cheap and easy to install.
You won't need a professional to install a double-bolt lock for your sliding glass door. Installation is easy as you simply have to affix the larger piece into the door and the smaller one into the door jamb. It's up to you to determine the height at which this lock is installed, taking into consideration the height of other people in your house.
Of course, the double-bolt lock has its weaknesses. While it may provide security to a sliding glass door, it may not be enough to ward off a relentless burglar. Also, it may breakdown after several years of use, especially if you buy a cheaper or low-end model. You may argue, though, that the relatively low price of a double-bolt lock makes replacing or upgrading it a non-issue.
Mortise and Hook Style Door Lock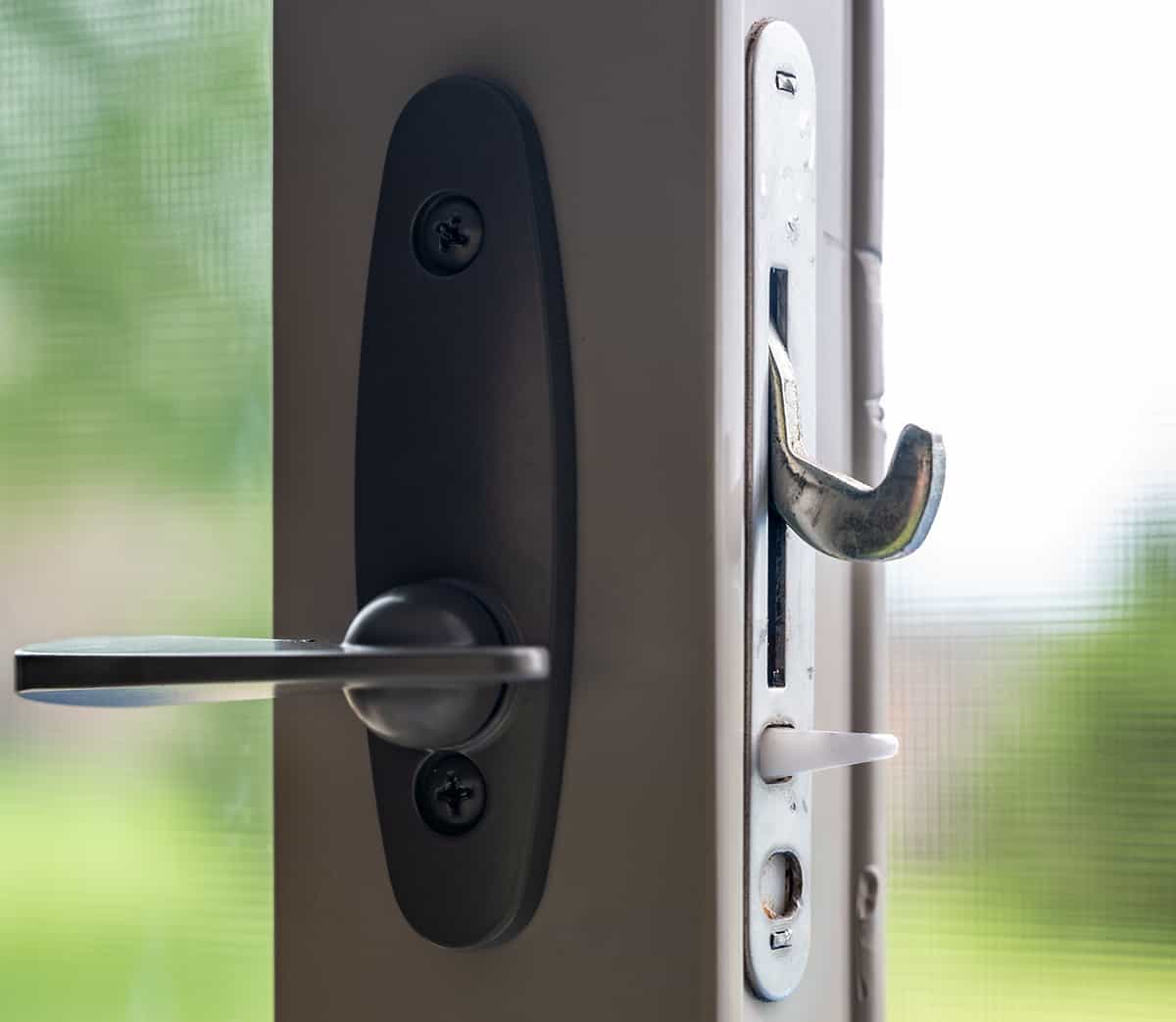 This type of lock, meanwhile, fits inside the door panel. The lock hook, fully independent of the handle, operates the thumb latch. Similar to the double-bolt lock, it installs easily on most patio doors, especially those with existing holes for handles.
It also allows for numerous options for the exterior trim. And like the double-bolt lock, it's fairly cheap.
The problem with this kind of lock is that you can only lock it from the inside. If you are outside and it's locked, you would have to find another door or entry to get into the house. Still, this remains one of the more popular types of locks for sliding glass doors.
Another issue that may crop with the use of this lock is durability. The handle may not be strong enough to last for years, especially if the slider is hard to open and close.
Offset Thumb Turn Lock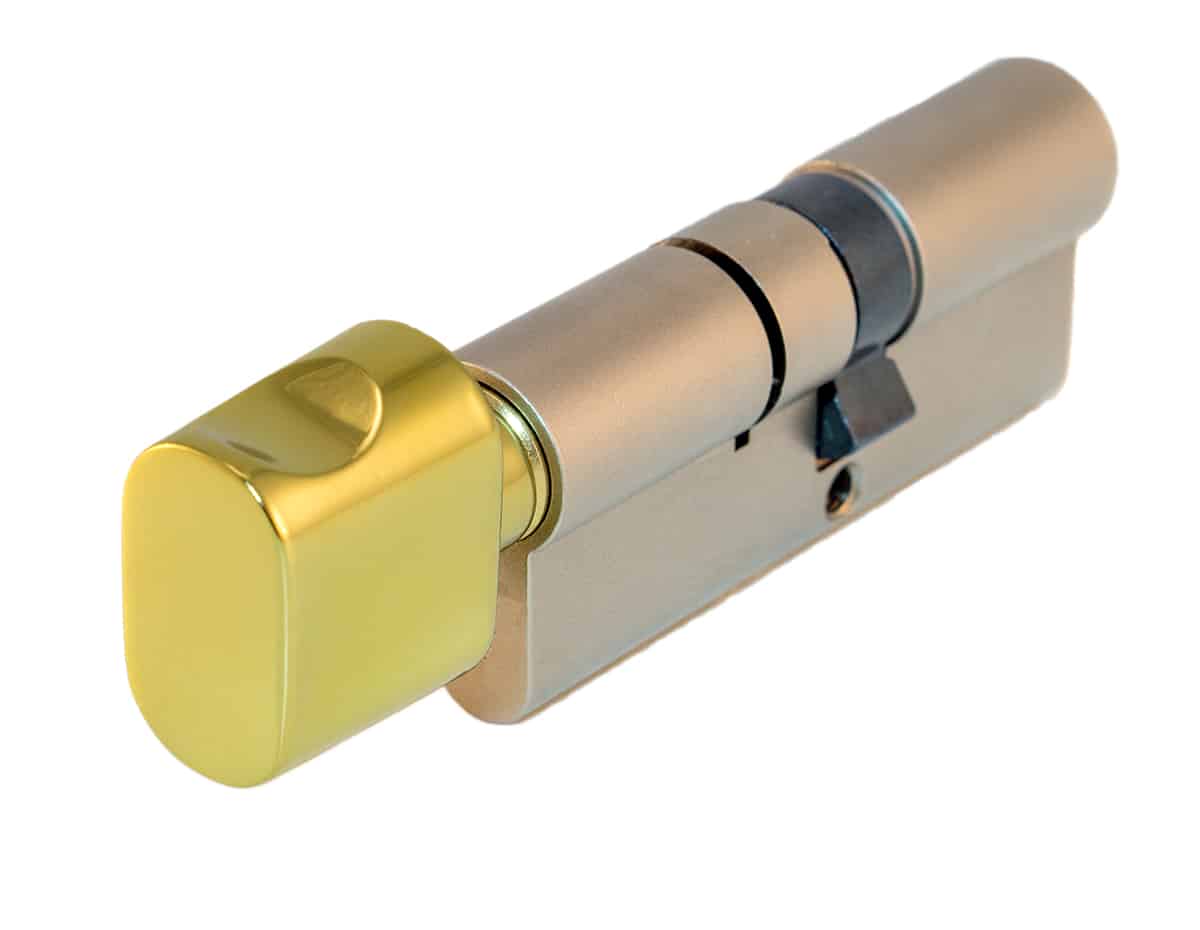 This is similar to the previous lock type. Like the mortise and hook style lock, the offset thumb lock's latch is placed on the door. It then hooks into the receiver connecting to the frame. The difference, though, is that the thumb latch is part of the handle. There's an advantage to this set-up as it makes it easier for you to reach the thumb latch when you are locking the door.
But again, it has its weaknesses, foremost of which is that it only works from the inside. This means that, like the mortise lock, it can only be locked when you are inside. When you are on the patio, and the sliding door is locked, you'll have to find another way or entry into your house to get in.
Sliding Door Loop Lock
Like the double-bolt lock, this is an easy-to-install lock that's widely available at home improvement stores. One side of the sliding door loop lock attaches to the frame while the other attaches to the door. This way, it secures the door to the jamb.
It's easy to use, too. You simply have to lift up and glide the longer loop into the receiver. Pull it up and out to open.
The ease of installation is perhaps the best advantage or benefit of using this type of lock. You can install a sliding door loop lock without the need for sophisticated tools. You can also mount the latches anywhere along with the frame, giving you lots of flexibility in installation.
This type of lock has its disadvantages, too. Similar to the double-bolt lock, it can only be locked inside. You can't lock it if you're on the patio. Also, this isn't the most reliable or robust lock for your sliding door. Professional burglars may be able to eventually break in. Still, it could serve as a secondary layer of protection for your sliding glass door.
Keyed Lock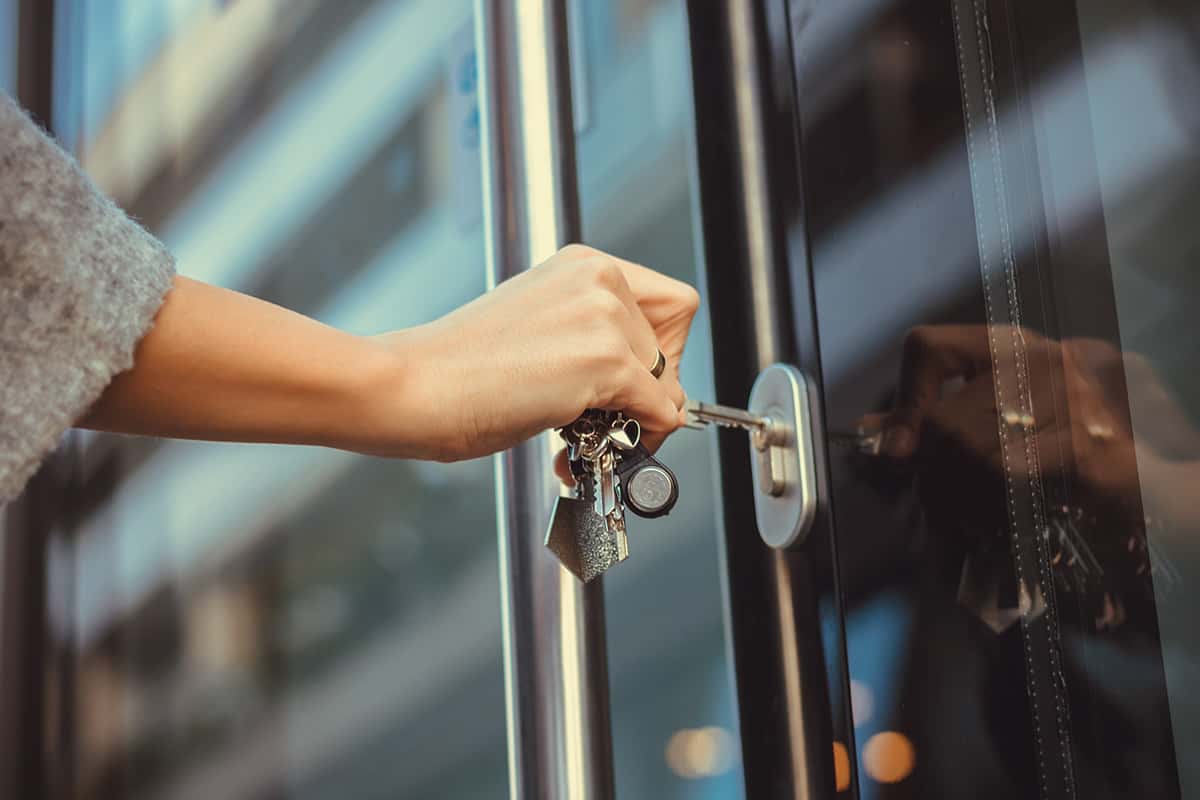 If you want to lock your sliding door both from the inside and the outside, then you should get a keyed lock. Key locks come in various styles like flush mount, mortise sets, or thumb set. Regardless of the type of keyed lock, you want to install, check first if it would fit into the knock-out hole on your sliding glass door before buying.
There's no denying that the single biggest benefit of having a keyed lock is that you can lock the sliding glass door from either side. Whether you're inside the home or on the patio, you can lock the sliding door with a keyed lock. In short, it works whether you're indoors or outdoors. In terms of security, the keyed lock is very secure, especially the double-cylinder keyed deadbolts.
However, there are also downsides to using a keyed lock. One is that you'll be out of luck in case you lose the key. Moreover, the installation of a keyed lock isn't as easy as the other locks mentioned in this article. You'll likely need a lot of unique tools, such as a driver and a large drill bit for the bolt, when installing a lock with a key.
Twist-In Patio Door Lock
This is another door lock that provides another level of security. While many homeowners regard this as a secondary layer of defense, it should still help keep your door closed or in a ventilating position. Moreover, since it is installed inside the house, it can be difficult for a burglar to pry or lift the door with this lock installed.
A twist-in patio door lock consists of two parts. One is the base which is designed to be mounted at the door jamb, and the other is a small, metal pin. The latter slides into the base to secure the glass door.
One advantage of this lock is that it's easy to install. You can install it in any position, like the header close to the stationary panel of the door jab for extra strength and convenience. It's also cheap and readily available in most hardware or home improvement stores.
However, this isn't the most secure lock for a sliding glass door. A persistent burglar may be able to find a way to rattle and jiggle the door, resulting in the lock getting loose.
Door Lock Pin
This sliding glass door lock also uses a pin, but this one protrudes through the frame of the door. In securing the door, the steel pin engages in the frame.
The steel pin practically prevents the panel from being lifted off the track or from sliding. It would also be difficult to jar it loose from the door. When not in use, the pin can be stored in a nearby steel holder. It's a simple security device that can add another layer of secondary protection to your sliding glass door.
Like most of the locks listed in this article, the door lock pin can only be locked when inside the house. It doesn't come with a key lock. Still, this is a cheap and easy-to-install lock that can prove to be an easy fix for locking sliding doors.
Security Bar
You can also opt to install a security bar to provide protection against burglars trying to break into your house. A security bar for a sliding door creates a barricade for anyone who's trying to slide the glass door and open it.
One side of it features a stopper to flank up against the jamb, while the other has a groove that you can slot into the door. It is installed at the bottom of the door jamb, just between the wall and the active slider.
The security bar is ideal if you live in a rented house and you're not allowed to drill holes but still want to add security for a sliding glass door. You can also adjust the position of the security bar depending on your needs or wants.
Some variations also have a highly sensitive and loud alarm. This feature is designed to deter an intruder. In case of an attempted break-in, the security bar will alert you up to a thousand feet away. This function is a nice must-have if you're considering getting a security bar for your sliding glass door.
Windows Lock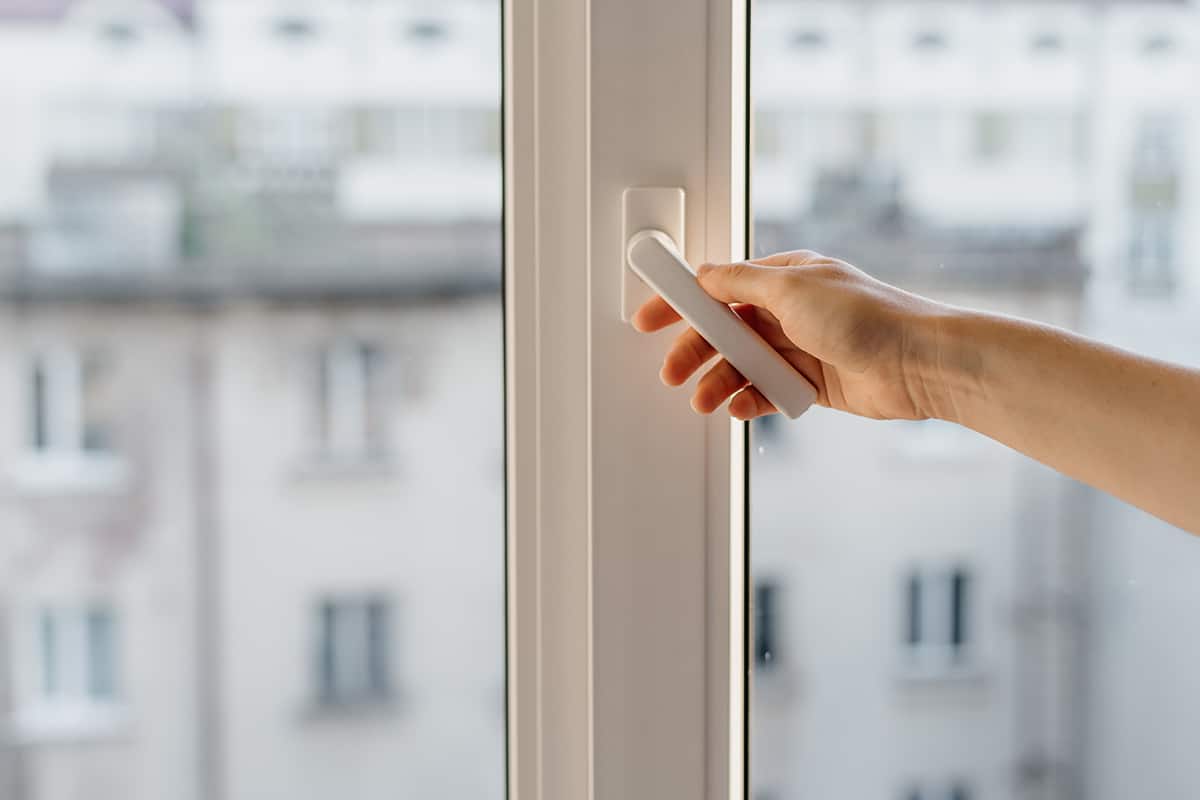 This is an ingenious, cheap, and easy-to-install solution for securing your sliding glass door. The windows lock is designed to slide into the track of the sliding glass door. It acts as a clamp, preventing the sliding glass door from being moved. Think of it, too, as a doorstop that prevents anyone from opening your sliding glass door.
Sure, this isn't the best in terms of security, but if you're a parent who just wants to keep your toddler from opening your sliding door, then this type of lock should suffice. It can also let you keep the sliding door slightly open and let a bit of fresh air from outdoors. It is so easy to install that you won't need to use special tools.
Smart Locks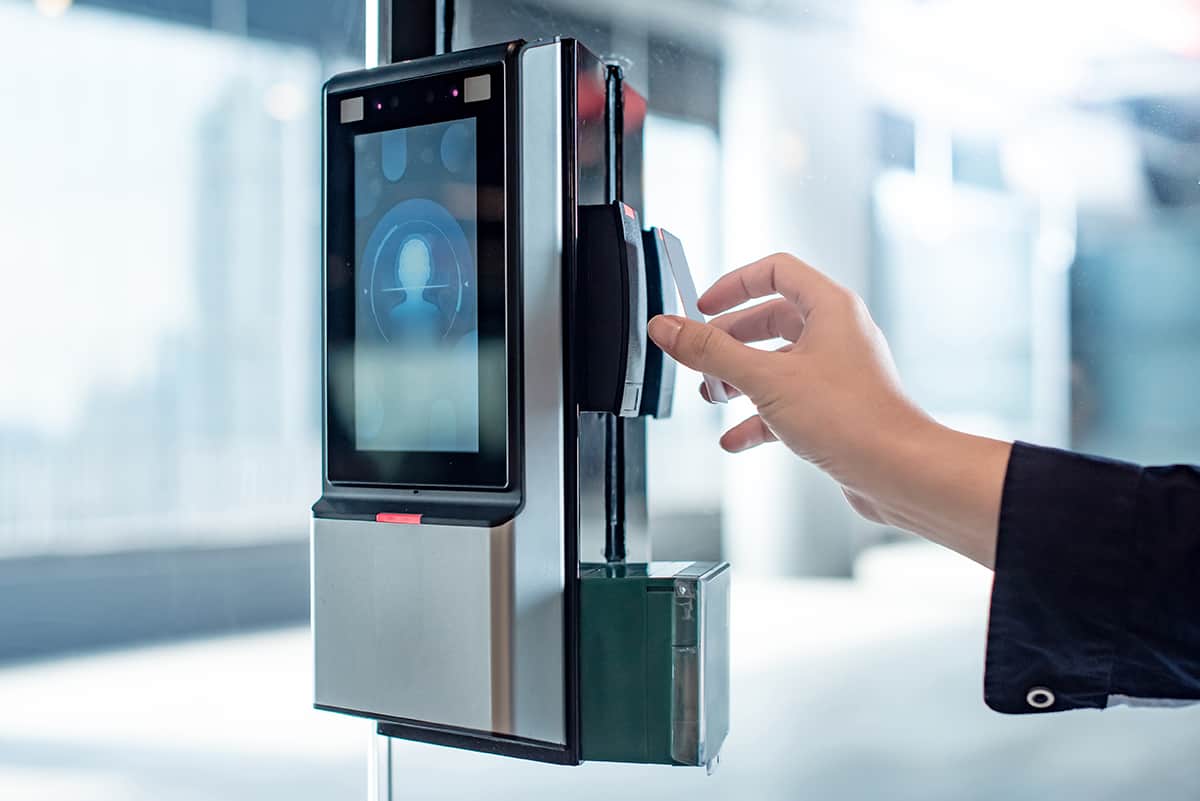 Smart door locks represent the latest and most modern lock option for sliding glass doors. As you might have guessed, this is a type of door lock that's fully automated. Aside from providing a high level of security, a smart door lock integrates wireless technologies like WiFi and Bluetooth, giving you unparalleled control over it.
There are plenty of reasons why you should consider investing in a smart door lock. One is that you won't have to carry keys with you. With a smart door lock, you can lock or unlock a sliding glass door with a voice command or a push of a button on your smartphone.
You can also benefit from the advanced technology incorporated in smart locks and secure your home. For example, a smart door lock usually comes with a built-in security alarm. It will generate a loud alarm in case of an attempted burglary. You can also monitor if there's someone who's loitering around your property with the anti-peep function of a smart door lock.
You can also control it with your voice, as most smart door locks are integrated with voice control features. And you can assign virtual keys to your family members, friends, and guests, so they can open your sliding glass door when they are at your place.
Of course, there are some drawbacks to having a smart door lock. You'd obviously have to pay more for it than, say, a security bar or a windows lock. Installation may also require professional services. But if you're willing to pay for a premium and high level of security for your sliding glass doors, then you should definitely go for a smart door lock.
Now that you have understood the pros and cons of each sliding glass door lock available on the market, you can now decide which one's the best for you, taking into consideration your needs and budget.