Information technology – and the pandemic- have created a new shift in our work or study lifestyle. Thanks to the convenience of computers, remote working and learning are becoming a new norm.
Those who work or study at home will need a dedicated space to focus on their tasks. A typical home office needs a computer, file storage, a printer, chair, and stationary space. But the question is, how do you determine your desk size when these items come in all sizes, shapes, and configurations? It can be confusing to narrow down your options when deciding on the best desk size. This is why we have put together some useful information about typical desk dimensions to get you started.
Understanding Desk Measurements
Before we go into detail about the average desk dimensions for many types of desks, you need to ensure you understand how a desk is measured as this will affect your room's available space. People often get confused between the depth and width of desks, which is why they end up buying the wrong sized desk. Take note of the following measurements:
Width of the desk: measure the desk from left to right.
Depth of the desk: this is the measurement from the back of the desk to the front for maximum legroom.
Height of the desk: the measurement from the base of the desk to the top.
What is the Standard Height of a Desk?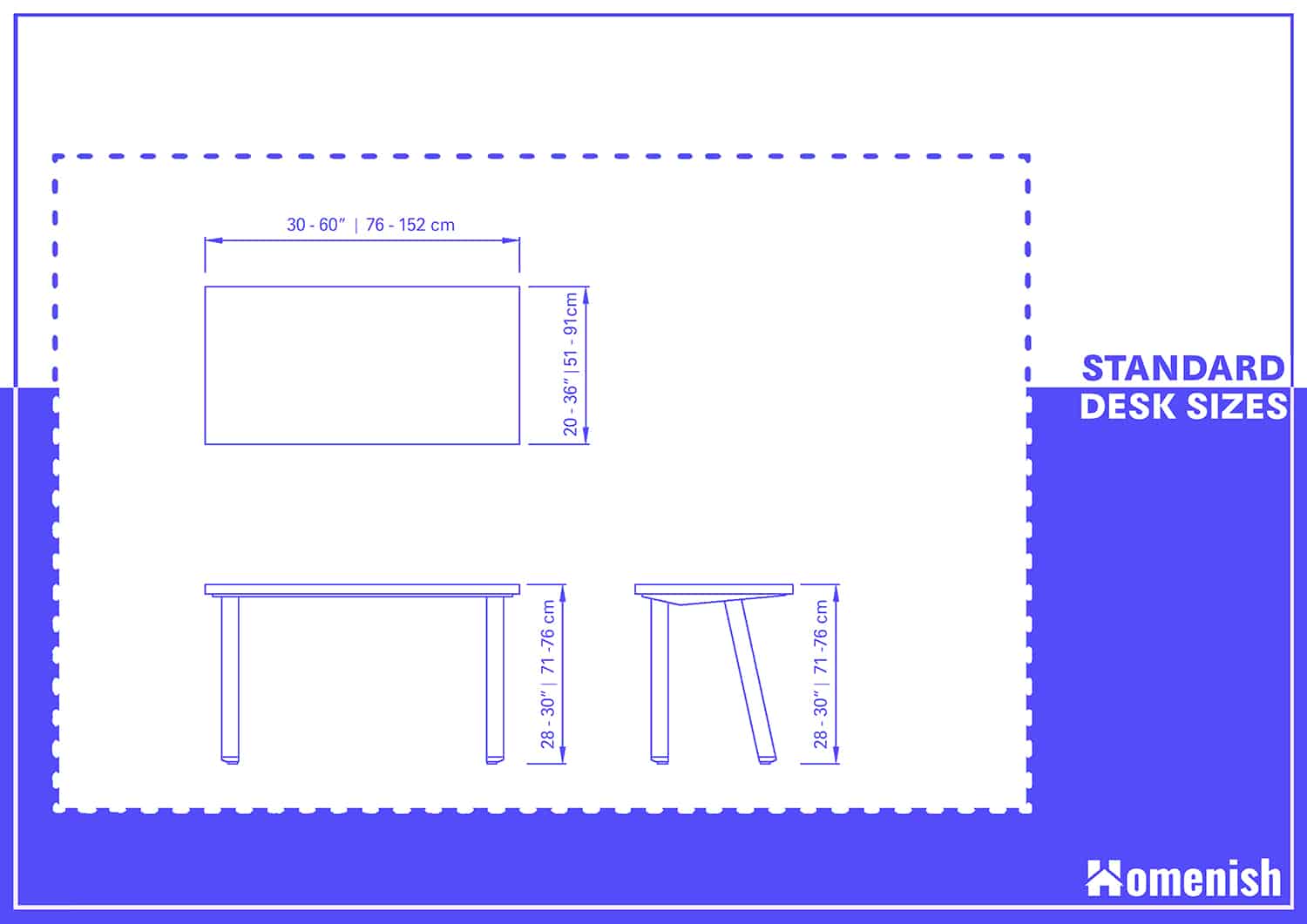 For an adult with an average height of between 5.5 feet and 6 feet, the height of your desk should be around 28 to 30 inches (71 to 76 inches). This will allow you to sit comfortably behind the desk without hunching down.
However, if you are much taller than average (6 inches and above), you may want to consider height-adjustable desks or any desk with a height of above 30 inches. These types of desks allow you to move the height of the desk to a comfortable position for when you're standing or sitting behind them. These desks are ideal for people who want to avoid sitting at their desks for long periods.
Typical Desk Dimensions
Student Desks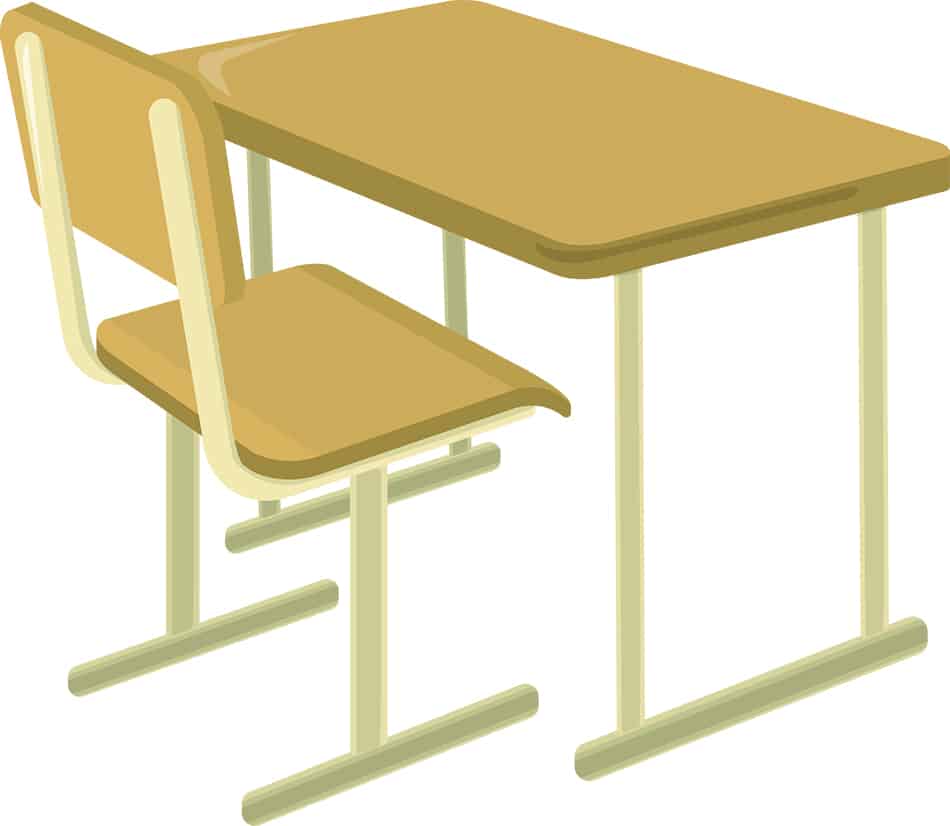 Student desks are typically not as large as they should be. In fact, most don't provide enough space for all your books, stationery and other study kits. As a result, you may end up with a student desk that's smaller than average.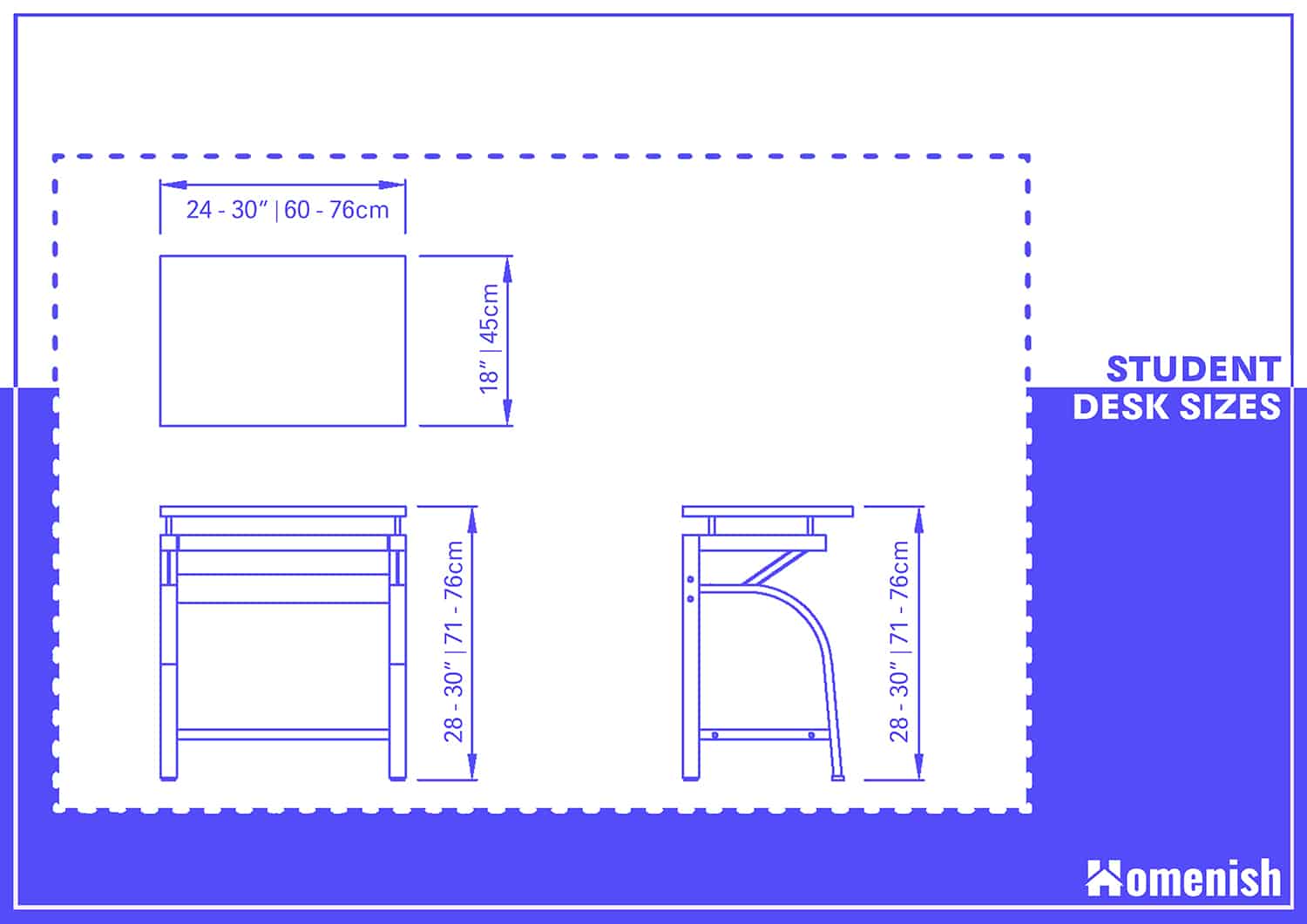 If you look at the typical student desks on the market, you'll find them to be no bigger than between 24-30 inches in width and 18 inches long.
Office Desks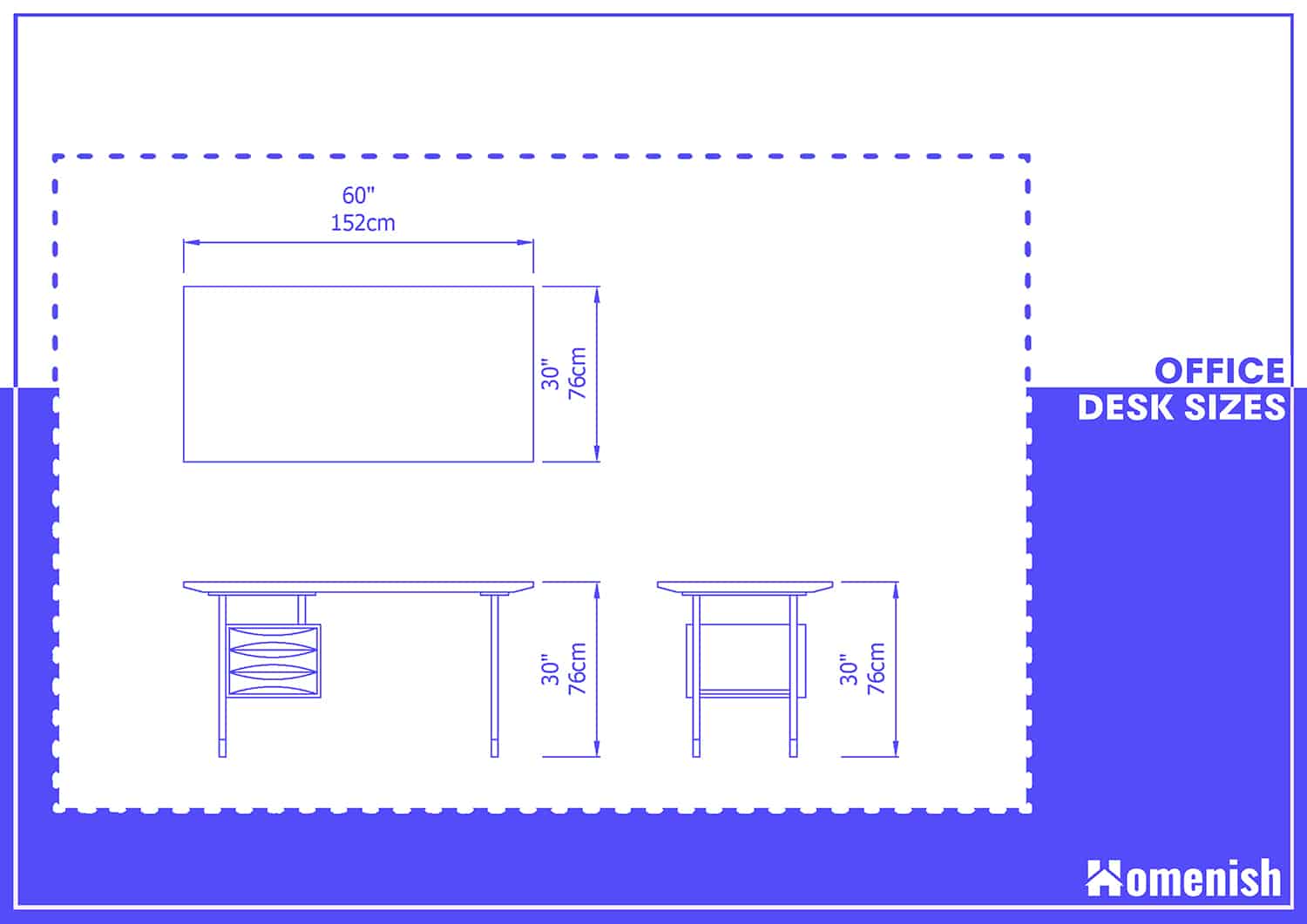 Office or executive desks have the largest work area with the most storage options. These types of desks are usually designed for professionals who need the most efficient workspace. Such desks typically feature a large desktop and a pillar on each side of the desk.
A standard office desk is typically 60×30 inches or even bigger. These desks are designed to offer a maximum workspace with a surface area that accommodates a computer monitor, keyboard, filing trays, a lamp, and a writing area.
Computer Desks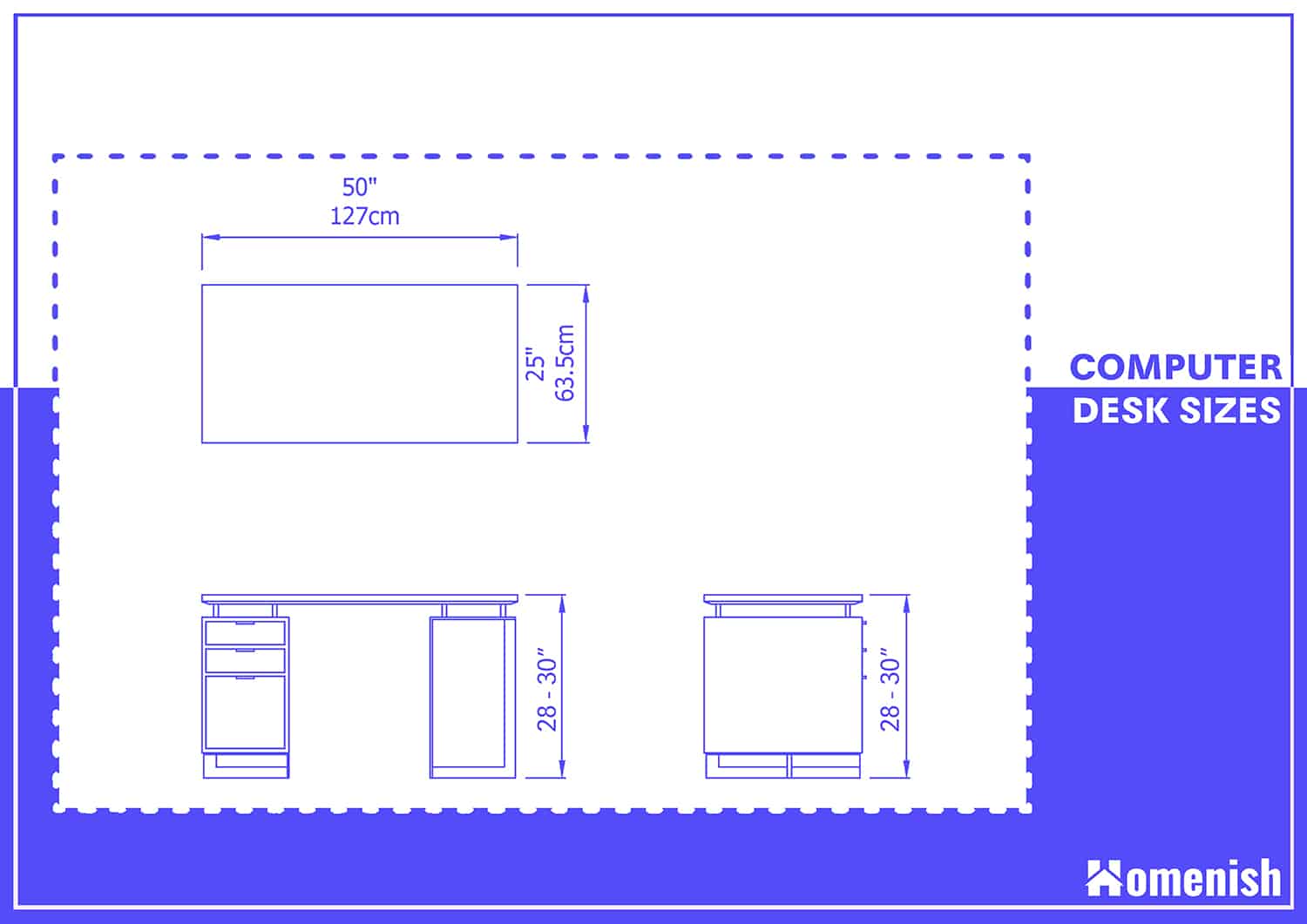 A standard computer desk size is 50×25 inches. The depth of the computer desk needs to be large enough to fit a keyboard and monitor. These space-saving desks are usually in home offices, libraries, and study rooms. Some computer desks feature a pull-out tray under the tabletop to accommodate the computer's keyboard and mouse.
L-Shaped Desks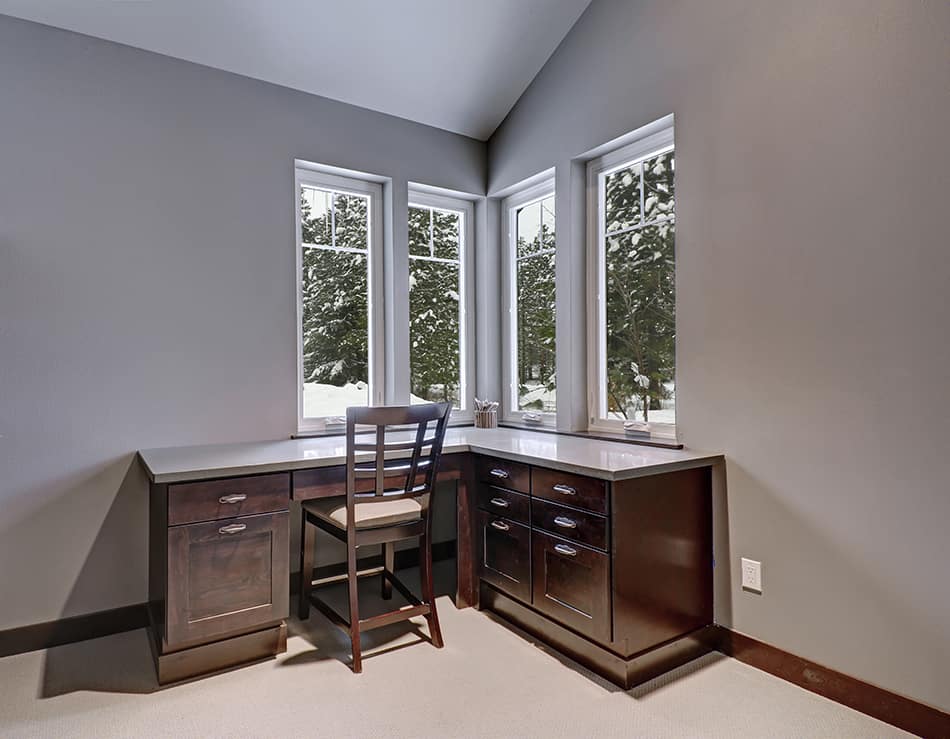 L-shaped desks are the best solution for both studying and working. What you get are two desktop areas that are connected at the corner, thus allowing you to change positions and use your PC or write. L-shaped desks are ideal for dividing spaces in large rooms as you can change the direction you're facing. These desks are in actual fact similar to two office desks as they intersect each other on one corner.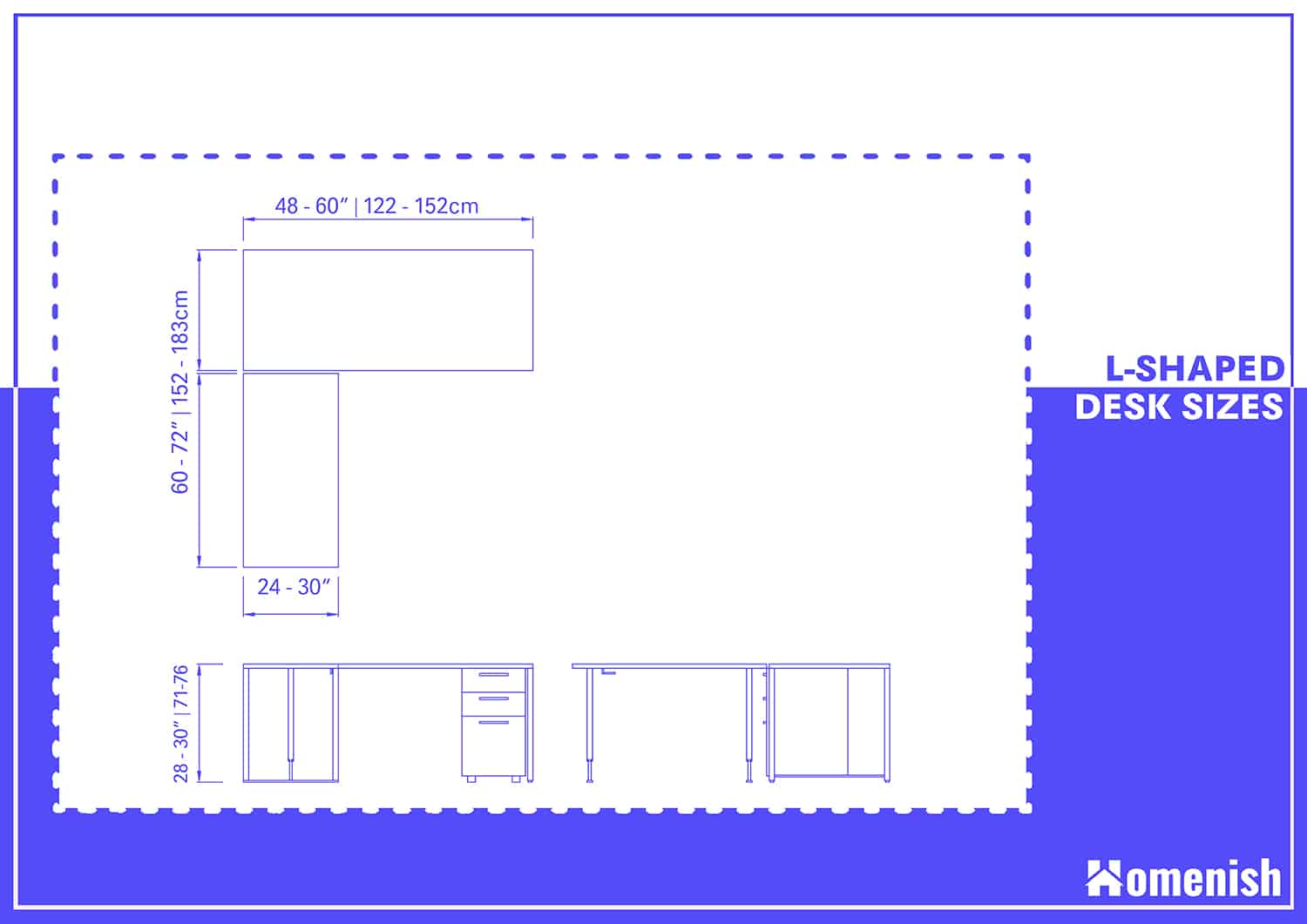 The most typical sizes are 60 inches – 72 inches for the longer side and 48 inches – 60 inches for the shorter side. If an L-shaped desk has two equal sides, 60 inches both are preferred.
Standing Desks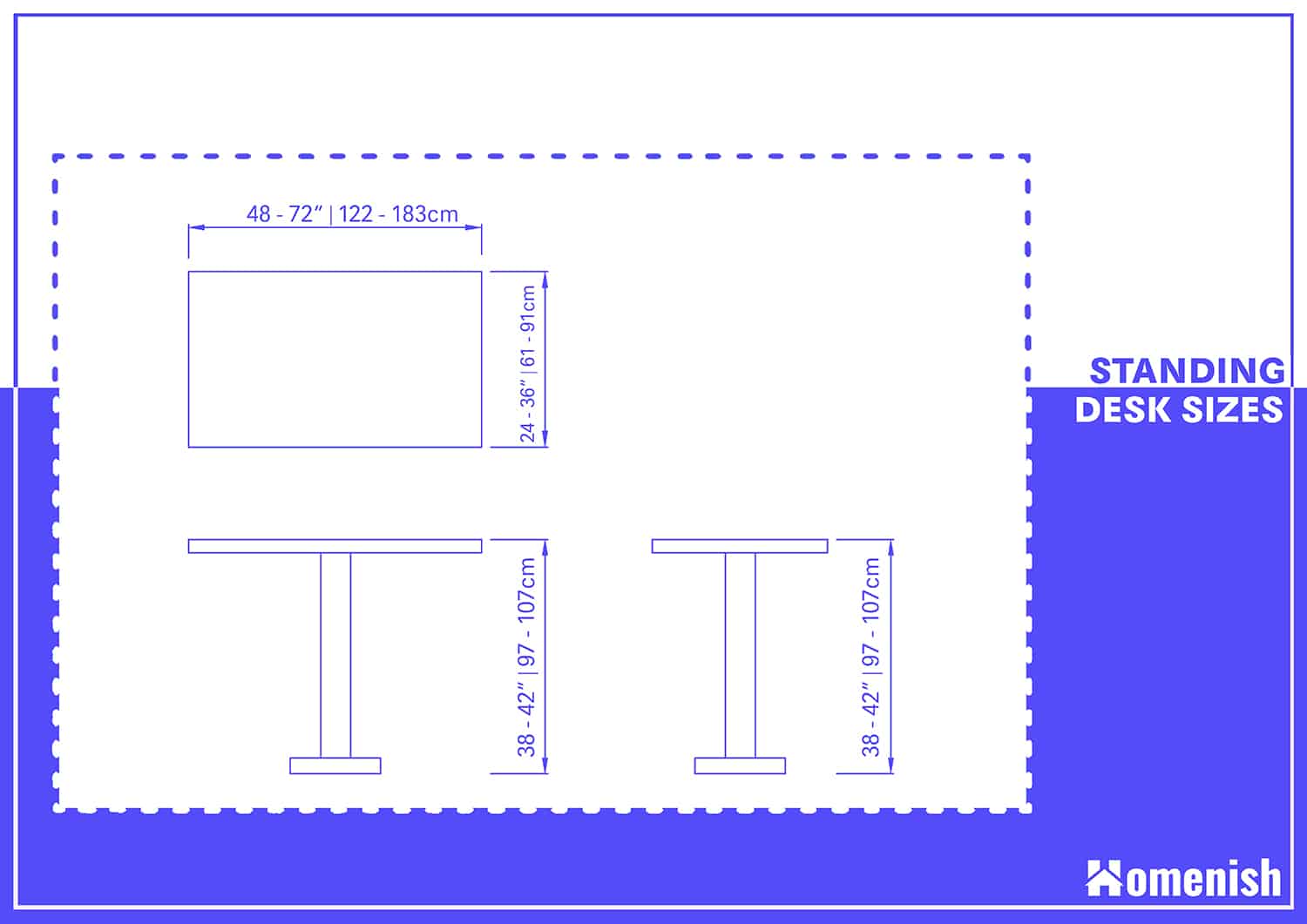 Standing desks come in a variety of sizes, but the most typical dimensions are between 48 and 72 inches wide and 24-36 inches deep. You should always get the largest freestanding desk if you have the available space.
Desks Against a Wall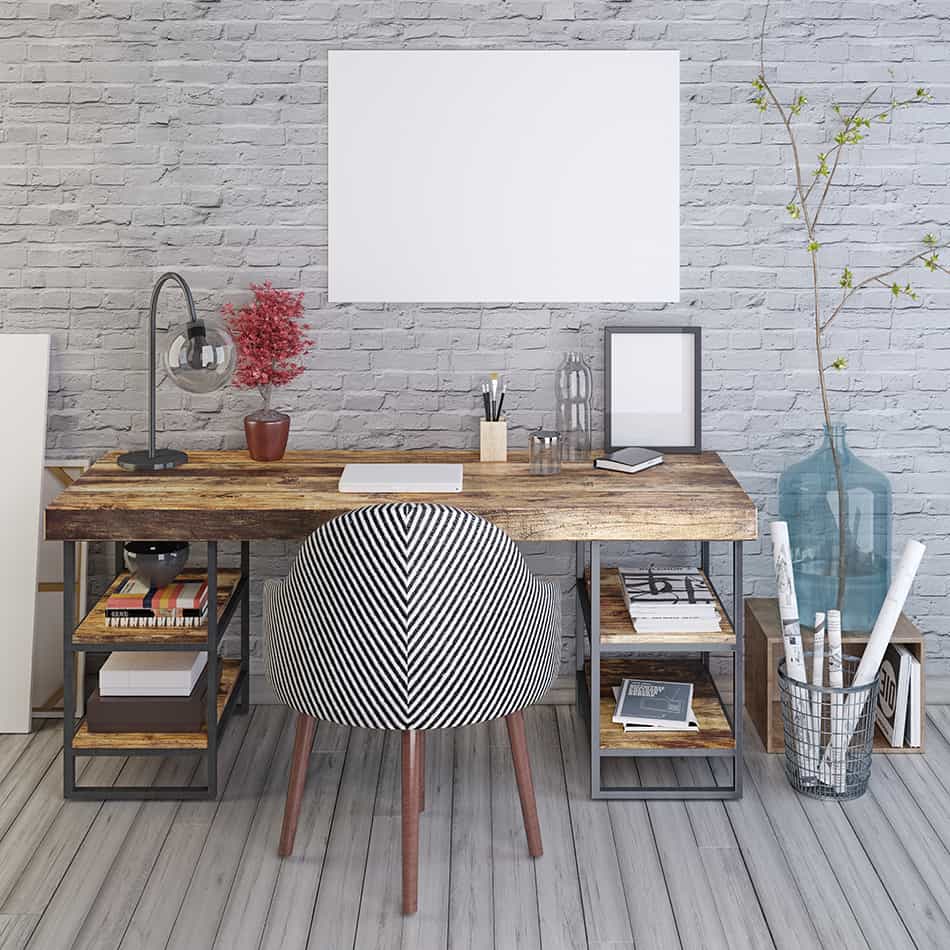 Your other alternative to a freestanding desk is to place it against your home office wall. Allow 54 to 66 inches. With this space, you can comfortably get up from your chair without bumping into the desk.
Built-in Desks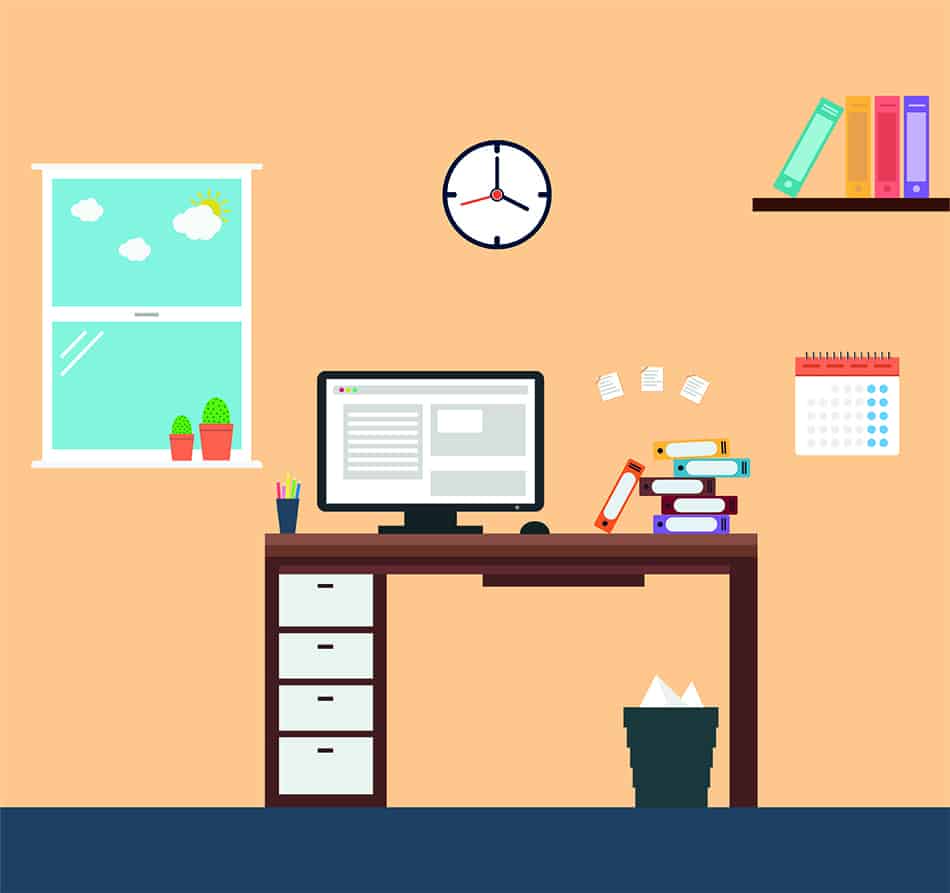 Built-in desks have the same dimensions as other desks. The only difference is more work surface being offered by built-in desks. The space underneath the desk is usually used for the trash can or paper shredders. These types of desks are normally integrated with surrounding bookshelves to hold books and files.
2-Person Desk Sizes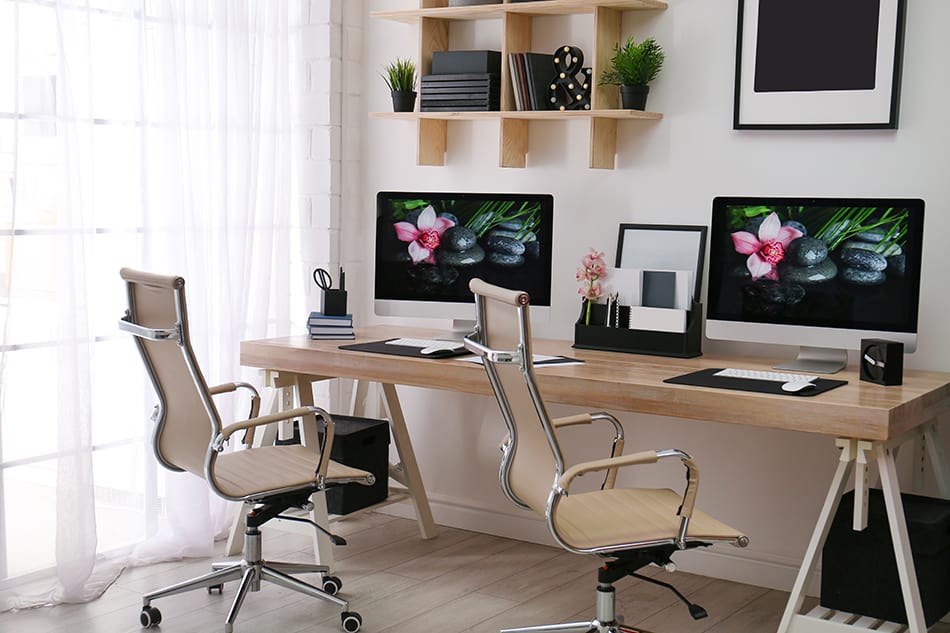 For shared workspaces, you need two-person desks. These desks have the same depth as all the other types we've mentioned but with a significantly longer surface area (over 78 inches in length).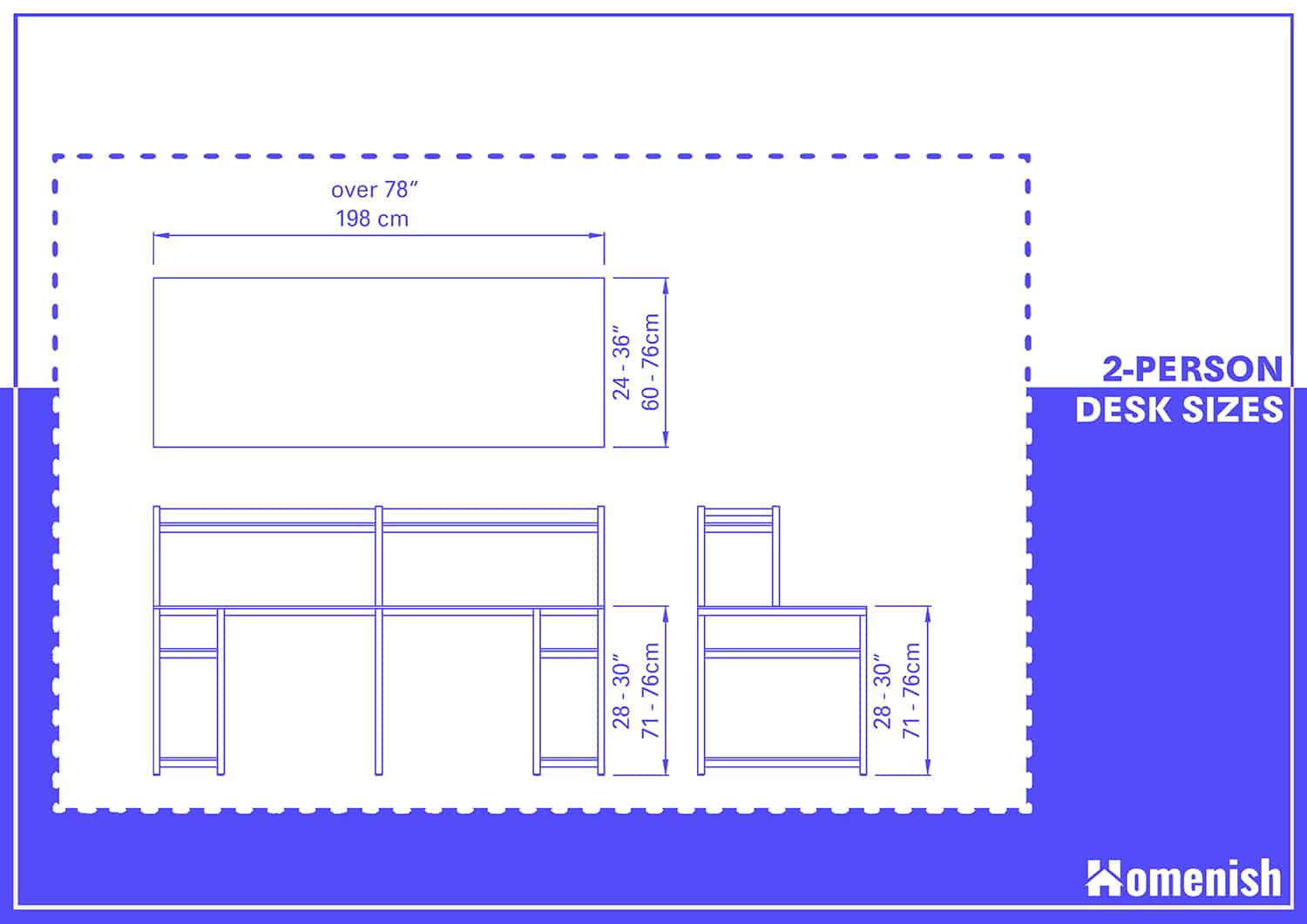 These types of desks are perfect for co-workers and people who study and work in the same area. The desks typically consist of storage shelves on the sides or in the middle.
Tips on Choosing the Right Desk Size for Your Home Office
Now that you have a basic understanding of the typical desk dimensions, you need to think about which type of desk will work best for you. The following considerations should help you make your mind up:
Available space: determine where your desk is going and how much space you have available.
Your chair: the minimum distance for a chair behind the desk is 23 inches. This dimension is for a modest size chair. For more comfort, opt for 30 inches instead.
Your use for the desk: will you be using the desk everyday or occasionally? Will it be for your work or study?
The equipment for the desk: if you want to fit your computer and its accessories on your desk, you need to take into account how much space your equipment will take up.
The shape of the desk: do you want a rectangular or square desk? Which shape will suit your space better?
With the above pointers in mind, you'll now be able to pick the right desk size for your home office!