Hardwood floors in light shades have many advantages in a room. For example, they can make a space feel brighter and bigger, and they also tend to show very minimal wear and tear marks when compared with darker wooden flooring. Light hardwood floors have been gaining in popularity as they offer an airy feel associated with coastal style interior decor, and they can also create a modern, minimalist feel.
If you haven't lived with light hardwood floors before, you're not alone, as dark-toned wood dominated the flooring industry for several decades. As a result, you may be unsure of what color furniture goes with light hardwood floors, and this can make it tricky to plan and decorate your space. If you're looking for guidance or inspiration on what color furniture goes with light hardwood floors, read on.
Neutral Styles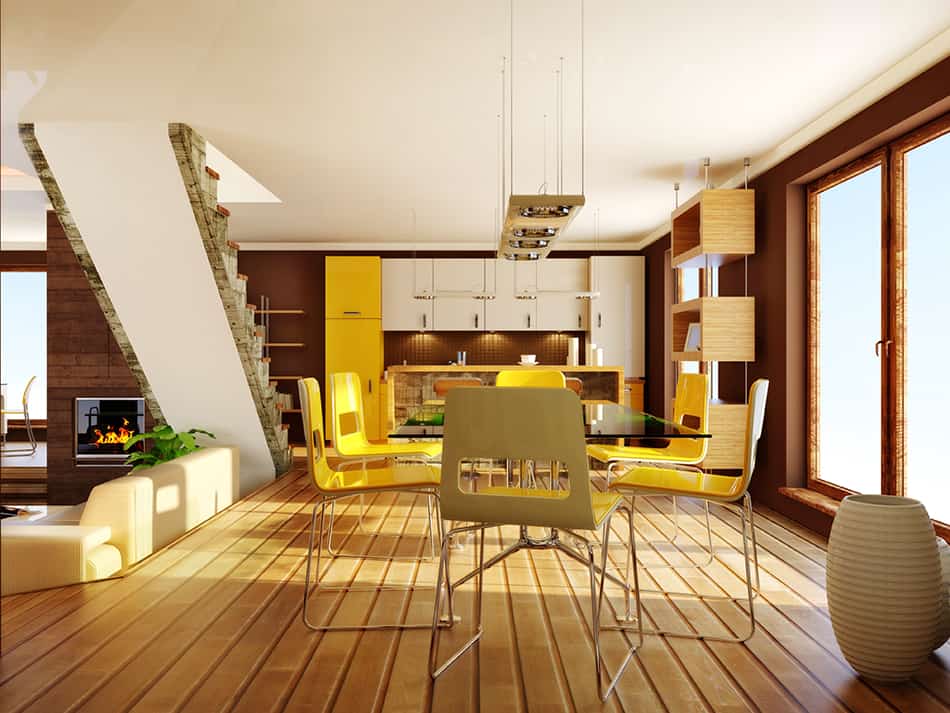 One current trend in interior design, which has been popularized via Instagram, is the all-pale look. This is a style where a room is solely decorated in varying pale shades of the same color, for instance, white, beige or cream, with no accent colors used. In this style, you will typically see a very light wood used for the hardwood floor, such as whitewashed planks or white oak. This might then be layered with a white faux fur rug, set against walls that have been painted white.
To create a tonal effect, an off-white or very pale beige sofa will be incorporated into the room and adorned with white throw cushions in various textures. Other items in the room, such as candles, photo frames, side tables, and curtains, will also be varying shades of white or beige. This will result in a room that feels very airy and open, with no objects particularly standing out against any others. It's a great way to decorate a small room because everything in the space will reflect light and create the illusion that the room is bigger than it actually is.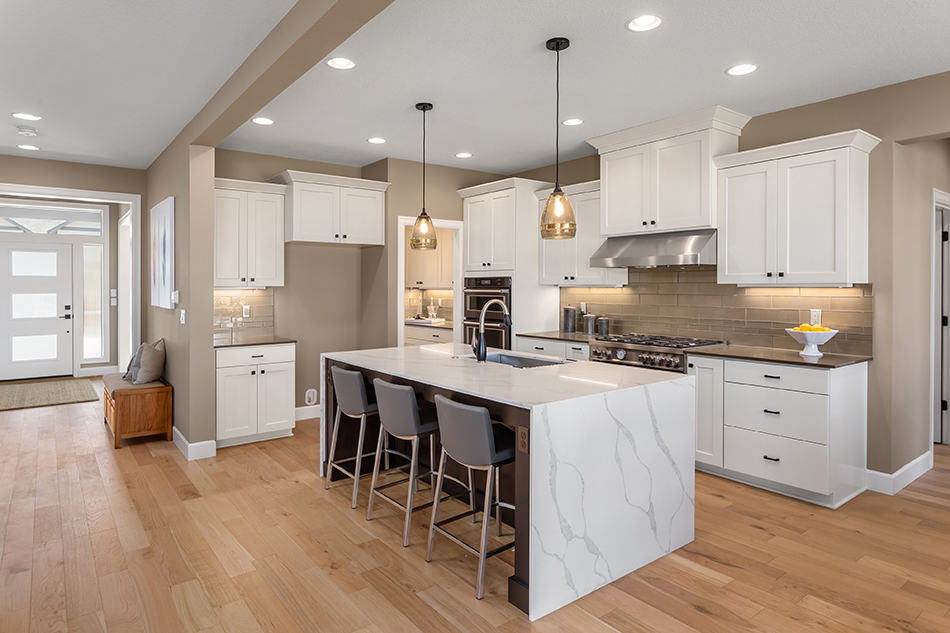 To achieve this look with your light hardwood floors, you'll want to choose furniture which is not too far away in terms of color from the shade of the floor. You could opt for wooden furniture which has been painted white or choose natural rustic-looking furniture in very light wood.
Alternatively, you could avoid wood altogether and choose white glass tables or white metal shelving. When choosing a sofa, you should also look for a pale-colored sofa in a light biscuit shade or off-white. Pay close attention to the details when choosing furniture to work with this interior style. For example, black feet on a sofa would stand out too dramatically and should be avoided.
Another interior design style that is less harsh than the all-pale look, and probably a little less maintenance to live with, is the neutral and tonal contemporary look. To create this easy-living casual style in your home, select furniture which is just a few shades darker than your light hardwood floor but with the same undertones. For example, if your floor has pale orange undertones, then you can match it with a light tan-colored leather sofa.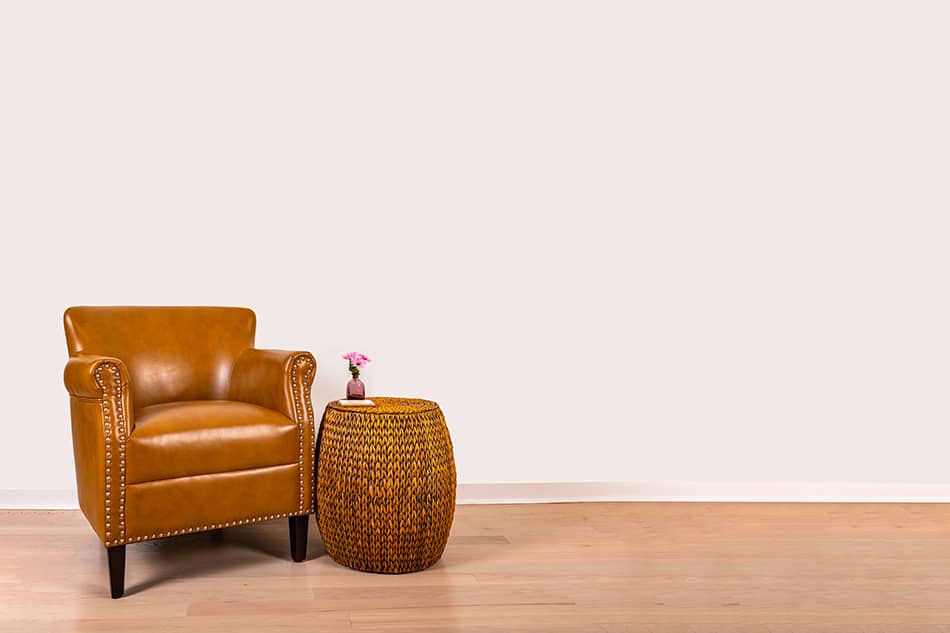 For hardwood floors with more of a gray undertone, choose a gray sofa no more than two or three shades deeper than the color of the floor. The remainder of the furniture in the room should also be along the same lines, keeping the undertones the same and ensuring you don't choose anything too dark. For wooden furniture in this style, go for a similar wood to that of your hardwood floor, but in a few shades darker. You might be tempted to match the color of your light hardwood floor to your wooden furniture, but this will actually make the space look very flat.
Coastal Styles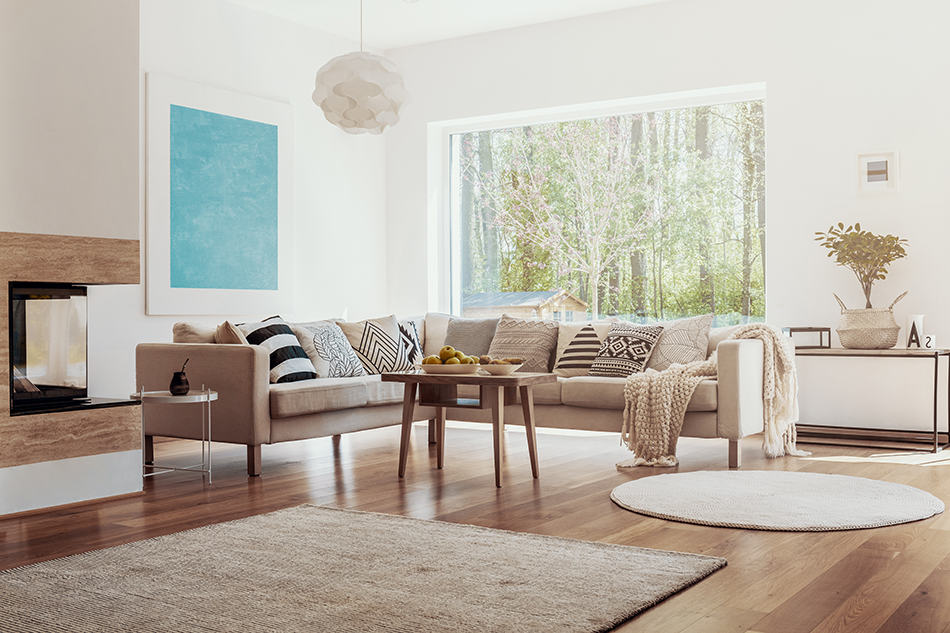 Light hardwood floors are an excellent choice for coastal-style interiors because they provide an airy and fresh base for the rest of the room. Light hardwood flooring in any shade would work for this type of style, whether that be pale oak flooring, whitewashed flooring, or gray-toned flooring.
The furniture that will work best with light hardwood flooring, in this case, will be rustic wooden furniture in a light to medium shade, such as untreated oak or beech wood. Another good choice of furniture color for coastal styles is wooden furniture which has been painted white or cream. Wooden furniture which has been painted pale blue or gray would also work well for a coastal theme.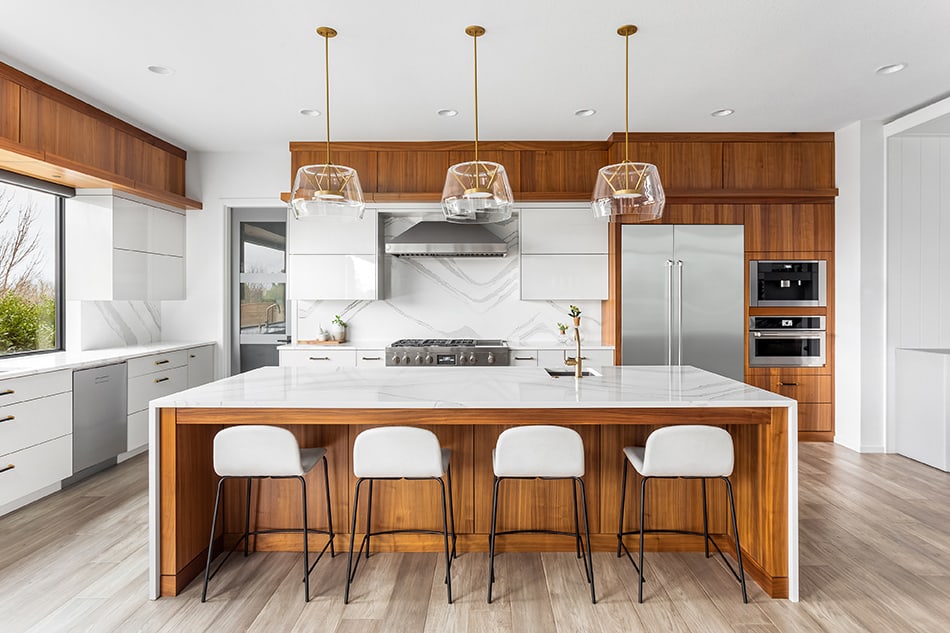 When it comes to soft furniture, such as sofas, there are several colors that would work well with light hardwood flooring in a coastal style. To keep the space open and airy, opt for a white or pale cream sofa in a casual fabric such as canvas. Various shades of blue also work for soft furnishings alongside light hardwood flooring, including sky blue, navy blue, and azure. These colors naturally occur in coastal landscapes and represent the ocean and the sky when used in coastal interior design.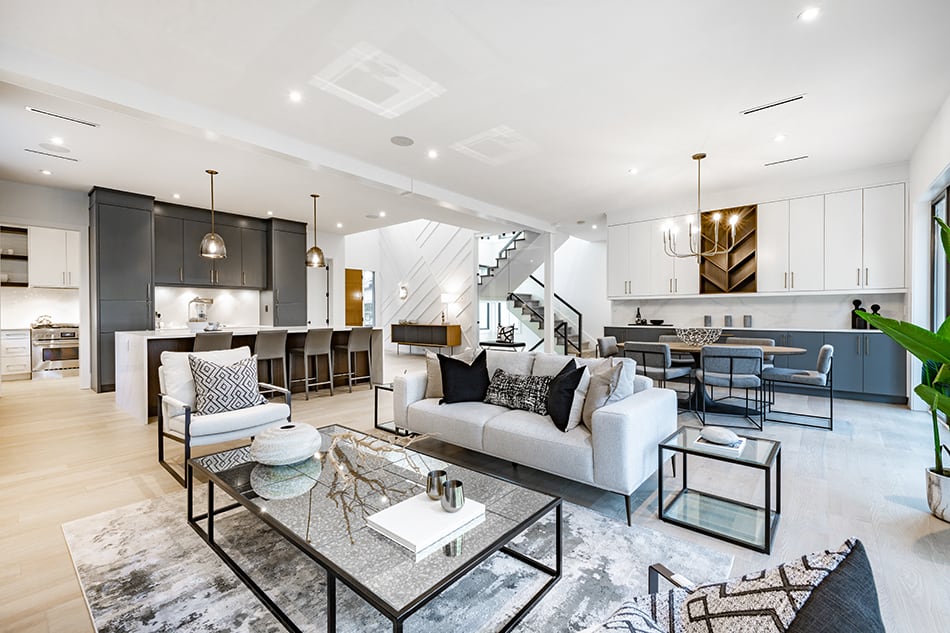 The same color scheme can be used in nautical-themed rooms with light hardwood flooring, though these can benefit from furniture in darker shades of wood. A mahogany table or cabinet will contrast against a pale floor and create a sophisticated and polished look like that of a captain's quarters.
Bold Styles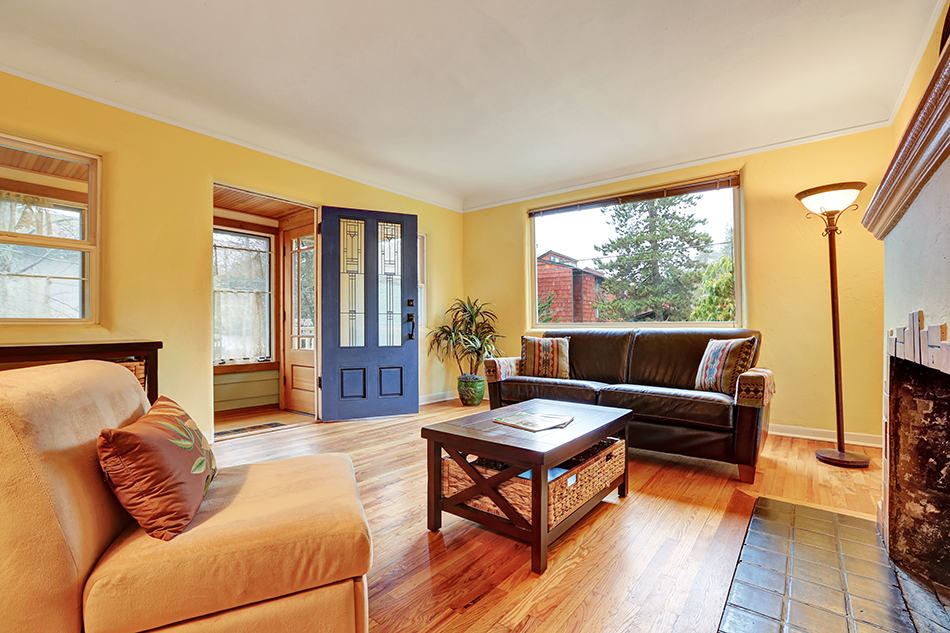 If you are a fan of color and contrasts, then you'll be pleased to find out that many bright colors and bold shades can work well with light hardwood floors. Colors that compliment light hardwood flooring are those which have similar undertones, so you need to identify the undertone of your flooring before making any decisions on the color of furniture you buy.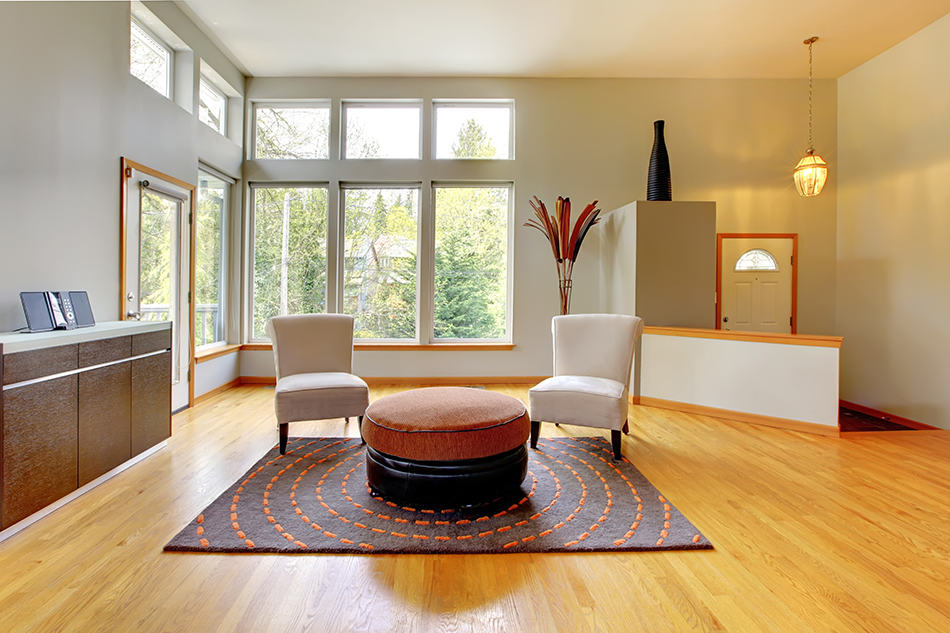 Furniture in a room with golden undertones in hardwood floors should be within the same circle of colors, so for example, choose brown wooden furniture which also has gold undertones. Avoid selecting furniture with different undertones to the floor because these will conflict with each other and look out of place. For example, a hardwood floor in a pale shade of gray with cool undertones will look incongruous with wooden furniture which has rich red undertones.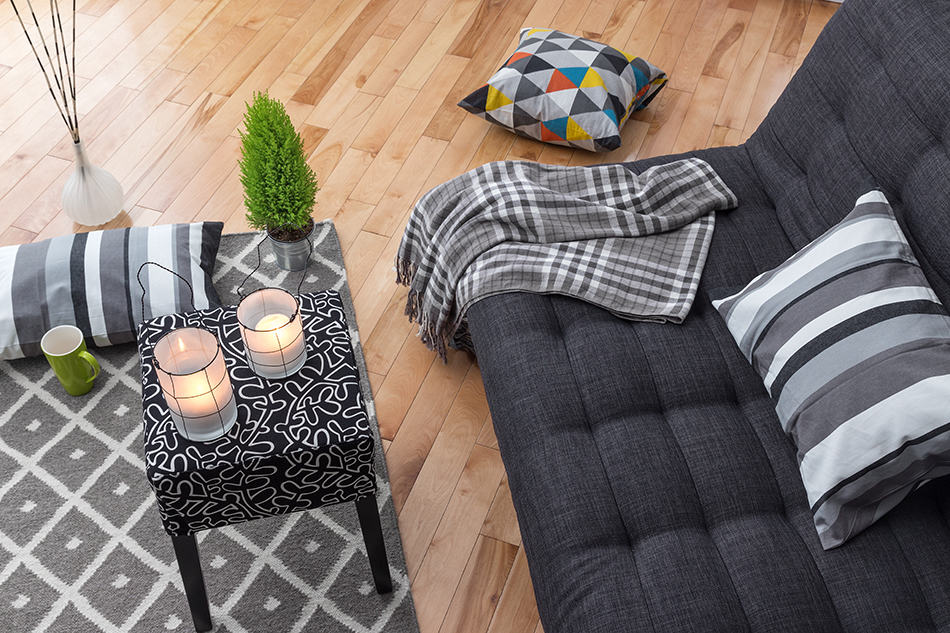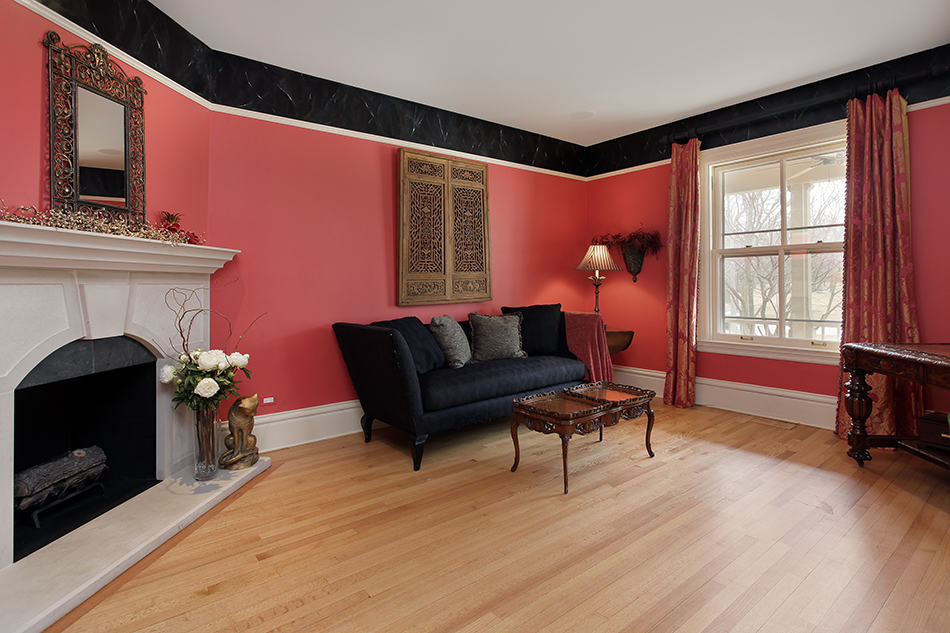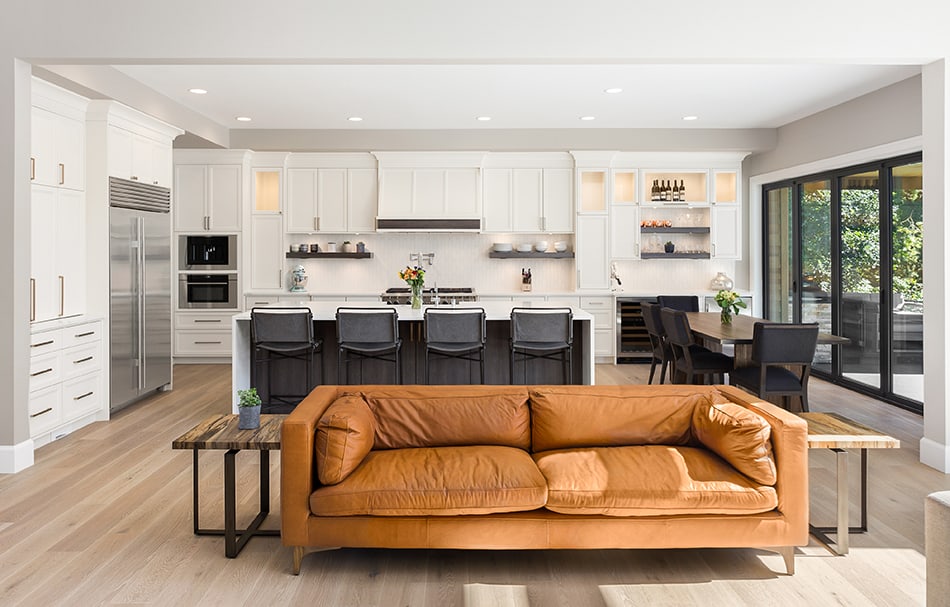 Tips for Color Matching with Light Hardwood Floors
The most important thing to bear in mind when matching furniture with your hardwood flooring is to consider the undertones. You can pair pretty much any color of furniture with light hardwood flooring as long as they have similar undertones. Putting furniture on hardwood floors that have different undertones will create a jarring effect and feel awkward.
Keeping your furniture no more than a few shades darker than your light hardwood flooring will ensure a cohesive look. If you want a bolder style, then you can abandon this tip and opt for furniture in a vastly darker color, such as navy or black.
One of the most common mistakes people make when decorating an interior with light hardwood flooring is to attempt to find furniture in the same color as the floor. This is an aim which will no doubt end badly because it is unlikely you'll find wooden furniture which is an exact match of the floorboards. Even if you sourced furniture in the same shade, it will likely feature a slightly different grain pattern or have a different finish.
The problem here is that when the furniture doesn't exactly match the hardwood floor but is very close to matching, it creates an uncomfortable ambiance. Instead, it is much better to choose wooden furniture in a color which was not meant to replicate the color of the floor. In the event that you do find furniture the exact same color and shade as your floor, it is not advisable to choose it. When the furniture is the same as the flooring, the room will feel flat and plain. Using different colors or different tones of the same color adds layers and depth to a room which makes it more interesting.
You can use dark furniture in a room with light hardwood flooring, though be warned that this can make the space feel smaller. If you are conscious that the room you are decorating feels quite small, then the best way to counteract this is with light flooring, light walls, and light furniture. Dark furniture around the perimeter of the room will give the effect that the walls are closer than they actually are, bringing them forward and making the space appear to be more closed in. Light-colored furniture will have the opposite effect, reflecting light and expanding the walls.
If you do want to use dark furniture in a small room, then keep it central and shorter in height, such as a dark wood low bed frame in the middle of a bedroom or a black coffee table positioned centrally in a living room. Keeping the height of dark furniture low will enable the pieces to help ground the room rather than making it feel more enclosed.