A trampoline has grown quite popular as exercise equipment that helps improve balance, coordination, and bone health. If you're considering buying a trampoline for your home or backyard, check out these sizes available to work out which is the best option for your family.
Small Trampolines
3 feet
A 3 feet trampoline is also known as a mini-trampoline or a toddler trampoline. This could be a circular-shaped trampoline or a square one that measures three feet in either direction. Typically this type of trampoline will have a handle that a toddler can hold onto to steady themselves while bouncing, and the handle itself will be padded to avoid any injury if they bounce into it.
The maximum age for this type of trampoline is 3 years old. The great thing about these trampolines is that they are small and lightweight enough to be easily portable, so you can keep a mini trampoline indoors for a toddler to play on during colder months and carry it out to the backyard to use on days when it is warm enough.
6 feet
A 6 feet trampoline is a smaller version of a full-size trampoline that is aimed at 4 and 5-year-olds. Children of this age will have developed better coordination and balance, and they will also be bigger in size compared to toddlers, and therefore they are better suited to a trampoline that measures 6 feet across.
This type of trampoline will be circular and have a safety enclosure net around it to prevent children from falling off the sides when they are bouncing, as well as padding around the edges to create a soft landing space.
If you want to buy a trampoline for a 4 or 5-year-old and you have limited space in your yard, then the 6 feet trampoline could be a good option. However, if you anticipate that your child is going to want to enjoy the trampoline for several years, then a bigger trampoline such as an 8 feet model will be better as they won't outgrow it as quickly.
Standard Circular Trampoline Sizes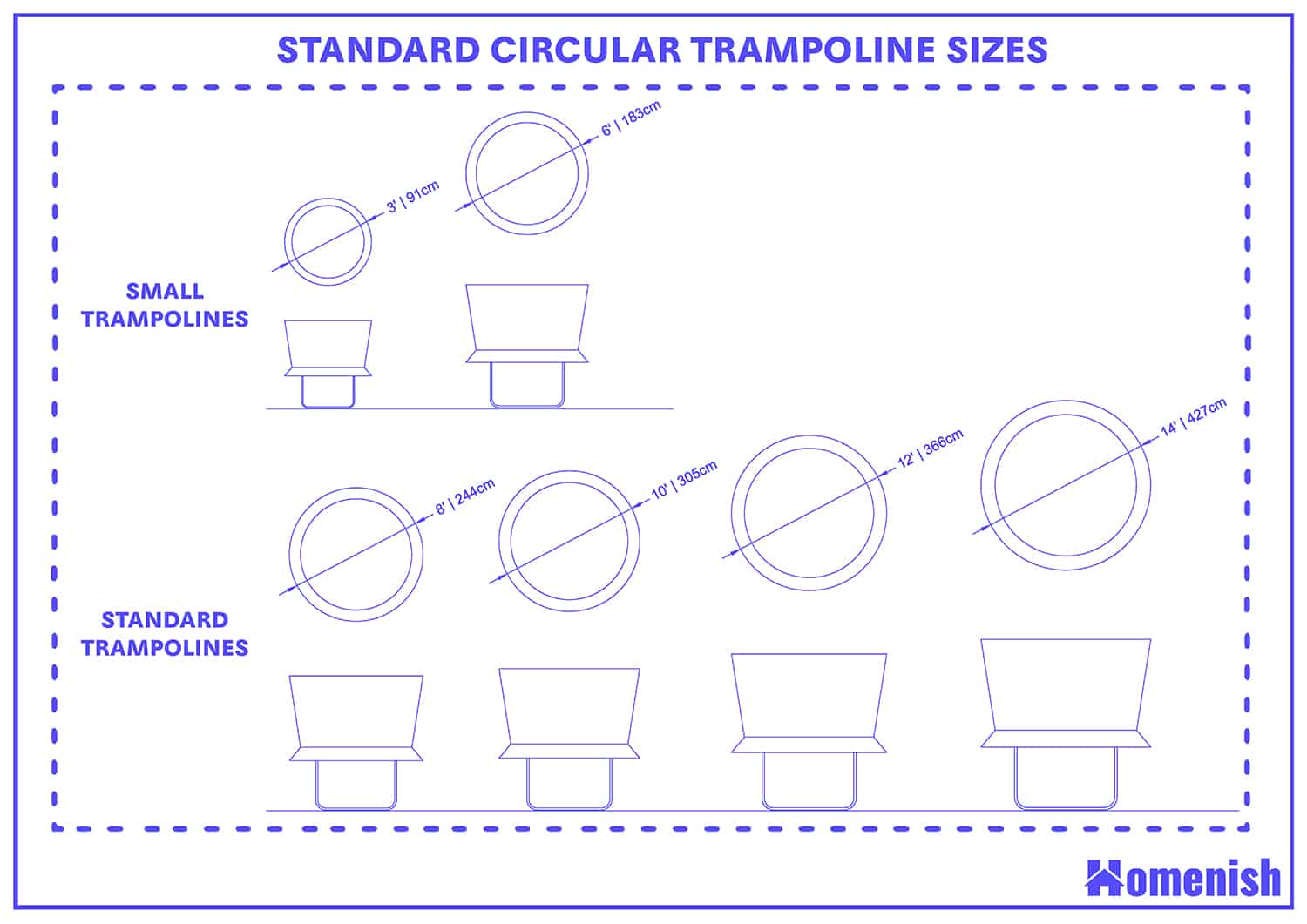 8 feet
An 8 feet trampoline is the smallest full-sized trampoline you can get, but it is still a very good size for a family with young children. Kids aged between 5 and 9 years old will be able to use this trampoline, so it is ideal if you have several children who, for example, are 5 and 7 years old, since it will be suitable for them to both use, and it will last for a few years.
An 8 feet trampoline provides ample bouncing space for younger children, and it won't take up a huge amount of space in a backyard, making it a good choice for people who have a limited amount of space.
This size of trampoline will generally cost between $200 and $300, so it also represents a budget option compared to larger models. The diameter measurement of a circular trampoline takes into account the bouncing surface as well as the padded edging.
Although an 8 feet trampoline will take up 8 feet of space, the actual bouncing surface will only measure 6 and a half feet. A typical 8 feet trampoline will have the bouncing surface 2 feet off of the ground, and the safety net enclosure will have a total height from the floor of 7 feet.
10 feet
This trampoline will have a diameter measurement of 10 feet, which includes all components of the trampoline, such as the frame. The actual bouncing surface area will have a diameter of 8 and ¾ feet. This trampoline will be suitable for children aged between 5 and 10 years old.
You could allow several 5 or 6-year-olds to use this trampoline during a playdate or party, while a 10-year-old would probably need to use this trampoline alone to allow them adequate space to jump.
A 10 feet trampoline will typically have the bouncing surface positioned 2 and a half feet from the ground, and the safety net enclosure will extend 8 feet from the ground. This size of trampoline will generally cost around $300 for a good quality model.
12 feet
A 12 feet trampoline is a good option if you have slightly older children or if you have enough space to treat your kids to a more generous bouncing area. This size of trampoline will be suitable for children aged between 7 and 13 years old, making it a great choice if you have 7-year-olds because they will not outgrow it for a long time.
The bouncing surface of this trampoline will be 10 and a ¼ feet, and it will be just under 3 feet from the ground. The safety net enclosure will extend to 8 and a half feet off the ground.
14 feet
This is the largest size of a standard circular trampoline. Any circular trampolines bigger than this will be considered non-standard. It will be suitable for children aged between 10 and 15 years old. The bouncing surface area will have a diameter measurement of just over 12 feet and be 3 feet from the ground.
Standard Rectangular Trampoline Sizes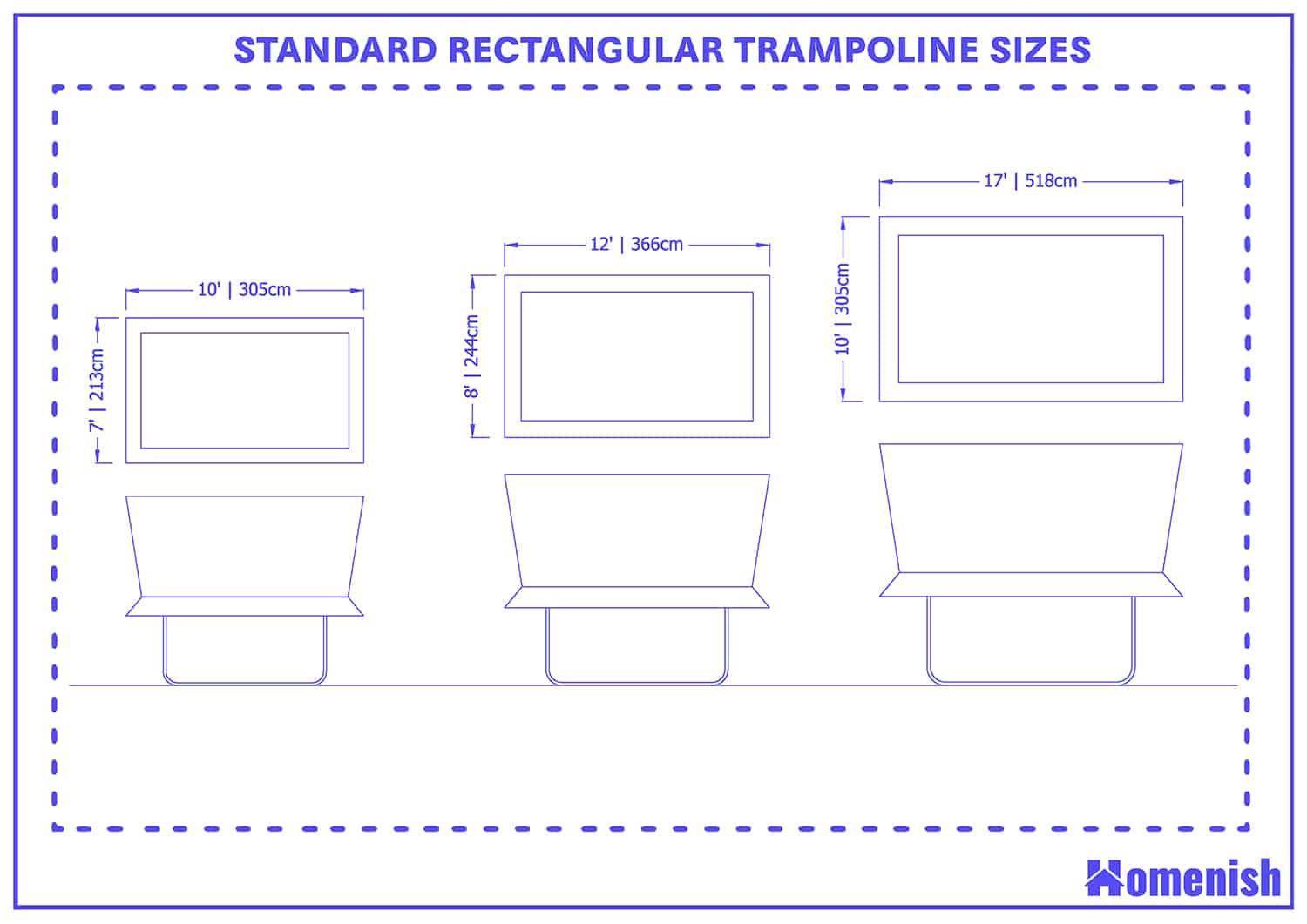 7 x 10 feet
This size trampoline is a good alternative to circular 8 feet and 10 feet trampolines, but as a rectangle, it can fit better into an angular backyard. It will be well suited to children aged between 5 and 10 years old.
8 x 12 feet
This is a good trampoline size for junior gymnasts to practice on, who are aged between 11 and 13.
9 x 14 feet
This is another good size of trampoline for junior gymnasts to get bouncing experience at home, and it is still a reasonable size to fit into a backyard.
10 x 17 feet
This is the most common size of rectangular trampoline since it has the closest measurements to the official gymnastic trampoline size, which is 16.6 feet in length and 9.5 feet in width. This size is suitable for both junior and adult gymnasts.