A porch is a nice addition to a home that can add curb appeal for a more visually pleasing look, as well as create an extra outdoor area on the property that can be used as an external room.
Here we look at various porch sizes and considerations you'll need to factor in when adding a porch to your house.
Porch Sizes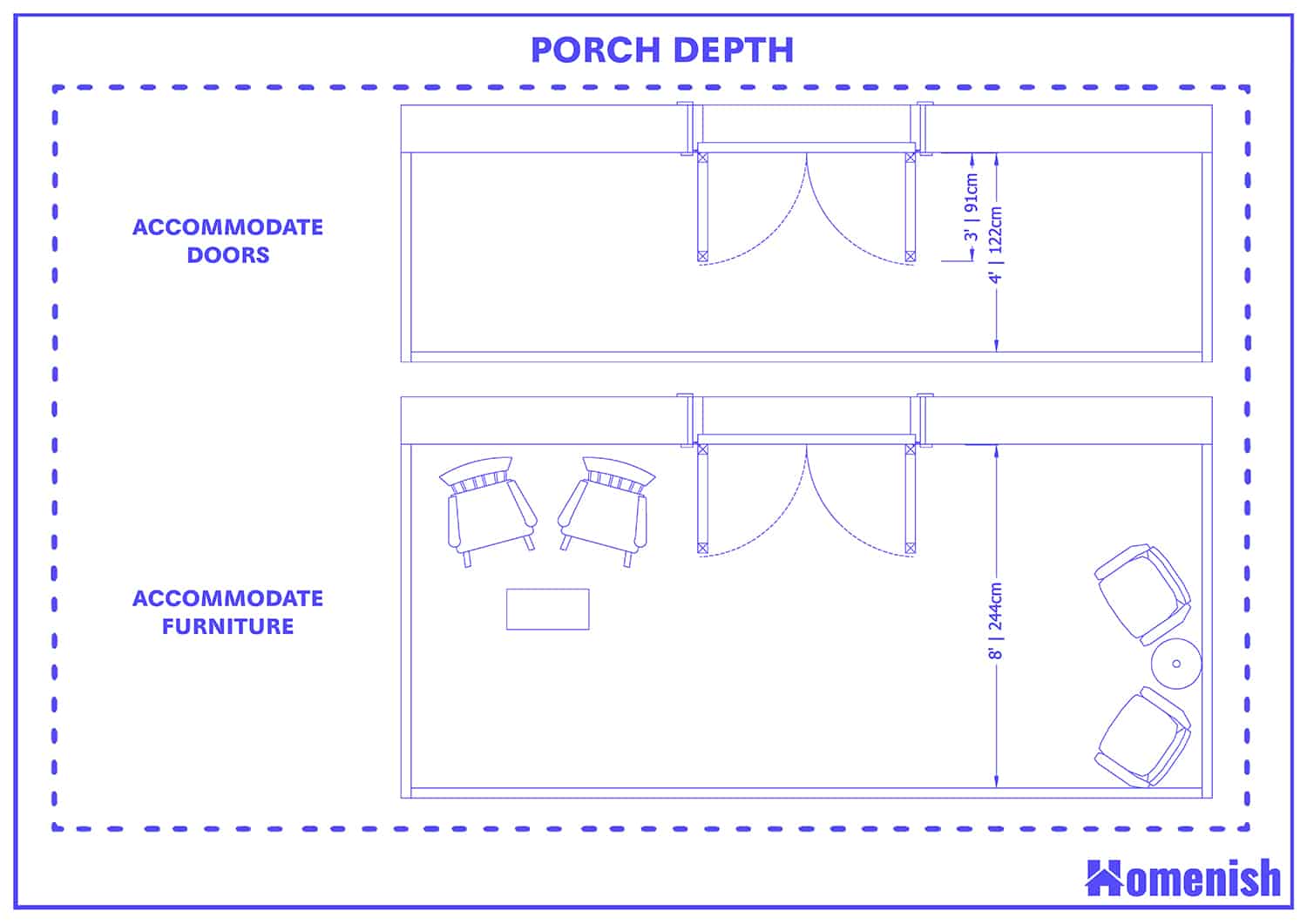 Porches do not come in standard sizes, and they can be custom-built to suit the size and needs of a home. When designing a porch, there are certain things to consider that will affect the size.
Accommodate doors
The most important thing to consider when deciding on the depth of a porch is the space a door will need to open. If a porch is not deep enough to accommodate a door opening, it will become a hazard for anyone entering or exiting the home.
Though the front door on a property typically opens in towards the home, a screen door, storm door, or security door will generally open outwards onto the porch.
An average-sized door will create an arc opening of around 36 inches, which is equivalent to 3 feet. This means that a porch with an average door will need to be a minimum depth of 4 feet to allow for the door to open without the person on the outside of the door being pushed off the edge of the porch.
Ideally, to eliminate any safety issues, the porch should be 6 feet deep to accommodate a door opening. If you have extra-wide doors, then this measurement will need to be increased.
Furniture
If you want to house furniture on your porch to create an outdoor seating area, then you will need to factor this in when designing your porch size. For a porch to accommodate a sofa and a table, or a table with outdoor dining chairs, then a minimum depth of 8 feet is recommended.
A length of 8 feet is also ideal if you want to include furniture on your porch which isn't going to get in the way of the front door of your home and block the entryway.
A porch swing is a popular piece of seating to fix onto a porch because it takes up significantly less space than a full-size sofa and can be a relaxing spot to hang out. For a smaller porch, you could opt for a bistro set which includes a small table and two small chairs.
Size of house
The size of your house can affect the size of the porch you choose because you will want the porch to look proportional to the rest of your property. A porch can be as wide as the width of your home or even wider if you want to have a wraparound porch.
A porch does not need to span the entire width of the house, and in the last few decades, the size of porches has been declining as they become more of a visual feature rather than a functional and useful space, but if you have a large home and a tiny porch then the balance will look off, so be careful not to go too small when designing your porch.
Benefits of a Porch
Increase community ties
In many areas, a porch is used as a socializing area at the front of the home. People will sit out on their porch and chat with passers-by in the community who they may not normally run into in their everyday lives or take the opportunity to catch up with neighbors.
If you sit out on your porch, it is considered an open invitation to communicate with other people on the street and can help you build relationships within the community.
Rain shelter
A porch is an unenclosed covered area, usually at the front of the home, and it will also be where the main entrance door to the property is. If it is raining when you get home, a porch provides the perfect shelter from the rain so that you can search for your keys and unlock your door without getting drenched.
Shade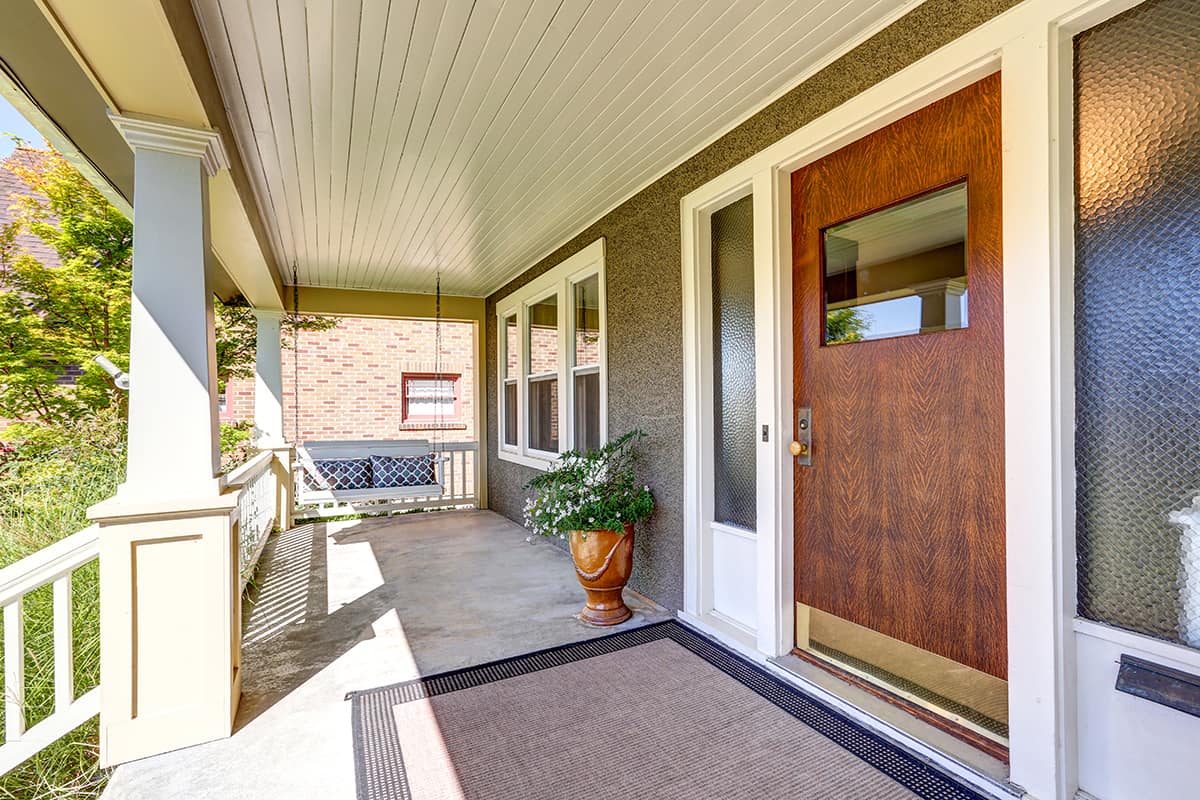 In southern North America, porches are traditionally placed on the southern aspect of the home to provide some shade during the brightest and hottest part of the day. The porch will create an outdoor shaded area that will be a few degrees cooler than the yard in direct sunlight, making for a comfortable place to sit and enjoy nature.
The porch will also shade the rooms on that side of the property, creating a cooler living space.
Outdoor sitting area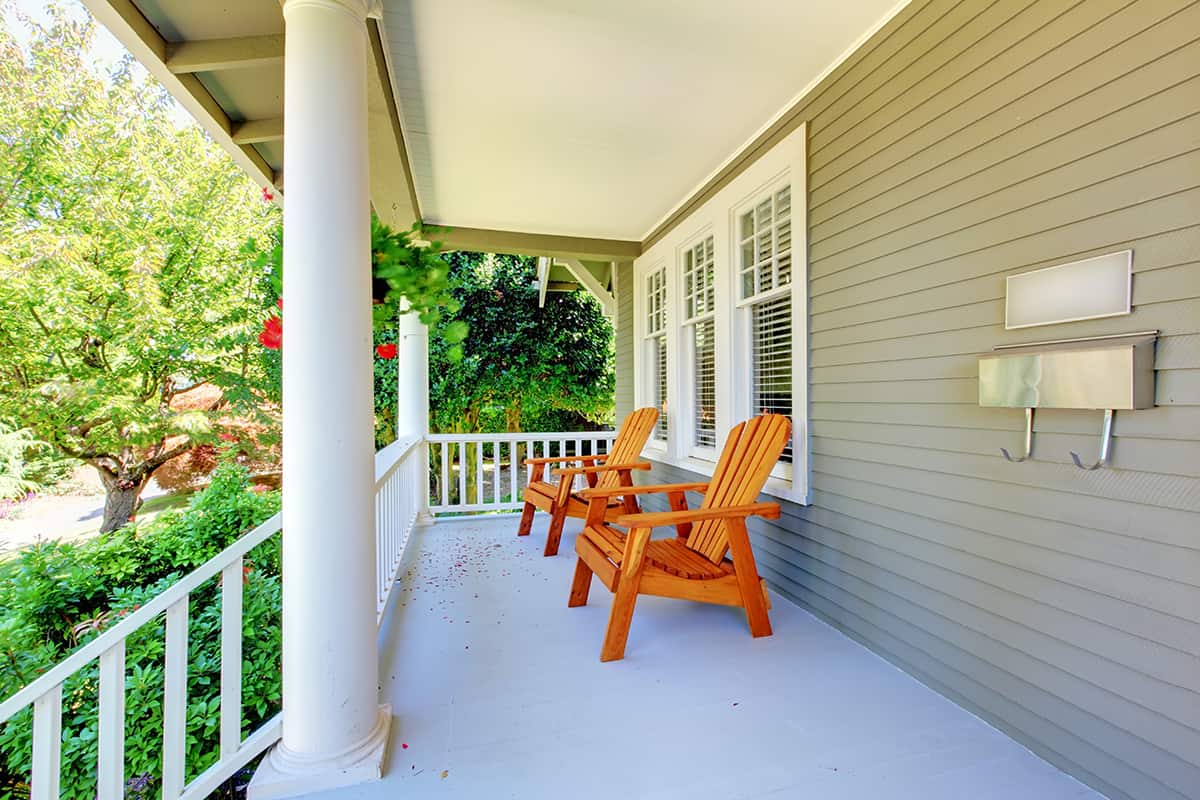 A large porch can be used as an outdoor sitting area, with rattan furniture such as sofas and a table. This creates an additional space for people living in the home to hang out.
Curb appeal
A porch adds curb appeal to a property because these constructions are considered to be widely visually appealing. Increasing the curb appeal of a home will make the homeowners feel prouder of their property when they have visitors, and it will also help the home sell more easily if it gets listed.
Increase value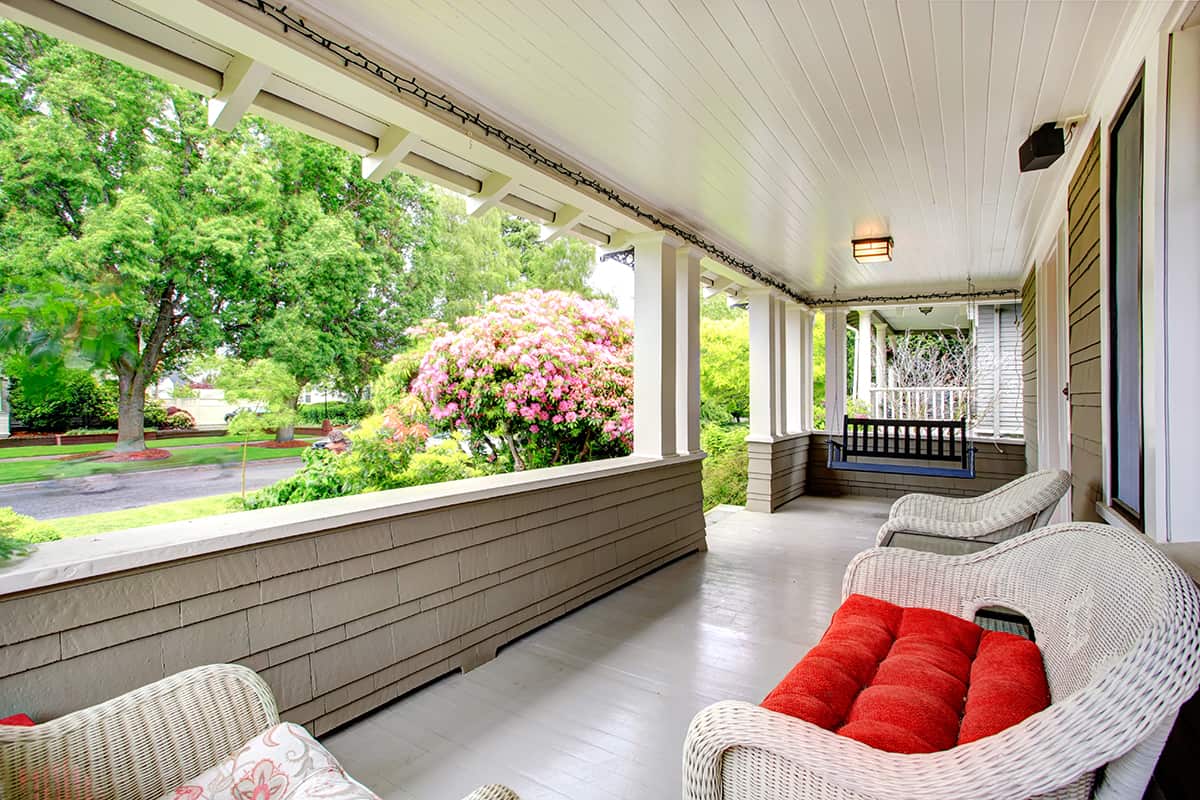 Realtors and builders agree that a home with a porch is more desirable to buyers, and as such, any house that adds a porch will also add value to the price of the property. Although it can cost thousands of dollars to add a porch to a property, you can expect that this is a safe investment because it will boost the price that potential buyers are willing to pay.
Keep dirt outside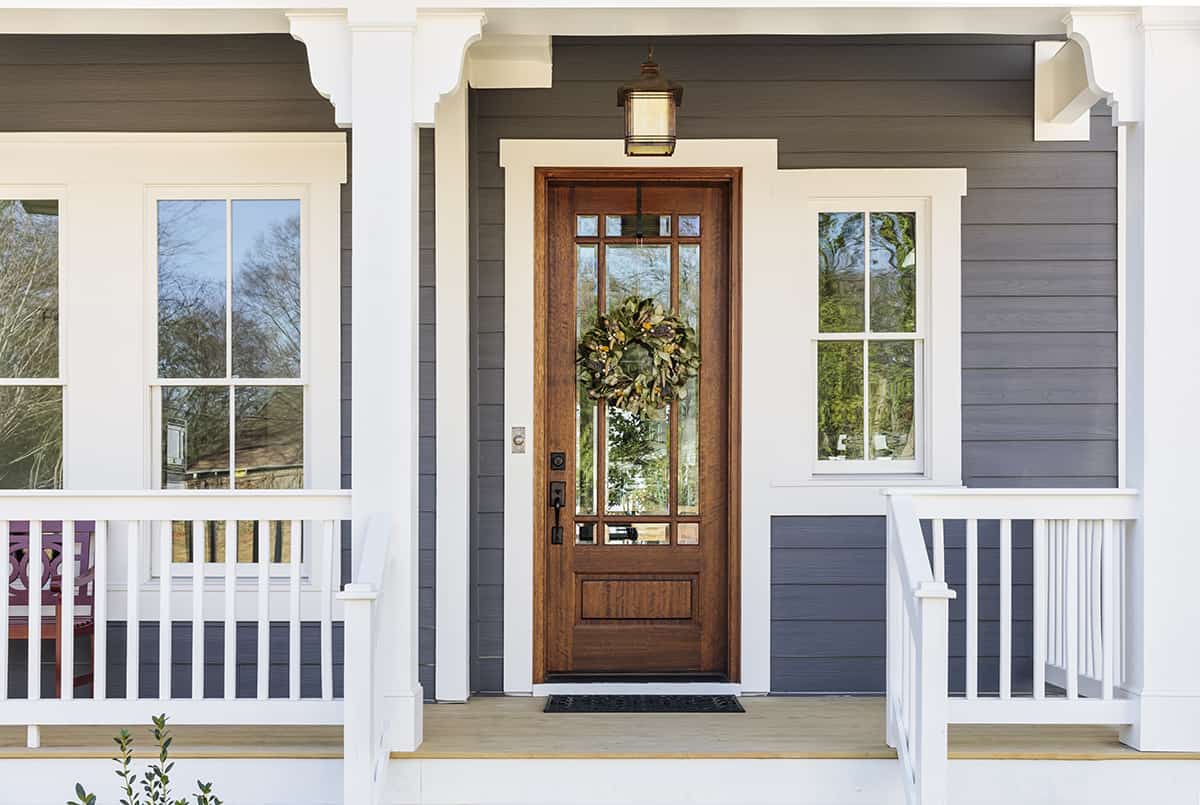 From a functional perspective, a porch provides an ideal outdoor spot where people entering the home can remove dirty work clothes or muddy boots, therefore not carrying the dirt into the house. You could keep a boot rack or a basket on your porch where people arriving at the house can put their dirty belongings.