If you have dark floors in your living room, you may be wondering what color sofa best suits them. This can be a tough decision as the dark floor is the dominating feature of the room.
That said, you can pair almost any sofa color with dark wooden floors or carpets. However, there are some elements you need to keep in mind, such as the color of your other furniture and the walls. In general, brighter furniture colors boost the cozy ambiance of the room with dark floors.
To find out the best sofa colors for dark floors, here we will share some excellent pairing ideas for both modern and traditional interior styles:
Sofa Color Ideas for Dark Floors
White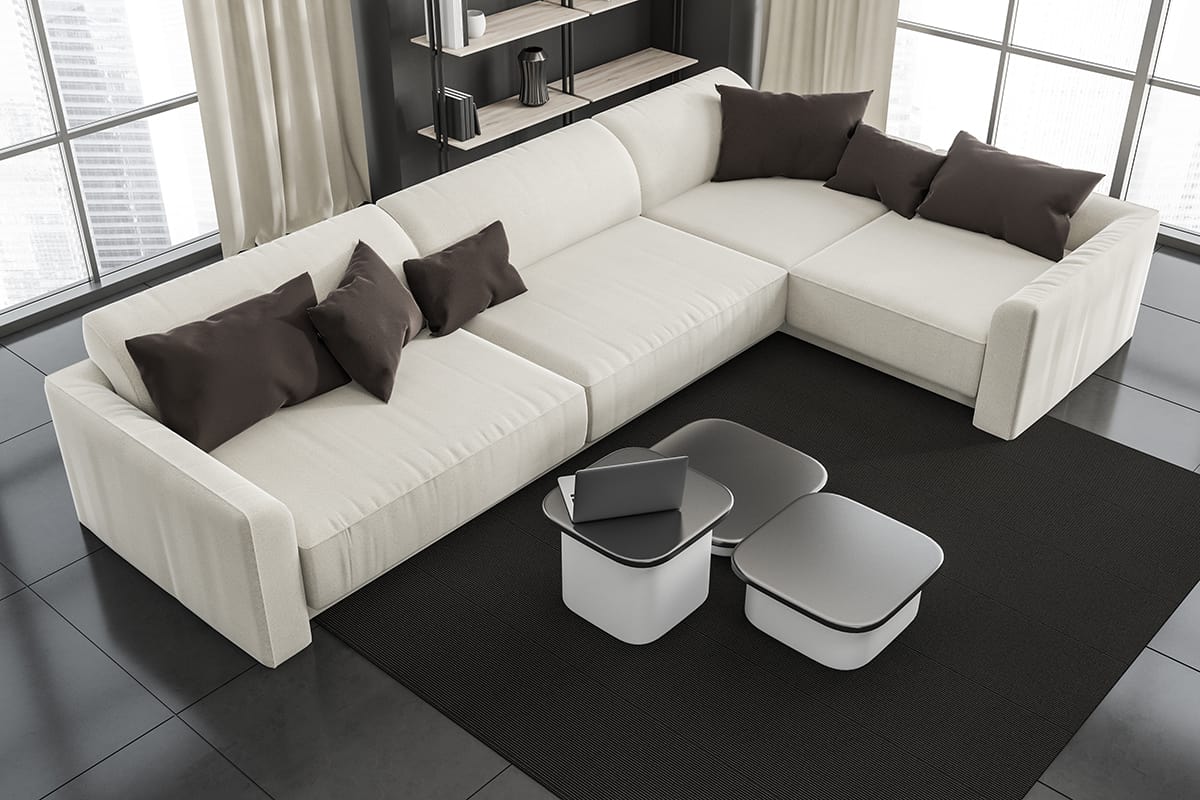 One of the most effective ways to create a modern vibe in your living room is to contrast your dark floors with light-colored seating furniture. As a result, you'll be able to contribute to a bright and airy space in which the living room can appear bigger than it is.
A crisp white sofa is a stunning color for standing out on a dark wood or carpet floor. However, the only drawback to a white sofa is its high level of cleaning and maintenance to keep it looking shiny and in tip-top condition.
If you love the idea of bright seating furniture to brighten up your dark floors, a white sofa can without doubt produce an elegant and modern vibe. The contrast between the dark floor and the white finishes of the sofa creates an airy feel.
As you can see in this example, the crisp white sectional sofa complements the black throw pillows and dark gray tile flooring. The entire space feels modern and more inviting thanks to the high contrast between the black textures and white seating furniture.
Black
Dark flooring, whether it's wood, tiles, or carpet, doesn't always complement dark seating furniture. This is especially true if your living room is on the small side. However, in larger living spaces, black sofas can go a long way in creating a bold and striking vibe.
In this luxurious, modern living room example, the black seating furniture on the dark wood floor makes a strong statement. You can add white or light gray accessories, such as throw pillows and curtains to invite some light into your living space.
Yellow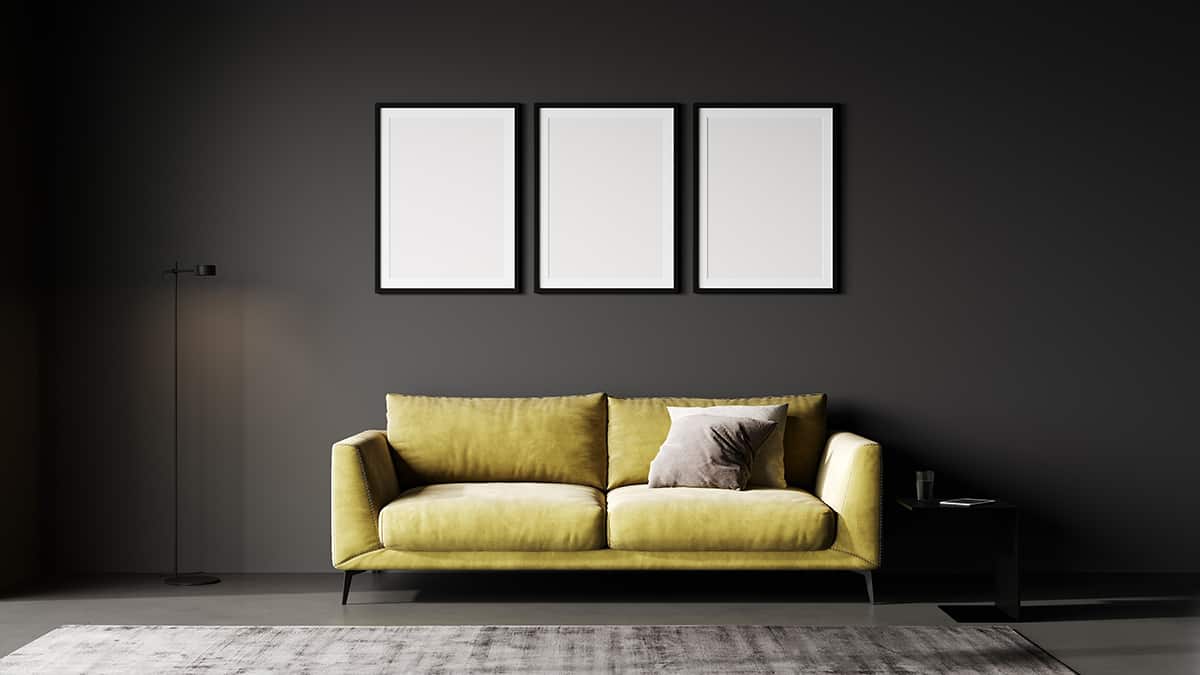 For a super stylish living room with dark floors, how about a bright yellow sofa set against a dark wall as the perfect backdrop? The vibrance of yellow will outshine the rest of the room's furniture while serving as a meeting point for your visitors.
A yellow sofa is an exciting addition to a modern or rustic living room. The bright splash of color can be accentuated with darker color throw pillows and dark flooring. This burst of sunshine over dark floors can have a huge impact on the overall decor of your living room by highlighting the warm tone of the natural elements.
If you're not too keen on a bright shade of yellow, opt for a muted version like mustard yellow. This is a toned-down alternative, which is still striking and bright, but without standing out too much on the dark floor.
Blue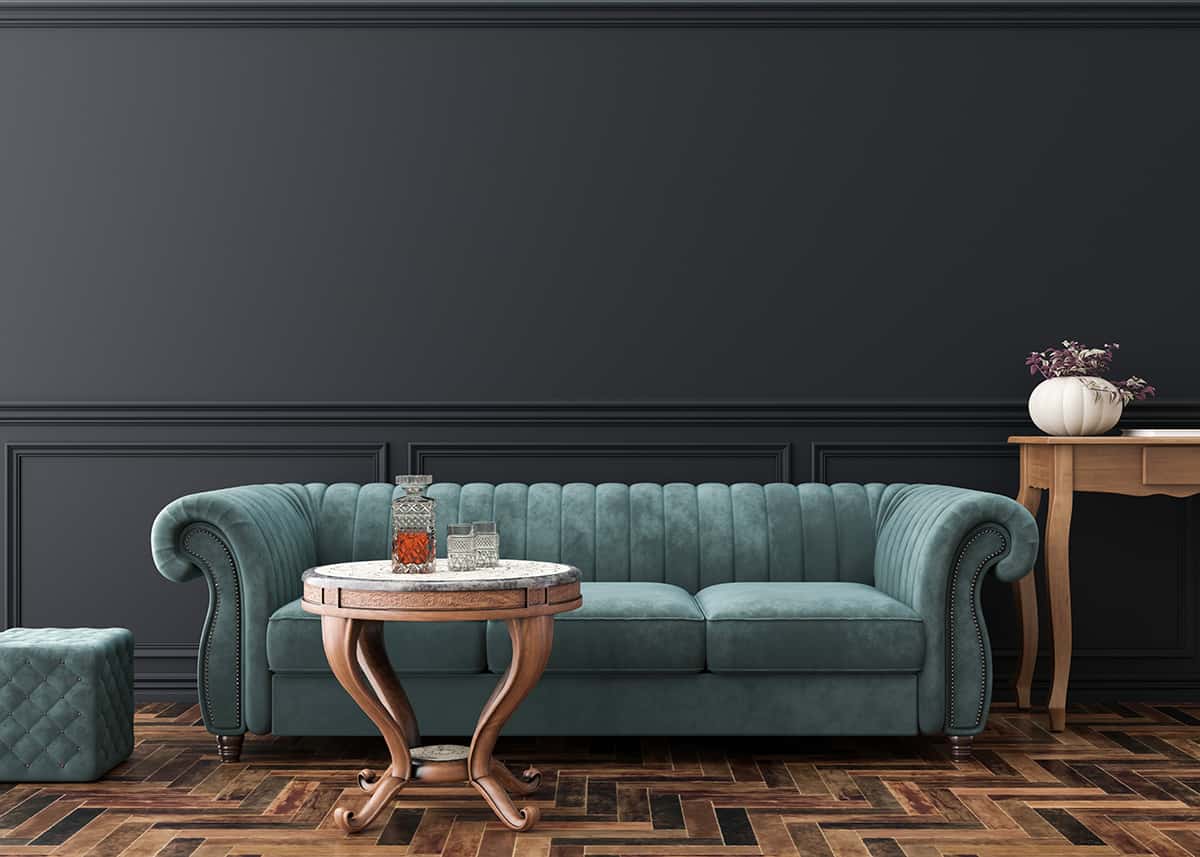 A deep shade of blue for a velvet sofa will look stunning when paired with dark floors. This material color adds a hint of softness to a living room with dark brown wood floors. You can choose any blue shade for your sofa, but consider a lighter shade so as to keep the room as light as possible.
In living rooms with dark wall colors and floors, it is generally wise to opt for lighter color furniture. Since blue is such a versatile color, it works well in any interior setting. Whether you have dark wood or tile flooring, a light shade of blue sofa will stand out beautifully among the rest of the room's furnishings.
Some homeowners might find blue a difficult color to work with as it comes in so many different tones and shades. With dark floors, we recommend sky blue or aqua as the ideal shades to add light to your room and stand out on the dark floor. Just like in this example, the light velvet blue sofa makes an elegant statement in the dark room with dark wood floors.
Red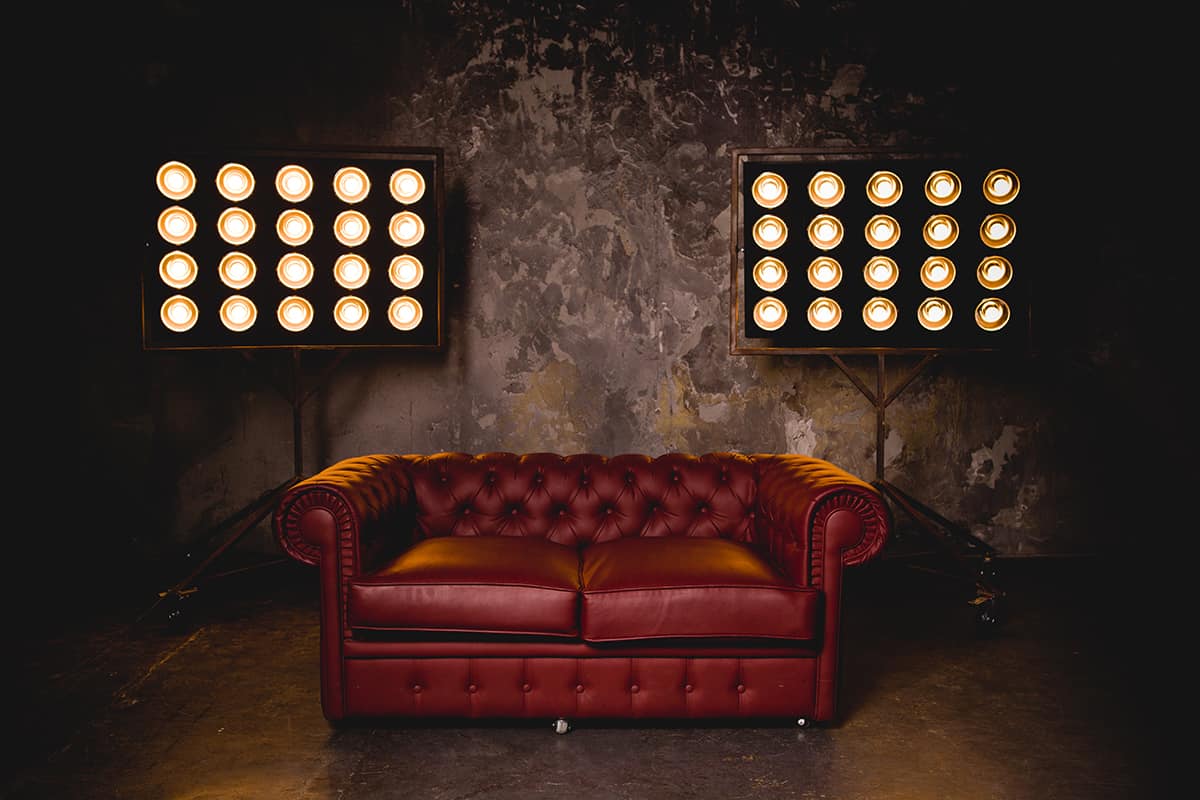 Dark floors can act as the perfect backdrop for bold, rich colors like a deep red sofa in leather. When you choose a sofa in this vivid color, your living room will look formal and classy.
Just like a blue velvet sofa on dark floors, a rich red leather sofa can also stand out in a dark backdrop as shown in this example.
Purple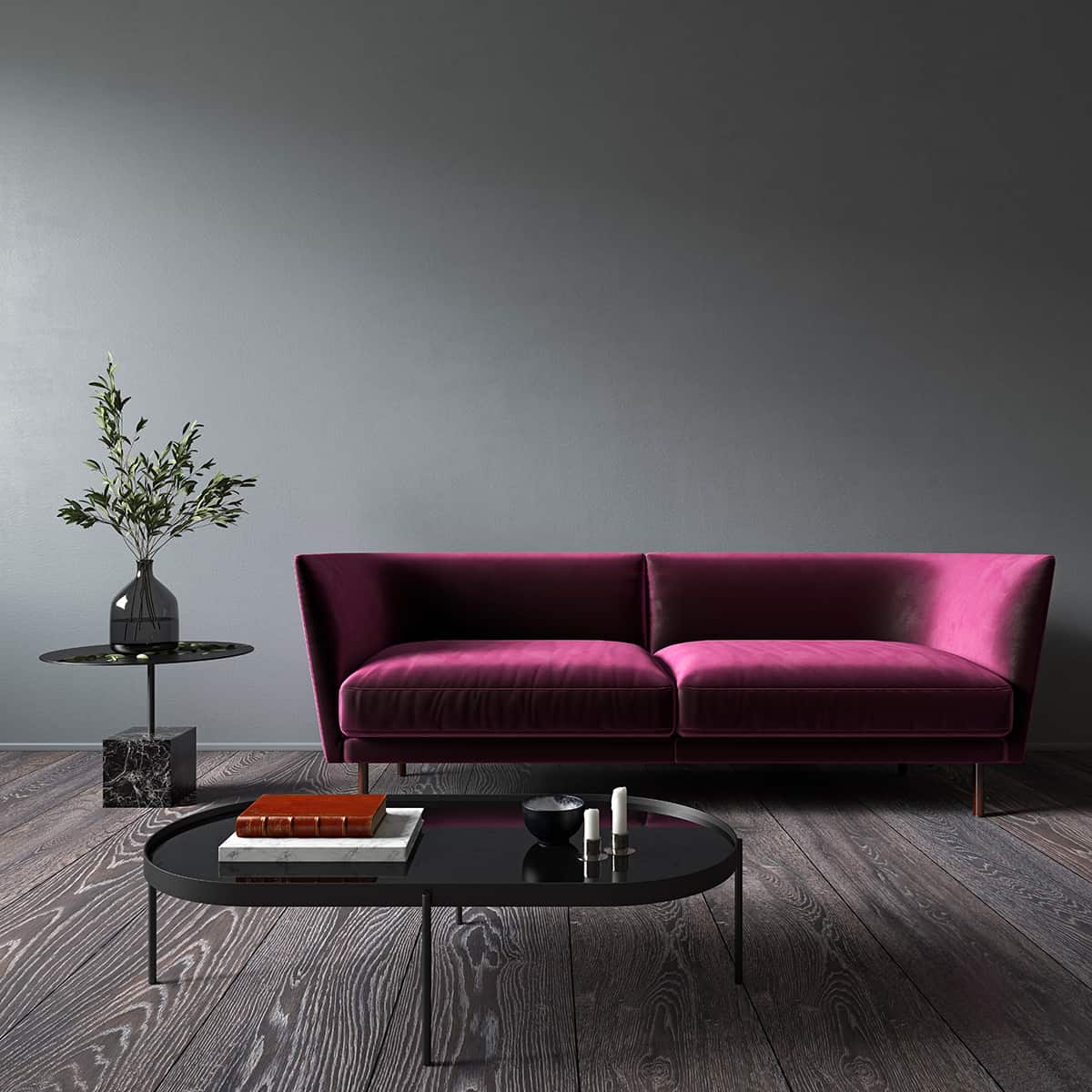 A purple sofa is a refreshing addition to a modern living room with dark wood floors. This majestic color can bring a tranquil and airy feel to your space.
When combined with neutral colors like gray or off-white, the purple sofa will draw all the attention to itself as you can see here. The dark gray wood floors and black furniture sit in the background while the purple sofa shines among them.
Brown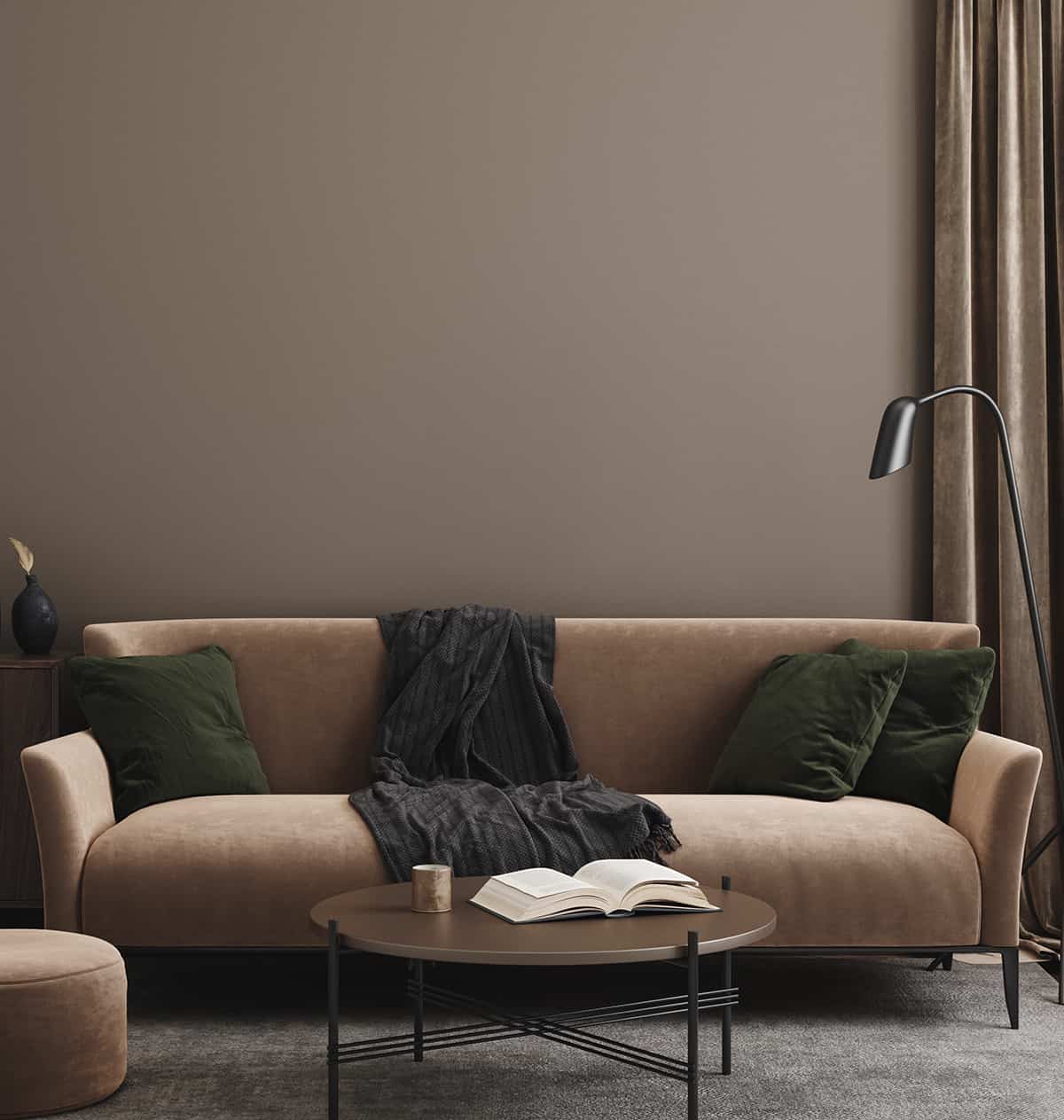 In rustic-style living rooms with dark wood floors, opt for a medium-toned brown sofa so it doesn't look lost on the brown floor. This way, the medium brown sofa can blend in with the dark brown wood flooring instead of standing out like other bold colors. Brown is an earthy color that's highly popular in traditional or rustic interiors.
Light Gray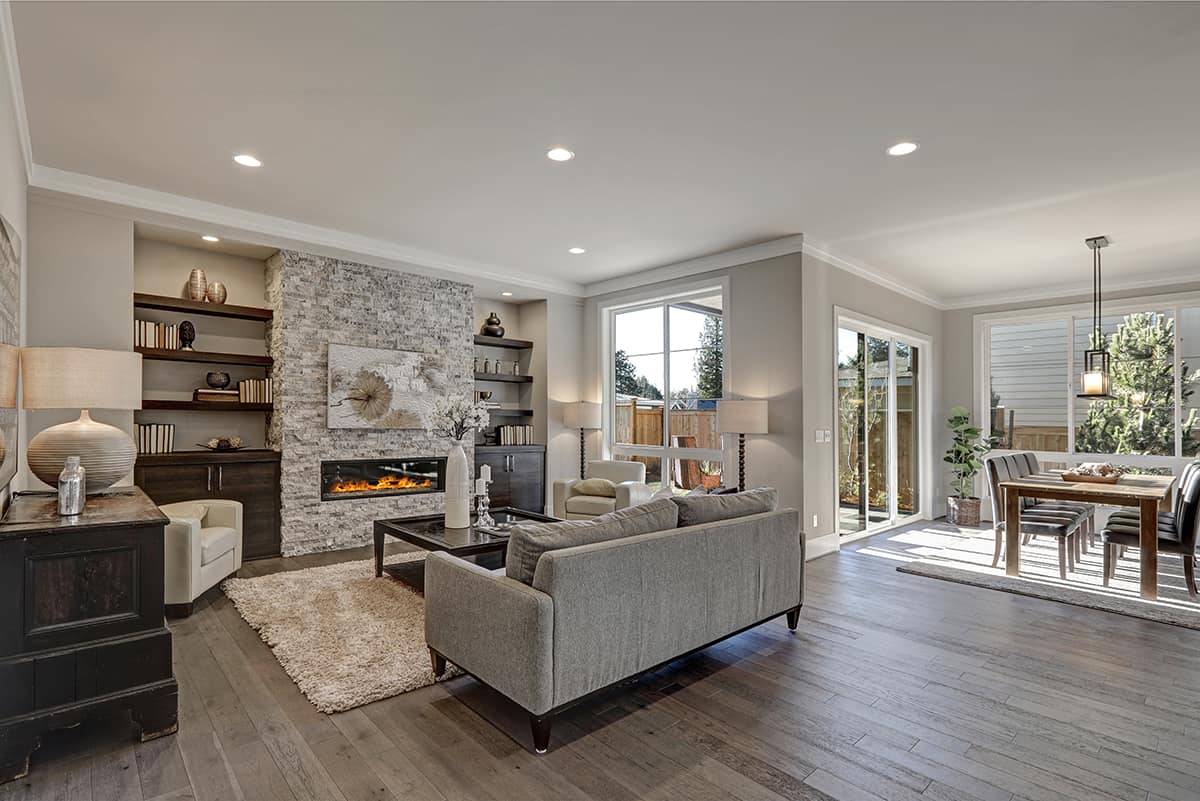 A light gray sofa is a neutral alternative to bold blue or red. In living rooms with dark flooring, a modern cool-toned gray sofa can be just what is needed to spruce up the space.
When your living room has neutral decor with dark wood flooring, the cool-toned gray sofa can neutralize the dark wood floor's warmth and help balance the space. This color is the perfect choice for modern living rooms as it looks elegant when paired with dark brown wood. In fact, gray can produce the same aesthetic appeal as off-white or cream when used in moderation.
Green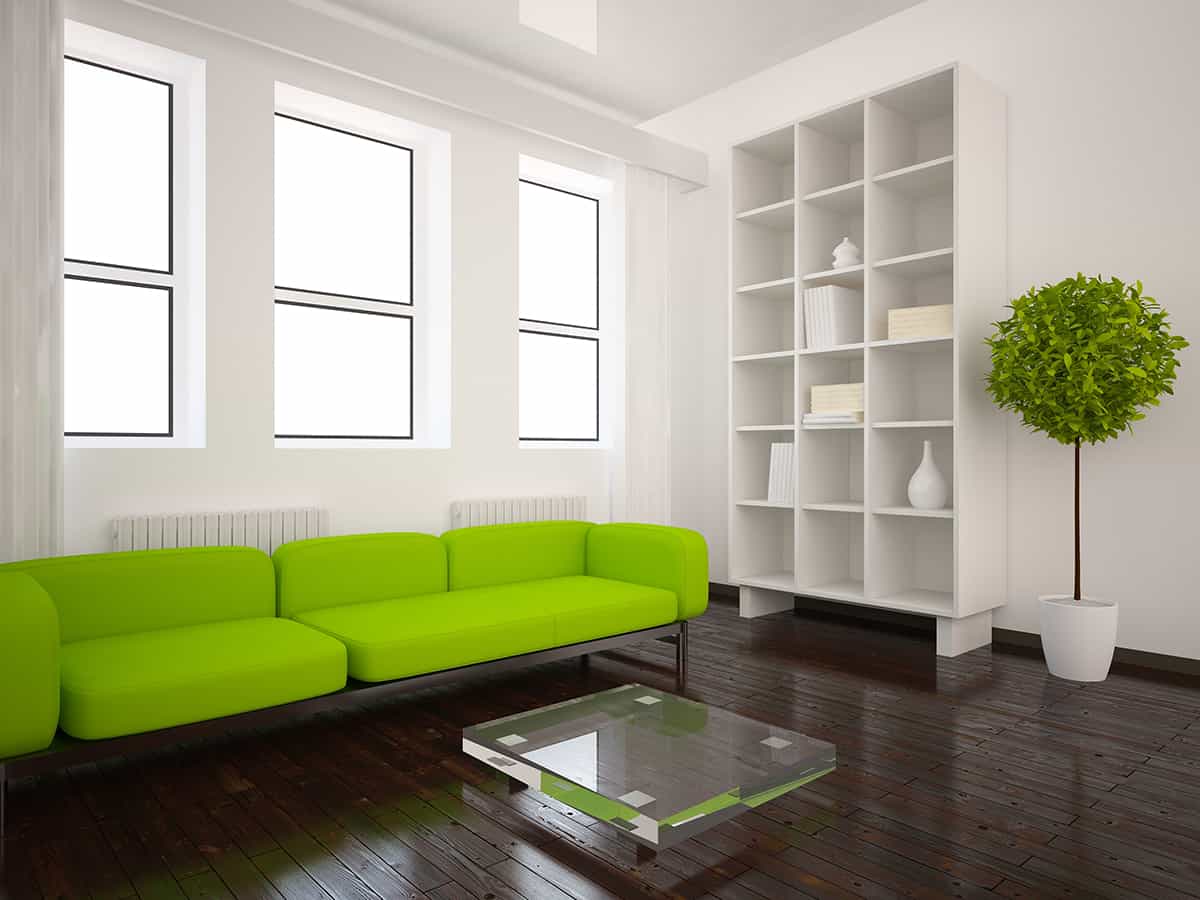 Green is a natural, earthy color that pairs nicely with dark wood or carpet. Any shade will work, but if we have to pick a favorite, it has to be apple green. This bright shade will go well with light and airy living rooms that have dark flooring. Aside from the apple shade of green, olive is another elegant shade that brings a refreshingly modern vibe to the living space.
What Color Furniture Should I Choose For Dark Floors?
There are no set rules on what color furniture you should specifically choose to pair with your dark floors. If your floors are dark wood and you have a small living room, you might want to consider adding bright color furniture to keep the space light and airy. In large, open spaces, however, it is perfectly fine to furnish the room with darker furniture colors in order to promote a cozy ambiance.
When considering light color furniture for your dark floors, you can go with contrasting tones that highlight the flooring. Keep in mind the material of your dark floor as that will be the determining factor behind the color of furniture you select. For example, for dark wood floors, it makes sense to match them with sofas that come with wooden legs. This helps the seating furniture blend in with the wood floor.
Conclusion
With our sofa color ideas that go with dark floors, you can achieve a refreshing and aesthetically pleasing interior. However, you don't have to stick with just one sofa color. Consider using a combination of complementary colors if you want to have more than one sofa in your living room.
For example, you may include a brown leather sofa with red or a blue one with gray. Alternatively, contrasting sofa colors will also work together on dark floors. Yellow can pop next to green, or a solid black sofa in velvet or leather will work fine next to a contrasting white couch. Pairing a single-seater sofa in a neutral color with a brightly colored double-seater can make a big impact in a living room with dark floors. We hope our above ideas have inspired you to pair your dark flooring with the right sofa color.