When you think of Greece, the oceanic views, coastal cliffs and whitewashed villas by the sea often come to mind. Greek interior decor stems from the Mediterranean influence with a lot of open, airy vibes. Wooden beams, painted walls and an array of textures all make for a beautiful coastal look that works great in the bedroom.
If you want to create a stylish and serene Greek-style bedroom decor, you'll need to find inspiration from traditional Greek influences to mimic this look. Before we show you some great examples, it is important to first understand more about this particular interior design.
What is Greek Style Interior Design?
Green style interior design is perhaps the most well-known of all home decoration styles. It is inspired by the Mediterranean style of decor, which makes liberal use of bright shades of blue, such as turquoise, aqua, and sky blue i.e the colors of the sea and sky.
In addition to the shades of blue, the Greek style also uses a lot of white in the form of textured walls, ceilings or even floors. The Greek architectural design is the main influence behind the Greek Mediterranaean decor, which is seen in the circular columns and pillars. Perhaps the most signature Greek architectural patterns are found on the skirtings around the floor and the ceilings.
But it's not just the walls and the ceilings that can be painted in blues and white. These colors are also carried in the curtains and furnishings. The Greek influence is further expanded in the form of ancient sculptures, vases, columns, wall murals, pottery and wall art. All these can make a stunning centerpiece in the bedroom.
The great thing about this style of Mediteranean decor is that you can combine bright colors with a mix of whites and blues to enhance the bold colors even more. Just keep in mind that traditional Greek-themed rooms are decorated in a simple yet refined way so you don't have to go over the top with your bedroom decor.
Here are some examples with pictures featuring Greek-style bedroom decor.
Greek Bedroom Decor Ideas
Stone walls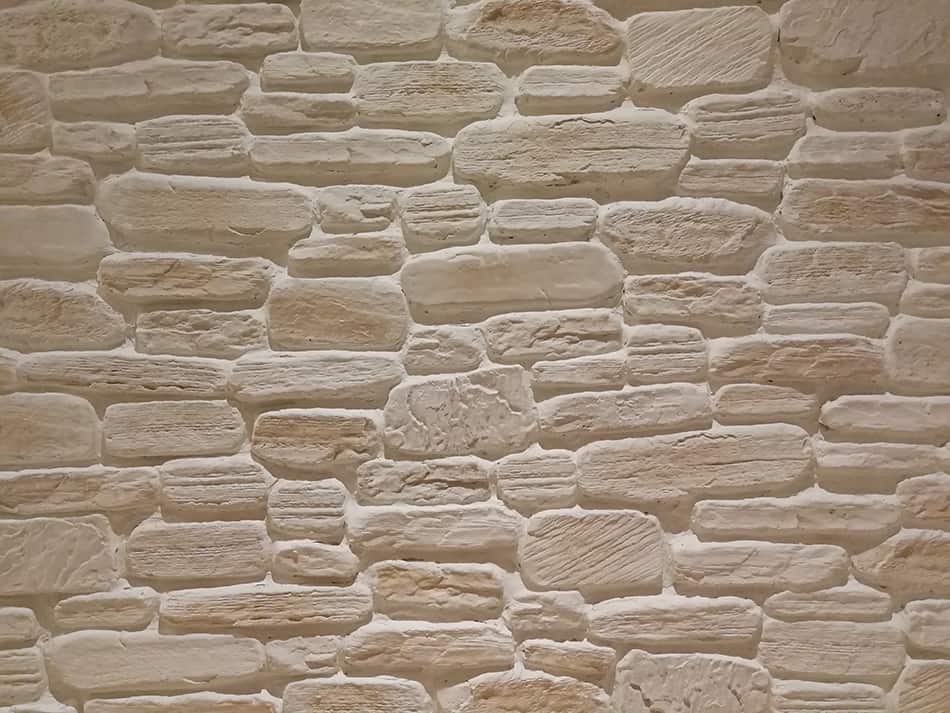 Stone walls serve a significant purpose to the traditional Greek homes. Before air conditioning was invented, homeowners had to keep their indoor temperatures as cool as possible with the help of stone walls. Stone was also an effective barrier against heat.
Although you don't need to create a Grecian stone wall to mimic the theme, stone is, without doubt, a beautiful way to highlight this important element. If you want to add a stone wall to your bedroom, you'll achieve a relaxing and serene atmosphere.
However, if it's not possible to add a stone wall to your bedroom, there are other ways of accomplishing this Grecian theme. For example, a faux white stone wall is a great way to incorporate a Mediterranean theme and enhance the ambiance.
Whitewashed Walls and Ceiling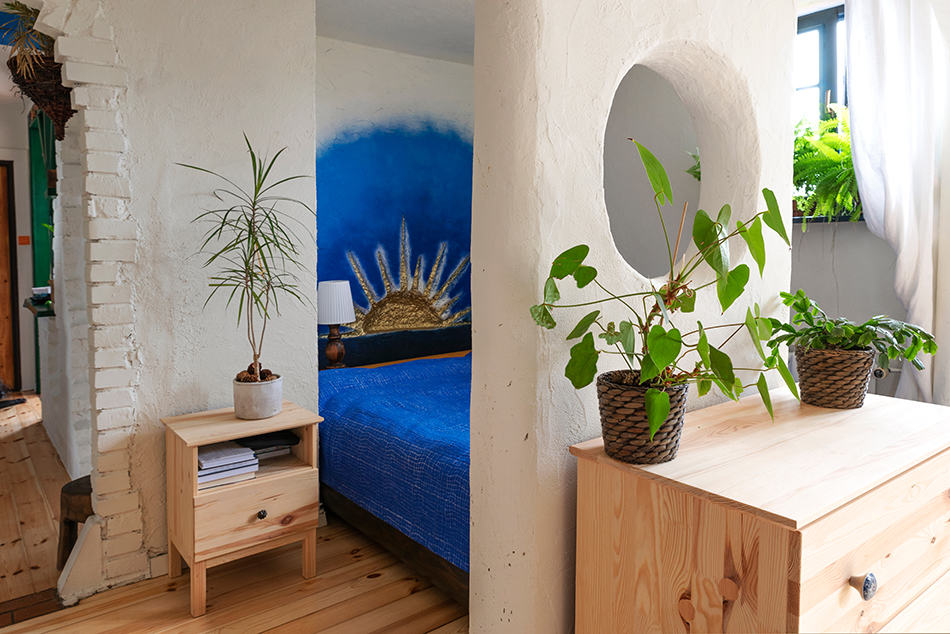 Painting your bedroom walls can be a huge task, but if you want to keep your entire room pristine, white is a beautiful paint color to consider. Most Greek style homes boast whitewashed walls, and if your bedroom space is small, crisp white walls help make the room instantly feel larger.
If you want to take the white color scheme a step further, you can always paint your window frames, cornices and baseboards to complete the look.
Blue and White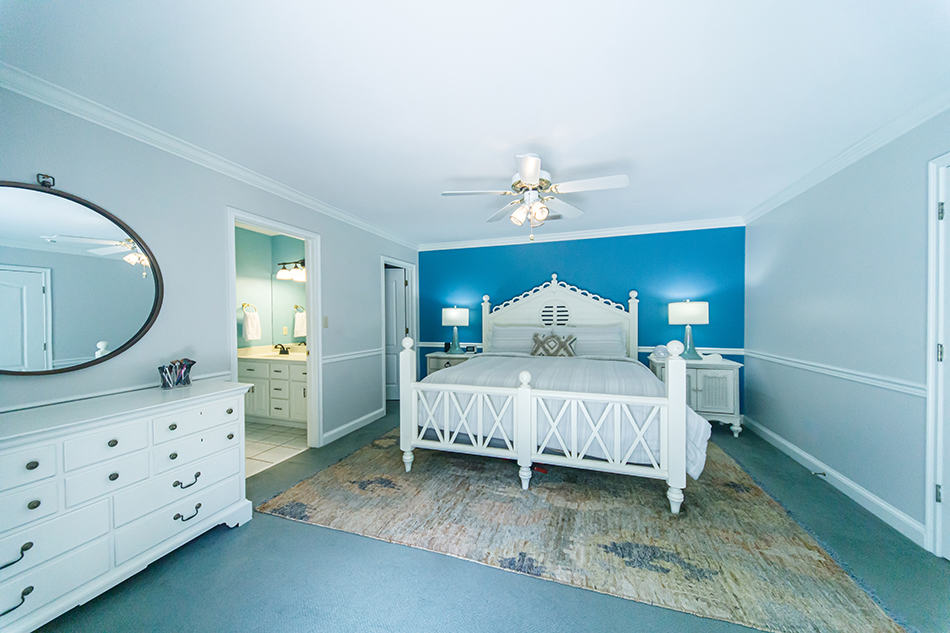 Blue and white are the undisputed colors of Greece. These color combos have always been strongly identified with this Mediterrenean country as they appear in the national flag, symbolize the sky, sea and clouds. Most homes in the Greek islands feature white and blue exteriors not just for what they represent but also for the climatic reason as white and blue reflect the hot sun.
If, however, you consider bold blue to be too strong for your bedroom, you can always play around with lighter shades like bluish-green hues.
Of course, combining whites and blues into your bedroom design doesn't have to be limited to painting the entire walls and ceilings. There are many stylish and simple ways to use these color pairings in your everyday life. For example, you may include vivid blue and white combos in your bedding, floral vases, wall decor or other accessories. Whites and blues are without doubt beautiful colors to include in your Greek inspired bedroom design – whether you use them in moderation or to excess.
Coastal Bedding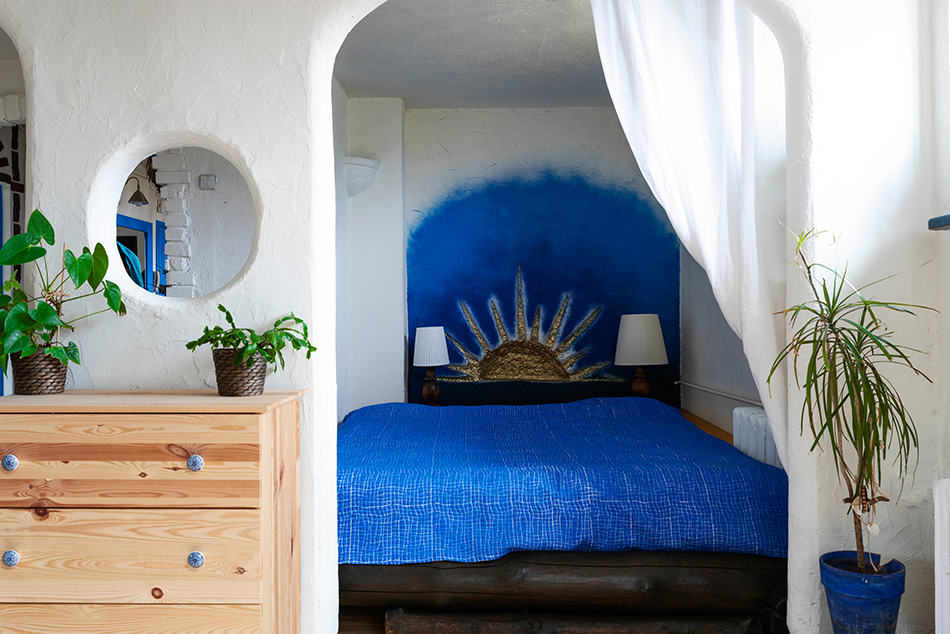 When it comes to choosing the most appropriate bedding for your Greek-themed bedroom, coastal colors are the best option. With whitewashed walls, go for bedding that embraces the coastal life by choosing beach-themed colors, such as pale azure, navy, sky blue or turquoise. These shades of blue are all beautiful accent colors that are especially attractive for Greek-themed bedding.
When choosing textured bedding, a combination of blue and white colors make a great pick. Perhaps a simple white sheet with blue striped comforter in a simple design. Add some brown or
Bedroom furniture pieces in a Greek-themed room are typically simple yet refined. The idea is to showcase the subtle curves of the furniture. Headboards, for example, can be the centerpiece of the bed so make sure you choose a large statement piece. To keep with the light and bright coastal look, go for a chunky, large headboard like the one shown here. This headboard is ornately designed to stand out in this Greek style bedroom. When added to a white and blue bedroom, it can make a beautiful statement.
Ancient Greek Wall Decor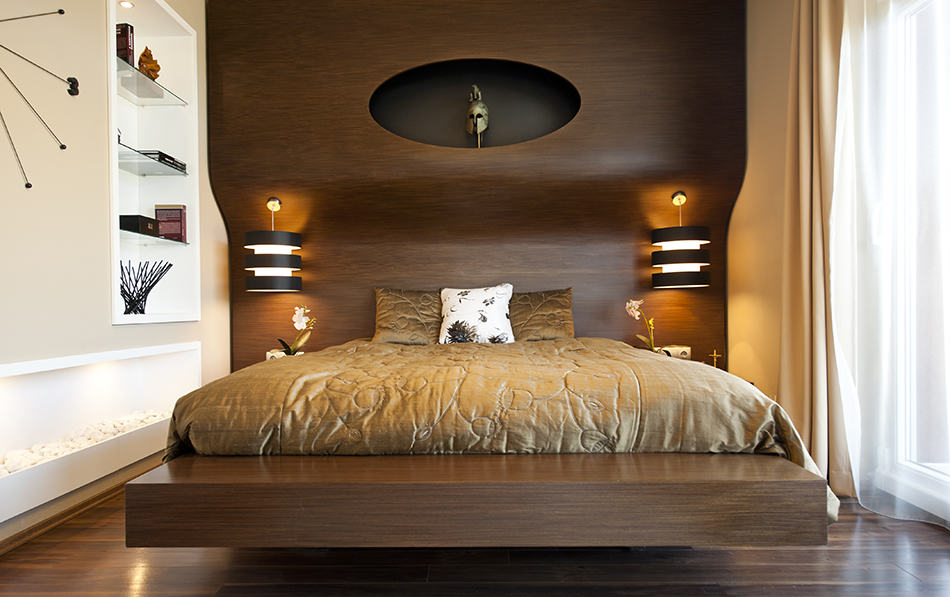 Keep your bedroom light and airy by adding small sized Greek wall decor as a feature on your wall. Small bedrooms can benefit from a vintage style side table next to the bed with a charming Greek sculpture. Other interior art pieces that are usually represented in the Greek culture include marble amphoras, ceramic figurines and Greek heroes.
In this bedroom example, the ancient Greek mask on the shelf above the bed is a small yet refined touch to the Grecian decor.
Light Fabrics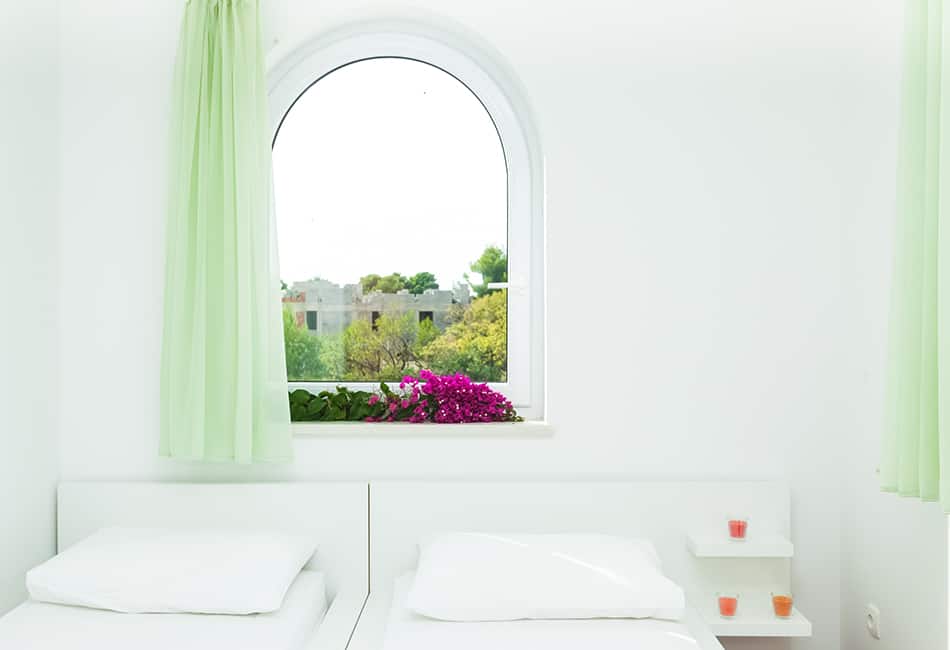 No Greek themed bedroom decor is complete without curtains. Selecting lightweight, sheer fabrics in blue or green colors is perfect for a Grecian design. Treat your windows to light curtains for a touch of elegance and airiness as part of your Greek-Mediterrenean interior decor.
Greek Style Lighting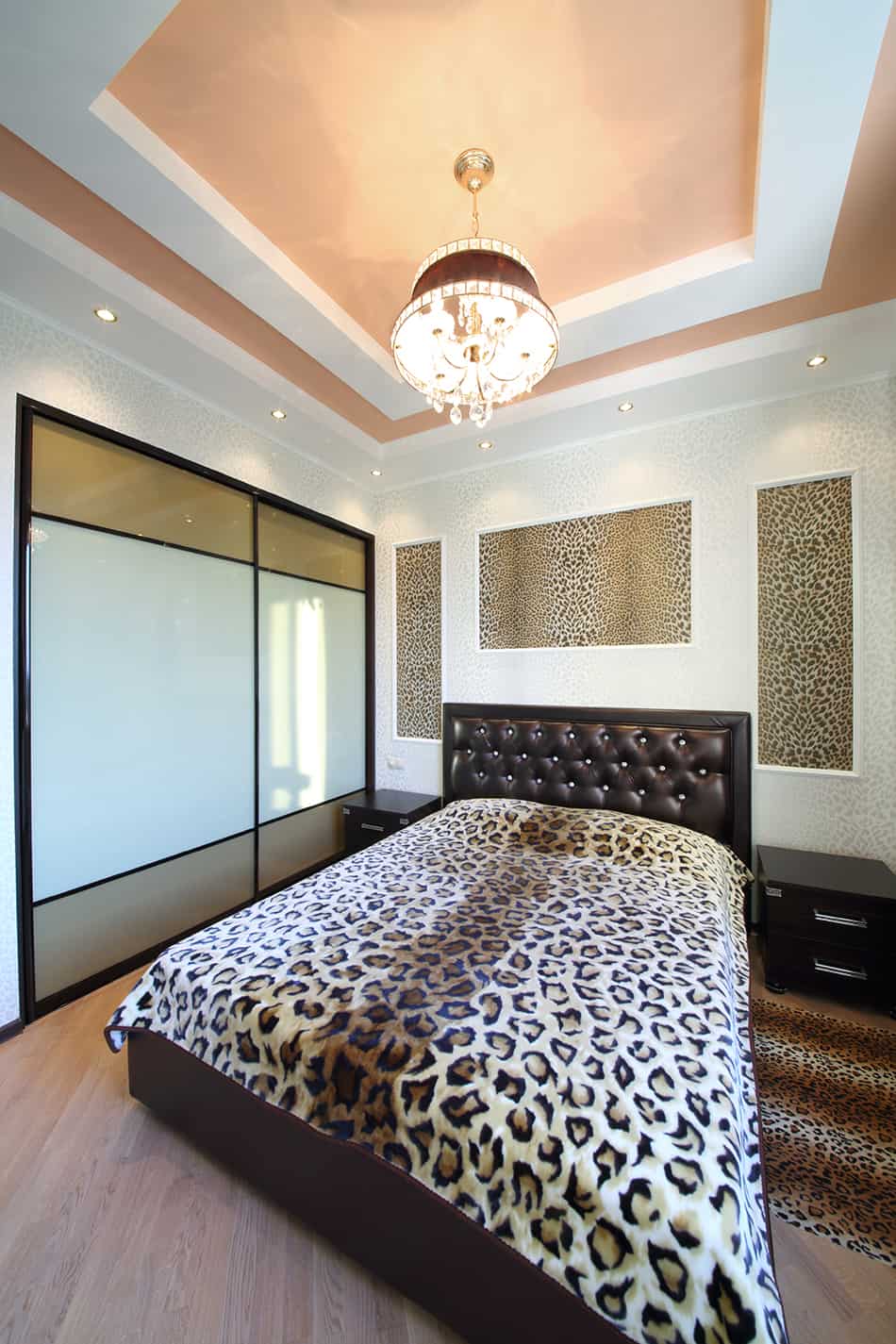 Lighting is another important factor after fabrics and wall decor. While your Greek themed lighting should be functional, it can keep things cohesive – whether you go for overhead lights or bedside lamps. You may even choose a small and elegant crystal chandelier to add a focal point to your bedroom. Alternatively, wall sconces for bedside table lamps can also create a romantic, Grecian feel. If your bedroom has windows, keep it light and airy by allowing natural light to enter your room. After all, the Greek theme is about a light and airy lifestyle by the coast.
Ancient Greek Elements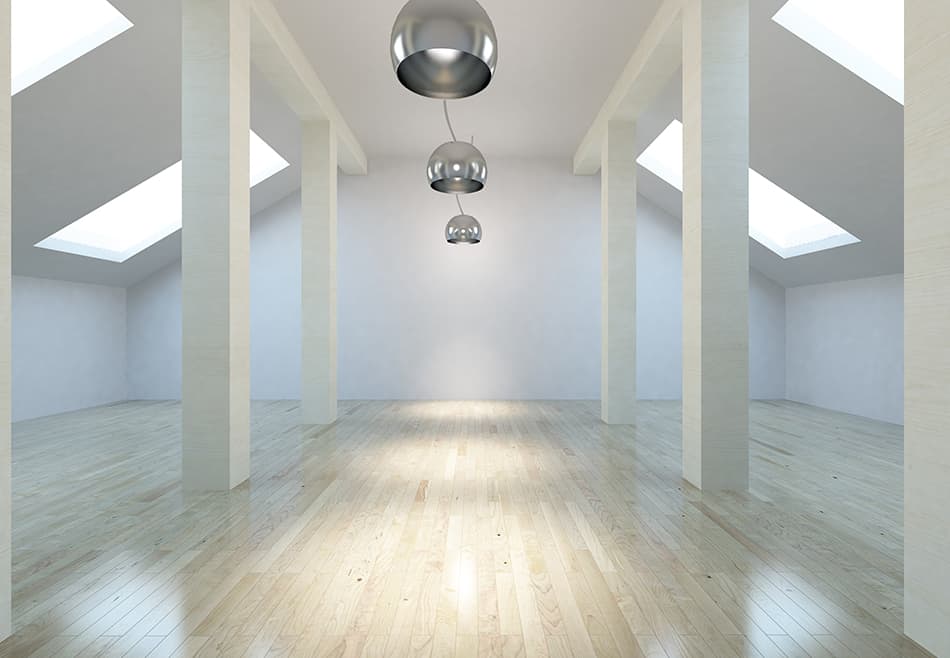 In ancient Greece, most buildings and temples often featured large columns or pillars. In fact, the oldest columns found in Greek architecture were the Doric pillars before the Ionic columns began appearing in smaller buildings. But perhaps the most recognizable column types were the intricately designed Corinthian, which are detailed columns featuring carved leaves and flowers.
Pillars or columns shouldn't just be associated with ancient architectural elements. These are an excellent decorative touch for a classic look in a modern bedroom interior. You can bring drama and style to your room by adding a few white columns to your bedroom. Alternatively, opt for wall murals featuring white Greek columns in temples. This is the cheaper way to achieve the look.
Conclusion
Greek style is a simple and refined interior design that uses plenty of patterned materials, statement figurines and other decorative motifs. There are numerous ways you can achieve this Mediterranean inspired look in your bedroom without spending a lot of money. It has a lot to do with one's personal taste and style, but just be sure to keep it very bright and airy by including lightweight fabrics and coastal bedding. And for those who prefer a more rich and ornate toned theme, the Greek style serves well to fulfill their expectations in the form of intricately designed wall decor and elaborate vases.
If the Greek theme is your favorite style for decorating your bedroom, then you'll surely gain some inspiration from our beautiful examples above.