Whether you're building a new porch or resurfacing your existing porch, you have a lot of porch flooring options to choose from. We'll take a look at the pros and cons of each one to give you a better idea of what you might like to use on your porch.
Planning the Porch Foundation
Before we get into specific materials, let's talk about general design considerations.
First, think about how you want to use your porch. Is it simply part of the entryway to your house? Is it a place to sit to enjoy the weather and gather outside? Do you plan on enclosing the porch and making it a place for the kids to play? Your plans and ideas for the porch will determine how large it should be.
If you're not going to enclose your porch, plan to make the porch slope slightly downward away from the house. This will encourage the rain to roll off the porch instead of toward the house.
It will also make sweeping or pushing snow off the porch easier. If you already have a foundation laid, you can create a slope by placing a 1-inch board under your finishing surface along the side of the porch where it meets the house.
If it is possible with the material you're building the porch out of, leave it open underneath to allow for airflow. This will reduce the chance of mold developing underneath and along the outside walls.
You can also barricade the underneath with latticework to keep animals from nesting under the porch. Add hardware cloth behind the lattice to keep small animals from climbing through the gaps.
And finally, it's important to know which styles of flooring you want for the porch. There are some options, such as tongue and groove flooring, or separate wooden panels running from one end of the porch to another.
1. Wood Flooring Porch Options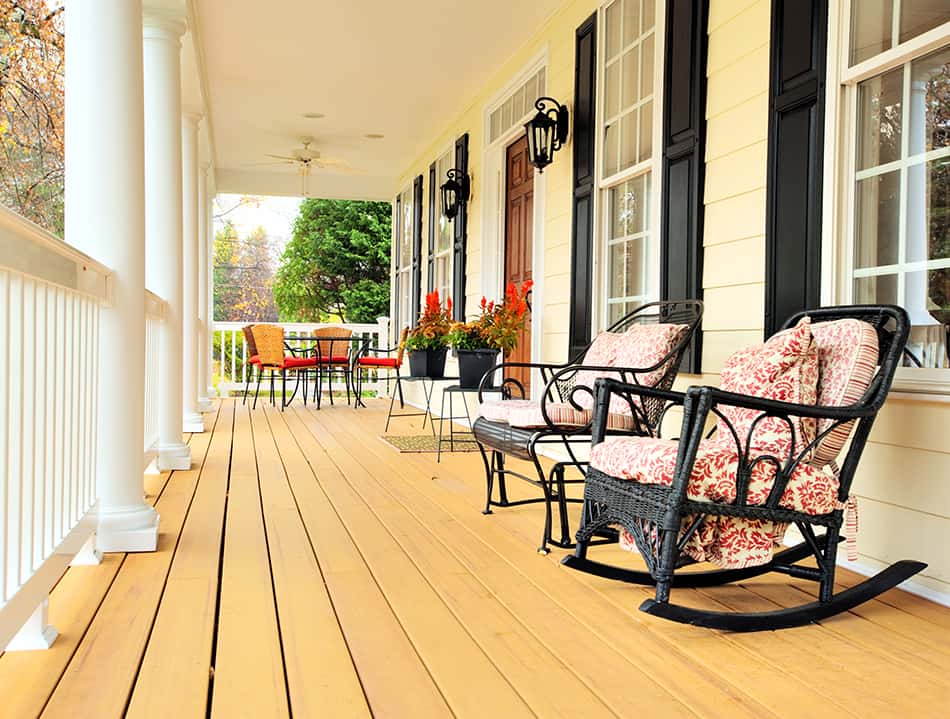 The only differences between a porch and a deck are the size and whether it's covered or not. The flooring can be exactly the same. And because wood is so easy to work with and build on, it's the most popular choice for finishing a porch.
A. Pine Wood Flooring
Pine is the most widely used wood for decks and porches. It's a light wood that you can stain to be any color you want. It's also a softwood, so it's very easy to work with while also being quite durable. A pine deck or porch can last 15 years without much maintenance.
The maintenance you do perform will be resealing it to keep the water from soaking into the wood. If the planks you use don't come pre-treated, you'll want to seal the entire porch within the first year of installation, but give them a couple of months to settle. After that, reseal the porch every couple of years. If you notice a board cracking or warping, replace it.
Pinewood flooring costs around $13 per square foot.
B. Redwood Flooring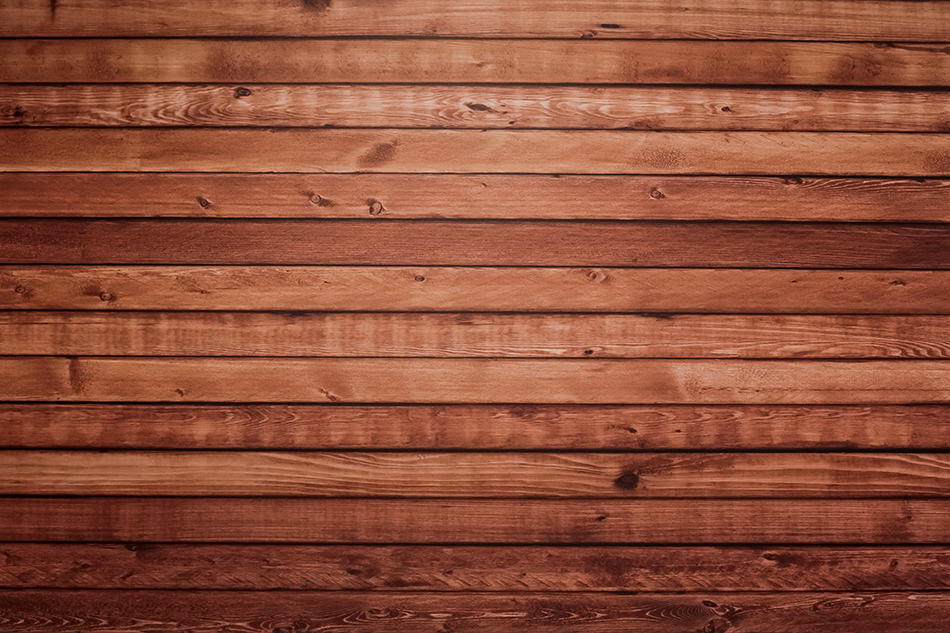 If you use redwood, you won't need to seal it, and it can last a few years longer than pine, maybe up to 20 years with no replacements needed. You also won't need to stain it as it does a natural red hue. It is more expensive, though, at $20 per square foot.
C. Cedarwood Flooring
Cedar is another wood that doesn't need to be sealed, making it very popular for outdoor construction. It can last even longer than redwood, possibly up to 30 years without replacing any boards, but is available in larger supplies than redwood, bringing the cost down to the same $20 per square foot.
2. Faux Wood
These are materials made to look like wood. In general, they're more durable and less expensive than wood. They're also engineered to be easy to work with. Try as they might, though, these materials don't quite have the look and feel of real wood.
A. Plastic-Wood Composite Flooring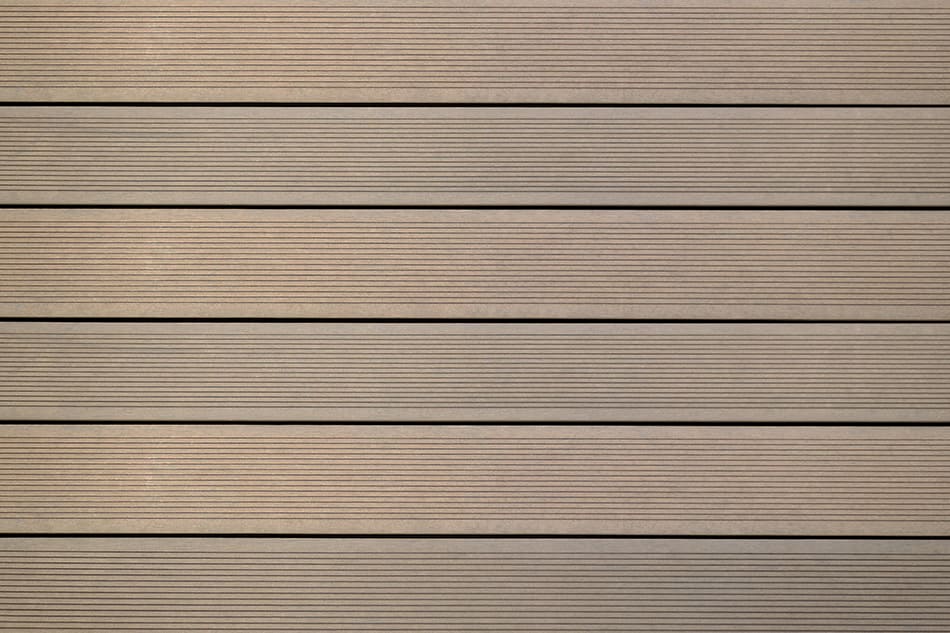 This composite material is a mix of plastic and wood fibers. It's very durable (lasting up to 20 years), is resistant to outdoor elements, is fire-retardant, and looks the most like real wood out of the faux wood options.
The main complaint against plastic-wood composites is that they're not environmentally friendly. While they are made out of recycled plastic, the material does not biodegrade and cannot be recycled again since it has been mixed with wood. Some states will not allow you to use this material.
If you are permitted to build with plastic-wood composite, it will cost around $20 per sq. ft.
B. Composite Wood Flooring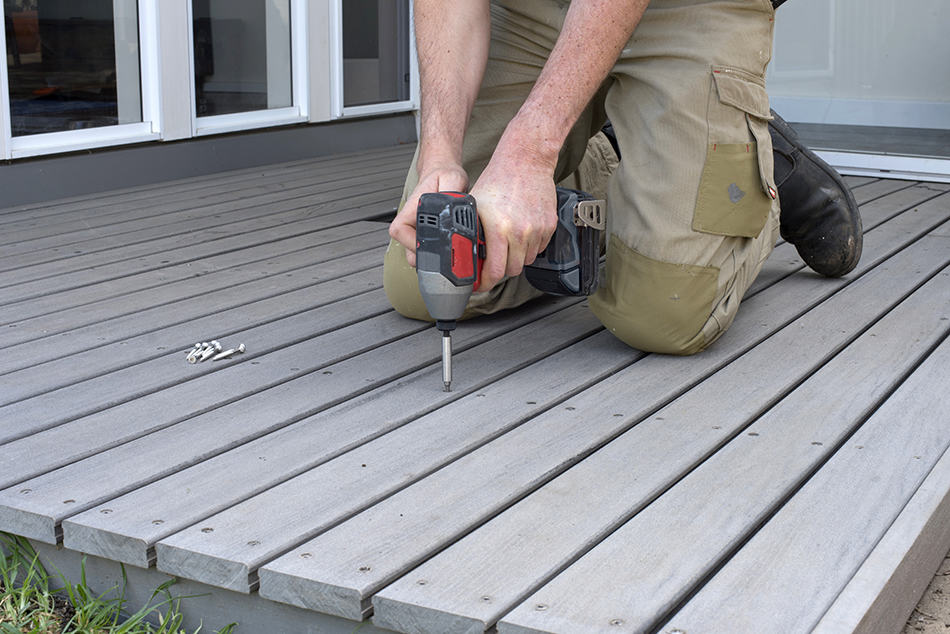 This composite flooring is recyclable, and it has all the benefits of plastic-wood composites. Best of all, it costs around $2.70 to $11 per square foot.
On the downside, they retain heat, so if you have an open porch that gets direct sunlight, you might not want to walk on this type of porch on your bare feet. The heat radiating from the floorboards will also add to the temperature you feel when you are sitting outside.
Composite wood flooring may or may not look much like real wood, depending on the pattern you buy.
C. Vinyl Flooring
Click-together vinyl flooring and luxury vinyl have been popular inside homes; now, they're moving outside. These exterior planks are easy to install and very durable in outdoor conditions. They resist water damage, UV fading, aren't tasty to insects, and won't grow mold. They're also very easy to clean.
While they look very nice, it's easy to tell when a "wood" floor is actually vinyl. Also, be careful when cutting vinyl floorboards, as the dust is toxic. Wear a respirator and throw the sawdust away in a sealed container.
You can expect to pay between $8 and $10 per sq. ft. for low-end planks and as much as $20 for higher-end planks. The difference will be the thickness of the boards and the surface pattern.
3. Tile Flooring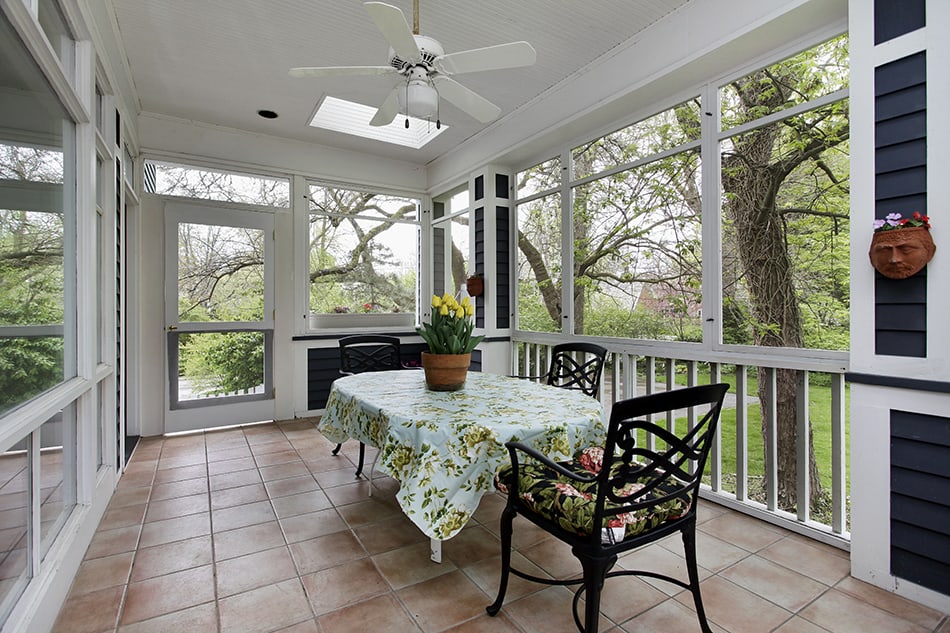 Here's another flooring option you would normally think of as being an indoor material. As long as they're rated for outdoor use, you can buy any style of porcelain or ceramic tile to finish your porch.
Exterior tile flooring comes in a wide range of costs, but the range is $9 – 65 per sq. ft., making it a very cost-effective option to install and replace as needed.
So, what are the negatives of tile? In general, people find cutting and grouting tile more difficult and time-consuming than building with wood, so this might be a deterrent if you haven't worked with tile before.
Also, you might not want to use smooth tiles outside as they can be very slick when wet. At the same time, tiles with a texture can be harder to clean, as grime sticks in the grooves and crevices. And if you experience freezing weather, the tiles can become brittle in the cold and may crack when they ice up.
4. Plastic Tile Flooring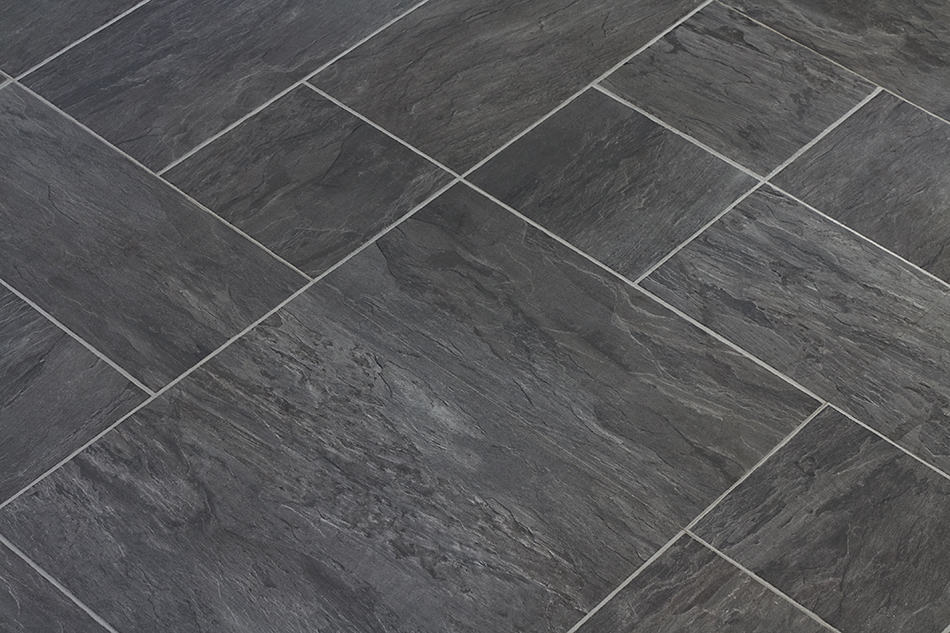 Speaking of tile, you can avoid all the negatives of porcelain and ceramic by going with plastic. They're designed to allow water to drain through the "pores" so that they don't get slippery or icy. They're also easier to cut and install than traditional tile types.
The downsides are that they look more utilitarian than decorative. These are what you would see around a pool, not necessarily the best fit for the front of your house. They're also very hard, meaning they're not comfortable to walk on.
5. Outdoor Carpet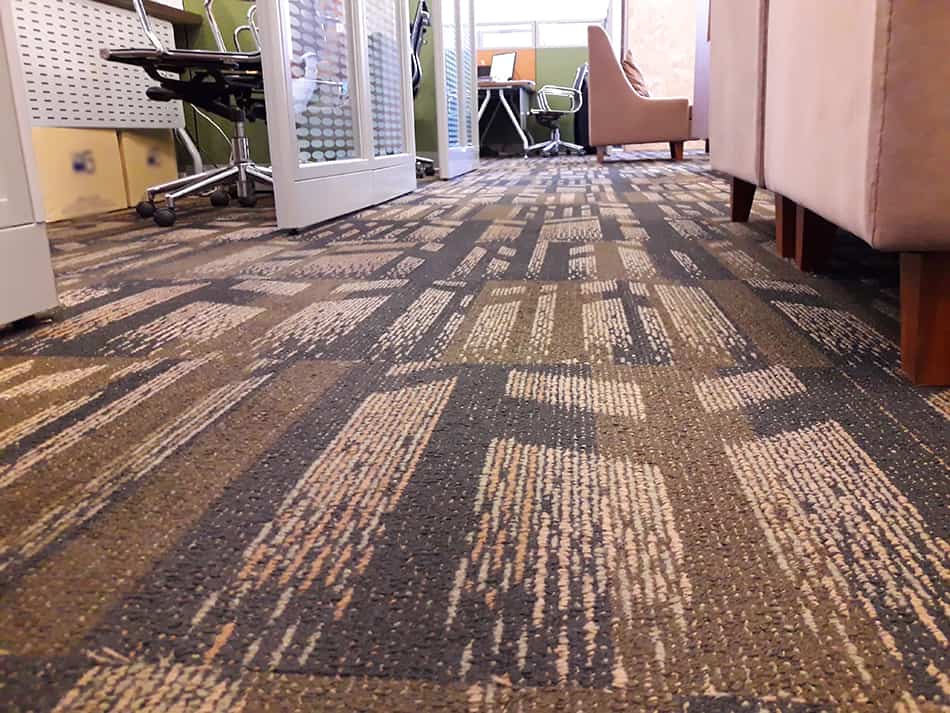 If you have a covered porch that doesn't get wet, you can consider a low-pile carpet. The low cut means it won't collect dirt, so it stays looking clean longer. To clean it, you can either run the vacuum over it or sweep it off with a broom.
You can purchase outdoor carpets in rolls or as tiles. You can also consider laying down a large outdoor rug. Installing rolled carpet requires spreading adhesive or stapling the carpet down.
If you buy carpet tiles, they should have a peel-off back with a self-sticking material underneath. So, tiles are the easiest to install, but they look less like indoor carpet.
Low-pile carpet is nice for a porch because it's comfortable to walk on and doesn't hold a lot of heat. When people approach your door, the carpet gives them a cozy feeling and the sense that your house is a welcoming place.
On the downside, even outdoor carpets won't last as long as other materials. The good news is that you can buy outdoor carpets from $1 to $5.5 per sq. ft.
6. Artificial Grass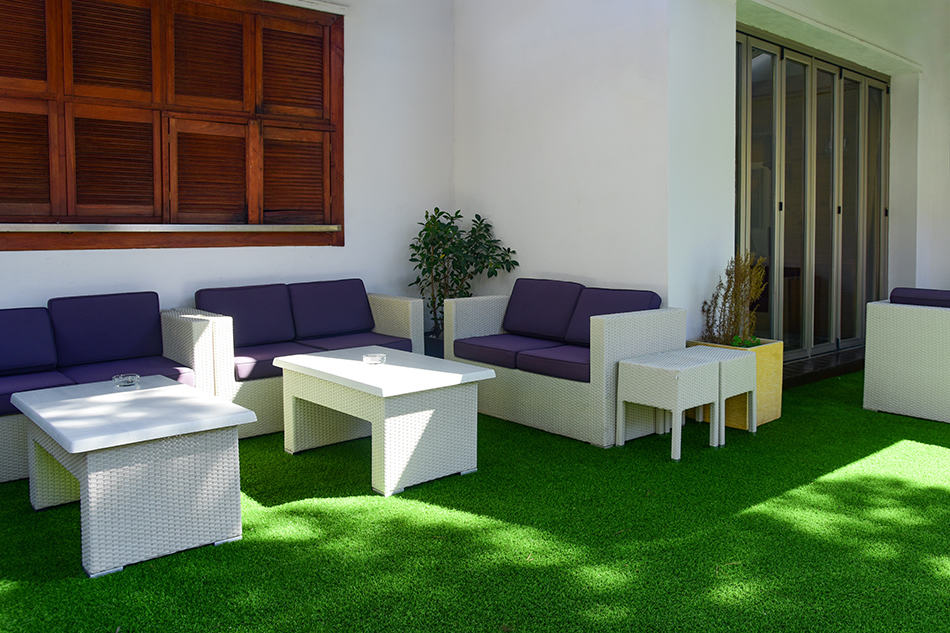 Another type of "carpet" is artificial grass. Again, this comes in rolls and tiles. Both are extremely soft to walk on, as they can be higher and thicker than low-pile carpets and still retain their cleanliness. They also don't retain heat.
Why might you not want artificial grass on your porch? It looks fake. It's obviously not grass or carpet. You might also not like the bright color right up next to your house.
7. Rubber Flooring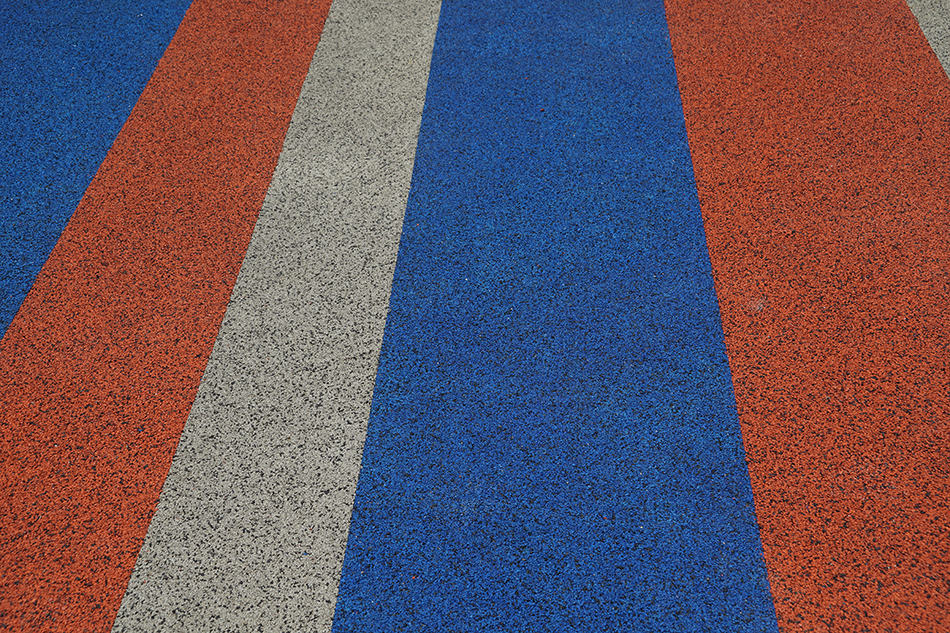 Again, available in rolls or tiles (pavers), rubber flooring is comfortable to walk and play on. This is the same material as they use around playgrounds. It lasts up to ten years before visible signs of wear and costs $1-2 per square foot to replace. You can also buy it with different textures and patterns. If you don't mind the look of the synthetic material, this might be the way to go.
8. Brick Porch Flooring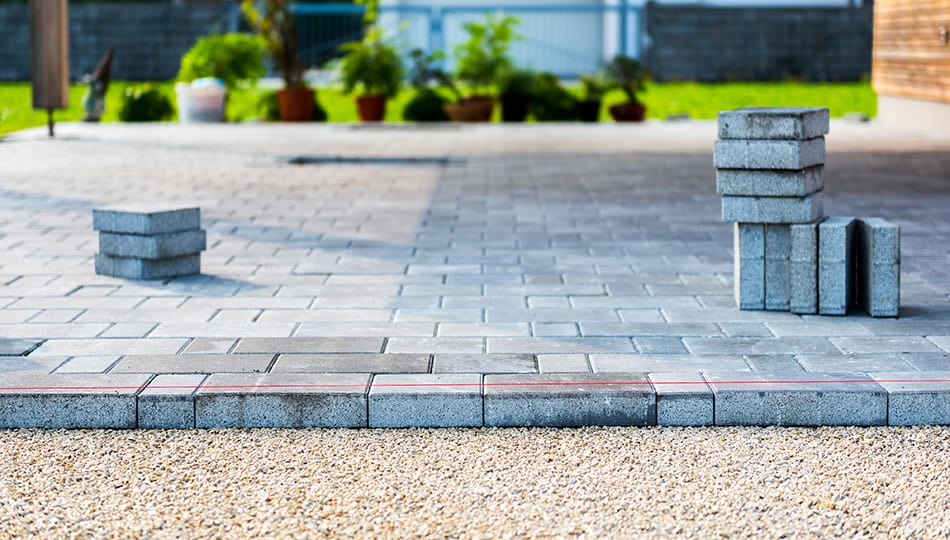 Brick is more expensive, but a brick-and-mortar porch might be just the look for your house. While brick does last a long time, it's susceptible to cracking and chipping, particularly in cold weather.
When that happens, you have to cut the bricks out and replace them. You might also need to re-grout if it cracks along a mortar line.
9. Concrete Flooring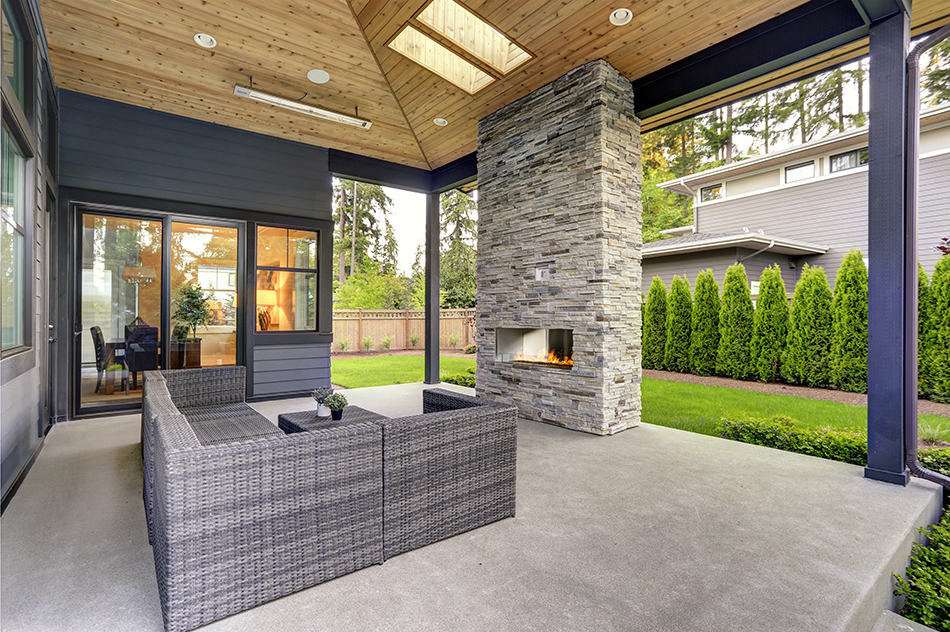 Concrete carries the same risks as brick, but instead of replacing a piece, you generally just fill in the crack. The downside is that it looks obvious when you make a repair unless you re-finish the entire surface.
The upside to creating a concrete porch is that you can now use stained concrete to control the color and stamped concrete to dictate the pattern and texture.
10. Natural Stone Flooring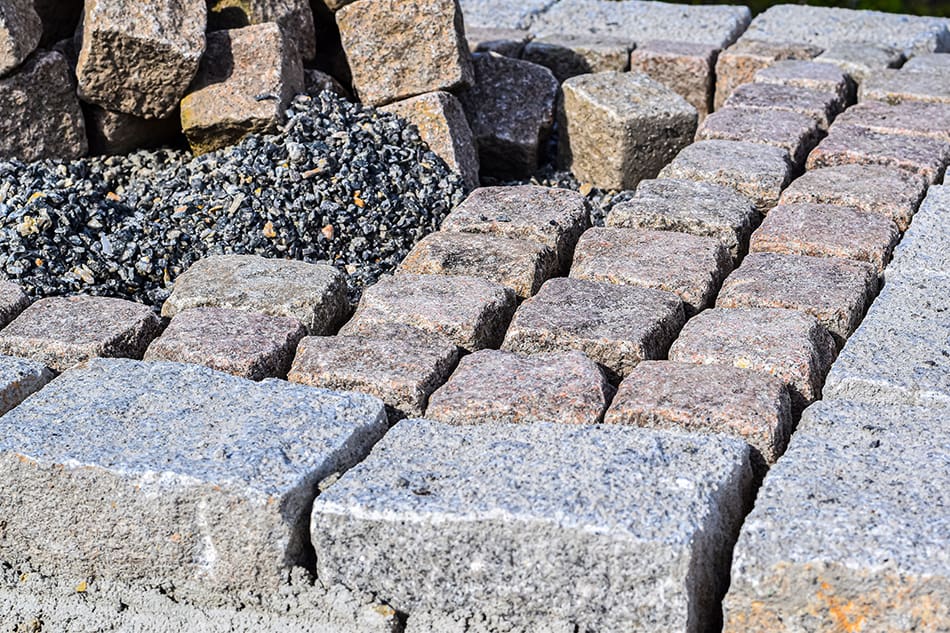 The most expensive option is natural stone. It generally weathers better than brick or concrete because even if it cracks, the markings add to the character of the stonework rather than detract from the look.
If your house is built to be more rustic in appearance, a stone front porch can be the perfect complement.