Mid-century modern houses often boast bright, colorful front doors that show off the fabulous exterior design of the house. Colorful doors bring a beautiful contrast to these homes and give them character. To improve your mid-century home's curb appeal, consider adding flair to your front entry by painting the door an attractive color.
So what front door colors suit a mid-century home? White, gray, black and other neutral tones help bring a powerful contrast to your home, but bolder colors like serene blues and purples also add a peaceful feel to such homes. Combining cool and warm tones will create a harmonious feel, especially if your mid-century home is surrounded by nature.
If you're trying to decide on the best mid-century front door colors, here we have some great examples with photos to give you inspiration. But first, let's delve into the defining exterior features of a mid-century home so you can get a better idea of the best front door colors to choose for your home.
Characteristics of Mid-Century Modern Exterior Design
Simplicity
One of the most noticable exterior design characteristics of a mid-century modern house are the minimalist features. Unlike Victorian style homes, there are no ornate details or shimmery accents on mid-century homes. Instead, simple and no-frills symmetrical exteriors are the typical feature of these houses.
Rich, Bold Colors
The exterior of most mid-century homes often features pops of rich color. These can include bold hues, jewel or earthy tones and neutrals. Think orange, mustard yellow or brown as the classic paint colors of mid-century modern homes. When paired with other vivid exterior colors, you can create an organic design with a hint of nature as inspiration.
Clean Lines
To keep a mid-century home relevant and updated, it must remain modern looking without any visual distraction. This means no contrasting shapes or lines to give the exterior an ornate design. Instead, the focus is highlighted on the function of the house rather than its aesthetic.
The exterior design of a mid-century home is truly minimalist in order to keep its appearance down to earth and simple. The siding is typically in brick or wood with paneling in earthy tones. It is common to see pops of color on window frames and front doors for accent, although you will find some homes in all-neutral exterior colors.
Now that you have a basic idea of the main features of mid-century exterior design homes, you're ready to explore our top front door color ideas for these homes:
Mid Century Front Door Color Ideas
Introduce Nature with a Natural Tone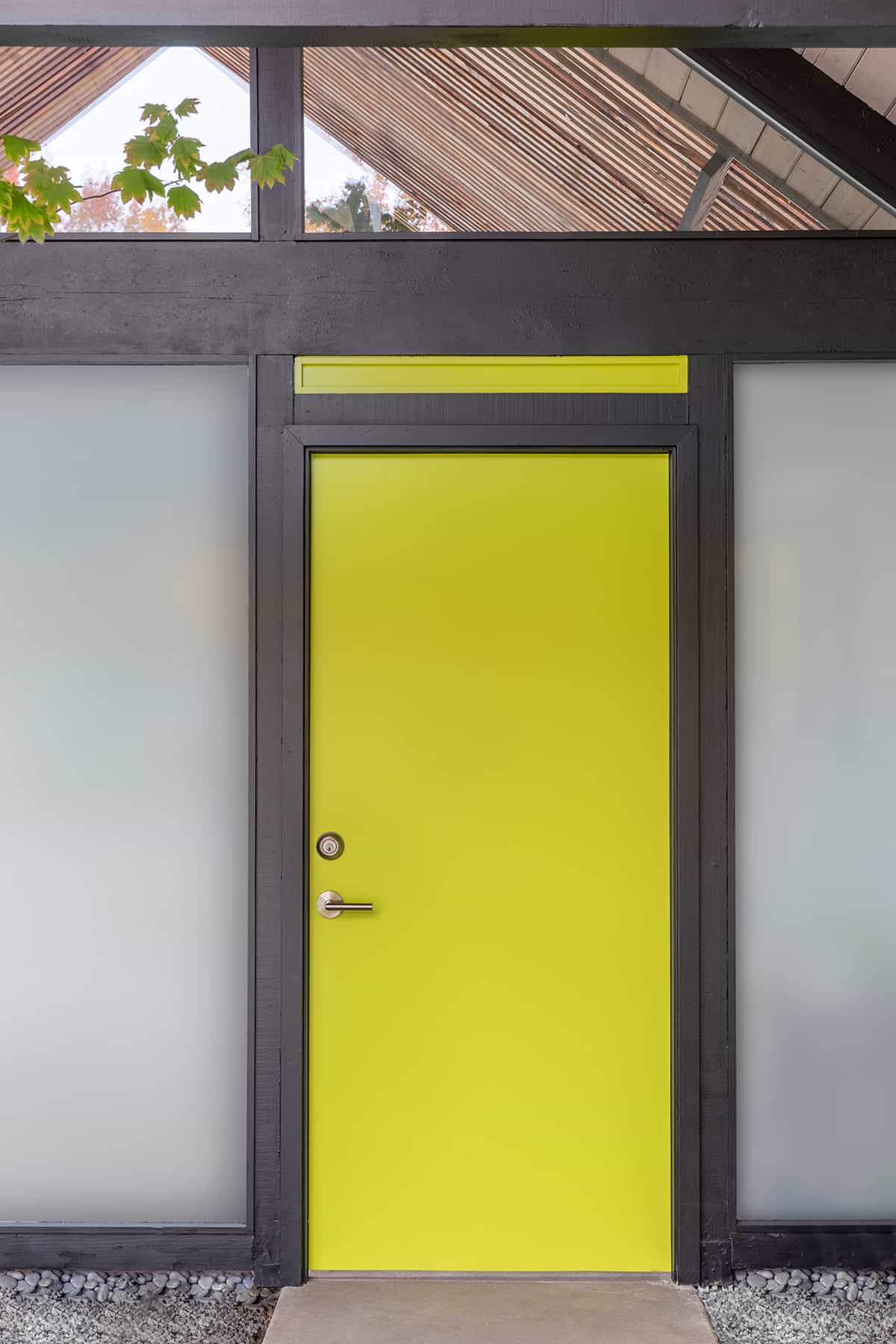 Bring nature to your front entry by choosing a natural tone of green for your entrance door. Apple green is our favorite shade as you can easily blend this color with the foliage around your mid-century home for a harmonious look.
The exterior design of mid-century homes are often decorated with natural colors and muted shades like greens. This ensures your front door is the center of attention but without the need to add any architectural features.
Mid-century homes boast simple, no-frill exteriors that are both modern yet classic. To keep your home updated, add some brass hardware to your green front door to make a welcoming first impression.
Use a Refreshing White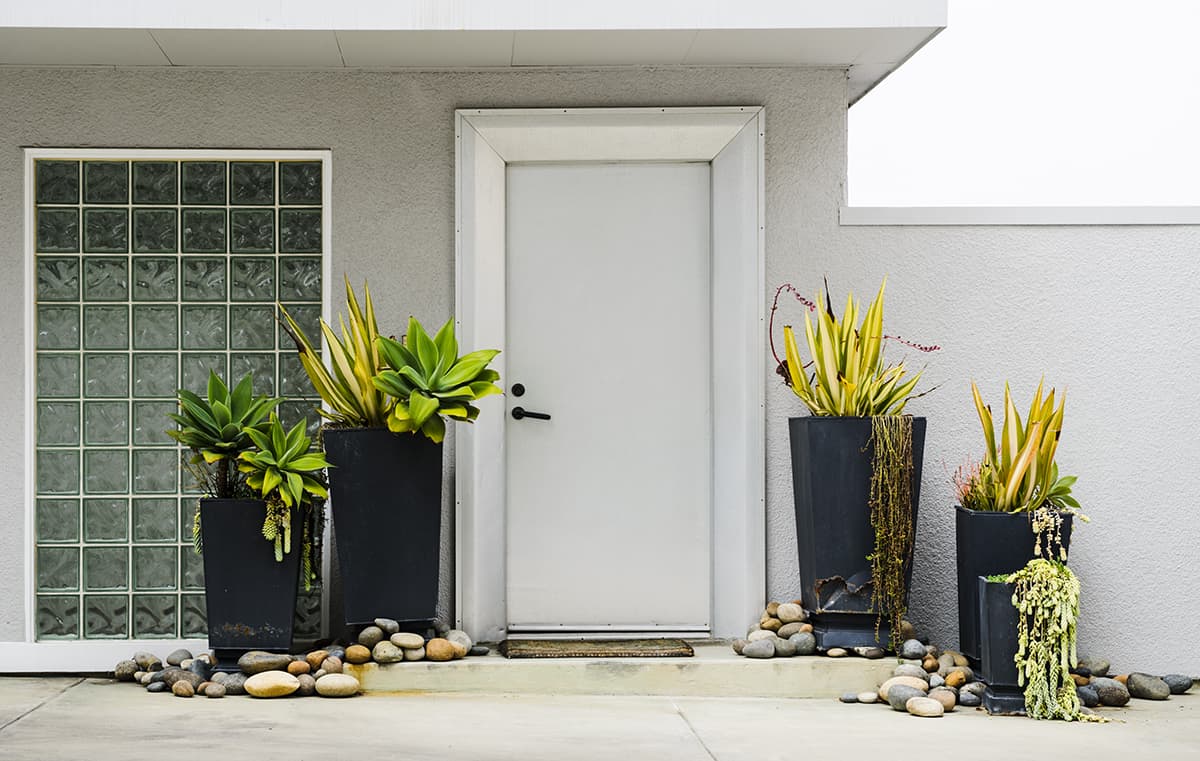 One of the quickest ways to increase a mid-century home's curb appeal is by painting the front door a bright white color. This neutral and clean color makes a world of difference to your home's appearance. Since your front door is the first thing visitors will see, the color you choose will have a great impact.
But aside from the color, the style or trim of your front door can also change the overall look of the exterior. For a neutral yet modern entry, match the door color with the trim that frames it. Your siding can be painted a light shade of gray to complement the white front door as shown in this photo.
Be Smart and Choose Black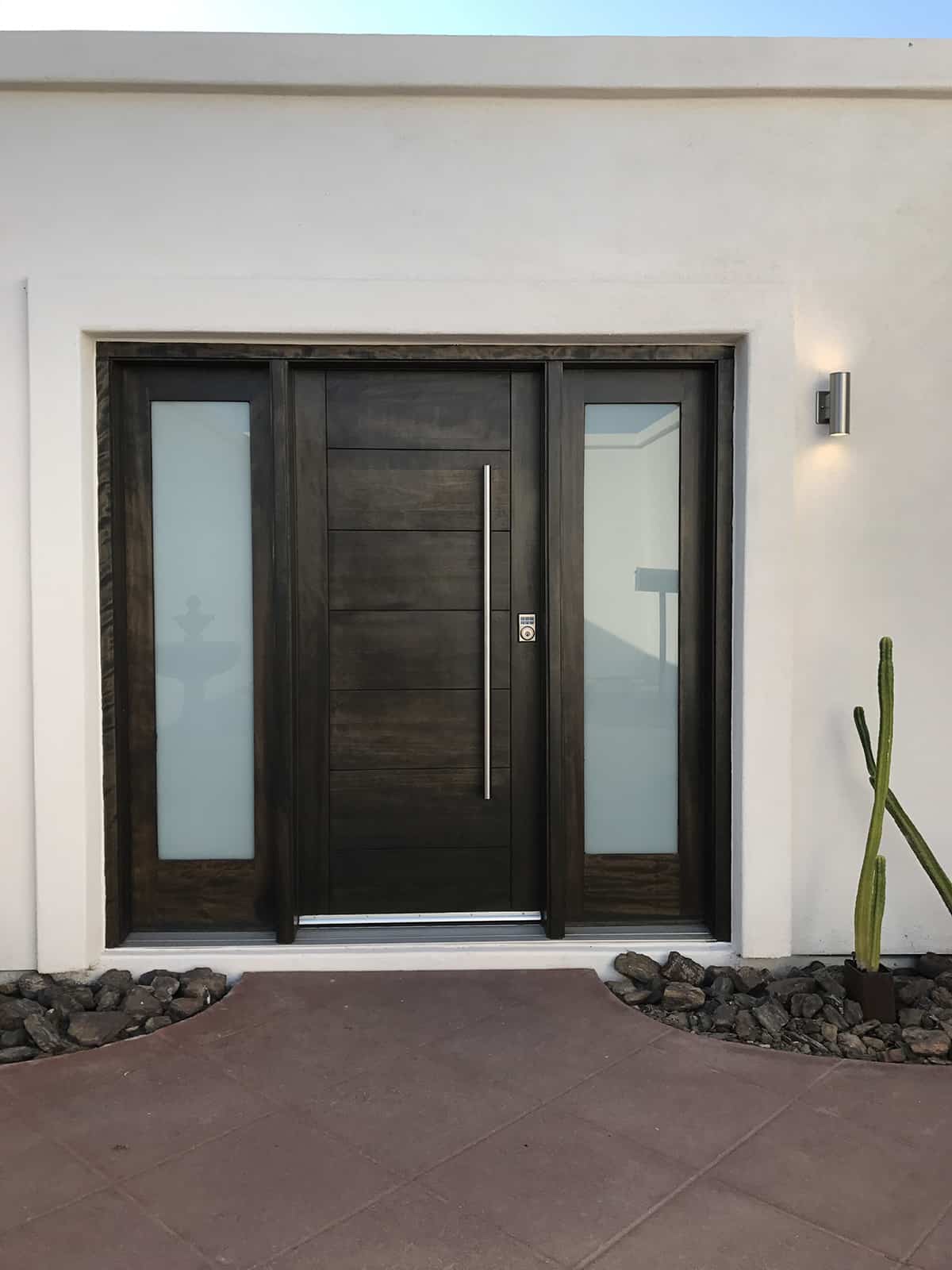 Another classic front door color for a mid-century modern home is black. This is a winning choice for a stylish entrance so be sure to opt for a glossy paint finish. Black is a natural choice for mid-century homes as it allows the front door to pop as a focal point.
Just like in this example, you can have a double-size bold black front door with glass windows on both sides. This striking color takes the focus from the siding and directly to the front entrance.
Go for Modern and Graceful Gray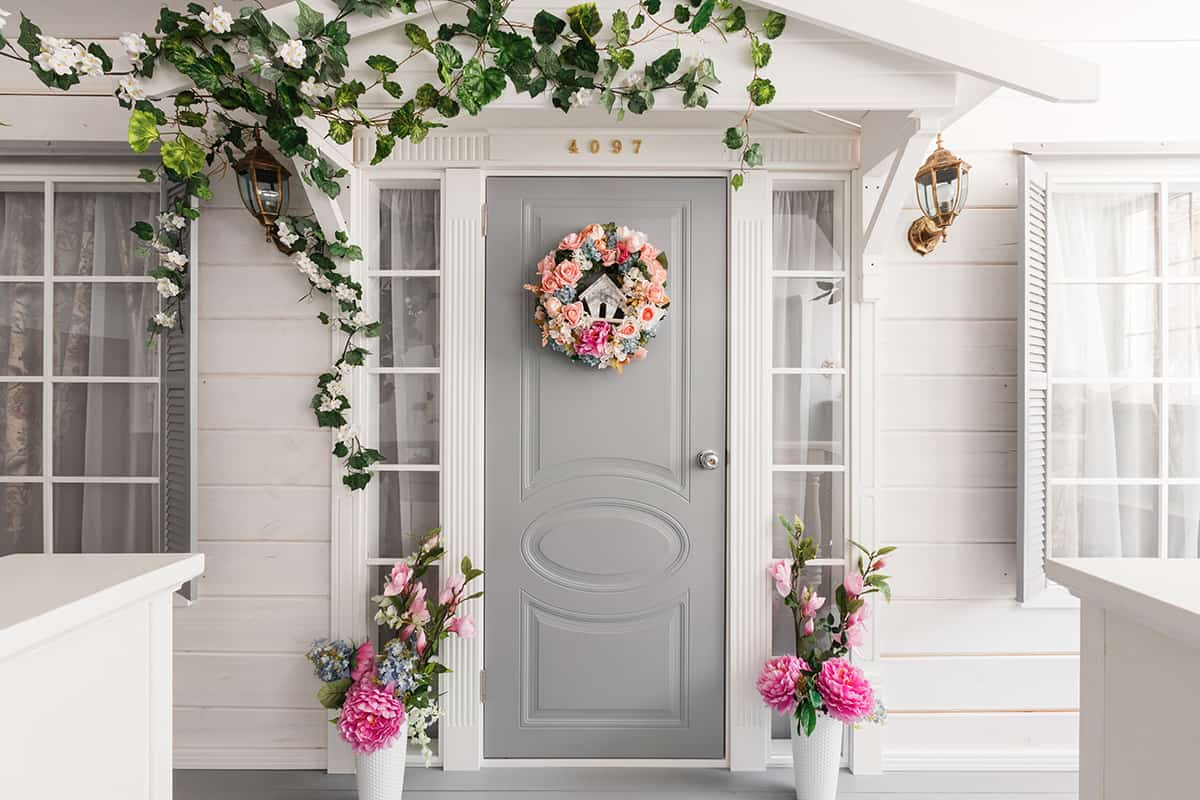 To make your front entrance stand out against a neutral background, consider a modern shade of gray. Gone are the days when gray was perceived as cold and industrial. This contemporary front door color is more modern than black but just as smart and beautiful for a classic mid-century home.
A light shade of gray front door is easier to keep clean than a black one as the light tone won't show dust on the surface. In fact, many homeowners now prefer gray over black as the right shade brings warmth and elegance to the front entrance.
Here is a great example of a beautiful shade of light gray front door with white trim and colorful foliage for an ultimately modern entrance.
Orange for Pop of Color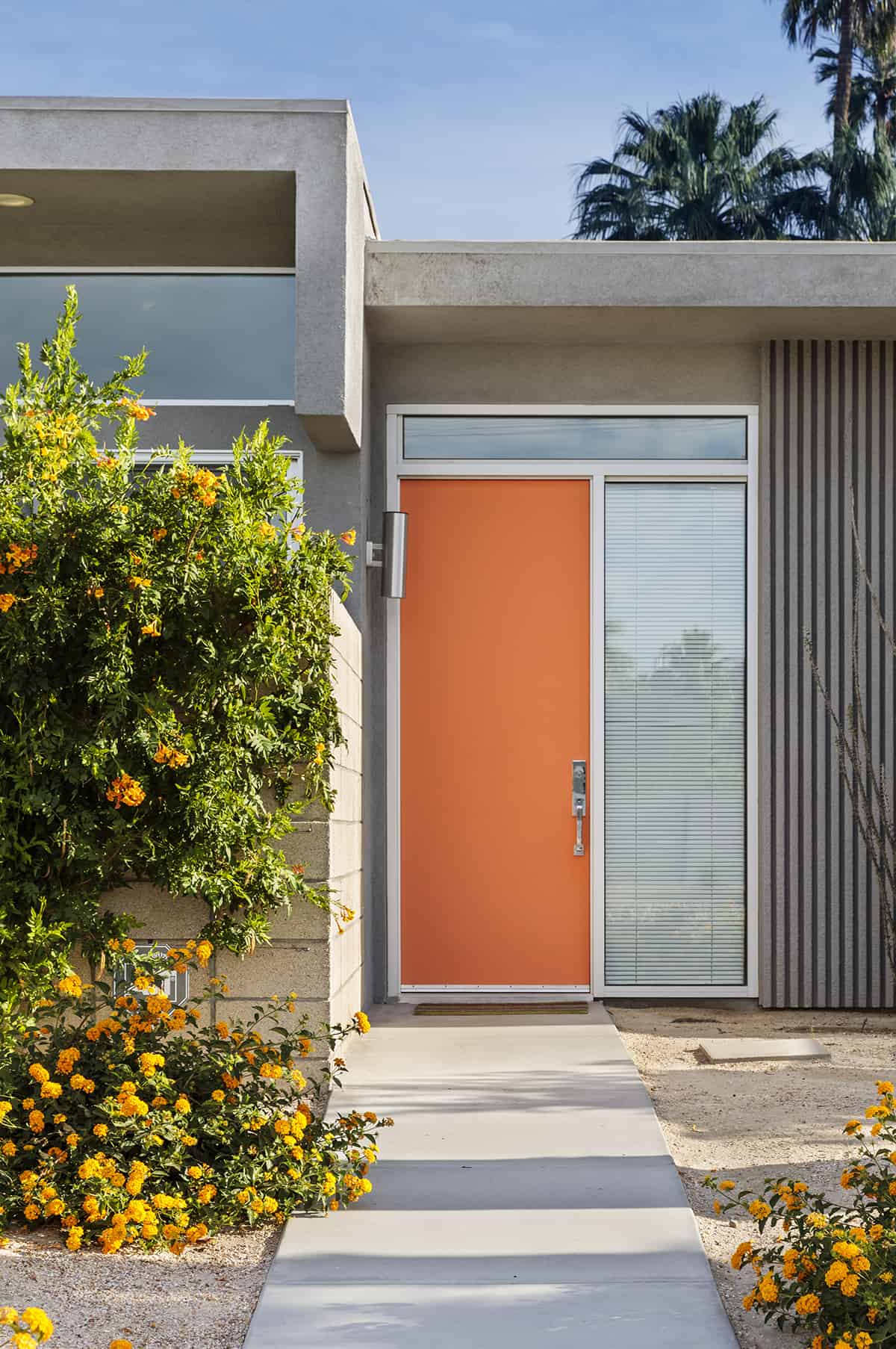 An orange front door is arguably a sought-after color that reminds us of the fall colors and festive season. This glitzy color is the ideal choice for dressing up your mid-century modern home and stealing the spotlight from the rest of the exterior.
When you're deciding on the best shade for your front door, think less muted and more reddish for a daring and inviting vibe. To incorporate an orange front door into the rest of your mid-century home's exterior design, opt for a bright reddish-orange shade like the one shown here.
This is one of those warm colors that will pop against neutral siding and remains relevant for years to come.
Adopt Jewel Tones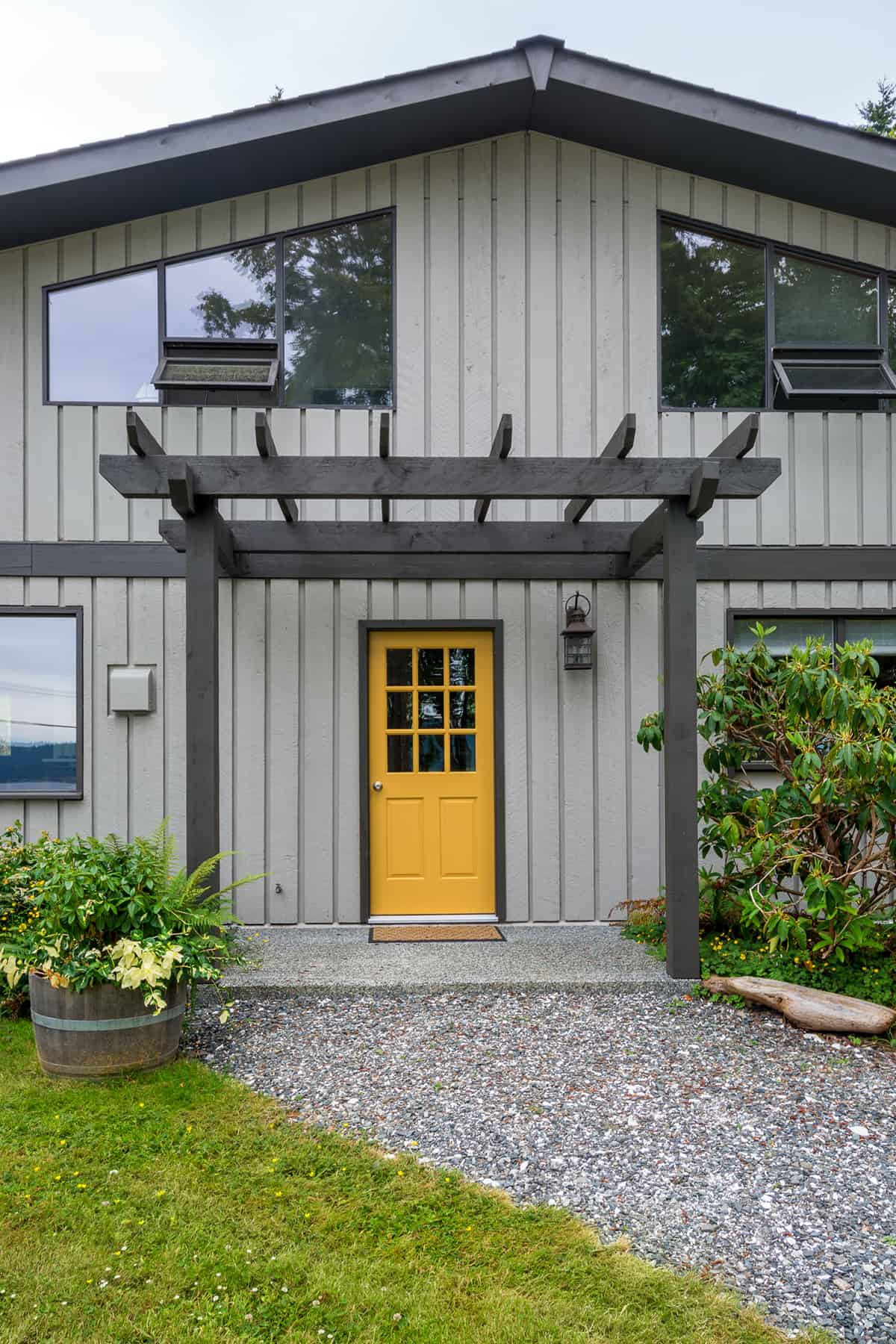 A yellow front door brings an instant curb appeal to your mid-century home. A jewel-toned shade radiates cheer and warmth for anyone who enters your home. A sunny yellow front door adds a jolt of energy, which is a stylish alternative to orange. As a primary color, a deep shade of yellow can really stand out against neutral siding.
Here you'll find a luxury mid-century modern house painted in gray accompanied with a bright yellow front door as its exterior focal point.
Earthy Tones are a Must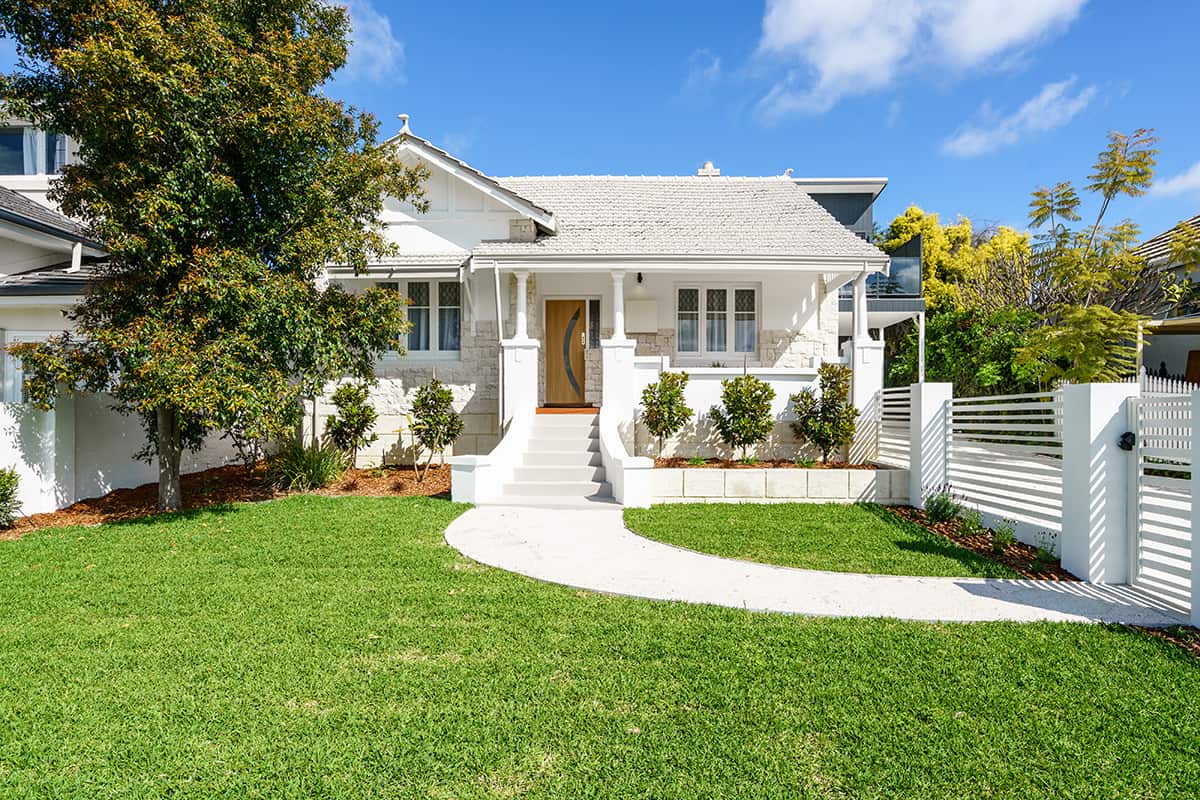 When we suggest an earthy-toned front door color, it doesn't necessarily mean your door has to be made of solid wood. A light brown paint color is all that's needed to create a warm neutral entrance. Brown complements any other neutral hue and can bring a lustrous vibe to your mid-century modern home.
An earthy shade of brown for the front door will make your mid-century modern house feel both grounded and inviting. And best of all, you can pair the brown door with white, cream or gray trim to add a touch of color without going excessively overboard with bold colors.
Playful Purple for Statement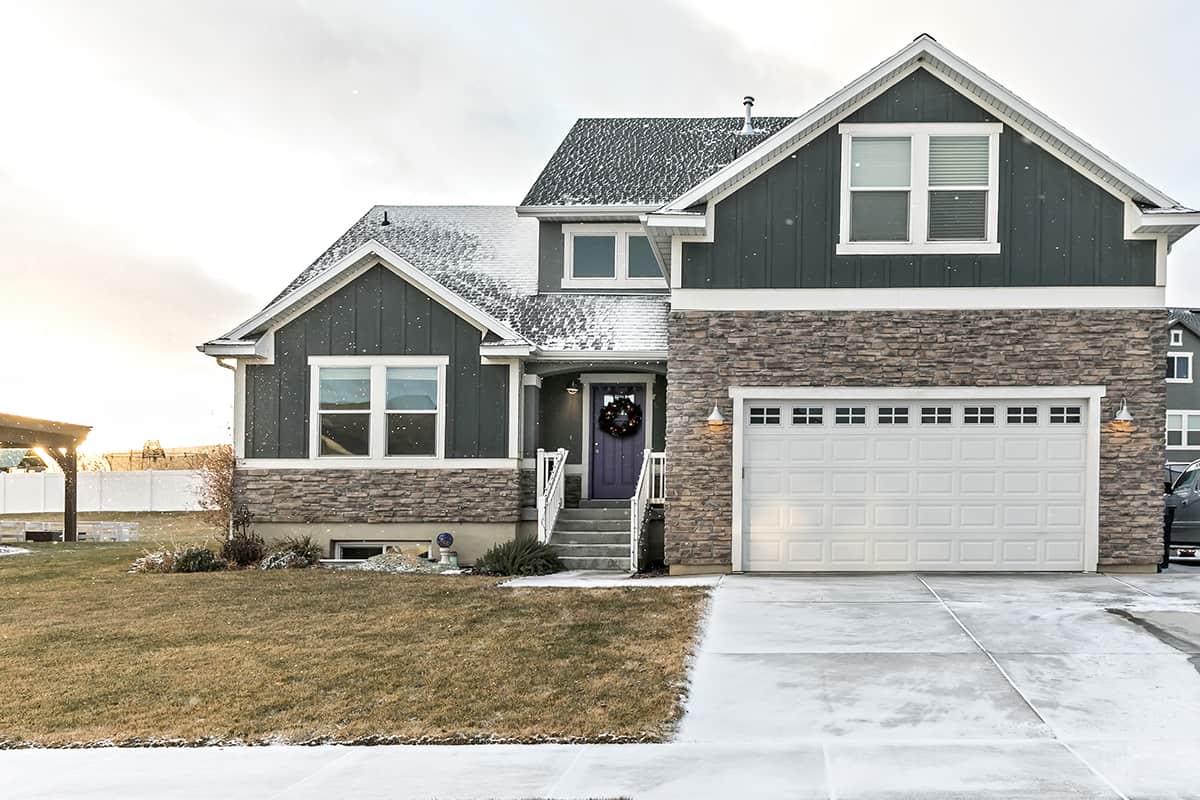 Another front door color that truly stands out on a mid-century modern home is a purple hue. This surprising color choice has the wow factor to turn the heads of your visitors. When fully integrated with the rest of your home's accent or trim, a purple front door adds a coordinated feel. But the question is, how do you make this color work with the rest of the exterior?
The answer is simple. A mid-century home with gray or stone siding can be paired with any shade of purple front door to bring out the creative side of the homeowner. This sophisticated aesthetic goes well with both stone and wood siding and suits any neutral exterior color. So why not reveal your whimsical side to your visitors by opting for a purple front door!
Get Ready for Burgundy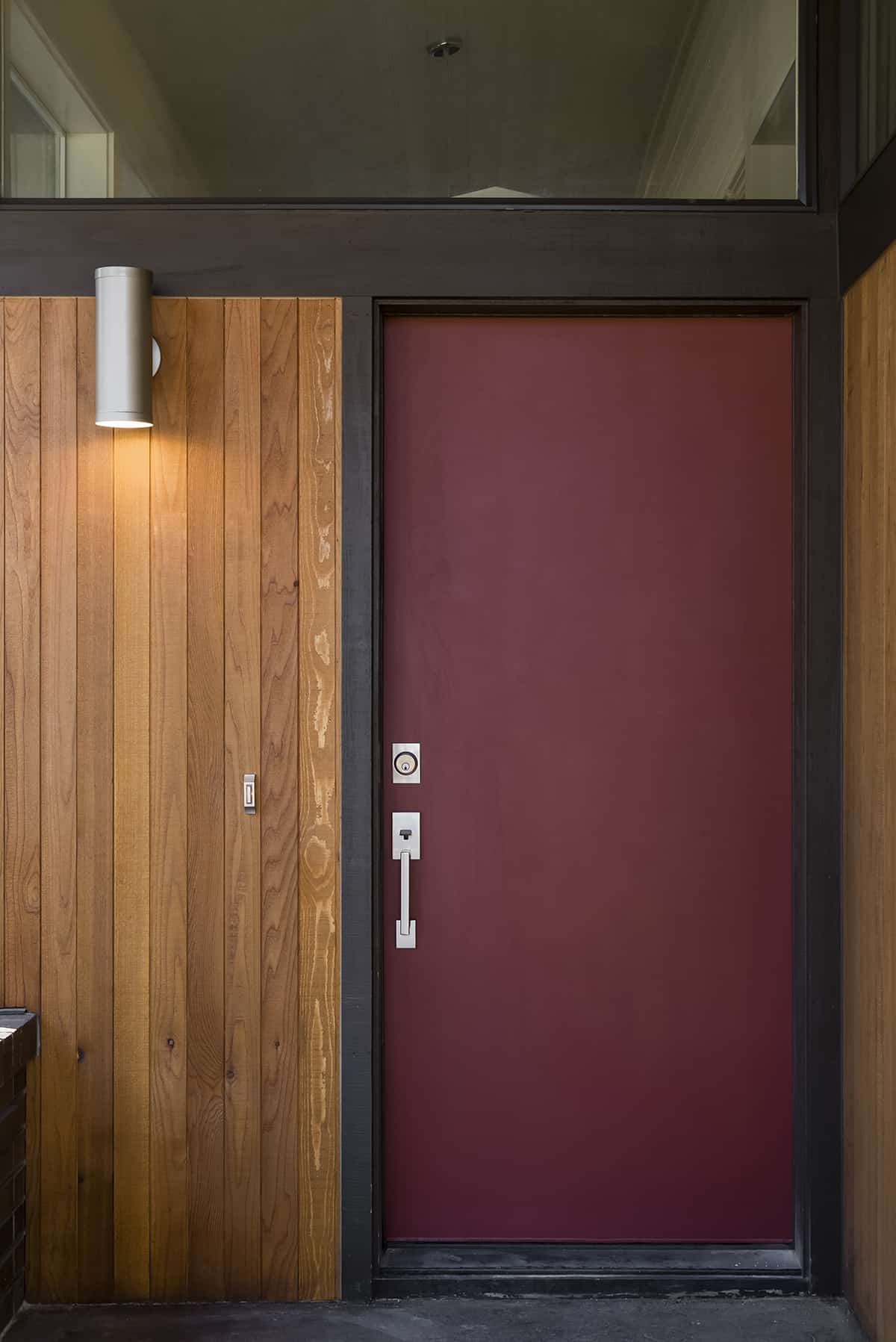 A classic red front door is a stylish and ultra bold statement for a mid-century modern home. A beautiful shade of red like burgundy goes well with natural wood siding and other neutral colors.
A burgundy front door doesn't have to compete for attention as it's such a warm and bright shade that it can stand out on its own. A mid-century modern house doesn't need any embellishments to bring out its simple, minimalist exterior. But this doesn't mean you can't add a bold red front door to create a welcoming entryway.