A large home that boasts an open-plan room with high ceilings is a great place for entertaining visitors or getting cozy with your family. Choosing the best paint colors for tall walls and high ceilings can create the perfect focal point.
Painting large rooms may not be an easy task, but with endless paint color possibilities, you might not know your best options.
If you want to keep your large room bright and airy, you should opt for relaxing and soft hues. Bolder colors will also work in open-plan living rooms or dining rooms in which you want to entertain.
For more ideas on choosing the best paint colors for a room with high ceilings, take a look at the following examples:
Most Popular Colors for a Room with High Ceilings
All-White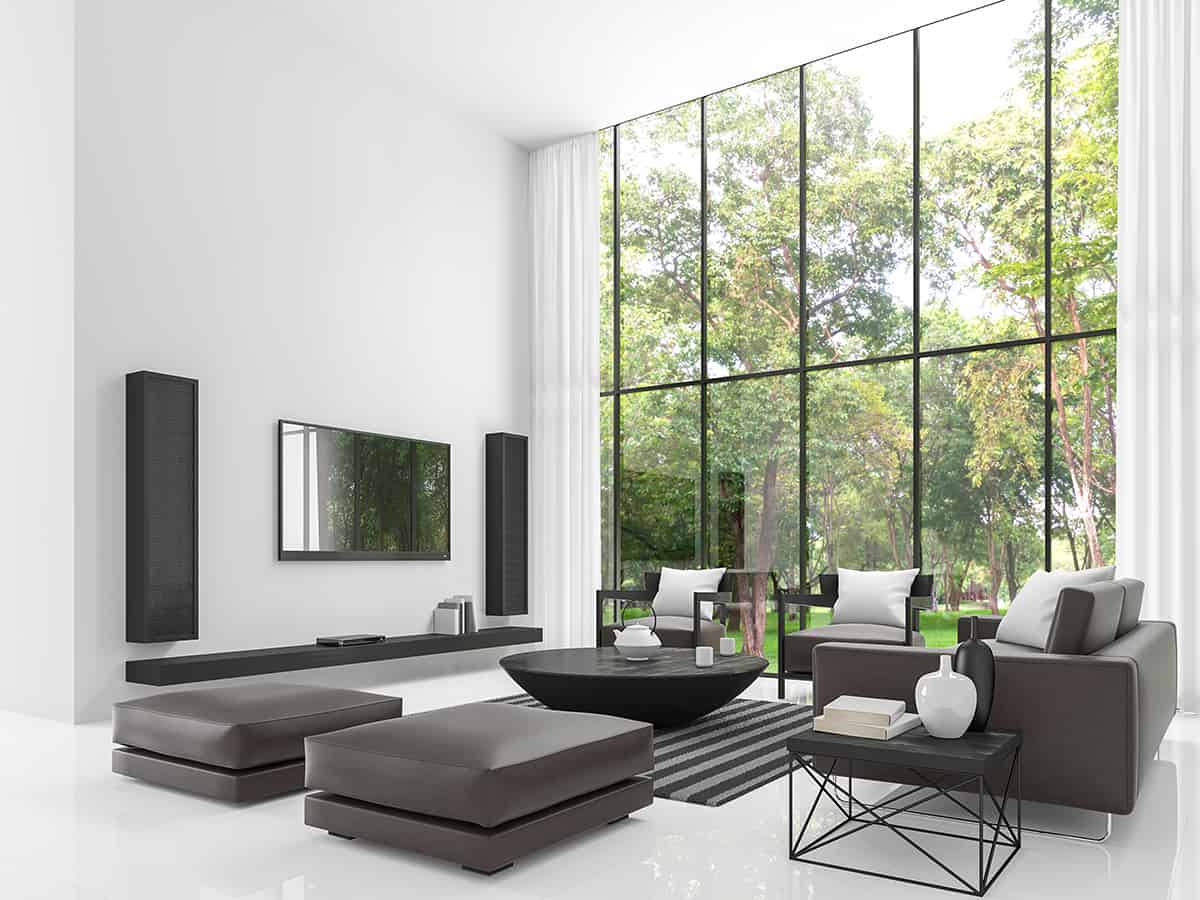 Painting the tall walls and high ceilings all-white allows you to show off the architectural features of the room. White is an ideal color for bright rooms with natural lighting. Whether you pick a crisp white or an off-white paint color for the ceilings and walls, this neutral hue can bring life into the large space.
White is a highly popular paint color in every interior setting. A delicate, creamy shade softens the interior, and if you want a little contrast, add black furniture as shown in this photo.
This idea works well as the dark-colored furniture can be the main focus of the living room, with the white walls and the high ceilings serving as the neutral backdrop. White paint for the walls and ceilings works particularly well in rooms with large windows as it reflects light and balances out the decor.
Beige
Beige is another neutral hue that can visually increase the size of the room. This warm color is often preferred over white for a cozier look. In a living room with a vaulted ceiling, painting the walls and the ceilings a warm shade of beige gives a more rustic vibe.
Since beige is a popular color that's favored by interior designers, it can make a large living room feel more inviting. This color goes particularly well with stone or wooden fixtures as complementing combinations.
In this living room example, the beige walls and ceilings blend into the wooden tables and flooring as well as the brown leather furniture.
Dark Gray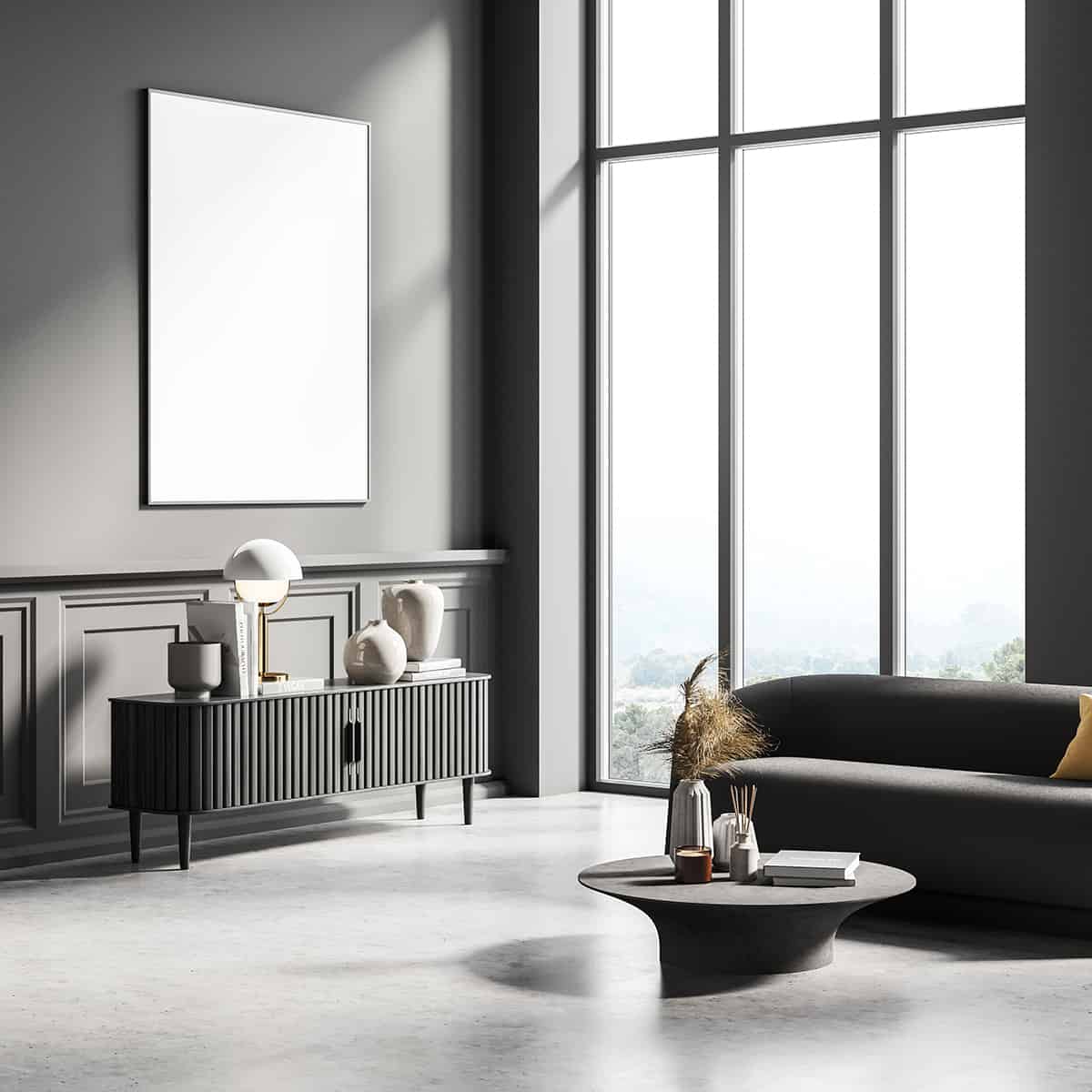 Dark gray can make your room appear darker or dreary. However, in a room with tall walls and high ceilings, dark gray paint can create a cozy and comforting ambiance. Pair it with matching furniture colors or a shade darker as a fully saturated color palette. This muted tone is ideal for the walls in a living room with tall windows.
A dark-gray living room feels contemporary and fresh. This color provides the perfect backdrop to wall art, but if you want to avoid an industrial look in your large living room, opt for a warm shade of gray with a brown or yellow undertone.
Charcoal gray is a beautiful accent color for the walls. Pair it with bright pops of decoration items or textures to create a dramatic effect. We also love the combination of dark gray, white and black in living rooms with tall walls and high ceilings.
Blue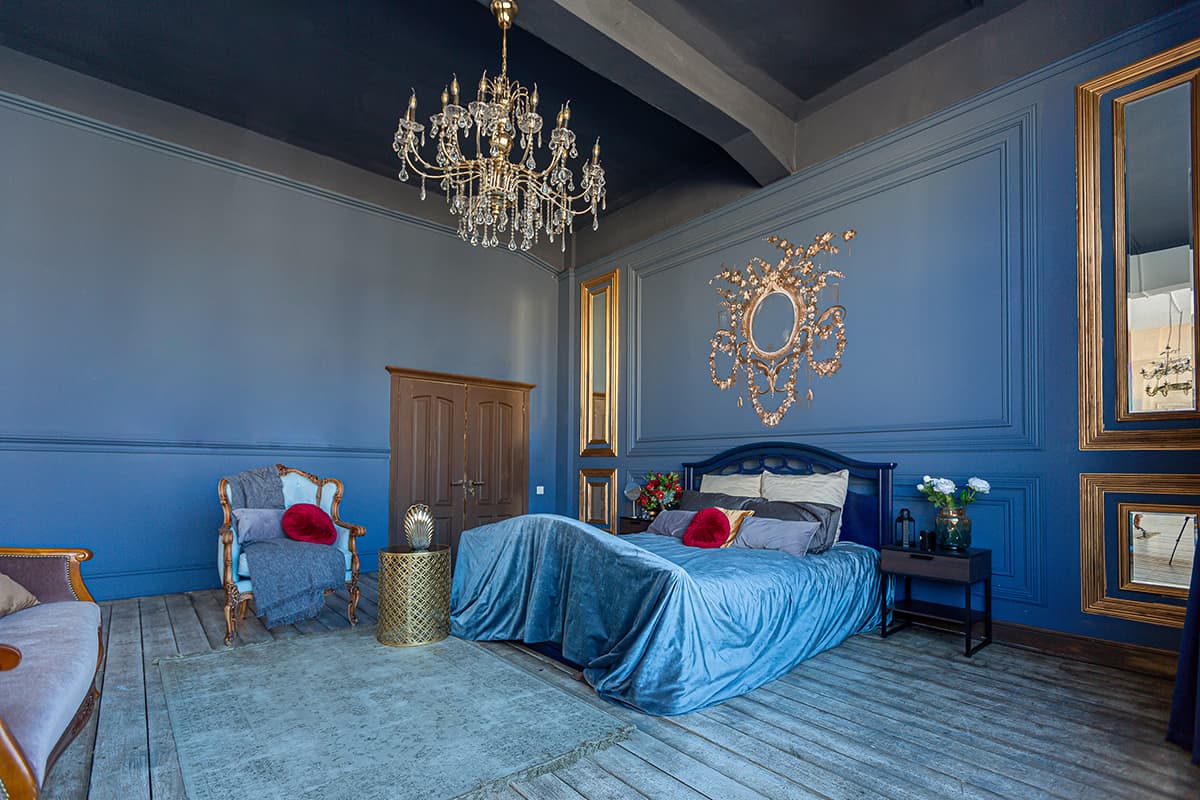 To make your bedroom with high ceilings feel more intimate, opt for a dark color like deep blue. This shade helps absorb light and makes the bedroom feel smaller.
Navy is another great shade that looks bright and warm. Blue is a popular paint color for bedrooms, especially in those with high ceilings. You can pick a lighter shade of blue for the bedding to balance out the darker tones of the blue walls.
This Baroque-style bedroom feels cozier thanks to the two shades of blue used for the walls and the bedding. The elegant atmosphere of this room is further enhanced by the chandelier and gold decor on the wall. There is no doubt gold accessories help bring a touch of class to the stylish room!
Green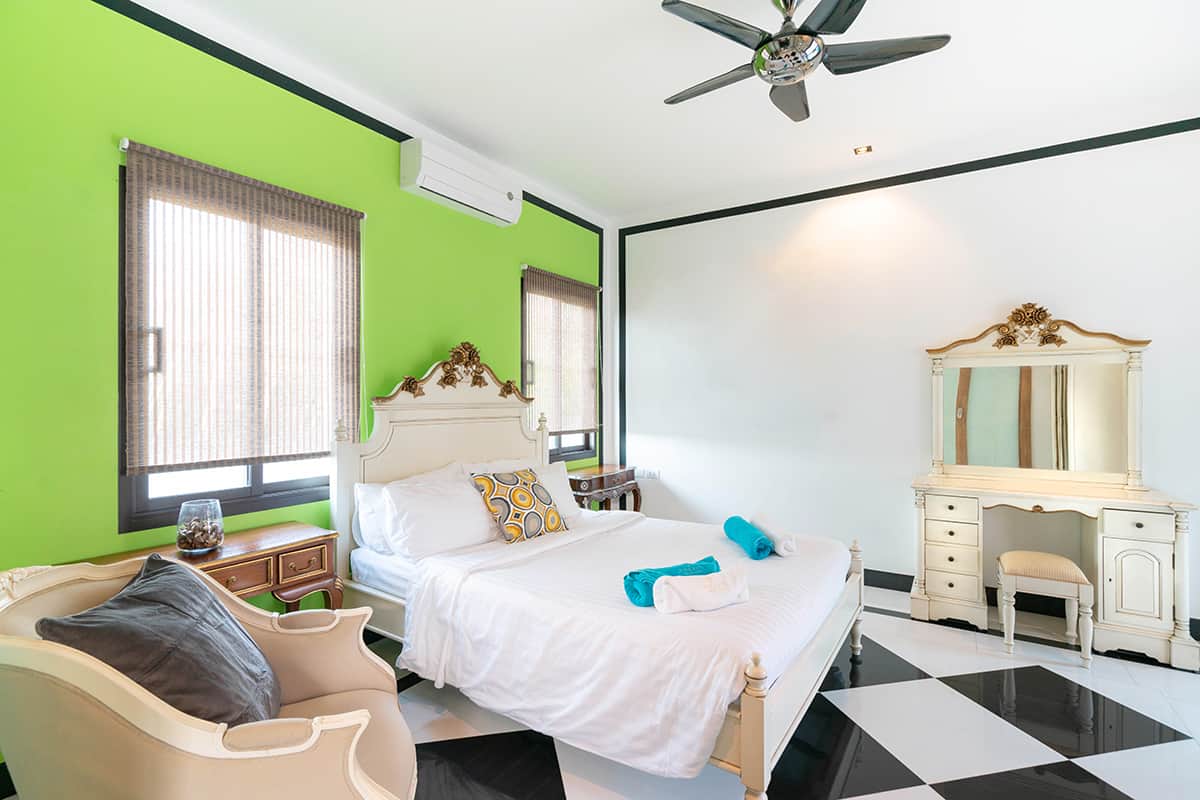 Another excellent paint color for bedrooms with high ceilings is green. This calming hue is intensely stimulating, so we only recommend it for a single wall as an accent, while the ceilings can be painted a bright white. Just like you can see in this bedroom example, the feature wall is painted pistachio green, which stands out beautifully.
Other cool shades of green include lime, mint, and apple, which all create a soothing vibe in the bedroom. These shades work particularly well in spaces with plenty of natural light. You may incorporate soft beige or peach furniture as a great combination with a bright shade of green wall.
Brown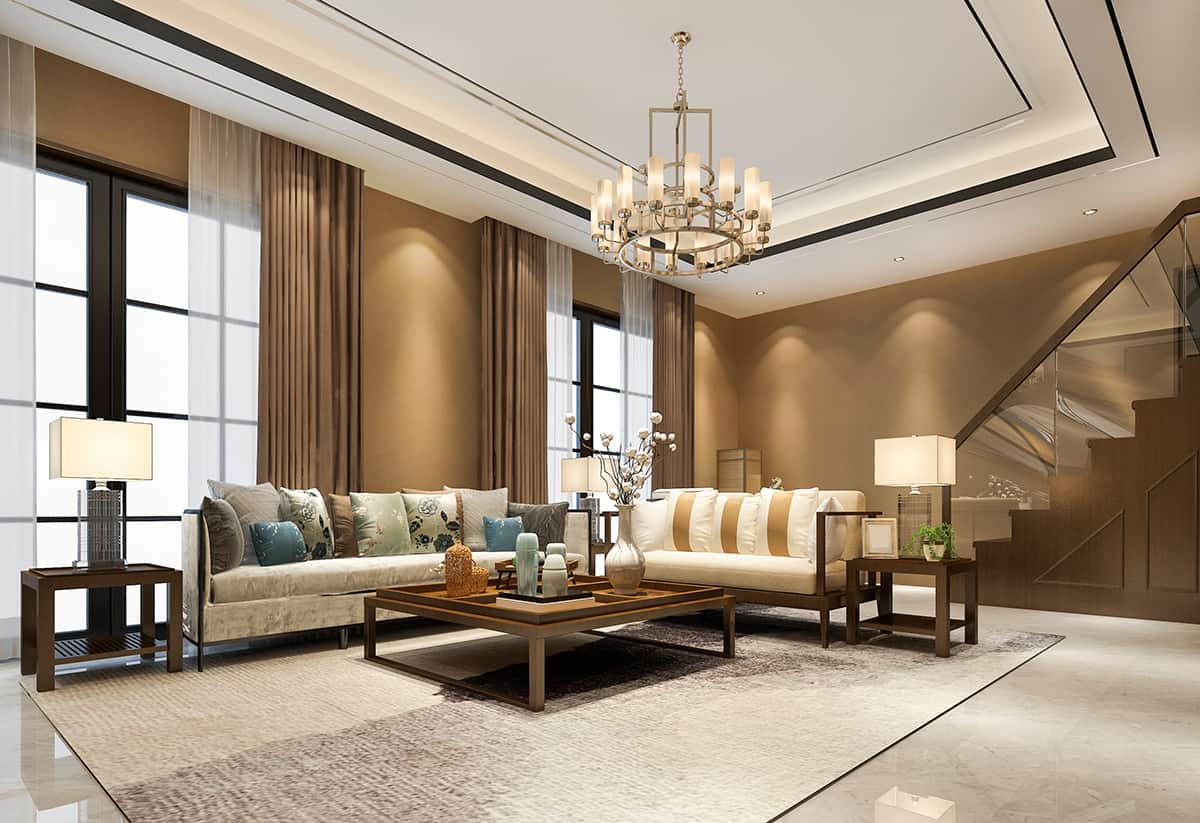 Brown walls have a tendency to make a large room with high ceilings feel majestic and luxurious. Painting your tall walls a deep shade of brown helps balance the living space, as proven in this photo. Brown is one of those colors that remind us of vintage, classic interiors, so consider using this paint color for your room with high ceilings.
A warm shade of brown like chocolate or cocoa gives the living room a cozy, intimate ambiance. Try eggshell sheen for the ceiling in order to limit reflection. You can furnish the room with neutral, sand-colored furniture, just like in this example.
Purple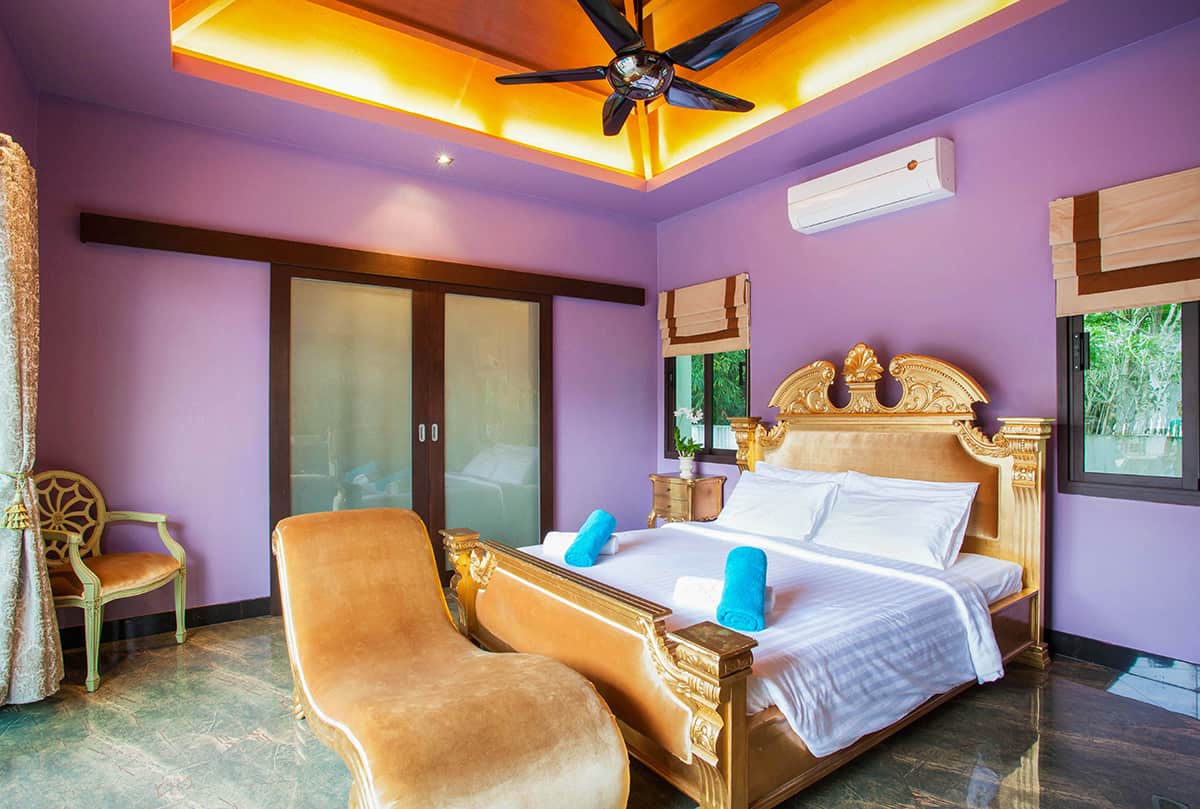 Have you ever considered a deep shade of purple for your bedroom with high ceilings? Lavender, lilac, or plum purples work wonderfully for the walls of a bedroom with raised ceilings.
A deep, rich purple paint color provides a dramatic backdrop for the bedding and furniture in neutral or earthy hues. Purple is a striking color that complements most other accent hues. Just like green, a light shade of purple creates a soothing environment, but in a more modern way.
Yellow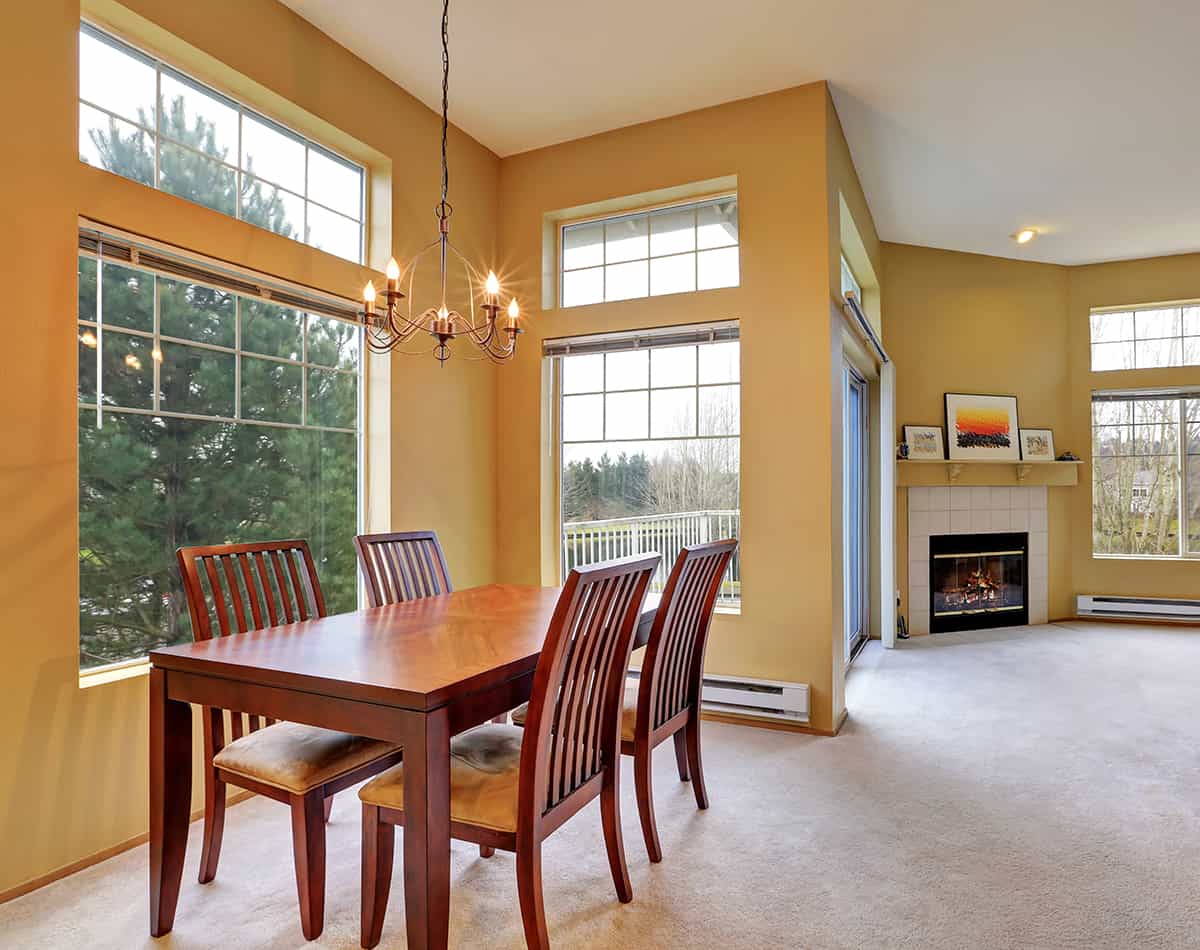 A muted shade of yellow, like mustard, brings an uplifting and cheery vibe to a dining room or living room with high ceilings. Muted yellow walls with white ceilings work particularly well in rustic or cottage-style homes. If you want a more luxurious look, choose a golden shade of yellow for your walls, paired with red mahogany furniture like the example here.
This elegant dining room boasts texture and depth thanks to the soft yellow walls and white high ceilings. The large sash windows are, without a doubt, the biggest focal point of this sophisticated dining room!
Orange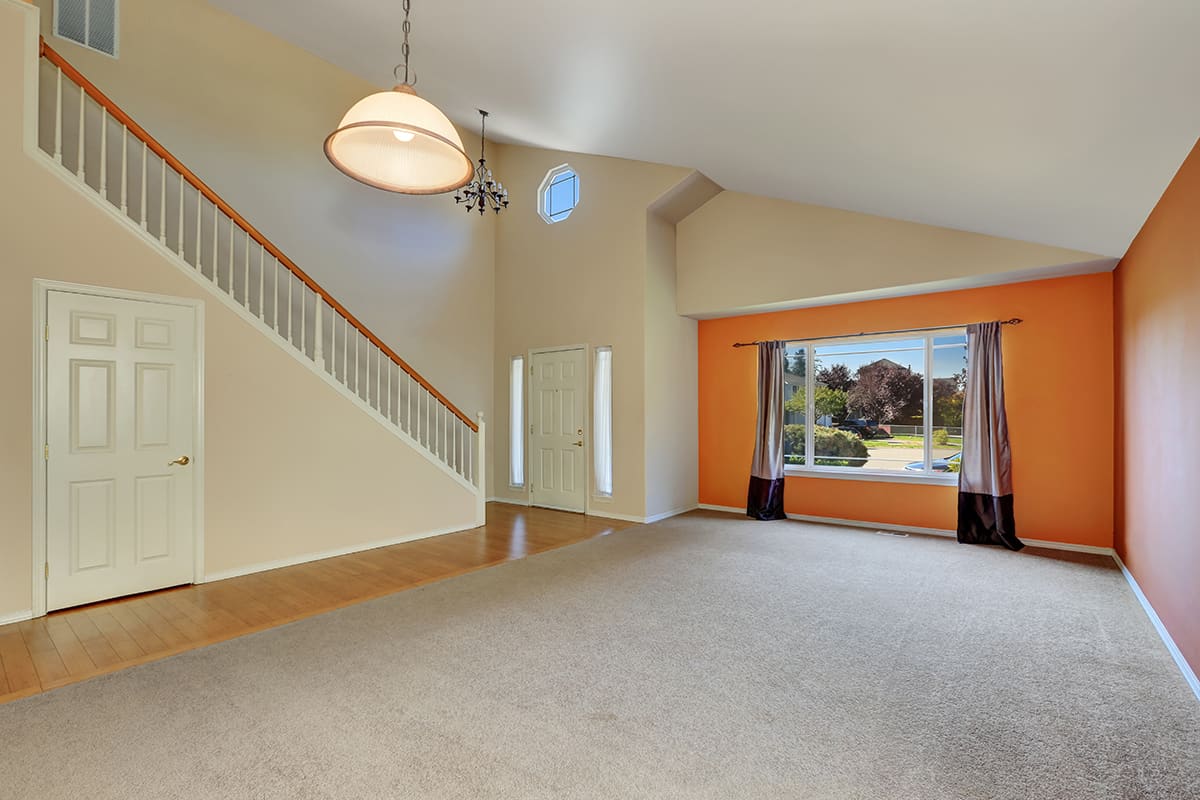 Apricot, pumpkin, mango, or peach are wonderful shades of orange that look beautiful in a room with high ceilings. Paired with white trim, a bold shade of orange inspires a tropical-themed room that receives lots of natural light.
You can either paint all your walls burnt orange or just add a touch of pumpkin paint to an accent wall. Either way, you're sure to create a bright and airy feel in a room with tall walls and high ceilings.
Should I Paint My High Ceilings the Same Color as My Walls?
Painting your high ceilings the same color as the tall walls creates a cohesive, uniform look that brings the entire room together. If you choose a light color like white or beige, it can make the room feel bright and airy. A dark color, on the other hand, can shrink the space. Alternatively, you may paint just one wall a dark color and the rest of the room a neutral or light color.
A dark color for the walls not only makes the room with high ceilings appear smaller, but it may also emit a dreary feel. A lighter paint color, though, can bring depth and open up the room even more.
Picking the same color for the tall walls and the high ceilings has its own advantages. For example, for a simple interior design layout, you may just save yourself the trouble and opt for the same color for the walls and the ceilings. On the other hand, for a more dynamic interior design, you can pick a different color for the walls and ceilings in order to enhance visual interest.
Whether you decide to stick to one single color throughout your room or select two or more shades, note that wall paint usually contains a glossier texture than ceiling paint. The latter should consist of a matte finish in order to hide imperfections or reduce reflection.
So as you've realized, there is no right or wrong answer to this question because it depends on the mood you wish to create in your room.