You've just bought that nice sectional couch you've always wanted, and now you can't decide whether to pair it with a coffee table or a sectional.
It's a choice that is a lot difficult to make. For one, both ottomans and coffee tables have some great pros, so it's not easy to choose one over the other.
Ottomans double as extra sitting space; they can sometimes also carry extra storage space, and there is also a huge chance that you may find an ottoman that matches your sofa perfectly.
Coffee tables, on the other hand, provide a very solid space to hold your food and drinks. And the material from which they are made can provide the perfect contrast to your sectional. So how do you know what works for your sectional?
When choosing between an ottoman and a coffee table, there are a couple of things you must consider. What kind of aesthetics are you going for – formal or informal? What kind of lifestyle do you lead, and how do you intend to use the room?
You should also consider the size of the room and what kind of furniture would be more practical for you- hard or upholstered? You must also consider your storage needs and whether or not you'll be entertaining?
It is worth noting that in case you absolutely cannot make up your mind, you can use a coffee table and an ottoman in the same room, as long as you have enough space for them and do not overwhelm the room.
Do You Need A Coffee Table with A Sectional?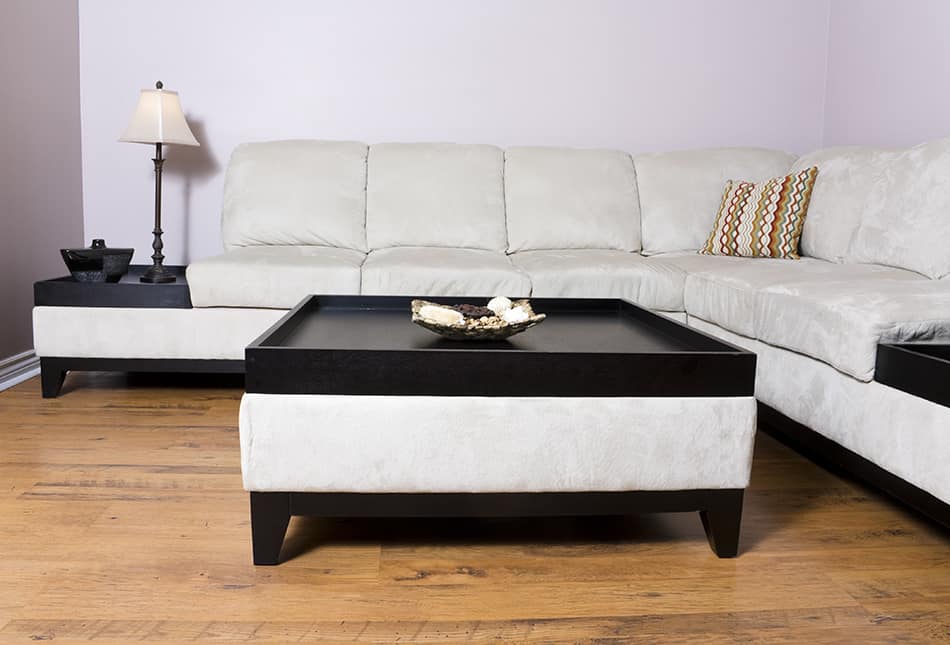 Coffee tables are tried and tested furniture. For years, they have been paired with sectionals, and you can hardly go wrong with them. They provide a classic design piece and offer so many benefits.
Firstly, coffee tables are typically made of hard materials such as wood. This means they're easy to clean, so you don't have to worry so much about spills and stains. This is especially great for people with kids.
You can place food and drinks of them without worrying about your plates and bottles falling over. This means that coffee tables are the better option for people who love to entertain.
They are generally really easy to clean thanks to the hard materials with which they are made. A spill on a coffee table can simply be wiped away immediately, using a table cloth.
Secondly, coffee tables also make your space appear more spacious. This is because they carry less visual weight than ottomans.
They add a different element of design to your space because they're made from a different material than your sectional, unlike ottomans which would usually have the same upholstered surface as your sectional.
There are several choices for coffee table sizes, shapes, materials, and other features.
If you've got an angular space, you can use round and oval coffee tables to break up space and make all other features seem softer.
If you've got a dark and heavy-looking room, lighten it up with a thin-legged coffee table, this would make the room more airy and open and take away a lot of visual weight. This is perfect for rooms with little or no natural lighting.
If you do not have a lot of space, you can decide to choose a small coffee table. Likewise, if you have lots of space, you can get a huge table. Different sizes of coffee tables exist for whatever room size you're working with.
You can paint or stain your wood coffee table in any color of your choice to fit better with your décor. They are also the go-to choice if you're looking to create a space that looks formal as they have a more formal appearance than ottomans.
Lastly, you can decorate the top of your coffee table, but you can't do that with an ottoman. Different kinds of high-quality tables are available in the market, and they can last years if taken care of appropriately.
Downsides to Coffee Tables
Coffee tables are not upsides only; they come with a couple of downsides to them. First is the fact that they are not as comfortable as ottomans. You can't rest your feet on them comfortably, the way you will on an ottoman.
They also don't provide the additional seating space that ottomans do. Furthermore, coffee tables have sharp edges that may cause injury, especially if you have little kids running around.
Do You Need an Ottoman for Your Sectional?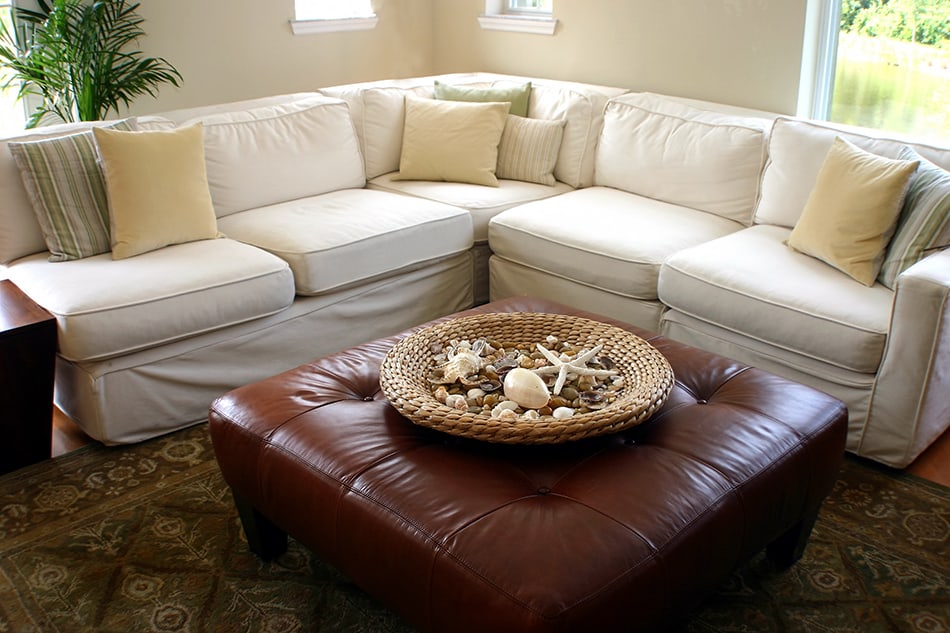 Ottomans are upholstered, close to the ground, and typically match the sofa. They have no backs and arms but have a soft cushioned seat, so they usually provide additional seating space. They are also frequently used as footrests. They are either sold alone or as part of a sofa set.
Ottomans are most popular with people who need some additional storage space because their entire interior can be a big storage space for putting away things like kids' toys, books, blankets, etc. They are widely loved for their versatility. Ottomans perform several functions such as being a footstool, and an extra chair in the living room among others.
The best thing about an ottoman is its cozy charm. It's snug and comfortable and adds some softness to the room. If you have a lot of hard-looking furniture in your space, consider softening it up with an ottoman.
Ottomans are informal and give off a comfortable and laid-back vibe in a room as opposed to coffee tables which look formal. Ottomans are the perfect choice for lounging and relaxation. Even though they can still be pretty casual, ottomans bring a certain sophistication to a room; leather and velvet ones especially.
Downsides to an Ottoman
There are a few downsides to using an ottoman with your sectional, and they include:
Ottomans usually come as a matching set with your furniture, and if you don't want a matching set, it's pretty difficult to find an ottoman that doesn't match your furniture and at the same time fits in with your overall décor. Additionally, they are bulky and not as easy to move as coffee tables.
Also, they do not offer the sturdy surface that coffee tables do, which means you can't write on them, nor can you place a glass on them without having to constantly worry about a spill.
They do not last as long as coffee tables, and because they are upholstered, any stain or wear and tear on them is often immediately apparent. Finally, you can't decorate an ottoman as easily as you can a coffee table.