If you're on the hunt for a new entryway table, you might be wondering what the best size is and if there is a set standard for entryway table dimensions. Here we cover everything you could want to know about entryway tables, including their many benefits and their usual sizes.
There are numerous things to consider when buying an entryway table to ensure it works well in your space and meets the functional requirements for you and your family, so be sure to check these out below before committing to purchasing a new entryway table.
What is an Entryway Table?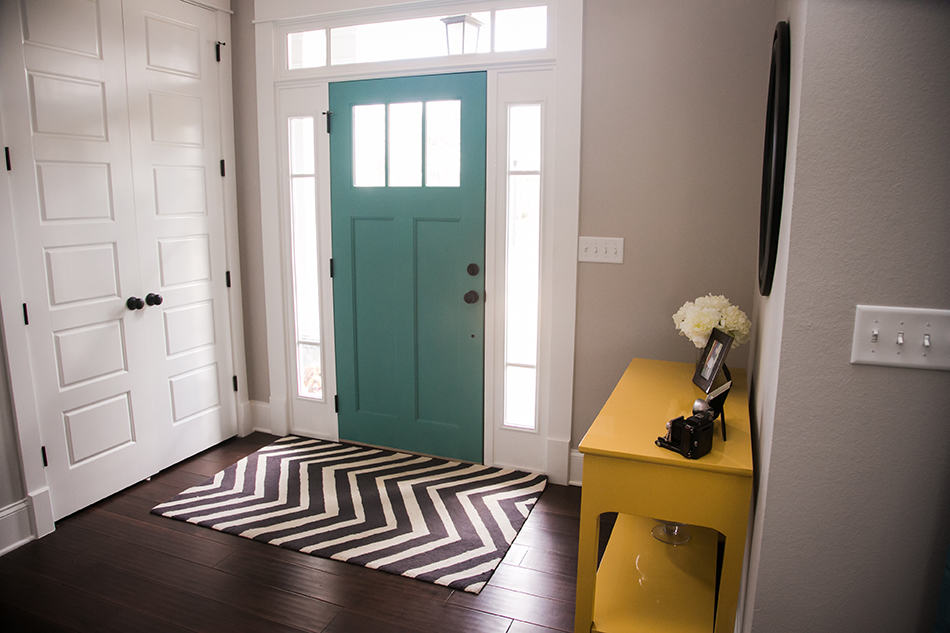 An entryway table is essentially any type of table which occupies the entrance area of a home. Due to the fact that most residential entryways are quite small, entryway tables tend to be narrow with a rectangular tabletop so that they don't get in the way of people being able to comfortably come in and out of the property and also so that they don't overwhelm the space.
However, if you're fortunate enough to have a grand entrance to your home, you could choose a round foyer table to go in the center of the entryway with enough space left over for people to walk on either side of it.
Entryway tables are also commonly known as console tables, foyer tables, sofa tables, and buffet tables. They operate as both a functional surface as well as work on an aesthetic level to add style and interest to your interior decor.
Standard Entryway Table Dimensions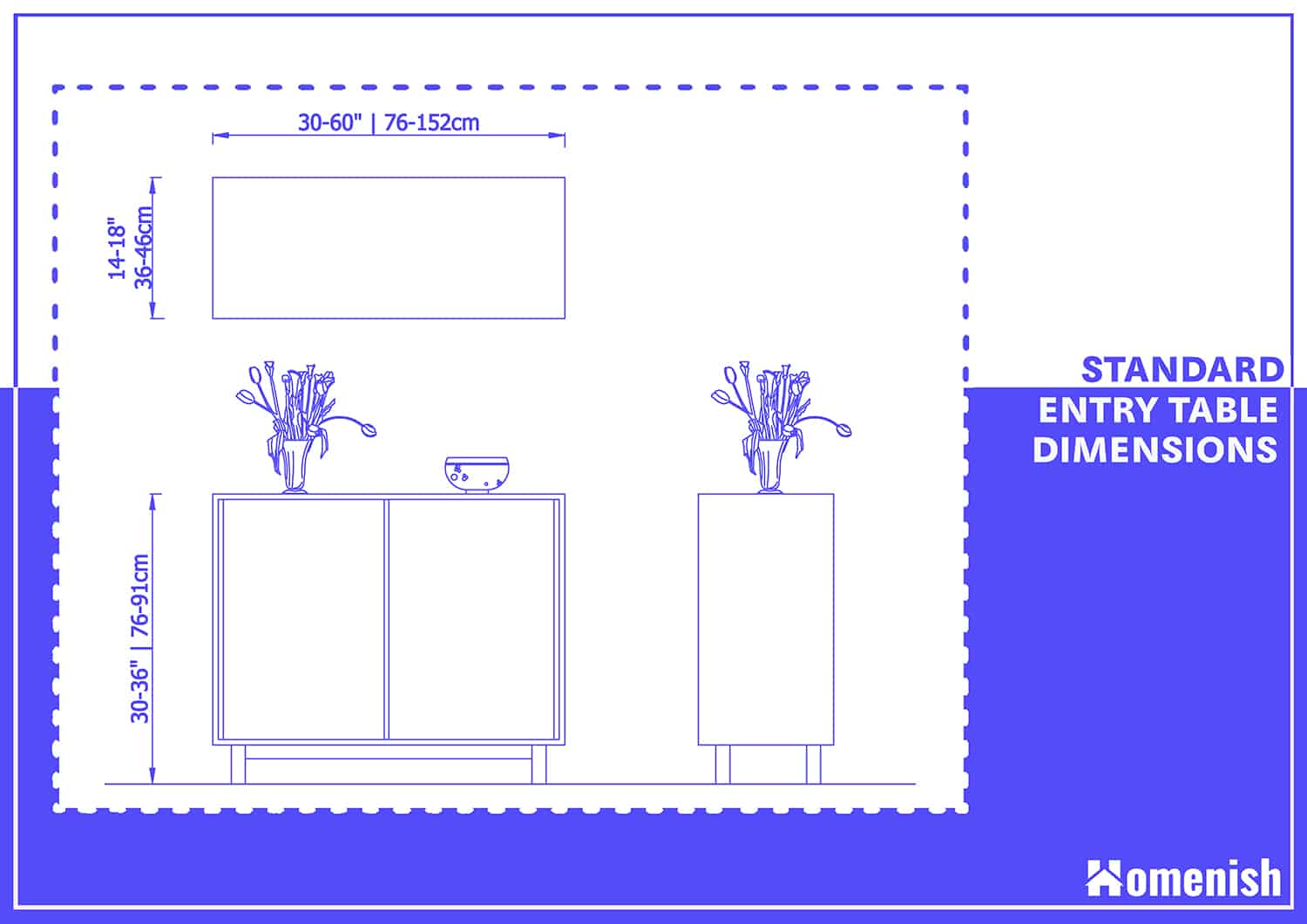 Most entryway tables come at a standard height, which ranges between 30 and 36 inches (two and a half feet to three feet). The reason for this is that it is close to the wrist height of most people, making it a convenient place to put down keys, phones, and other items without having to bend down or reach up.
When shopping for an entryway table, it is best to stick to the standard height sizes, as anything shorter or taller than this will look out of place.
When it comes to length and depth, sizes can vary greatly. The majority of tables specifically designed for use in an entryway will have a length of somewhere between 30 and 60 inches. This is because anything smaller than 30 inches would not be very functional, and anything over 60 inches would be too large to fit in most standard entryways.
The depth of an entryway table typically sits somewhere between 14 and 18 inches. Anything deeper than this would protrude too much in the entryway of most homes and begin to look more like a dining table than a console table.
Benefits of an Entryway Table
Function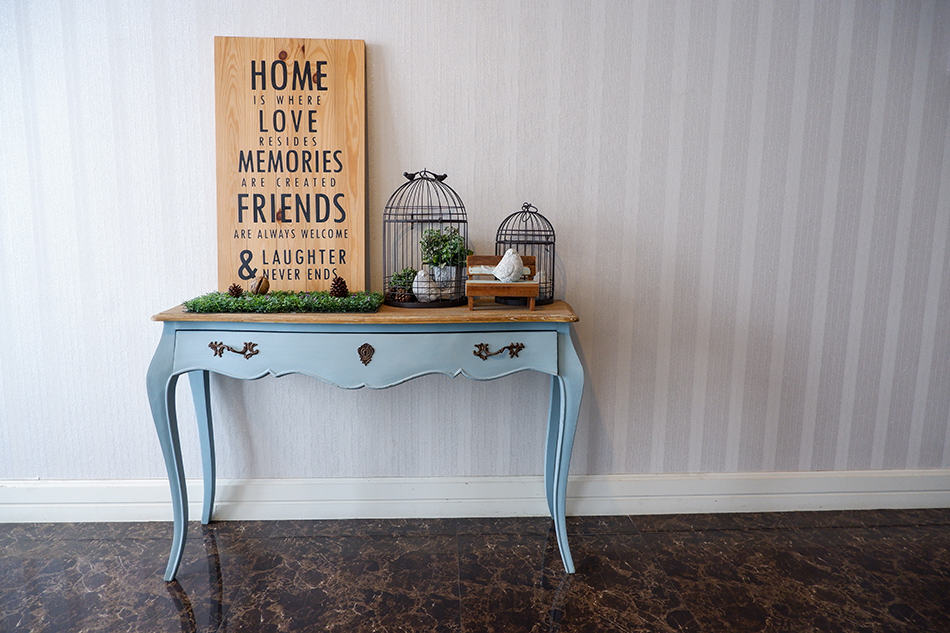 An entryway table can serve many functions, depending on what you want to get out of your space. If you find that your entryway is often littered with shoes or stray hats and gloves, then an entryway table is an ideal place to store these items.
You can find entryway tables with useful drawers in which you can place outerwear accessories, and they'll be in the perfect spot to put them on just as you're leaving the house and then store them back away in the drawers on your return. You could also fit baskets underneath the entryway table as additional storage for shoes.
An entryway table in most properties provides a useful surface for the owner to place their keys when they get home, ensuring they don't get lost or misplaced. Many people will buy a decorative dish and position it on the entryway table as the designated place to store sets of keys and loose change.
As the entryway table is right by the front door of a property, it's also the perfect spot to store mail. Instead of having envelopes spread over the table, creating clutter, utilize a tray or mail holder to stack letters and keep them in order.
Entryway tables are commonly used as a place to position a lamp, which provides anyone coming into the home with adequate soft light to take their coat and shoes off without a startling glaring light.
Ambiance
An entryway table helps to add ambiance to a foyer, especially if you use it as a surface to place a nice lamp. When dinner guests arrive at your home, they will be greeted by the warm glow of the lamp and somewhere useful to put down their keys or wallet, which will help set the tone for the evening.
For dinner parties, you could also use your entryway table as a serving spot to greet guests with a drink as they arrive. Line up your entryway table with wine or champagne glasses and an ice bucket to keep the drinks chilled to add a touch of class and sophistication to your home entertaining.
Style
An entryway table will probably be the first piece of furniture anyone sees when they enter your home, so it's a good way to define your style and give a good first impression. By choosing an entryway table that accurately reflects your interior tastes, you'll create a sense of flow and unity throughout the home and also ensure your foyer is a pleasant and welcoming space.
You can also use the entryway table to display other items to enhance your home style, such as houseplants, candles, ornaments, art prints, or photo frames. For special occasions, placing a fresh bouquet of flowers in a vase on your entryway table will add glamor to your foyer, as well as release a sweet scent to greet guests as they enter the home.
Considerations for Buying an Entryway Table:
Size
The size of an entryway table needs to be compatible with the size of your entryway, so it's important to measure your space before committing to a table.
There needs to be adequate space around the table to still move freely, so don't push yourself to the limit of your space and instead go for something which blends nicely into the space rather than dominating it. Remember that an entryway table should be an accessory in your foyer rather than the focal point.
Space
In many entryways, there will be an obvious place where a console table should go. If you have a small or average-sized entryway, then the console table will typically be placed against a side wall or tucked into a corner. This ensures it doesn't get in the way of foot traffic coming in and out of the home.
When considering where to put your entryway table, take into account the way that you use the space. If you have a stroller that you bring through the entryway or a wheelchair, then you'll want to make sure this can fit past an entryway table so that your daily life isn't made to be an inconvenience. If your front door opens inwards to your foyer, as most exterior doors do, then you'll need to make sure it has space to fully open without banging up against the entryway table.
A door banging into the entryway table can pose a fire hazard if it isn't able to open completely, as well as being annoying every time you open the door. It could also damage any decorations that you have on the console table if the vibrations cause them to be knocked off. Many homes will have a staircase in their entryway, so you'll also want to make sure that a console table doesn't obstruct the use of the stairs.
Style
The style of your entryway table should be in keeping with the style of the rest of the furniture in your home to help maintain continuity of the interior decor. If the rest of the property has dark wood furniture, find an entryway table in dark wood. Remember that the style of the entryway table can set the tone for what guests can expect from the rest of your home, so think about the kind of impression you want to make.
If you want guests to feel relaxed and at home, then a casual-style entryway table can help to achieve this, maybe in a simple utilitarian design or with a laid-back coastal feel. If you'd rather create a more formal atmosphere, then an ornate entryway table with a high shine can help set the mood.
Budget
A good entryway table can be purchased for a low cost, so don't feel pressured to blow your budget on an expensive piece of furniture. If you're trying to furnish your entryway on a low budget, there are a number of ways you can save a few dollars, such as browsing local garage sales, auction websites, or buying from big box stores.
You could even repurpose a piece of furniture you already own, such as a sofa table or buffet table. If you have an entryway table that doesn't work with your style, you could upcycle it on a budget by painting it or sanding it back to its original wood.