Log cabins have a unique style of their own. While you won't find the exact same features of a cottage or rustic style house on a log home, these rustic cabins still boast a traditional design.
But it can often be difficult to decide on the right log cabin door color as you'll want the entryway to blend in with the landscape as well as give your wooden house an inviting feel.
Most wood cabins have a subtle appearance, so it makes sense to make the front door stand out and complement the rest of the wood exterior rather than keeping it in the background. To help you decide on the best door colors for your log cabin, take a look at our ideas below:
Log Cabin Door Color Ideas
Simple White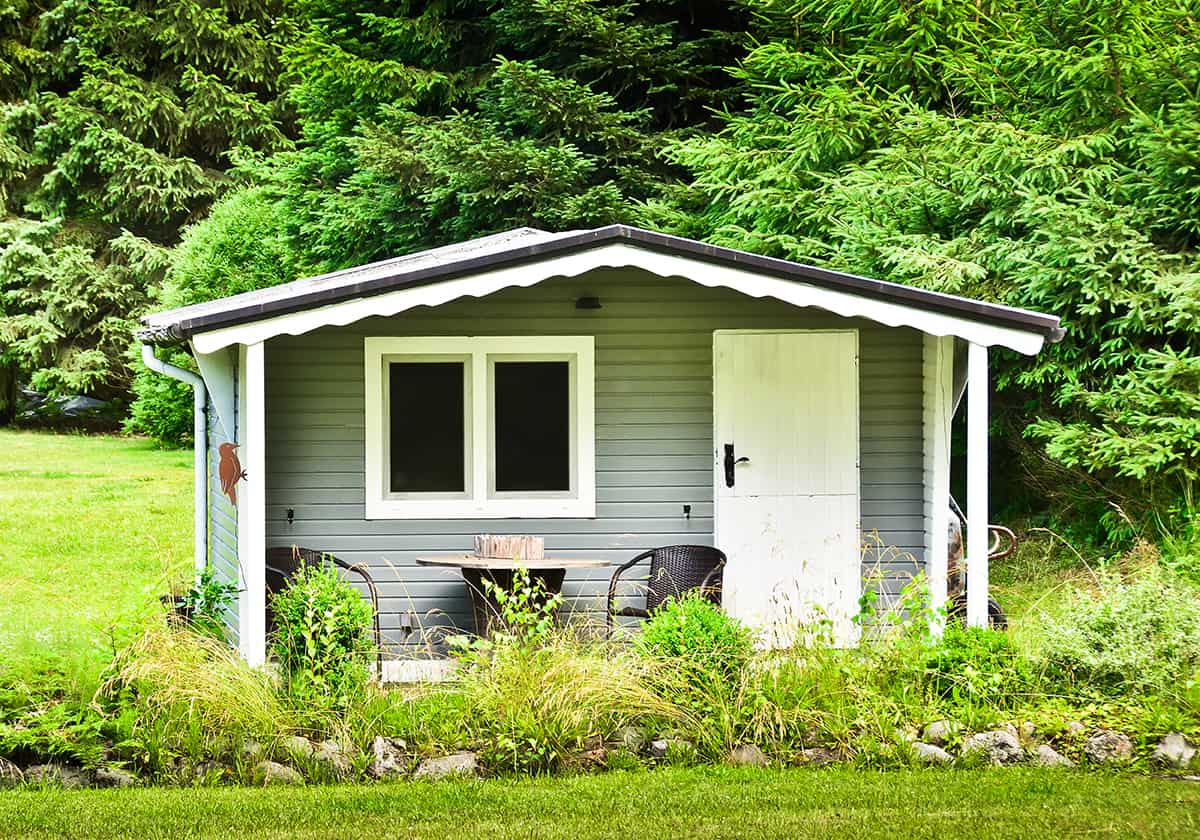 In cottage or country style houses, the front door is usually located at the front or middle part of the home as part of its curb appeal. But in wood cabins, the front door is typically placed at the side of the house, with oversized windows uniquely angled at either side of the door.
The positioning of the front door is often an afterthought in a log cabin exterior design. But the subtle position of the door doesn't mean we can't choose a color that takes center stage.
If you want your log cabin's entryway to stand out, opt for a bright, crisp white color for the front door. You can match this color to the windows for a simple, yet elegant design.
The door's white color with white window frames adds subtle visual interest to the entryway, without contrasting the rest of your wood cabin's exterior. You can also add white trim to match the front door as shown here.
Dark Brown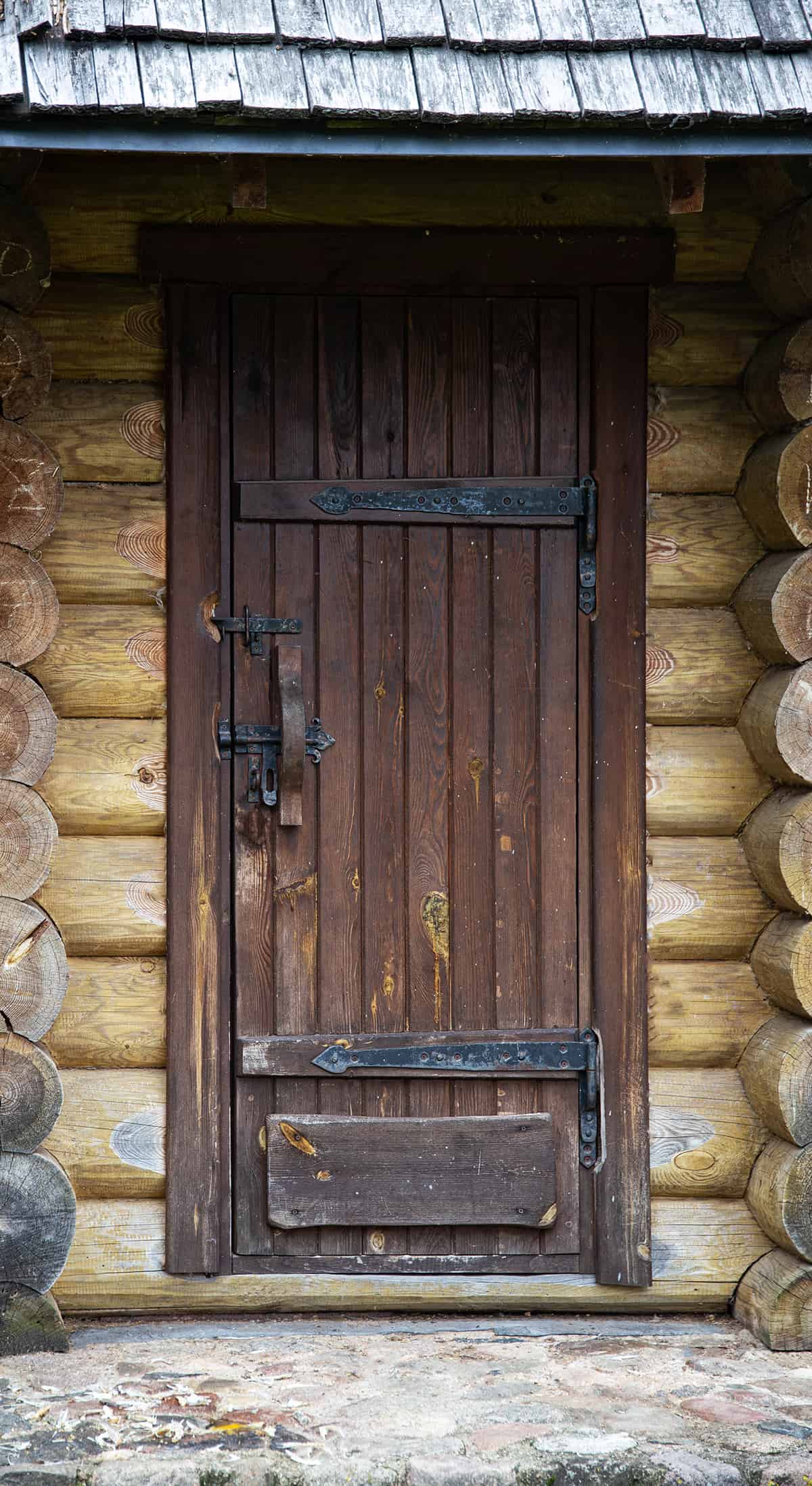 A front door of a log cabin doesn't necessarily need to stand out to look inviting. Sometimes, blending the color into the rest of the log cabin's exterior works just as beautifully for a more subtle design.
Whether you choose the exact same exterior color for your log cabin's door, or you go for a shade darker, brown is definitely one of those colors that blends in nicely with a wooden cabin. This example shows a light wooden cabin with a dark brown wooden door as a cohesive yet subtle design.
Pine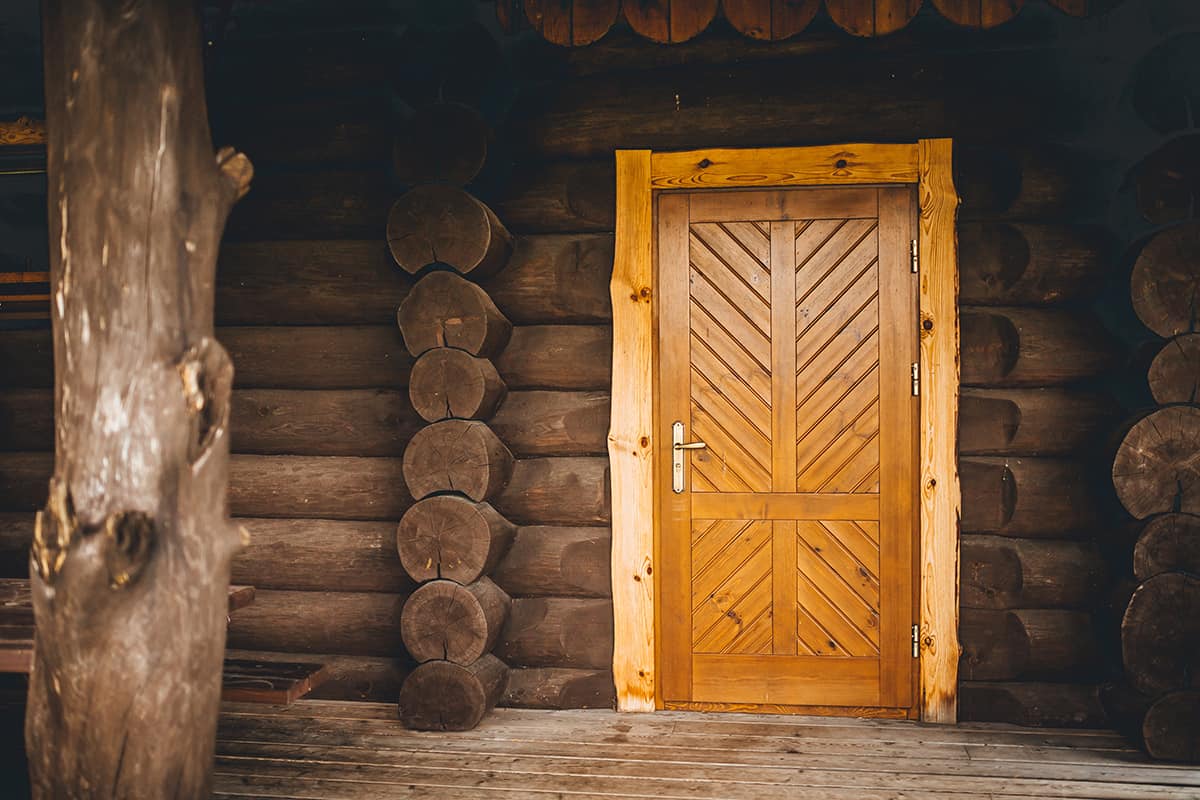 Pine is a warm shade with a yellow undertone. This is the perfect pairing with a brown wood cabin as the bright pine front door can really steal the limelight. This front door color brightens up the rustic exterior of the log cabin and brings light into the entryway. Whether you paint the front door a bright shade of yellow or a muted one, your log cabin exterior is sure to look cheerful and exciting.
But before you say a bright yellow door on a brown wood cabin can overwhelm, we suggest you opt for a muted shade instead. Hence a rustic brown log cabin with a pine yellow front door and yellow shutters can steal the attention of passersby.
Match the Hue to the Landscape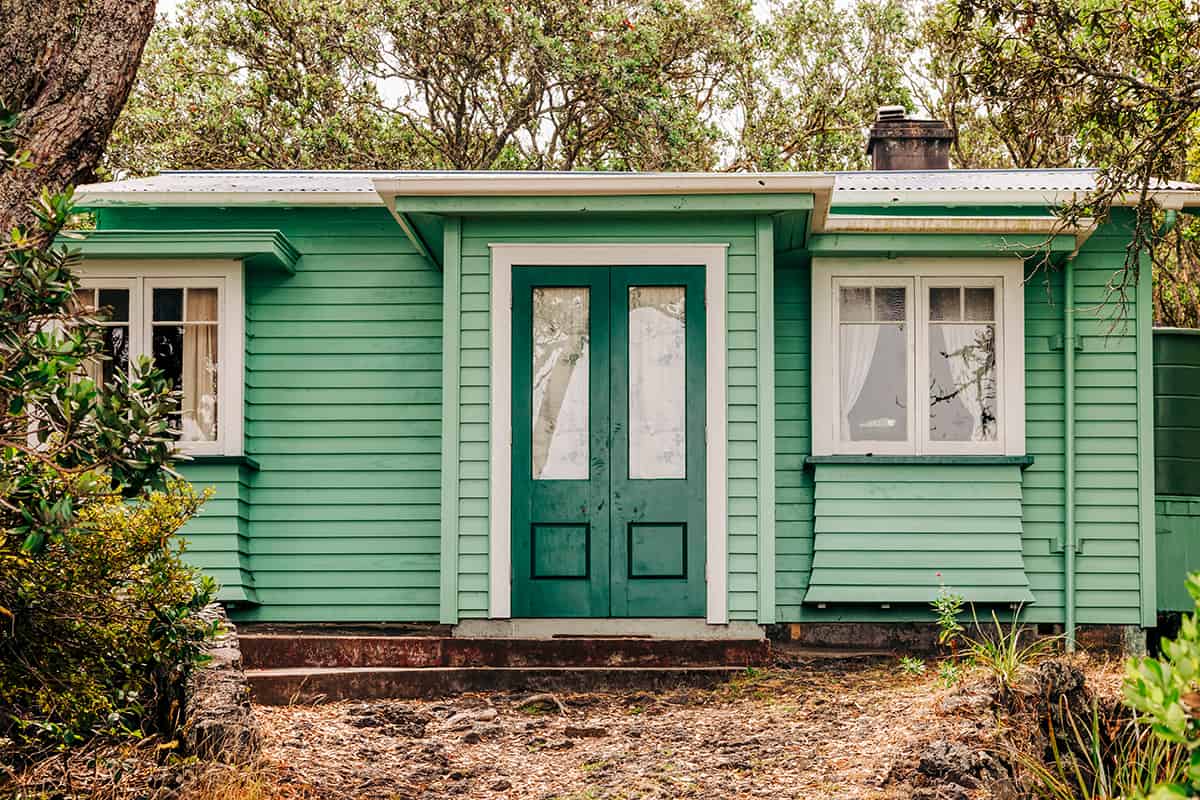 A log cabin is usually built in the woods, surrounded by greenery. For inspiration, why not match your front door color to the landscape by opting for a bright green.
Nature can blend in beautifully with your green painted front door. You can even paint the entire log cabin a lighter or darker shade of green to complement your front door. Think of rich green shades, such as forest green, sage, mint or fern. These are striking hues that feel at one with the surrounding landscape.
This dark green front door is located exactly at the center of the log cabin. The entryway calls for attention as it's painted a rich, vivid green against the light green log-like siding.
Black
For those who are feeling adventurous, we suggest a black front door to make more of an impact. The richness of black against dark or light brown wood exterior echoes excellence. This is a classic color choice for rustic log cabins that crave a grand entry. Black is, after all, a timeless door color that goes with all textures and tones of brown.
So whether you're after a vintage vibe or contemporary exterior design, a black front door with matching shutters is sure to boost curb appeal. Midnight black is one such shade that contrasts with brown wooden siding. This pairing curates a countryside, nature-inspired ambiance. But if you prefer a lighter shade, go for charcoal gray instead.
Unstained Oak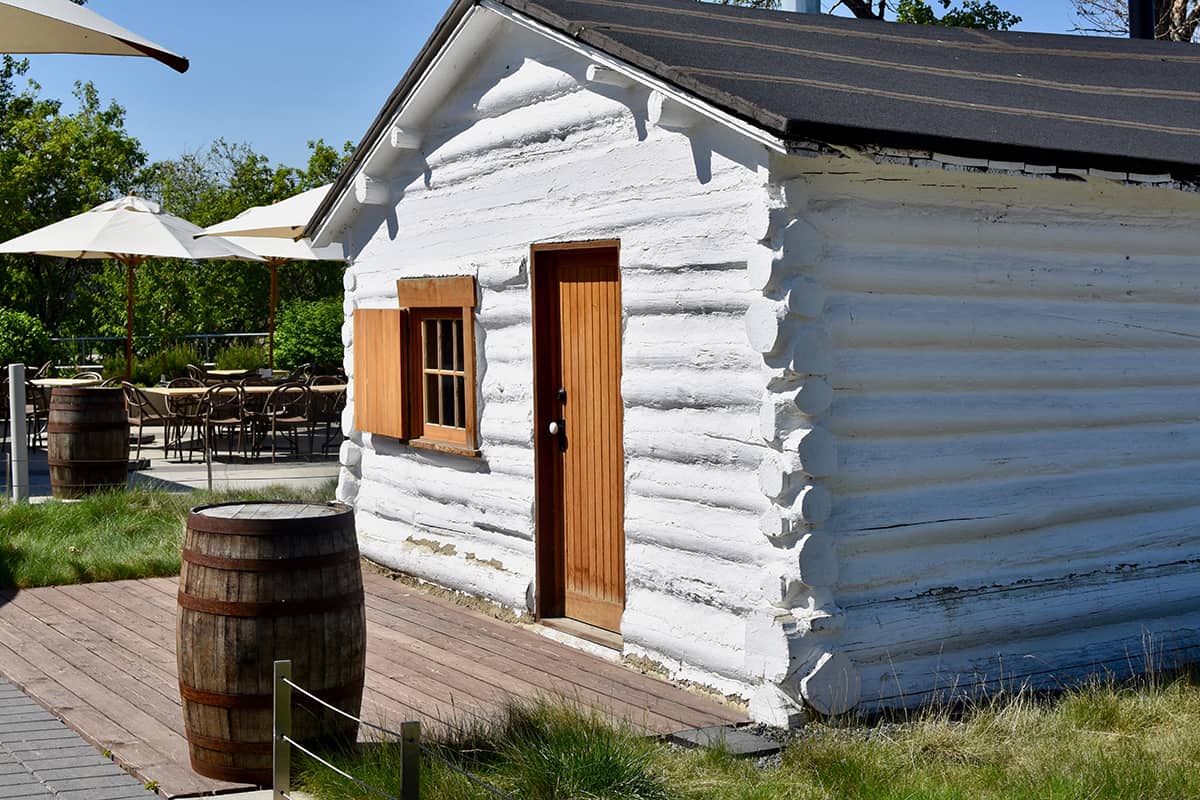 Log cabins with white painted exteriors or muted browns can look beautiful with a rustic, untreated oak front door. A bare front door made from natural wood can dramatically boost your log cabin's curb appeal.
But if you're worried about rot or insect damage, it is best to treat the wooden front door with transparent stain. This helps bring a subtle contrast to the entryway of a white painted log cabin just like the one shown here.
Light oak wooden doors look chic on rustic log cabins, but if your budget can't stretch to oak, there is always mahogany! This type of wooden door goes well with other brown hues so you can stain it lightly to give your log cabin exterior a lake side feel.
Neutral Glass Door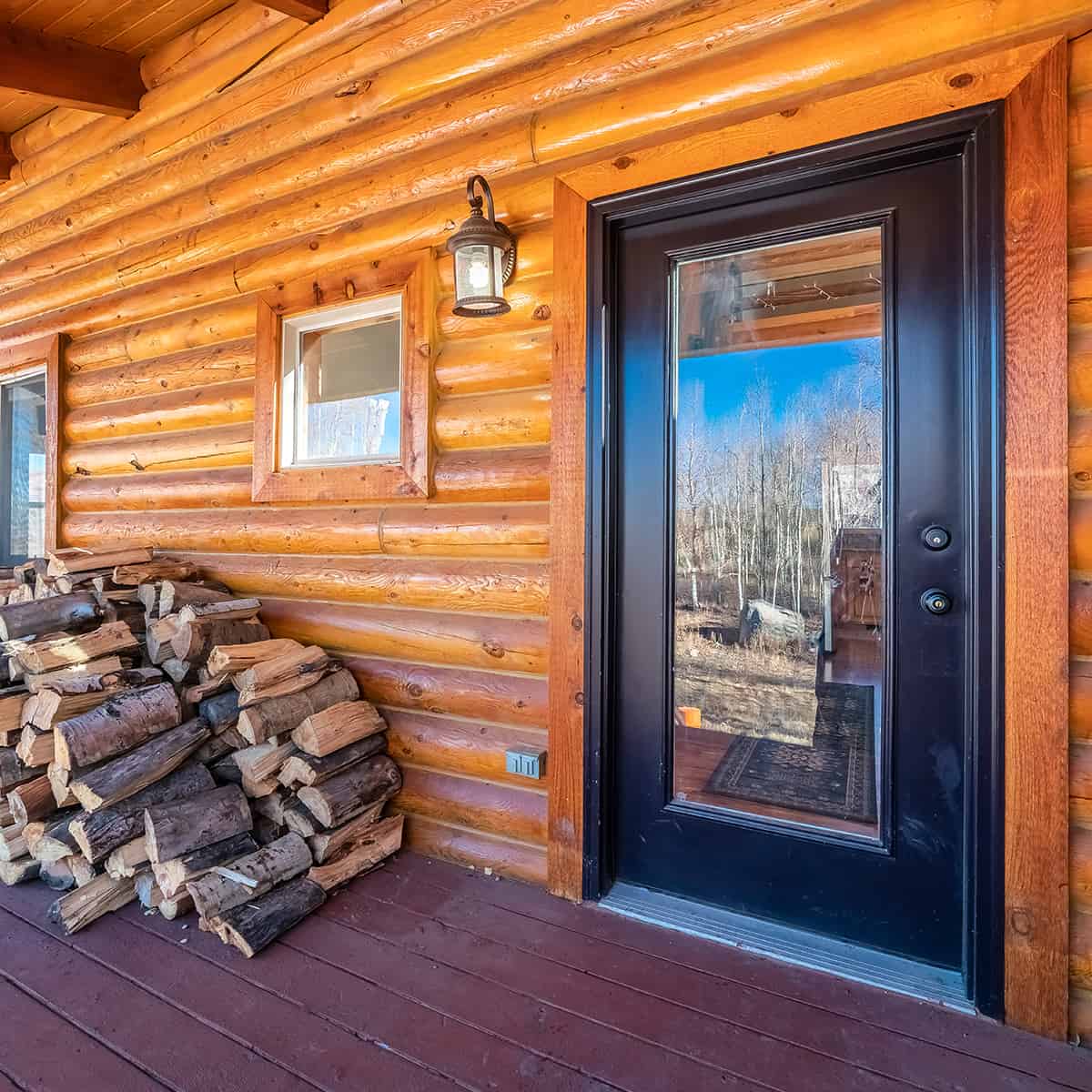 The entire front door of your log cabin doesn't have to be made of wood in order to feel inviting. Glass-paned doors with a neutral frame can add depth to a modern log cabin. You can accentuate the wide, glass door with metal elements on either side so that the eye is immediately drawn to the entryway. Black framing around the door can make the entire entrance pop just like in this photo.
This wide, glass door with black framing doesn't overshadow the light brown wood siding. Rather than reflecting light, the glass lets it in and helps draw the eye directly to the patio area. We love the contrast between the wood color of this log cabin with the front door. The glass helps add dimension without overtaking the exterior.
Blue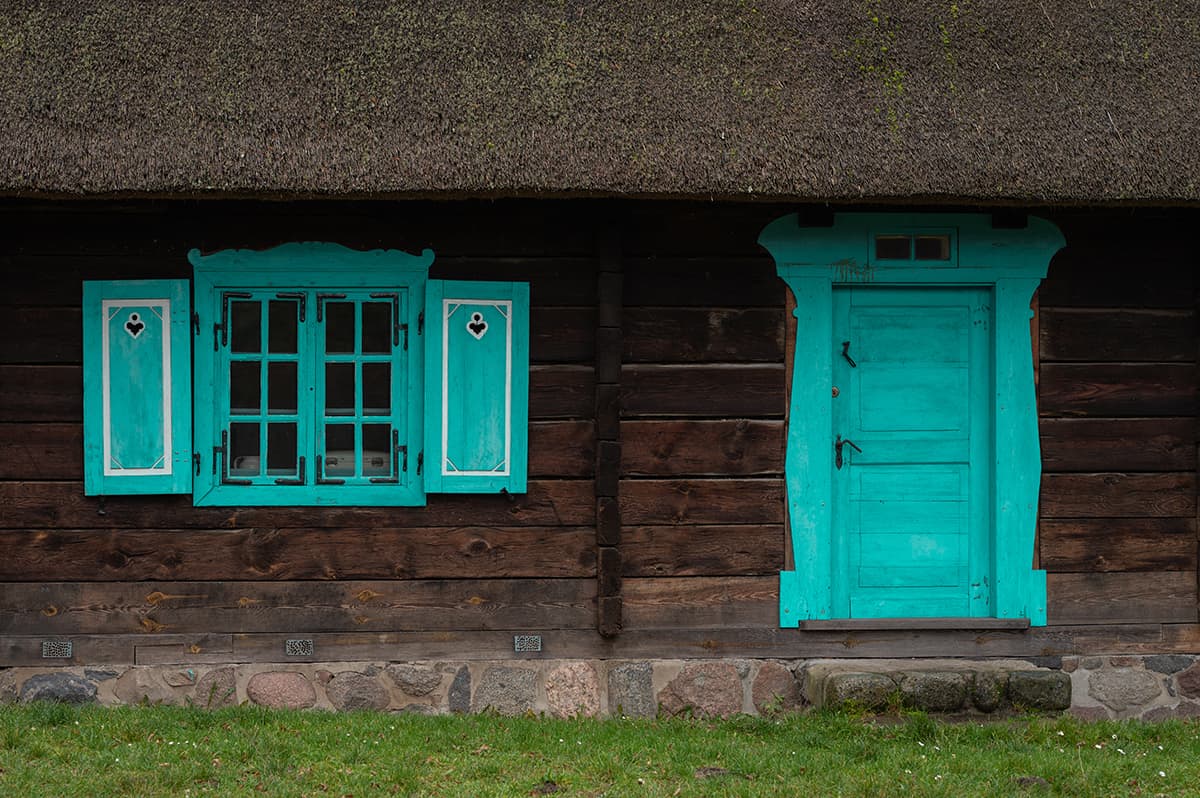 If you want to take your front door color all the way to the window frames and trims, then opt for a bright blue hue. A rustic log cabin can be brought to life with a bold blue front door and matching window shutters as shown in this example.
Painting your log cabin's front door and window trims a bold blue color adds nautical character. But make sure you use your creativity and extend this color to the window frames and shutters for optimal effect!
Purple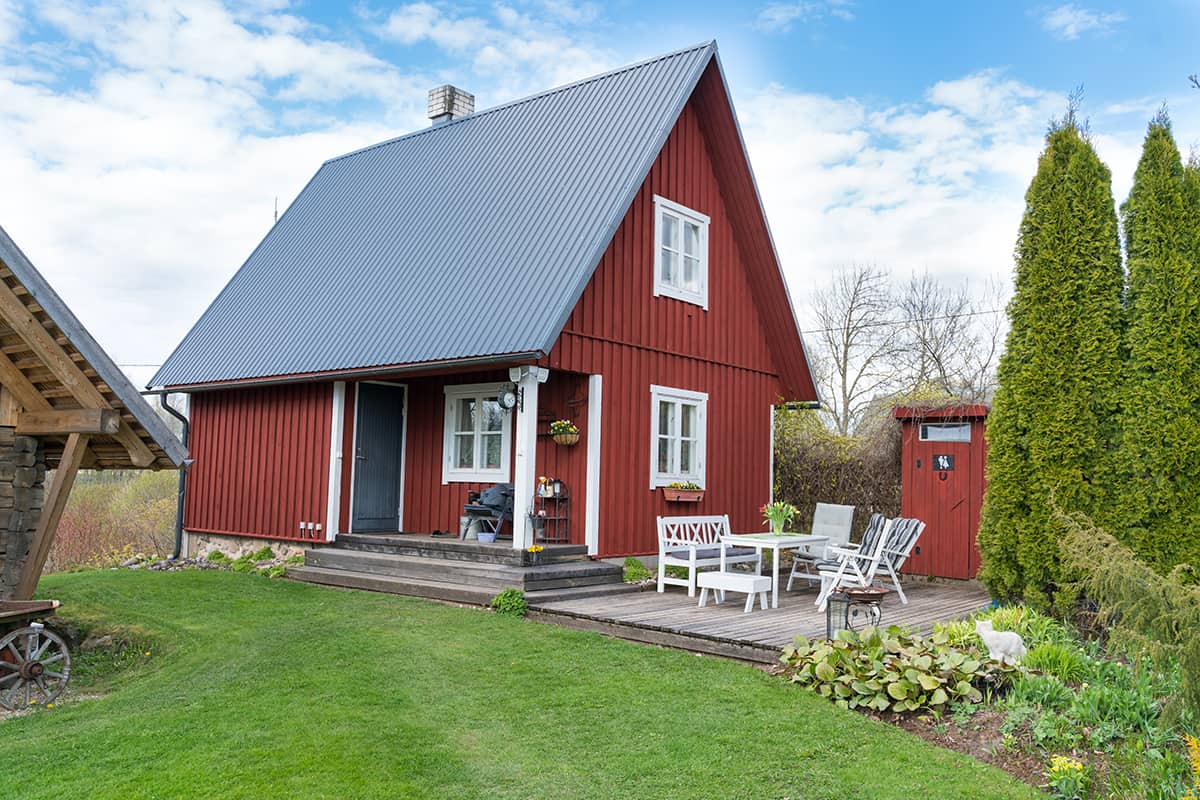 Want to add style to your log cabin without making your front door stand out? Then opt for a dark purple door. This color is the best way to create contrast with the rest of the wooden cabin's exterior. Purple also goes beautifully with the surrounding green landscape as you can see here.
We love the bold red exterior of this large wood cabin, which goes perfectly with the crisp white window frames and other architectural design elements. The purple front door doesn't stand out since it is located at the side of the wood cabin. The designer did this on purpose so that the rest of the wood cabin draws attention instead of the purple front door.
In fact, when you look at this log house, your eye is instantly drawn to the white windows and columns rather than the front door. This log cabin pulls it off nicely with the classic painted window features that add a lot of depth to the house.
In Closing
Deciding on a subtle or bold front door color for your log cabin is an exciting way to enhance the unique appearance of the wooden exterior. The right front door color that complements the rest of the log cabin brings a welcoming feel to the entryway. Light or bright paint colors are ideal for dark brown wooden cabins as they set an inviting mood.
Similarly, subtle or neutral front door colors also draw the eye to the entryway. So if you want to dramatically change the aesthetic appearance of your log cabin, think carefully about the front door color as the idea is to highlight the character and style of your wooden home.
Brown log cabins go particularly well with black, pine, blue and light brown front doors, while other exterior wood colors work with any muted or subtle front door color. We hope our examples have inspired you to take out your paintbrush and give your log cabin front door a fresh coat of paint!