A door hanger is usually a piece of card or plastic that is designed to be hung over a door handle or doorknob. They generally have a loosely rectangular shape and are used in a portrait orientation.
Door hangers are most widely associated with their use in hotels where they can contain useful information, such as what time breakfast is served, and on the back, they will usually have a 'do not disturb' message that occupants of the room can hang on the exterior of their own door to ensure they aren't disturbed by hotel staff.
Find all details about door hanger sizes in this article.
Door Hanger Sizes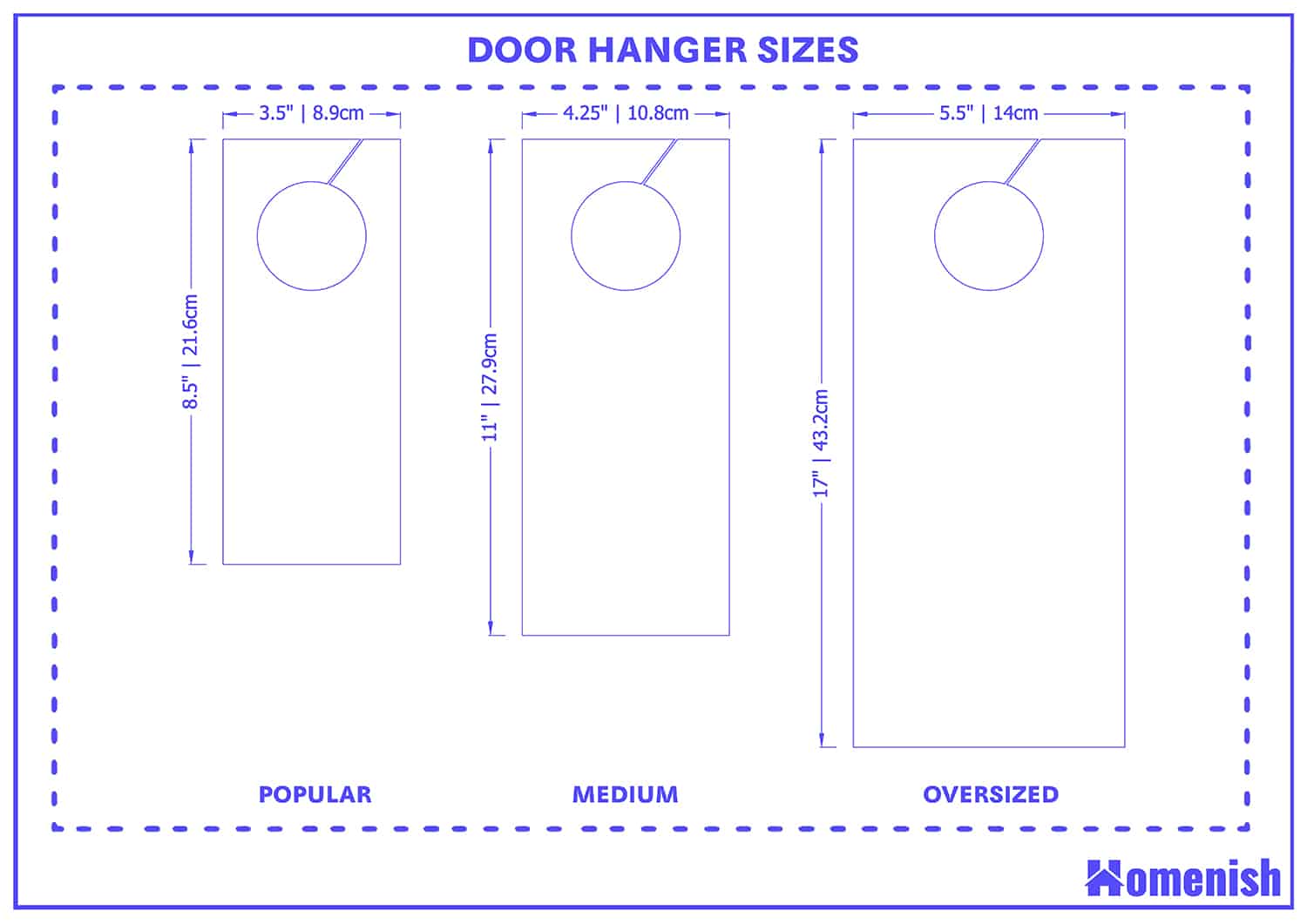 Door hangers are not all one size, and instead, there are four typical sizes of door hangers. Some sizes are more popular than others for a variety of reasons that we will explore below.
3.5″ × 8.5″
This is the smallest and most popular size of door hanger. Hotels and other hospitality lodgings will usually choose this size to display on their bedroom doors because it is not so big that it creates a messy or gaudy look in the corridors, but it is not so small that it would be accidentally missed by the occupants of the room.
This size is suitable for fitting a decent amount of text information, but if you are looking for a door hanger that is focused around imagery, then a larger size would be better at doing this justice. As the smallest size of door hangers, this is also predominantly chosen by advertisers who are using door hangers as an alternative to fliers.
The smaller the door hanger is, the less it is going to cost to print, and advertisers generally like to keep costs as low as possible. Although this is the smallest size of door hanger, it is substantial enough to contain, for example, the contact details of a hairstylist and a price list of services on the reverse of the door hanger.
Door hangers cannot be any smaller than this size; otherwise, they wouldn't be able to hang around a regular-sized door handle or doorknob.
4.25″ × 11″
This size of door hanger is less than an inch wider than the smallest size, but it offers over 2 inches of extra length space, which can make all the difference if you are trying to fit in a large amount of text at a font size that is easily readable.
This size of door hanger is going to be marginally more expensive to print compared to the smaller size, but when you need thousands or even hundreds of thousands of door hangers printed, then even the difference of a few cents is going to make a big impact on your whole order. Like the smallest size of door hanger, this size isn't so large that it feels intrusive, so it works well in hotels as well as for door-to-door advertising.
5.5″ × 17″
This oversized door hanger is great if your prints focus on images or if you want to include a lot of information, for example, a full menu for a local takeout restaurant. The main disadvantage is that the large size can look messy, which may upset some recipients.
Uses for Door Hangers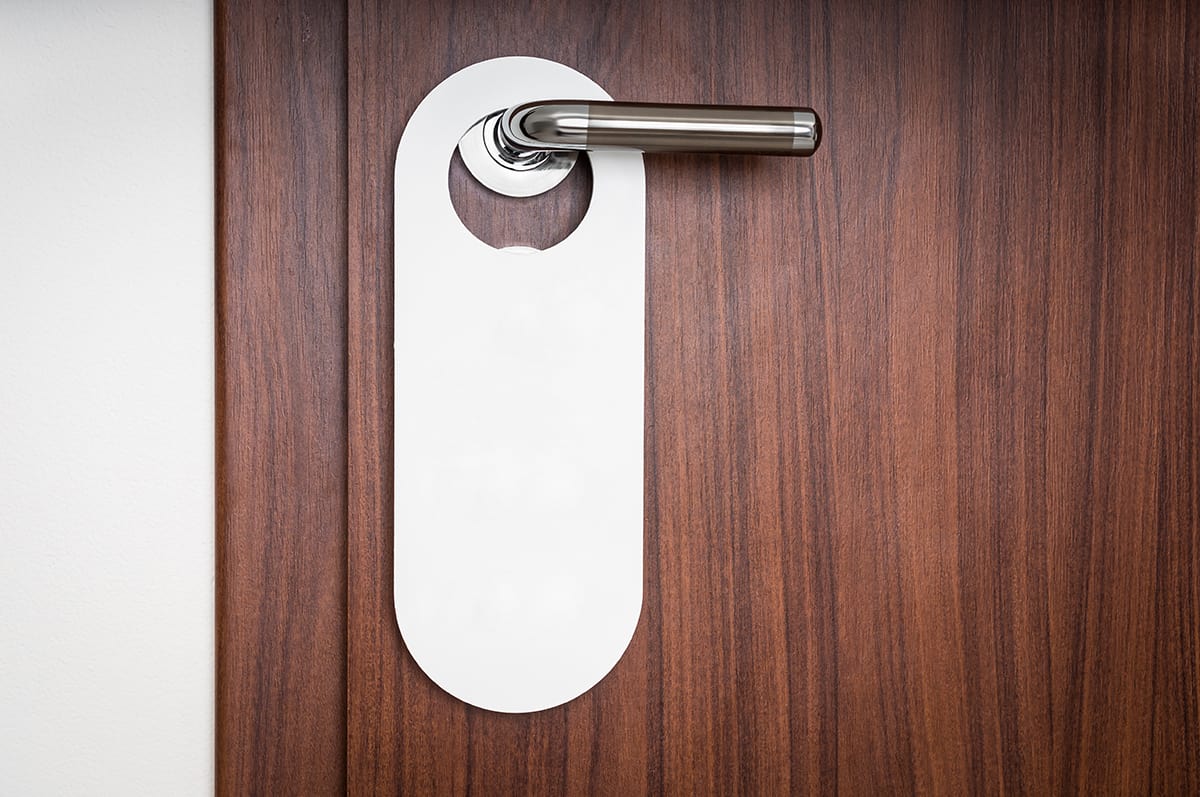 Hotels, hostels, and other lodgings
Door hangers are most widely used in the hospitality sector for 'do not disturb' signs on the doors of hotel, hostel, and motel bedrooms. Some hotels will use the back side of their door hangers to advertise their own features, such as a gym or swimming pool, or they will include useful information that the hotel occupants may need during their stay.
The reverse side of a door hanger could also be used as advertising space by local companies. For example, a local tour guide may pay the hotel to be featured on the reverse of a door hanger. In many hotels, the reverse side of a door hanger is used as the opposite of the 'do not disturb' sign and will have a message indicating to housekeeping that the occupant would like the room to be made up.
Over the last few decades, door hangers that are used to communicate a 'do not disturb' message have been criticized because they have been used to hide illegal activity occurring inside the hotel room.
There have been several occasions where suspicious deaths or missing people have not been identified quickly due to the presence of a 'do not disturb' door hanger, so to combat this issue, some hotels have created innovative ways for hotel guests to request that they aren't disturbed.
One alternative is a button that can be pressed from inside the room, which turns on a light on the outside of the room as a sign that the occupants would like privacy.
Alternative to fliers
Outside of the hospitality sector, door hangers have been used as an alternative to fliers and leaflets posted through mailboxes.
Essentially the advertising and message will be the same, but the fact that they can be hung onto a door handle or knob means that the person living in the home will have more interaction with the door hanger than they might with a flier that gets easily lost amongst other mail in a mailbox.
Door hangers represent a similar cost to fliers, but they are considered to have a better effect since they get more exposure.
Bedroom signs
Door hangers are popular among children and teenagers as a way of personalizing the entrance to their bedroom or leaving messages for parents and siblings. You can buy wooden door hangers with an initial or a name engraved or painted on them, which for example, could read 'Emily's Room.'
Chalkboard door hangers are also great for children who like to personalize and update the message on the outside of their bedroom. For example, they might write 'Keep Out' or 'Come in to Play' depending on their mood.